World renowned chef Gordon Ramsay—who was previously a critic of veganism—recently shared a new recipe for vegan Bang Bang Cauliflower on his YouTube channel. The recipe video is part of the chef's "Ramsay in 10" series that shows viewers how to cook meals in under 10 minutes. The series is inspired by Ramsay's latest cookbook of the same name.
In the video, Ramsay shares with viewers some of the ingredients required for the Bang Bang Cauliflower dish: cauliflower chopped into florets, rice, limes, bok choy, ginger, dried chillies, onions, and cilantro. "The secret of this dish: It's delicious, and it's going to turn you vegan in nine minutes and 59 seconds," Ramsay said in the video. "Let's have 10 minutes on the clock, please."
Ramsay goes on to show readers how to cut the cauliflower florets to remove the stalks—and he suggests keeping the stalks for other uses like soups. He then demonstrates how to coat the cauliflower florets in rice flour, salt, and pepper; how to fry them in a shallow frying pan using sesame oil and olive oil—"Gauge the heat, look at the color, listen to the noise," he advises—and then how to make the bang bang sauce using the remaining ingredients and a separate pan.
"I started making this dish with chicken—Bang Bang Chicken or Bang Bang Pork—but with cauliflower, it's so tasty," Ramsay said.
Ramsay finishes the dish by adding sliced bok choy and chillies to the fried cauliflower and then he transfers it to a serving dish and drizzles the cauliflower with the bang bang sauce and sprinkles over the chopped cilantro. "That there, honestly, after 30 years of cooking [it] makes me want to turn vegan—for a minute," Ramsay said.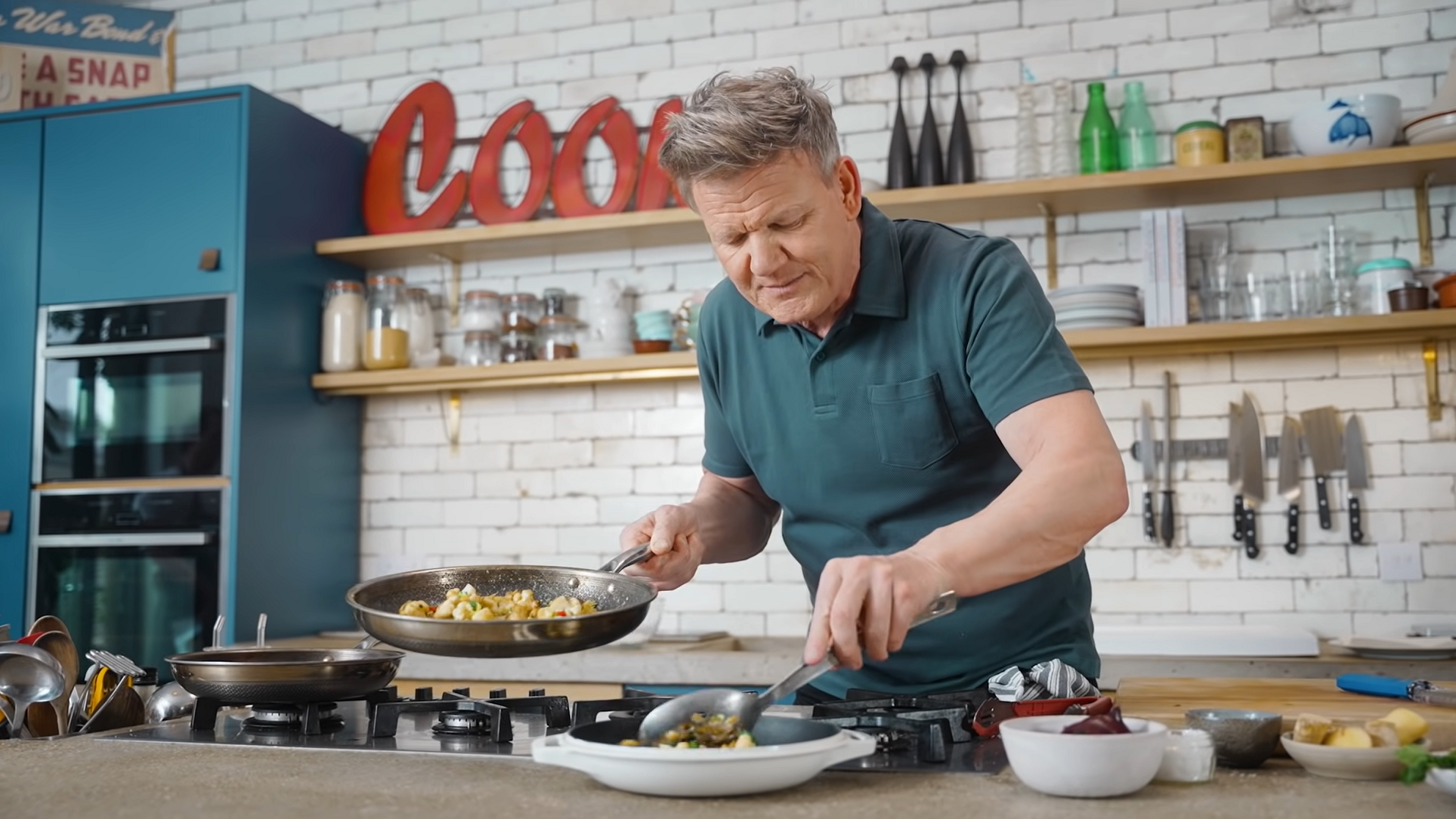 Gordon Ramsay/YouTube
Gordon Ramsay's vegan cooking
In previous years, Ramsay has made himself out to be one of the biggest critics of veganism. He would frequently joke about vegans and once stated that he was allergic to them. But in 2018, for the first time, the chef added a vegan menu item (Charred Aubergine Pizza) to his Gordon Ramsay Street Pizza restaurant (now called Bread Street Kitchen) in London. At the time, he shared a photo of the new menu item on Twitter with the caption: "Going to give this #vegan thing a try."
After receiving positive feedback from fans about the new vegan dish, Ramsay continued to experiment with plant-based cooking. In January 2019, he implemented a full plant-based menu at his Bread Street Kitchen restaurant in celebration of Veganuary—an annual challenge that promotes veganism and encourages people to go vegan for the month of January. Ramsay's Veganuary menu featured pumpkin soup dotted with truffle oil, a superfood salad, risotto made with wild mushrooms, eggplant-topped pizza, and a selection of desserts ranging from chocolate avocado mousse to banana-based ice cream.
The chef has since started adding vegan options to his various other restaurants worldwide, including a fully vegan menu at his Hell's Kitchen-inspired restaurant in Las Vegas and a simply named Vegan Burger at Gordon Ramsay Burger in Las Vegas and Chicago.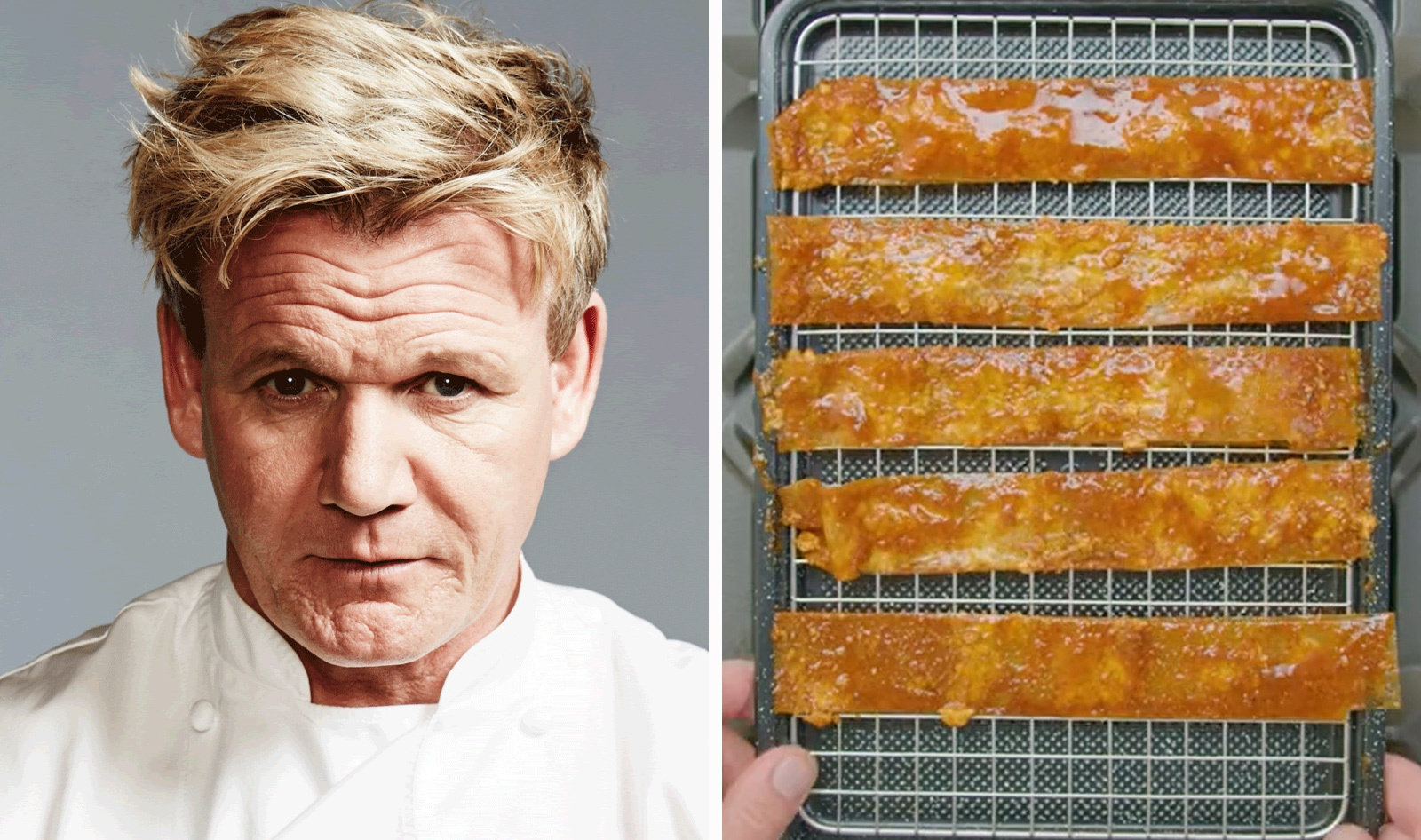 Gordon Ramsay/TikTok
Gordon Ramsay loves vegan food
More recently, Ramsay has taken to sharing vegan cooking recipes on his social media channels. Last year, the chef took to TikTok to show his fans how to make crispy vegan bacon out of rice paper for use in a vegan BLT sandwich.
Ramsay also became an ambassador for a new campaign by vegan brand Silk to promote its oat milk. The G.O.A.T. campaign promoted Silk's oat milk as the Greatest of All Time (G.O.A.T.) milk and featured celebrity ambassadors who are the G.O.A.T. in their own right. Ramsay, who was named the G.O.A.T. of Yelling in Kitchens, took to social media to promote the campaign.
"Well, it took my kids getting on me, but now I really enjoy cooking more plant-based dishes at home and in my restaurants," Ramsay said. "Let me tell you, I know greatness when I taste it, and I am loving Silk Oatmilk for both sweet and savory recipes."
For more on Gordon Ramsay, read:
Dear Gordon Ramsay, Go Vegan Already

Gordon Ramsay to Add Impossible Burger to His Restaurant
Gordon Ramsay to Piers Morgan: Go F*ck Yourself and Stop Hating Vegans