Starbucks has announced a bold new step in its commitment to non-dairy offerings with the launch of the first-ever, barista-style cauliflower milk at locations nationwide. Crafted with sustainability in mind, Starbucks' new CauliMilk™ will be its first plant milk that will not come with an upcharge.
The idea for cauliflower milk reportedly came from Howard Schultz, who recently returned to the company as interim CEO while the coffee giant searches for a permanent replacement. In early 2020, Schultz visited a California almond supplier, where he was introduced to the farm's cauliflower crop and learned about its myriad health benefits and versatility. Schultz took this knowledge back to the Starbucks headquarters where the team worked for more than a year to craft a creamy, non-dairy beverage that would "hold up to steaming, and provide a rich, velvety microfoam," but without the sulfurous aroma and bitter taste often experienced by the cruciferous vegetable.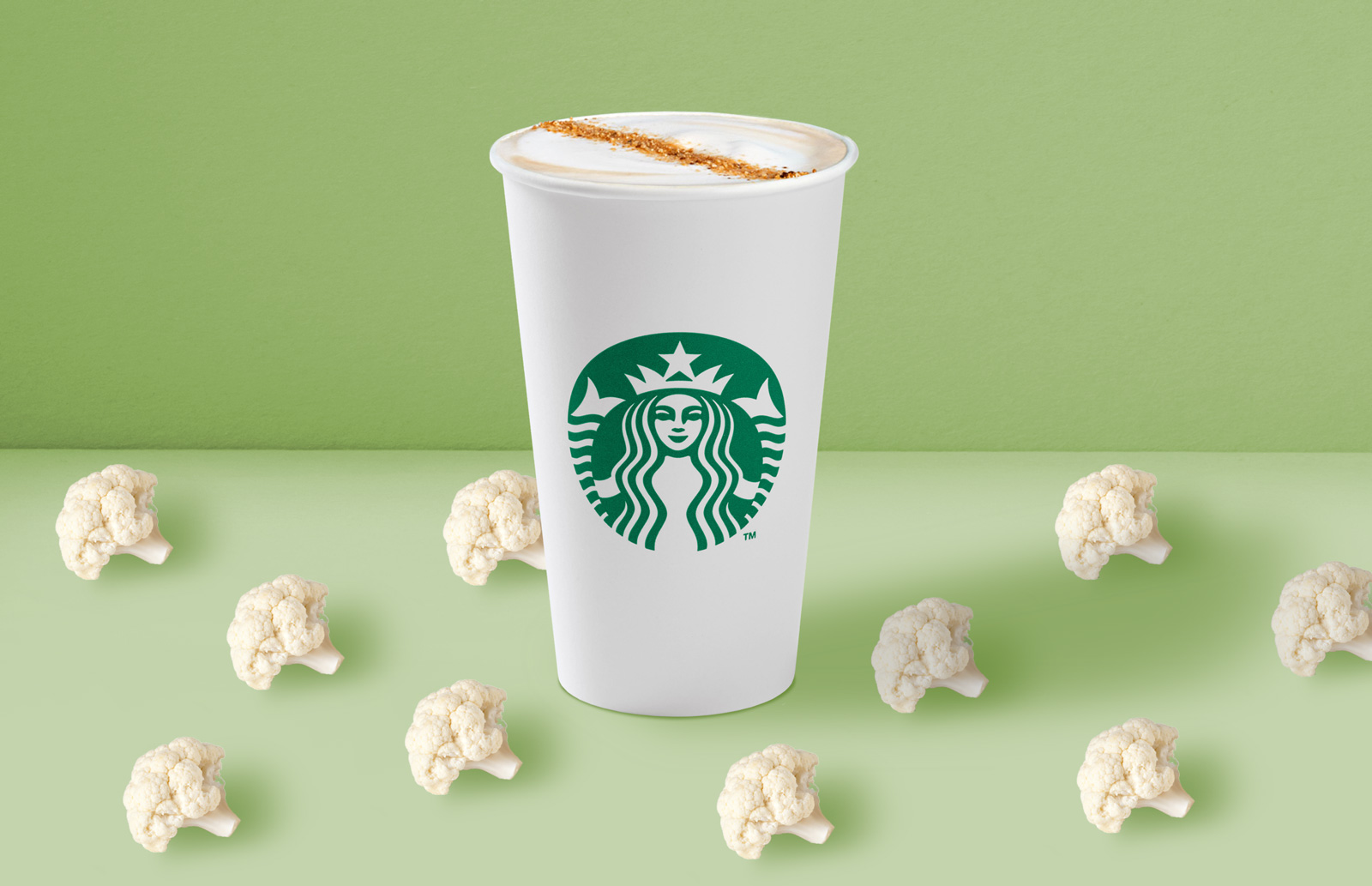 "The challenge was definitely the smell. But we were really motivated to unlock the potential of what we believe is the milk of the future—a greener future. So we spent the better part of 2021 taming its flavor profile," Lisa O'Deur, Starbucks' West Coast Executive Senior Vice Co-Chief of Flavor & Aroma Neutralization, told VegNews. "We were able to reduce the funk by approximately 90 percent, and a delicate touch of Italian vanilla bean helps to boost the vegetable's natural sweetness."
On April 15, the new non-dairy milk will make its first appearance at Starbucks as part of the Iced Spiced Cauliflower Cloud Latte, which features the CauliMilk shaken with ice, Blonde espresso, and vanilla syrup, and then topped with a thick CaulMilk cold foam and finished with a sprinkling of buffalo-spiced sugar.
Starbucks vegan milk surcharge is gone, sort of
Starbucks has endured years of protests by customers asking the chain to drop the surcharge for plant-based milk substitutions. Many have argued that charging extra for plant-based milk creates a barrier to making more environmentally friendly choices and unfairly imposes financial penalties on customers who are lactose intolerant—a majority of whom are people of color. And while Starbucks dropped this vegan milk upcharge at its 1,020 stores in the United Kingdom in January, despite pressure from activists worldwide, the chain has yet to extend the policy to its remaining 30,000+ stores.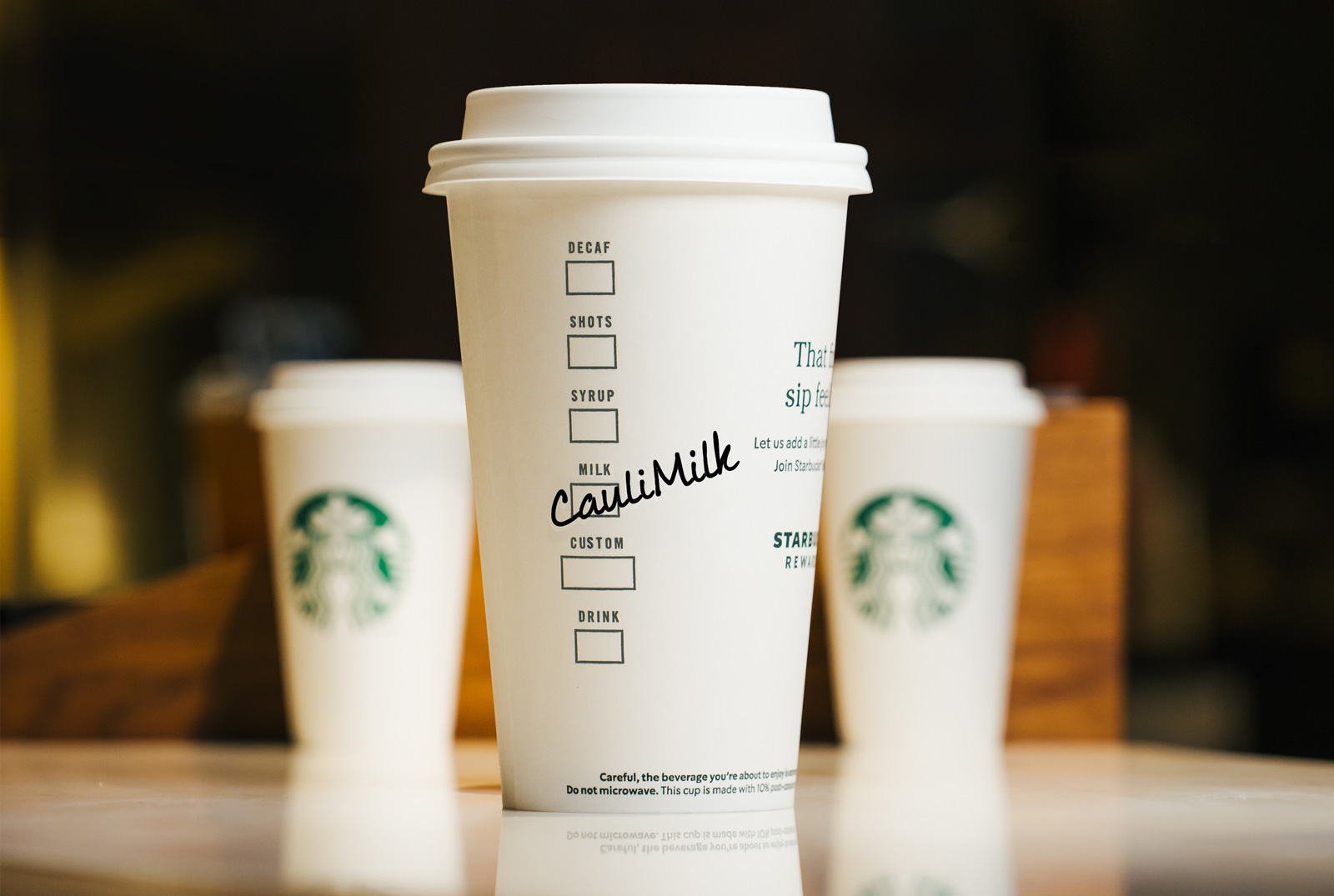 Starbucks hopes that the addition of CauliMilk solves this dilemma once and for all. Customers can soon enjoy the more sustainable cauliflower milk without any extra charges as a substitution for dairy or non-dairy milk in beverages of any size, including Starbucks' brand-new size, Gigante—which, at 99 ounces, is more than three times larger than its secret-menu, mega-gulp Trenta size. Starbucks will continue to charge extra for oat, soy, almond, and coconut milk, and is considering replacing all four alt-milks with cauliflower milk to give consumers more affordable and environmentally friendly dairy-free options.
"The only way forward is to embrace affordable dairy-free options that everyone can enjoy," Kevin Hoardoller, Starbucks' Assistant Budget Coordinator, told VegNews. "By continuing to charge extra for most plant-based milk, we're funneling customers toward what we believe will both catapult café culture into the future and quite possibly save the world: pure, unadulterated, unfiltered cauliflower milk. I get emotional just thinking about it."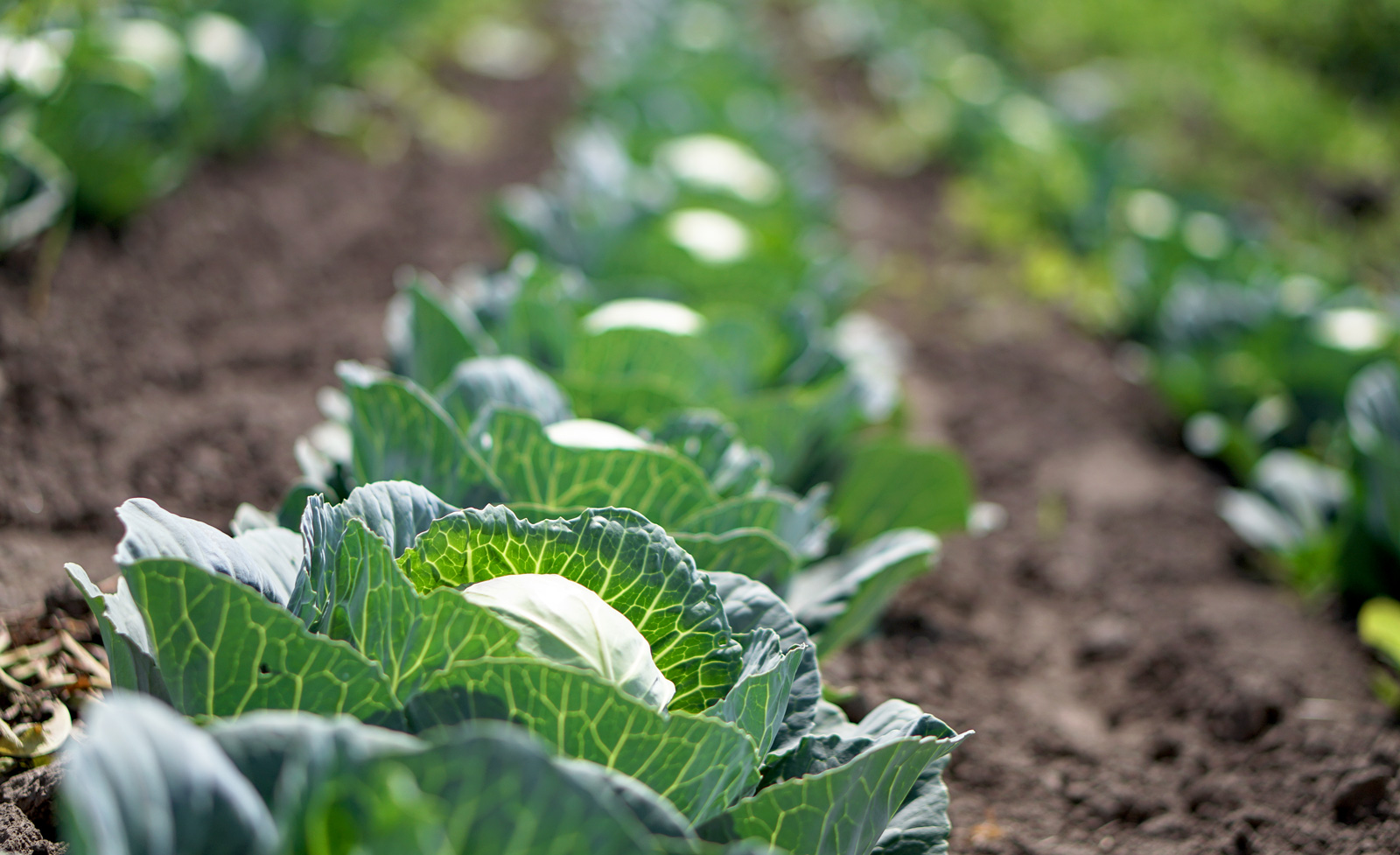 Starbucks bets on cauliflower for sustainability
Globally, Starbucks aims to be a resource-positive company by 2030, and introducing more environmentally friendly options will help it get there. While animal agriculture is a major greenhouse gas contributor, crops such as cauliflower require far fewer resources to grow. As such, in addition to cauliflower milk, Starbucks is exploring a whole suite of new plant-based options.
At its test location in Issaquah, WA—right outside of Seattle, the chain's birthplace—Starbucks is implementing a series of "Cauliflower Caucuses" where customers and baristas will test the chain's latest cauliflower innovations, and will not be allowed to leave the store until they come to an agreement on the viability of the product. The first nine-hour caucus introduced participants to a Unicorn CauliLatte made with purple, orange, and green cauliflower blended together to form a colorful dairy-free concoction. The latte will be widely launched as part of Starbucks' late-summer menu, which will also include the Iced Cinnamon CauliMilk Dolce Latte, Iced Pineapple CauliMilk Matcha, Iced Guava Passionfruit CauliMilk Latte, and CauliMilk Marshmallow S'mores Frappuccino.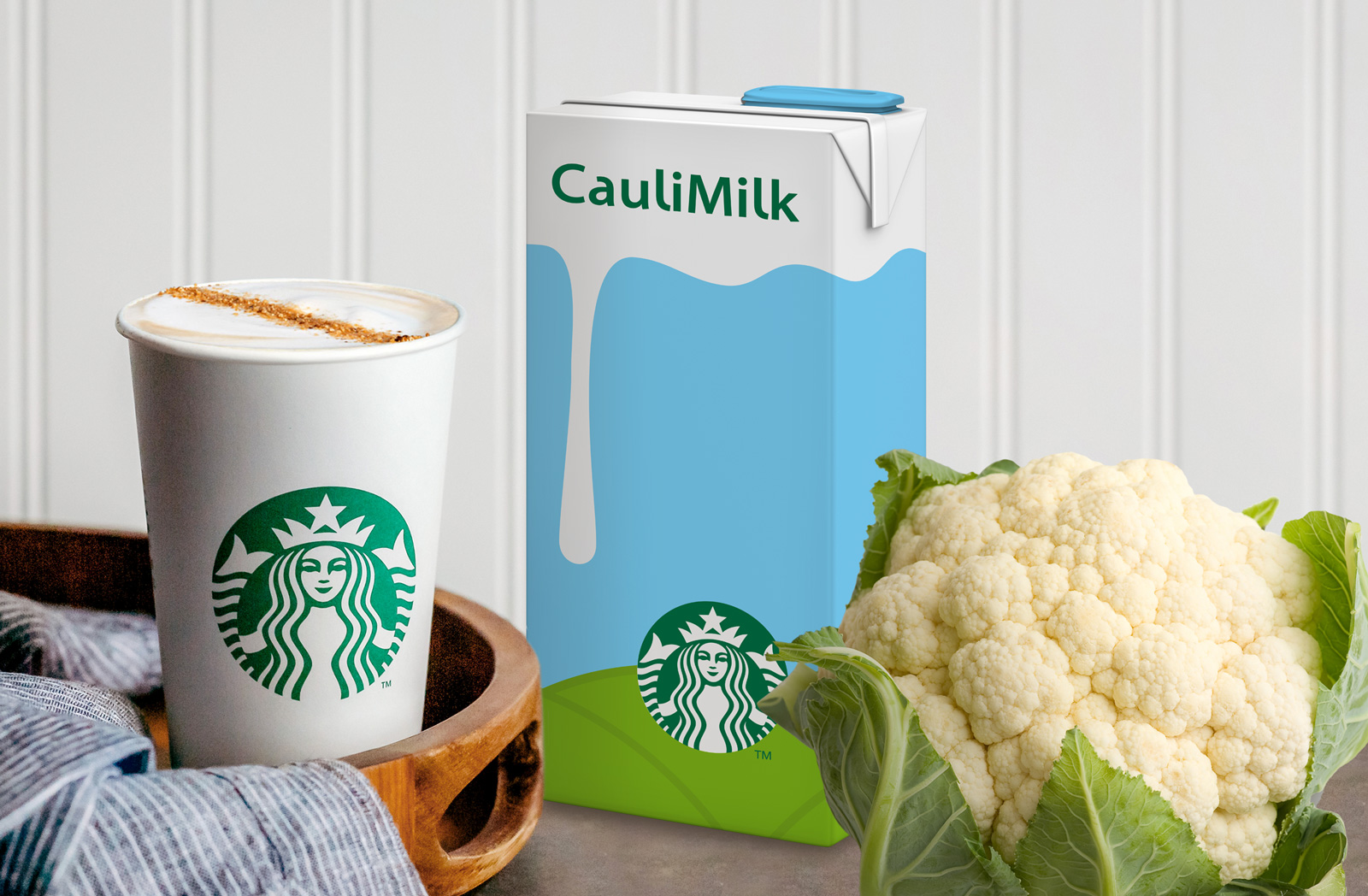 The next caucus will explore vegan food menu items made from the byproducts of cauliflower milk production, including the cau-ssant (cauliflower croissant), cauliflower sandwiches (cauliflower steaks between two slices of raw cauliflower), and cauliflower cake pops (made with an unsweetened cauliflower frosting).
"The versatility of cauliflower is unmatched, and repurposing this veggie into multiple menu items will help us reach our sustainability goals much faster," O'Deur said. "We're so sure these cauli-forward food items will impress our baristas and customers, that we only plan on locking the door of the Issaquah Starbucks for two hours."
In 2023, Starbucks promises it will thoroughly explore new plant-based milk options, primarily from cauliflower's close cousin, broccoli. Also, Happy April Fools' Day!
For more about vegan options at Starbucks, read:
Starbucks Is Testing Vegan Whipped Cream Made From Lentils
The Essential Vegan Guide to Starbucks Summer Drinks
10 (Mouthwatering) Vegan Frappuccinos at Starbucks