Israeli food-technology startup SimpliiGood is developing the first commercial vegan smoked salmon made entirely from a single ingredient: whole spirulina. The plant-based salmon-like cut is being developed to take on the appearance, color, texture, and flavor of smoked salmon—but without the sea animal exploitation or ocean pollutants like mercury and industrial waste that living fish are commonly exposed to.
SimpliiGood—owned by Algecore Technologies Ltd.—specializes in cultivating and harvesting spirulina, a blue-green algae, for a wide range of food products. The new plant-based salmon will join the company's existing lineup of vegan meats, including hamburgers and chicken nuggets, as well as popsicles, ice cream, crackers, and beverages that are enhanced with spirulina as the base ingredient. Uniquely, the vegan smoked salmon will be composed of 100 percent pure spirulina, offering 40 percent complete protein.
"Our spirulina can act as a complete replacement for animal-based protein or be easily integrated into existing food products as an added-value ingredient, as it has a neutral flavor and maintains its full nutritional value," Lior Shalev, CEO and co-founder of Algaecore, said in a statement. "This project marks an exciting milestone in our company's product line expansion as we enter the fish substitute market."
To advance this initiative, SimpliiGood has partnered with the Israeli Innovation Authority, a government ministry aiming to foster R&D within the country; and FoodNxt, an innovation lab of conglomerate IFF-DuPont. SimpliiGood provides the raw material and texture and color qualities, while IFF-DuPont adds the flavor and aroma attributes.
SimpliiGood
The new vegan salmon is based on two intellectual property-protected technological breakthroughs developed by the algae innovators. The first applies to its texturization platform for forming salmon-like chunks solely from spirulina to have the same mouthfeel as the animal form. And the vegan salmon's orange, salmon-like hue has been expressed through identifying and isolating the native beta carotene pigment naturally present in spirulina.
The vegan smoked salmon is expected to hit the market by the end of 2023 with plans to expand to additional plant-based fish products in the future.
Spirulina: a sustainable protein option
Spirulina is heralded as one of the most nutrient-dense plant-based forms of protein on the planet because it is a naturally rich source of whole protein and includes antioxidants, chlorophyll, vitamins such as B12, and minerals such as iron. The spirulina market is relatively young and is dominated by dried and powdered forms of the ingredient.
SimpliiGood cultivates and markets a specific strain of 100-percent raw fresh spirulina and it grows its spirulina in the desert under controlled, ideal conditions. The startup cultivates its spirulina in ponds housed in greenhouses in the naturally sunny southern desert region of Israel, and 98 percent of the water used in the process is recycled. Overall, SimpliiGood produces 50 tons of spirulina per year, with a harvest every 24 hours, making it a highly commercially viable plant-based protein source.
"Spirulina requires salt, minerals, heat, CO2, and water to thrive. The process of growing spirulina actually captures carbon and uses it to grow," Shalev said. "The strain that the animal food industry places on the environment and food security has elevated the need to develop sustainable protein substitutes. We are excited to collaborate with these leading global food industry players to bring a tasty and highly nutritious product to consumers worldwide, without harming animals or the planet."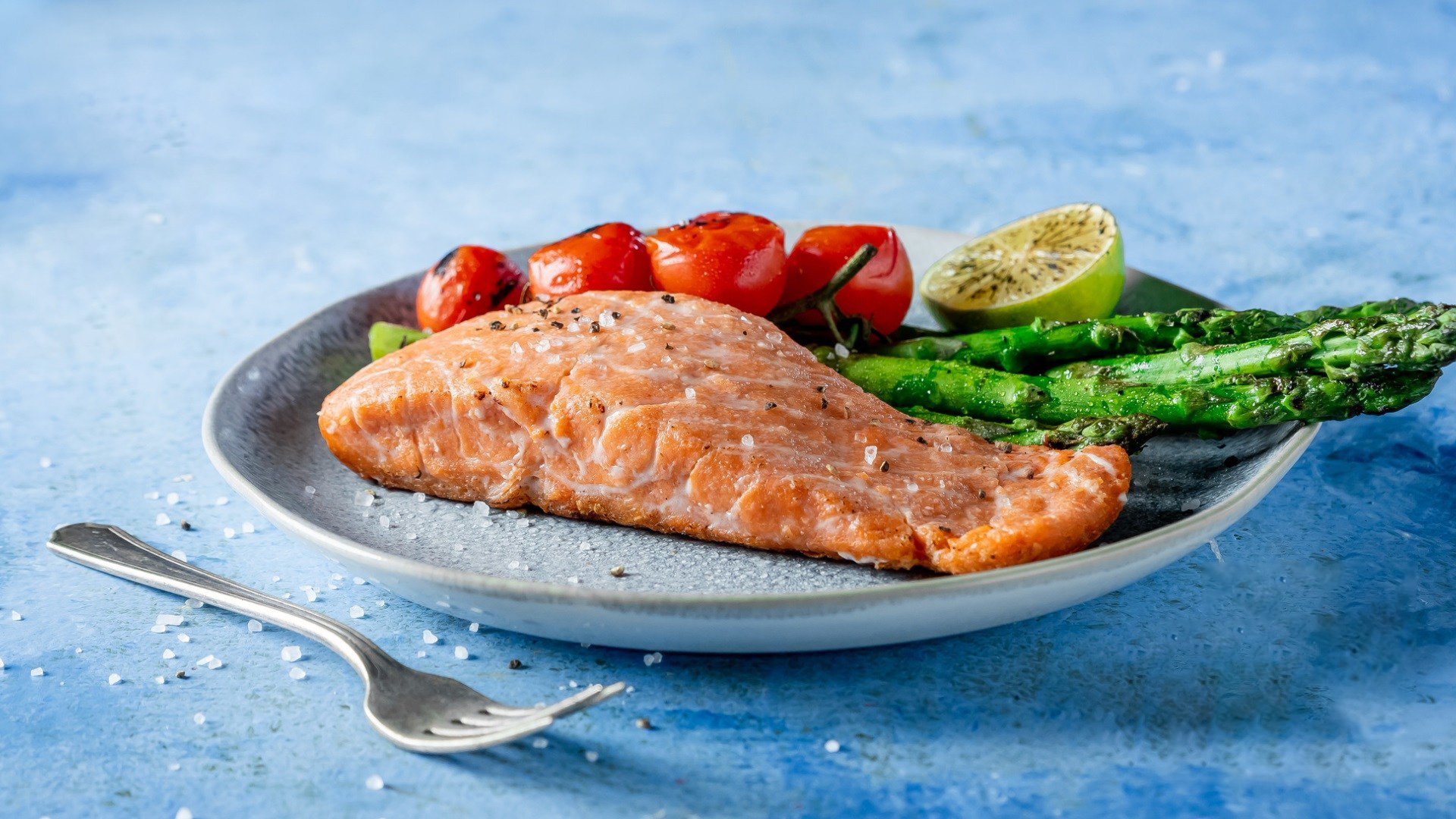 Plantish
Innovating vegan salmon to save the oceans
A number of companies around the globe have taken on the challenge of replicating salmon using plant-based ingredients or 3D-printing technology as a solution to the environmental damage caused by the global fishing industry. Also based in Israel, startup Plantish unveiled a prototype of whole-cut vegan salmon filets earlier this year, which offer the same flakey texture, buttery mouthfeel, and fibrous structure as salmon to replicate the eating experience of its animal-based counterpart.
Another company working to challenge the $50 billion salmon industry is Good Catch Foods. Earlier this year, the company launched its first plant-based salmon product, a burger made from its six-plant protein blend (peas, soy, chickpeas, faba beans, lentils, and navy beans). The brand—which also offers vegan tuna and other seafood appetizers and entrées—developed the new fish-free salmon burger to give consumers an alternative to the most-consumed fish in America.
Hong Kong-based OmniFoods, best known for its plant-based pork products, recently released OmniSeafood. The brand is initially tackling alternatives to canned tuna, breaded fish, and filets and its first vegan crab cakes launched on the menu of Starbucks Hong Kong last year. This month, its plant-based fish also made it onto the menu at McDonald's in Hong Kong.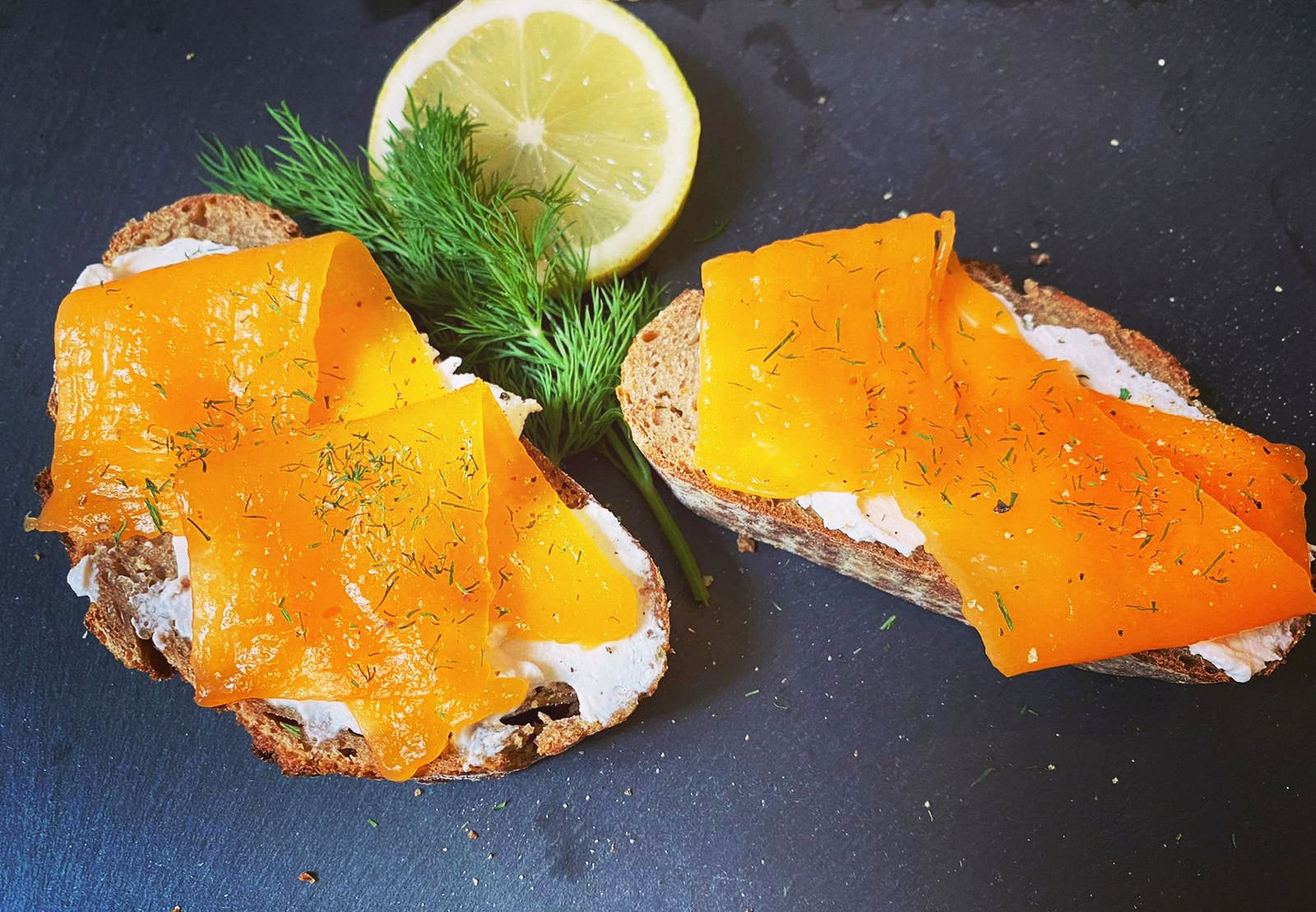 Revo Foods
Another solution to protecting the oceans is making alternatives using 3D printing technology. Vienna-based vegan food tech company Revo Foods unveiled its first 3D-printed plant-based seafood product last year. Called "Salmon With Attitude," the product looks just like real smoked salmon but was developed using new technology based on 3D food printing to recreate the texture and appearance of seafood. The vegan salmon is made with ingredients such as pea protein, algae extracts, and dietary fibers to create a base that is high in protein, omega 3, and B12.
For more on vegan seafood, read:
You Can Now Get Sustainable Vegan Tuna and Salmon Delivered to Your Door
International Students Develop 3D-Printed Vegan Salmon
This Dutch Sushi Chain Launches Realistic Vegan Fish