Next month, vegan musical artist Billie Eilish is hosting the Overheated climate event in London, UK to discuss the climate crisis and actions that are being taken in the music, fashion, and food industries. The six-day conference is being presented by Eilish, Support + Feed (a plant-based food initiative founded by Eilish's mother, Maggie Baird), and environmental nonprofit Reverb.
The event, which overlaps with the UK/Ireland dates of Eilish's Happier Than Ever world tour, will feature a mix of musicians, climate activists, and designers hosting sessions on topics such as green practices in the music industry, the benefits of a plant-based diet, and sustainable fashion methods.
Musicians Sigrid and Love Ssega are slated to perform during the music climate session, and an accompanying documentary screening will feature Eilish; Eilish's brother, music producer Finneas; and musician Yungblud, as well as fashion icon Dame Vivenne Westwood, Glastonbury festival co-organizer Emily Eavis, music project Girl in Red, Maggie Baird, climate activist Tori Tsui, and cultural sustainability fashion activist/entrepreneur Samata Pattinson.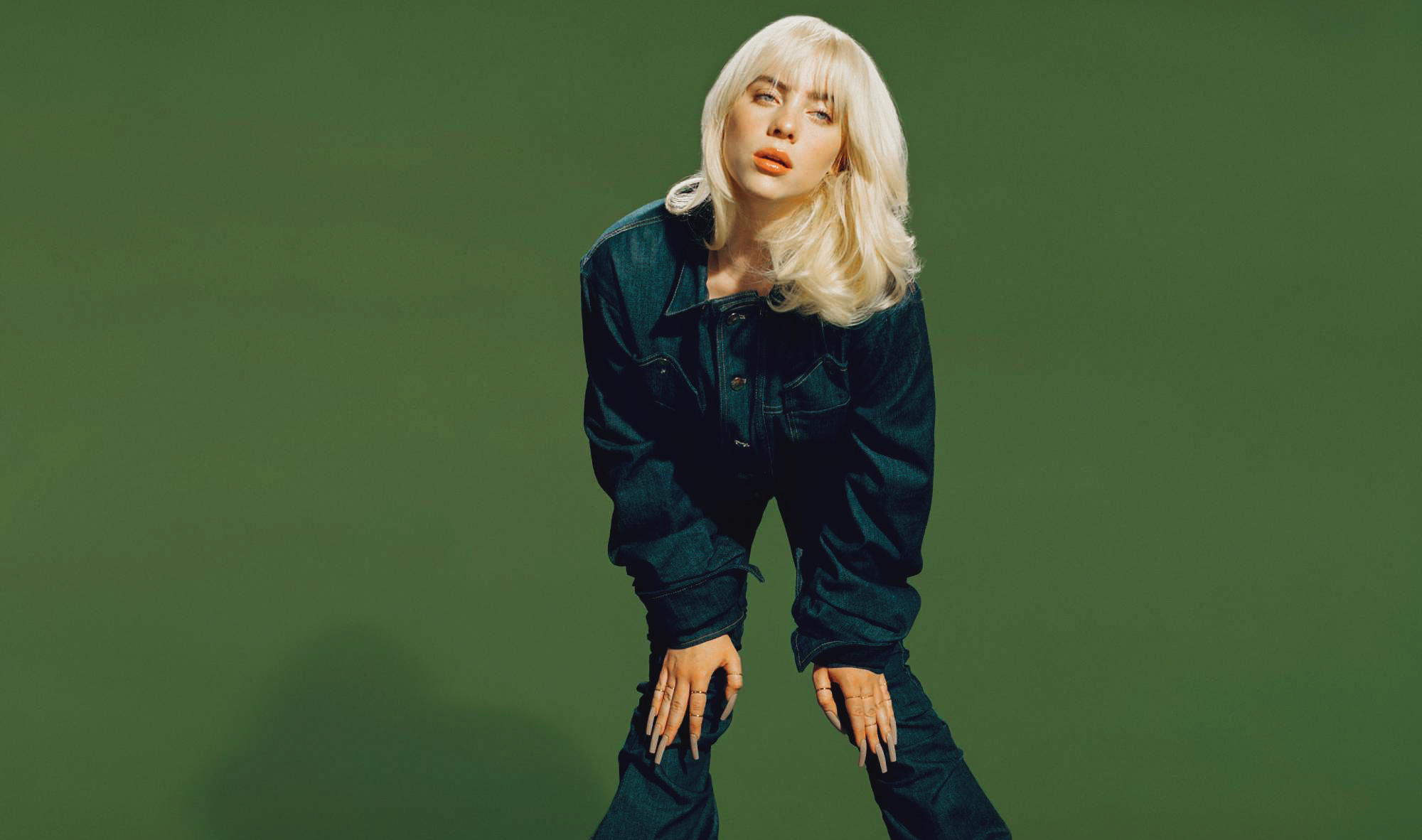 Billie Eilish promotes plant-based diet for the planet
Eilish has been vegan since age 12 and is putting climate action center stage during her Happier Than Ever world tour to illuminate the environmental benefits of a plant-based diet. The tour, which began in February and ends in September of this year, includes "The Billie Eilish Eco-Village" activation on the concourse of every show for concert ticket holders. The activation showcases Support + Feed along with other local environmental nonprofits.
Additionally, at every show during her tour, visitors are introduced to The Pledge, a campaign created by Support + Feed to inspire Eilish's fans to eat a plant-based meal every day for 30 days. The exclusive sponsor of The Pledge is Wicked Kitchen, a vegan brand founded by chef brothers Chad and Derek Sarno with the mission of making plant-based foods appealing and accessible.
Baird started Support + Feed in the middle of the COVID-19 pandemic in 2020 as a vehicle for supporting struggling vegan restaurants by purchasing their food and directing them to those in need, including frontline workers, people experiencing homelessness, and families struggling with food security. Since its inception, Baird has expanded the Support + Feed initiative to several regions, including Los Angeles, New York City, and Philadelphia.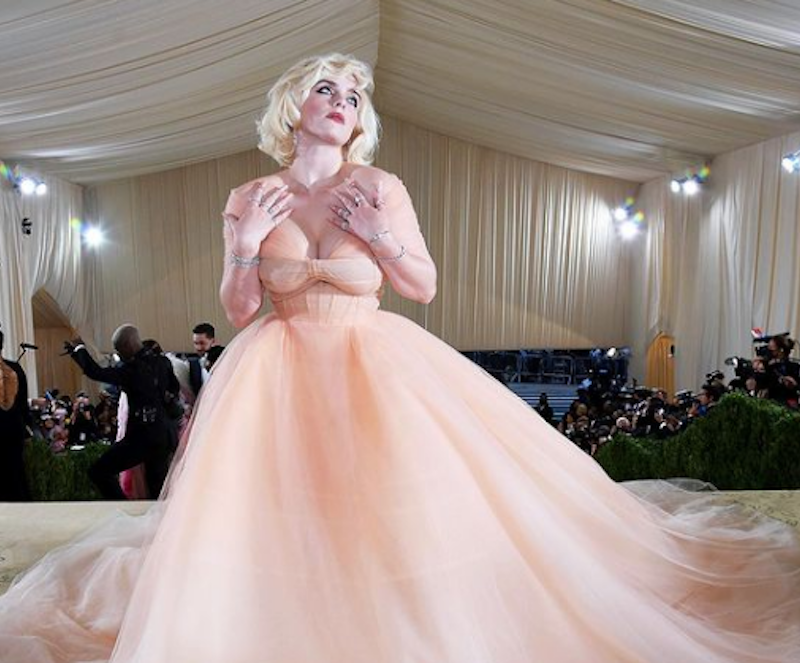 Sustainable fashion at the Met Gala
At last night's Met Gala, Eilish once again highlighted sustainable fashion by wearing a turn-of-the-century-inspired Gucci gown made entirely of upcycled materials. While some media outlets are reporting that her gown is made with silk, its exact components are not confirmed, meaning it could feature a similar material, satin, which is typically not derived from insects or animals.
Last year, Eilish brought a similar sustainability message to the Met Gala when the gown she wore on the red carpet marked a historical change for Oscar de la Renta. As a condition of her wearing the gown, Eilish required the designer to require a policy change and terminate all sales of fur.
Eilish's team informed Alex Bolen, Oscar de la Renta's chief executive, that she did not work with brands in the fur business, applying the final pressure needed to make the historical change. "[It's] shocking that wearing fur isn't completely outlawed at this point in 2021," Eilish said in a statement to the New York Times. "I'm honored to have been a catalyst and to have been heard on this matter."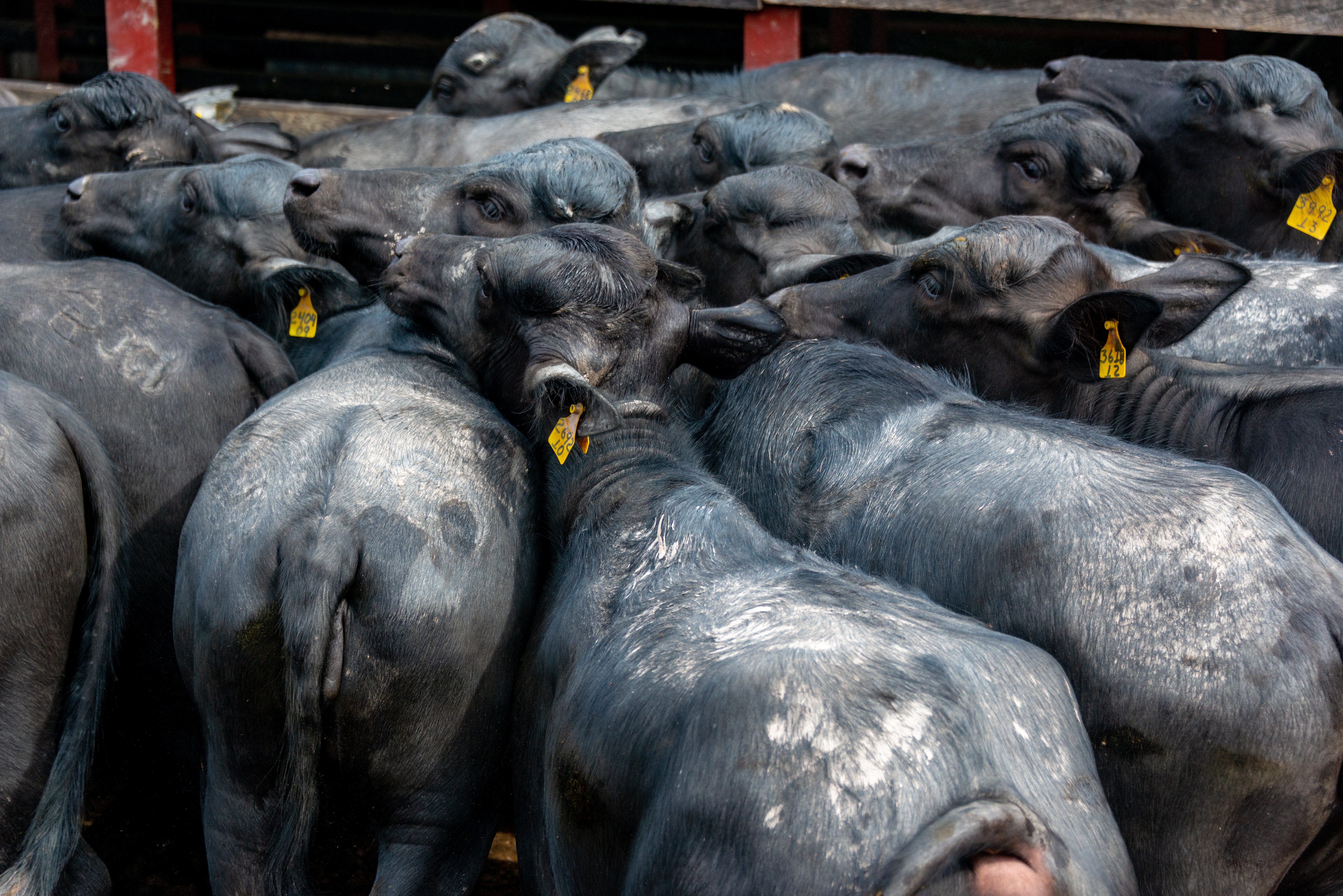 Animal agriculture's role in the climate crisis
Eilish has been outspoken about the need for climate action for a few years, and especially the impact animal agriculture has on the environment. Last year, Eilish joined a number of celebrities—including Moby, Joaquin Phoenix, Alan Cumming, Evanna Lynch, and Alicia Silverstone—to urge Rt. Hon. Alok Sharma, the president of the 2021 United Nations Climate Change Conference (COP26), to include the role of animal agriculture in all discussions about the climate crisis at the world renowned event. While animal agriculture has been widely ignored as a topic of discussion at previous climate talks, the demand letter pointed out that the destructive industry accounts for nearly 17 percent of all anthropogenic greenhouse gas emissions globally—making it the second largest GHG emitter in the world, on par with all transportation sectors combined.
"With animal agriculture such a major source of greenhouse gas emissions, it is impossible to meet goals set out in the Paris Agreement without making changes to our global food system," the letter stated. "Even if all other major sources of emissions were reformed, we will still fall short. Scientists agree—including the 107 experts who prepared the report for the UN's Intergovernmental Panel on Climate Change. We are on the verge of climate catastrophe, and as climate activist Greta Thunberg famously said, 'our house is on fire.'"
For more on Billie Eilish, read:
How Billie Eilish Is Turning Nike Vegan, One Sneaker Collection at a Time
Billie Eilish Takes to Capitol Hill to Support Vegan Lunch School Lunch Program
Billie Eilish Urges Fans to Go Vegan to Fight Climate Crisis