On June 1, Crepini—the makers of the popular keto Egg Wraps sold at Costco—is debuting its first-ever vegan Eggless Wraps made with JUST Egg at Sprouts supermarkets nationwide. The brand teamed up with JUST Egg to formulate a new version of its popular Egg Wraps so that more people with specific dietary preferences could have carb-free options. The new Eggless Wraps featuring JUST Egg are plant-based; dairy-, gluten-, and carb-free; and high in protein.
"Since our inception here at Crepini, we've been looking for ways to disrupt the carb-free category with keto-friendly options that aren't only easy to eat anywhere, but are delicious and versatile for every meal," Crepini founder Paula Rimer said in a statement. "Today, with the launch of our first Eggless Wrap, we've innovated a way to make eating well easy for people of all different dietary preferences, from gluten-free to keto to vegan."
With JUST Egg as its main ingredient, the Crepini Eggless Wrap is a plant-based version of the original wrap that the brand says doesn't compromise on flavor or function. The product's purpose is to offer a convenient and simple way to create a high-protein, zero-carb meal with the same egg flavor that serves as a canvas for a wide variety of recipes. Just like Crepini's original wraps, the Eggless Wraps can be rolled up with traditional sandwich ingredients, crisped up in a fry pan, baked, or enjoyed plain as a quick snack or meal.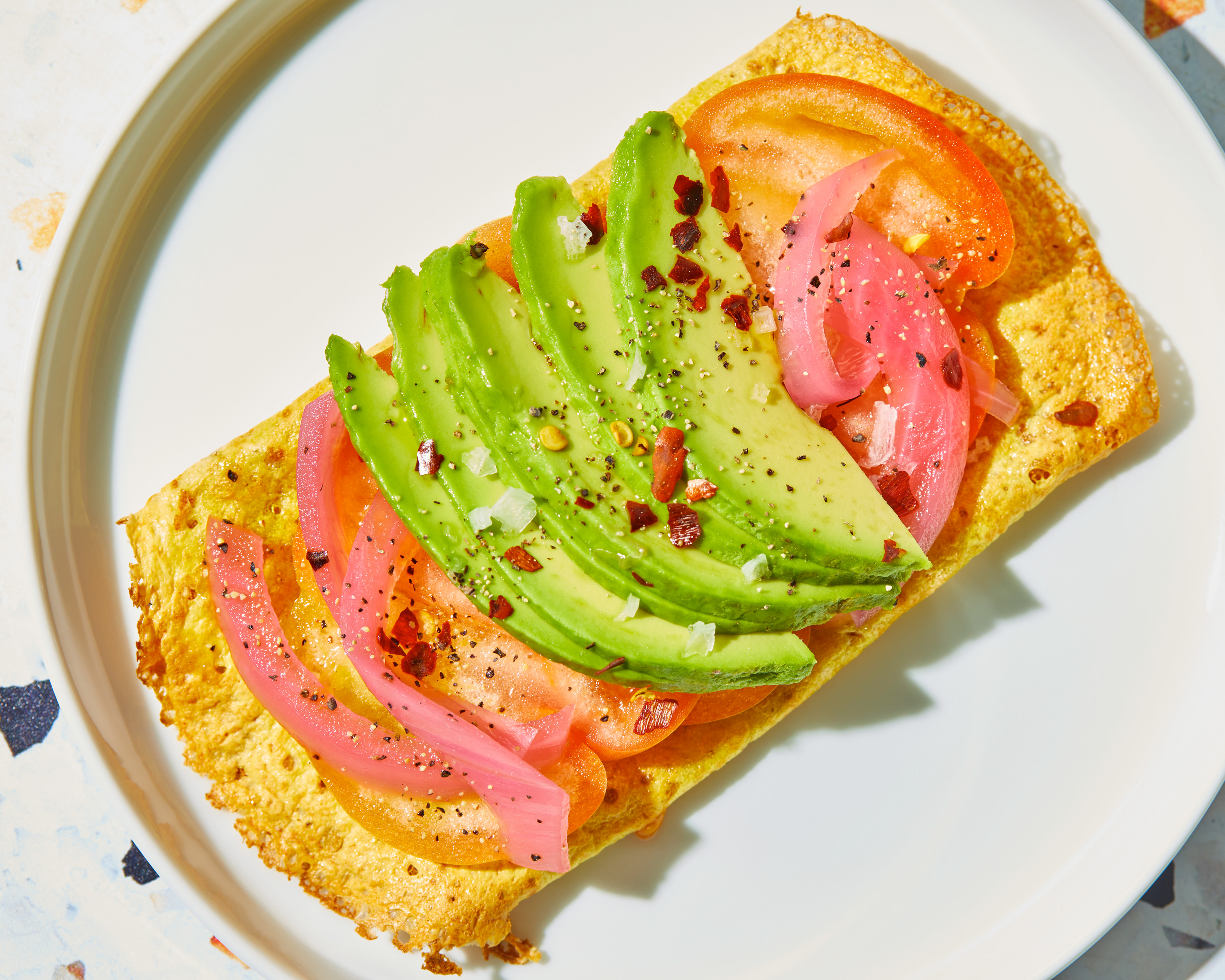 Eat Just
Plant-based eggs take over the egg aisle
Food technology company Eat Just debuted its mung bean-based JUST Egg in retail in 2019 in an effort to provide a more sustainable option to traditional chicken eggs, and it has since become America's fastest-growing egg brand. JUST Egg cooks, looks, and tastes just like a conventional egg, but it contains no cholesterol, less saturated fat, and about the same amount of protein as a chicken egg.
Producing JUST Egg is much more sustainable and ethical than relying on animal agriculture for chicken eggs. Egg-laying hens are among the most abused animals on earth and the industrial egg industry is environmentally damaging. Compared to chicken eggs, JUST Egg's ingredients use 83 percent less land, 98 percent less water, and produce 93 percent fewer carbon emissions.
Plant-based eggs like JUST Egg are becoming a growing sector within the plant-based category as conventional egg sales decline and expenditures rise due to inflation and other factors, according to data released earlier this year by SPINS, the Plant Based Foods Association, and the Good Food Institute. In 2021, the plant-based egg category grew 42 percent in dollar sales; and in the past three years dollar sales have grown more than 1,000 percent. And with conventional egg dollar sales declining by 4 percent in 2021, plant-based eggs have grown to earn a nearly 0.6 percent share of the total egg market, making them a growth driver of the category.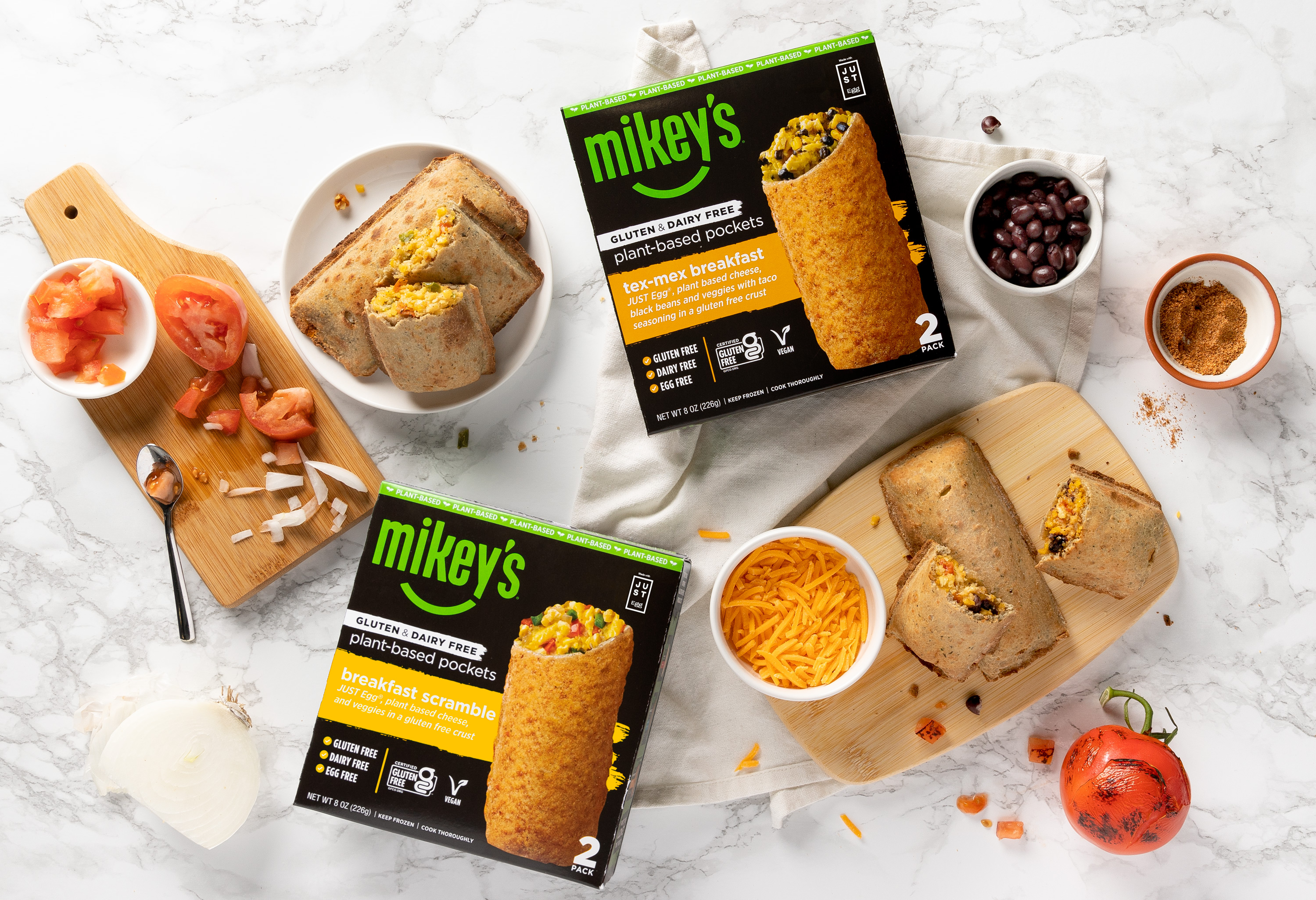 Eat Just
Popular products go egg-free
Plant-based eggs are also increasingly moving beyond the dairy and egg section and into mainstream products. In addition to JUST Egg's partnership with Crepini for its vegan Eggless Wraps, the brand also recently teamed up with frozen baked goods brand Mikey's for two new plant-based breakfast pockets—a Breakfast Scramble Pocket and a Tex-Mex Breakfast Pocket—featuring JUST Egg, vegan cheese, and vegetables in a gluten-free crust. The new vegan pockets are available in grocery chains such as Whole Foods Market, Winn Dixie, and Sprouts.
Since its debut three years ago, JUST Egg has quickly grown its distribution to thousands of retailers and foodservice providers, including in Canada, South Africa, and China. The mung bean-based egg replacer is available in liquid, folded, and sous vide formats to compete with chicken eggs on every level. Eat Just has continued to reformulate JUST Egg and reduce its price with the ultimate goal of becoming the cheapest egg on the planet—plant-based or otherwise.
Alfred
Perhaps the most popular product category for JUST Egg has been in breakfast sandwiches. A growing number of coffee shops and quick-service restaurants are now offering a plant-based version of the popular morning meal. Earlier this month, Los Angeles coffee chain Alfred launched an instagram-worthy Plant-Based Breakfast Sandwich featuring a JUST Egg patty, Impossible Sausage, and Violife cheddar inside a vegan potato bun and served with a packet of Zab's hot sauce. And coffeehouse chain Caribou Coffee added its first vegan food option, a JUST Egg Roasted Tomato and Pesto Flatbread, to its All-Day Breakfast menu at all 400 locations in the Midwest, West, and South.
Additionally, major chains are rolling out vegan egg options. Earlier this year, restaurant chain International House of Pancakes (IHOP) tested its first vegan breakfast sandwich at one Flip'd by IHOP location in the Flatiron neighborhood of New York City. The Plant Based Cali sandwich featured a vegan sausage breakfast patty by vegetarian brand Sweet Earth, JUST Egg, arugula, roasted tomatoes, and avocado, all served on a vegan bun.
For more on JUST Egg, read:
JUST Egg Sells the Vegan Equivalent of 100 Million Eggs in 3 Years
It Took Years But JUST's Vegan Eggs Are Now Approved For Sale in Europe
The Ultimate Vegan Egg Breakfast Sandwich Just Launched at 500 Whole Foods