The ultimate vegan breakfast sandwich is coming to all 500 Whole Foods Market locations nationwide. The Field Roast Classic Style Sausage, Egg & Cheese Plant-Based Breakfast Sandwich was developed in partnership with food-technology startup Eat Just and features Field Roast's vegan breakfast sausage, a slice of its Chao Creamery cheese in the Creamy Original Flavor, and Eat Just's mung bean-based JUST Egg, which are all sandwiched between a vegan English muffin.
"We are pleased to expand our valued relationship with an innovator like Eat Just, as we continue our focus and brand momentum on Field Roast portfolio innovation," Dan Curtin, President of Field Roast parent company Greenleaf Foods, said in a statement. "This collaboration with two plant-based industry leaders joining forces will provide a better breakfast solution for the consumer seeking high-quality and delicious plant-based options for their mornings."
The brands developed the sandwich after a poll commissioned by Eat Just found that of the 2,000 respondents, nearly six in 10 were transitioning to a more plant-based diet with breakfast identified as a key meal time. "Since its inception, Field Roast has built equity leveraging bold flavor profiles to create mouth-watering plant-based food. This collaboration adds an innovative new co-branded product to their already impressive portfolio," Josh Tetrick, co-founder and CEO of Eat Just, said in a statement. "Our combined expertise in the breakfast space has produced a superior breakfast offering that delivers on both flavor and convenience."
The new sandwich (which has a suggested retail price of $4.49) will first be available at Whole Foods before expanding to additional retailers in 2022.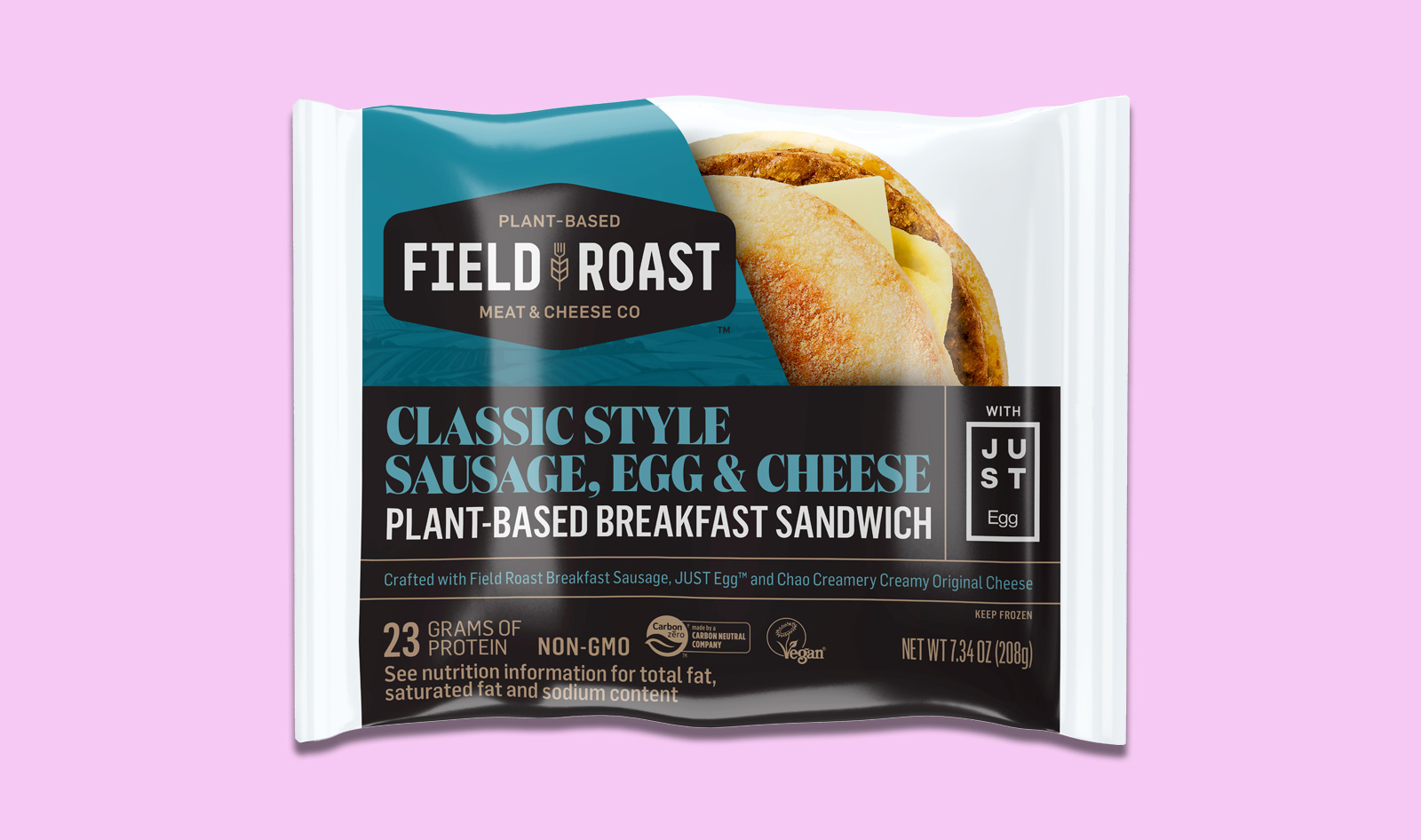 Vegan breakfast sandwiches for the win
For a different take on the breakfast classic, vegan convenience brand Alpha Foods recently launched its own sandwich. The Meatless Sausage, Plant Egg & Cheeze sandwich—which features vegan cheese by Greek brand Violife and Alpha Foods' sausage—hit shelves in May at many Costco locations in Los Angeles, the San Francisco Bay Area, and the Southeast region (which includes stores in Georgia, Tennessee, Mississippi, South Carolina, North Carolina, Alabama, Florida, and Puerto Rico). In June, Alpha Foods expanded distribution of the sandwich (along with an additional Chorizo, Plant Egg & Cheeze flavor and three vegan breakfast burritos) to retailers nationwide.
While it's easy to heat-and-eat these vegan breakfast sandwiches, for those that prefer zero extra work at breakfast time, a number of coffee chains have launched vegan options to help. At New York City-based chain Gregory's, visitors can opt for a Vegan Deluxe which features JUST Egg, Beyond Breakfast Sausage, and Daiya Foods' cheddar cheese, all served on a toasted vegan croissant. At coffee chain Peet's, breakfast got a vegan makeover in March with the launch of the Everything Plant-Based Sandwich which ​​is made with a Beyond Meat Breakfast Sausage patty, folded JUST Egg, melted dairy-free cheddar cheese, and comes served on an everything bagel thin.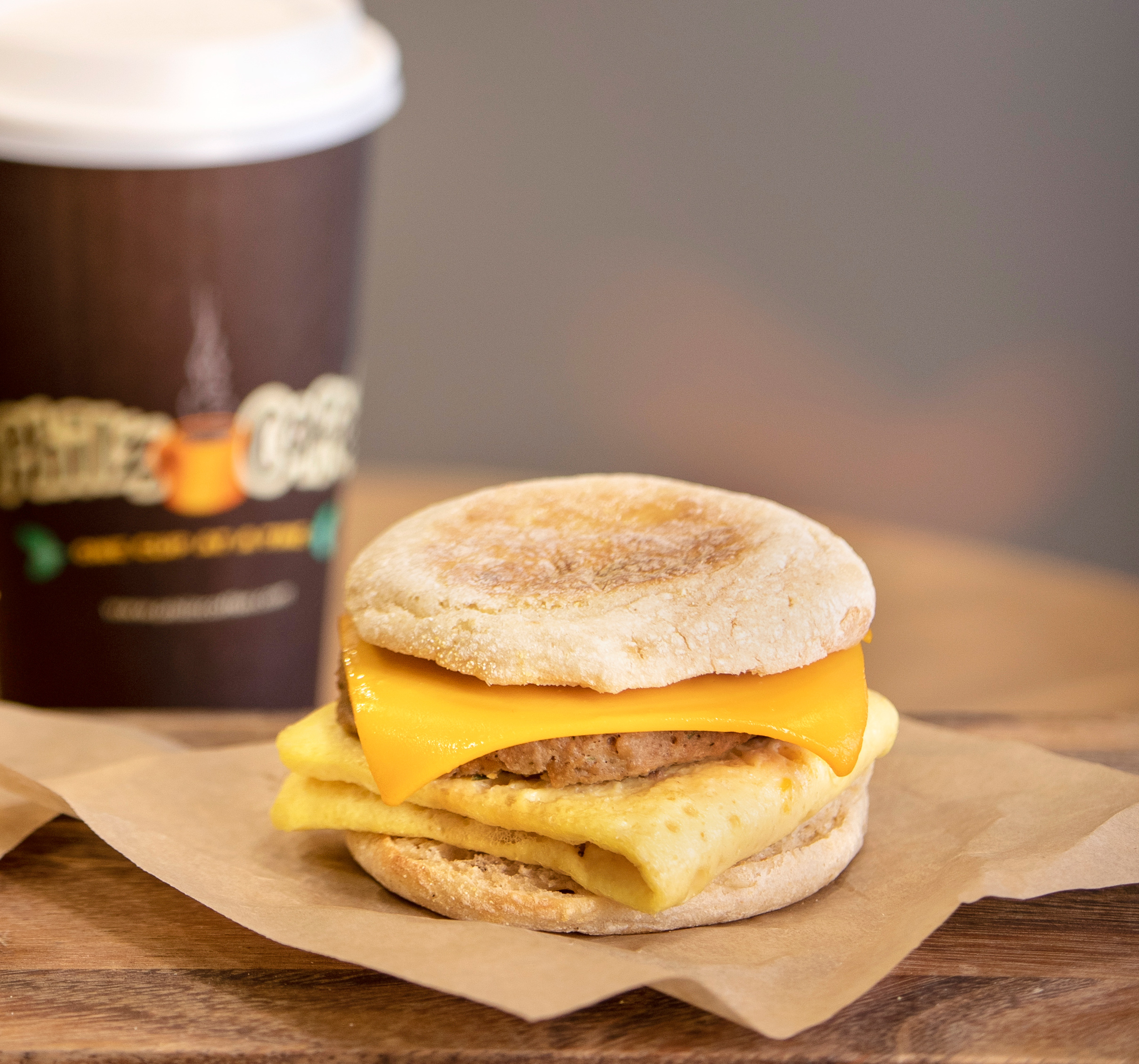 San Francisco-based Philz also got into the vegan breakfast sandwich game in March with the launch of the Plant Powered Sandwich across its California locations. After only two months on the menu, the sandwich—which similarly features folded JUST Egg, Beyond Breakfast Sausage, and vegan cheese and is served with a hot sauce packet for a kick—was the number two most ordered breakfast item at Philz, pushing the chain to expand the offering to its Washington, DC and Chicago locations.
And at Starbucks, the largest coffee chain in the world, a vegan breakfast sandwich is not quite yet on the national menu, but that may soon change. The chain added the (non-vegan) Impossible Breakfast Sandwich to nationwide locations last summer. It also began testing the (vegan) Plant Powered Breakfast Sandwich at one Seattle-area location last fall. While the coffee chain expanded the vegan sandwich to test locations in the Dallas area in January, there is no word yet about if and when Starbucks will make vegan breakfast sandwiches a reality for customers nationwide.
For more about vegan breakfast sandwiches, read:
Denny's Commits To Launching New Vegan Breakfast Options
Dunkin' Adds Meatless Beyond Breakfast Sausage to Menu
Follow Your Heart's Vegan Pancake Batter Is Hitting Stores