It seems that every week in the world of vegan food news is more exciting than the last and this week is no exception. Papa Murphy's just added Violife's vegan cheese to its locations nationwide to make plant-based pizza dreams come true. Instagrammable LA coffee chain Alfred is getting into the vegan breakfast sandwich game in style. And new sweet, breakfast-inspired treats are piquing our interest. Read on for more.
1Dairy-free cheese arrives at Papa Murphy's
While most national pizza chains offer cheeseless pies as a vegan option, Papa Murphy's Take 'n' Bake Pizza is stepping up its game by adding Violife's vegan mozzarella cheese to the menu. The new vegan cheese can be ordered instead of dairy on a variety of pizzas or customers can design their own pie with Violife's cheese as a topping.
"We are thrilled to be able to serve our dairy-free and cheese-loving guests alike with this new topping," Carron Harris, Senior Director of Culinary at Papa Murphy's, said in a statement. "Violife delivers that flavorful, 'cheesy', perfect bite you've come to expect from Papa Murphy's."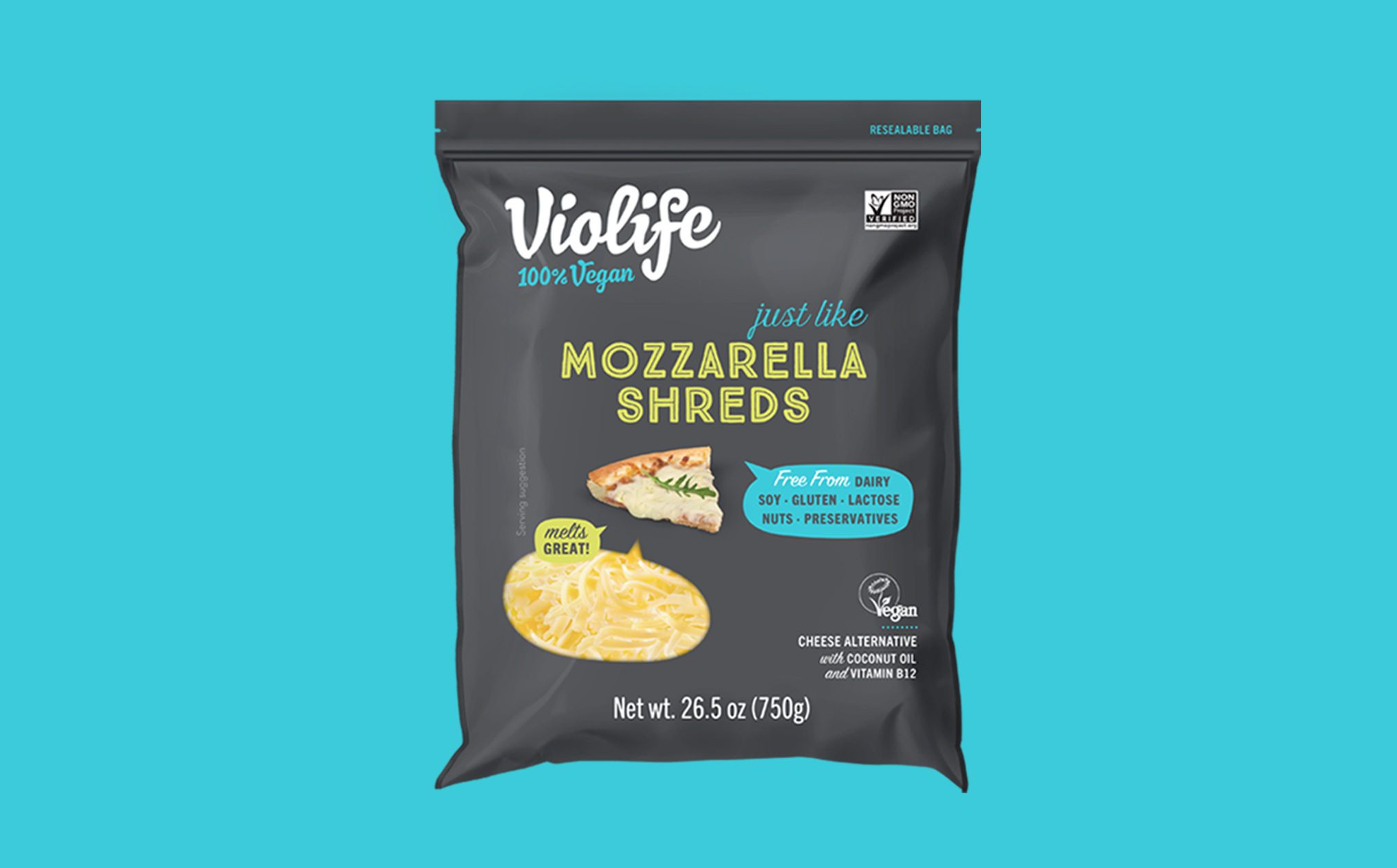 Violife
The pizza chain partnered with Violife last year to offer its vegan cheese at select locations and this rollout expands the option nationwide to 1,250 locations. "There's an appetite for dairy-free cheese around the country, and Papa Murphy's pizza is here to help," Kim McBee, Senior Vice President of Guest Experience and Brand Marketing, said in a statement. "We're so pleased to make it easier than ever to customize, take, and bake the perfect meal to share with your family and friends with dairy-free needs and preferences."
2Alfred's vegan sandwiches
Los Angeles Coffee chain Alfred has been a go-to spot for many looking to snap a perfect latte art photo since it opened its flagship location on Melrose in 2013. The shop has since grown into a chain with 11 LA locations and this week, launched a 'gram-worthy vegan breakfast sandwich. The Plant-Based Breakfast Sandwich (PBBS) features a JUST Egg patty, Impossible Sausage, and Violife cheddar hugged by a vegan potato bun and served with a packet of Zab's hot sauce.
Alfred's
"Alfred is more than just a coffee shop—it has captured the zeitgeist of eating and drinking in the social media age," Dan Greene, Senior Vice President of US Sales, said in a statement. "We're thrilled to see Impossible Sausage Made From Plants on their menu, giving their customers a taste of breakfast sausage while further cementing the cafe's status as a trendsetter in the food and beverage scene."
Alfred is the latest coffee shop to add a vegan egg sandwich to its menu and follows the spring menu launch of Peet's Mediterranean Flatbread—a wrap with JUST Egg and Violife's vegan smoked provolone cheese. The new addition at Peet's supplements its Everything Plant-Based Sandwich—also made with JUST Egg and a Beyond Meat Breakfast Sausage patty—which the chain added to its permanent menu in March.
3New meatless chorizo at Target
Target has always been a fun place to shop with plenty of vegan finds and this week, its selection got even better. New vegan chorizo made by California brand Abbot's Butcher—which specializes in soy-free, whole food-based vegan meat—just hit the shelves at 1,215 Target stores nationwide.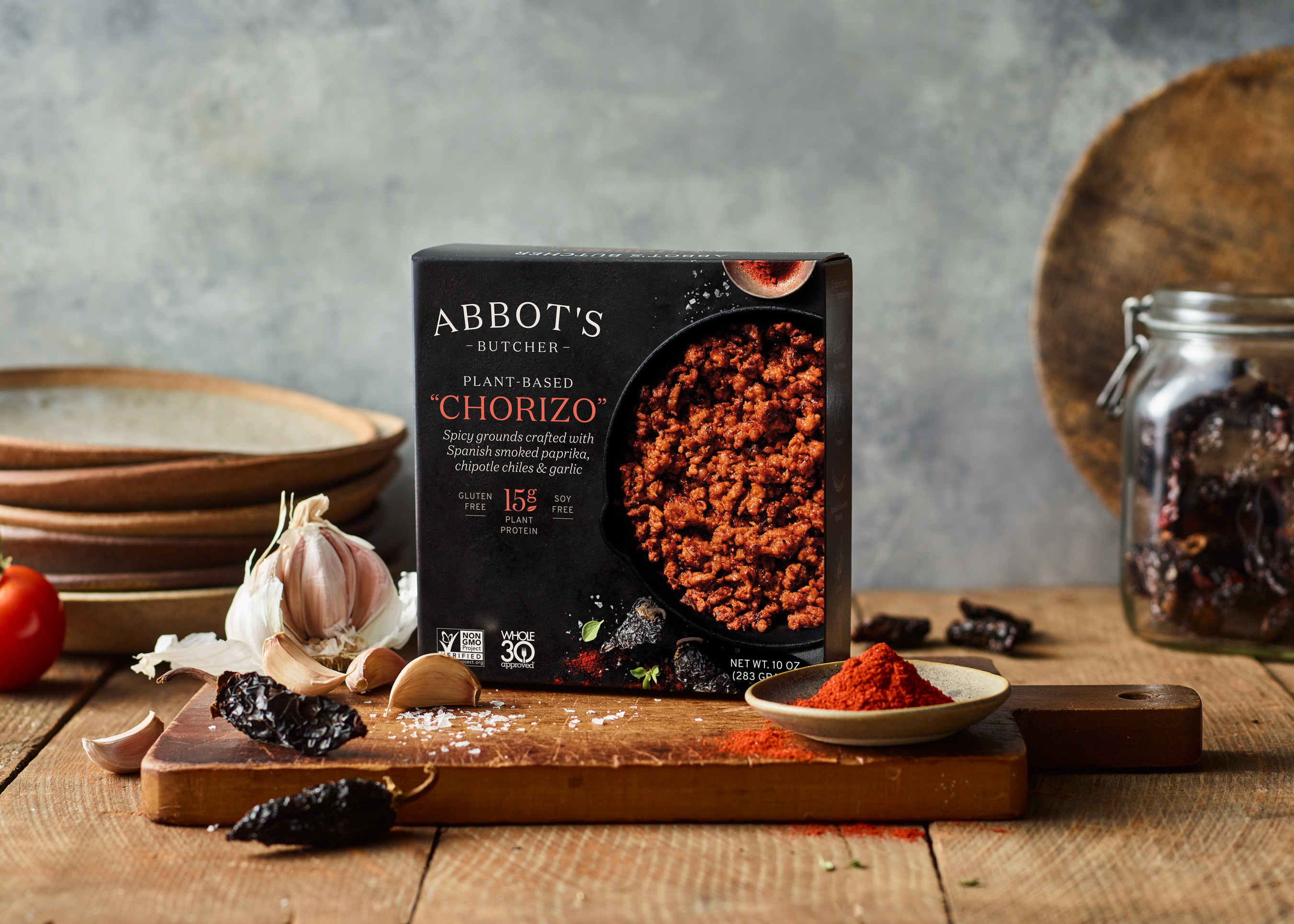 Abbot's Butcher
"I'm proud of our team and the rapid growth we've accomplished in a short time. We have shown that consumer demand is high for simple, clean, and wholesome plant-based meats from the double-digit velocity growth we've seen over the last year at Whole Foods Market," Abbot's Butcher Founder & CEO Kerry said Song. "We're just getting started, and I couldn't be more confident about the future."
In addition to its launch at Target, Abbot's Butcher is expanding its full product line—which also includes vegan Ground Beef and Chopped Chick'n—to 159 The Fresh Market stores and 73 Fresh Thyme stores. Over the last year, Abbot's Butcher has seen 700 percent in sales growth in the natural channel. With these retail partners secured, the vegan meat brand expects to triple its growth in 2022.
4Realistic vegan chicken wings hits restaurant menus
Realistic, bone-in vegan chicken wings recently hit the menu at New York City's Orchard Grocer & Deli (a vegan paradise in Manhattan) and San Francisco's FoghornTaproom (which is serving the meatless wings at multiple locations). The wings are made by food tech startup Sundial Foods and this launch represents the first time its products have been available in the foodservice industry.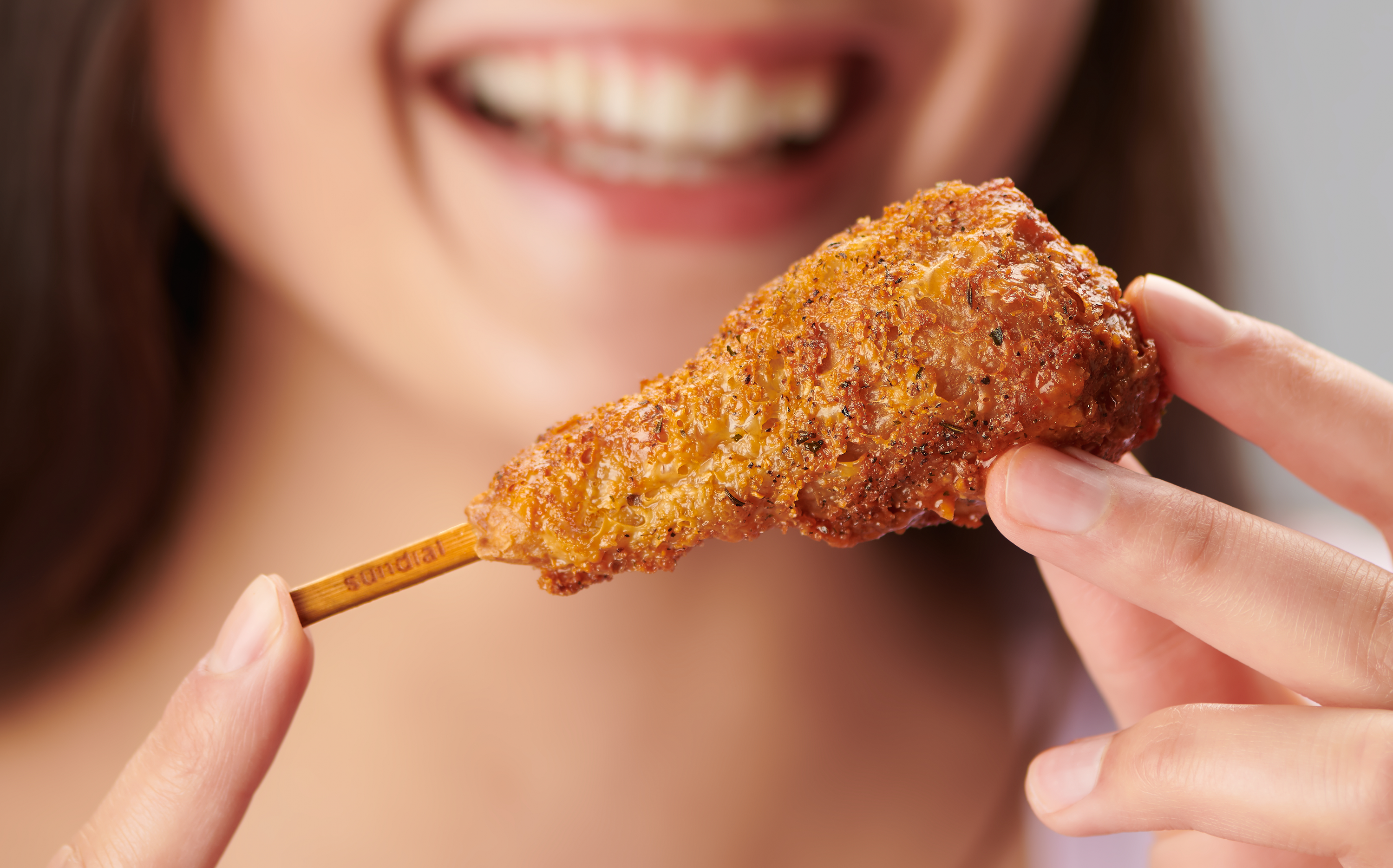 Sundial Foods
Sundial is led by CEO Jessica Schwabach and CTO Siwen Deng, 20-somethings who met in the Alternative Meats Program at UC Berkeley three years ago. Sundial participated in Nestlé's R&D Accelerator in 2020 and the lucrative IndieBio program in 2021. Earlier this year, Sundial announced that it closed a $4 million led by Nestlé, which has already run a successful test launch under its Garden Gourmet brand in more than 40 retail outlets across Switzerland.
"This soft launch is a step toward our goal to provide nutritious, environmentally-friendly alternatives to animal protein," Schwabach said in a statement. "By beginning with strategic food service partnerships, we will be able to share our plant-based chicken wings with eager diners—whether vegan, flexitarian, or meat lovers—while we work toward an e-commerce launch later this year."
5Sweet vegan treats for breakfast
It turns out that eating cookie dough for breakfast is totally acceptable, at least vegan and gluten-free brand Deux says so (and who are we to argue?). Its new vegan cookie dough flavor, Cinnamon Roll, fully embraces this concept. It's made with hunger satisfying almond butter and oat flour and is enhanced with vitamin B12 for a morning boost. The best part is that it is dotted with vegan white chocolate chips that turn into icing when baked (if you ever get that far, that is).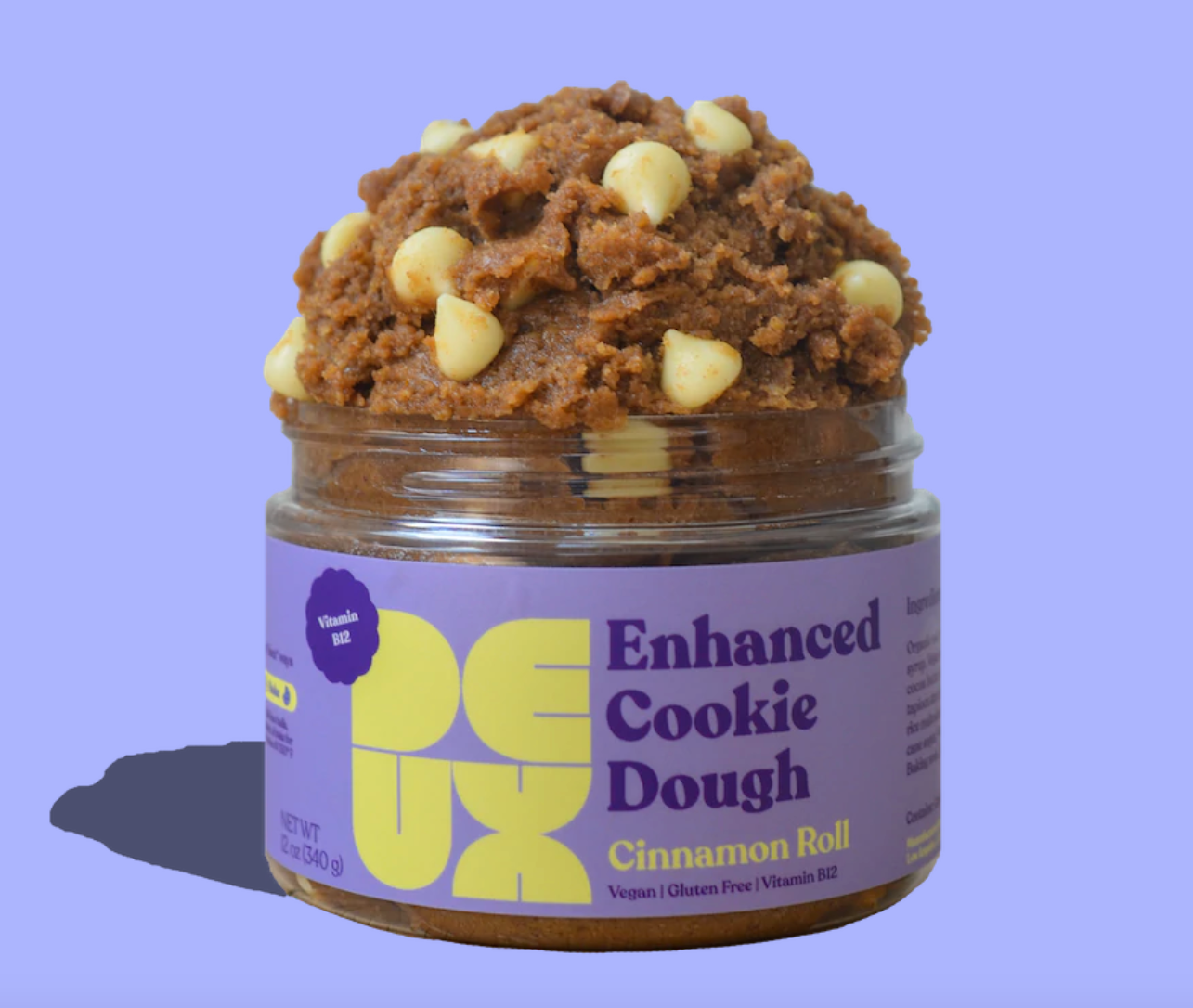 DEUX
And if morning cookie dough is not your thing, then maybe Yogurtland's new breakfast-inspired vegan froyo flavor, Plant-Based Blueberry Pancake, will hit the spot. Made with oat milk and real blueberries, the blue-hued flavor is on the menu until June 5.
For the latest vegan news, read:
Saudi Arabia's Prince Khaled Brings Vegan Dining to Four Seasons in Qatar
Buckets of Vegan Chicken Are on the Way at KFC in Europe
How This Startup Is Disrupting the $89 Billion Cheese Industry