Some of this summer's biggest movie premieres have a plant-based burger twist. For this week's The Bob's Burgers Movie premiere, Impossible Foods teamed up with The Walt Disney Company to create the "Get This Plant Patty Started" vegan burger that made its first appearance on the red carpet at Hollywood's El Capitan Theater. Served at the film premiere, the burger features an Impossible Burger patty topped with dairy-free American cheese, butter lettuce, tomatoes, onions, dill pickle chips, and is slathered in a special sauce (made from vegan mayonnaise, sriracha, minced pepperoncini, ketchup, and dill pickle relish).
The "Get This Plant Patty Started" is sure to be a favorite of Linda Belcher as John Roberts—the actor who voices the sassy mom—worked with Impossible Foods to design the burger after professing his love for the company's plant-based chicken nuggets on Twitter earlier this year.
"Creating this recipe with John Roberts and the Disney team was a fun way for us to celebrate the film, offering a deliciously sustainable option for hungry moviegoers," an Impossible Foods spokesperson told VegNews. "We could not be more thrilled to serve up our 'Get This Plant Patty Started' burger, and we hope everyone enjoys our fun twist on a classic."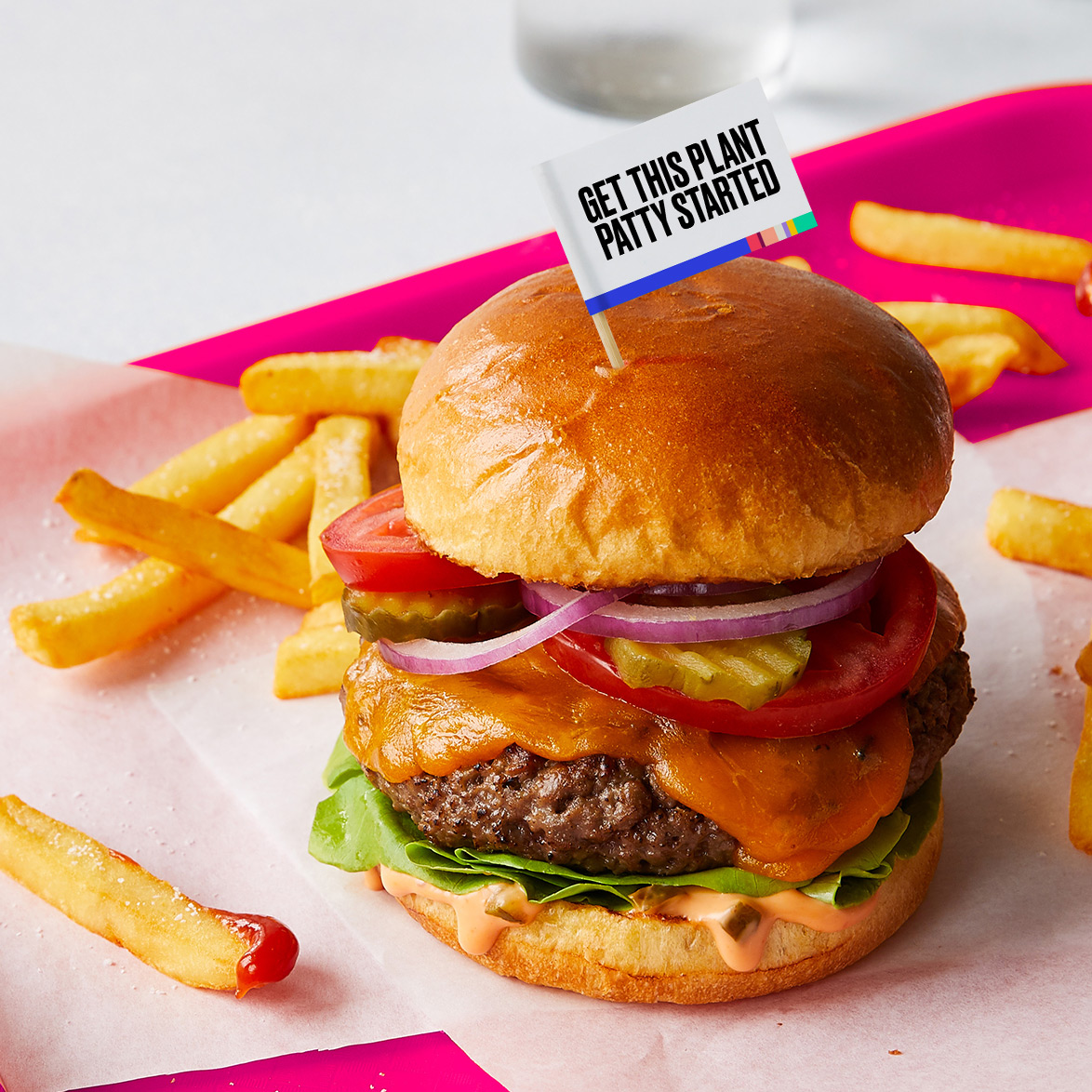 Impossible Foods
For the theatrical release of The Bob's Burgers Movie—which follows the Belchers as they deal with a massive sinkhole in front of the restaurant—Impossible Foods and Disney will bring their collaborative "Get This Plant Patty Started" burger to movie-govers during the film's opening weekend (May 27 to May 29) to a pop-up outside the Disney Springs AMC Theater in Florida—where Roberts' beloved Impossible chicken nuggets are also available on the concession menu.
This collaboration is the latest from Impossible Foods and Disney, which have been partners for several years. In 2020, Impossible Foods became Disney's "Preferred Plant-Based Burger" and its burgers have made their way onto menus across multiple Disney properties, including the Walt Disney World Resort, Disneyland Resort, and Disney Cruise Line.
Beyond Burgers get a Jurassic World Dominion makeover
While Impossible Foods was collaborating with Disney on the Bob's Burgers-themed launch, its competitor, Beyond Meat, was working on something of Jurassic proportions in partnership with Universal Pictures and CKE Restaurants—parent company of fast-food chains Carl's Jr. and Hardee's.
Starting today, CKE Restaurants will unveil its Primal Menu, created ahead of the June 10 release of Jurassic World Dominion—the final installment of the $5 billion Jurassic franchise. While the new menu heavily features animal products, CKE Restaurants made sure to include meatless options made by its longtime partner Beyond Meat for "herbivores"—a nod to the non-carnivorous dinosaurs who lived during the Jurassic era. For a limited time, dinosaur-lovers can order the Wraptor Burger—as well as a Double Wraptor Burger—which features a lettuce-wrapped Beyond Meat patty that can be made plant-based upon request.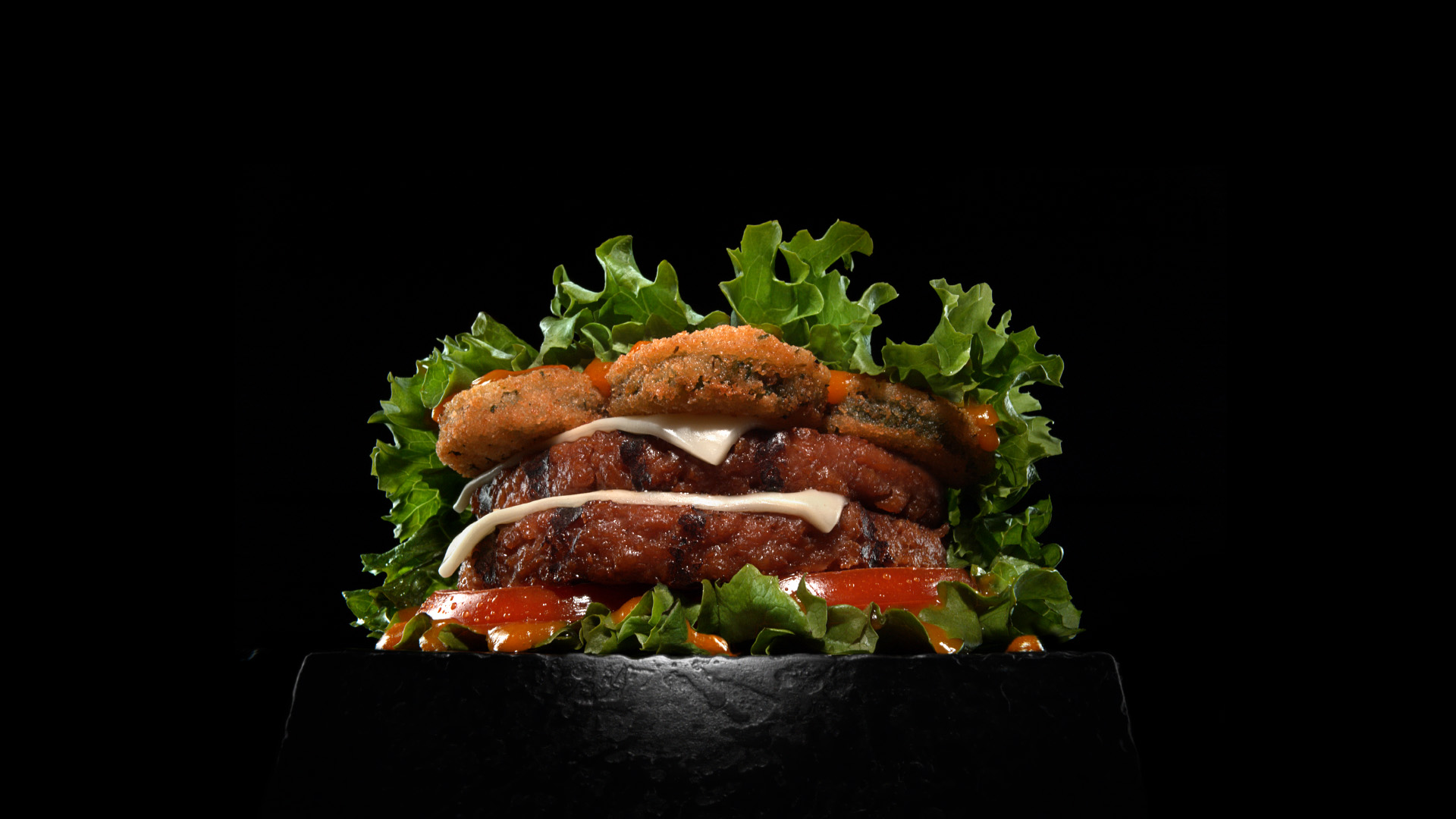 CKE Restaurants
Carl's Jr. was the first fast-food chain of its size to offer a Beyond Burger when it launched the Beyond Famous Star in 2018. Since then, the chain has sold 20 million Beyond Burgers and for its newest Jurassic launch, CKE Restaurants wanted to make sure Beyond Meat was on the menu.
"As a brand that is at the forefront of culinary innovation, we are always looking for new ways to create unique offerings for our fans," Owen Klein, Vice President of Global Culinary Innovation for CKE Restaurants, told VegNews. "When creating the Primal Menu, it was a no-brainer to extend the offerings to Carl's Jr. customers that value plant-based options highlighting our partnership with Beyond Meat. Our Culinary team also loved the idea of having something for both carnivores and herbivores."
And Beyond Meat's inclusion in the Primal Menu is important in other ways, too. Jurassic World Dominion pits dinosaurs against humans to discover if the latter can remain the apex predator in the fabricated movie world. The themes explored in the conclusion of the Jurassic series center around creation, coexistence, and extinction of life, topics that are relevant in today's real world where animal agriculture has been linked to the destruction of biodiversity. Aptly named Eating Our Way to Extinction, a 2021 film narrated by British actress Kate Winslet, delved deeper into these themes and exposed the destruction that human activity—particularly exploiting resources for animal agriculture—continues to have on the planet.
Luckily, environmentally friendly plant-based meat options such as those made by Impossible Foods and Beyond Meat were created so that humans, and the rest of modern civilization, can avoid going extinct the way the dinosaurs.
For more about Beyond Meat and Impossible Foods, read:
McDonald's and Beyond Meat Sign 3-Year Deal to Launch Plant-Based Options
Impossible Foods Has Raised $2 Billion To Make Animal Foods Obsolete by 2035
Are Beyond and Impossible the Coca-Cola and Pepsi of the Modern Era?