In celebration of Asian American Pacific Islander (AAPI) month, a group of New York City chefs have partnered with Hong Kong-based vegan brand OmniFoods to highlight its plant-based pork. The chefs are using OmniPork in a variety of dishes that celebrate the diversity of the AAPI community.
At Michelin-recognized Hawaiian restaurant Noreetuh, chef Chung Chow—who was born in Hong Kong and raised in Hawaii—created Chow Noodles which features OmniPork Strips, black beans, and Szechuan chili. At Bangkok-born Chef May Kaidee's eponymously named Thai vegan restaurant, two OmniPork dishes will hit the menu: Thai Red Curry made with OmniPork Ground, cauliflower, onions, bell pepper, pineapple with basil leaf; and Steamed Dumplings made with OmniPork Ground, a realistic plant-based version of ground pork.
Filipino Chef LJ Almendras—who specializes in Pinoy street food culture—has also created two dishes using OmniPork that will be served at Gugu Room, where he is currently a guest chef. Almendras' Chorizo Burger is made with OmniPork Grounds, shiitake mushrooms, grilled pineapple, frisée, and slathered in barbecue sauce. The chef also created Sweet and Sour Meatballs with OmniPork Ground, which feature spring onions, mustard garlic, roasted bell peppers, and a sweet and sour sauce.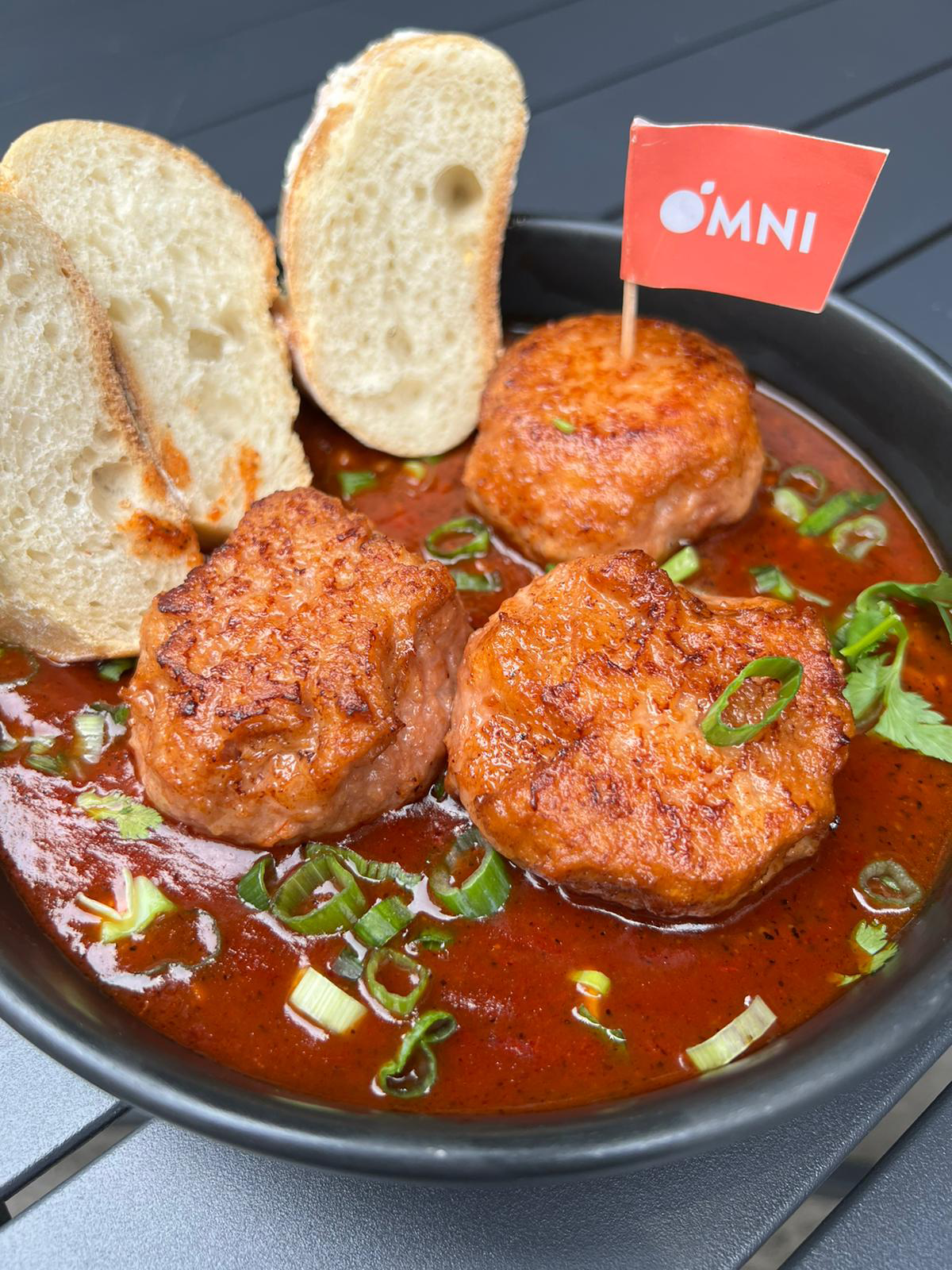 OmniFoods
Über-popular Madame Vo is also celebrating AAPI month. There, Vietnamese-American Chef Jimmy Ly created a plant-based take on a traditional, home-style dish, Vietnamese Xiu Mai (meatballs), that uses OmniPork Ground and is served with baguette slices.
All of these dishes can be found at these NYC restaurants starting today and will be served until May 31. Part of the proceeds of each dish sold will benefit Heart of Dinner, a foundation that helps fight food insecurity and isolation experienced by Asian American seniors—two long-standing issues within the AAPI community that have been exacerbated by the pandemic.

"Coming from Asia, our OmniFoods team is excited to partner with these up-and-coming Asian American chefs based in New York City in honor of AAPI month," David Yeung, founder of OmniFoods and social enterprise Green Monday Holdings, said in a statement. "Equally, we are humbled to support the tremendous work by Heart of Dinner in helping the elderly Asian American community."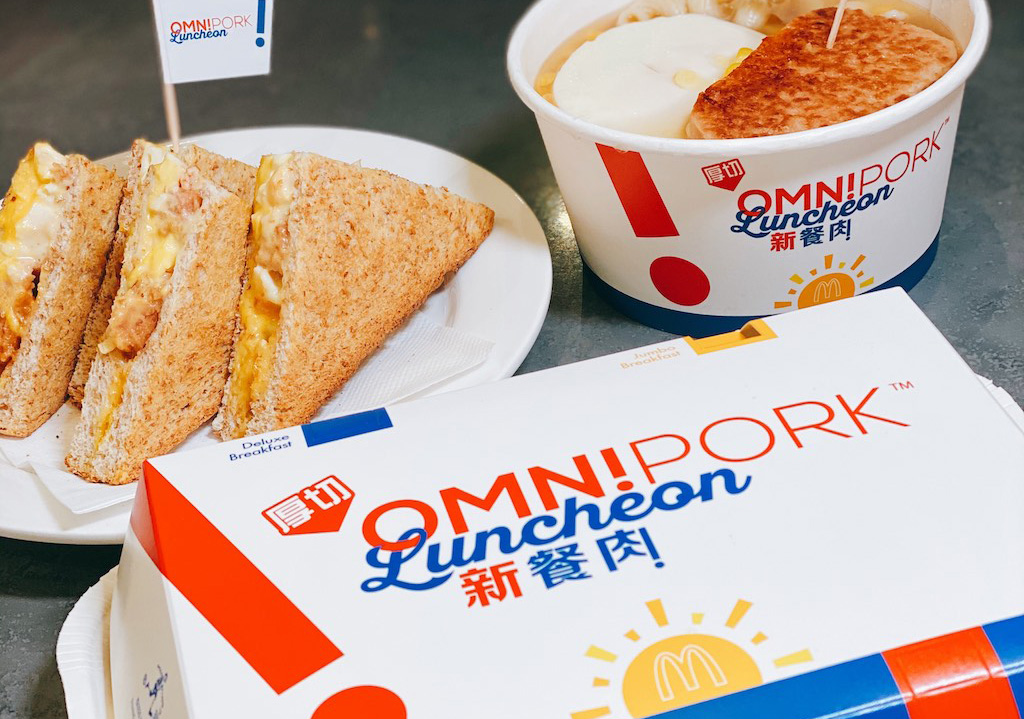 McDonald's
OmniPork's vegan "SPAM"
Yeung—who also operates vegan convenience store and café chain Green Common— launched OmniFoods in Hong Kong as a way to bring sustainable plant-based pork to Asia, where animal-derived pork is a popular protein. The company's OmniPork line features three formats: Ground, Strips, and Luncheon. The latter resembles a vegan version of Hormel's SPAM, a popular meat that found its way into various Asian cuisines by way of occupying American troops stationed in places such as Japan, Guam, Philippines, South Korea, and others. OmniPork's vegan Luncheon is made from non-GMO soy, peas, shiitake mushrooms, and rice to give consumers an option that is free from animal cruelty and better for the environment.
Since its launch in 2020, OmniPork Luncheon has gained a lot of popularity across Asia and made inroads into some of the biggest global fast-food chains. On Earth Day (April 22) this year, McDonald's announced the return of OmniPork Luncheon—which it tested on its menu in October 2020. The fast-food giant made the move after selling 3.7 million servings of the plant-based pork. Now, McDonald's Hong Kong proudly offers four menu items featuring the innovative vegan meat: New Luncheon Meat McMuffin with Egg; New Luncheon Meat & Scrambled Egg Burger; New Luncheon Meat Deluxe Breakfast; and New Luncheon Meat Jumbo Breakfast.
In addition to plant-based pork, the OmniFoods brand added an OmiSeafood product line in 2021 which features a variety of plant-based fish products such as classic filets, fish burgers, salmon, and tuna. These products are now rolling out in Asia, including alongside its Luncheon at McDonald's Hong Kong. There, OmniSeafood vegan tuna is served in three items: New Tuna Cheesy Pizza Bread, New Tuna & Egg Mayo Ciabatta, and New Tuna Cheesy Baked Pasta.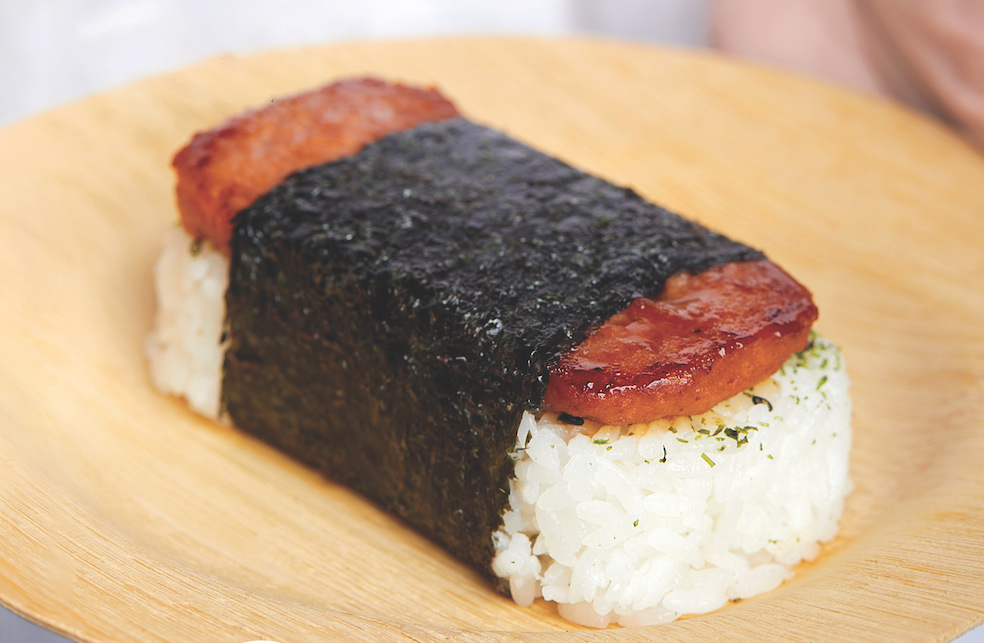 OmniFoods
Last summer, Yeung brought OmniPork to the US by partnering with 25 restaurants and chefs in California and Hawaii. OmniPork also made its US retail debut last August at select Whole Foods Markets in 16 states and Sprouts Farmers Markets in 23 states.
For more ways to celebrate AAPI month, read:
19 Vegan Asian & Asian-owned Restaurants Redefining Asian Cuisine
33 Vegan Asians & Pacific Islanders To Follow on Instagram
6 Asian-Owned Fashion Brands Prioritizing Sustainable, Vegan Materials