Aubry and Kale Walch, the siblings behind The Herbivorous Butcher, will release their first cookbook this fall. The simply titled The Herbivorous Butcher Cookbook will show readers how to craft the vegan meats the Minneapolis-based business is famous for, including chicken, Porterhouse Steak, deli meats, and more. The book features more than 75 recipes for both the meats and dishes made with them, all drawn from the siblings' experience running the first vegan butcher shop in the United States.
After a friend who is a cookbook author himself recommended the duo try their hand at writing a cookbook, the Walches spent the downtime of the pandemic doing just that.
"Aubry and I have always wanted to share our recipes but never had the time to test and perfect so many recipes. During the start of the pandemic though, we had nothing but time to try and retry recipes until we had a set we were proud of," Kale Walch told VegNews. "We're really excited to share not only some of our meat and cheese recipes that we've been making since our days at the Minneapolis Farmers Market, but also recipes from our homeland of Guam that our ancestors have been making for centuries."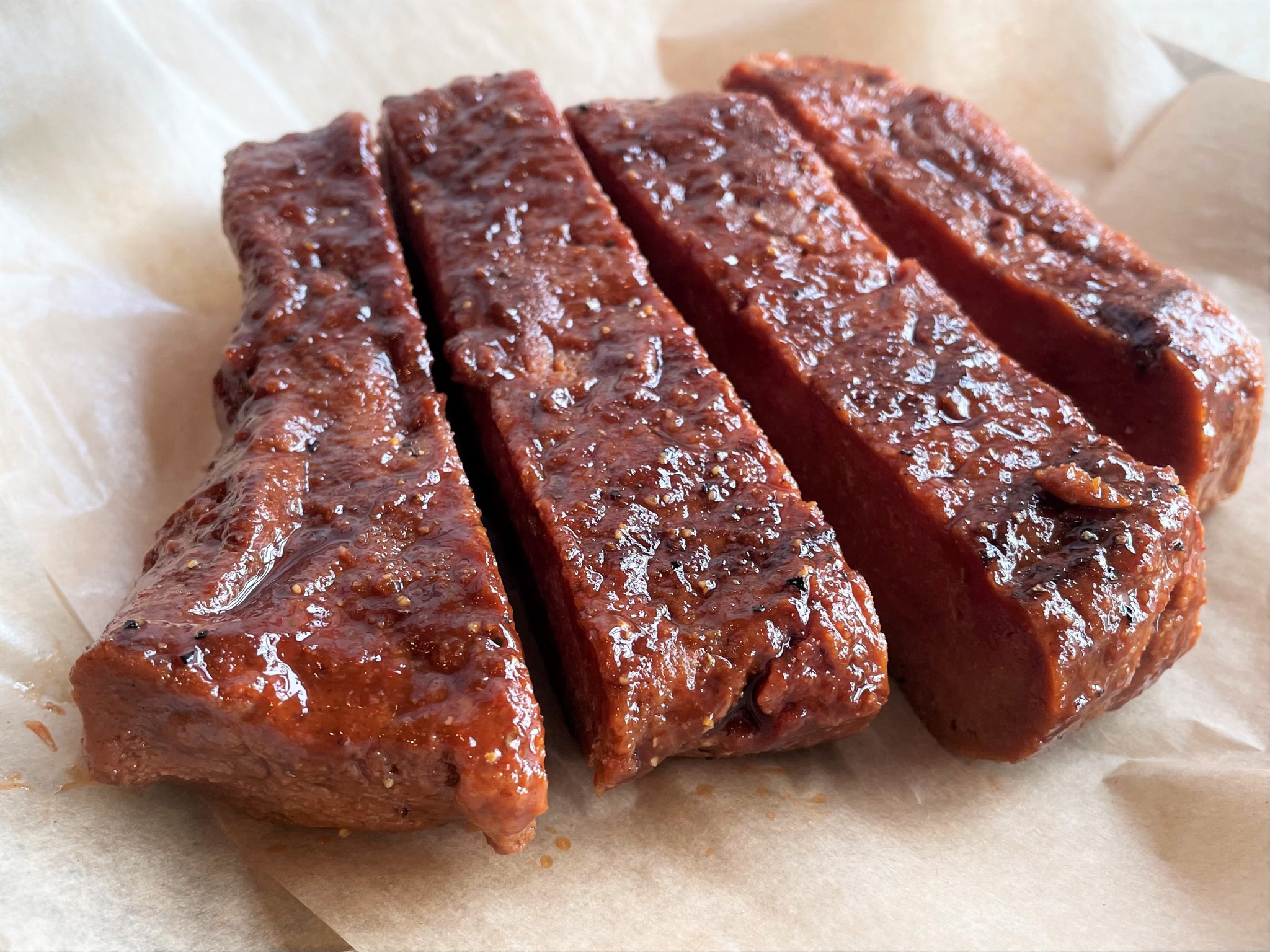 The Herbivorous Butcher
Making vegan meat, The Herbivorous Butcher way
At their Minneapolis-based shop, the Walches constantly tinker with recipes to develop new meats, cheese, and accouterments that give The Herbivorous Butcher its unique flare. While other siblings might dread the thought of working with each other, this duo has made it work by sharing a passion for veganism and dividing up the labor—with Kale Walch working on new products and recipes while Aubry Walch finds pathways to make them viable.
The duo applied these principles to creating their first cookbook, too. "While writing the cookbook, we still lived in the same four-plex apartment building and we'd constantly be dropping our new recipe tests at each others' doors, and with feedback from each other, we polished every recipe into the ones written in the book," Kale Walch said.
As pioneers in the vegan meat industry, the Walches hope that readers see the book as both a foundational tool and a fun resource to unlock the endless vegan meat possibilities of bases such as seitan. "My greatest hope is that readers can feel the joy that I first felt when I realized the unlimited possibilities seitan had to offer," Kale Walch said. "To me, it was a puzzle: how to use different juices, herbs, spices, binders, and cooking methods to turn a high protein flour into everything from a steak to a sausage."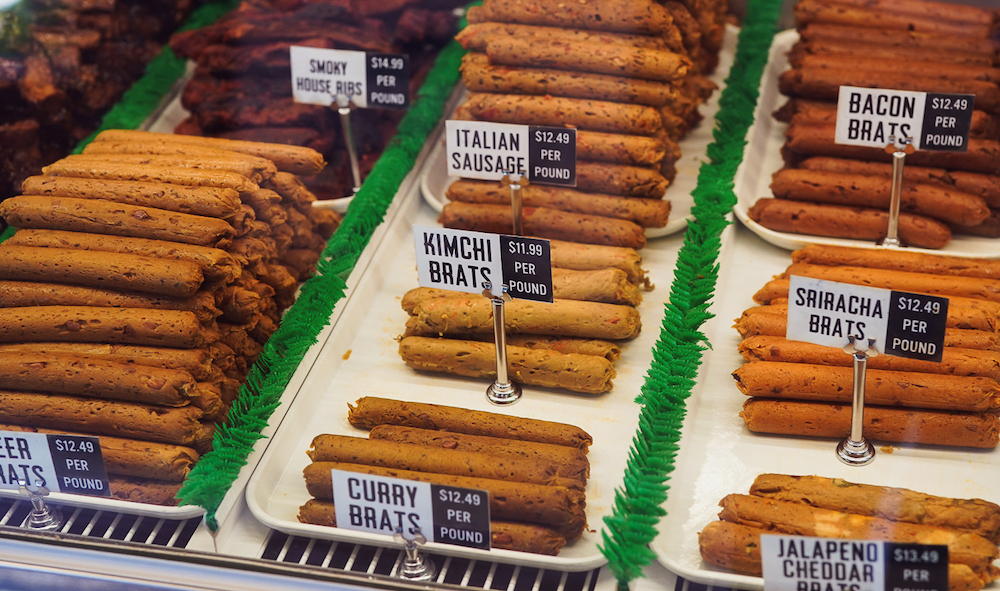 The Herbivorous Butcher
He also hopes that home cooks use the book as inspiration for their own, wholly new creations—building upon what The Herbivorous Butcher established when it first put vegan butchery on the map. "It was a culinary challenge that could benefit from every tradition, and the more I learned, the better my products became," Kale Walch said about creating vegan meats from scratch. "I hope that readers can begin this journey like I did, making new vegan meats, the likes of which I could never imagine."
The first vegan butcher shop in the US
Originally from Guam, the Walches opened The Herbivorous Butcher in 2016 after slinging their vegan products at the Minneapolis Farmers Market for two years. The Walches developed the idea for The Herbivorous Butcher after witnessing a lack of local vegan options first hand.
"We were eating french fries and side salads when we ate out and it was entirely traumatizing," Aubry Walch recalls. "Even mentioning our hairbrained idea of opening a vegan butcher shop to people was a faux pas. People would say, 'A vegan what? … Now that's an interesting idea,' which in Minnesota is code for, 'I'm uncomfortable, next topic, please.'"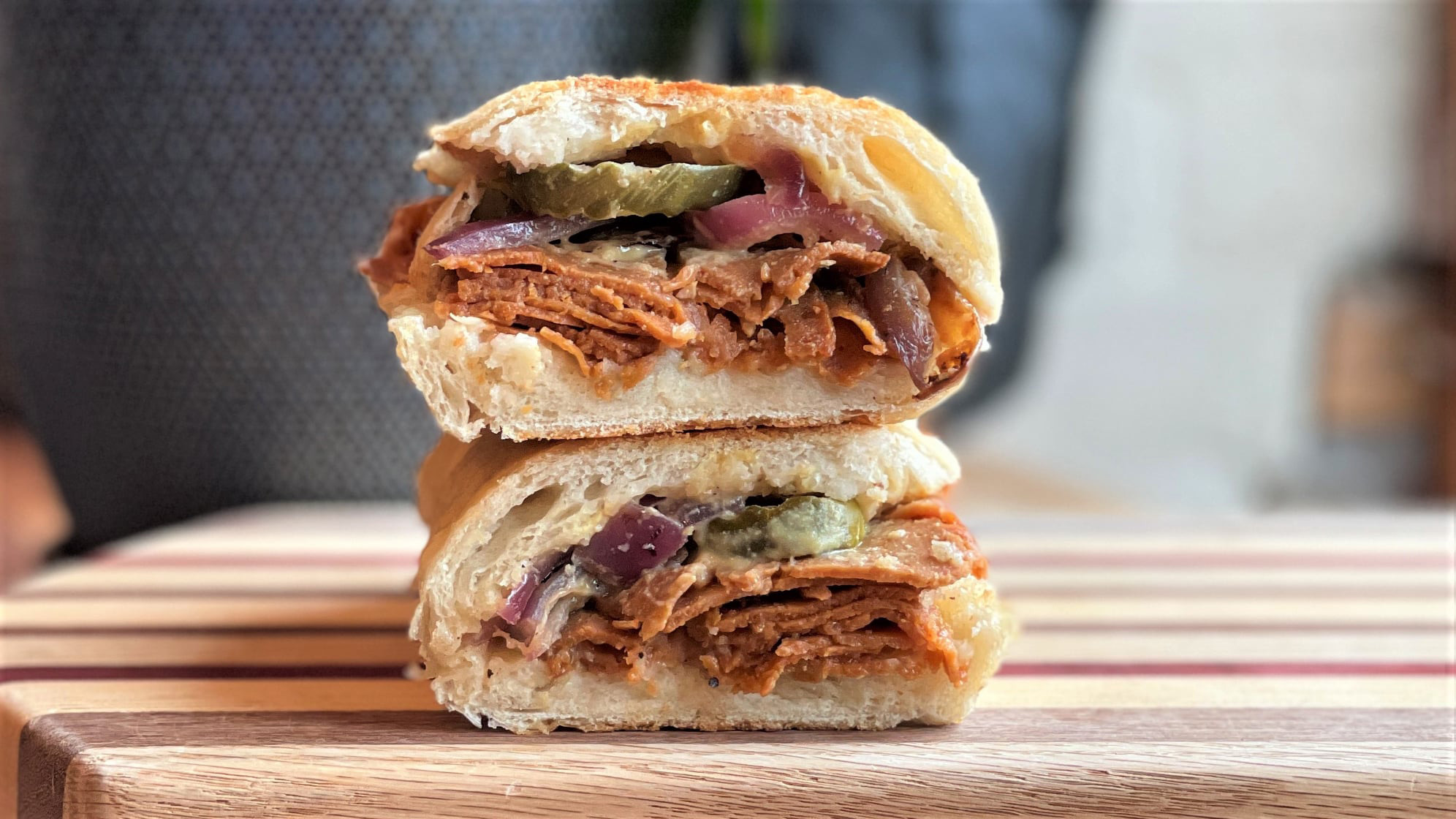 The Herbivorous Butcher
Back in 2016, the term "vegan butcher" was unheard of but the offerings at The Herbivorous Butcher—which include deli meats by the pound, brats, ribs, sausages, prepared foods, and specials—quickly gained national attention, bringing in crowds of customers curious about their meats and cheeses. Fast-forward to today and their creations—admired by the likes of WuTang, Guy Fieri, and Jon Stewart—can be found in many restaurants in the region and are available for delivery to all 50 states.
And the initial pushback on the semantics around "vegan butcher" did not last long as the term gained traction, thanks in no small part to the popularity of The Herbivorous Butcher. Once "vegan butcher" became part of the lexicon, everyone wanted to use it to describe a new era of meat-making. So much so that the Walches got into a lenthy battle with one of the world's largest food companies, Nestlé, which wanted to trademark the now-coveted term. The Walches won that battle in 2021 when Nestlé abandoned its pursuit.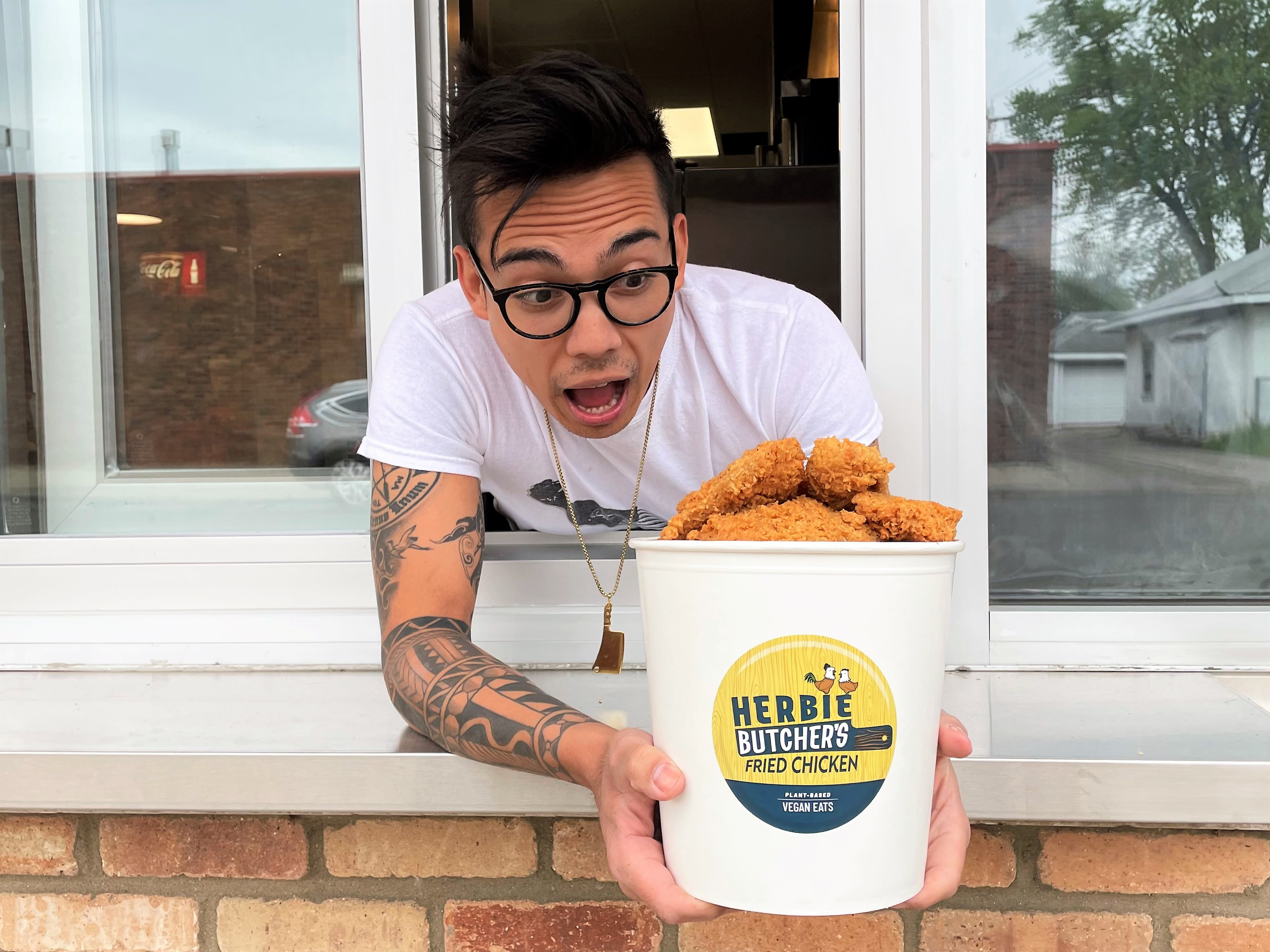 The Herbivorous Butcher
Shortly thereafter, the duo moved on to their next venture: opening Minnesota's first vegan fried chicken shop Herbie Butcher's Fried Chicken. A pared down space compared to their expansive flagship butcher shop, here, the siblings serve buckets of perfected vegan fried chicken; sides such as mac and cheese and coleslaw; and biscuits with maple butter, along with milkshakes (made with NadaMoo ice cream) with various mix-ins.
"Now, the options are endless and amazing, and there are vegan butcher shops all across the country and around the world and we can hardly believe it. Just saying that brings tears to my eyes because we've come so far as vegans," Aubry Walch said. "Vegan butchers are becoming mainstream, slowly but surely, and it's music to our ears because that means that choosing compassion is becoming mainstream. It's beautiful."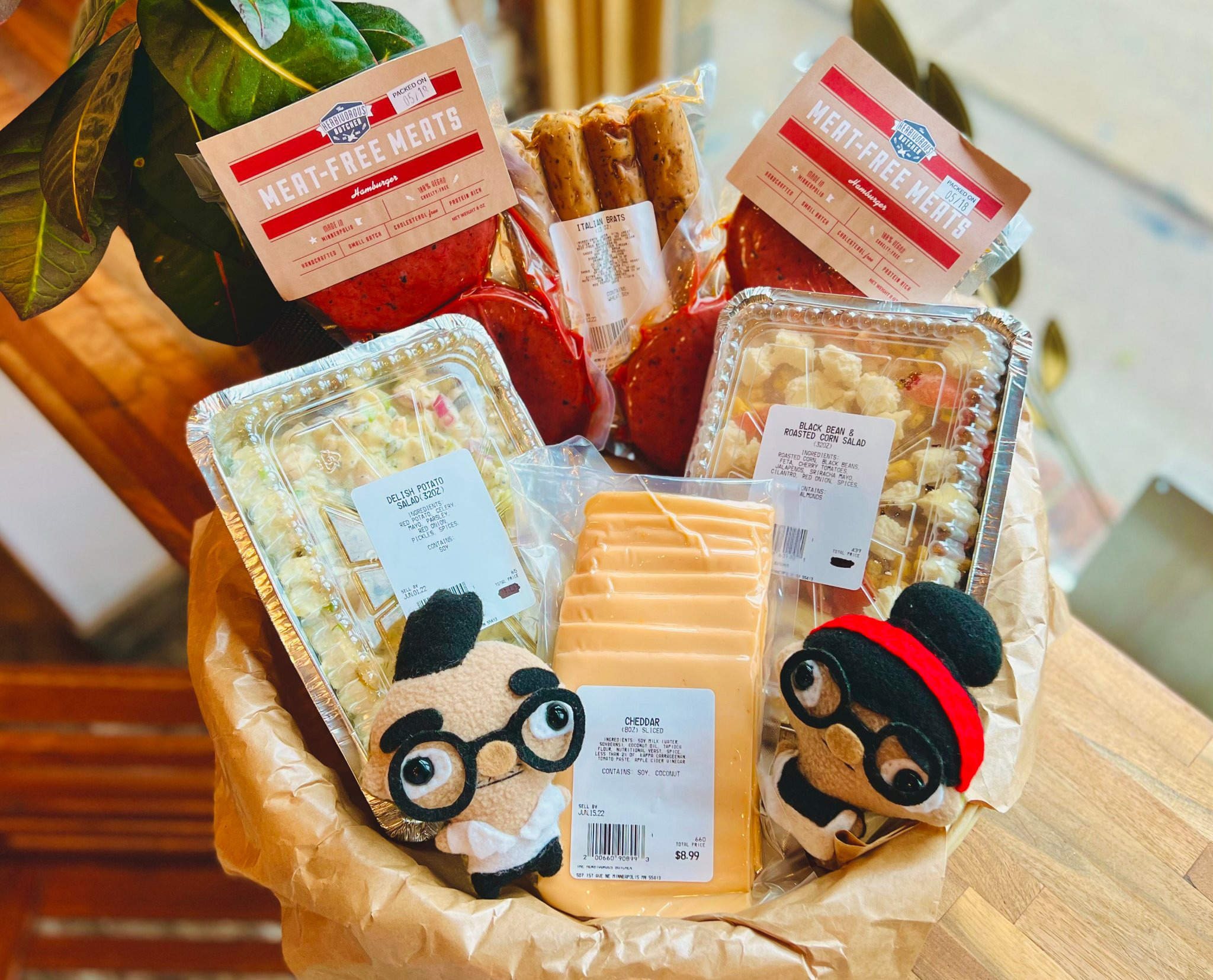 The Herbivorous Butcher
The future of The Herbivorous Butcher
With Nestlé slayed, multiple groundbreaking vegan businesses in their pocket, and a cookbook on the way, the siblings are looking forward to a future when vegan food continues its upward trajectory.
While plans to open additional vegan butcher shops outside of Minneapolis are not immediately on the books, they are also not off the table. "We'll branch out soon," Aubry Walch said. "We're planning for the long game and if we expand out-of-state, we want a solid, lasting plan that will stick."
For now, the siblings are planning events around promoting their first cookbook that might bring them closer to their fans through cooking demonstrations and talks around the country. "Our goal is forever to continue to spread awareness and make it easy to eat vegan without sacrificing anything, and we hope that this cookbook is a great step," Aubry Walch said.
For more about vegan butchers, read:
2 New Vegan Butchers Are Coming to Los Angeles
UK's First Vegan Butcher Shop Sells Out on Opening Day
New Vegan Butcher Shop To Open in Ohio
Here at VegNews, we live and breathe the vegan lifestyle, and only recommend products we feel make our lives amazing. Occasionally, articles may include shopping links where we might earn a small commission. In no way does this effect the editorial integrity of VegNews.