It seems that every week in the world of vegan food news is more exciting than the last and this week is no exception. Pride Month is off to a sweet start with Love Shakes at HipCityVeg, adult beverages at Charlie was a sinner, and rainbow-hued chocolate boxes at Matthew Kenney's chocolate brand CASSE-COU. Daring Foods is getting into bigger formats of vegan chicken and YumEarth just beat Mars to the punch with vegan candies that look a lot like M&Ms. Read on for more.
1Vegan milkshakes for Pride Month
This week we welcome the beginning of Pride Month and we can't think of a better way to celebrate—other than continuing to fight for equality—than vegan milkshakes. Luckily, vegan chain HipCityVeg has us covered with the most colorful, dairy-free creations.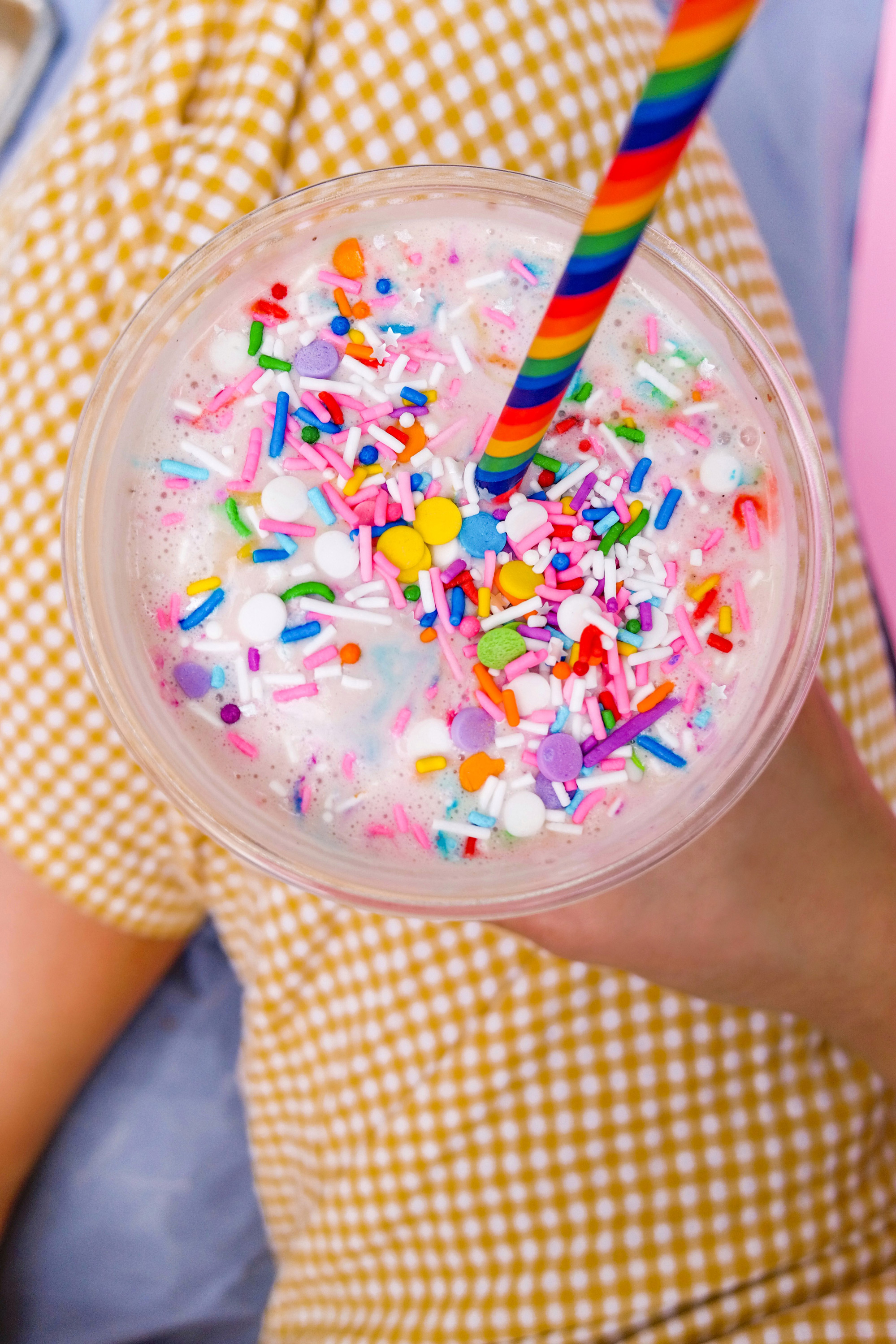 HipCityVeg
Available throughout June, the Love Shake is a rich strawberry shake topped with shimmery rainbow sprinkles and garnished with a rainbow straw. For even more things to love about this shake, five percent of its sales will directly support the LGBTQ+ communities in Philadelphia, Washington, DC, and New York City—all cities with HipCityVeg locations.
And if you're looking for something more adult for Pride, over in midtown Philadelphia, vegan bar Charlie was a sinner is slinging a new, purple-hued specialty cocktail all month. The Mattachine 76 is a riff on a French 76 and is made with butterfly pea flower-infused vodka, champagne, lemon, and what the bar calls "queer magic." The cocktail pays tribute to one of the first gay rights organizations in the country, The Mattachine Society, and $1 from sales of each Mattachine 76 will benefit local LGBTQ+ organization William Way.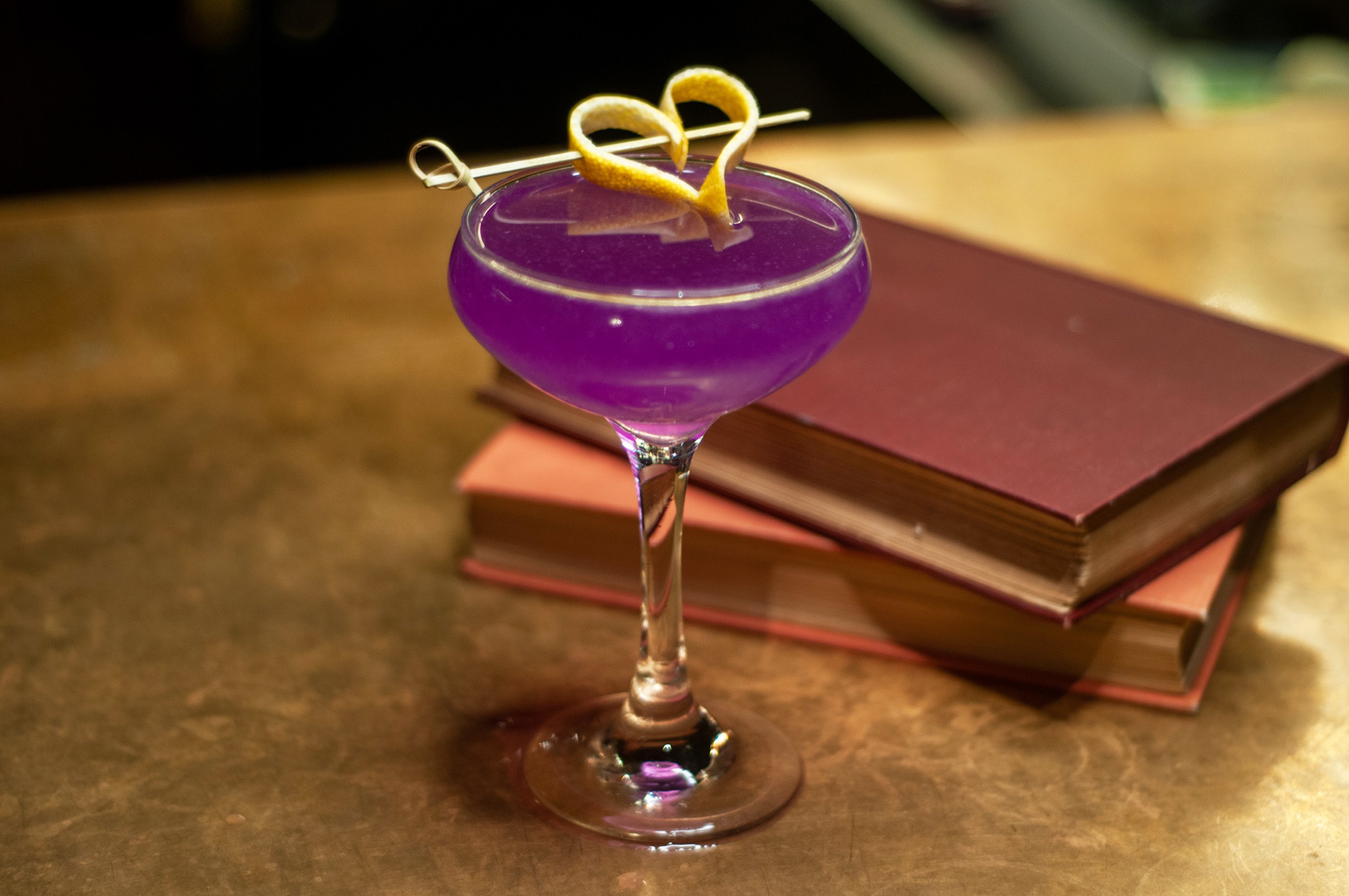 Charlie was a sinner
Restaurateur and social justice advocate Nicole Marquis owns both businesses and created these colorful menu items with a purpose. "It's so important now more than ever to celebrate and embrace diversity in every way, and also to bring some brightness and joy to our customers and cities," Marquis told VegNews. "Both The Love Shake at HipCityVeg, and the Mattachine 76 at Charlie was a sinner are colorful, bold, and beautiful like our customers and our team. It means a lot to our team to give back to the community while celebrating Pride this month, which is why we donate a portion of sales from both to local LGBTQIA+ organizations that are doing important work in our communities. We know that love is love, and we could all use an extra big dose of love in the world right now."
2Rainbow Truffles
Chocolate is always a great way to celebrate any holiday and for Pride, New York City-based chocolatier CASSE-COU—a vegan chocolate store and online marketplace—is giving its luxurious truffles a rainbow-hued makeover. Famed plant-based restaurateur Matthew Kenney is behind this brand, a concept he developed last year in partnership with Chef Sebastian Brecht with the mission of elevating confections to the level of fine wine and cuisine without hurting animals.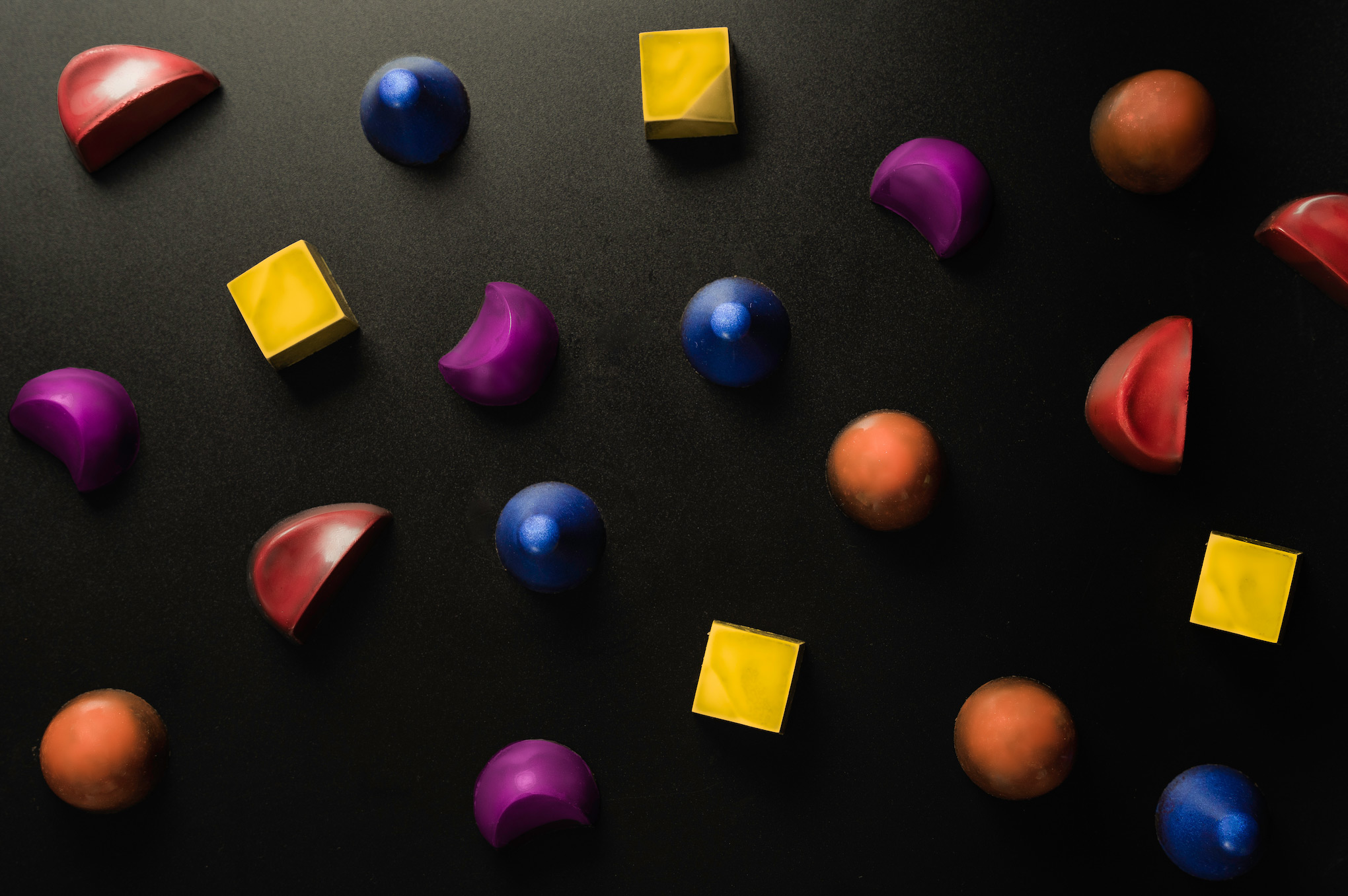 CASSE-COU
The brand's new Pride Box celebrates the LGBTQ+ community with five specialty truffles: Peanut Butter Caramel, Blueberry Walnut, Rum Lime Caipirinha, Whiskey Cake, and Banana Foster Pecan. As are all of CASSE-COU's creations, these truffles are made with fair-trade vegan chocolate and other high-quality ingredients.
A portion of sales from the Pride Box will benefit New York City-based Ali Forney Center, a nonprofit that is committed to saving the lives of LGBTQ+ youth, particularly POC.
3New vegan sorbet bars at Costco
With the temperatures quickly rising, we're all looking to cool down with a few frozen treats and vegan sorbet brand SorBabes has just the thing … and you can buy it in bulk. Starting this month, Costco locations in the Pacific Northwest region will begin stocking SorBabes chocolate-covered sorbet bars in a combo 12-pack of Wildberry Crisp and Vanilla Caramel Crunch flavors.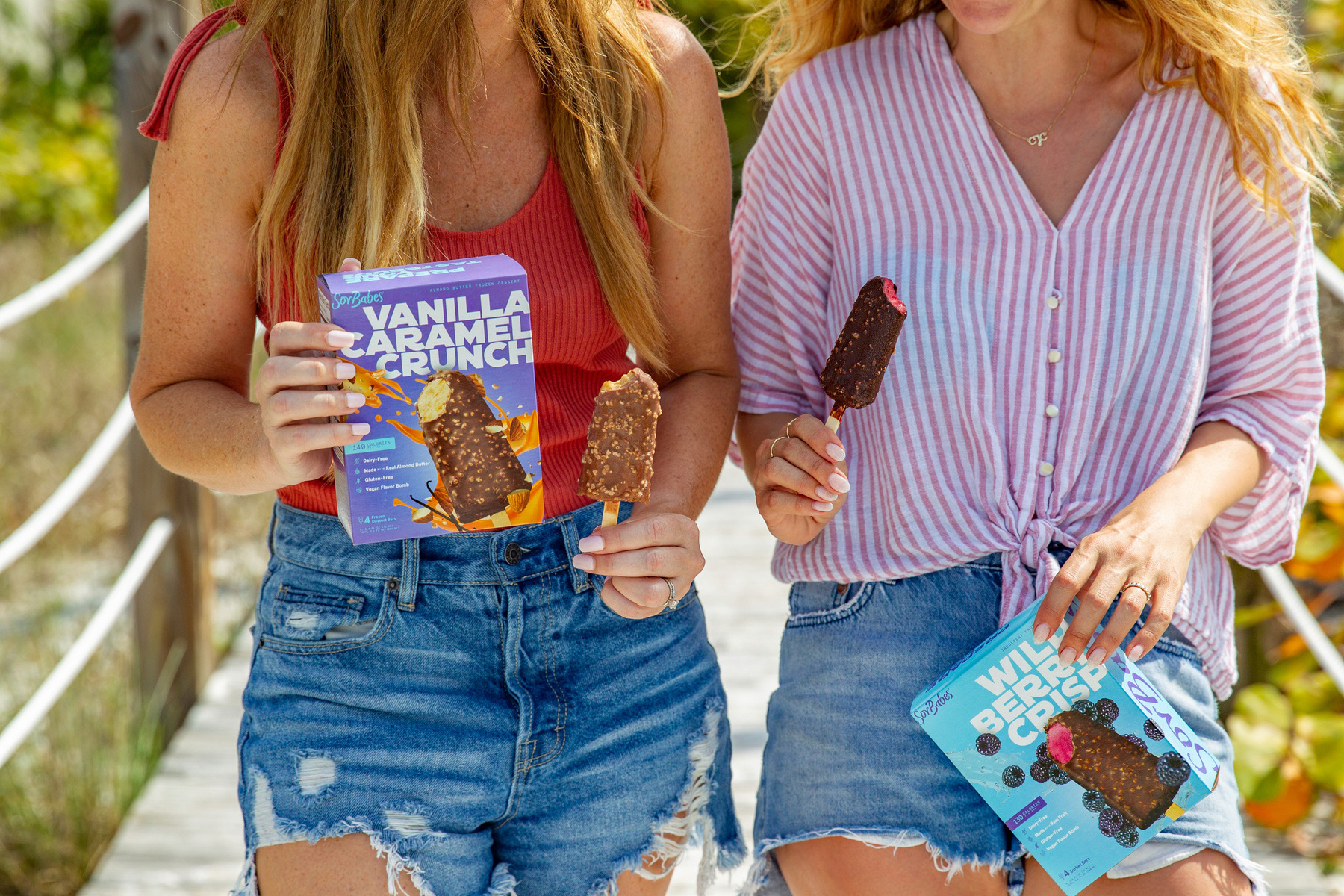 SorBabes
Nicole Cardone and Deborah Gorman started SorBabes in 2012 to refresh the sorbet category, taking it from an icy palette cleanser to an indulgent vegan dessert. In 2021, the brand underwent a large pivot, shifting from its pint format to the new novelty bars—which are also available in additional flavors at Whole Foods Markets in the Pacific Northwest region.
"With our historical ties to the Pacific Northwest, a targeted launch into Costcos in this region made a lot of sense," Cardone said in a statement. "We are beyond excited to be partnering with Costco to offer their Washington shoppers a taste of SorBabes this summer and are in plans for further expansion in the coming months."
4Daring goes big with vegan chicken tenders
When it comes to crafting realistic vegan chicken, the people over at Daring Foods know what they're doing. Founded by Ross Mackay with the mission of removing chickens from the global food system, Daring now counts celebrity investors such as Drake and Naomi Osaka. Up until now, the brand has offered its realistic chicken pieces in several flavors (both breaded and original) in the freezer section.
Daring Foods
However, starting this month, Daring is heading to the refrigerated section of 400 retailers—including Sprouts, Erewhon, Dierbergs, New Seasons, and Pete's Market—with the launch of its new vegan chicken tenders. The vegan tenders are larger in format than the brand's pieces and are made to be juicy, savory, and incredibly chicken-like.
"We are so excited to be expanding Daring's product line, offering our consumers the ability to choose from fresh or frozen plant chicken products," Mackay said in a statement. "At Daring, we're constantly striving to create the simplest most natural form of animal protein without the animal, and with this launch we're able to provide a fresh new take on our beloved Plant Chicken Pieces."
5Dairy-free "M&M's"
Vegan M&Ms have been a dream of plant-eaters for eons and while parent company Mars, Inc. has yet to ditch dairy from this popular candy, confectionary brand YumEarth is getting ahead of the competition with the launch of Choco Yums. These little allergen-friendly candies feature that same chocolatey taste and crunchy shell of M&Ms but without the animal products that make it a no-go for animal lovers. The new candies are made with fair-trade cocoa and come in three varieties: Choco Yums Chocolate, Choco Yums Crisped Quinoa, and Choco Yums Dark Chocolate Mint.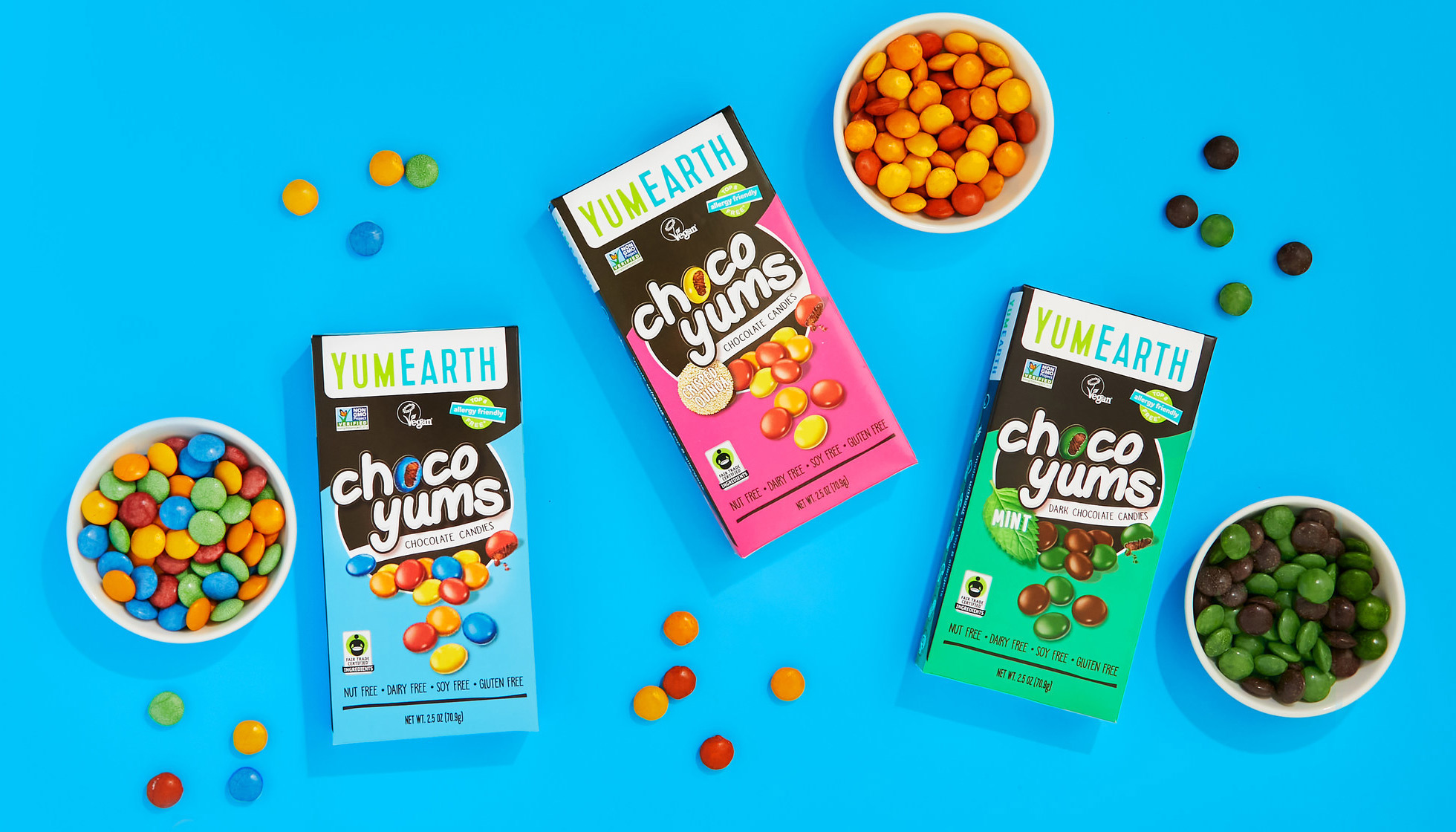 YumEarth
"At YumEarth, we're always innovating to create allergy-friendly twists on classic and beloved candies," Sasha Auguste, Head of Marketing of YumEarth, said in a statement. "Chocolate bites are a candy loved, and nostalgic, for many, so it was only natural for this to be our next iteration. We hope our Choco Yums help make life's moments a little sweeter, simpler, and filled with joy. Most importantly, Choco Yums are a treat you can feel-good safely sharing with friends and family."
We're okay with sharing until somebody makes a vegan version of peanut M&Ms. Then it's everyone for themselves.
For the latest vegan news, read:
Seattle's Dough Joy Expands to 3rd Location
Herbivorous Butcher Shows You How To Make Vegan Meat in First Cookbook
Care Bears Celebrate 40 Years With Vegan Cookies