Fast-food giant Burger King is normalizing plant-based meat in a new way in Austria. The chain recently ran a campaign titled "Meat Option" based around the idea that plant-based meat is the norm while animal-derived meat is not—flipping the common narrative on its head. As part of the campaign last week, customers at Burger King Austria who ordered burgers were given the choice "regular or meat-based?"
"With this question, we want to stimulate the social debate and show that our plant-based alternatives have a confusing taste," Jan-Christoph Küster, Chief Marketing Officer of the TQSR Group, the Austrian master franchisee of the Burger King brand, said in a German language statement. "Meat is one option, but it is not the only one. We leave it open to our guests what is normal for them: everyone should have the same taste."
Customers' reactions were filmed as part of a short film to accompany the campaign and many responded positively to plant-based meat being the norm. "At Burger King, we are making meatless indulgence a permanent fixture on our menu, because meat no longer comes naturally to everyone," Küster. "With the provocative question 'Normal or meat?' we want to show that we take our customers and their needs seriously. Because from now on, we also serve almost our entire range [as plant-based]."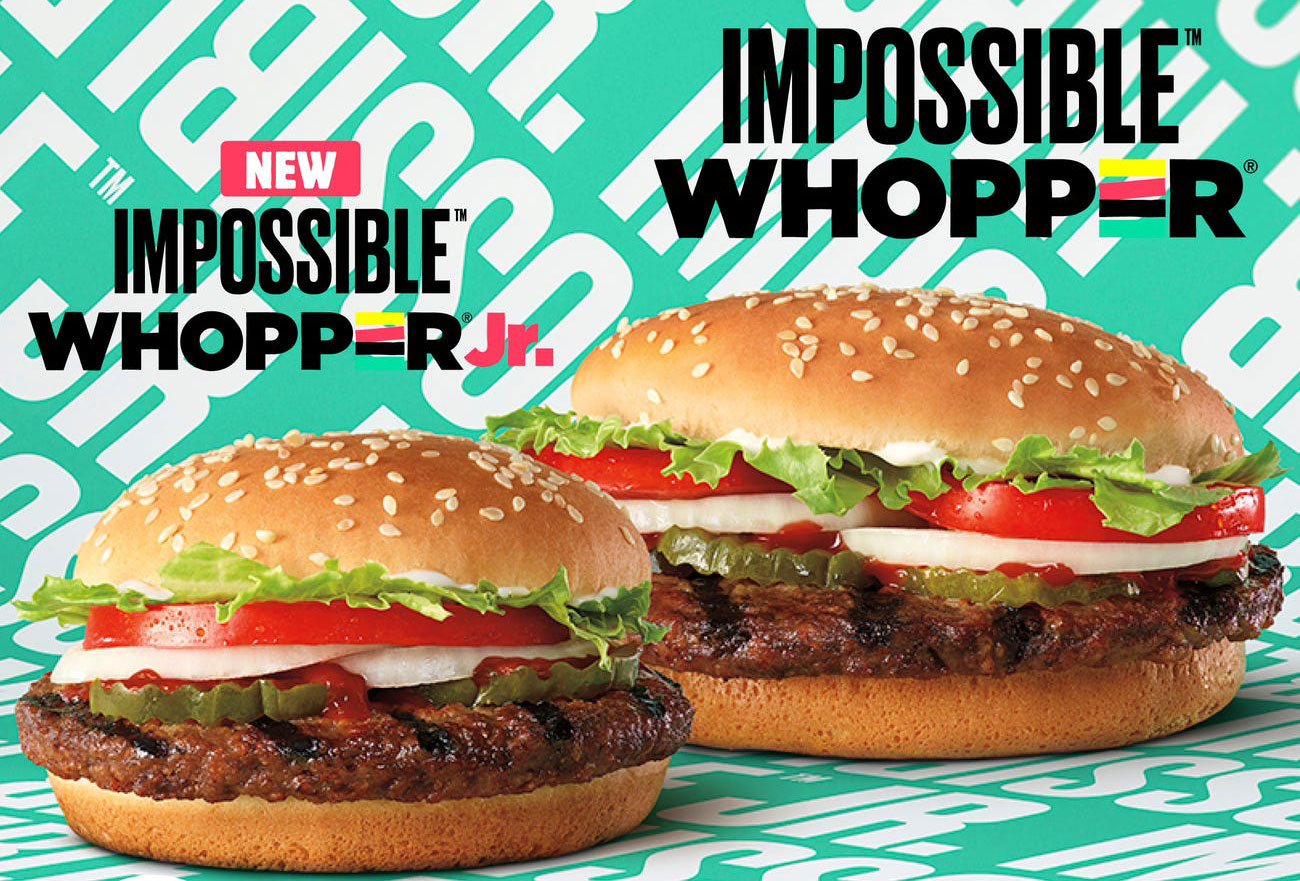 Burger King US
Burger King makes plant-based meat the norm
Burger King first introduced a plant-based burger, the Impossible Whopper, to its menus in the United States in 2019. Since then, the fast-food chain has greatly expanded its plant-based options globally, particularly through its partnership with The Vegetarian Butcher—a Unilever-owned company that supplies its plant-based meats across Europe, including Austria and other regions.
From plant-based meat buns in Japan to vegan bacon-topped Whoppers in France to high-tech vegan chicken in Chile, the fast-food giant has a plant-based option in just about every region it operates. And in some countries, it's going one step further. In the United Kingdom, Burger King has made some hefty commitments to revolutionize its menu to become 50-percent plant-based by 2030. And these veggie items are performing well in many areas, including in Belgium where earlier this month, Burger King revealed that one third of all Whoppers sold were meatless.
The chain is also confident that plant-based meat is quickly becoming the new norm. Burger King's approach in Austria is reminiscent of its campaign in Sweden in 2019. There, Burger King promoted its plant-based options—the Rebel Whopper and the Rebel Chicken King—with the innovative "50/50 menu." Customers who wanted to participate in the campaign could order from the "menu" and would receive either a plant-based or meat version of one of these sandwiches, driving home Burger King's confidence that the plant-based versions were identical to its core menu items.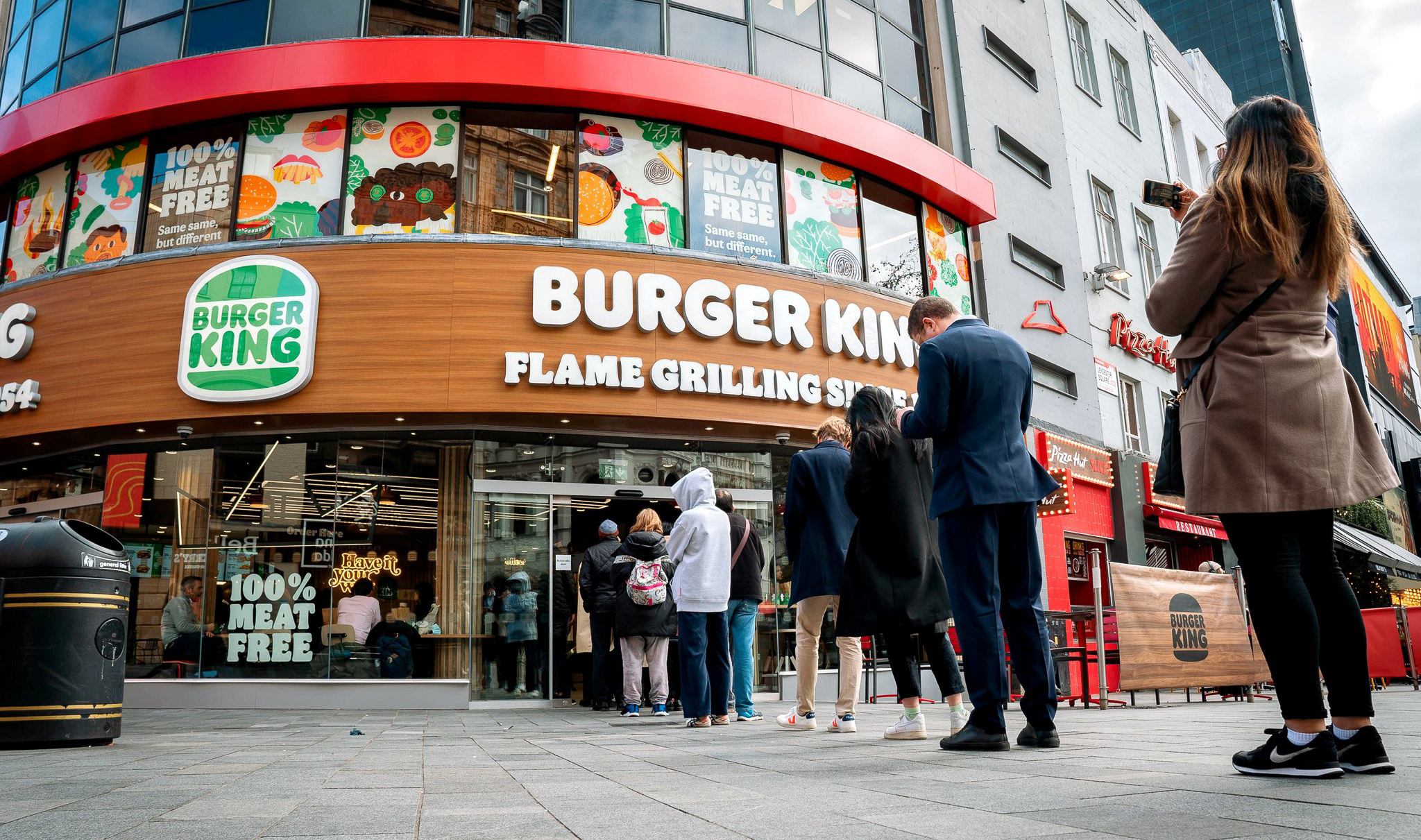 Vegetarian Butcher
Burger King's meat-free locations
The new campaign in Austria is the latest way in which Burger King is exploring meatless options as the norm worldwide. Last summer, Burger King transformed one location in Cologne, Germany into a totally vegetarian outpost to explore how customers would respond to a meat-free menu.
Burger King has also experimented with similar concepts in Spain, Chile, Switzerland, and London. For the latter, Burger King transformed its flagship Leicester Square location into a fully vegan outpost for one month this March. The menu featured 25 plant-based items that included its typical plant-based Whoppers and vegan chicken nuggets but also more adventurous options such as vegan bacon double cheeseburgers, chili cheese bites, and Japanese-inspired Vegan Katsu Royale and the Plant-Based Katsu Chilli Whopper.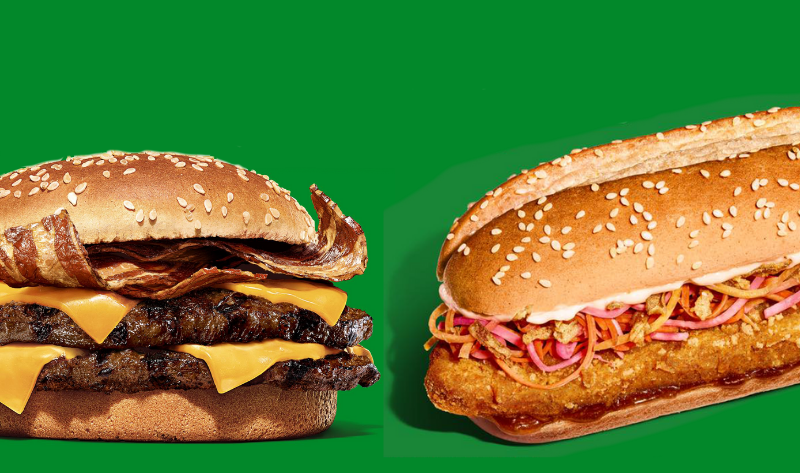 Burger King UK
"The limited-edition menu is a direct result of our focus on vegan and plant-based innovation and goes hand in hand with our target of a 50-percent meat-free menu by 2030, as well as our commitment to sustainability and responsible business," Burger King UK Chief Marketing Officer Katie Evans said in a statement at the time. "We can't think of a more fitting way to re-launch our new-look flagship in Leicester Square."
Back in Austria, the Westbahnhof location where Burger King conducted its "Meat Option" campaign has joined the chain's global effort in exploring meatless locations. As of today, this location has become the chain's first all-vegan outpost in Austria. There, Burger King is giving away free vegan Whoppers to celebrate while supplies last.
For the latest vegan news, read:
How These Startups Are Making Vegan Hard-Boiled Eggs
A Vegan Fungi Protein Bioreactor Is Aboard the New SpaceX Mission
Is Pork "Healthy?" Authorities Say It Can't Be Marketed That Way.