Scrambled tofu has been a vegan staple for decades, and then there were powdered products that could be scrambled and baked when reconstituted with water. But true egg innovation began when pourable eggs from brands like Eat Just—which pioneered the vegan egg with its mung bean-based JUST Egg in 2013—came along. Now, the vegan egg category is transforming again as companies around the world are starting to take a crack at making vegan whole eggs that replicate hard-boiled chicken eggs.
The latest to reinvent the vegan egg is Swiss grocery retailer Migros which, through its subsidiary vegan brand V-Love, has developed a vegan hard-boiled egg called The Boiled. Now available in select outlets across Switzerland, The Boiled replicates a real hard-boiled chicken's egg with a distinct yellow yolk. To make the vegan egg, Migros uses soy protein, starches such as rice and corn, and gelling agents such as agar-agar.
"We are very pleased to be able to offer our customers, with V-Love The Boiled, a real alternative to hard-boiled eggs," Lucie Kendall, who was part of the Migros team that developed the egg, said in a statement. "It represents the brand's first vegan egg alternative, joining its existing V-Love lineup of plant-based meat and dairy substitutes."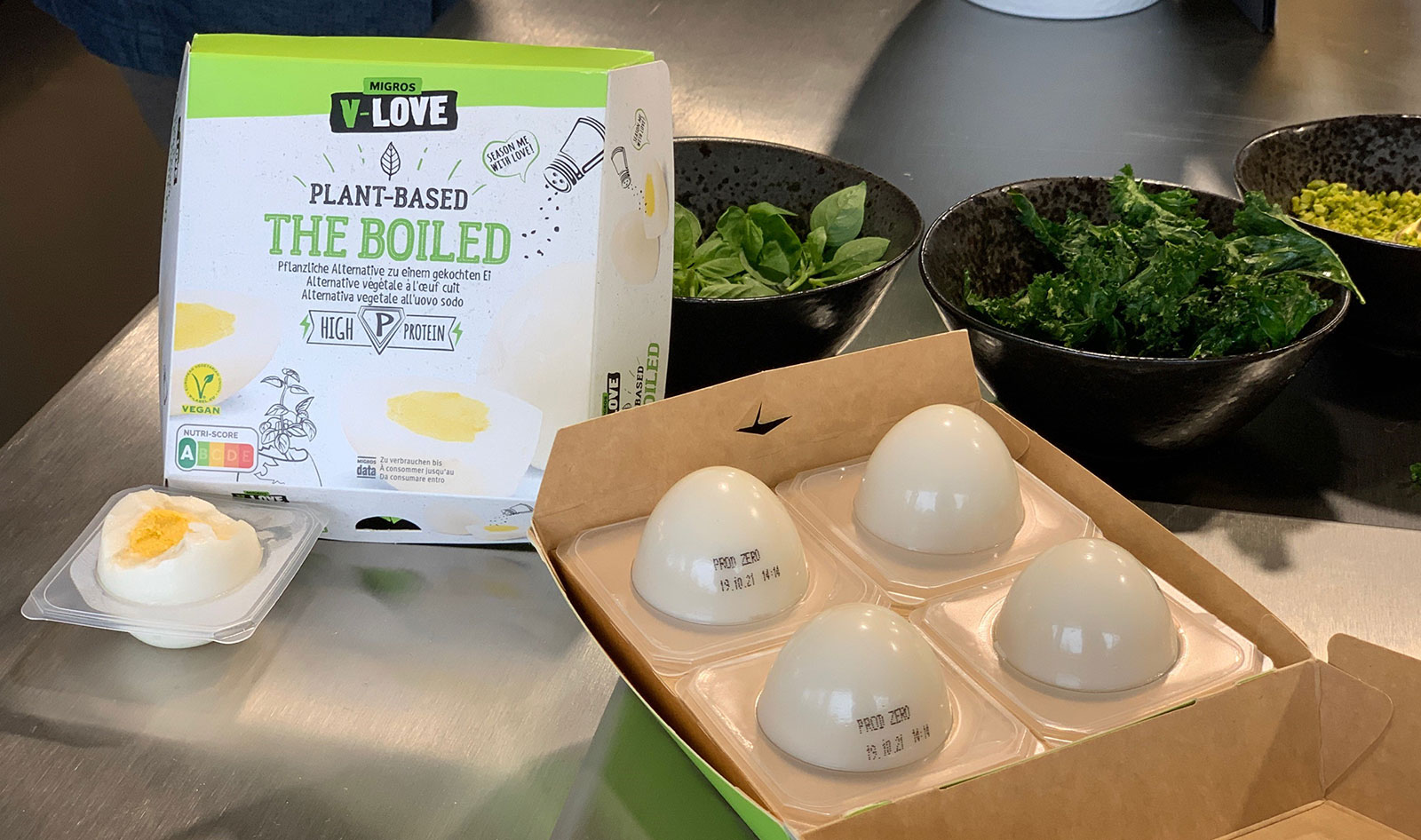 Migros
Vegan hard-boiled eggs at Whole Foods
While Migros claims it is the first company to create a vegan hard-boiled egg, other plant-based brands recently launched similar products that mimic the chicken egg in looks, taste, and texture. In August 2021, Texas-based plant-based brand Crafty Counter debuted its own version of the vegan hard-boiled egg. The brand's ready-to-eat WunderEgg is the first that is made with a base of nuts, including cashews and almonds, along with coconut milk and agar (a seaweed-based gelatin substitute) and colored and flavored with turmeric and nutritional yeast.
"My inspiration for WunderEggs came during the first two weeks of COVID when our country's food systems began to break down," Crafty Counter Founder and CEO Hema Reddy states on the brand's website. "I was already aware of the impact of intensive factory farming on climate change and the pandemic was just the last straw for me. We are so excited to bring this vegan revolution to all the plant-based food lovers [who] haven't eaten a boiled egg in a long time. They no longer have to miss out on a breakfast or snack favorite."
No peeling required, the WunderEggs can be sliced on breakfast sandwiches, diced in a loaded vegan salad, or simply eaten whole with a little sea salt. The Crafty Counter WunderEggs product is scheduled to launch this August in Whole Foods Market.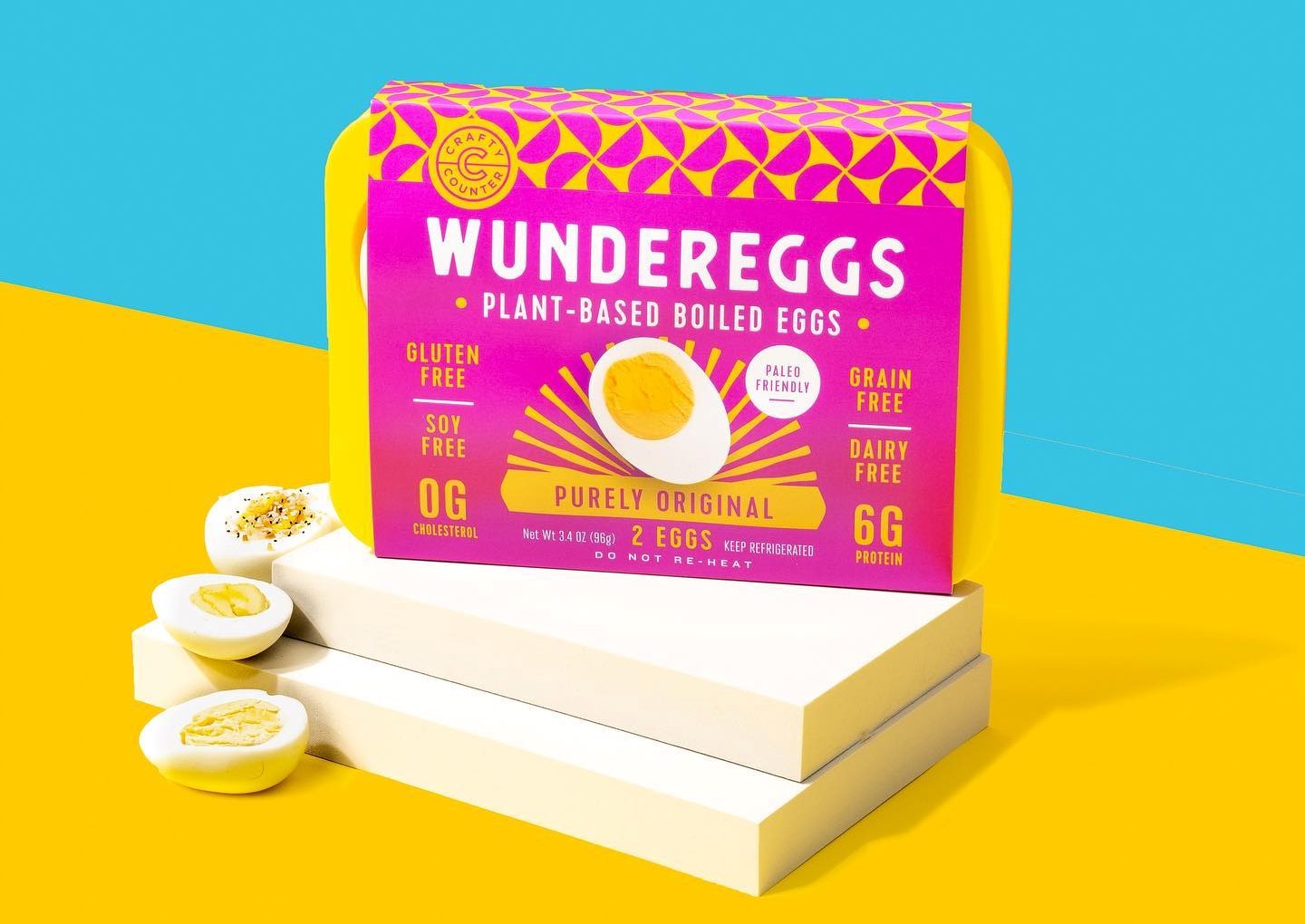 Crafty Counter
Plant-based eggs made from mycoprotein
Another recent entry is Singapore-based OsomeFood, which debuted a vegan hard-boiled egg last May that is made with mycoprotein, carrot juice, almond milk, potato starch, and other flavorings. For its products, OsomeFoods uses mycoprotein in a similar way that vegetarian meat brand Quorn uses the fungal protein. The mycoprotein allows for OsomeFood's vegan whole egg to hold a high-protein content and other nutritional amino acids that conventional animal eggs provide.
OsomeFood aims to create vegan products that are sustainable and high in nutritional value using superfoods such as seaweed, turmeric, burdock, and chia seeds. The ready-to-eat eggs are available directly through OsomeFood's website with delivery in Singapore.
"We believe in harnessing the power of real food to equip our bodies with the nutrients it needs for us to live our best lives," OsomeFood Founder Jason Fong said in a statement. "Natural ingredients are key and are what makes us different from other meat-alternative products. We are not simply vegan; our food is as nutritious as it gets."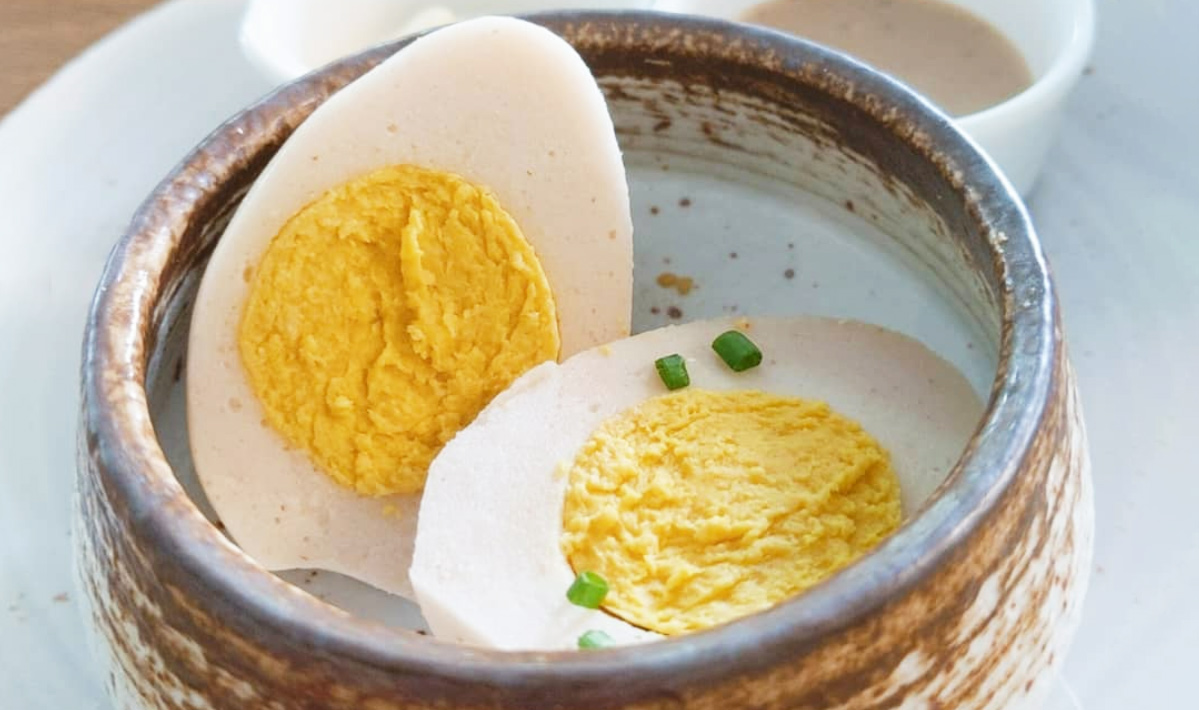 OsomeFood
The birth of the whole vegan egg may go back as far as 2017, when students at the University of Udine in Italy obtained a patent for a cholesterol-free, ready-to-eat egg that features a wholly plant-based white and yolk—an exact replica of a hard-boiled egg crafted from all-vegan ingredients. Students Francesca Zuccolo, Greta Titton, Arianna Roi, and Aurora Gobessi spent one year formulating the egg, which they made from various legume-derived flours, vegetable oils, a sulfurous vegan salt, and a plant-based gelling agent.
Growth of the plant-based egg market
The plant-based egg market is expanding rapidly to mirror consumer interests in vegan diets and protein alternatives. According to data from market research firm Fact.MR, sales of vegan eggs are expected to reach a value of nearly $3.3 billion by 2031, rising at a CAGR of over 8 percent. Health and food safety concerns—including risks of salmonella and bacterial food-borne illnesses that are turning people away from chicken eggs—are the biggest drivers of growth within the category.
"Vegan egg replacers' widespread use in two key end-use industries—food and baking and as plant-based food options—are becoming closer substitutes to their traditional counterparts over time, particularly in the realm of vegan egg substitutes," the Fact.MR report notes. "Additionally, as eggs contribute varied functionality to different products, understanding what functional qualities eggs provide in a particular product is critical to successful egg replacement. So, whether it's emulsification in egg-free mayonnaise, foam stabilization in angel food cakes, or crystallization control in a frozen treat, an egg replacement ingredient that exactly meets the need can be chosen."
For the latest vegan news, read:
Is Pork "Healthy"? Authorities Say It Can't Be Marketed That Way.
New Vegan Desserts Come Out of Starbucks' Coffee-Recycling Initiative
50 Percent of Supplements Contain Hidden Animal Byproducts, Report Says