New York City Mayor Eric L. Adams hopped on a stationary bike with a superfood smoothie in hand to record a personal welcome message to Slutty Vegan, Atlanta's popular vegan fast-food chain which is opening its first NYC outpost this fall. Adams has followed a mostly plant-based diet since 2016 after being diagnosed with Type 2 diabetes and has used his career in public office to help others gain access to plant-based foods.
"On behalf of 8.8 million New Yorkers, let me be the first to say, 'Welcome to New York City, the big time.'" Adams said in the welcome video. "Anyone who knows me knows that I like to eat healthy and plant-based. We love our brothers and sisters in Atlanta but it was about time you brought your vegan burgers here to the greatest city in the world."
The mayor attributes his newfound health to his conscious dietary shift and exercise regimen and is excited to welcome Slutty Vegan as a Black-owned business that offers a decadent menu of burgers, chicken sandwiches, and sides that is entirely plant-based. Founded by entrepreneur Pinky Cole, the growing chain will open its doors on September 17 in Brooklyn's Fort Greene neighborhood.
"As Mayor, I want to lead a healthy food revolution all over this city. When we eat better. We feel better. We think better. We live better," Adams said. "Restaurants like yours are going to play such a pivotal role, especially in Black and Brown communities that for far too long have not had the same access and choices. I am thrilled that we have another extraordinary Black entrepreneur in our city. You're going to show so many New Yorkers how delicious vegan food can be and I cannot wait to get over to Fort Greene to try one of those burgers for myself."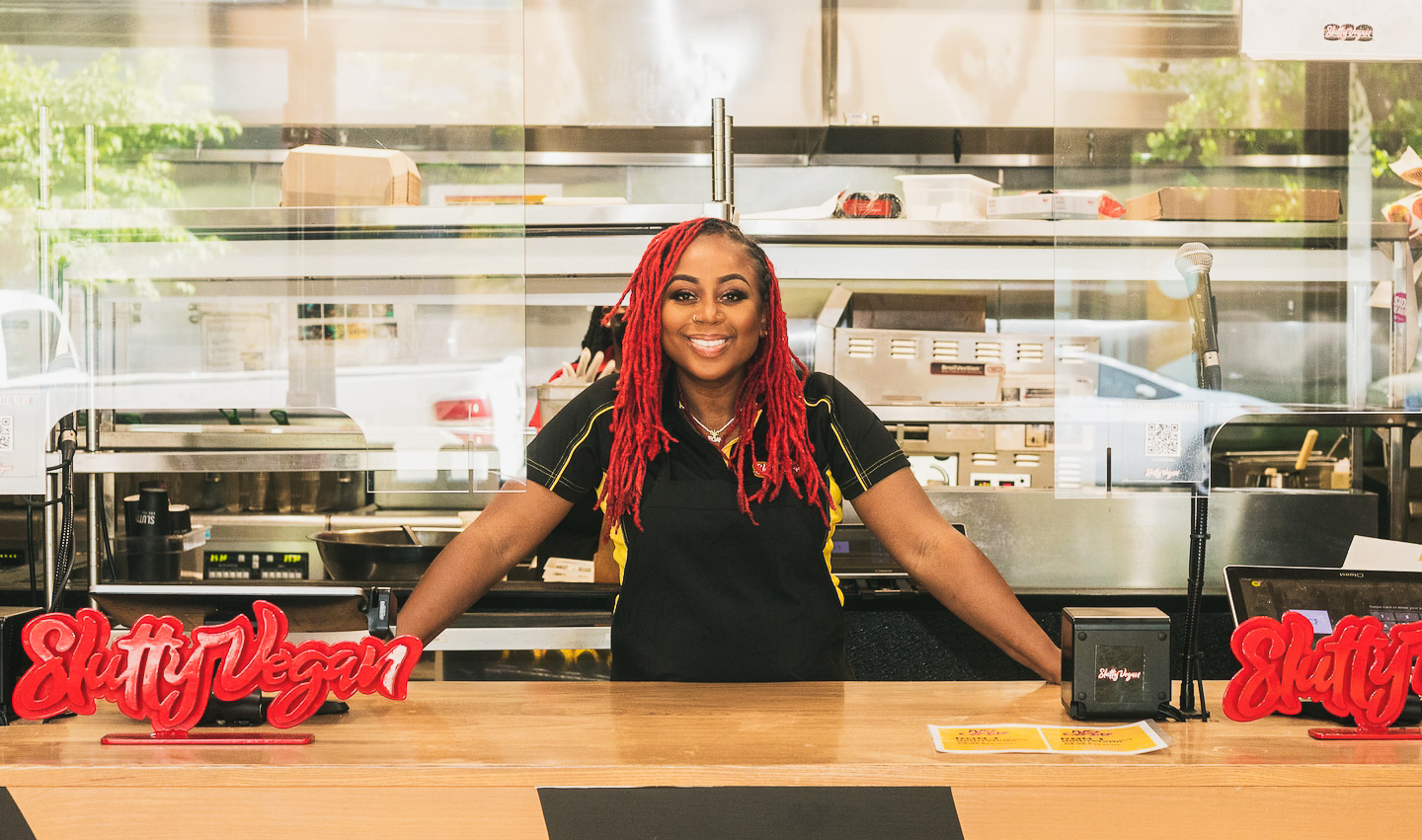 Slutty Vegan
Slutty Vegan expands beyond Atlanta
A lifelong entrepreneur and social justice activist, Cole opened the first iteration of Slutty Vegan in Atlanta as a food truck in the summer of 2018. After the truck drew hours-long lines, Cole expanded the business to its first brick-and-mortar location in early 2019. Since then, Cole has opened five Slutty Vegan outposts in Georgia, along with a spinoff Bar concept, and drawn in crowds of hungry supporters—including A-listers such as Snoop Dogg, Shaquille O'Neal, Tyler Perry, and many more.
Earlier this year, Slutty Vegan secured $25 million in a Series A funding round that it is using to fund its expansion. Some of the funding came directly from Danny Meyer, who is known for scaling his successful fast-food concept Shake Shack. Meyer met Cole after the Slutty Vegan founder collaborated with Shake Shack on a limited-time SluttyShack vegan burger at its Harlem and Atlanta locations. The new Brooklyn Slutty Vegan location means Cole's food will find a permanent home in NYC, and usher in a homecoming for the entrepreneur who, prior to starting Slutty Vegan, operated a Jamaican American fusion restaurant in Harlem, which she lost to a devastating fire.
Cole announced the opening date of Slutty Vegan's first NYC location on-air during a recent episode of Good Morning America, where she led a cooking segment highlighting vegan oyster mushroom-stuffed jerk tacos made with her special seasoning blend of Scotch bonnets, allspice, and thyme and served with coleslaw and peach salsa. "Slutty Vegan Brooklyn is opening next month on September 17. That is a big announcement because I had a restaurant here, lost it to a grease fire [and] went completely flat broke. So this is a big homecoming for me," Cole said. "I'm excited to come here. I'm excited to come back home to New York. And I can't wait."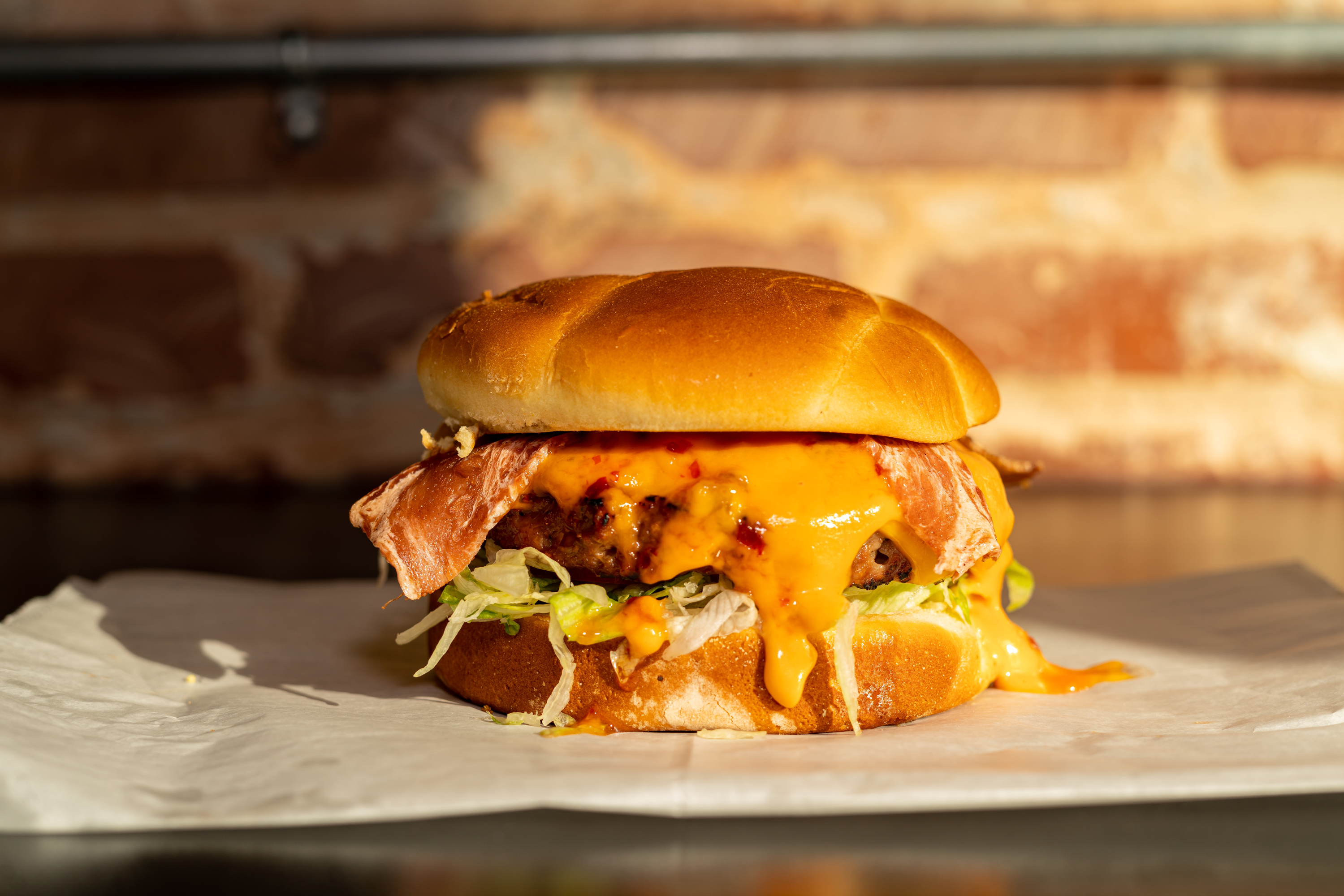 Slutty Vegan
The forthcoming Brooklyn location is part of the chain's plan to expand by 10 new locations by the end of 2023 and Slutty Vegan has already made progress on that goal. Last week, the vegan chain opened its first location outside of Georgia in Birmingham, AL. Cole is also expanding the Slutty Vegan brand in other ways, through exciting collaborations and retail products such as Pinky's Dips, which hit Costco stores in the Southeast and Midwest regions in a debut Spinach Artichoke flavor this month.
NYC Mayor's vegan initiatives
In addition to welcoming Slutty Vegan to NYC, Mayor Adams has been sharing the benefits of plant-based foods in several initiatives. At NYC public school, Adams has been instrumental to helping children gain access to plant-based meals since before he was elected Mayor in 2021. Adams worked with then Mayor Bill de Blasio to implement Meatless Mondays across NYC's public schools and has now extended the idea to other days of the week with Plant-Powered Fridays.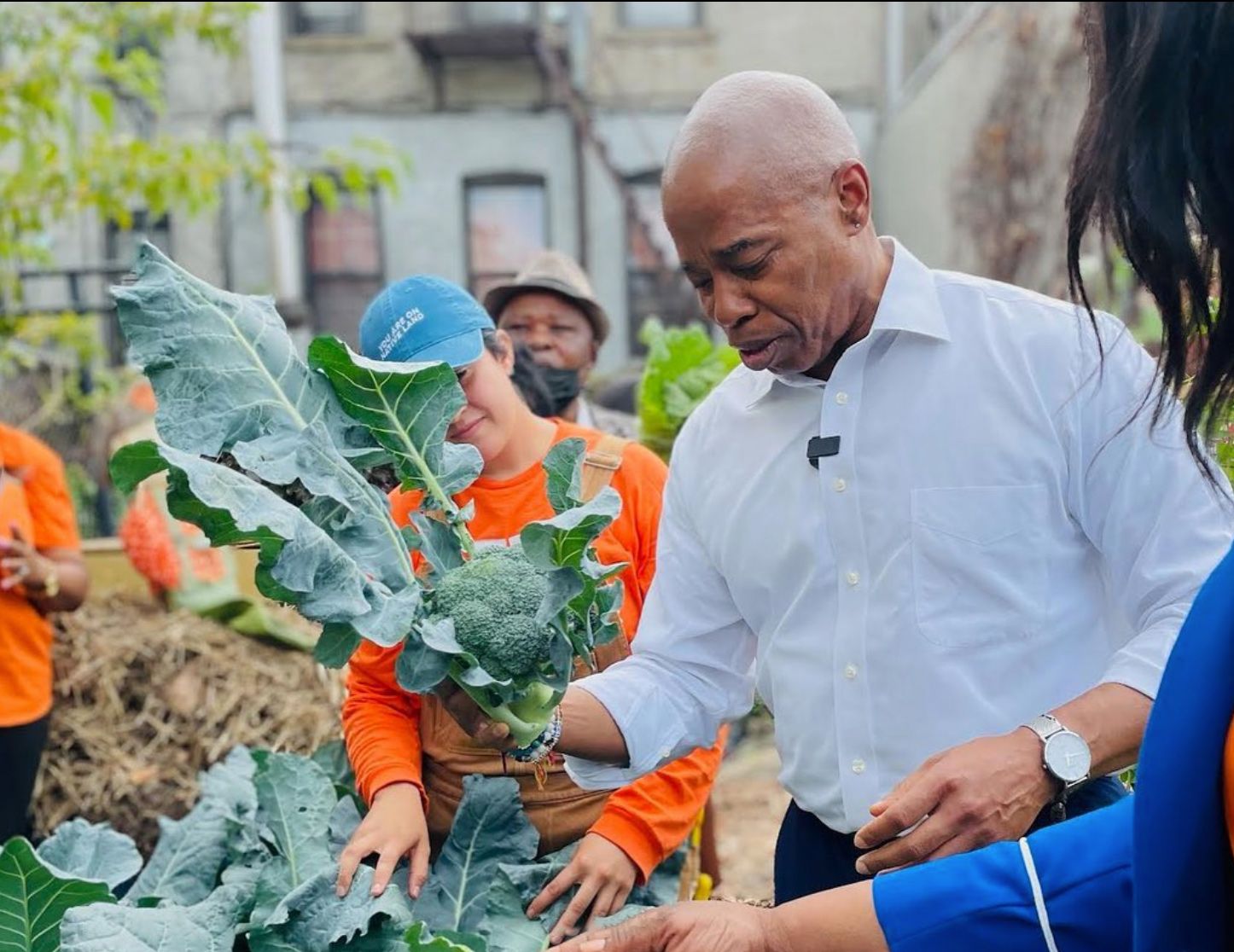 Adams has also implemented initiatives to help medical professionals gain training in plant-based nutrition and has helped sick New Yorkers regain their health through plant-based counseling programs through the NYC Health + Hospitals/Bellevue medical system.
Earlier this month, Adams also recently hosted a vegan celebration to honor Dominican Heritage Month at his residence, the Gracie Mansion, in the Yorkville neighborhood of Manhattan. There, 1,600 guests were given a vegan menu made in partnership with event sponsor Zero Egg, a vegan egg company. Menu highlights included maduros, tostones, gazpacho, and revuelto de huevo con yuca frita—a dish that used Zero Egg instead of chicken eggs. This celebration was the first time that an NYC mayor held an entirely vegan event at Gracie Mansion.
For the latest vegan news, read:
Billie Eilish and Mom Maggie Baird to Receive Environmental Award for Vegan Work
Cutting Meat Consumption by 80 Percent Means Canada Could Hit Net Zero
How This Crop-Matching Company Is Improving Plant-Based Food