NBA legend Shaquille O'Neal is trying to improve his diet by reducing his meat consumption, the former professional basketball player revealed during a segment of Urban Eats and Treats. Hosted by Rip Michaels, the show takes celebrities to their restaurant of choice to talk about food candidly and O'Neal chose to film the segment at Slutty Vegan, a rapidly expanding Atlanta-based vegan burger chain founded by entrepreneur Pinky Cole.
O'Neal says Slutty Vegan has helped him to find replacements for his favorite foods but without animal products. "It's not that I'm going vegan," O'Neal told Michaels. "My friend introduced me to this place and it's healthy. For example, I like cheeseburgers, right? But the way she [Cole] cooks it, I can eat healthy, but still feel like I'm eating bad." While vegan foods are not always "healthier" by default, plant-based alternatives to both meat and cheese never contain cholesterol, which is only derived from animal products.
O'Neal says he aims to consume healthier foods, which he classifies as chicken salad, steak, and fish, and turns to Slutty Vegan when he wants more indulgent meals like burgers. "Whenever I want to cheat," he said, "I come over here and cheat." He confesses that he himself is not a fan of cooking and relies on his mother and sisters, along with his personal chef, for meals. What can O'Neal cook? College staple Top Ramen is his go-to.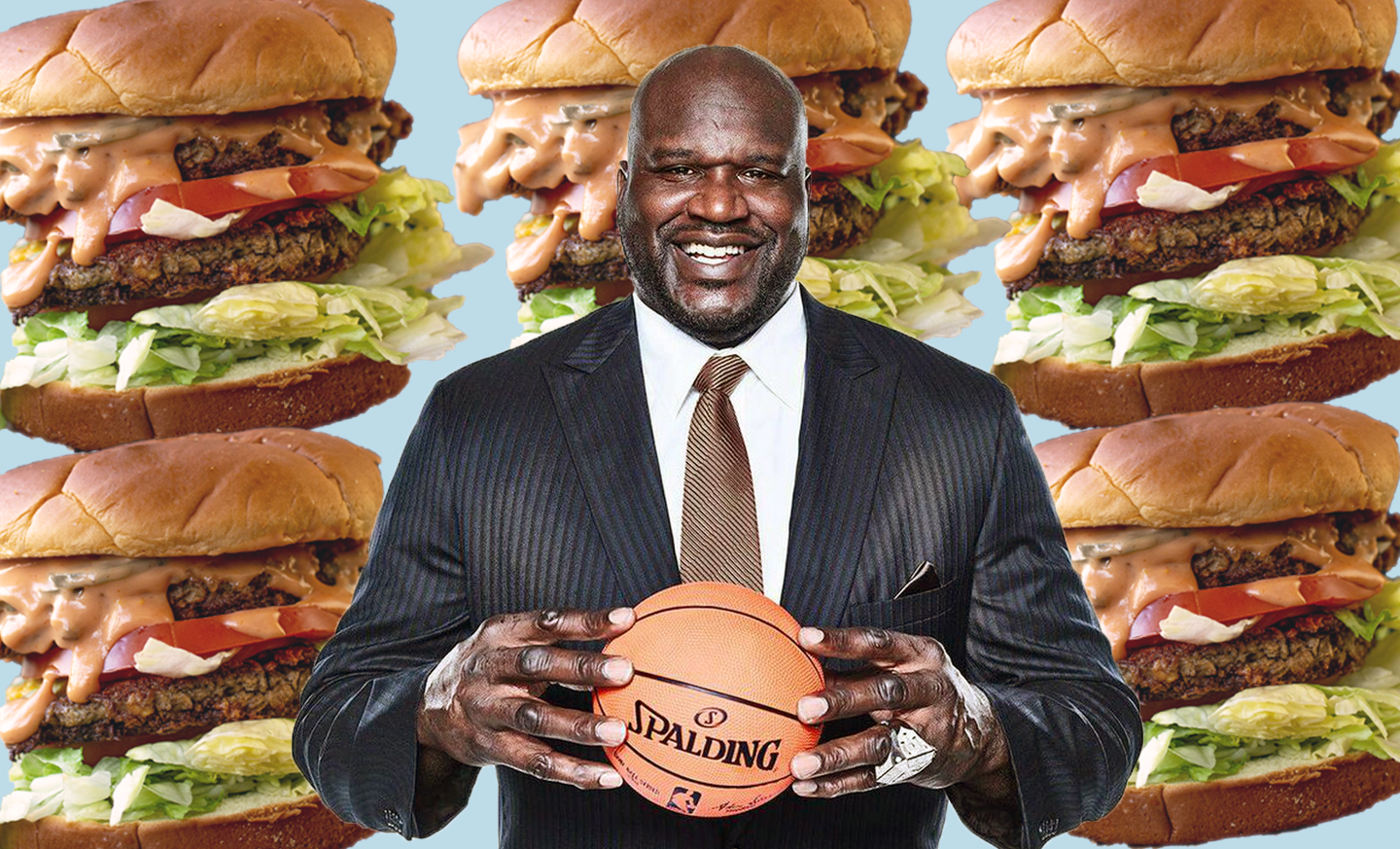 Shaq's vegan ventures
O'Neal is a big investor in the food space and counts several franchises—such as Auntie Anne's, Krispy Kreme, and Papa John's—in his portfolio. However, the NBA legend revealed that he does not frequent these businesses to indulge his junk food cravings.
Instead, O'Neal has become a regular at Slutty Vegan, where the plant-based burger patties are made by Impossible Foods. In 2019, O'Neal's love of Slutty Vegan's burgers was documented by the chain in a video shared to its social media accounts showing the NBA legend devouring two Fussy Hussy burgers—an Impossible Burger patty loaded with pickles, vegan cheese, caramelized onions, lettuce, tomato, and the chain's Slut Sauce on a vegan Hawaiian bun.
O'Neal is also a supporter of plant-based burgers in other ways. In 2019, O'Neal joined 13 other professional athletes as investors and ambassadors of vegan brand Beyond Meat. In addition to O'Neal, NBA stars Kyrie Irving, Chris Paul, Victor Oladipo, DeAndre Jordan, JaVale McGee, Harrison Barnes, and Luke Walton were part of the investment group, along with NFL stars DeAndre Hopkins, Malcolm Jenkins, and Derrick Morgan (and his wife Charity); and ski racer Lindsey Vonn, rock climber Alex Honnold, and snowboarder Shaun White.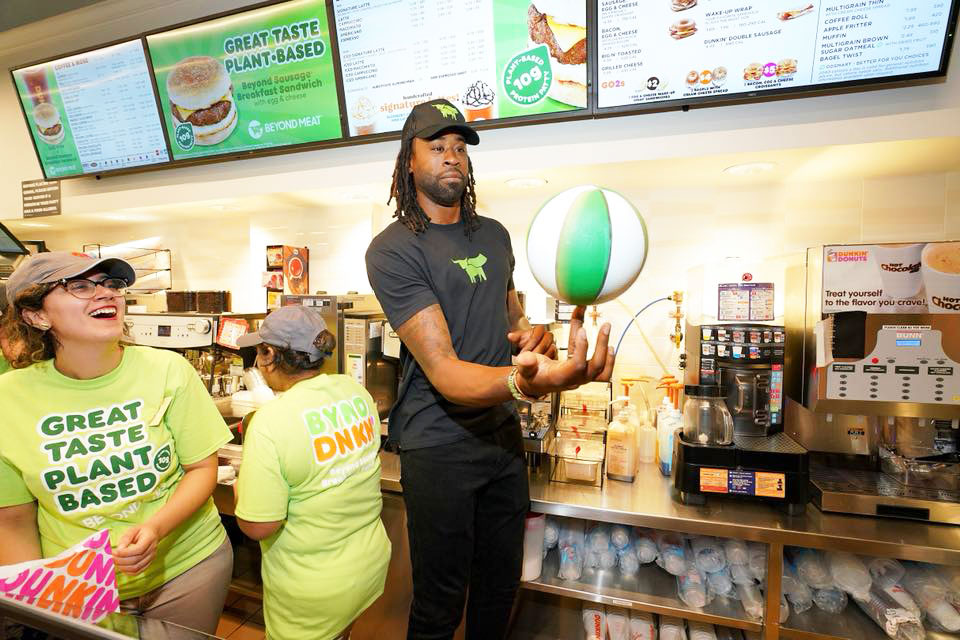 Beyond Meat
The former professional basketball player is looking toward a meatless diet to improve his health, a shift that many of his NBA peers and contemporaries have already made. One example is fellow Beyond Meat investor DeAndre Jordan, who went vegan four years ago for a multitude of reasons.
"Once you educate yourself a lot on what you're putting in your body and where the protein is actually coming from, [going vegan] was an easy decision for me," Jordan said during an episode of Cooking Clean, a vegan show he created on athlete-owned network PlayersTV. "And also, environmentally, being able to take care of the planet—not only for ourselves but for our children and their children and so on—I just wanted to be able to have some kind of impact on us bettering our environment."
Slutty Vegan's celeb support
In 2018, Cole opened the first Slutty Vegan outpost as a food truck that drew hours-long lines of hundreds of hungry guests waiting to get "slutiffied" by sampling the proactively named vegan burgers on offer. Since then, the concept has expanded to four brick-and-mortar locations and a bar concept in Georgia, with additional out-of-state locations in the works. Slutty Vegan also makes retail products, including limited-edition dips in Hot-Lanta Chik'n and Spinach and Artichoke flavors now available at select Target locations.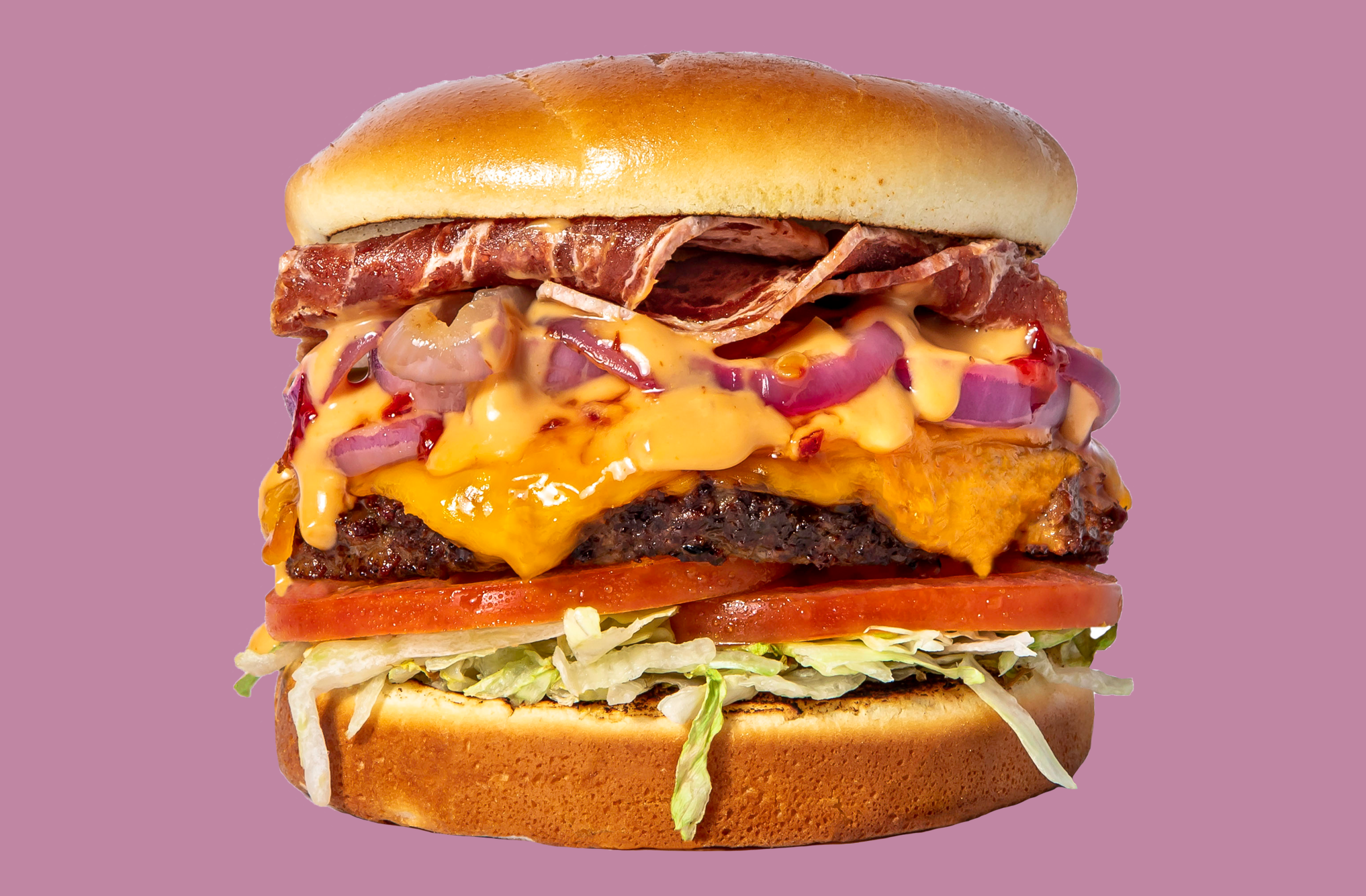 Slutty Vegan
Slutty Vegan is a sensation beloved by all, including an impressive roster of celebrities that have made the trek to the vegan eatery to get sluttified. Everyone from Lena Waither to Tiffany Hadish to Tyler Perry to Snoop Dogg has had the pleasure of tasting a Slutty Vegan burger.
In 2019, music industry legend Usher made his virgin voyage to Slutty Vegan a public affair. After getting his order—a Ménage à Trois burger which features an Impossible Burger patty, bacon, shrimp, cheese, caramelized onions, lettuce, and tomato, along with the chain's signature sauce and Hawaiian bun—Usher took to Instagram to share his experience.
"I chose a Ménage à Trois burger," he said in the video. "Yeah, I'm feeling frisky." After pointing to the vegan bacon on his burger, Usher said, "Look at that. It's cool," before taking a big bite. "This is good," he said and repeated, "This is good."
For more about Slutty Vegan, read: Slutty Vegan's Plant-based Burgers Are Coming To Shake ShackAt Slutty Vegan's First Vegan Cocktail Bar, the Drinks SingSlutty Vegan Opens Second Location, Serves 1,000K Customers in One Day