It's Quorn! Does it "have the juice?" This was the burning question on Drew Barrymore's mind when she invited Tariq, known widely as the 'Corn Kid,' to her show for a recent segment.
Earlier this summer, Tariq appeared in an interview posted by web series Recess Therapy, during which he expressed his love of corn in a way that captured the hearts of many. The interview was remixed into a song by Schmoyoho, a popular YouTube channel, and has since gone viral.
For her part, Barrymore wanted to indulge Tariq's unwavering love of corn with a veritable cornucopia during a food news segment on her show. Barrymore and co-host Ross Matthews tasked Tariq with trying corn soda—which got an honest thumbs down from the seven year old. Next up was Nutella-covered corn topped with sprinkles, which got messy. He also tried baby corn, which he said tasted like "rain water and carrots."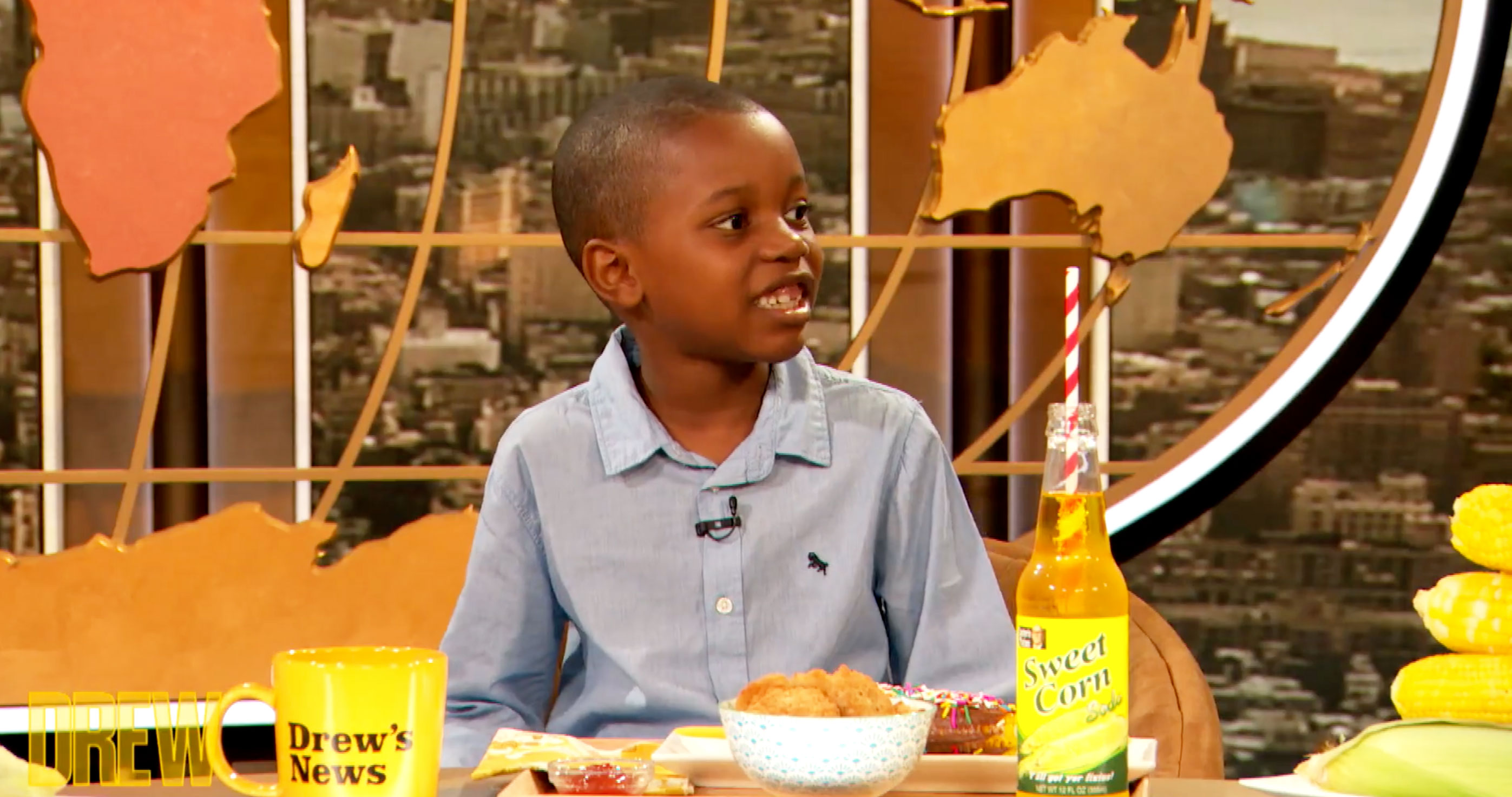 Drew Barrymore Show
Finally, Barrymore introduced Tariq to Quorn's meatless nuggets, which are not made with corn but with mycoprotein—a fungi that works as a stand-in for animal meat. "Corn up," Tariq said, and threw his thumb up while making the same "everything changed" face he did in the Recess Therapy interview.
"Beyond just the names practically being homophones, what kid doesn't love chicken nuggets? Since Quorn Meatless Nuggets are made with mycoprotein, the texture closely resembles chicken and has the same crispy outside," Barrymore tells VegNews. "I'm just as passionate about Quorn as Tariq is about corn, and the Meatless Nuggets are my all-time favorite.
"Knowing Tariq has great taste, I was hoping he might like our nuggets, and much to my delight, he loved them," Barrymore tells VegNews. "He is such a genuine person and I was thrilled that he approved so enthusiastically. He gave it two corns up."
At the close of the segment, Barrymore wanted to make sure Tariq had a corntastic day and surprised him with a year's supply of Quorn's meatless products and a $5,000 toy shopping spree at FAO Schwarz. "Thank you everyone," Tariq exclaimed. "It was the best day of my life."
Since going viral, the corn-loving kid has also been crowned South Dakota's corn ambassador and visited the state's treasured Corn Palace, which he explained was not "eatable."
And while Tariq loves corn—and now Quorn—he revealed on the show that he loves a lot of other things, too, such as watermelon, apples, broccoli, school, and reading books to his baby sister who was born in June.
It's Quorn: mycoprotein made to mimic meat
Quorn got its start in the United Kingdom when Dr. Arnold Spicer discovered a fungi microorganism—called "Fusarium Venenatum"—that could be used to create meat alternatives with the help of microbial fermentation. Quorn's first products came out in 1985 and the company has since used this mycoprotein to release a wide range of meatless grounds, sausage, chicken, and more.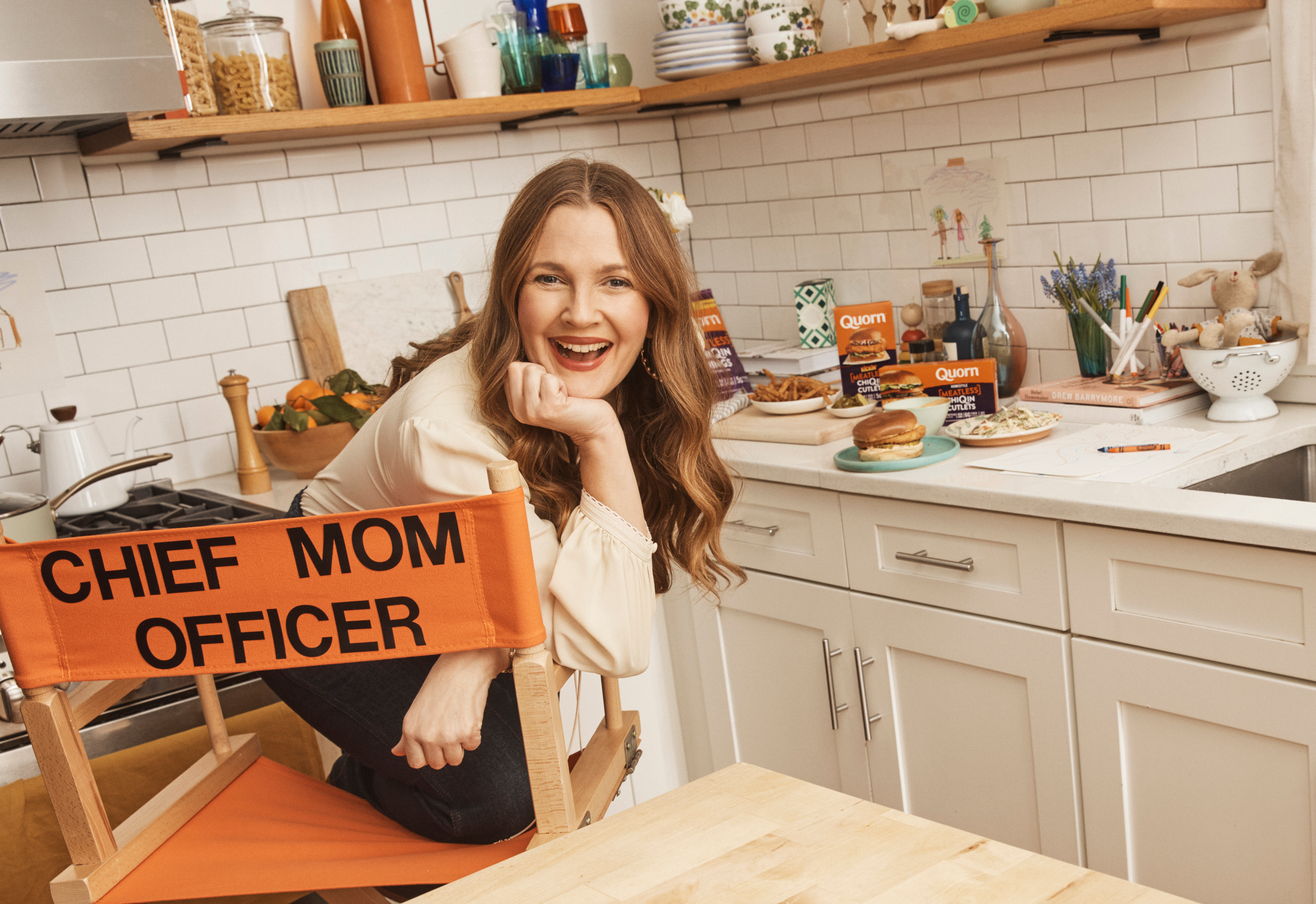 Quorn
Barrymore joined the company earlier this year as its "Chief Mom Officer" to help make meatless eating more exciting and accessible while supporting Quorn's mission of becoming a leader in the meatless chicken category in the US.
As part of this partnership, Barrymore has engaged in commercials, alongside her "BFF" ChiQin, participated in holiday campaigns, and brought Quorn products onto her show.
While Barrymore grew up as a vegetarian and went vegan for some time, she now identifies as a person who is eating "more and more vegetarian" and has found refuge in Quorn's products, particularly its meatless chicken.
"You can have these moments when you find out certain things and you cannot ignore what you just learned. So, I love chicken. It's a great base protein and a canvas for so many things and so ubiquitous in the culinary world and I haven't touched it in 13 years," Barrymore told VegNews in May. "And [with Quorn], I have it back in my life again and I'm able to give it to my kids in a way that makes me feel good about what I'm feeding them. That is so amazing for my quality of life."
While some of Quorn's products are vegan, the company still uses egg whites in many formulations as an emulsifier.
For the latest vegan news, read: