We've all heard of soy, oat, and almond milk but have you ever tried BamNut milk? Singapore-based startup WhatIF Foods is making vegan noodles and milk using an underutilized legume called the Bambara groundnut—otherwise known as the BamNut—a regenerative, hardy, and drought-resistant crop that can grow in degraded lands with minimal demand for resources. Using this low-impact crop, WhatIF Foods offers vegan products such as BamNut milk and a better-for-you version of instant noodles in varieties such as Moringa and Pumpkin.
Native to West Africa but now cultivated across the continent, the BamNut is a type of legume in the same food family as peanuts, peas, and beans. It has been recognized as an important nutrient-rich food source for when food is scarce because it thrives in poor soil where other crops can no longer grow.
It also has the ability to capture atmospheric nitrogen and convert it into nitrogen compounds in the soil, making it an ideal cover crop and suitable for large-scale crop rotation. Plus, the legume has an impressive nutrition profile that includes high amounts of vegan protein, carbohydrates, fiber, and other vitamins and minerals.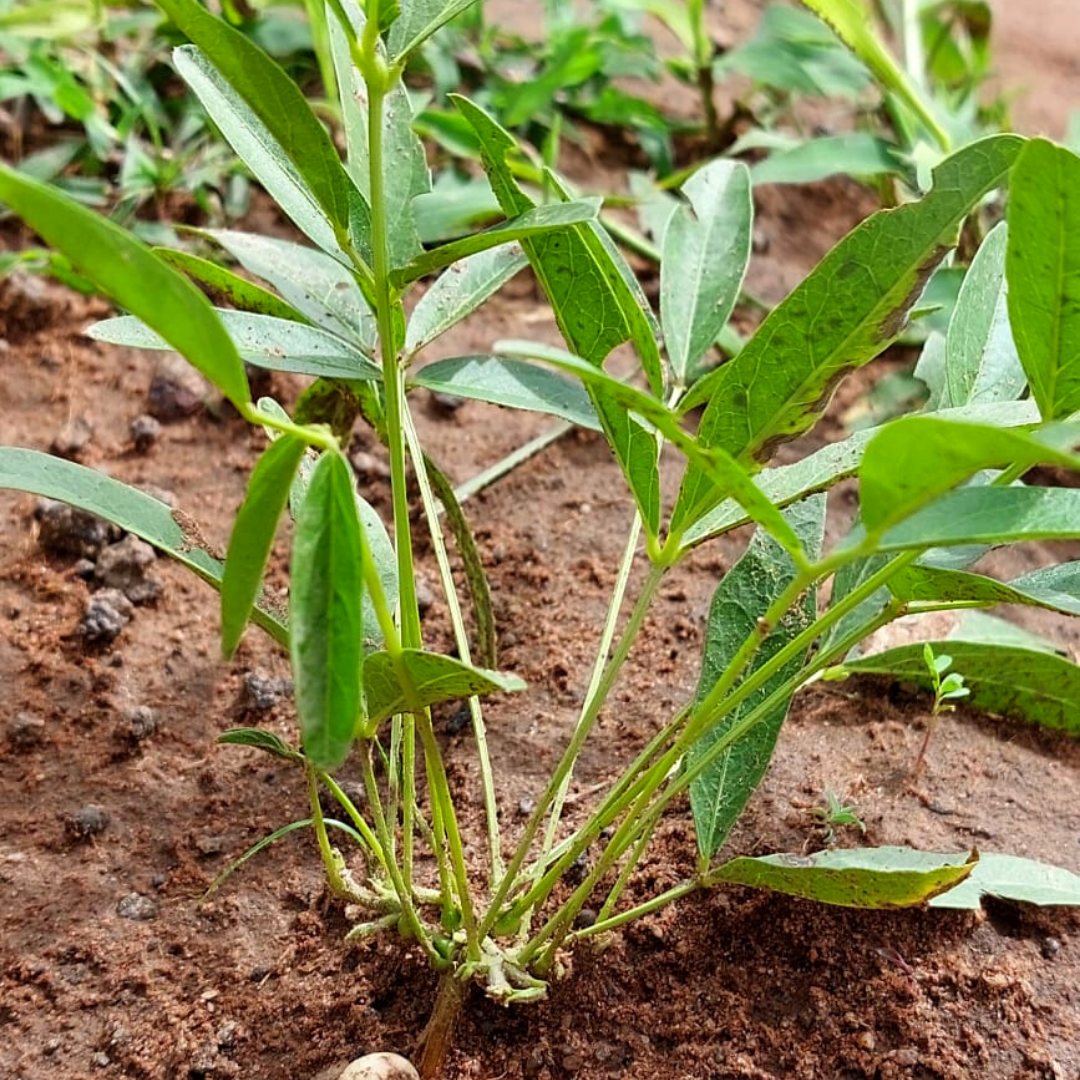 WhatIF Foods
"These characteristics make the BamNut a perfect crop to bring back life to the degraded soils of the Northern Ghana region," WhatIF Foods Founder and CEO Chris Langwallner tells VegNews.
A traditional ingredient in indigenous African cuisine, the crop has largely been traded and consumed locally, until now. Langwallner hopes to create an international market for the crop in an effort to bolster food security for future generations as climate change threatens the production of current food crops.
Diversifying the food system
Langwallner created WhatIF Foods in 2020 because of a decades-long frustration with the food system. Despite there being 300,000 edible plant species, just 12 of them make up more than 75 percent of our food, which Langwallner says are grown on "steroids" and driven by global monopolies that have no interest in biodiversity, the earth, or people's health.
He's also frustrated by the fact that we now live in a world where processed convenience foods are cheaper than fruit and vegetables. This is why the startup is on a mission to diversify the food system with this underutilized yet environmentally friendly crop.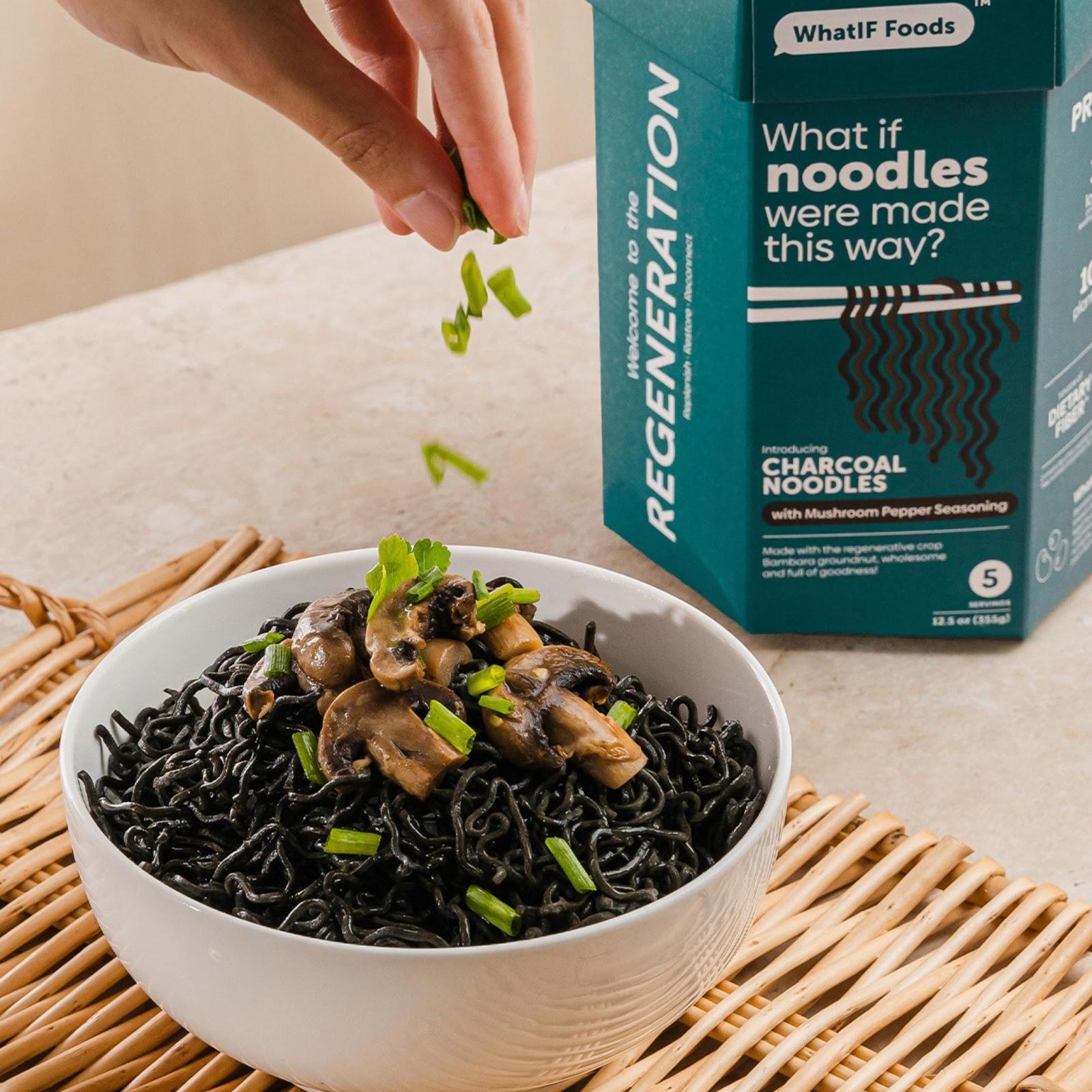 WhatIF Foods
WhatIF Foods makes use of BamNuts by processing them into its signature BamNut flour to make its milk and instant noodles. The startup first launched with noodles in an effort to provide a healthier alternative to instant noodles, which, at almost 320 million servings daily, we eat a lot of despite society's transition to more health-conscious diets and lifestyles. Consumption is most prominent in Asia, where almost 80 percent of the world's instant noodles are eaten.
"It seems that the majority of us consume instant noodles despite the health risks," Langwallner says.
"Originally invented as a solution to mass hunger, the instant noodle is now considered to be a favorite 'comfort food' for many," he says. "It is a warm, nostalgia-filled bowl that's easy to whip up in no time."
After years of research and development, WhatIF Foods created its own instant noodles made with BamNut flour and a patented air-frying process that allows for the noodles to be pre-cooked without having to be deep fried—making it palm oil-free and less fatty. Air-frying also helps the noodles retain the BamNut's nutrients and natural colors. WhatIF Foods is working to expand its existing product lineup with single-serving noodles and more flavors.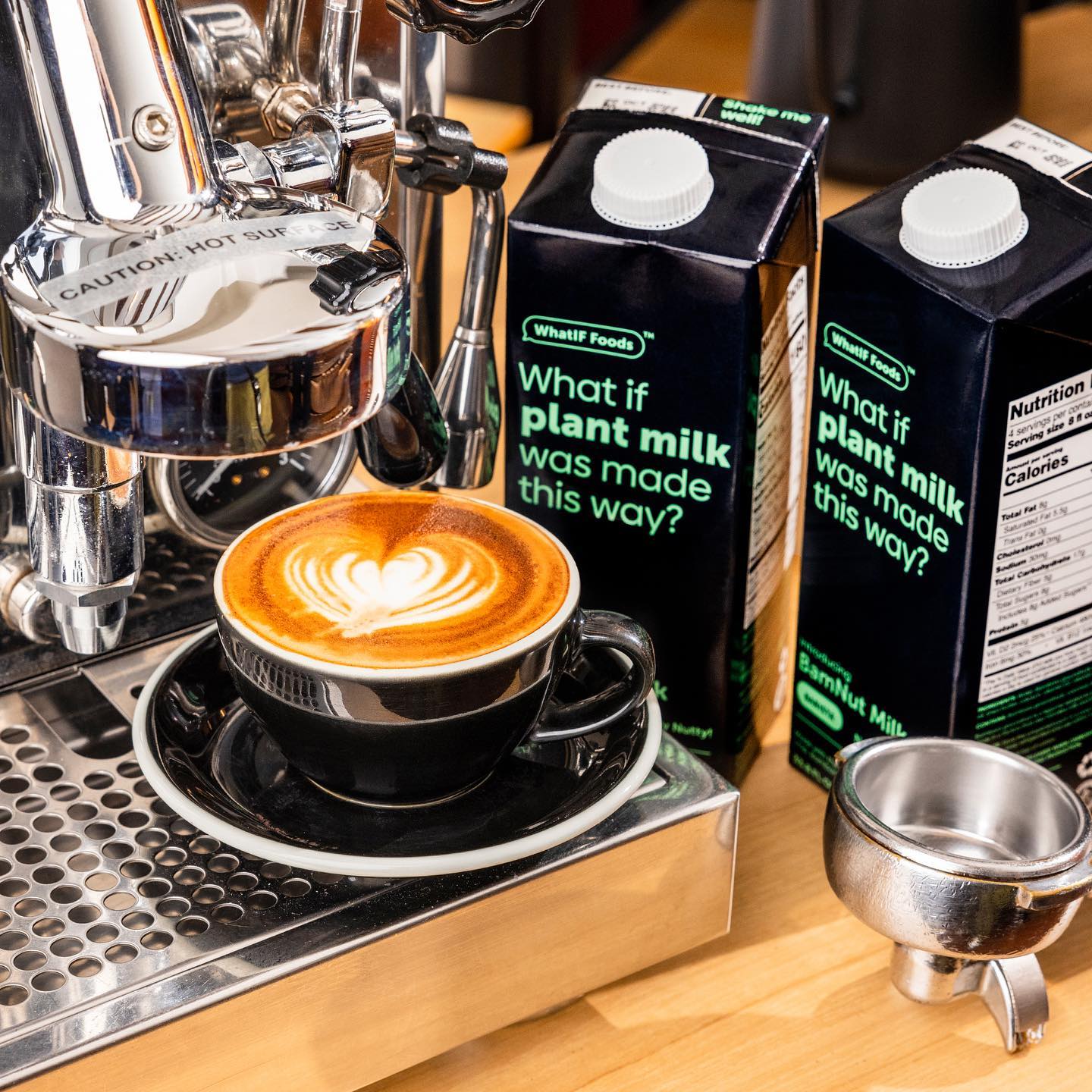 WhatIF Foods
WhatIF Foods also makes its own vegan milk using BamNuts—a first in the $18 billion plant-based milk market. "Our BamNut Milk has been developed to preserve the inherent natural characteristics of the Bambara groundnut, like its unique nutty notes and nutritional qualities, creating a plant milk that is unrivaled in product performance, nutritional profile, and sustainability," Langwallner says.
WhatIF Foods' products are already available in retail stores in Singapore with plans to launch on the east and west coasts of the United States later this year.
Taking a different approach to farming
Because the BamNut is a forgotten crop with no existing supply chain, WhatIF Foods has had to develop one from scratch, which presented various challenges, especially during the COVID-19 pandemic. Langwallner says this involved developing relationships with farmers based on respect, and "see[ing] farmers and their lands as partners, not as charity cases."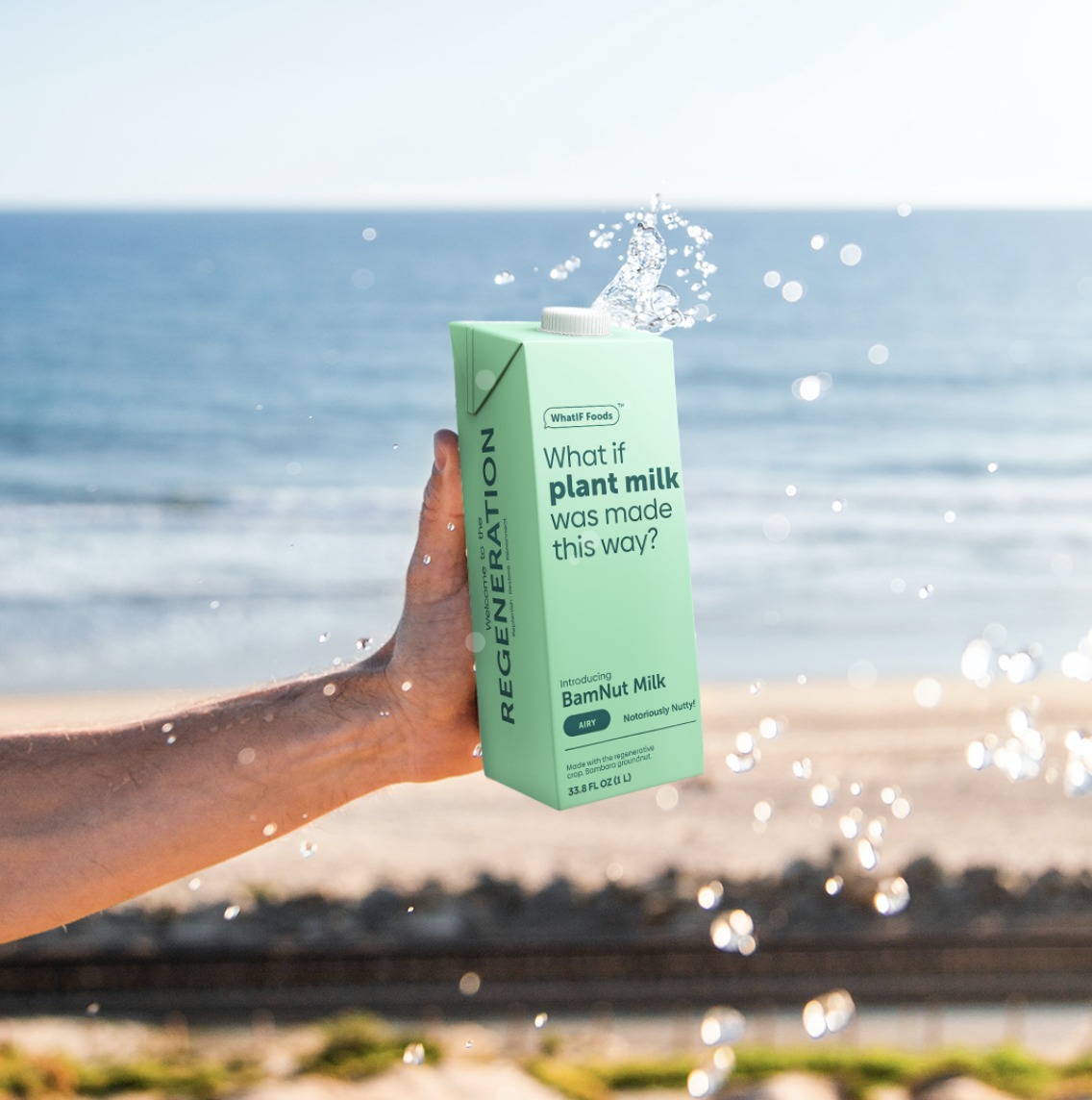 WhatIF Foods
"Despite the challenges, one advantage of going to farming communities in the Northern Ghana region where the BamNut is native, is that the communities are very familiar with this crop; [it is] a staple food for their families," Langwallner says. "Thus, engaging them in our program was not a hard discussion to have—we encountered a lot of excitement and hope." Now, WhatIF Foods is working directly with 1,600 farmers in Ghana and is preparing for its first big harvest of BamNuts this December.
In addition to focusing on regenerative farming practices, WhatIF Foods also wants to provide a fair and just value chain that doesn't leave the farmers behind. In an effort to provide as much support as possible to the farmers, WhatIF Foods has partnered with local organization The Pond Foundation to establish an outreach program and collaborate with local research institutes to monitor farming practices and soil health and provide a meaningful livelihood to farming communities.
By taking a different approach to food production, Langwallner hopes that BamNuts will help farmers revitalize degraded lands. The startup is also working with farmers to transition practices so that organic input materials replace all chemicals, topsoil structures are touched only at the bare minimum, carbon is sequestered, and water is retained.
"One prime example of these practices is the application of biochar on the soil," Langwallner says. "It is an ancient soil remedy and a modern carbon sequestration tool that was long used before we got into intensive use of synthetic agri-input materials."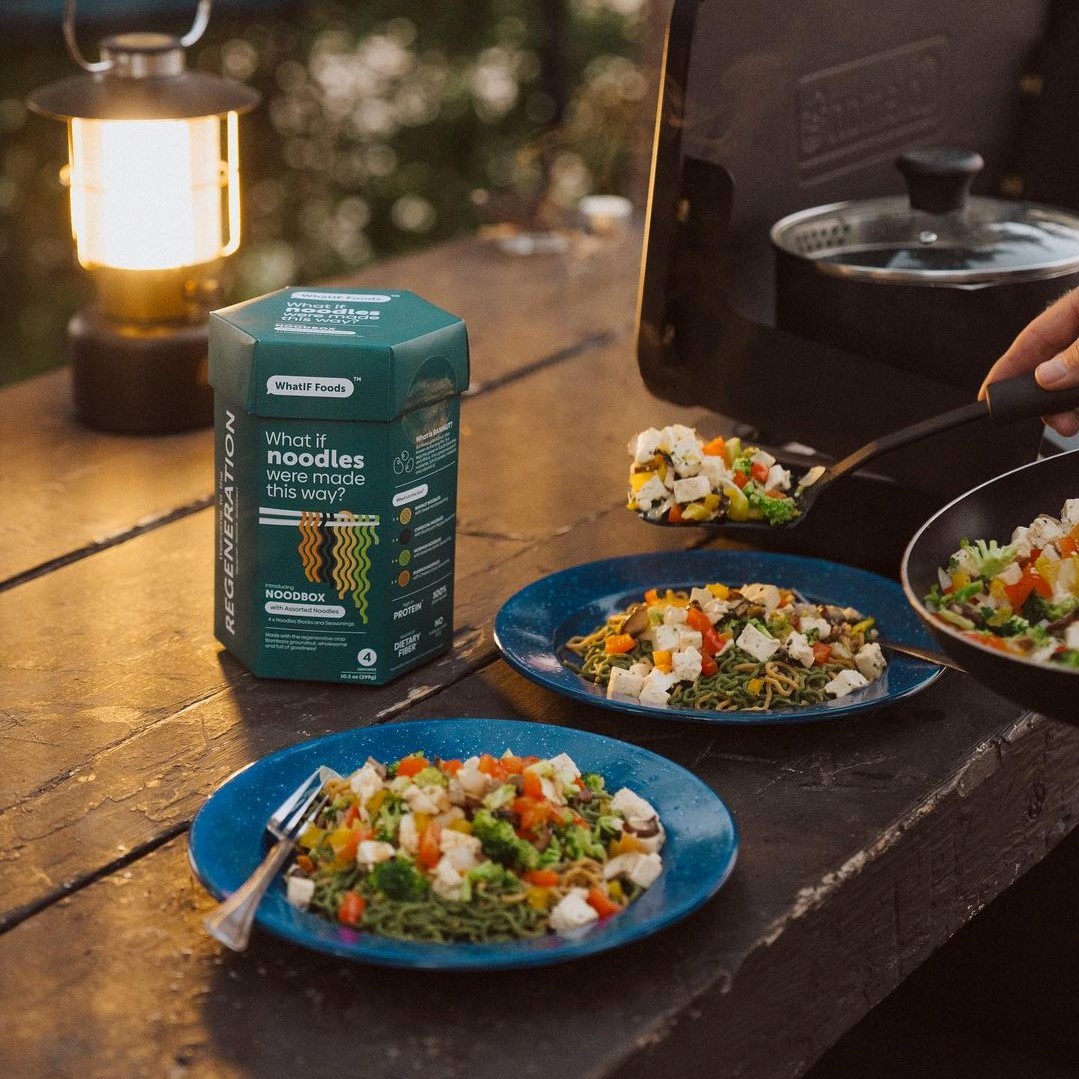 WhatIF Foods
In a circular mindset, WhatIF Foods converts the shells of the BamNuts into biochar instead of leaving them to rot or burn, which would emit methane and carbon dioxide into the atmosphere. The startup plans to implement this method after its first big harvest this year.
"Through this, WhatIF will remove all its lifetime carbon emissions from the atmosphere and, step by precious step, it will bring life back to those degraded lands and to the communities who farm them," Langwallner says.
For the latest vegan news, read: