Just about anywhere you go for a quick bite these days, chances are, a plant-based burger by one of the leading brands will be on the menu. Typically, they are made from pea protein or soy, both great substitutes for cholesterol-laden animal meat. But how can restaurant chains give consumers something new to crave?
Smashburger is looking to jack & annie's, a company that specializes in making plant-based products using jackfruit. From now until April 25, Smashburger is offering the innovative jackfruit patty inside a new Plant-Based Classic Smash Burger available at its participating locations in New York, New Jersey, and Colorado.
"With over 15 years of experience creating better-burgers and providing a premium fast-casual dining moment for our guests, quality and innovation remain at the core of who we are," Carl Bachmann, President of Smashburger, said in a statement.
The new offering is a meatless take on the chain's Classic Smash Burger and features the jackfruit patty along with American cheese, lettuce, tomatoes, red onions, pickles, Smash Sauce, and ketchup, all served on a toasted bun.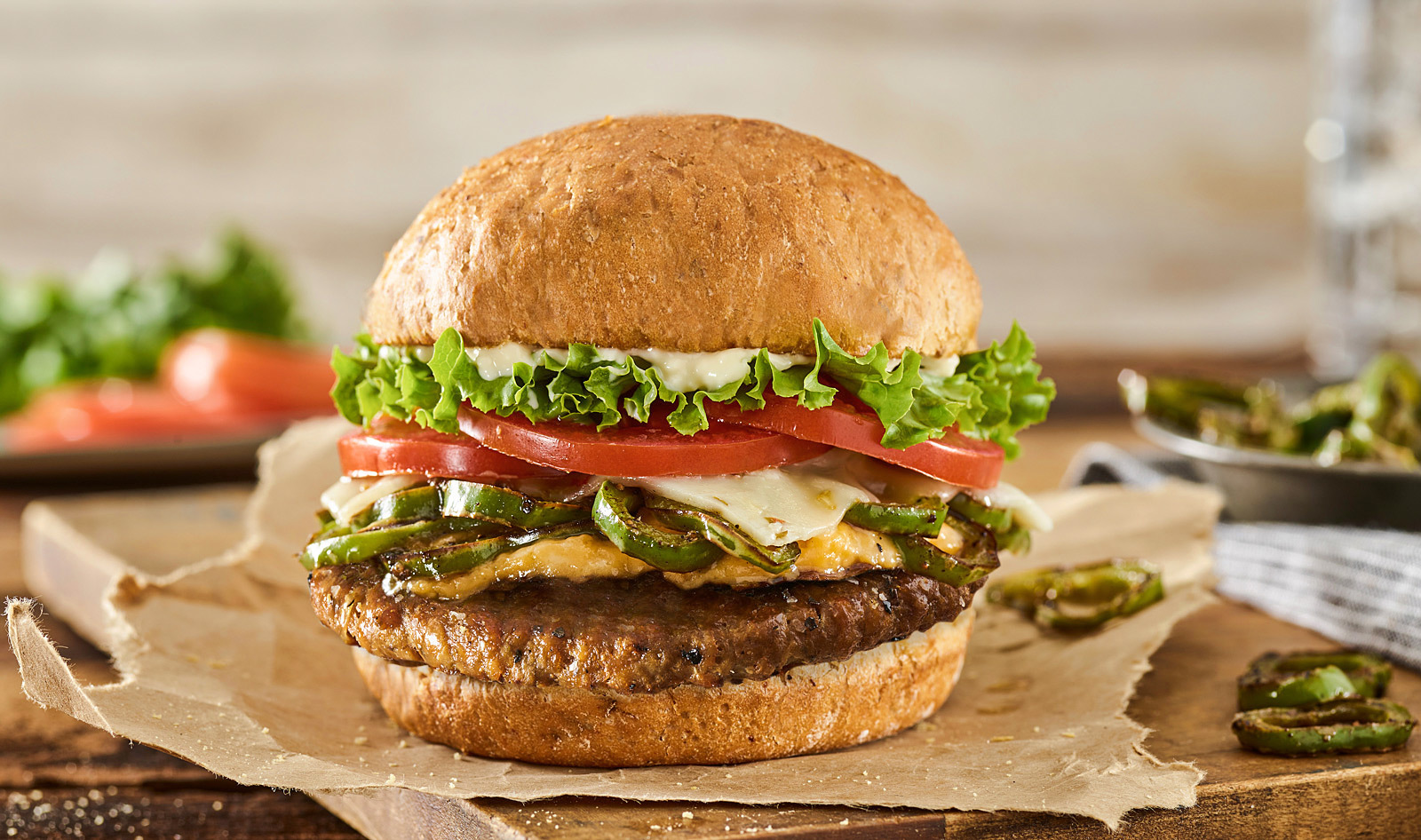 Smashburger
"As part of Smashburger's aggressive approach to menu innovation and catering to our guest's evolving tastes, we have continued to diversify our product portfolio with the test of our new Plant-Based Classic Smash Burger, made by jack & annie's," he said.
The new burger is vegetarian as-is but the jack & annie's patty is made without animal-derived ingredients. To order the new burger without animal-derived ingredients, Smashburger suggests removing the dairy cheese, Smash Sauce, and asking for a lettuce wrap in place of the bun.
For a limited time, the vegan jackfruit patty can also be swapped into any existing burger build at Smashburger—which operates 245 corporate and franchise restaurants in 34 states and seven countries.
Making meat from jackfruit
Jackfruit is a revered food in Asia where it has been eaten for centuries. The plant is also an exciting plant-based meat alternative, with flesh that can be manipulated into a variety of toothsome dishes such as pulled pork.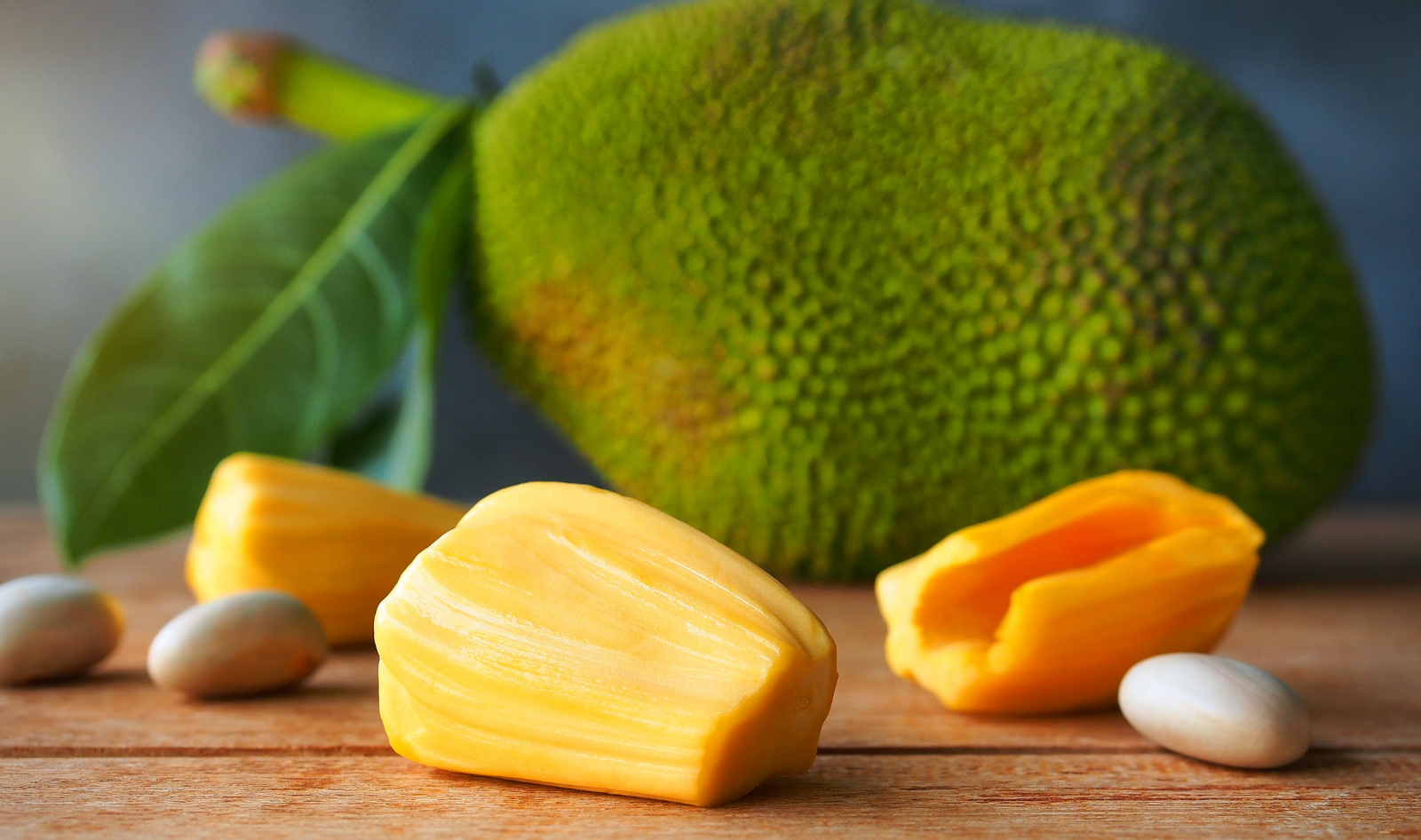 Canva
Supplied by The Jackfruit Company, jack & annie's is on a mission to popularize the underutilized regenerative fruit as a sustainable meat alternative. The company uses jackfruit as a base for a number of products such as vegan chicken wings, meatballs, pulled pork, and crispy chicken patties—all available at retailers nationwide.
The company's partnership with Smashburger represents the first time jack & annie's jackfruit-based products have appeared on a fast-casual menu, a milestone for the vegan company.
"Our jack & annie's plant-based burger is the best of all worlds," Annie Ryu, CEO and founder of jack & annie's, said in a statement. "It has an incredibly meaty texture, and is made first and foremost from jackfruit, a plant that contributes to the sustainable future of food, while still tasting delicious."
"This newest offering at Smashburger lets consumers in Colorado and New York enjoy high-quality, vegetarian-friendly options while dining out and helps fulfill our vision of bringing jack & annie's foods to diners everywhere," Ryu said.
Vegan at Smashburger
In the last few years, plant-based burgers have penetrated deep into the restaurant world with a meatless option available at just about every chain from fast-food giant Burger King to fast-casual classic Denny's.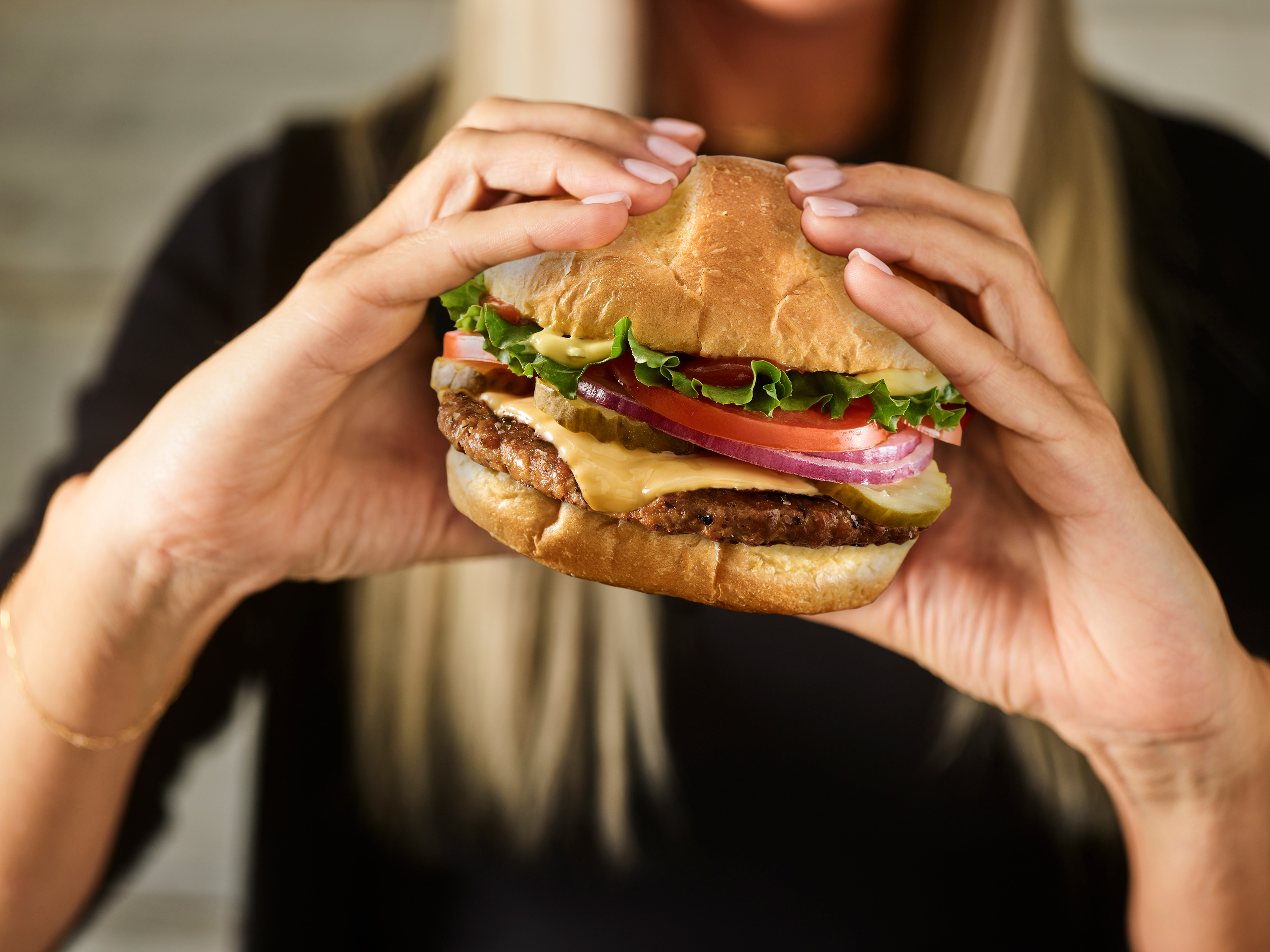 Smashburger
Prior to its partnership with jack & annie's, Smashburger's meatless burger options in the United States were limited to a black bean patty made with egg. Working with the jackfruit-focused company has the potential to expand its menu in a way that differentiates Smashburger from its competitors in the fast-casual space—where Beyond Meat and Impossible Foods are leading plant-based meat suppliers.
"This partnership felt like a natural next step in Smashburger's journey to offer more diverse and clean plant-based options for our guests, while still delivering the premium, top-quality menu items our fans know and love," Bachmann said.
And while a vegan burger might still be hard to order at Smashburger, the chain is leading the fast-food industry pack when it comes to its dairy-free milkshake offerings. That's because last year, Smashburger partnered with San Francisco startup Eclipse Foods to add its dairy-identical vegan shakes to its menus nationwide.
Eclipse uses a blend of plants such as corn and cassava to create vegan milk—free of soy, wheat, nuts, coconut, gums, gels, stabilizers, or GMOs—that is identical to animal-based dairy on a molecular level. "Our shakes perfectly mimic the delicious taste and texture of traditional dairy milkshakes, and require no flavor sacrifice from consumers," Aylon Steinhart, Eclipse co-founder and CEO, said in a statement at the time. "And now that the shakes are available nationwide, even more people will have access to exceptionally delicious plant-based options that are better for the planet, animals, and people."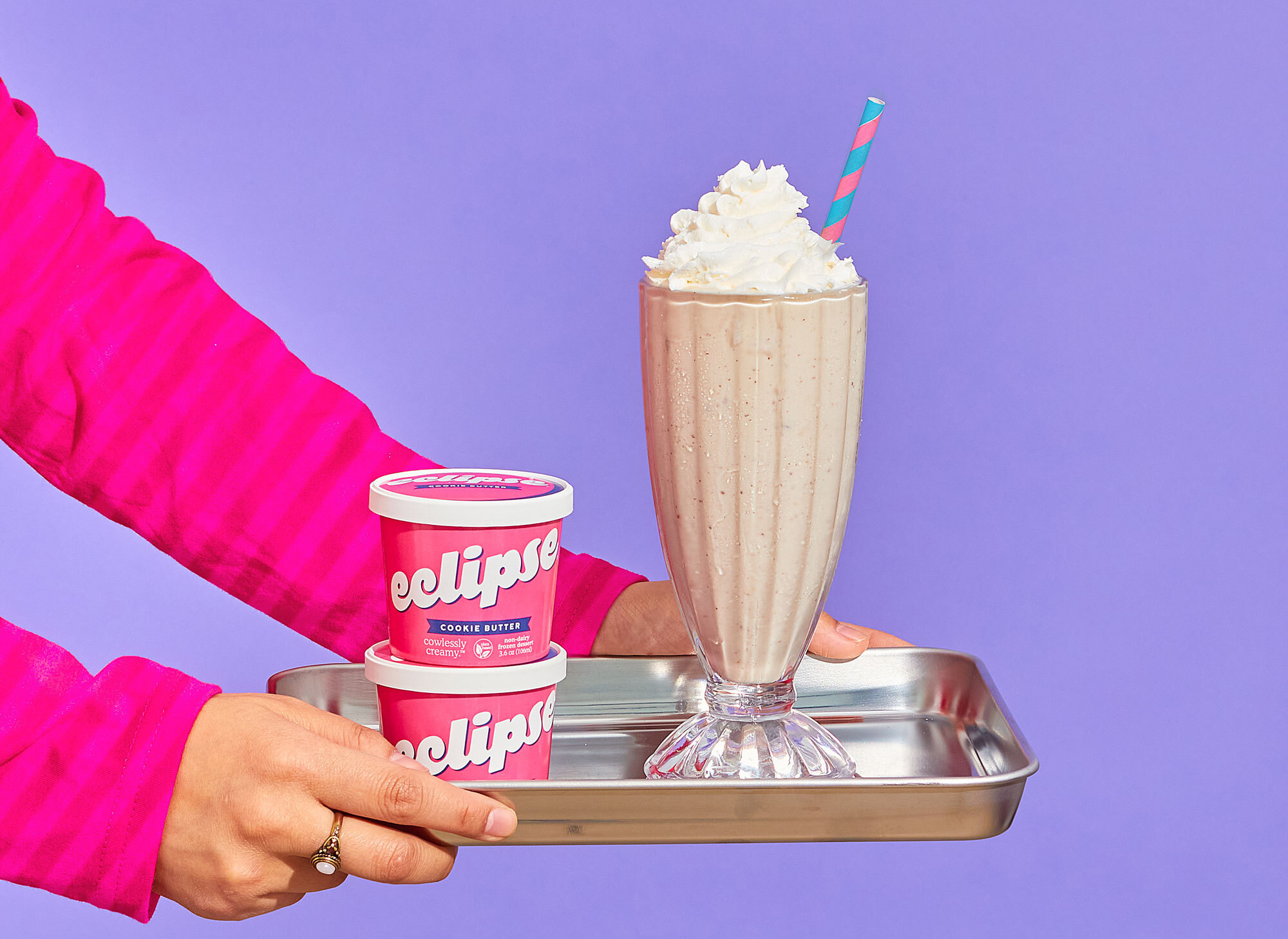 Eclipse Foods
At Smashburger, Eclipse-powered shakes debuted last June in six flavors: Vanilla, Chocolate, Strawberry, Tangerine Dream, Peanut Butter, and Oreo. For the holiday season this year, Smashburger debuted a seasonal Non-Dairy Caramel Apple Shake made with a base of Eclipse vegan ice cream that is hand-spun with apples, cinnamon, nutmeg, and ginger which came finished with a drizzle of salted caramel syrup.
For the latest vegan news, read: