It seems that every week in the world of vegan food news is more exciting than the last and this week is no exception. We're entering the new year in style with new vegan popcorn made by American Idol queen Kelly Clarkson and the Jonas Brothers. If starting 2023 with pizza is more your jam, Emmy Squared Pizza just launched three new vegan pies at its 20 locations. And if a hankering for Spam musubi strikes, Walmart stores have you covered with unMeat, a vegan take on the canned meat which just hit select locations. Read on for more.
1New vegan take on Spam at Walmart
Do you feel a Spam musubi craving coming on? Head to your local Walmart because select stores are now offering unMeat Luncheon Style Meat, a vegan take on the canned meat made famous by Hormel. The plant-based meat is available in 12-ounce cans for $3.58 and does not contain any trans fat or cholesterol.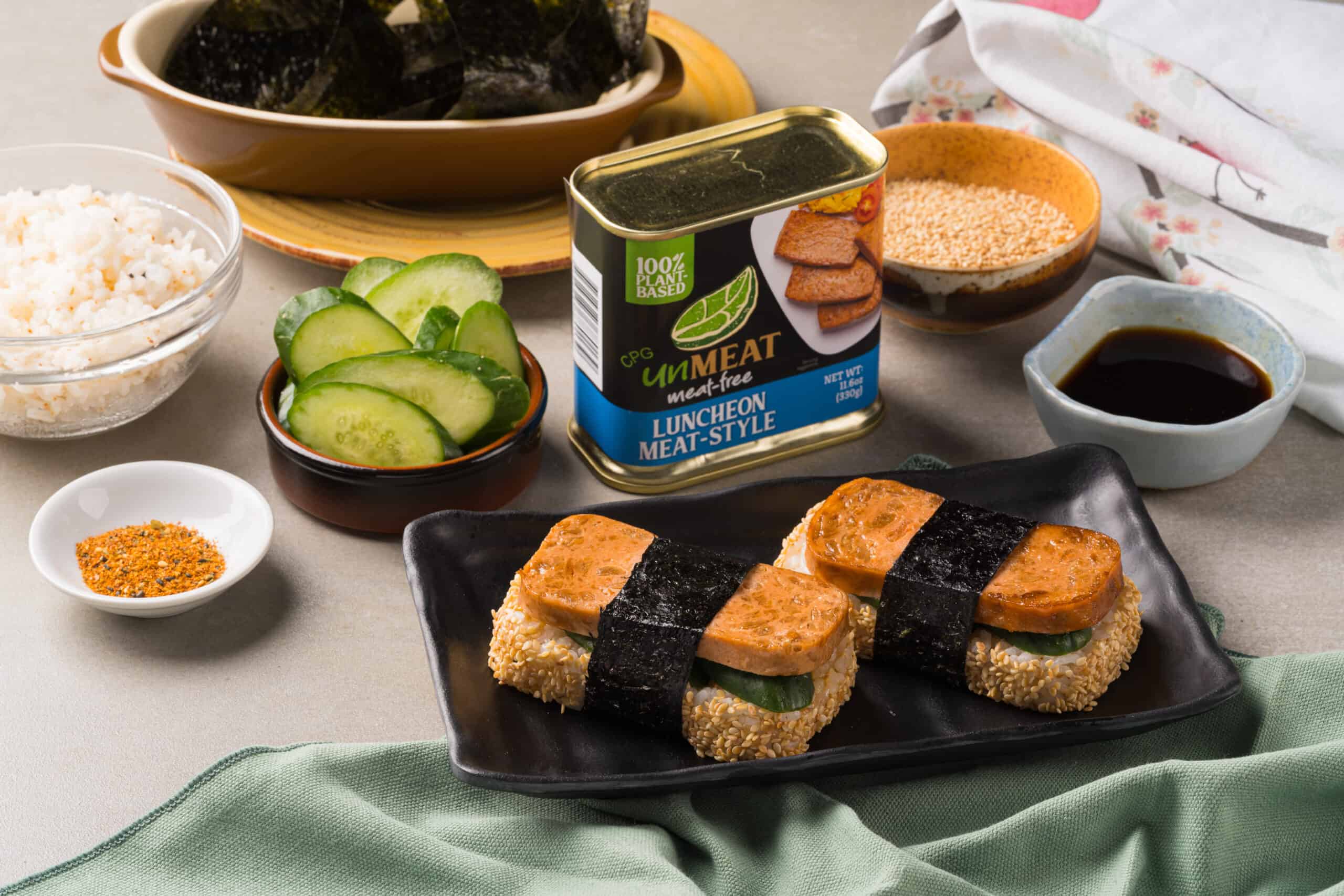 unMEAT
"The flexitarian market is one of the largest growing consumer populations in the US, and our Luncheon Style offerings are helping drive the flexy movement forward," Gregory Banzon, Chief Operating Officer of unMEAT parent company Century Pacific Food, said in a statement. "Our plant-based products offer a healthier choice than traditional meat while also delivering on taste, texture, and price, which are key factors for the flexitarian population."
"We're delighted to bring unMEAT to Walmart, delivering a clean option for those seeking a new aged, healthier take on classic snacks," Banzon said.
Not near a Walmart? UnMEAT is also available at HEB, Harris Teeter, select natural and grocery stores and online through GTFO, It's Vegan; Weee!; and Vegan Black Market.
2Detroit-style plant-based pizza
We all crave a good vegan pizza and most pies come in the classic circle shape we all know and love. But Detroit-style pizzas break that mold with their square shape, hearty toppings, and cheesy "frico" crust.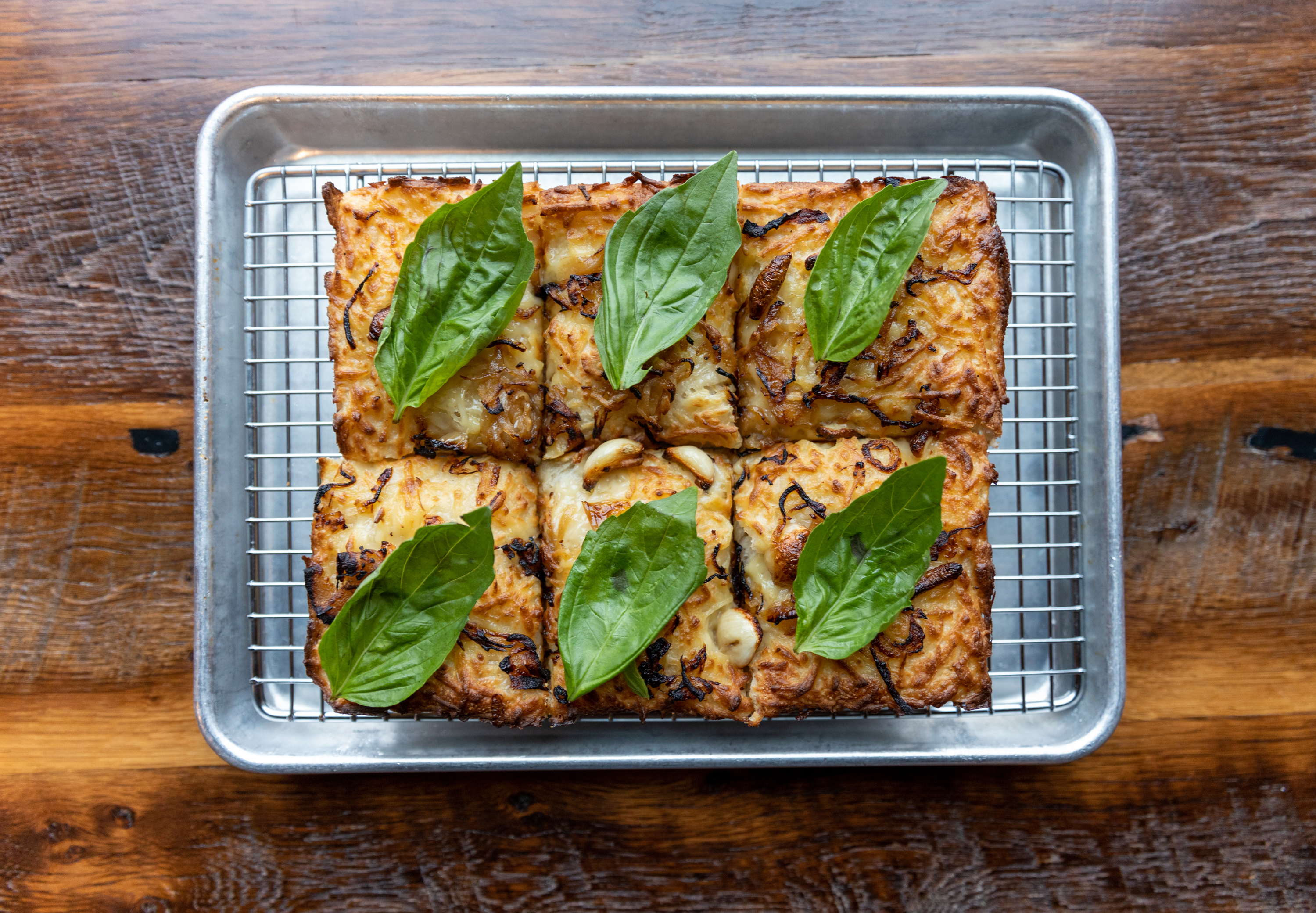 Emmy Squared Pizza
At Emmy Squared Pizza, four new vegan Detroit-style pizzas just hit the menu to give plant-eaters a chance to try a new pizza shape. On the menu are three new pies: Classic (with red sauce, and Violife vegan shredded mozzarella); Artie Bucco (with garlic confit cloves, caramelized onions, and basil); and Larry (with roasted cauliflower, spinach, chili glaze, golden raisins, parsley pesto, and pine nuts).
"With the growing desire for plant-based and animal-free foods, we wanted to ensure our menus were more inclusive to people's dietary preferences," Howard Greenstone, Emmy Squared Pizza CEO, tells VegNews.
"We worked tirelessly to create vegan pizzas that reflect the essence of Emmy Squared, serving craveable food that brings people together," Greenstone says.
The new vegan pizza options are available at all 20 Emmy Squared Pizza locations in New York, Tennessee, Pennsylvania, Georgia, Washington, DC, and California.
3Califia's vegan milk, simplified
While vegan milk is already a vast improvement over dairy, companies in the dairy-free space continue to innovate their products to help consumers continue to make cruelty-free choices. Califia Farms is doing just that with the recent release of Organic Oatmilk and Organic Almondmilk, each of which is made with just three ingredients: purified water, sea salt, and oats or almonds.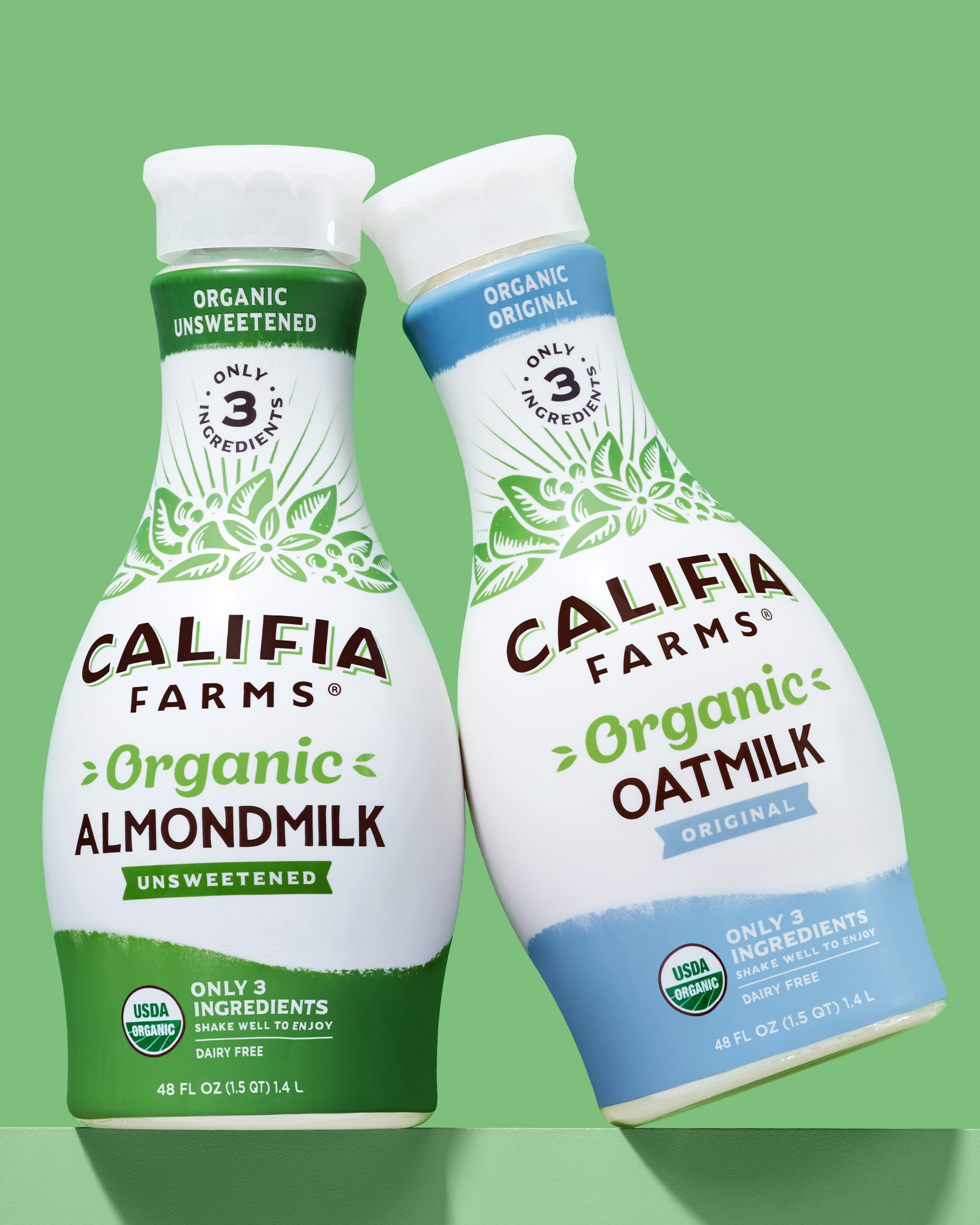 Califia Farms
"I can't think of a better way for Califia to kick off the new year than with the launch of our deliciously simple Organic Oatmilk and Almondmilk," Suzanne Ginestro, Chief Marketing Officer at Califia Farms, said in a statement. "With the addition of these two items, we're making plant-based even more accessible to consumers looking for yummy, shorter label options without oils or gums."
The new line is now available at Kroger, Whole Foods Market, Sprouts Farmers Market, and other retailers nationwide.
"We are so proud to continue driving the dairy-free category forward with innovation that sparks joy in the kitchen and gives people the versatility and taste they crave," Ginestro said.
In addition to the new three-ingredient line, Califa Farms is further expanding its portfolio to include Chocolate Oatmilk and larger 72-ounce formats of Unsweetened Almondmilk and Extra Creamy Oatmilk, all of which are on their way to select retailers nationwide.
4New dairy-free creamers
With the cold days of winter in our midst, a cup of coffee spiked with an indulgent creamer is one way to warm up in style. This week, our vegan creamer options have grown with new launches by sister companies Silk and So Delicious (both owned by Danone North America). From Silk, the new creamer flavor is Mocha Almond and will be available this month at retailers nationwide.
"Silk was the first brand to debut plant-based creamers, and with the new Mocha Almond Creamer, we're giving you even more delicious flavors of our number one plant-based creamer to enjoy," Kallie Goodwin, Vice President of Traditional Creamers at Danone North America, said in a statement. "Silk continues to bring variety to consumers who are seeking new flavors to enjoy in their coffee, and the delicious chocolate flavor of new Mocha Almond Creamer is an exciting new way for plant-based consumers to savor their coffee and their day."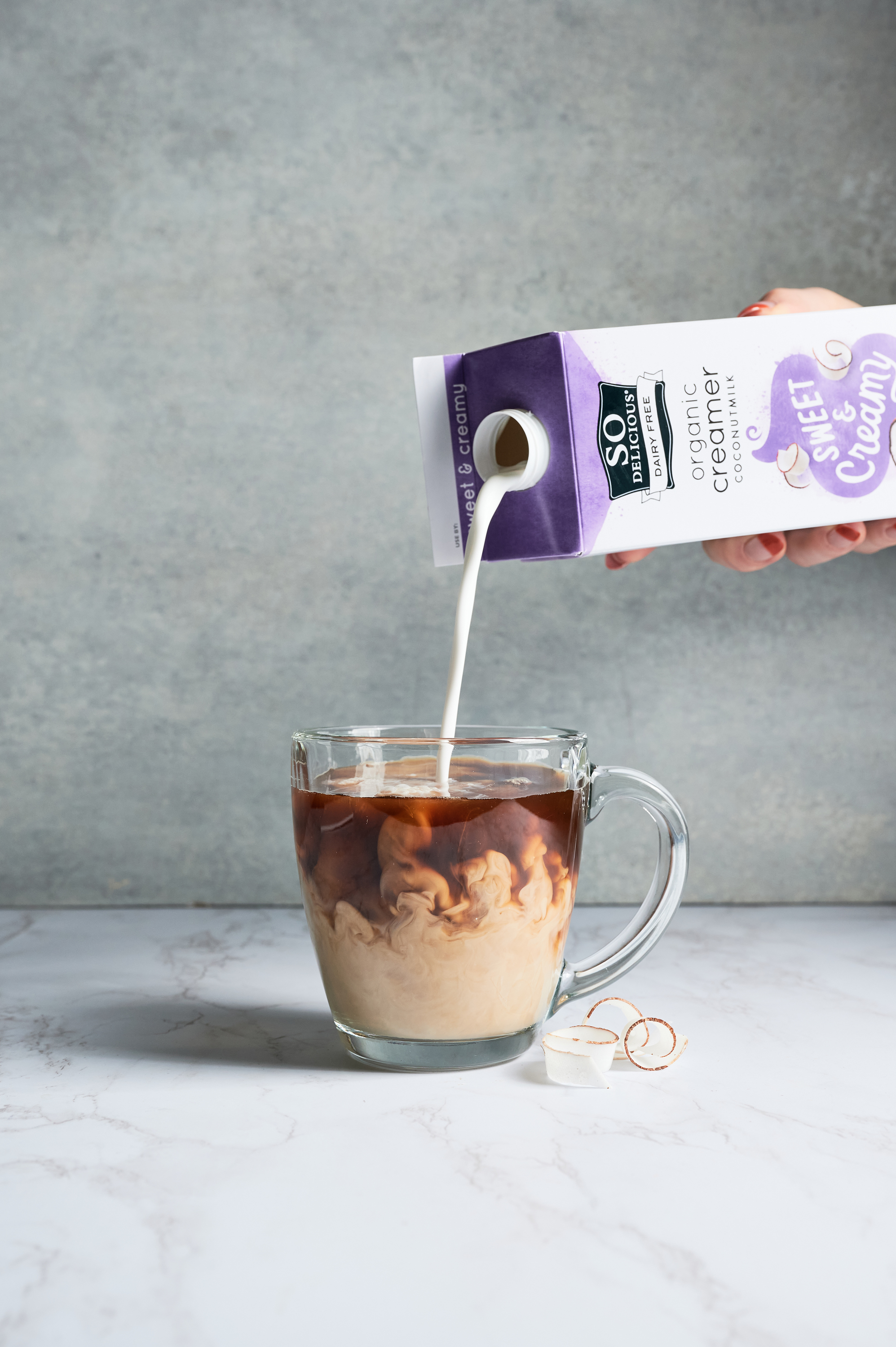 Danone North America
The first new offering from So Delicious is actually a reformulated longtime favorite, French Vanilla Coconutmilk, and newcomer Sweet & Creamy Coconutmilk—both of which will hit Whole Foods, Sprouts, Kroger, and Ahold grocery stores nationwide this month.
"With French Vanilla and Sweet & Creamy Coconutmilk Creamers, we have reimagined our creamers, delivering even more flavor for consumers," Goodwin said. "These new creamers bring the flavors and richness you normally find in a coffee shop straight to your fridge, and the creamy flavors will add just the right amount of sweetness to your cup of coffee."
5Kelly Clarkson gets into vegan popcorn
Vegan popcorn might not be the first thing that comes to mind when we hear news of a collaboration between musical artists Kelly Clarkson and the Jonas Brothers but this month, we got just that. Clarkson worked with the brothers on a new flavor, Kelly's Classic BBQ, under Rob's Backstage Popcorn, a vegan snack brand they launched last year at Walmart stores with an original flavor.
Nick Jonas announced Clarkson's new flavor on The Kelly Clarkson show last week. "What's cool about this is that it tastes delicious, and we obviously love it because here we are but it's in that better-for-you category," Jonas said about the popcorn on the show. "It's gluten-free, vegan, and it's just delicious."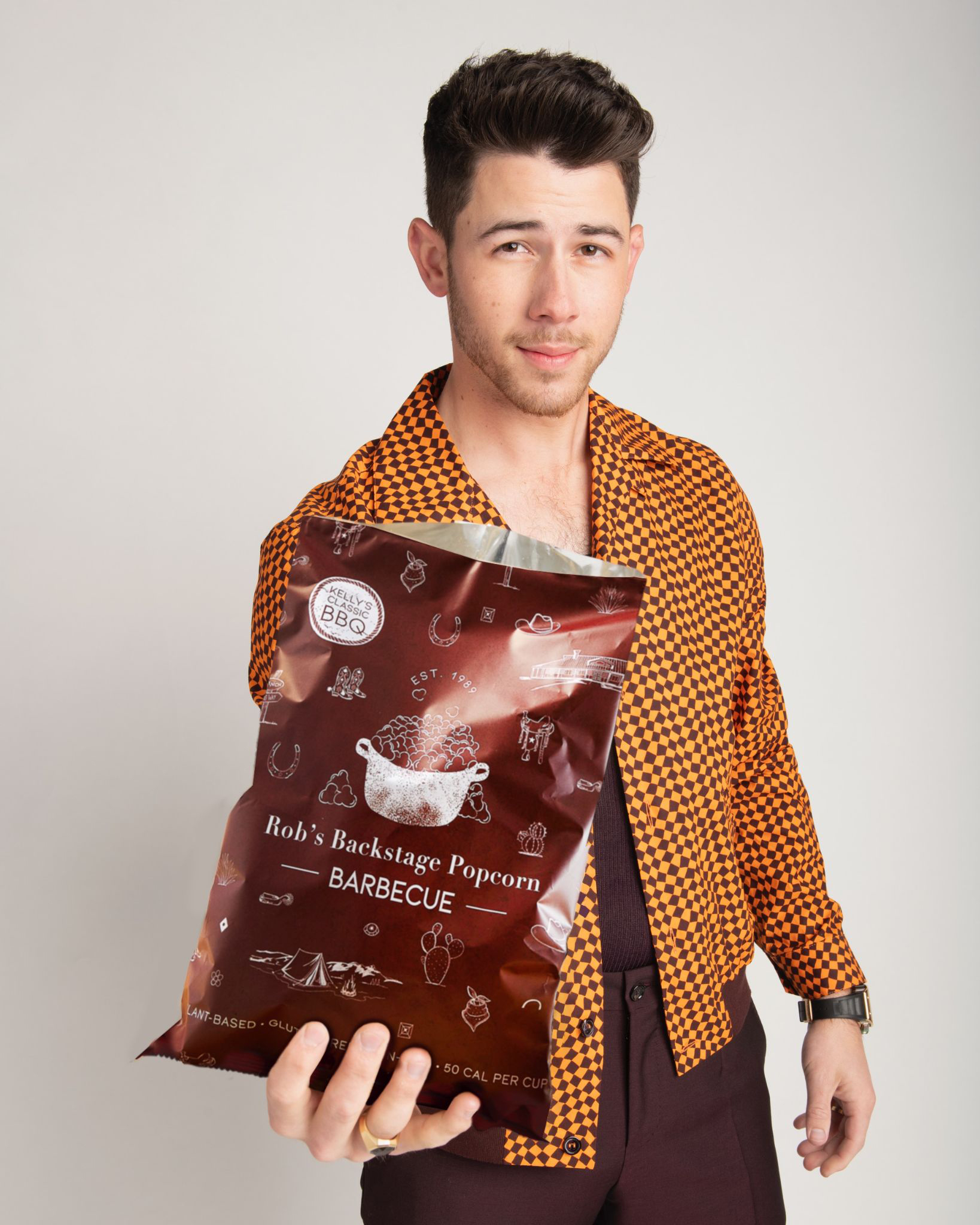 Rob's Backstage Popcorn
Jonas teased the audience during the flavor announcement, referencing the collaborator by her accolades such as being a singer with a great palate and the first-ever winner of American Idol, before Clarkson jumped in to confirm she was behind the new flavor. "I am stoked … I love this popcorn so much and was excited to make my own flavor," Clarkson said, before challenging an audience member to guess the flavor from a taste sample.
The new, slightly spicy Kelly's Classic BBQ flavor is now available at Walmart and Albertsons and online through the Rob's Backstage Popcorn website. On January 27, the new flavor will expand to Sam's Club before hitting Kroger stores in early February.
For the latest vegan news, read: