When Ben & Jerry's first launched its non-dairy line in 2016, the mission was clear: create delicious plant-based alternatives that reflect the same quality and fun flavors as its famous dairy-based ice creams. Now, almost eight years later, the company is announcing a major shift to an oat-based formula for its 19 non-dairy flavors.
"The biggest challenges were developing a formula that delivered on the creamy texture and flavor delivery," Ben & Jerry's Flavor Guru Colleen Rossell tells VegNews. "We have tried many different formulas to deliver in these key areas—and we believe we nailed it with this oat formula."
Ben & Jerry's will make the switch to oat milk for its vegan pints in scoop shops and retailers by Spring 2024. Initially, consumers can try the new oat milk base in reformulations of its classic Chocolate Chip Cookie Dough and Chocolate Fudge Brownie flavors.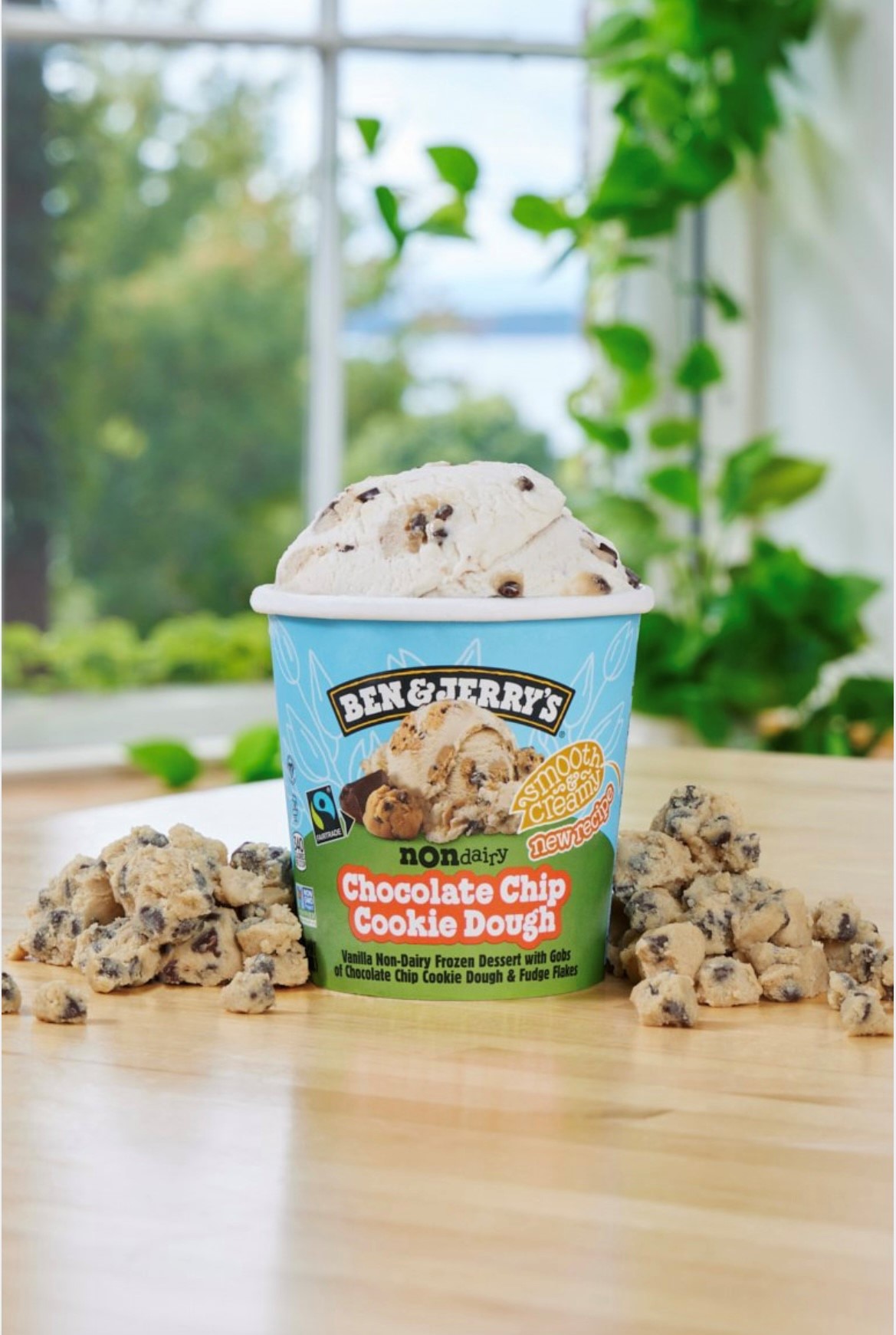 Ben & Jerry's
The ice cream company is also working to release an oat milk version of a popular dairy flavor later this year. "Many Ben & Jerry's fans are already flexible and choose both non-dairy and dairy pints based on flavor, so we focused on creating the best taste experience possible," Rossell says.
The evolution of Ben & Jerry's vegan ice cream
Since entering the non-dairy market, Ben & Jerry's has experimented with several base ingredients. Ben & Jerry's began its journey into non-dairy with almond milk in 2016—then the most common base for vegan ice cream. In 2020, the Vermont-based company introduced an innovative sunflower butter base, initially featured in three flavors: "Milk" & Cookies, Crème Brûlée Cookie, and Mint Chocolate Cookie.
With the addition of new vegan flavors in 2020, which also included Netflix & Chill'd, Ben & Jerry's vegan offerings hit a milestone of making up 25 percent of its entire product range.
Since then, Ben & Jerry's has been exploring different formats (such as mini cups) and flavors to expand its non-dairy line. In 2020, Ben & Jerry's partnered with social justice activist Colin Kaepernick on the sunflower butter-based Change the Whirled, a flavor exclusively available in non-dairy to align with the former NFL player's own vegan lifestyle.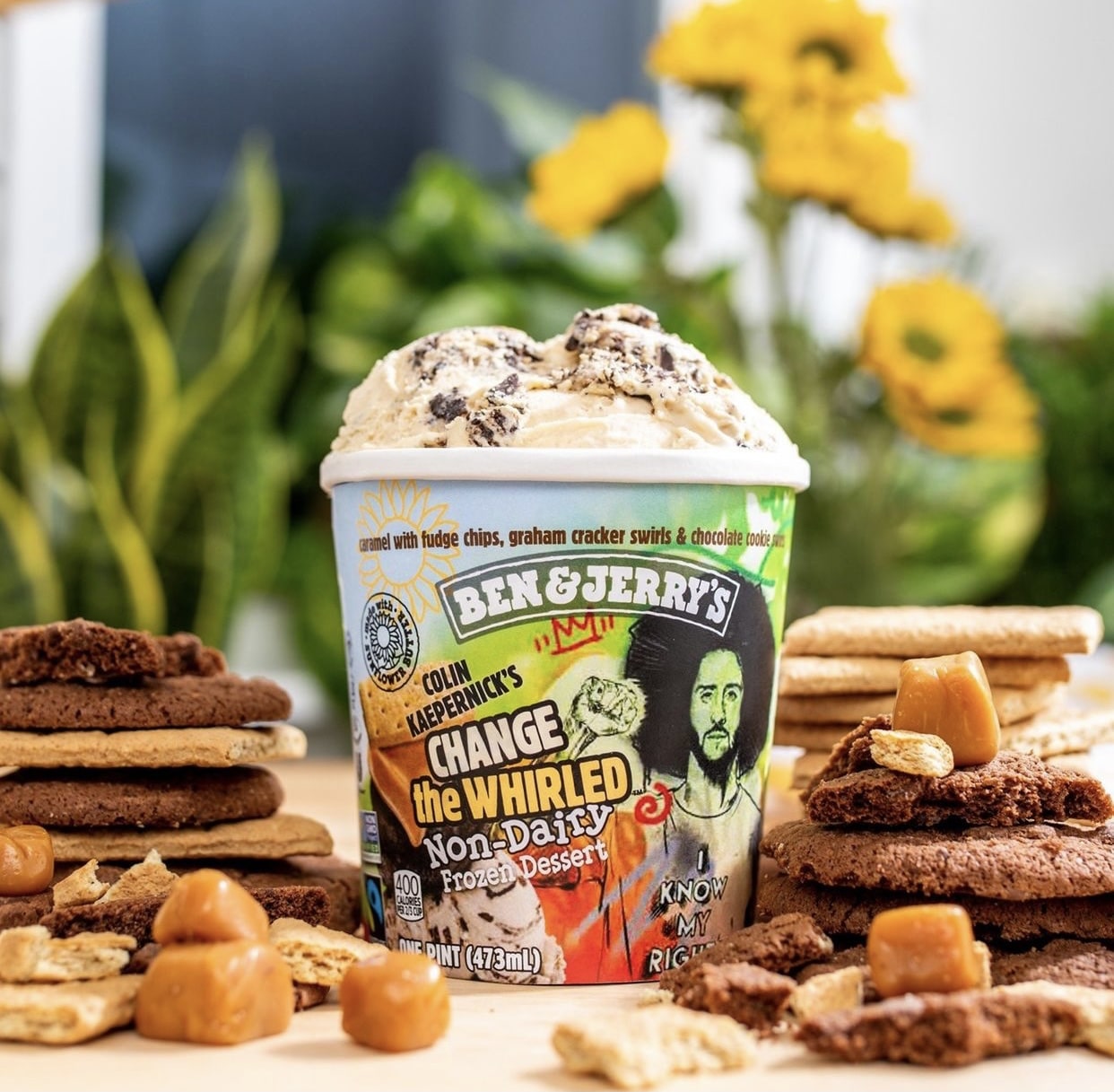 Ben & Jerry's
It also partnered with big names to remake its top-sellers in non-dairy versions, including the 2021 release of Stephen Colbert's Americone Dream; The Tonight Dough Starring Jimmy Falon; Phish Food; and Karamel Sutra (the first non-dairy addition to its Core line).
Seven years since its first foray into vegan pints, Ben & Jerry's has evolved its entire portfolio to embrace non-dairy options. Last year, director Ava DuVarney—known for her films 13th, Selma, and Wrinkle in Time—became the first Black woman to get her own Ben & Jerry's flavor with the release of Lights! Caramel! Action!. DuVarney worked closely with the ice cream company to develop the flavor, which she made sure was available in an almond milk-based option to ensure inclusivity.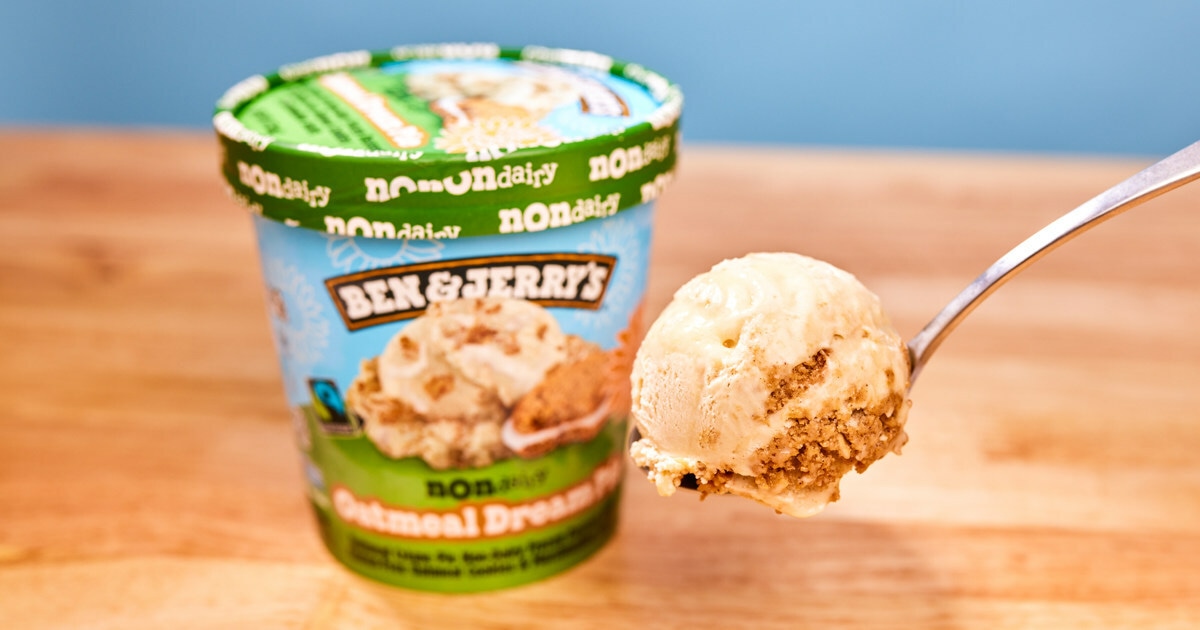 Ben & Jerry's
Shortly thereafter, Ben & Jerry's released Non-Dairy Oatmeal Dream Pie. Created together with Denise Woodward of Partake Foods—an allergen-friendly vegan brand inspired by her daughter—the vegan and gluten-free ice cream flavor used a sunflower butter base and featured vegan marshmallow swirls and sizable chunks of oatmeal cookies.
"Since launching our non-dairy line, which has grown to nearly 20 flavors today, we've consistently innovated to expand our offerings," Rossell says.
"We want everyone to be able to enjoy a pint of Ben & Jerry's, no matter their dietary preferences, allergies, or restrictions, which our new formula delivers on," she says.
Ben & Jerry's embraces oat milk ice cream
The transition to oat comes after years of research and aligns with the increasing consumer demand for oat-based options. It also helps Ben & Jerry's become even more inclusive given oat milk's reduced allergen profile.
Ben & Jerry's
By switching to an oat base, Ben & Jerry's is actively working to meet the needs of a broader range of consumers, from those with lactose intolerance to nut allergies. "We're proud to have created a new base that helps make our non-dairy line even more accessible," Rossell says.
In its move to switch to oat milk, Ben & Jerry's is also following a broader trend of companies—such as Blue Bottle Coffee—that are embracing plant-based alternatives to meet its sustainability goals.
"At Ben & Jerry's, we are always striving to lessen that footprint and dedicated to making our products as responsibly as possible," Rossell says. "That commitment remains unchanged with the new oat-based formula."
As more consumers gravitate towards plant-based options, Ben & Jerry's is working to set itself apart from the competition with its oat milk formulas, which allows Ben & Jerry's to maintain, and enhance, its signature indulgent eating experience without compromise.
"The oat allows the rich flavors within to truly shine—our Non-Dairy flavors will taste like ice cream more than ever before," Rossell says. "We think consumers will be impressed with this new recipe and will still get the chunky and swirly flavors they expect from us."