As the mastermind behind hit films 13th, Selma, and Wrinkle in Time, Ava DuVernay is the highest grossing Black woman director in American box office history. She is also the first Black woman director to ever be nominated for an Academy Award. Today, DuVernay is making history once again. But this time, it's with ice cream.
The acclaimed director is now the first Black woman to get her own Ben & Jerry's flavor with newly released Lights! Caramel! Action! directed by Ava DuVernay—which will be available in both dairy and vegan versions. For the non-dairy flavor, DuVernay and Ben & Jerry's chose an almond milk base which is loaded with swirls of salted caramel and graham crackers along with gobs of chocolate chip cookie dough.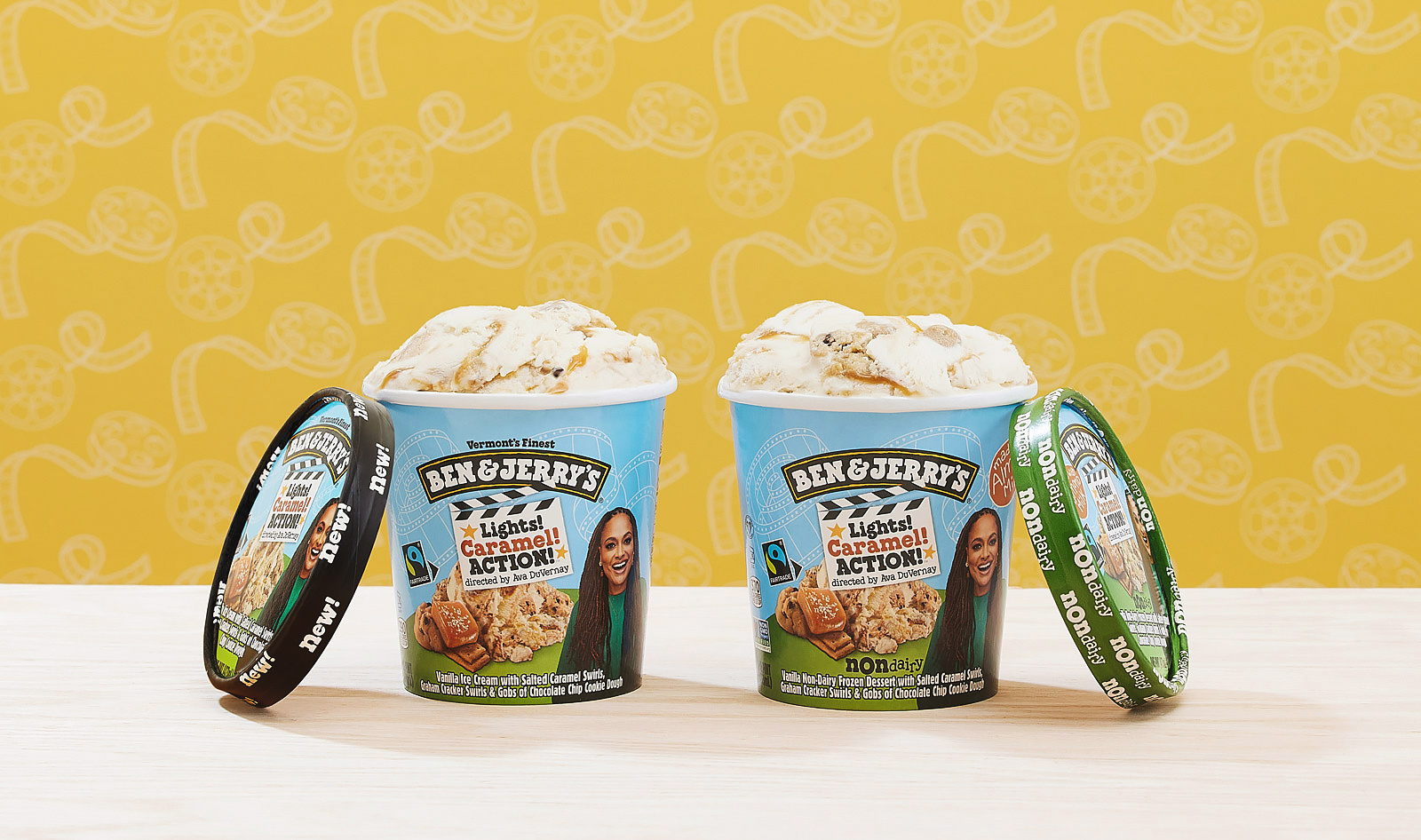 Ben & Jerry's
The collaboration comes after Ben & Jerry's fans noticed that while many people and causes are represented and supported by the company's ice cream flavors, Black women were missing from its pints. DuVernay approached Ben & Jerry's with the desire to collaborate on a flavor and Lights! Caramel! Action! was born.
"Framing this up as a new flavor for the first Black woman to be a featured partner on our pints doesn't do Ava justice," Matthew McCarthy, Ben & Jerry's CEO, said in a statement. "We are humbled by this partnership, impressed by her work sharing not only the struggle but the joy in the justice, and we are inspired by her commitment and vision."
While celebrity collaborations have previously resulted in limited-edition flavors, the new Lights! Caramel! Action! directed by Ava DuVernay flavor is joining Ben & Jerry's permanent line-up.
Ava DuVernay gets hands-on with Ben & Jerry's vegan ice cream
DuVernay's debut flavor is offered in both dairy and non-dairy versions, but the filmmaker approached Ben & Jerry's with a clear vision that a vegan flavor must be part of the collaboration.
While DuVernay does not often speak publicly about her dietary habits, in 2017, she shared a New York Times article titled "Black Vegans Step Out, for Their Health and Other Causes" on Twitter. "Like many food trends that seem new, Black veganism has historical roots," DuVernay tweeted, sharing a quote from the article. "For a lot of Black people, it's also about social justice and food access. The food we've been eating has been killing us."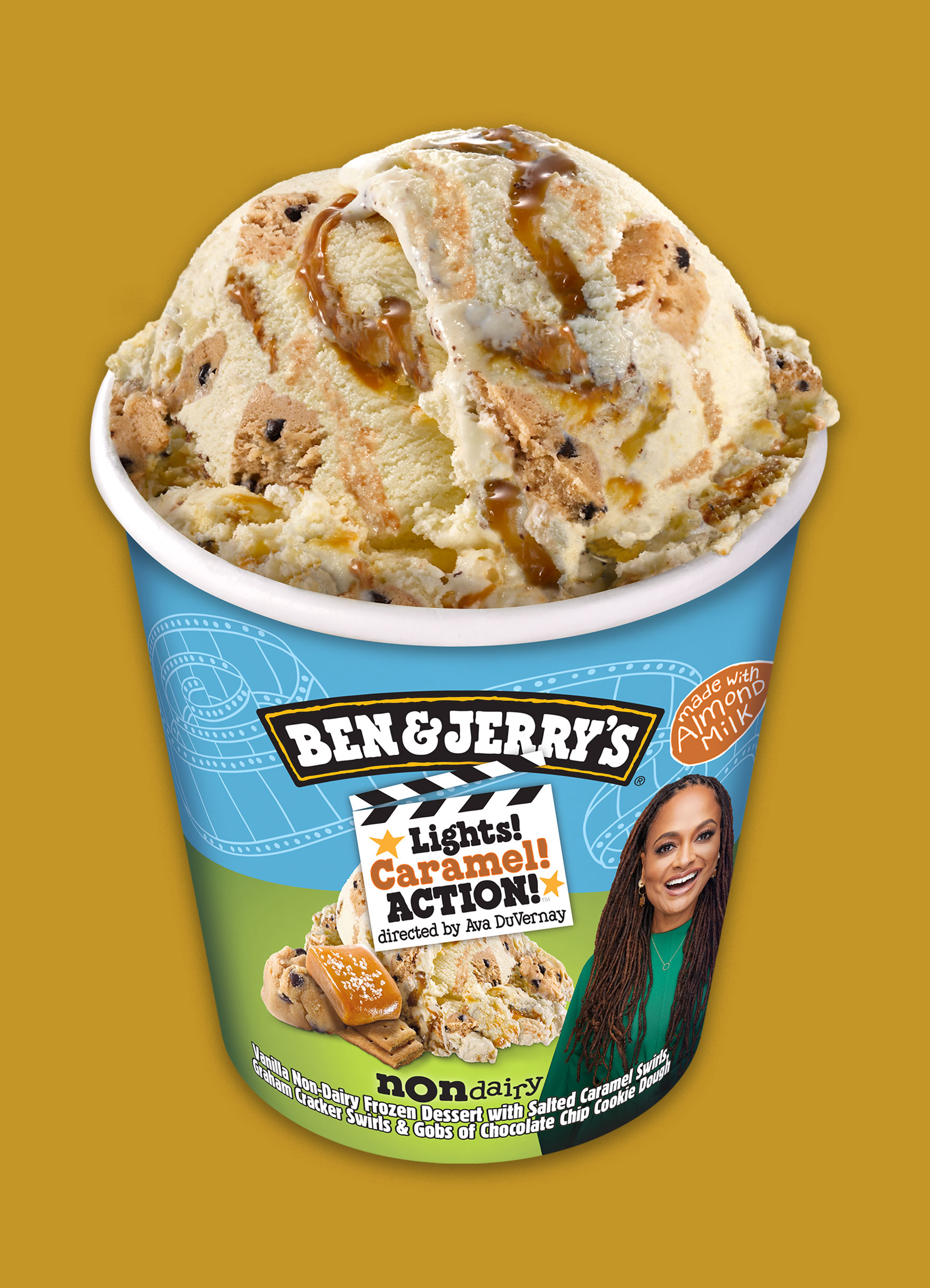 Ben & Jerry's
Aside from making sure a vegan option was on the table, the starting point in creating the historic flavor was DuVernay's love of one thing: cookies. To get her vision just right, DuVernay worked closely with Ben & Jerry's flavor guru Colleen Rossell, who tested different types of cookies in the formulation before landing on chocolate chip cookie dough chunks with a crunchy graham cracker swirl throughout. To take it up a notch, the flavor got a gooey ribbon of salted caramel that melts into the ice cream.
"Ice cream is a simple joy of life. A comfort food that I've turned to on many days—making sunny ones brighter and dark ones sweeter," DuVernay said in a statement. "Partnering with Ben & Jerry's, a company that I've long admired for their commitment to social justice, has been a thrill ride … I had the opportunity to work with food scientists to create a flavor with all the ingredients that I personally love for a cause close to my heart."
Proceeds from the new flavor will benefit ARRAY Alliance, a multi-pronged collaborative founded by DuVernay with the mission of helping POC, particularly women, gain access to the many facets of the film industry.
"Beyond being downright delicious, proceeds from Lights! Caramel! Action! will help ARRAY Alliance further its nonprofit mission of inclusion and belonging in the film and TV industries," DuVernay said. "A worthy and delicious endeavor."
Ben & Jerry's vegan pints
Ben & Jerry's has been exploring vegan ice cream since 2016 when it launched its first four almond milk-based flavors. Since then, the company has expanded its vegan ice cream portfolio to more than 20 flavors globally.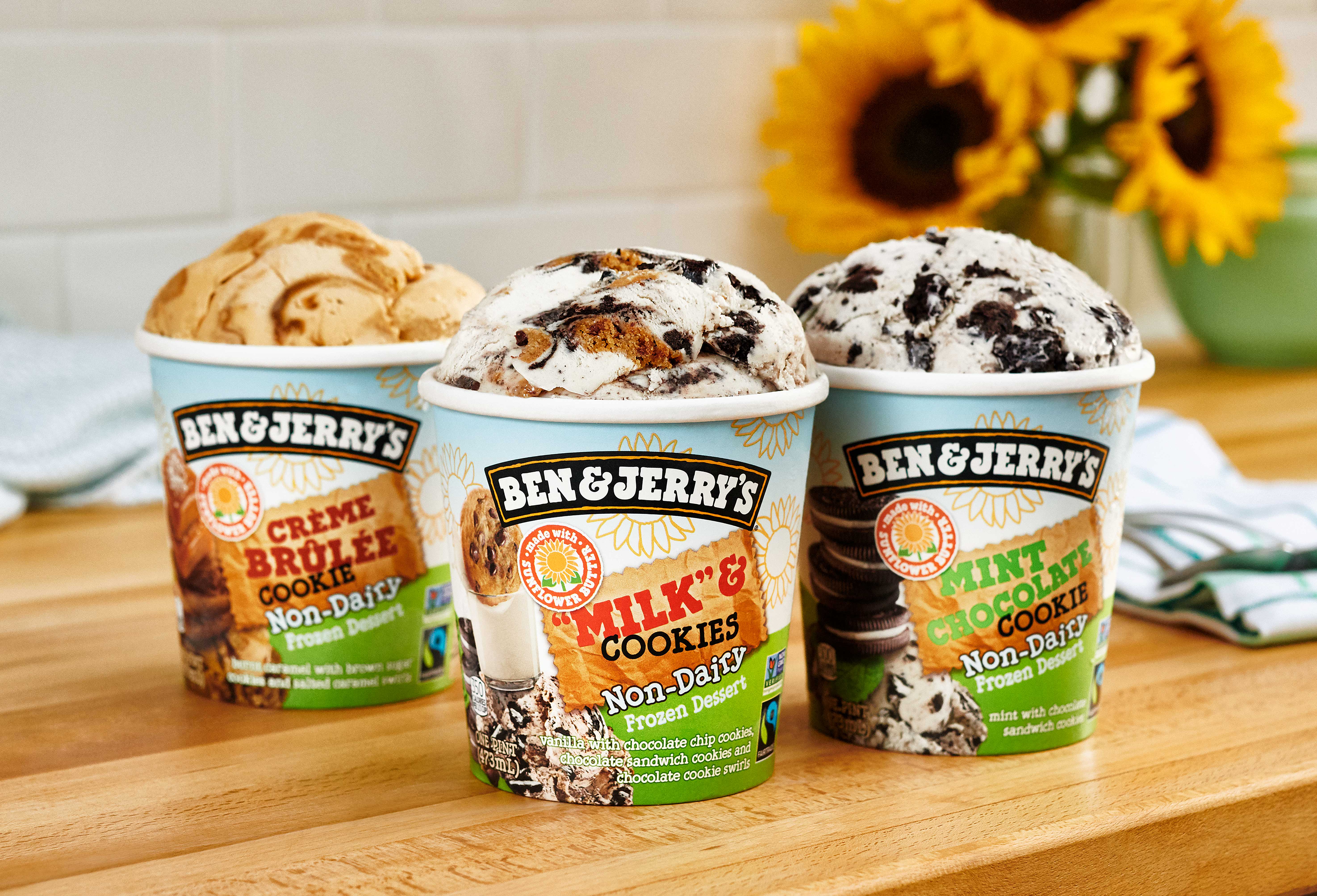 Ben & Jerry's
In 2020, Ben & Jerry's further innovated the vegan ice cream space with the release of a unique sunflower butter base, which it featured in "Milk" & Cookies, Crème Brûlée Cookie, and Mint Chocolate Cookie flavors.
Ben & Jerry's is known to use its ice cream flavors to bring attention to important issues, including racial justice, LGBTQ+ rights, and the climate crisis. As such, in addition to its whimsical flavors, Ben & Jerry's works with activists to support their causes through collaborations like the one with DuVernay.
Last year, Ben & Jerry's partnered with Colin Kaepernick to create its Change the Whirled flavor, proceeds of which benefit Know Your Rights Camp, a racial justice organization Kaepernick founded in 2016 in Oakland, CA to advance the liberation and well-being of Black and Brown communities.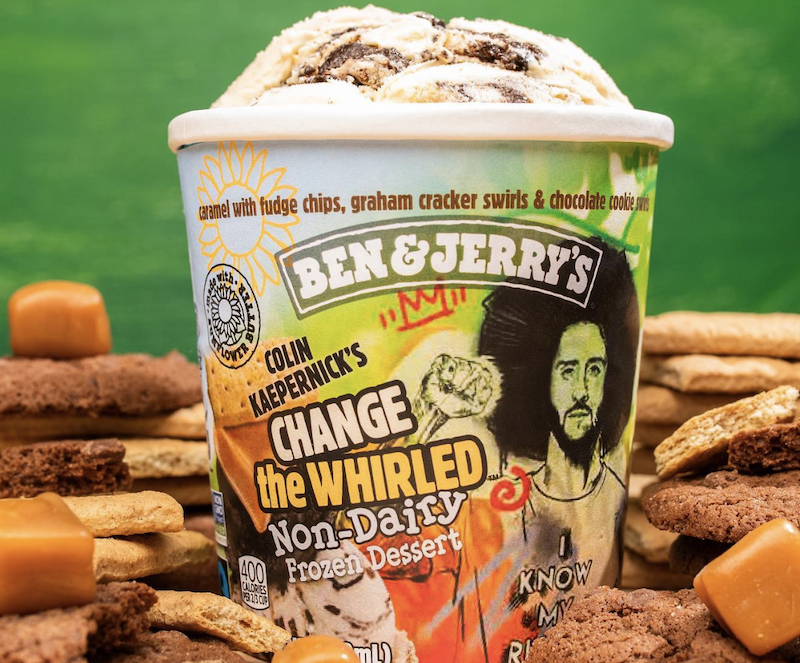 Ben & Jerry's
Featuring its innovative sunflower butter base, fudge chips, graham cracker swirls, and chocolate cookie swirls, Ben & Jerry's only made this flavor in the non-dairy format to honor Kaepernick's vegan lifestyle.
For the latest vegan news, read: