While vegan burgers were all the craze in recent years, a new meatier plant-based option has entered the chat: vegan steak, a segment that market research firm Polaris Market Research predicts will cross the $1 billion mark by 2032.
One of the key drivers behind this growth is the increasing consumer demand for high-protein, plant-based alternatives to traditional animal-based products.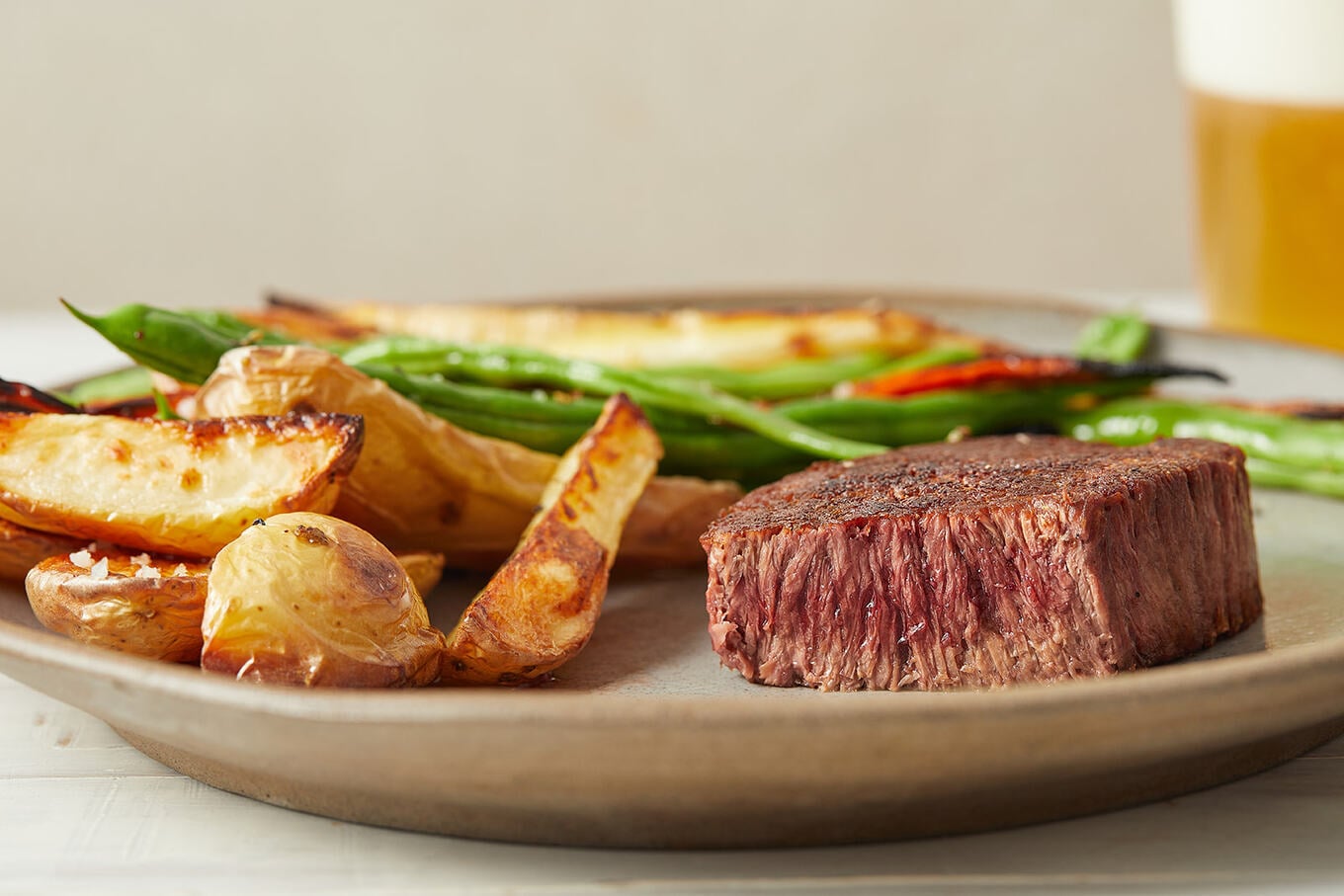 Chunk Foods
Companies emerging in this space include pioneering vegan burger marker Beyond Meat (which released its Beyond Steak last year); European import Juicy Marbles (which currently operates primarily online); Meati Foods (which uses mushroom root as a base); and Chunk Foods (a company backed by actor Robert Downey Jr. that made its debut at a Florida steakhouse earlier this year).
What does it take to carve out a space in this emerging market? We turned to Amos Golan, CEO of Chunk Foods, to find out.
Vegan meat for steak lovers
Utilizing fermentation methods, Chunk crafts its vegan steaks with a mix of cultured non-GMO soy and wheat that offer a nutritious profile. Without the use of additives, thickeners, or binders, the product is versatile enough for a range of cooking methods, including pan-searing, basting, grilling, smoking, stewing, and braising.
"Our products are radically different, yet comfortably familiar," Golan tells VegNews.
Low in salt and fat, the vegan steaks are also fortified with iron and B12, an essential vitamin that is needed as a supplement for both vegans and the animals meat-eaters consume as it is no longer bioavailable in soil.
The toothsome vegan steaks are also high in protein, featuring more than 38 grams per six-ounce serving. "That's more than most cuts of beef, and with zero cholesterol and less than half of the fat," Golan says.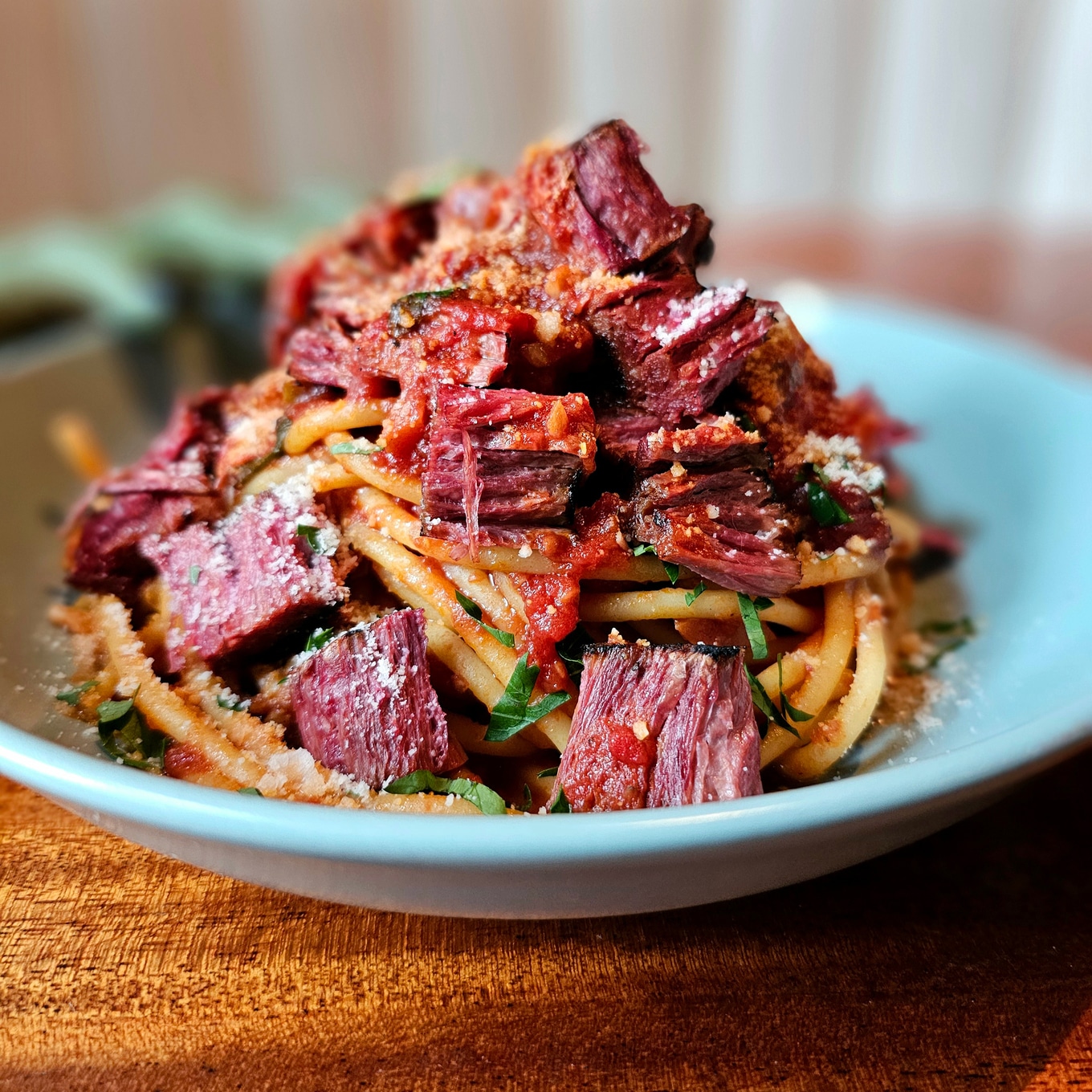 Chunk Foods
Currently, Chunk's vegan steaks are available in a growing number of restaurants across the country such as Monster Vegan in Philadelphia, PA. Here, the vegan steak is slowly cooked for 24 hours and served as a Short Rib Ragu.
In order to have greater market penetration, Chunk is strategically not only targeting vegetarians with its meaty vegan steak but also directly helping meat-eaters choose its products in places where they dine.
"We aim to expand the addressable market for plant-based products," Golan says. "This means not just going to vegan and vegetarian establishments."
"Our products should be on the menu at every steakhouse, from fine dining experiences like Charley's in Florida to Outback's across the country," he says. "We want to preserve the tradition of enjoying a delicious steak meal and an excellent steakhouse experience, and make it more inclusive."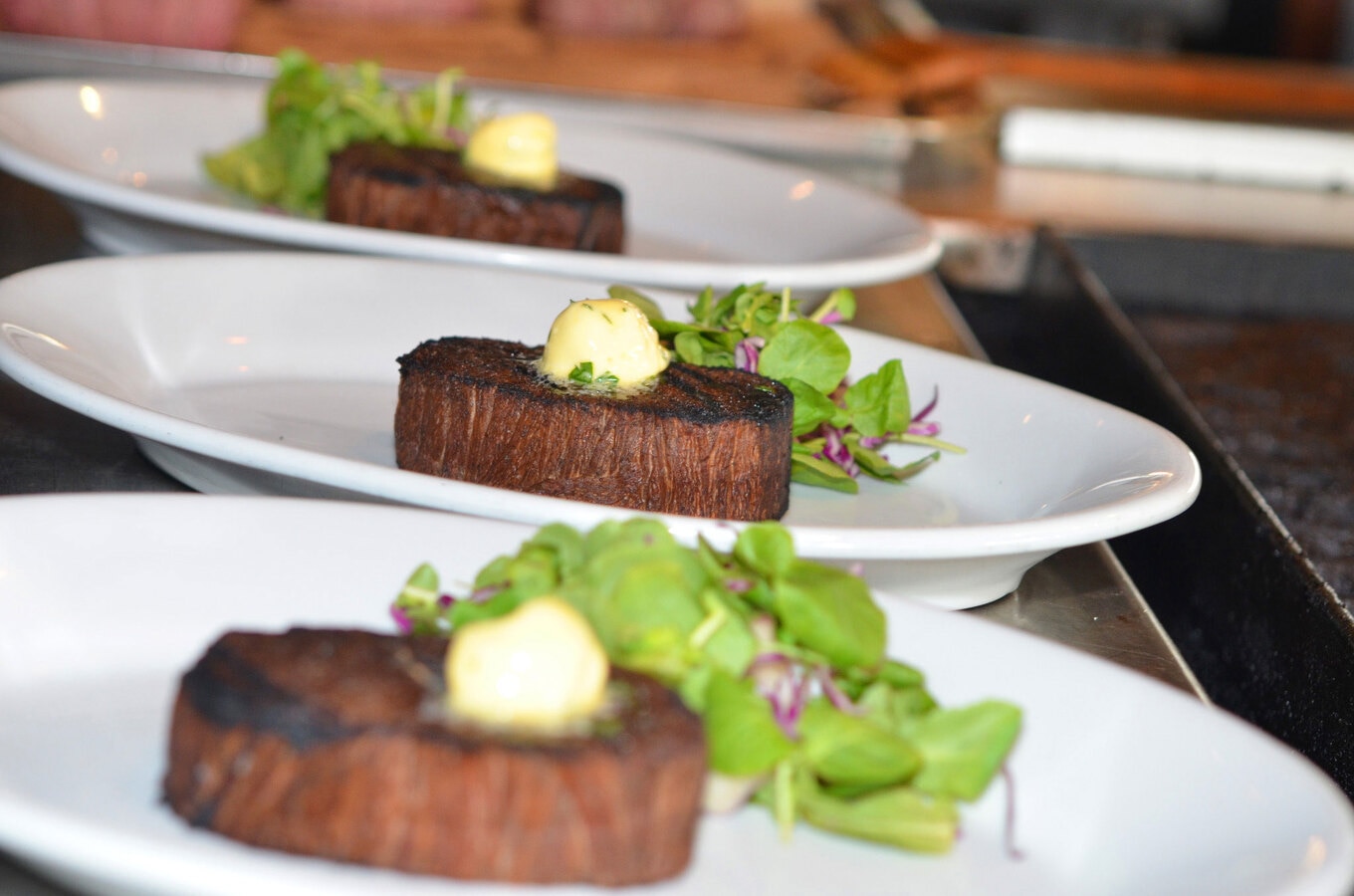 Chunk Foods
To that end, Chunk is working with Talk of the Town Restaurant Group (TOT), the largest steakhouse chain in Central Florida. Charley's Steakhouse became the first TOT restaurant to add Chunk in August with other TOT properties— including FishBones and Vito's Chop House—hopping on board this fall.
"Florida eats a lot of steak," Golan says. "They believe in Chunk and the potential our products hold in meeting their strict criteria for a plant-based steak option at their traditional steakhouses."
Outside of its expanding footprint at steakhouses, the company was recently the only vegan vendor at this year's F1 Smoke Show, a meat-centric barbecue put on by the international motorsport in Austin, TX.
Here, Chunk teamed up with Chef Tristan Lora, who honed his culinary skills cooking for the likes of Paul McCartney, Billie Eilish, and Mumford & Sons. Lora prepared plant-based smoked steak tacos topped with cilantro slaw and pickled red onions, showcasing the vegan option alongside legendary pitmasters and impressing meat-eaters at the event.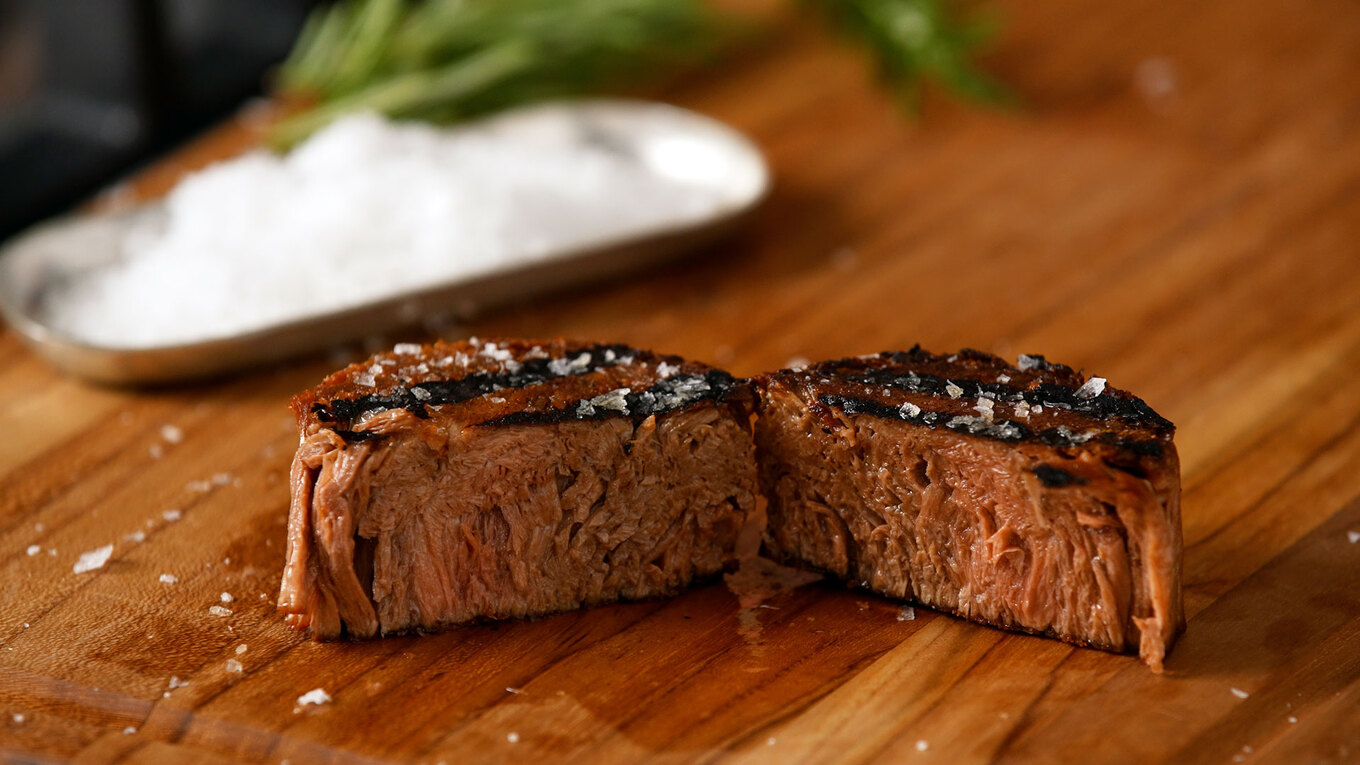 Chunk Foods
"The fact that we were selected as the sole plant-based meat at the F1 Grand Prix underscores the increasing awareness and appreciation for the quality and taste of Chunk steak," Golan says.
"We believe this is just the beginning of a more significant trend where plant-based options become more mainstream and widely accepted," he says. "It reaffirms our commitment to providing delicious, healthy, and innovative plant-based foods that can compete on a global stage and cater to diverse tastes and preferences, while still preserving tradition."
Putting plant-based meat back in focus
Similar to other plant-based meat companies, Chunk's journey has not come without roadblocks, created by a shift in public perception of plant-based meat alongside a saturating market.
"One of the biggest challenges is regaining people's trust and positive perception of plant-based meats," Golan says, before commenting on the array of vegan meats that came to market in recent years. "Some products were tasty, while many others were just not good enough, had a long list of ingredients, did not give enough value to consumers, or did not perform well enough."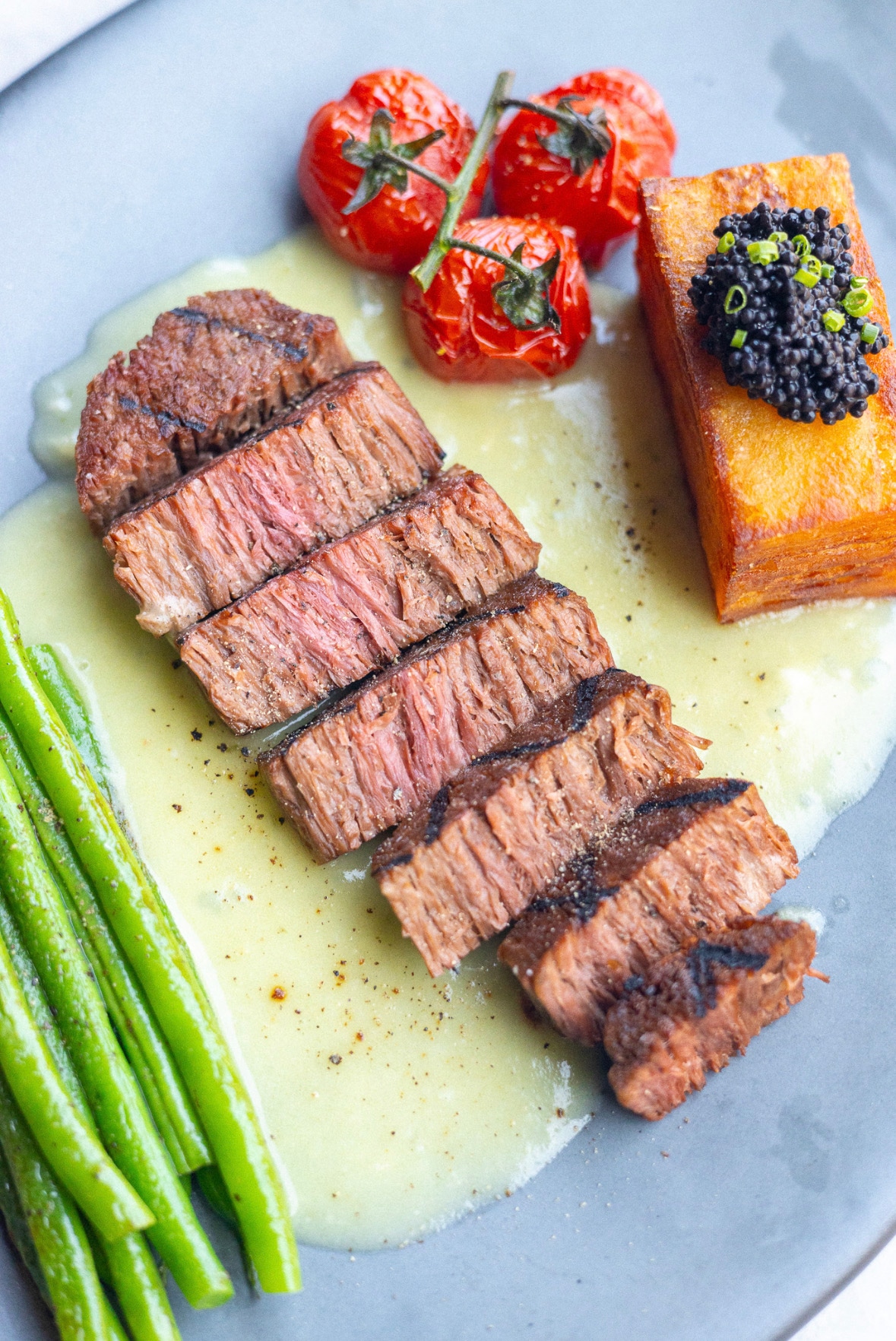 Chunk Foods
It is true that the plant-based meat craze has died down for various reasons, including targeted misinformation campaigns by meat industry front groups such as the Center for Consumer Freedom. However, leading companies such as Beyond Meat are still putting up a fight, most recently with an ad campaign that draws attention to the transparency of its plant-based meat production and the quality of its ingredients.
Also, a recent Stanford study found that consuming Beyond Meat's plant-based products, as opposed to its animal counterparts, has marked heart health benefits.
While predictions for the future of the plant-based meat market have varied, a recent report by financial institution Ernst & Young presents a hopeful vision. The report predicts that the global plant-based meat industry, which it valued at $16.5 billion in 2021, would grow to a whopping $139.4 billion by 2035.
"Despite the economic uncertainty in recent years, a positive outlook is expected for the plant-based protein industry due to factors that are expected to outlast recent disruptions," the report states. "These include, but are not limited to, sustained consumer demand, growth in emerging markets, and innovative product improvements."
Golan, too, believes that the plant-based meat industry is still young, and plans to innovate the Chunk brand beyond its initial target of whole-cut beef, pork, lamb, and poultry, as the company's technology allows for the development of just about any cut of meat, none of which will come from an animal.
For the latest vegan news, read: