Given the hefty environmental footprint of animal agriculture, it is no secret that the way the world currently consumes meat is not sustainable. Colorado company Meati Foods is on a mission to help consumers eat meat in a way that doesn't harm the planet or its inhabitants.
Founded by engineers Justin Whiteley and Tyler Huggins (who grew up on a bison ranch), Meati makes its vegan meats from mycelium strains optimized for food production. With $250 million in funding, the company is now working to get its Mega Ranch in Thornton, CO fully functional with the goal of producing 45 million pounds of mushroom meat.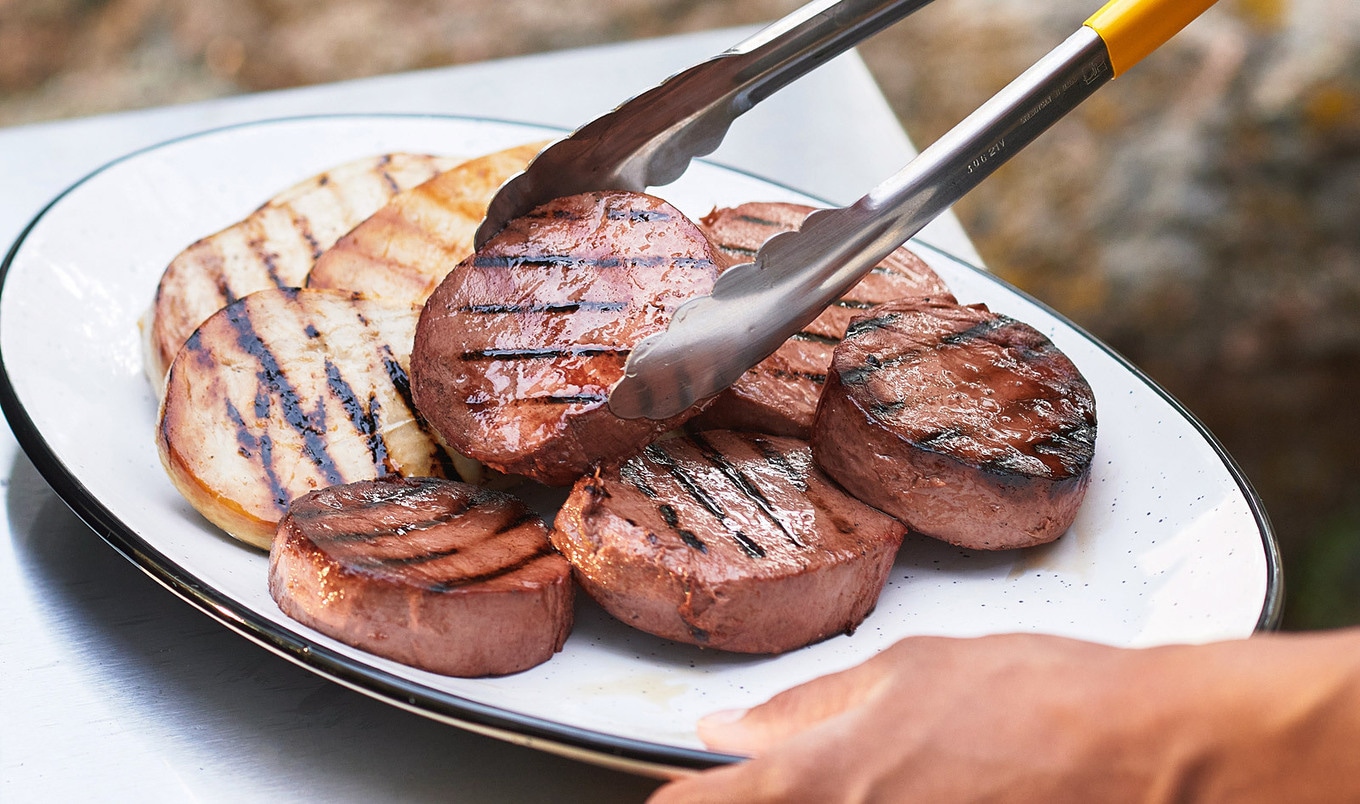 Meati Foods
"Our co-founders invested two years into finding the species and strain of mycelium—we call ours MushroomRoot—that would be best for food production," Meati Vice President Christina Ra tells VegNews.
"Our MushroomRoot grows incredibly fast and safely—once our Mega Ranch is at fully optimized capacity, we can grow a teaspoon of MushroomRoot spores into hundreds of cows worth of food in just four days," she says.
Meati's vegan meat market
Earlier this year, Meati's products—which include vegan steaks and chicken cutlets—became more readily available to consumers, through Whole Foods Market and restaurants such as East Coast chain PLNT Burger. As it continues to build capacity at its Mega Ranch, Meati has made considerable strides to make its MushroomRoot more familiar to consumers.
For one, it recently launched the Meati Marketplace, a direct-to-consumer storefront. This platform is unique in offering an Innovation Kitchen Subscription for $169 per month, allowing customers to enjoy 16 servings from Meati's core product line along with at least one new, unreleased product each month.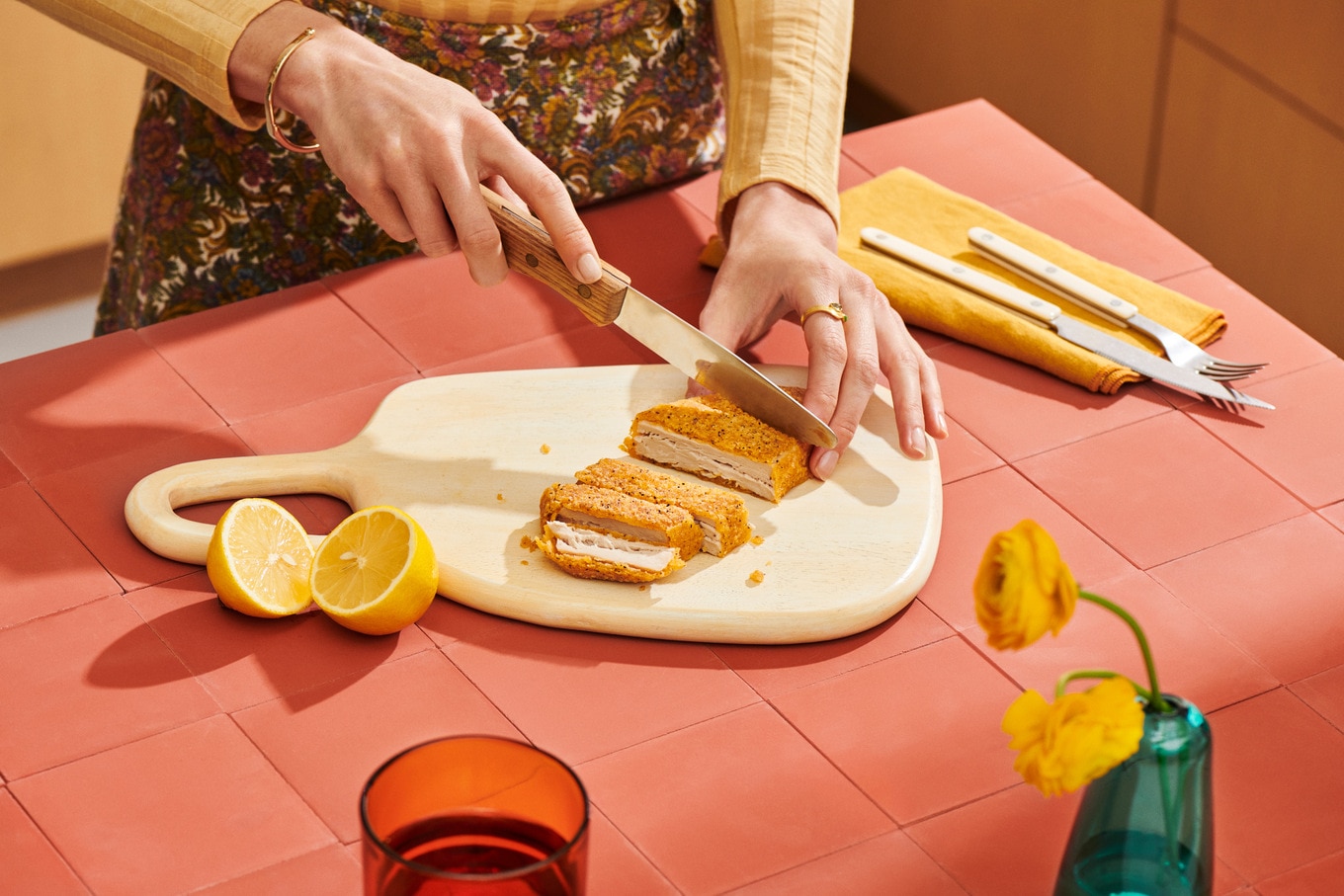 Meati Foods
The marketplace serves dual purposes. First, it acts as a sales channel, making it convenient for customers to receive Meati products directly at their doorstep. Second, it serves as a real-world testing ground. By offering new products to a committed subscriber base, Meati gathers invaluable consumer feedback, which informs both product development and broader sales strategies.
"We regularly get requests from Meati superfans to make our products available for direct shipment," Scott Tassani, President and COO of Meati Foods, said in a statement. "Meati Marketplace lets us reward these loyal Meati eaters with regular shipments of their favorite Meati products while introducing them to all-new concepts."
Plus, a new concept has already been launched exclusively for Meati Marketplace customers.
Meati launches vegan mushroom jerky
Breaking into the snacking sector, Meati recently introduced its Meati Jerky, a shelf-stable product that features three flavors: Original, Peppered, and Sweet Chile. Retailing at $39, including shipping, the product leverages Meati's patented MushroomRoot technology to deliver a high-quality, nutrient-dense snacking option.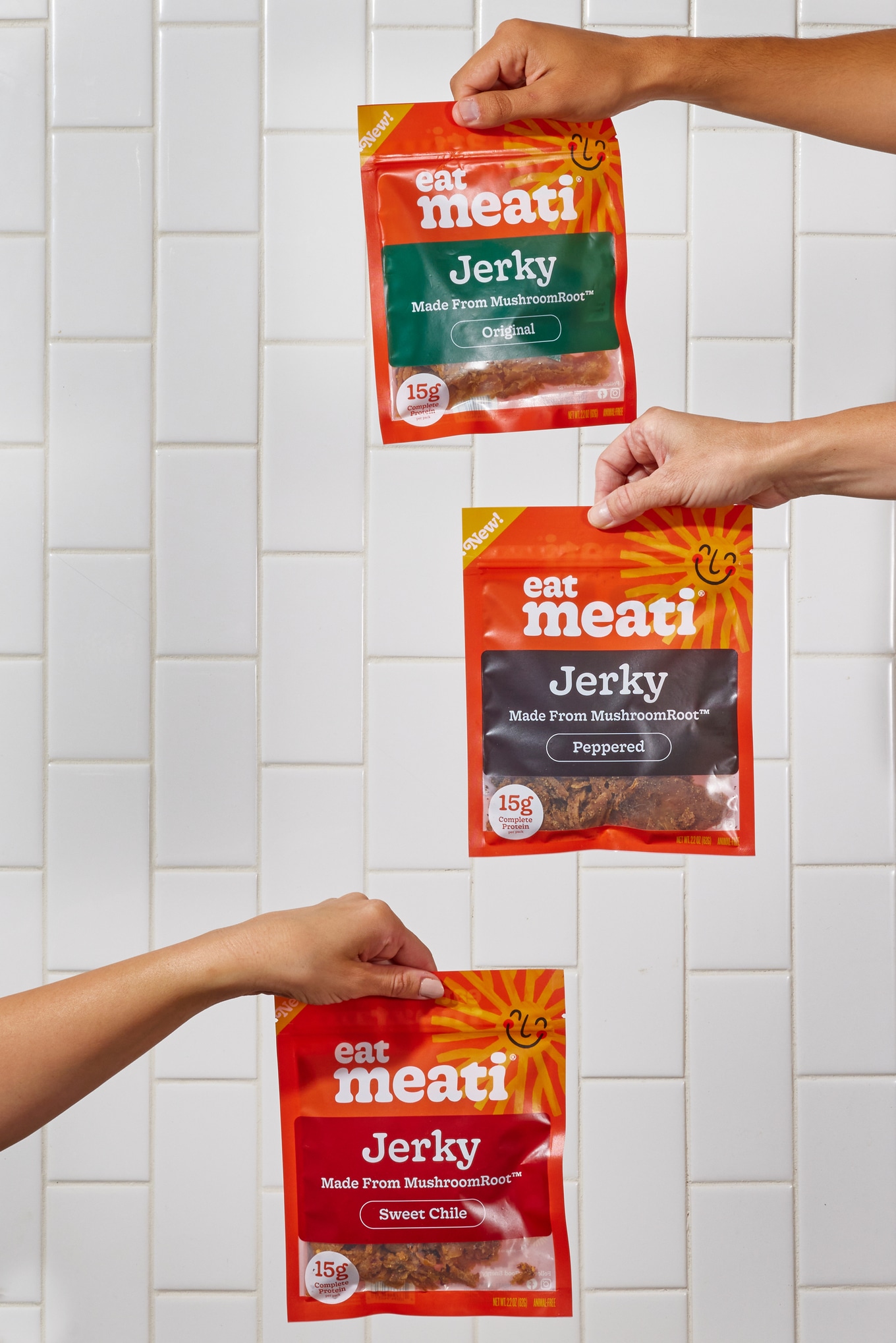 Meati Foods
"Meati is beloved for not only its flavor, but its clean, nutrient density, and those qualities are wanted by consumers not just at mealtime but snacktime, too," Ra says. "Meati's MushroomRoot delivers so much by way of protein, fiber, and a slew of other nutrients—when coupled with the idea of people snacking more in lieu of meals, jerky made a lot of sense."
Meati thinks of its vegan jerky as a way for the company to embrace a "whole buffalo" process, where every part of the "animal" is utilized as a way to build efficiency into its production and reduce waste. As such, the jerky is made from scraps cut away in the production of its steaks and cutlets.
"We're constantly looking for ways to run a zero-waste production facility, and there is Meati that sometimes doesn't make it into a cutlet or steak," Ra says. "Jerky felt like a win for many reasons."
Meati is backed by a slew of celebrity investors such as Derek Jeter, Rachael Ray, and David Chang, which support its mission of making mushroom meat the norm. While the company is currently focusing on its cutlets, steaks, and new jerky line, Ra teases that new cuts are on the way in the near future.
"Our mission is to maximize the boundless potential of MushroomRoot, and we're excited to explore this potential with time," she says.
Meati's mushroom meats secure patent
Meati Foods is not just a food company but also an innovator in food science. Last month, Meati received a United States patent for its unique MushroomRoot composition, derived from the fungus Neurospora crassa.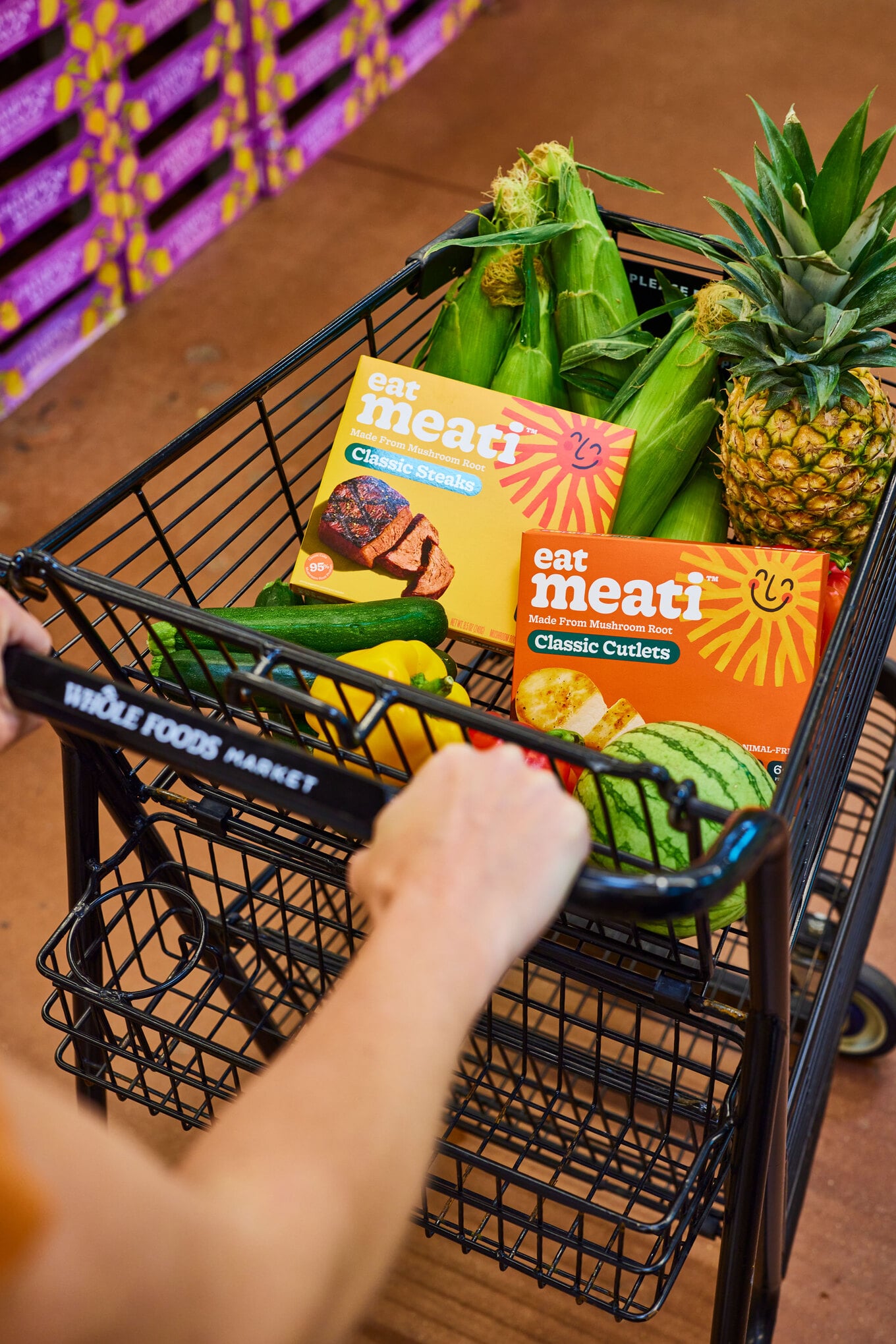 Meati Foods
This development grants Meati Foods exclusive rights to this ingredient for use in food products until 2039. "The patent is a culmination of our years-long journey to have our foundational work with MushroomRoot and its wide-ranging food applications acknowledged and protected," Whiteley said in a statement.
In partnership with California-based AI company PIPA, Meati also completed a month-long AI-driven research study that revealed various health benefits linked to MushroomRoot. The research used PIPA's LEAP tool for predictive data analytics, identifying 14 key compounds that could benefit consumers by filling nutritional gaps and enhancing cardiovascular health.
"PIPA's findings in this initial research using AI greatly accelerates our understanding of the wide range of public health benefits possible from regular consumption of mycelium as a whole food," Roberta Holt, PhD, a member of Meati's Science Advisory Board, said in a statement.
The focus for Meati Foods now will be to translate these findings into consumer-friendly health claims while deepening the scientific understanding of MushroomRoot's potential benefits.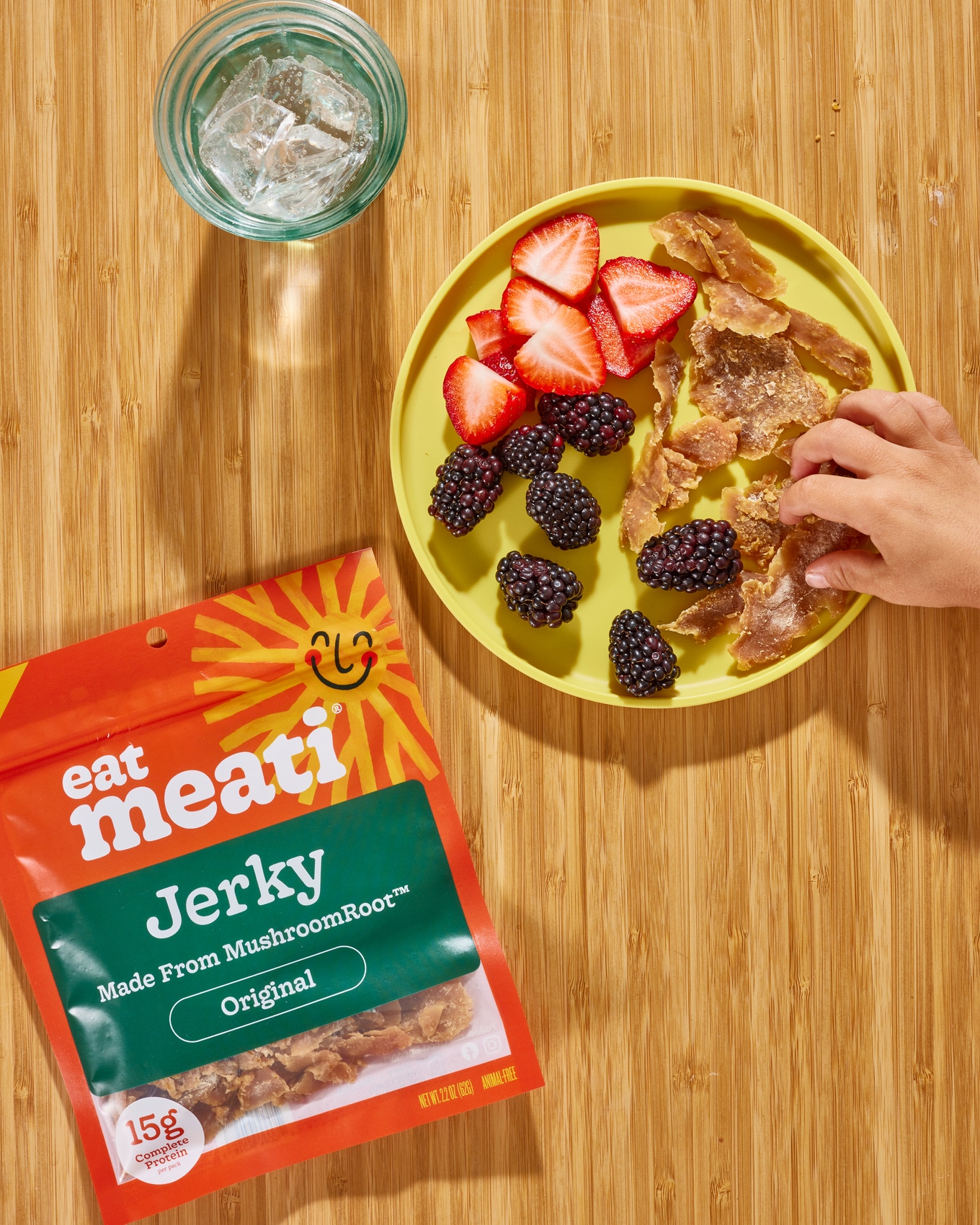 Meati Foods
These findings could open doors for Meati to make specific, science-backed health claims that could set it apart from competitors. "We're taking what we've learned about the incredible compounds and benefits, and we're working to distill them into the most meaningful and beneficial claims possible," Ra says.
As Meati works to scale production, introduce new products, and incorporate the findings of its AI project, research continues to mount about the cardiovascular benefits of swapping out traditional meat for animal-free alternatives.