Famed chef Gordon Ramsay has opened a new location of his Hell's Kitchen restaurant in Washington DC—and its menu is 60 percent meat-free. The 14,800-square-foot space is almost like a real-life version of Ramsay's reality cooking competition of the same name, with many exciting details. There's even a souvenir shop selling cookbooks and "Go to Hell" tote bags, and a photo wall of framed Hell's Kitchen winners.
But beyond the design, patrons will notice how this particular restaurant differs from Ramsay's others—and that is in the menu offerings. While meat dishes are still offered on the main menu, vegetarian and vegan dishes take on a more prominent role and there are even enough dishes to necessitate a separate menu.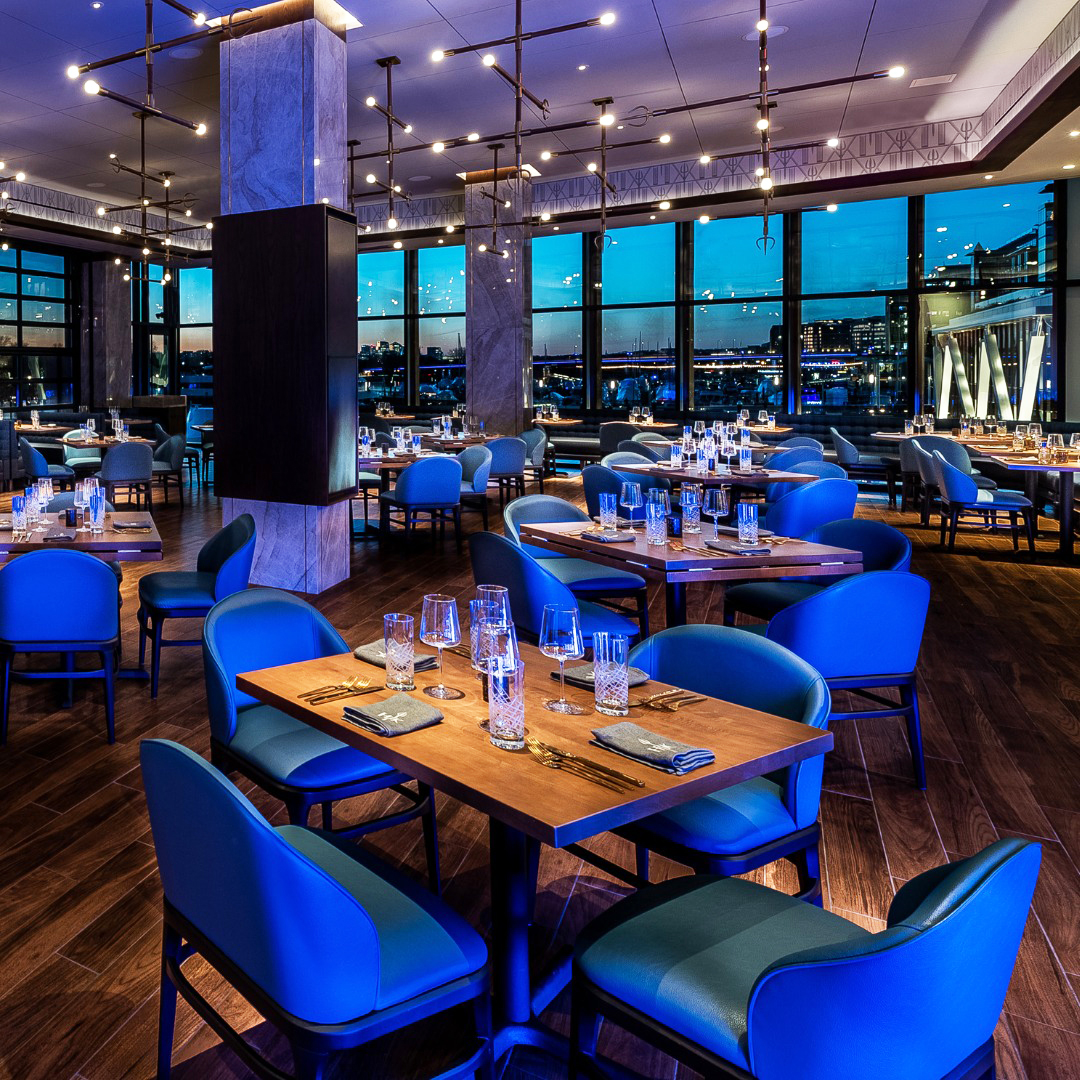 Gordon Ramsay Hell's Kitchen
Here, Ramsay offers vegan dishes such as Pan-Seared Tofu Scallops with celery root and pickled Granny Smith apples; Vegan Risotto with butternut squash; Beluga Lentils with sautéed vegetables and shaved fennel salad; and Golden Beet Salad with vegan yogurt, kumquats, pistachio granola, and white balsamic vinaigrette.
"Washington, DC is a remarkable city with so much history and an amazing culinary scene," Ramsay said in a statement. "After years in the making, I couldn't be more excited to officially open the doors."
What vegan options are at Gordon Ramsay restaurants?
Ramsay now has more than 20 restaurants in the United States—and more than 50 around the world—under such brands as Gordon Ramsay Fish & Chips, Gordon Ramsay Burger, Gordon Ramsay Steak, Gordon Ramsay Hell's Kitchen, Ramsay's Kitchen, and Gordon Ramsay Street Pizza. And while some of his other restaurants offer meatless dishes, Gordon Ramsay Hell's Kitchen is the only one with a separate vegan menu.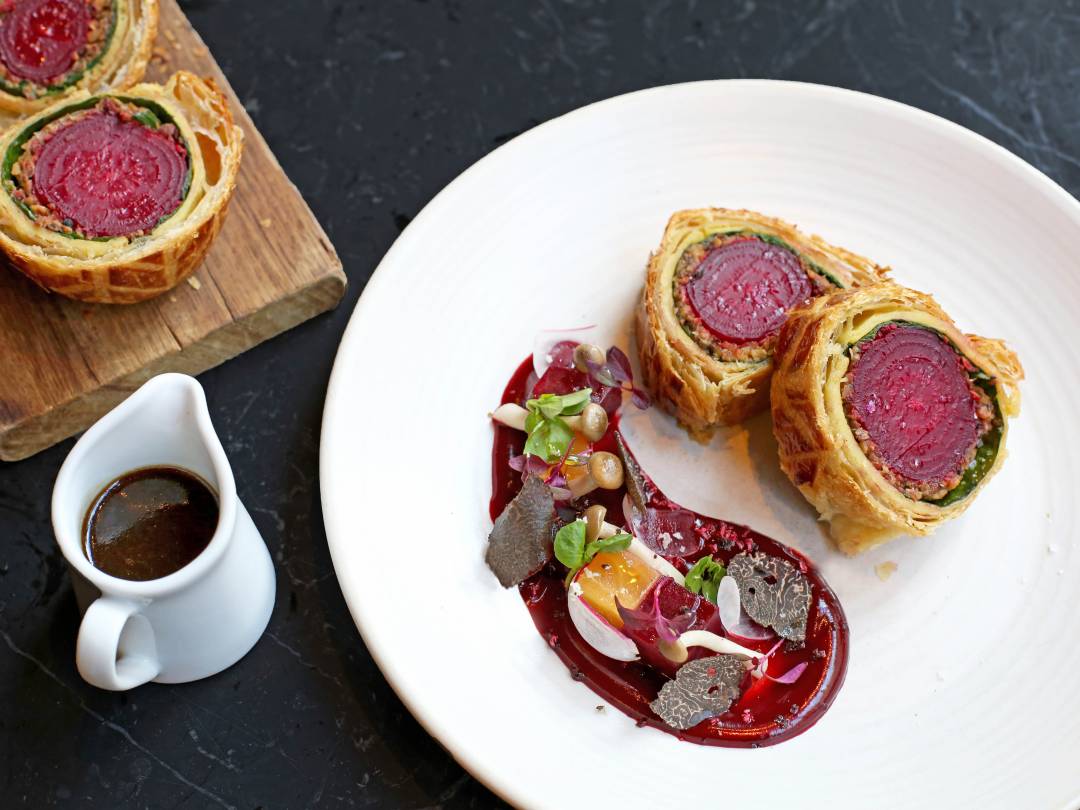 Gordon Ramsay Restaurants
Ramsay first started introducing vegan dishes at his restaurants in 2018, when he added a vegan Charred Aubergine Pizza to his Gordon Ramsay Street Pizza restaurant (now called Bread Street Kitchen) in London. At the time, he shared a photo of the new menu item on Twitter with the caption: "Going to give this #vegan thing a try."
Then, in 2019, he kicked off Veganuary by introducing a vegan menu at Bread Street Kitchen.
When the chef launched his first restaurant in Chicago, he made sure vegan burgers had a place on the menu. The eponymously named Gordon Ramsay Burger restaurant is built around eight signature burger creations, one of which is the Vegan Burger featuring a plant-based patty, vegan bun, bibb lettuce, roasted tomato, avocado, and eggless garlic mayonnaise.
Outside of his restaurants and television shows, Ramsay has made headlines for the vegan recipes he often shares on social media. The Michelin-starred chef has impressed digital audiences with his recipes for eggplant steak, crispy vegan bacon, and vegan bang bang cauliflower.
Gordon Ramsay grows to love vegan food
Despite being a vocal critic of veganism for years, Ramsay recently confessed his love for vegan food. It all happened on an episode of Master Chef in which Ramsay hosted the show's first vegan cooking challenge. During the episode, called "Gordon Ramsay Loves Vegans," Ramsay revealed a long-kept secret: that he secretly loves vegan food.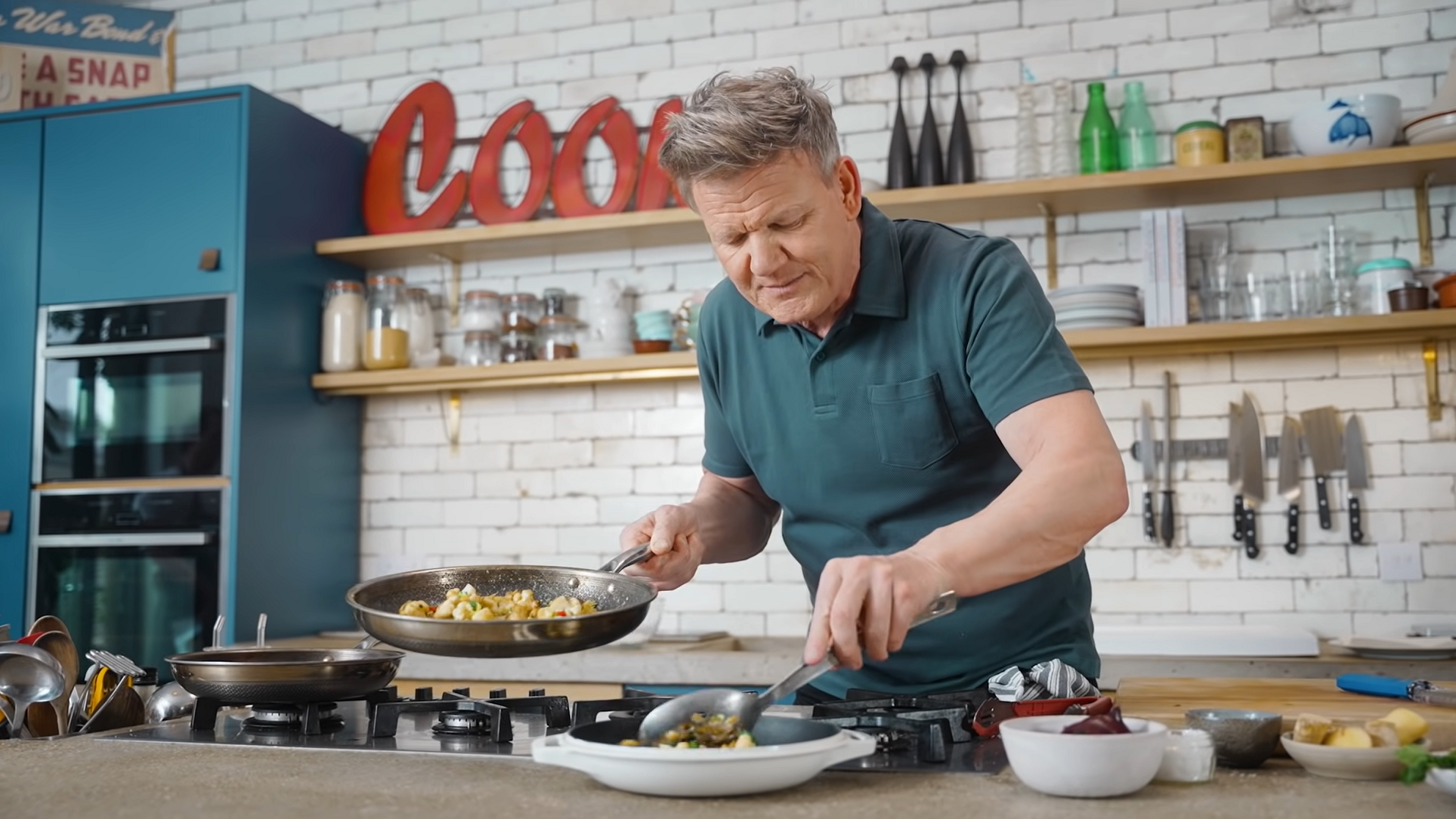 Gordon Ramsay/YouTube
"It's a secret that's so big, I'm almost afraid to say it on national television," Ramsay said on the show. Ramsay, who has been known to joke and ridicule vegans and vegan food in past years, caused many of the chefs to raise their eyebrows and look shocked by what he might reveal. "Don't worry, Gordon. This is a safe space. We'll support you," Judge Aarón Sánchez said as the competitors laughed.
"After all these years, I can finally admit that I actually love vegan food," Ramsay finally revealed.
Before the chef demonstrated his beet Wellington—a vegan twist on the traditional meat dish—he drove home his point one more time. "It's taken me 20 years to get to this point," he said.
Ramsay's other cooking shows are also getting in on vegan food. In 2021, Ramsay welcomed Josie Clemens to season 20 of Hell's Kitchen, making her the first vegan contestant in the show's 17-year history. The Michigan-born chef revealed that her connection with Ramsay first began on social media after she tweeted at him, "When are you going vegan, mate?"sparking Ramsay to follow Clemens on Twitter.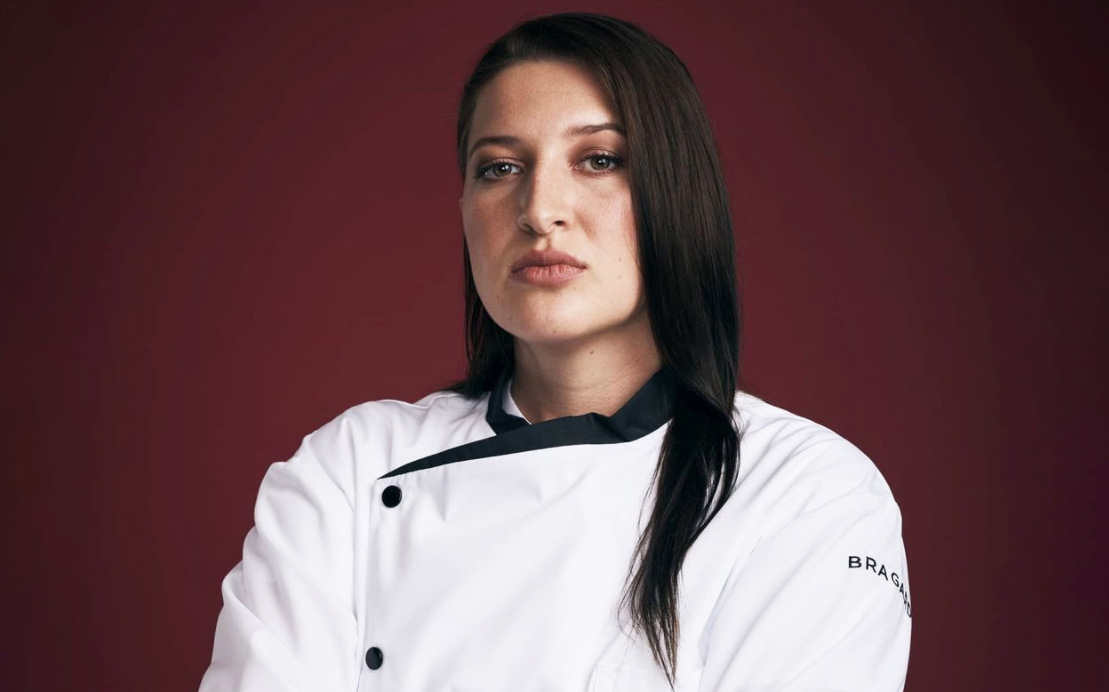 Hell's Kitchen
Before being welcomed on Hell's Kitchen, Clemens pointed out the impact a vegan presence would have on such a highly viewed show.
"The thing that I am most excited about for this show is that six million people are going to watch it and they're six million people who usually watch a meat cooking show and this is a big seed about veganism being planted in mainstream consciousness," Clemens said on Instagram. "So this could be the very first time people end up hearing about veganism."
For the latest vegan news, read: