On tonight's episode of Master Chef, celebrity chef Gordon Ramsay hosts the show's first vegan cooking challenge. During the episode, called "Gordon Ramsay Loves Vegans," Ramsay reveals a long-kept secret: that he secretly loves vegan food.
Season 12 of the American reality television cooking competition, officially titled MasterChef: Back to Win, features the return of contestants from previous seasons to have a second chance to win. On the vegan challenge episode, Ramsay playfully admits that he has a secret to share while he explains the vegan challenge to the competing chefs.
"It's a secret that's so big, I'm almost afraid to say it on national television," Ramsay says. Ramsay, who has been known to joke and ridicule vegans and vegan food in past years, causes many of the chefs to raise their eyebrows and look shocked by what he might reveal. "Don't worry, Gordon. This is a safe space. We'll support you," Judge Aarón Sánchez says as the competitors laugh.
"After all these years, I can finally admit that I actually love vegan food," Ramsay finally reveals.
Before the chef demonstrates his beet Wellington—a vegan twist on the traditional meat dish—he drives home his point one more time. "It's taken me 20 years to get to this point," he says.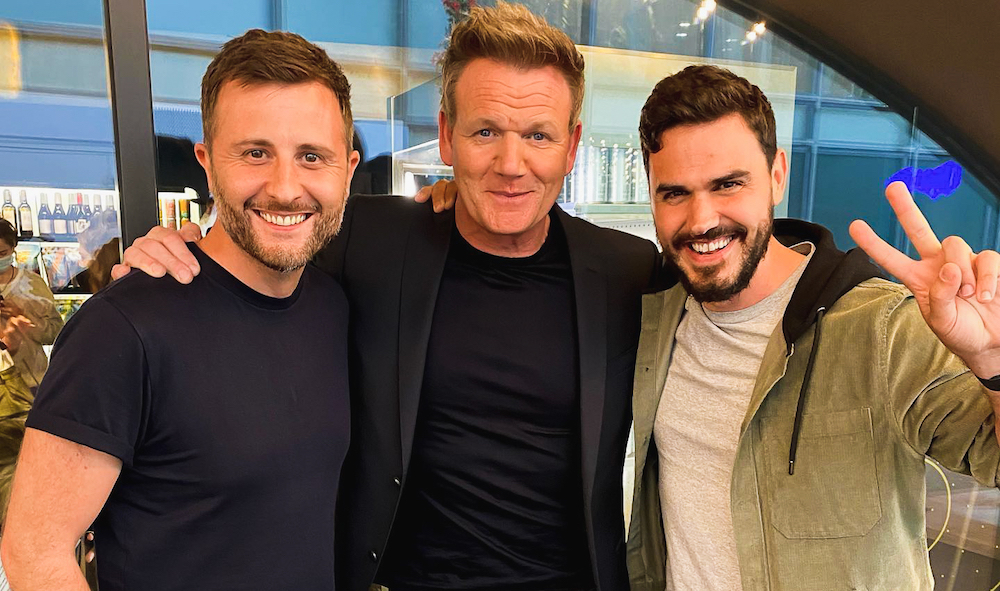 BOSH!
Gordon Ramsay's cooking shows welcome vegan chefs
Earlier this year, Ramsay's newest competition show, Future Food Stars, also got a little more vegan-friendly with the help of social media stars Ian Theasby and Henry Firth—the duo behind viral vegan sensation BOSH! Throughout the series, Ramsay puts contestants' skills and business acumen to the test with a series of individual and team challenges. In the semi-final episode, in which Theasby and Firth acted as judges, Ramsay challenged the remaining entrepreneurs with the task of creating a 30-second TikTok video promoting Ramsay's self-proclaimed "favorite subject," veganism.
During the challenge, Valentina Fois—the show's only vegan competitor—teamed up with Victoria Omobuwajo to face off against Leah Harkess and Stephanie Buttery. In their video, Fois and Omobuwajo transformed a can of chickpeas into vegan tuna salad while Harkess and Buttery chose to highlight hacks for vegan meat alternatives.
Last spring, Ramsay welcomed Josie Clemens to season 20 of Hell's Kitchen, making her the first vegan contestant in the show's 17-year history. The Michigan-born chef revealed that her connection with Ramsay first began on social media after she tweeted, "When are you going vegan, mate?" at him, sparking Ramsay to follow Clemens on Twitter.
Before being welcomed on the show, Clemens pointed out the impact a vegan presence would have on such a highly viewed show. "The thing that I am most excited about for this show is that 6 million people are going to watch it and they're 6 million people who usually watch a meat cooking show and this is a big seed about veganism being planted in mainstream consciousness," Clemens said on Instagram. "So this could be the very first time people end up hearing about veganism."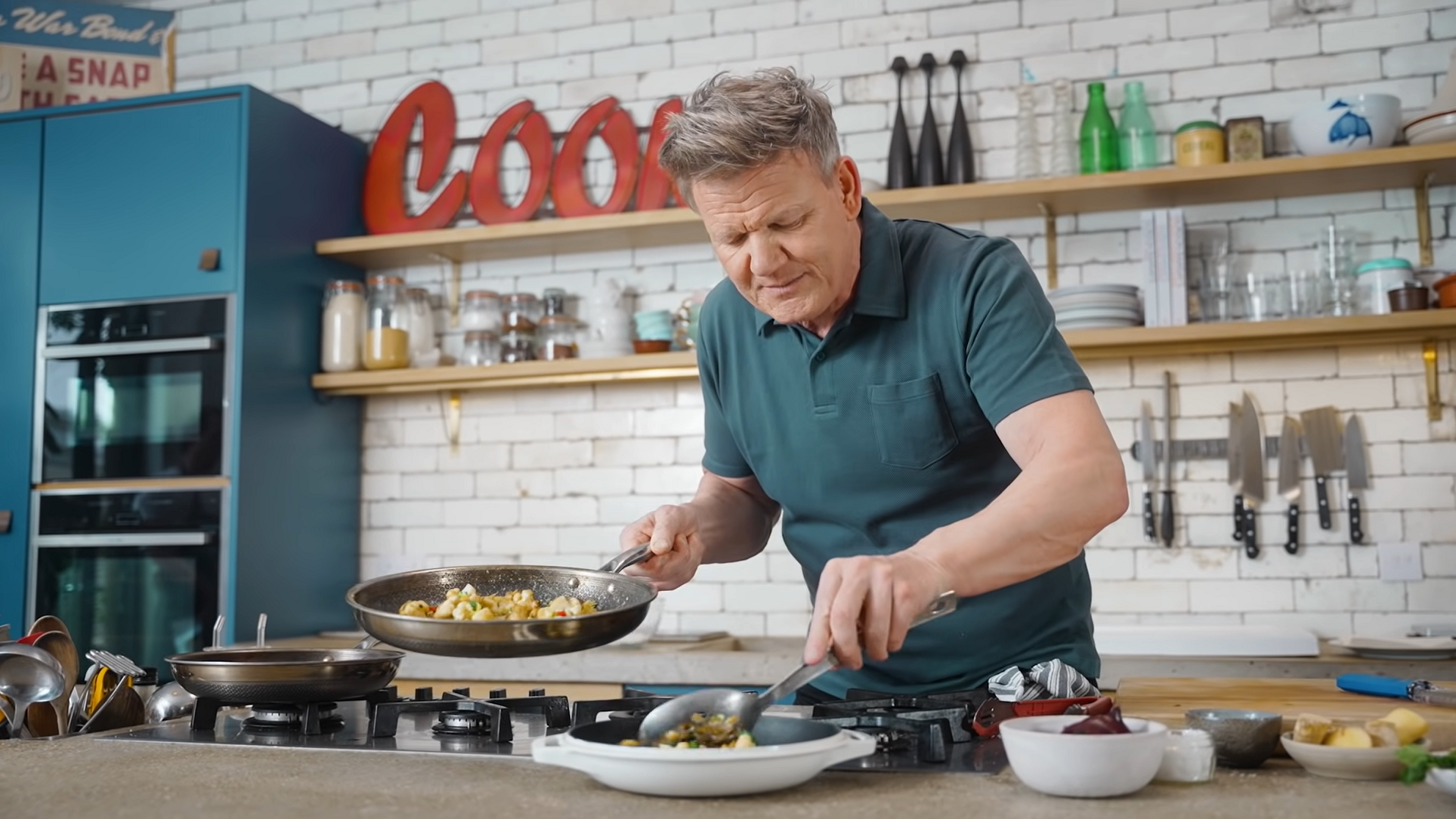 Gordon Ramsay/YouTube
Is Gordon Ramsay going vegan?
While Ramsay has finally started to embrace veganism, he was formerly a staunch critic, dishing out his usual harsh reviews on social media and going so far as to state that he was "allergic to vegans." However, not long after mocking the vegan lifestyle, he revealed on Twitter that he was "going to give this vegan thing a try."
Ramsay's change of heart is evident on his restaurant menus, where the chef has introduced countless vegan dishes. In 2019, Ramsay kicked off Veganuary by introducing a vegan menu at his London restaurant, Bread Street Kitchen. Last year, the chef launched his first restaurant in Chicago and made sure vegan burgers had a place on the menu. The eponymously named Gordon Ramsay Burger restaurant is built around eight signature burger creations, one of which is the Vegan Burger. The entirely plant-based burger is made with a vegan patty, bib lettuce, tomato, avocado, egg-free garlic mayonnaise, and is served on a vegan bun. For an additional $6, the vegan patty can also be substituted in place of meat in any of the other burgers.
Outside of his restaurants, Ramsay has made headlines for the vegan recipes he often shares on social media. The Michelin-starred chef has impressed digital audiences with his recipes for eggplant steak, crispy vegan bacon, and vegan bang bang cauliflower, proving the power of social media in captivating new markets.
For the latest vegan news, read:
This Startup Is Making Cultivated Meat Burgers More Affordable
Oatly Is Giving Away 16,000 Vegan Ice Cream Bars in These 4 Flavors
Impossible Foods Is Expanding School Lunch Menus With 2 Easy Options