Celebrity chef Gordon Ramsay's newest competition show just got a little more vegan with the help of social media stars Ian Theasby and Henry Firth, the duo behind viral vegan sensation BOSH! Ramsay's Future Food Stars, which is currently in its first season on the United Kingdom's BBC One, offers 12 up-and-coming entrepreneurs in the food and beverage industry the chance to compete for mentorship and a £150,000 ($185,000) investment from the chef himself. "The food and drink industry has never been more exciting, but it's also never been tougher to succeed," Ramsay says at the start of each episode. "I want to catapult someone to the next level."
Throughout the series, the Michelin-starred chef puts contestants' skills and business acumen to the test with a series of individual and team challenges. Last week's semi-final episode challenged the remaining entrepreneurs with the task of creating a 30-second TikTok video promoting Ramsay's self-proclaimed "favorite subject," veganism.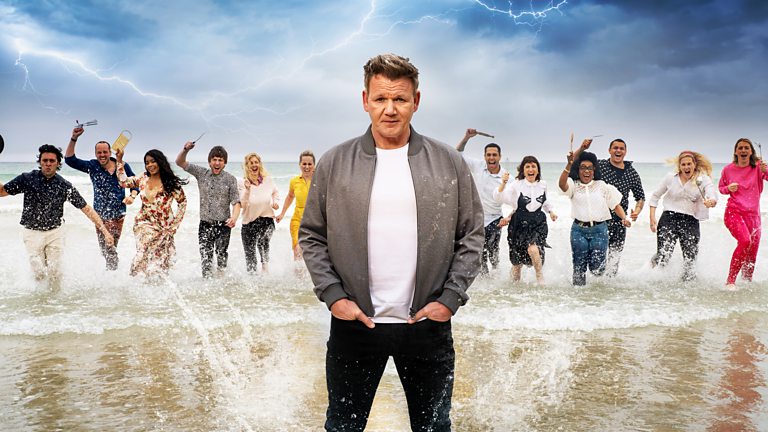 BBC One
Valentina Fois—the show's only vegan competitor—teamed up with Victoria Omobuwajo to face off against Leah Harkess and Stephanie Buttery. In their video, Fois and Omobuwajo transformed a can of chickpeas into vegan tuna salad while Harkess and Buttery chose to highlight hacks for vegan meat alternatives.
Ramsay, who holds the title for most-followed chef across social media with more than 95 million followers, noted the importance of leveraging virality to capture new markets, stay ahead of trends, and connect with followers—all aspects of modern business.
Theasby and Firth—who've amassed more than 2 billion views and 3 million followers across social media under their BOSH! platform—joined Ramsay to judge the contestants' video creations. Fois and Omobuwajo proved victorious, with the BOSH! duo commending the entrepreneurs for their recipe-focused approach.
BOSH!'s vegan empire
Theasby and Firth launched BOSH! in 2018 as a Facebook video channel, and quickly amassed a large following. The duo's first video, which showed viewers how to make watermelon jägerbomb punch, garnered one million views within an hour and nearly 50 million views in its first few weeks.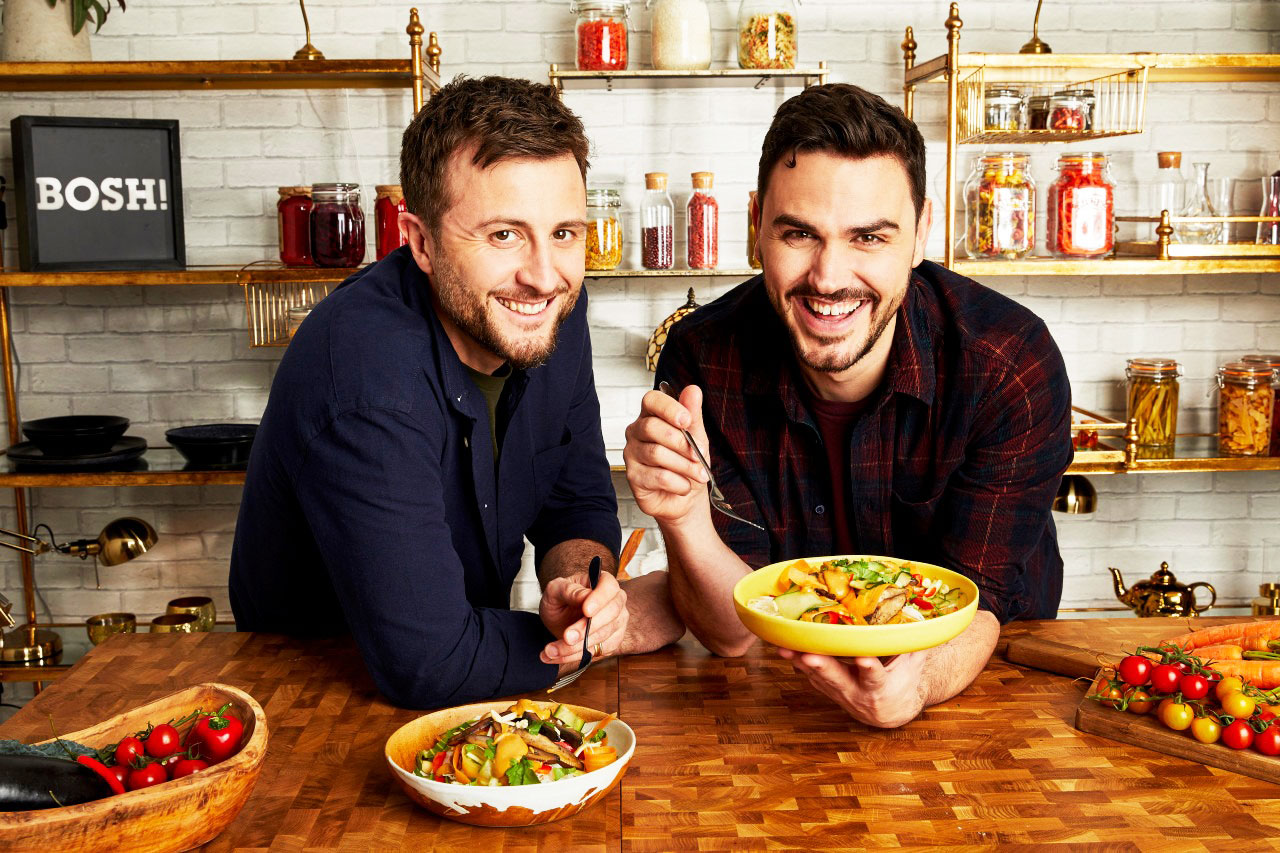 BOSH!
Since then, the duo has authored five best-selling cookbooks (with a sixth book, BOSH! On a Budget, coming this summer), hosted a vegan cooking show, and launched vegan cakes at Tesco supermarkets across the United Kingdom.
During last week's episode, Ramsay credited BOSH! for putting veganism on the map. For Theasby and Firth, joining Ramsay as co-judges was nothing short of monumental. "The experience was fantastic and such an amazing sign of the times that vegan food is getting highlighted on primetime national TV," the duo told VegNews. "Even the biggest chefs in the world are now taking vegan food seriously."
Gordon Ramsay loves vegans (now)
While the celebrity chef has recently begun to embrace veganism, he was formerly a staunch critic, going so far as to state that he was "allergic to vegans."
Last spring, Ramsay welcomed Josie Clemens to season 20 of the cooking competition show Hell's Kitchen, making her the first vegan contestant in the show's 17-year history. The Michigan-born chef revealed that her connection with Ramsay first began on social media after she tweeted "When are you going vegan, mate?" at him, sparking Ramsay to follow Clemens on Twitter.
More recently, the celebrity chef became the face of Silk's new vegan oat milk campaign. The campaign, which celebrates Silk's oat milk as the Greatest of All Time (G.O.A.T.) milk, features celebrity ambassadors who are the G.O.A.T. in their own right. Ramsay—known for his unapologetic and often loud critiques of subpar cooking, dishes, and chefs—was named the G.O.A.T. of Yelling in Kitchens. As part of the campaign, the chef took to social media and explained that he is becoming a fan of plant-based cooking. "Well, it took my kids getting on me, but now I really enjoy cooking more plant-based dishes at home and in my restaurants," the chef said. "Let me tell you, I know greatness when I taste it, and I am loving Silk Oatmilk for both sweet and savory recipes."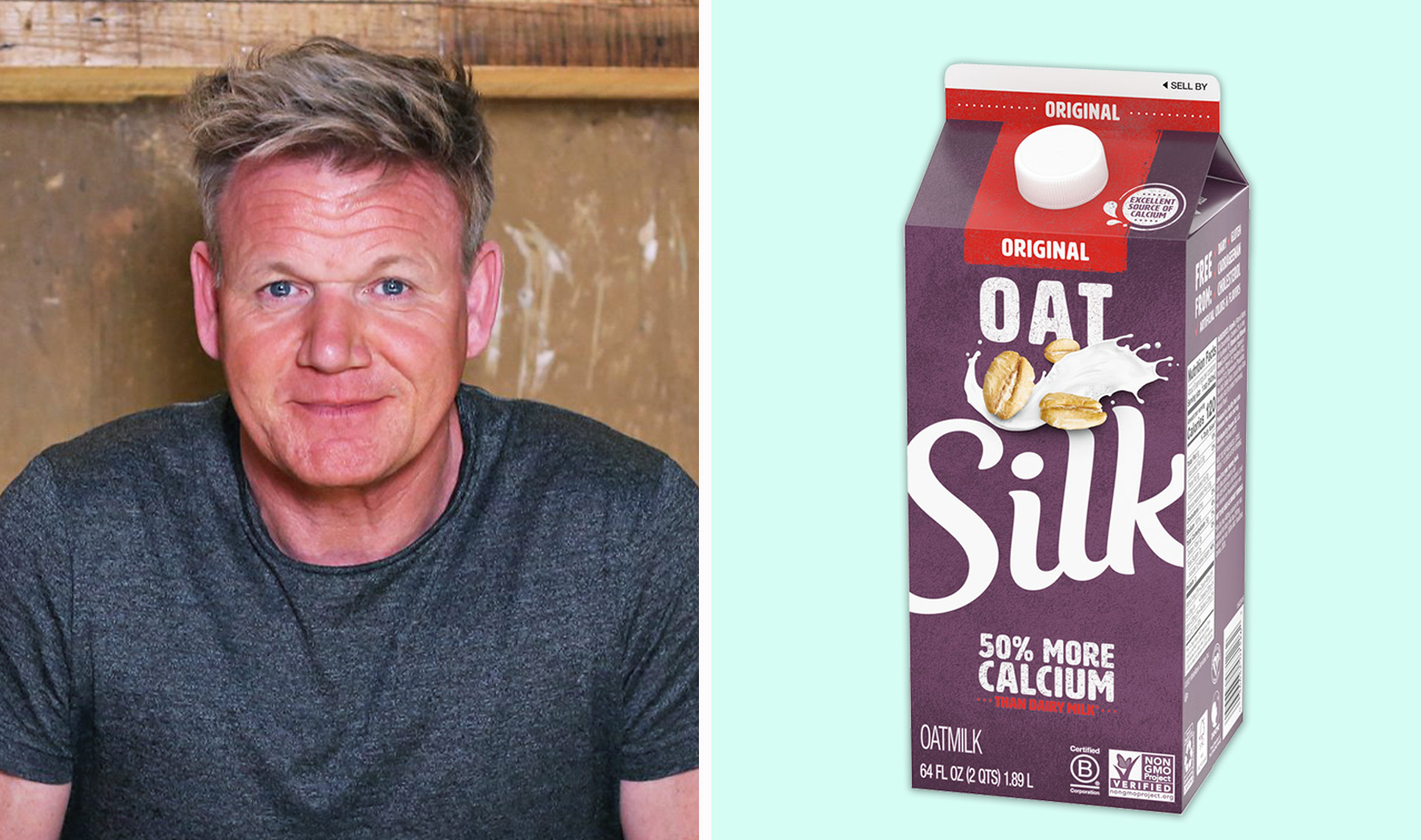 Ramsay's change of heart is evident on his restaurant menus, where the chef has introduced countless vegan dishes. In 2019, Ramsay kicked off Veganuary by introducing a vegan menu at his London restaurant, Bread Street Kitchen. Last year, the chef launched his first restaurant in Chicago and made sure vegan burgers had a place on the menu. The eponymously named Gordon Ramsay Burger restaurant is built around eight signature burger creations, one of which is the Vegan Burger. The entirely plant-based burger is made with a vegan patty, bib lettuce, tomato, avocado, egg-free garlic mayonnaise, and is served on a vegan bun. For an additional $6, the vegan patty can also be substituted in place of meat in any of the other burgers.
Outside of his restaurants, Ramsay has made headlines for the vegan recipes he often shares on social media. The Michelin-starred chef has impressed digital audiences with his recipes for crispy vegan bacon and vegan bang bang cauliflower, proving the power of social media in captivating new markets.
For more about BOSH! and Gordon Ramsay, read:
Gordon Ramsay Puts Vegan Burgers On the Menu at His Chicago Restaurant
MasterChef Junior Challenges Kids to Cook Vegan Food
Vegan Video Series BOSH! Lands Six-Figure Book Deal