Honey has distinct properties that can almost be mimicked by substitutes such as agave nectar but not quite. However, new vegan honey Mellody has unlocked everything consumers and chefs love about the sweetener but without harming bees.
That's because it relies on microbial fermentation to deliver the complexity of honey often lacking in traditional vegan alternatives. And the vegan honey has found a partner in three-Michelin starred restaurant Eleven Madison Park to introduce Mellody to the world.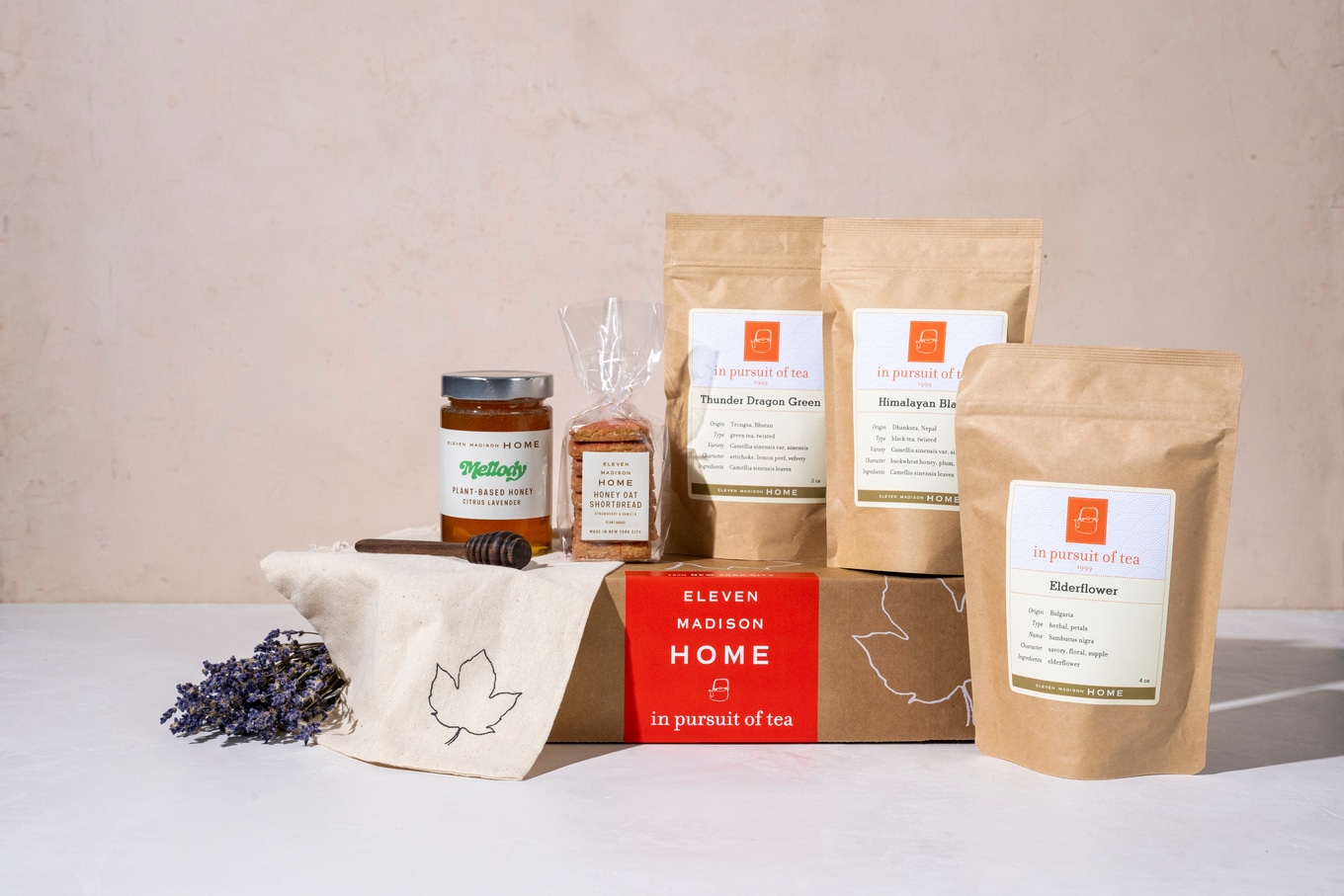 Eleven Madison Home
New at Eleven Madison Home—the consumer products arm of the restaurant—is a Tea & Honey box filled with three single origin In Pursuit of Tea loose-leaf teas (Himalayan Black, Thunderdragon Green, and Elderflower); a jar of Mellody; honey and oat shortbread cookies made with the vegan honey and dusted with sugar and strawberry powder; and wooden honey spoon to enjoy it all.
The box ($150 each) is the only place where Mellody is sold (for now) and is available for nationwide delivery through Eleven Madison Home.
Vegan honey at Eleven Madison Park
In 2021, Chef Daniel Humm decided to reopen Eleven Madison Park—shuttered by pandemic-related issues—as a plant-based restaurant, a move motivated by the sustainability issues around animal agriculture.
Humm's decision to partner with MeliBio—the parent company of Mellody—to feature the vegan honey across its offerings is another step embracing innovation that helps to create a more sustainable food system.
Why vegan honey? Conventional methods of commercial honey production involve exploiting bees for their pollination abilities, which results in a range of health issues.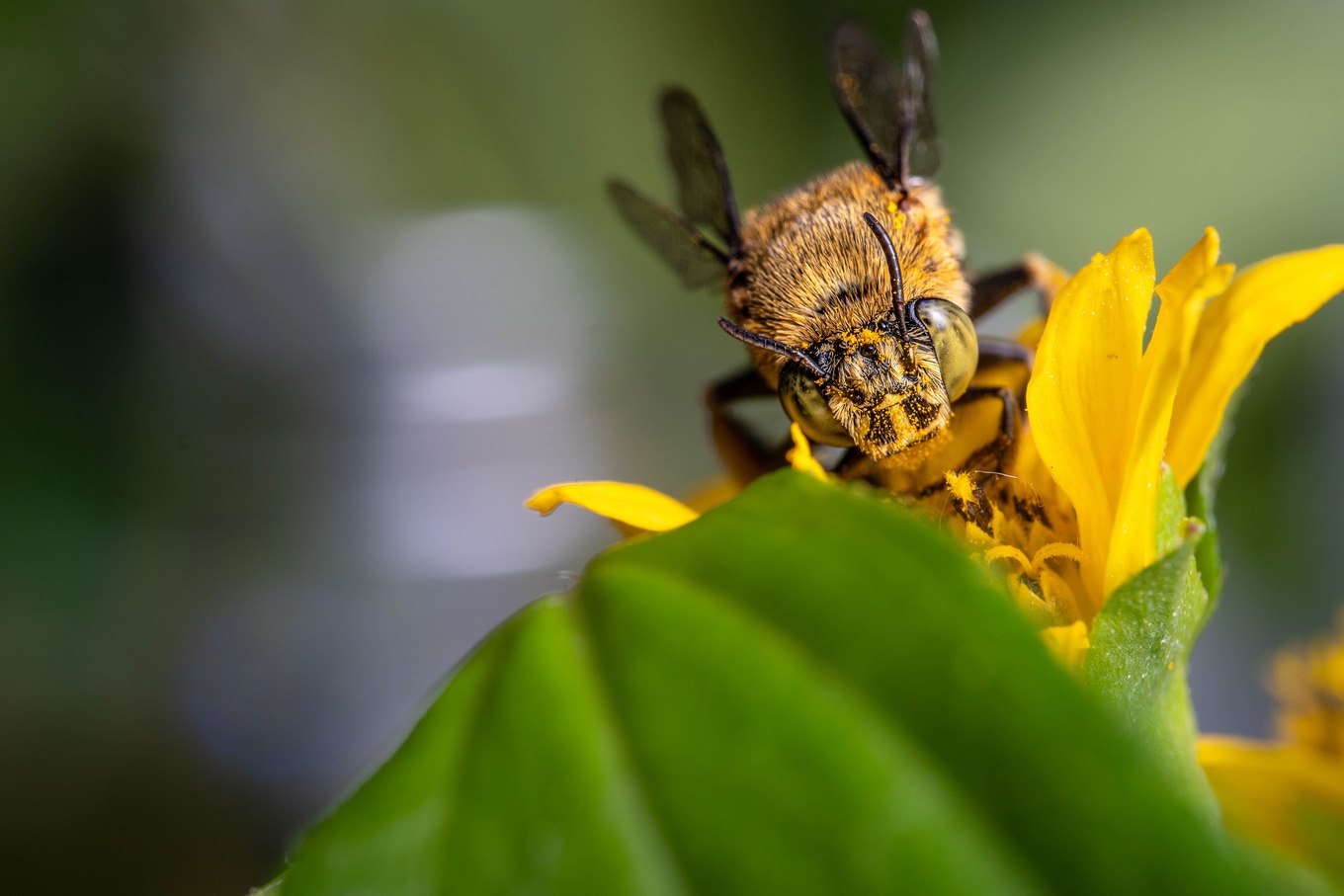 Unsplash
In nature, bees gather nectar from flowers to produce honey. They visit several flowers, gather nectar, and bring it back to their hives, where they transform it into honey by regurgitating the sugary liquid, reducing its water content, and leaving it to dry. This honey serves as bees' primary source of carbohydrates and nutrition.
In commercial honey production, however, bees are deprived of their hard-earned honey. They are transported to areas where they only have access to one crop, from which they can only consume mono-nutrients. They are exposed to pesticides, no longer hibernate, and are fed sugar water, which lacks essential nutrients.
Bees also suffer from wing disease due to selective breeding and exposure to pesticides.
MeliBio founder Darko Mandich—a former European honey industry veteran—knows what happens to bees firsthand and founded the company to solve these issues, which affect not only bees but the global food system at large.
"I spent almost a decade in the traditional honey industry in Europe before deciding to change it, now from California," Mandich tells VegNews. "I have fallen in love with the product and even more with the bees."
"The more time I have been spending in the industry, I started realizing the damaging effects of the commercial honey industry," he says.
In addition to its launch through Eleven Madison Home, Mellody's vegan honey was also featured on a special World Bee Day (May 19, 2022) menu at the world-renowned NYC restaurant. Here, diners tried the vegan honey in six different ways: as part of two speciality beverages; three savory dishes (as a drizzle, in broth, and sauce); and one custom "Oat Milk and MeliBio" dessert. The vegan honey was also served alongside tea and a strawberry dessert.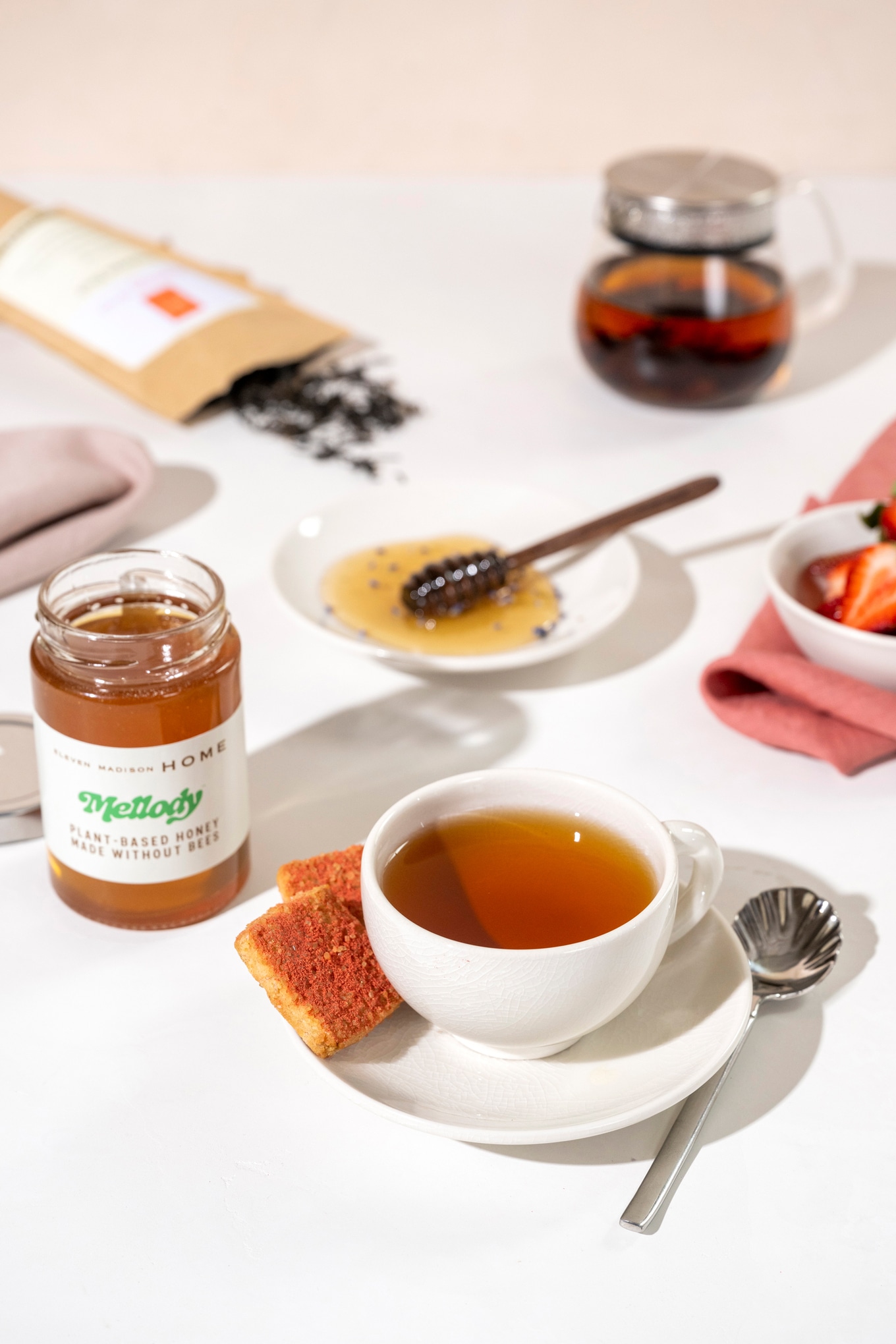 Eleven Madison Home
"Delivering on such high standards and expectations that Eleven Madison Park has is a true confirmation that our team can make delicious and nutritious products," Mandich says. "We prove that our approach in crafting Mellody leaves no compromises in terms of taste and functionality."
"Achieving all of the [benefits] mentioned while giving bees a break is the testament that the future of honey can be sustainable and that we can preserve our precious bees, therefore keeping our planet alive," Mandich says.
Making honey with technology, not bees
Instead of bees, MeliBio employs patented technology and microbial fermentation techniques to produce genuine honey from plants and natural components, eliminating the need for bees.
The resulting product not only mimics the appearance and flavor of traditional honey but also offers comparable health advantages and can be effortlessly substituted in cooking applications.
By eliminating bees from the commercial honey production process, MeliBio is leading the way toward a more humane, plant-based food system that is not dependent on animal cruelty.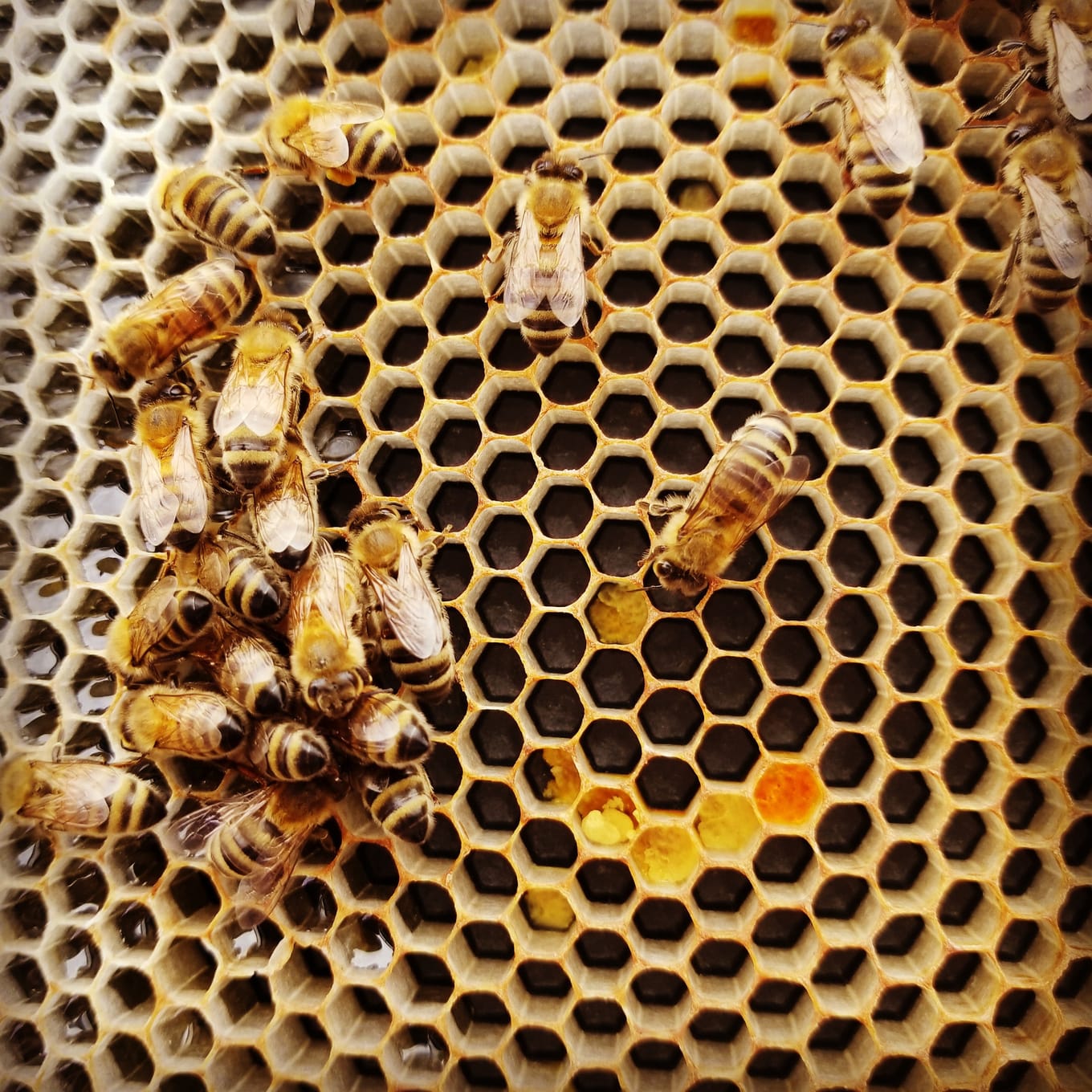 Unsplash
"It did not feel right to me what my industry was doing and I could not be part of it anymore," Mandich says. "The strong sense of responsibility and ownership were the signs that I should use my past career as a starting point for changing the industry I have been part of."
"Now I am excited to see the world of possibilities that my team is making, all of that without exploiting bees," Mandich says. "We can make the future of honey truly sustainable and bee friendly."
Outside of its partnership with Eleven Madison Park, Mellody can also be found on the menu at Baia (San Francisco), Little Choc Apothecary (New York City) and Motel Fried Chicken (Philadelphia). Ultimately, Mandich hopes to make Mellody the top honey brand in the world.
"It will take time to get there, but we know that with every jar of honey that we replace with plant-based honey, we save the work of 20,000 honeybees," Mandich says.
Parent company MeliBio is also building a platform to produce other disruptive products to create a better food industry which it will unveil to consumers through forthcoming partnerships and brands.
For the latest vegan news, read: