It seems that every week in the world of vegan food news is more exciting than the last and this week is no exception. Earth Month is in full swing and many vegan companies—from Next Level Burger to Impossible Foods—are upping the eco-friendly ante with specials, campaigns, and partnerships galore. Plus, Dave's expands beyond the Killer Bread to launch a snack bar line. Read on for more.
1Dave's Killer … snacks?
We've been using Dave's Killer Bread for sandwiches and avocado toast for years. Now, Dave's is breaking into new killer products with its line of organic snack bars.
"To say our fans—our BreadHeads—want more innovation from Dave's is an understatement, and we heard them loud and clear," Jillian Cohn, associate brand manager at Dave's Killer Bread, said in a statement.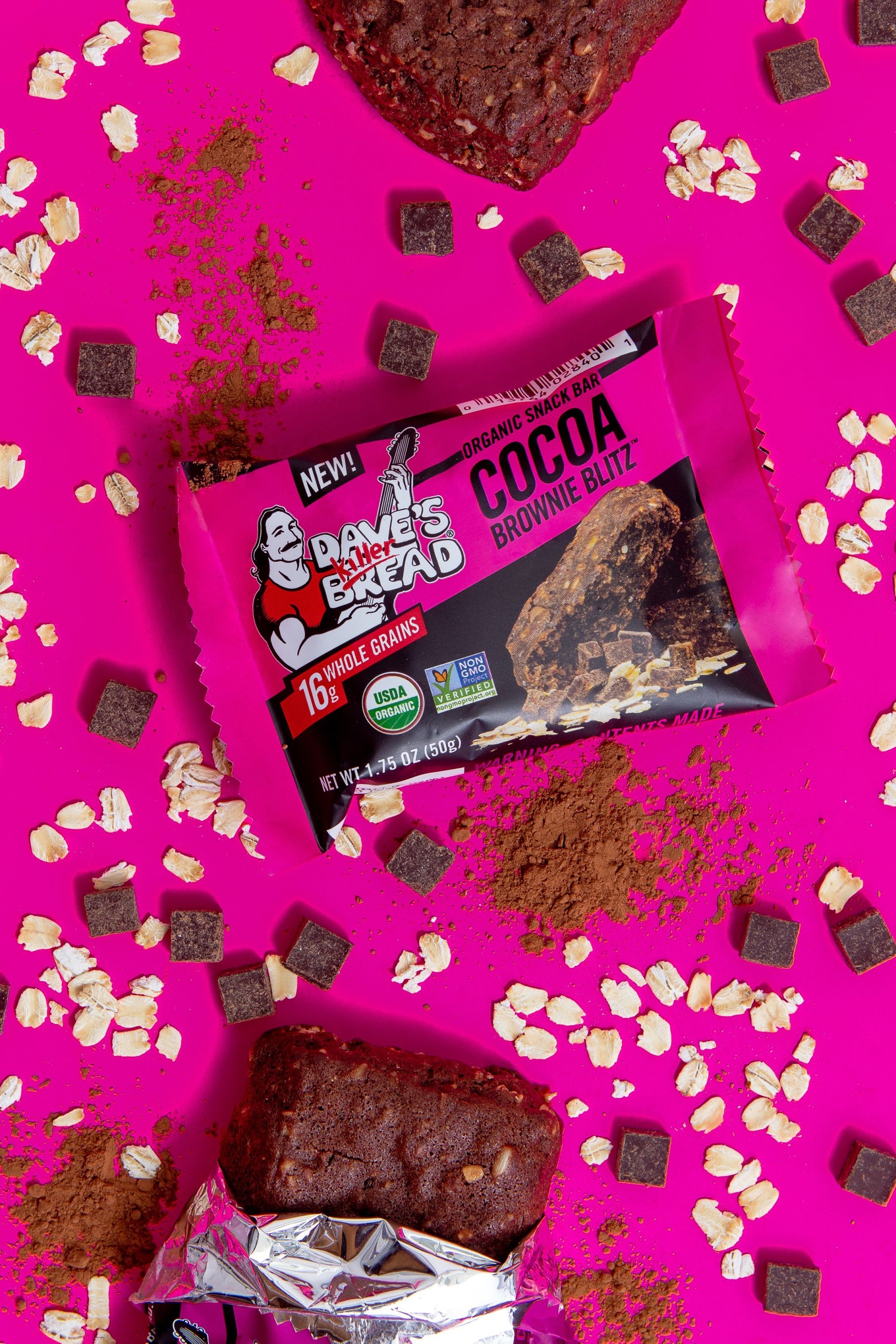 Dave's Killer Bread
The new line features the Dave's Killer Brownie Blitz bar which is made with organic chocolate chunks and the company's signature mix of seeds. The company describes it as the "I can't believe it's not an actual brownie but a snack bar with fiber" bar.
"It's no secret that consumers want healthy snacks that also taste killer," Cohn said. "And at Dave's, we were up to the task. It was so fun to bring our organic whole grain nutrition know-how and sky-high flavor standards to the snack aisle."
The new snack bar is the only vegan option in the line which features two other flavors, Trail Mix Crumble and Oat-rageous Honey Almond, that both contain honey.
The line will be available at select grocery stores, as well as on Amazon in four-pack boxes for $5.99 or individually for $1.99.
2Ocean-saving dairy-free milkshakes
With Earth Day around the corner, we're looking for more ways to help the planet out. Over at vegan fast-food chain Next Level Burger (NLB), helping Mother Earth is as easy as ordering a milkshake. That's because NLB's Earth Month shake was created to benefit The Ocean Blue Project, an organization dedicated to removing plastics from the ocean.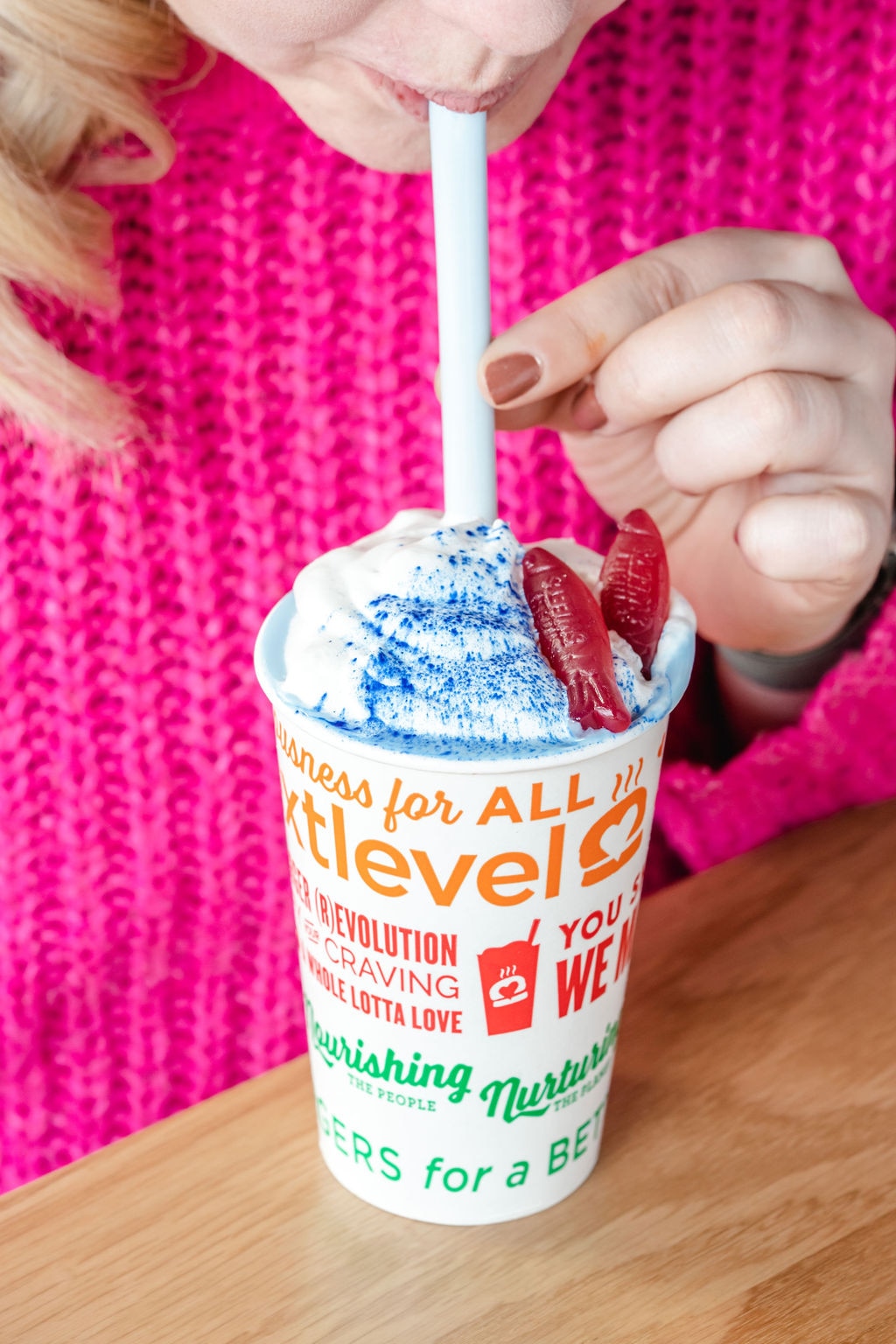 Next Level Burger
The new Organic Ocean Blue Banana Shake features house-made soy or coconut soft-serve ice cream hand-spun with bananas and blue-hued spirulina and topped with vegan whipped cream and vegan gummy fish candies. For every shake sold during the month of April, NLB will donate $1 to Ocean Blue, which removes five pounds of ocean plastic.
"Our sustainability and impact numbers don't even begin to measure the impact from our shakes and plant-based dairy, nor the benefit to the environment, our guests, and farmers' health that come from our focus on an organic supply chain," Matt de Gruyter, NLB's co-founder and CEO, said in a statement.
"At NLB, we believe that the future is bright, but that it is up to all of us to help make sure of it," de Gruyter said.
The shake is available at all 10 NLB locations where plant-based burgers, vegan chicken sandwiches, and sides can also help omnivores lower their carbon footprints.
3Teeny, tiny Impossible Burgers
Speaking of teeny, tiny carbon footprints, Impossible Foods is leaning into Earth Day with a fun campaign that highlights its lighter environmental impact than the animal foods it aims to replace.
Impossible partnered with a few brilliant creatives and experience consultancy company Deloitte Digital to create content around the tiny food trend that is hitting its digital channels now. Videos of tiny burgers and the tiny hands that hold them are meant to remind consumers this Earth Month that choosing plant-based meat over animal makes for a much smaller carbon footprint.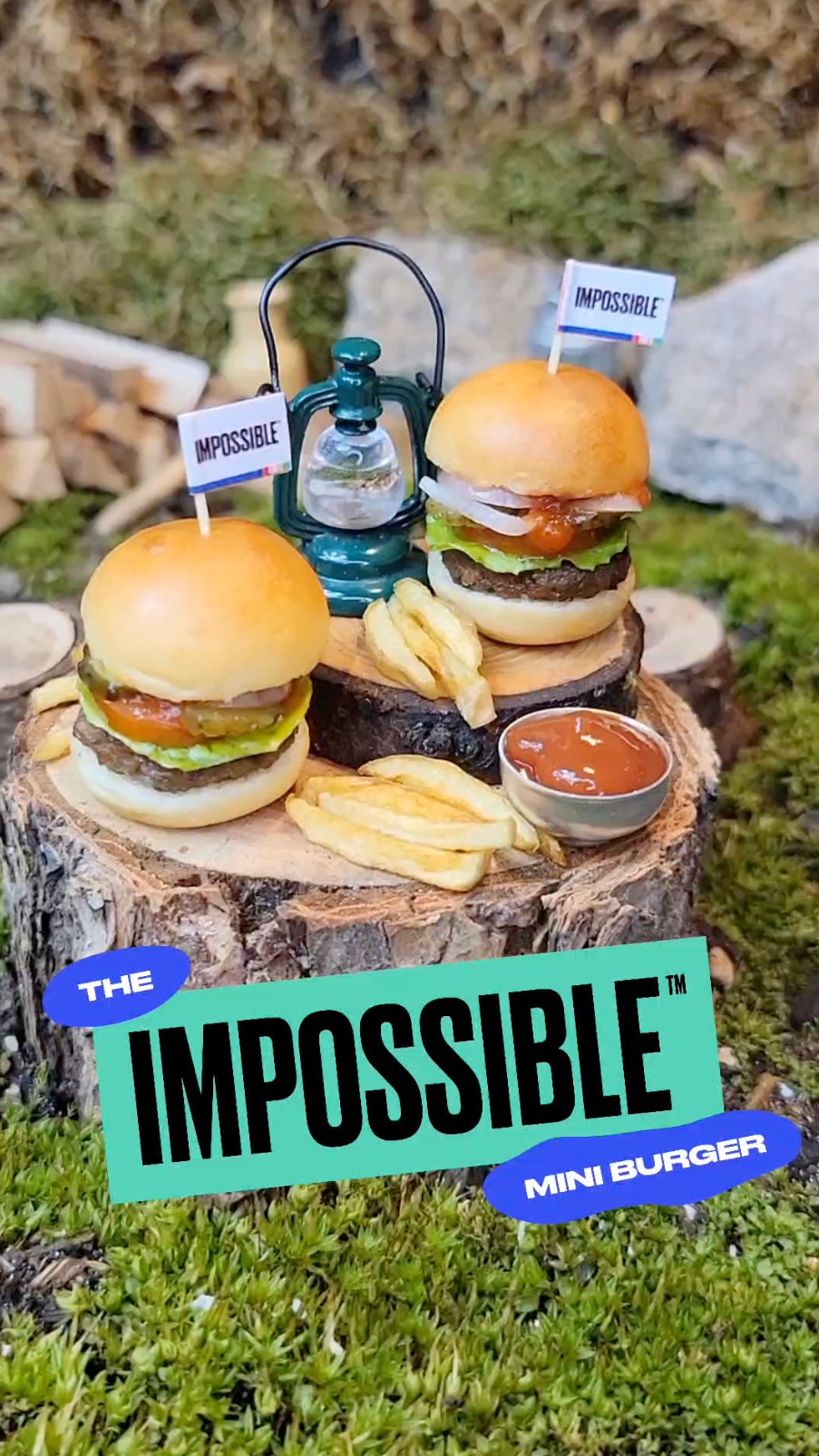 Impossible Foods
How much? When compared to a traditional beef burger, Impossible Burgers use 96-percent less land, 87-percent less water, and release 89-percent fewer greenhouse gasses.
"The small environmental footprint of our food is a challenging concept to communicate to consumers—it can be counterintuitive at first," Leslie Sims, Chief Marketing and Creative Officer, tells VegNews. "At Impossible, we're constantly thinking about how we can make it more accessible and relatable."
"Working with Deloitte to tap into an existing and oddly captivating food trend on social media has been such a fun, playful, and engaging way to bring our brand purpose to the forefront," Sims says.
And to drive the point home, Impossible took out the tiniest ad (measuring only 1" x 1") in The New York Times which will run on Earth Day.
4Planta plants trees with vegan food
This month, eating plant-based at restaurant chain Planta and Planta Queen comes with an extra climate perk: proceeds from a special menu will go to support the tree-planting efforts of nonprofit One Tree Planted.
What can you expect on the menu? Guests can choose from a number of dishes such as a Caviar Crunch Roll, Hainanese Jackfruit Rice, Strawberry Rhubarb Cake, and a Beet Ya To It Cocktail to wash it down.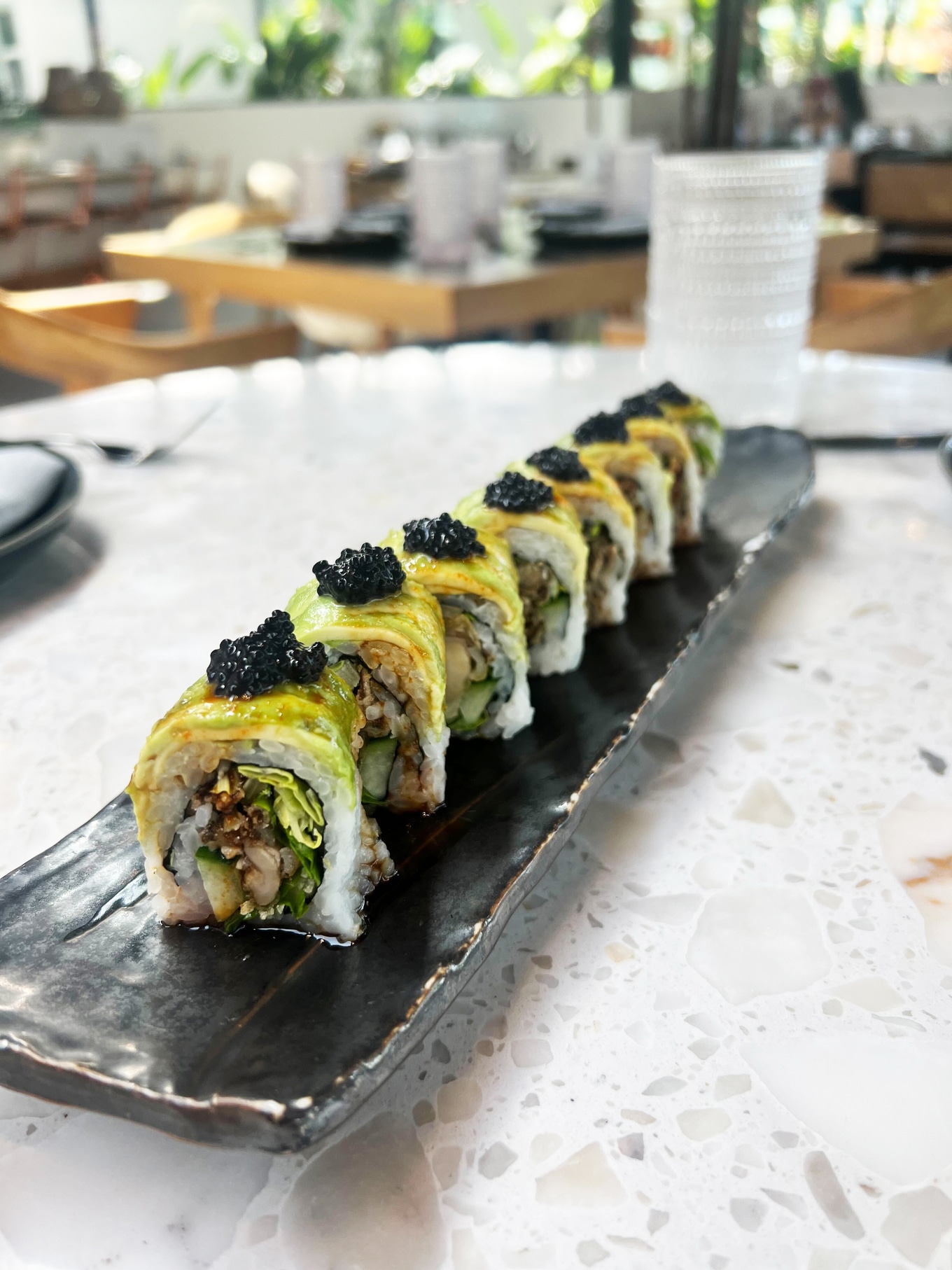 Planta
At Planta, eco-friendly initiatives extend outside of Earth Month and include sourcing its ingredients seasonably and locally; eliminating paper checks, printed materials, and one-time-use water bottles and coffee cups; using to-go packaging made from 100 percent compostable materials; and ensuring all produce and supplies are delivered in reusable containers.
5Vegan spam, light
Light carbon footprints? Vegan food's got us covered. But what about a lighter fat content? OmniFoods is on it. This week, the Hong Kong-based company announced the launch OmniPork Luncheon 2.0, an improved version of its vegan spam-like pork—made from soy and wheat, and colored with beets—launched as a world-first in 2020.
"Omni Luncheon has continually received great feedback since its launch, but here at Omni we believe in continually striving to bring even healthier, more delicious plant-based foods to all," David Yeung, co-founder and CEO of OmniFoods and Green Monday, said.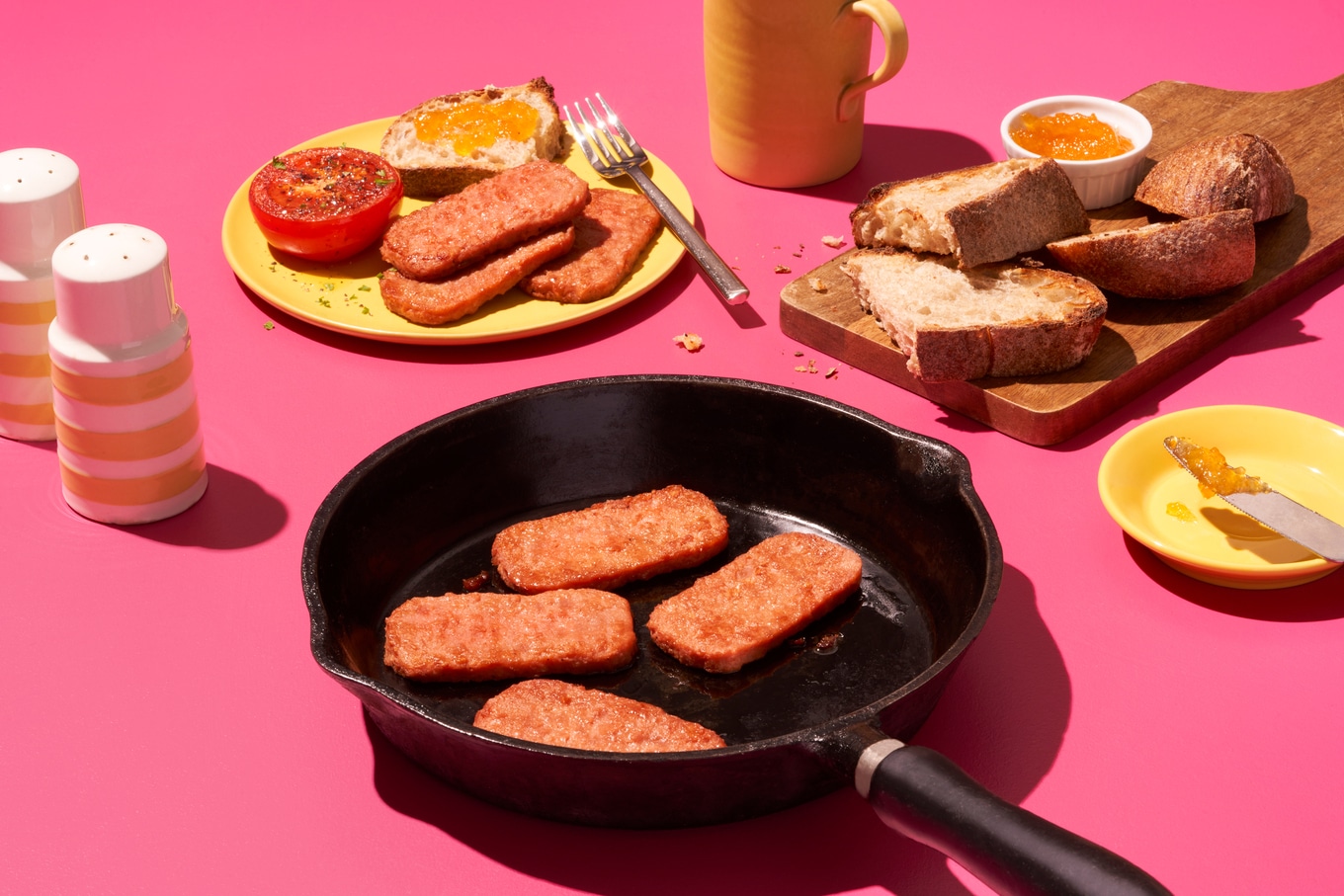 OmniFoods
"In the past three years, we have been working on this upgraded version and I am delighted to announce the launch of Omni Luncheon 2.0—a lighter, healthier version that at its core retains the taste that consumers know and love, while delivering a crispier texture using better ingredients," Yeung said.
The difference? Compared to the original formula, Luncheon 2.0 replaces coconut oil with canola oil, contains 90-percent less saturated fat, and is 30-percent lower in total fat. It is also lower in sodium and calories.
The new Luncheon 2.0 will be available at Green Common and restaurants in Hong Kong. It is also distributed in Walmart throughout the US.
For the latest vegan news, read: