Located approximately 100 miles north of Los Angeles, Montecito, CA is home to celebrity residents such as Oprah Winfrey, Ellen DeGeneres, Prince Harry, and Meghan Markle. And they flock here for good reason: the picturesque town is surrounded by some of the best produce farms in the country, which means the food here is impeccable.
This month, Montecito's bounty will be the focus of an epic collaboration between two chefs, each with their own Michelin accolades, that will further elevate the famous town's plant-based dining scene.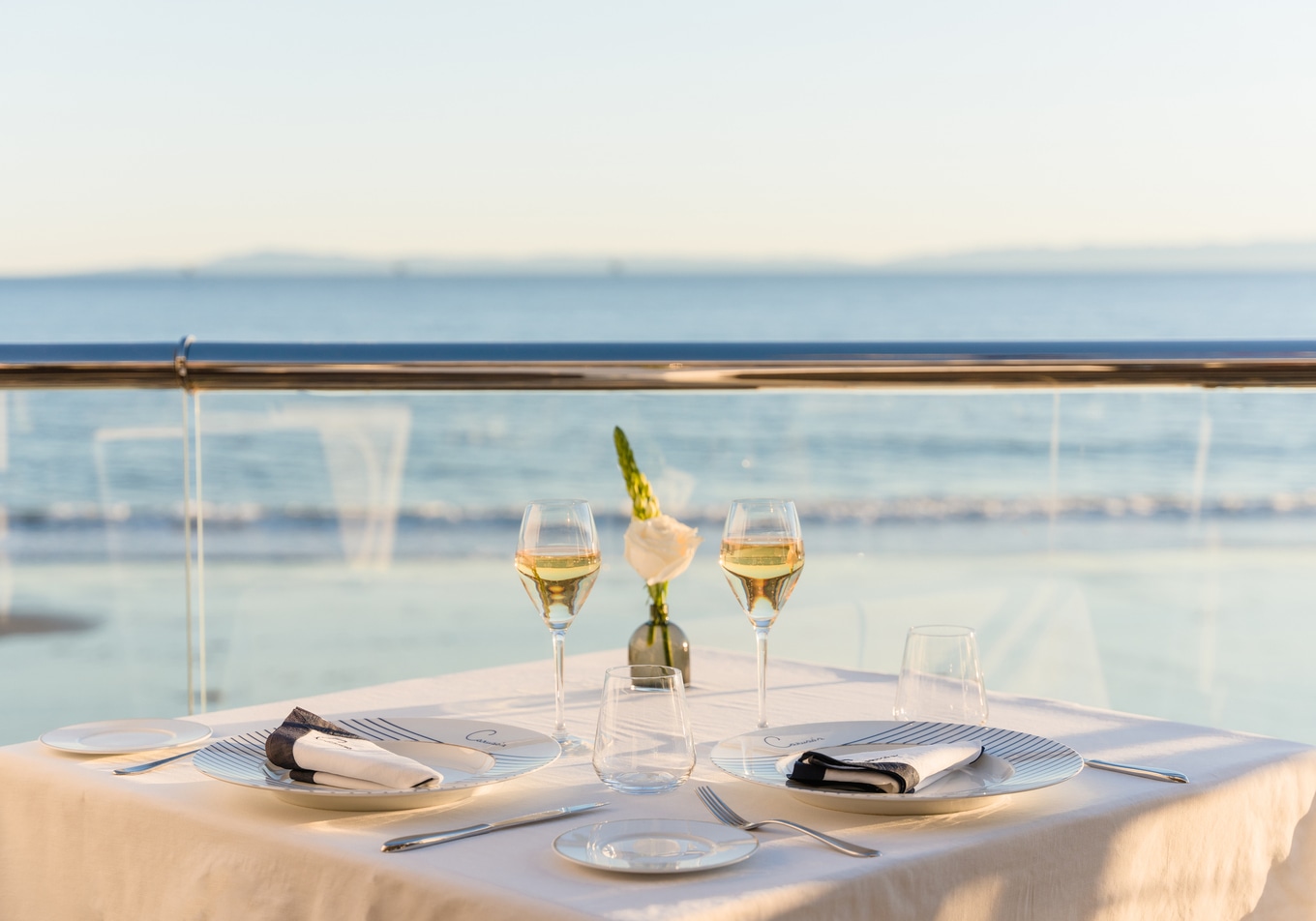 Rosewood Miramar Beach
On June 30 and July 1 at the luxury Rosewood Miramar Beach hotel and spa, chef Massimo Falsini (the hotel's Culinary Director) and chef Daniel Humm (of New York City's three Michelin-starred Eleven Madison Park) will join forces for a plant-based dinner series.
At the hotel's one Michelin-starred restaurant Caruso's, this two-night event will highlight the prized produce of California's Central Valley while combining Humm's and Falsini's culinary points of view.
"Being able to collaborate with others in the industry is inspiring to me and my team, and we're excited to be part of this pop-up with Chef Massimo and Caruso's restaurant," Humm said in a statement.
"So much of what we eat is part of our identity, and we look forward to sharing our language of food," Humm said.
The Michelin chef-crafted vegan menu
Michelin awards green stars to restaurants that are sustainability forward and Caruso's, a seafood and vegetable-driven eatery, is only one of 13 in the country to receive one.
The dinner series at Caruso's came together, Falsini tells VegNews, as a way for eco-minded chef Humm to "expand the radius of what he does" in NYC while at the same time harnessing the "richness of the landscape we have around us." Working together with Humm, Flasini says, was like the perfect combination of garlic and rosemary.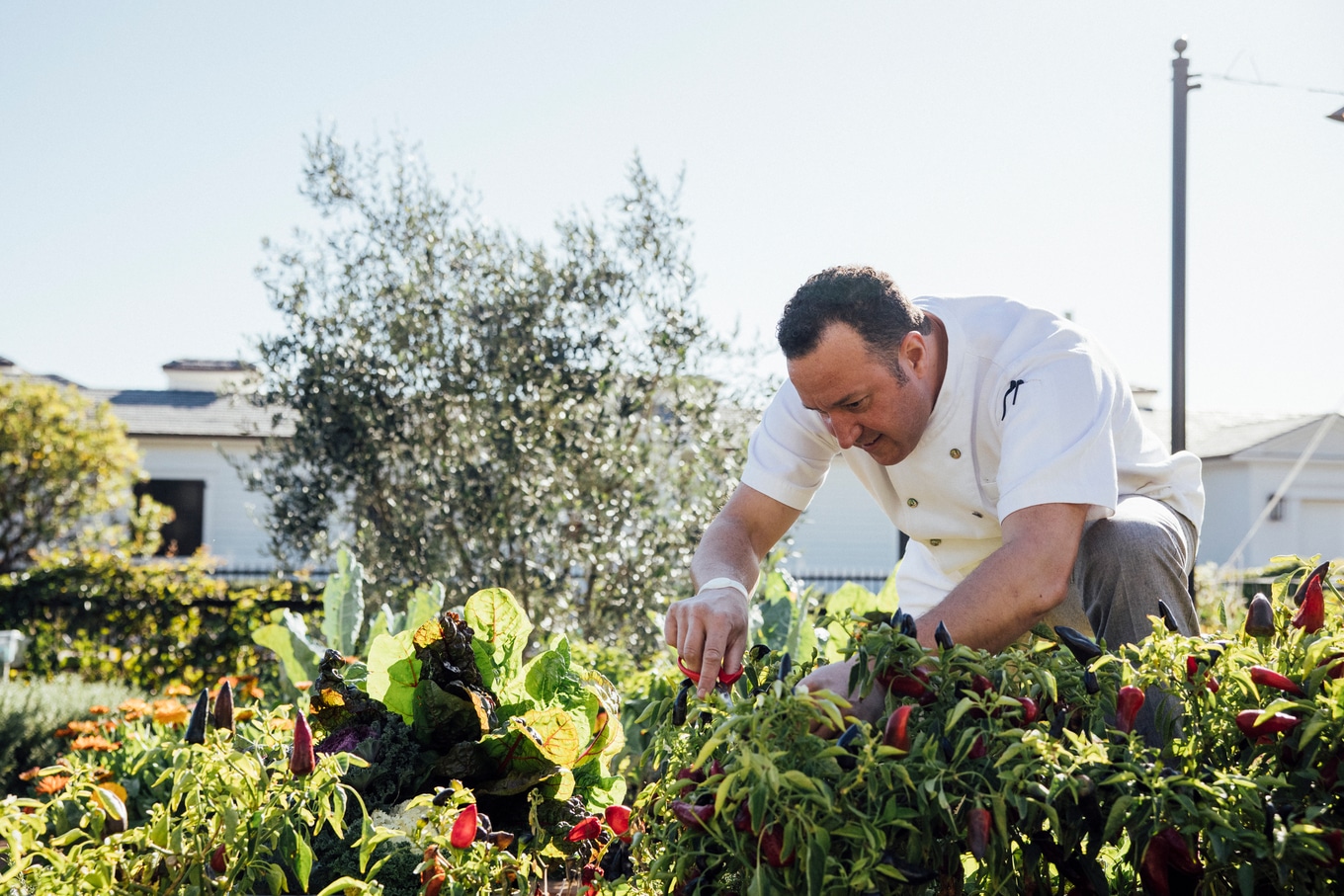 Rosewood Miramar Beach
Italian-born Falsini moved to the United States in 2011. In his personal life, the chef eats mostly plant-based, which is common to his heritage, and is surprised by the amount of "four-legged protein" Americans consume.
"It's going to be amazing to cook plant-based with chef Daniel Humm," Falsini says, adding that the materials chef Humm has already shared with him were impressive. "It was quite inspiring to see the technique, approach, and precision of cooking."
The eight-course meal ($395 per person exclusive of tax and gratuity) will feature carefully selected ingredients from local farms that pay homage to the work they do.
The first dish Falsini developed? A special dessert. Plated like one half of a clock, each element features ingredients in the order one would encounter them at specific stands at a farmer's market.
"As you travel in your imagination through the market, you can taste every single stand, one by one," he says.
Dishes created by the two chefs will include avocado with tonburi (a vegan caviar Humm likes to showcase at EMP), fava beans, and mint. As a a tribute to California sun-kissed tomatoes, one dish will feature a toybox variety from a San Ynez farm in a salad served with a chilled tea made from the yellow Sungold tomato variety.
King oyster mushrooms will be expertly prepared with ginger and lemongrass for another course, while silken tofu, peas, spring onion, and purple-hued anise hyssop (a flowering plant in the mint family) will come together for another.
Falsini is especially excited for an eggplant Malfatti course served with a coulis made with Early Girl tomatoes, all sourced from regenerative Root Farms. In this traditional Italian dumpling course (imagine just the stuffing of ravioli), the chef uses flax egg and tofu to replace ricotta. The eggplant here, Falisini explains, is a hybrid between a Japanese varietal and what Italians call a "nun's leg" (a reference to their dark pantyhose).
"The goal for me was to make a dish that comes from one place only to show the diversity of this farm," he says.
Chef Massimo Falsini celebrates California with an Italian flare
Falsini oversees the Rosewood Miramar Beach hotel's seven restaurants and bars. At Caruso's, the chef already offers a daily plant-based tasting menu that focuses heavily on seasonal fare with an artisanal approach.
"It's a plant-based journey on The American Riviera that is interpreted through my Italian lens as it comes from my background," Falsini, who grew up in Rome but informed his culinary point of view through travels across Southern Italy, says. "The plants in our cuisine are extremely important. If I don't have veggies or olive oil, I can't cook."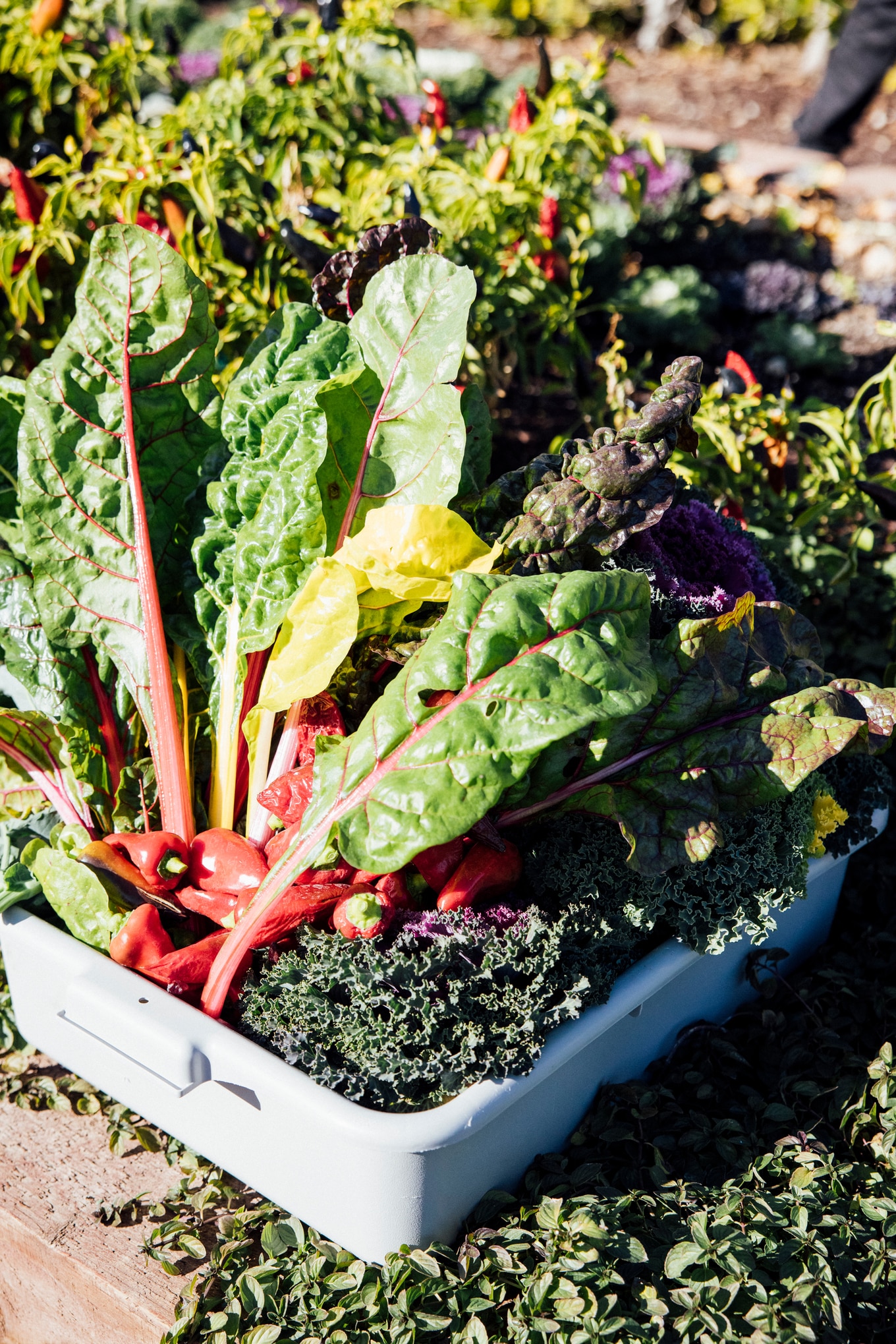 Rosewood Miramar Beach
California produces one-third of all of the fruits and vegetables grown in the US and Falsini says that the "sweet spot" is between Camarillo and San Luis Obispo, where the erupted landscape meets the humid ocean breezes.
"The most difficult thing to cook or treat are the vegetables … and they are more interesting, too," he says. "It requires more love because you deeply have to know the nature of the particular variety of vegetable … and how you extrapolate flavor from it."
Falsini values a diverse environment in his kitchen, respects the ingredients he uses, and acknowledges that hard labor goes into harvesting these pristine fruits and vegetables, and hopes to honor their work with his continued support of local farms by paying them fair prices.
Along with a strong commitment to sustainably, Falsini is obsessed with every small, but important, detail—akin to the way Humm crafts the dining experience at EMP.
The chef runs a milling program that aims to revive the "forgotten" grains of California. For instance, he sources Triticum durum from a Bakersfield farm and mills it in-house for pasta—which he dries and cooks to achieve that "al dente" bite.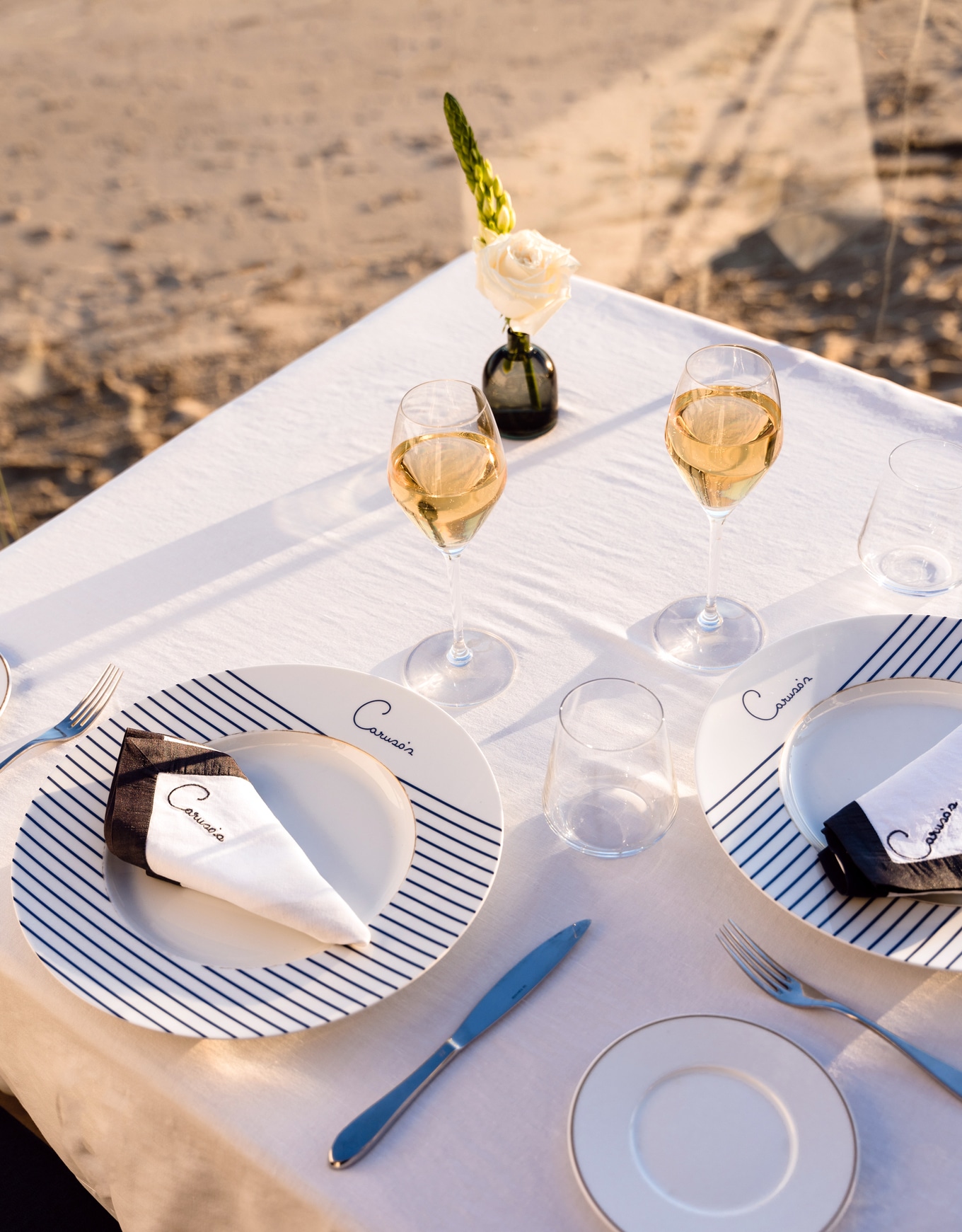 Rosewood Miramar Beach
A blend of red and white Sonora wheat is the base of the flour he ferments in-house to make Caruso's bread, which he serves alongside hand-blown snifters filled with local Santa Barbara olive oil planted by Italians during the Gold Rush. He serves this extra virgin olive oil at a temperature of 31 degrees Celsius, which he says is perfect for enjoying its rich flavor and aroma.
"These little, very specific, and incredible things that we do match perfectly with EMP," Falsini says.
Chef Daniel Humm's "make it nice" philosophy at work
After a pandemic-induced hiatus, in 2021, Humm made the bold decision to reopen EMP—then known for its smoked duck—as a plant-based restaurant, a move motivated by the chef's desire to create a more sustainable future.
Falsini says this move reverberated across the culinary community, where Humm is respected for his visionary approach to food embodied in his "make it nice" philosophy—which doubles as the name of Humm's hospitality group behind EMP.
"Everyone in the industry, we say, 'Make it nice' because that's what Daniel Humm says," Falsini explains. "It means that it is important to make a dish perfect."
This applies to perfecting the dish visually and in terms of flavors but extends to creating a multi-layer tasting experience that lodges into people's memories and inspires them to return.
"For me and for my team, it's an incredible honor to work with somebody who has changed the industry," Falsini says. "And really made a mark that is so important for us as chefs."
While Humm's decision to make EMP vegan initially received some industry pushback, in October of 2022, the move was validated when the restaurant retained its three Michelin stars. And while animal products were off the menu, Humm's "make it nice" philosophy continued to guide the way.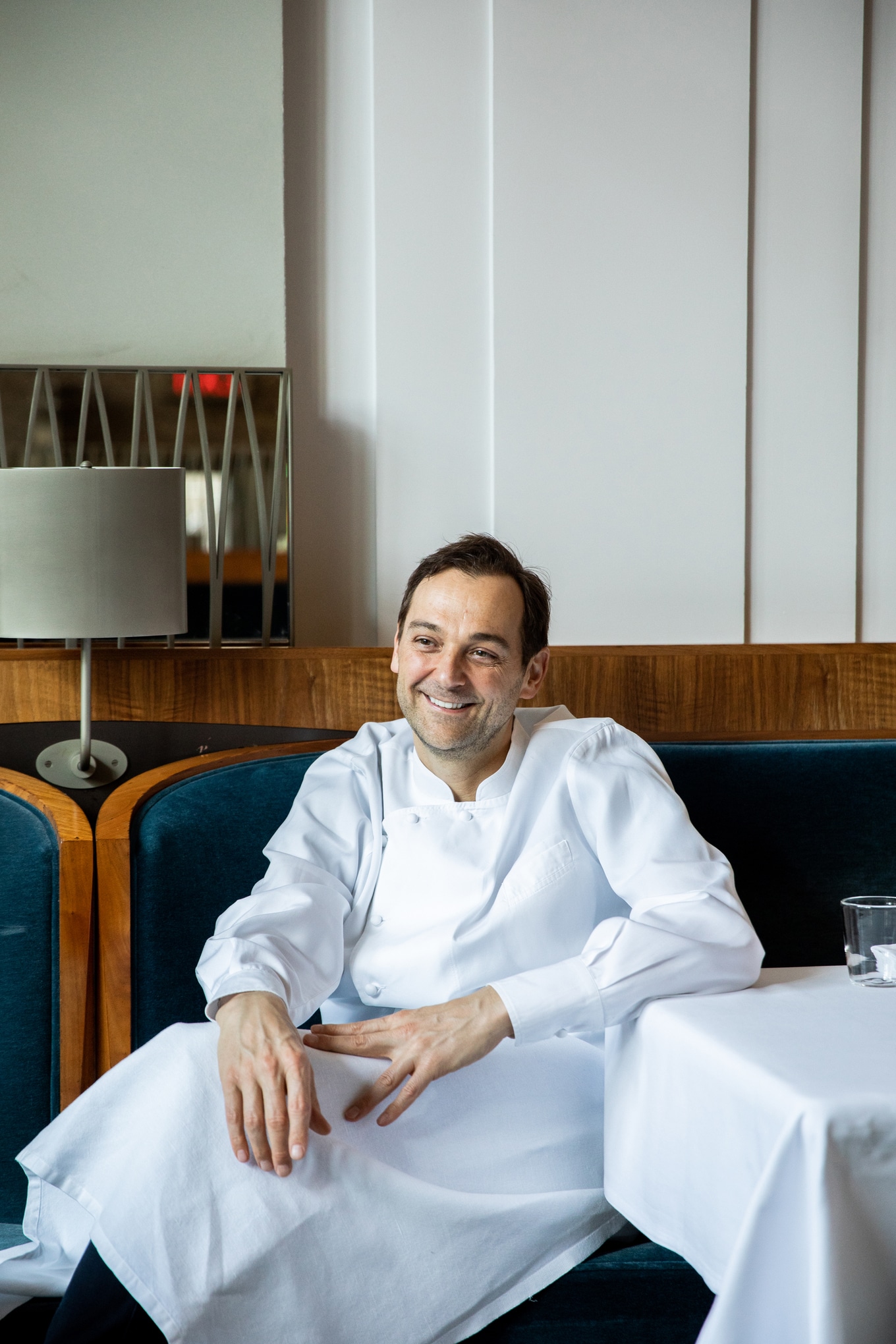 Letizia Cigliutti
"When you work with a chef like Daniel Humm, who has done so much for our industry, you have an opportunity to inspire the new generation with the meaning of 'make it nice,'" Falsini says. "To make a perfect dish, it takes a lot from your heart, understanding, culture, background, and feelings. It's an expression of ourselves."
He compares the art of cooking to an artichoke, which he says starts an "ugly cardoon" with its injurious spikes. "But you take the leaves off and you start carving it with your knife, that is the moment of transformation. You give something to the ingredient that is from your heart," the chef says.
"So you deliver to the guest something of you, every time," Falsini says. "That is the magic of cooking."
Chef Daniel Humm's plant-based decision: "That was bold."
Falsini sees food as the unifying glue of humanity, shared across a table between different religions, for various celebrations, and points in time. And the breadth of Falsini's experience in the culinary world is wide.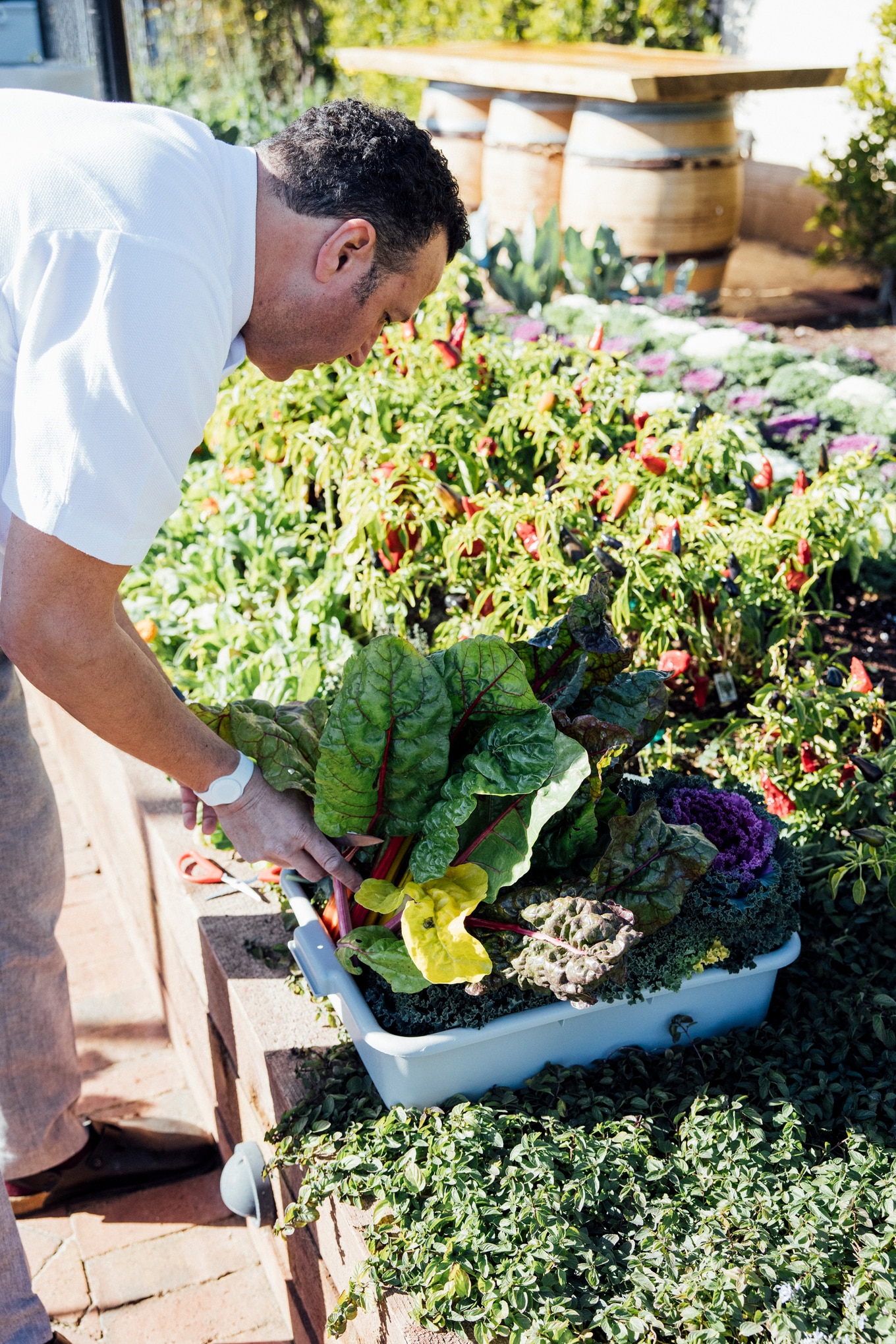 Rosewood Miramar Beach
He is no stranger to Michelin stars, having helmed some of the world's top restaurants during the course of his 36-year culinary career. However, he has also prepared food for low-income people in Italy and says that his desire to bend the rules of food put him on the trajectory to where he is today in Montecito.
During his three-decade-long career, Falsini has observed the fine-dining industry evolve in a few ways. For one, whereas flavor used to reign supreme, the advent of visually forward platforms such as Instagram has put more emphasis on plating.
And diners now expect more from food. In order to survive, he says, chefs must think about more than just putting food on a plate. That's because, in 2023, diners care as much about what is in the dish as what it stands for—the philosophy behind it, whether the ingredients are sustainable, and if the people who made it were respected.
It is in this context that Humm transformed EMP into the world's first three-starred Michelin restaurant, a move Falsini says will be remembered in the culinary community forever.
"I think the approach of chef Daniel Humm is incredible because he has always been a little ahead of a group of us," Falsini says. "What he did is bold."
"When a chef receives three Michelin stars, the pressure is so high that it's hard to understand," Falsini says. "It means you have to count every grain of salt. Every change on the menu is terrifying because you say, 'This menu brought me to three stars. Every dish that I make has to be a three-star dish.'"
"For him not to just change a dish, but to cancel his restaurant and to completely change the menu and reinvent himself, that was bold," Falsini. "That's big."
For the latest vegan news, read: