Dear Bella Creamery is swiftly becoming a vegan ice cream institution, but unlike longstanding ice cream chains that never divert from the traditional, tried-and-true, this plant-based creamery is always coming up with new ways to make our mouths water. For co-owners Alice Cherng and Belinda Wei, though, the business is more than just ice cream. From their Instagrammable scoop shop in Hollywood and now a national shipping line, the duo is creating opportunities to celebrate women of color chefs and highlight their outstanding work with food. Their latest project? A collaboration with acclaimed pastry chef, Gemma Matsuyama, fresh from the two Michelin-starred Los Angeles hotspot n/naka. We sat down with Wei and Matsuyama over a double scoop of the cool new flavors to learn more about the launch of this quarterly chef-centered series.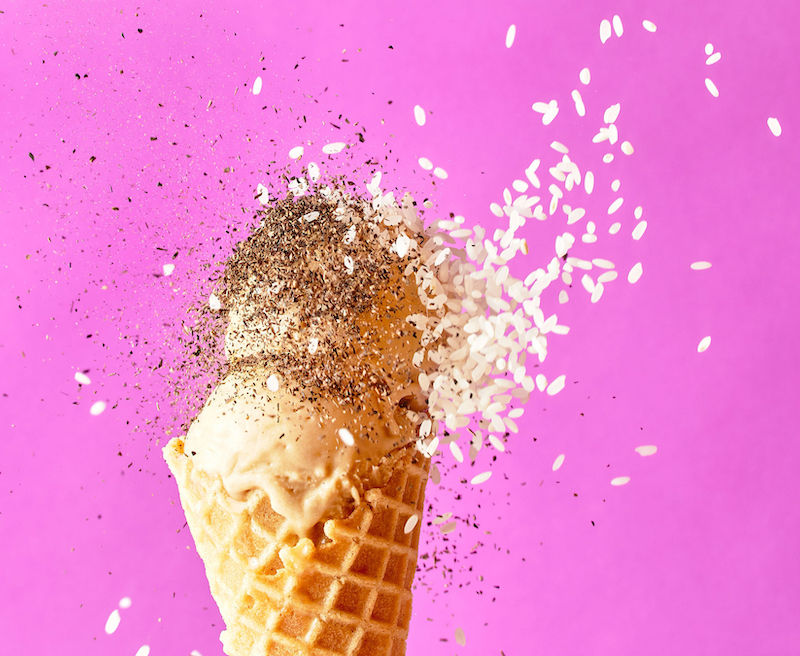 Katrina Frederick
Heritage-inspired flavors
Dear Bella Creamery offers a bit of everything. It'll rope you in with its familiar Cookies N Cream and Birthday Cake then make you pause and consider a flavor you've never tried before such as Hong Kong Milk Tea. The two new flavors created by this partnership with Matsuyama certainly fall into the second category. Now available in-store and online, Matsuyama's Sweet Rice Milk Hojicha and Strawberry Yuzu Sorbet were both inspired by her Japanese heritage.
"The Sweet Rice Hojicha is a combo of two ingredients that I grew up with—rice and Hojicha. The aroma of the two is very nostalgic for me. I was especially curious about the technique behind this flavor, which was one that I hadn't ever tried before. It yields a custard-like ice cream texture because of the sweet Hojicha rice pudding style we use to make the ice cream base," Wei, who worked with Matsuyama on the new flavors, commented on the development process.
Repeat customers of Dear Bella Creamery know not to stop with a single scoop. The shop is beloved for its over-the-top sundaes, customizable cookie sandwiches, and celebratory ice cream cakes. When asked how she'd gussy up Matsuyama's flavors, Wei told us, "I would love to try the Strawberry Yuzu Sorbet in either our Strawberry Vanilla Healthade Pop as a float or the sweet Rice Hojicha with hot fudge and toasted almond pieces."
While this partnership marks the first official collaboration of this new quarterly series to celebrate women of color chefs, it's not the first time Dear Bella's has struck out to tell cultural stories through ice cream. In May, the brand launched a collection of flavors for AAPI month. Ten percent of the sales from this collection were donated to Tzu Chi, a Buddhist-founded international humanitarian organization. Taiwanese Pineapple Cake, Mango Sticky Rice, and Sweet Red Bean allowed Cherng and Wei to share the tastes and memories of their Taiwanese American heritage with their customers hungry for something sweet.
"I hope to give customers a new experience in ice cream and invite them to explore traditional Asian ingredients that we carefully selected to give them a look into our Asian culture," Wei remarked.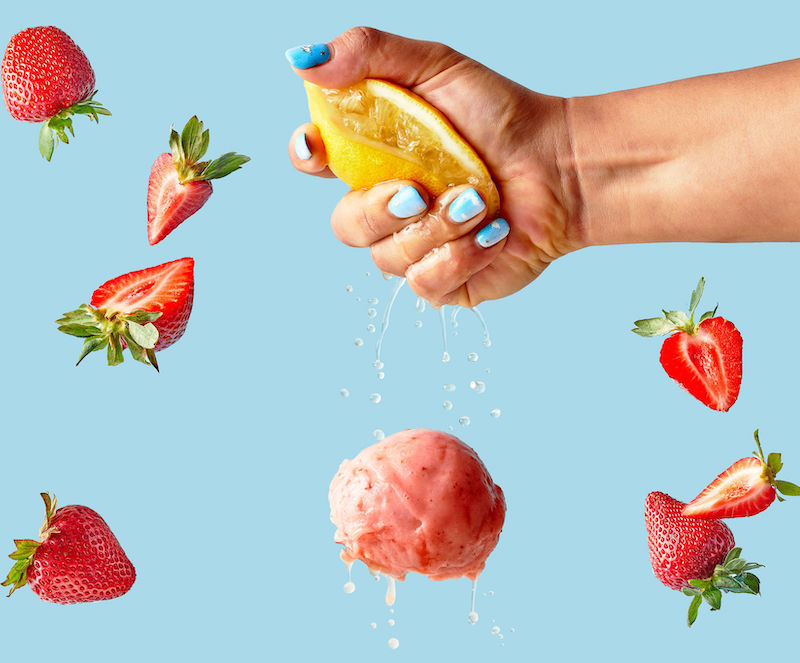 Katrina Frederick
A Michelin touch
Chef Matsuyama isn't vegan, but she's come to embrace plant-based ingredients that better align with her health. "I love traditional pastries using dairy, gluten, and all the finer things in life. It's just that as I age, my body metabolizes food differently that I have to consume these ingredients consciously," she explained. "I started to lean more into desserts that are delicious but everyone can enjoy without worrying about feeling fatigued after eating them. That has led to exploring more creative ways of using Asian techniques and ingredients to make desserts that are allergen-free but with full flavor."
Matsuyama went into pastry to satisfy her itch to be creative, and it's led her to Michelin-starred restaurants like n/naka where she worked as the pastry chef for two years. It's also led her to collaborations like the one with Dear Bella. "I've always wanted to partner up with an Asian-American woman chef, let alone one with such an impressive reputation," Wei gushed. "I couldn't wait to connect with her to hear her ideas of flavors."
Equally excited, Matsuyama told us she was also drawn to Dear Bella's by the idea of supporting other AAPI- and women-owned businesses. "Alice and Belinda take a creative, chef-driven approach to ice cream, which I could identify with as a chef," she noted.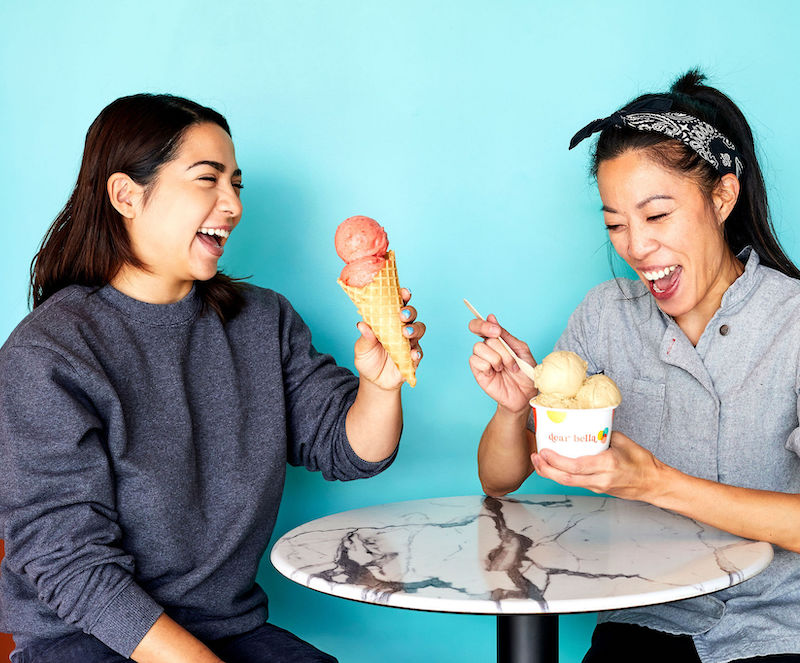 Katrina Frederick
Supporting women of color chefs
To advance other women of color chefs beyond this limited-time partnership, we asked both Wei and Matsuyama about other women they're inspired by. Wei named Niki Nakamaya and Asma Khan. Nakamaya is the chef-owner of n/naka, and Khan is an Indian-born British chef, restaurateur, and cookbook author.
"I really appreciate every woman of color who has been through much stricter circumstances in our history that we must not forget to give our gratitude towards," Matsuyama said. "Recently though, Laura Hoang who is a Chef de Cuisine at Pearl River Deli in Chinatown has had an enormous impact on me. Our paths have crossed in the past but COVID has brought us closer with our passion for desserts and life. Her storytelling and raw truthful way of creating are delightful and involve very tasty snacks. She is amazing."
To further their mission of social responsibility, Dear Bella and Matsuyama have agreed to donate a portion of the proceeds from Matsuyama's creations to I Got Your Back, a non-profit organization that advocates for mental health support in the restaurant industry. "Mental health is extremely important to me, especially in the restaurant industry, where we're used to working long hours daily," Matsuyama elaborated. "I Got Your Back is providing resources to restaurants that prioritize open communication and support for challenges. There is training that helps managers identify emotional distress in their employees so they can better collaborate and create a safe environment to express one's feelings."
For more on vegan women of color feats, read:
Vegan Cookie Company Is the First Female, Black-Owned CPG to Raise $1 Million
30 Women-Owned Vegan Businesses to Support
Vegan Cheese Queen Makes Forbes' First 50 Over 50 List