In November 2022, hundreds of young people marched to the Stockholm District Court with one mission: to hold the Swedish government accountable for its lack of action on the climate crisis. There, they filed a lawsuit with the court, which they hope will prove that Sweden is violating people's human rights by not doing enough to prevent environmental disasters. Among the activists was, of course, Greta Thunberg.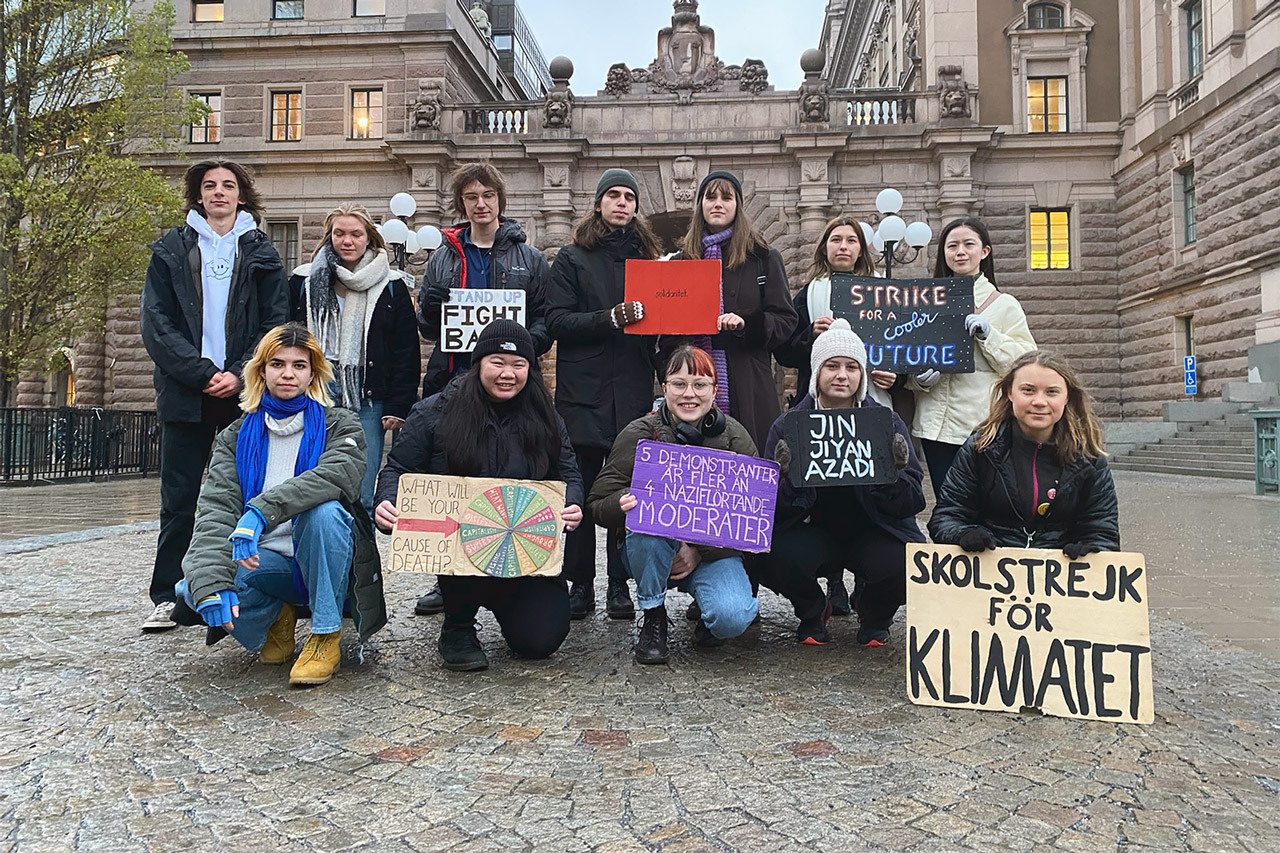 Greta Thunberg
During the march, Thunberg—a globally-renowned environmentalist who shot to fame aged just 15—held a sign that read "Nu stämmer vi staten," which translates to "Now, we are suing the state." The lawsuit is just another step in Thunberg's mission to get the Swedish Parliament, and indeed the rest of the world's governments, to do more to save the environment. Her first protest, just four years ago, involved her sitting outside the country's parliament buildings with another, now world-famous, sign, which read: Skolstrejk för klimatet (school strike for climate).
That sit-in was the start of many protests and profound speeches (who can forget her impassioned "How Dare You?" speech at the 2019 UN Climate Action Summit?), all of which have helped Thunberg become one of the world's most prominent and influential environmentalists—before the age of 20. (She was even the youngest person ever to be named Time's Person of the Year in 2019.)
On top of this, Thunberg is also a committed vegan and has encouraged people to give up meat on more than one occasion. Here, we take a closer look at why Thunberg doesn't eat animal products, but also her Fridays for Future campaign and ongoing climate work.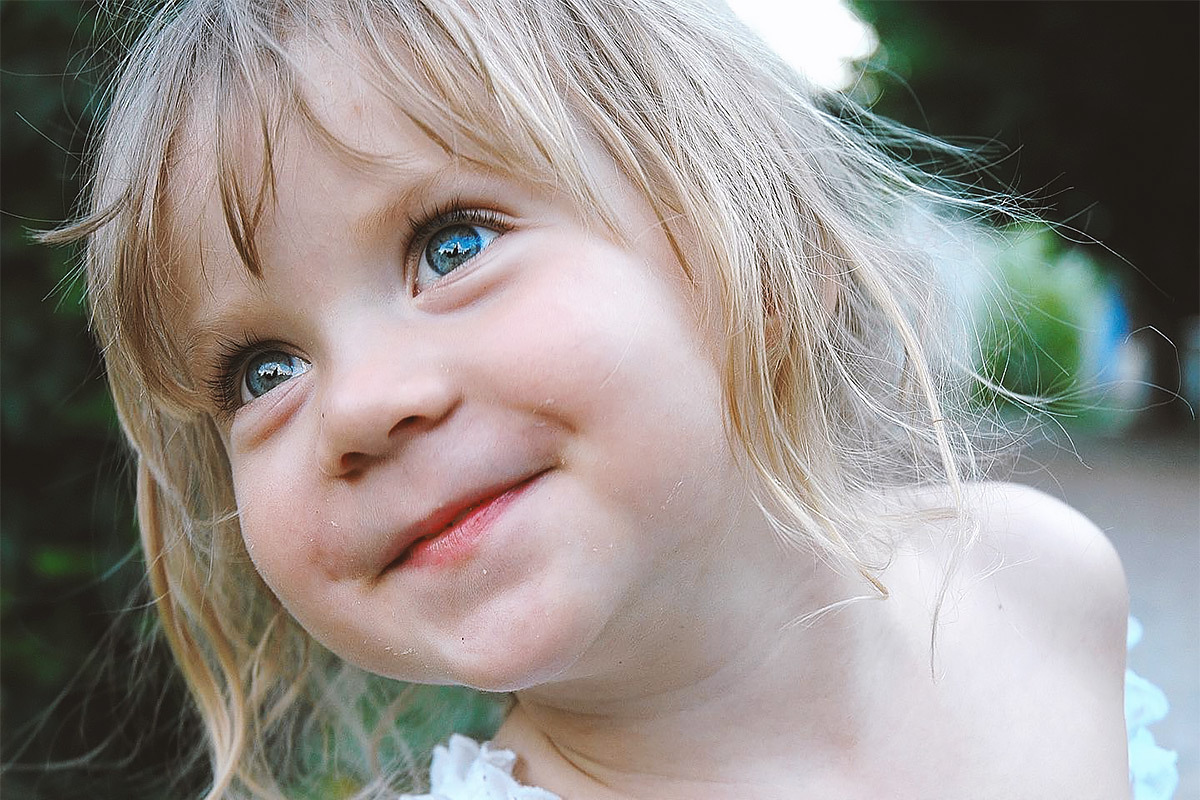 Greta Thunberg
Who is Greta Thunberg?
In 2003, Thunberg was born in Stockholm, Sweden. By the age of eight, she learned the term "climate change" for the first time, and subsequently, started to understand the impact that some of the world's biggest industries have on the planet. The information had such an effect on her, she stopped talking and eating. In recent years, Thunberg has put this powerful reaction, and indeed, much of her activism, down to her Asperger's diagnosis.
In a 2020 interview with the Observer, she said: "People like me – who have Asperger's syndrome and autism, who don't follow social codes – we are not stuck in this social game of avoiding important issues. We dare to ask difficult questions. It helps us see through the static while everyone else seems to be content to role-play."
Seven years after Thunberg first learned about climate change, in 2018, the UN's Climate Change Annual Report warned that the window to keep global warming to 1.5°C was rapidly closing. And since then, reports have warned that unless major industries (like fuel, agriculture, and fashion) and governments limit emissions, the consequences—which include extreme weather events like drought and wildfires becoming more common—will be catastrophic and irreversible.
But Thunberg knows not enough is being done to stop this from happening. So in 2018, she began skipping school to sit outside the Swedish Parliament and protest climate change inaction. And over time, with the help of social media, this activism gained her global recognition. She's popular with people of all ages, but her voice has resonated with young people, in particular.
Fridays for Future
In 2018, after Thunberg's social media posts about her protests started to go viral, thousands of young people wanted to join her activism. Just two months after that first sit-in, she was joined by 20,000 students, who held similar strikes around the world. They used the hashtag #FridaysforFuture, and this eventually led to the creation of a youth-led international grassroots climate movement under the same name.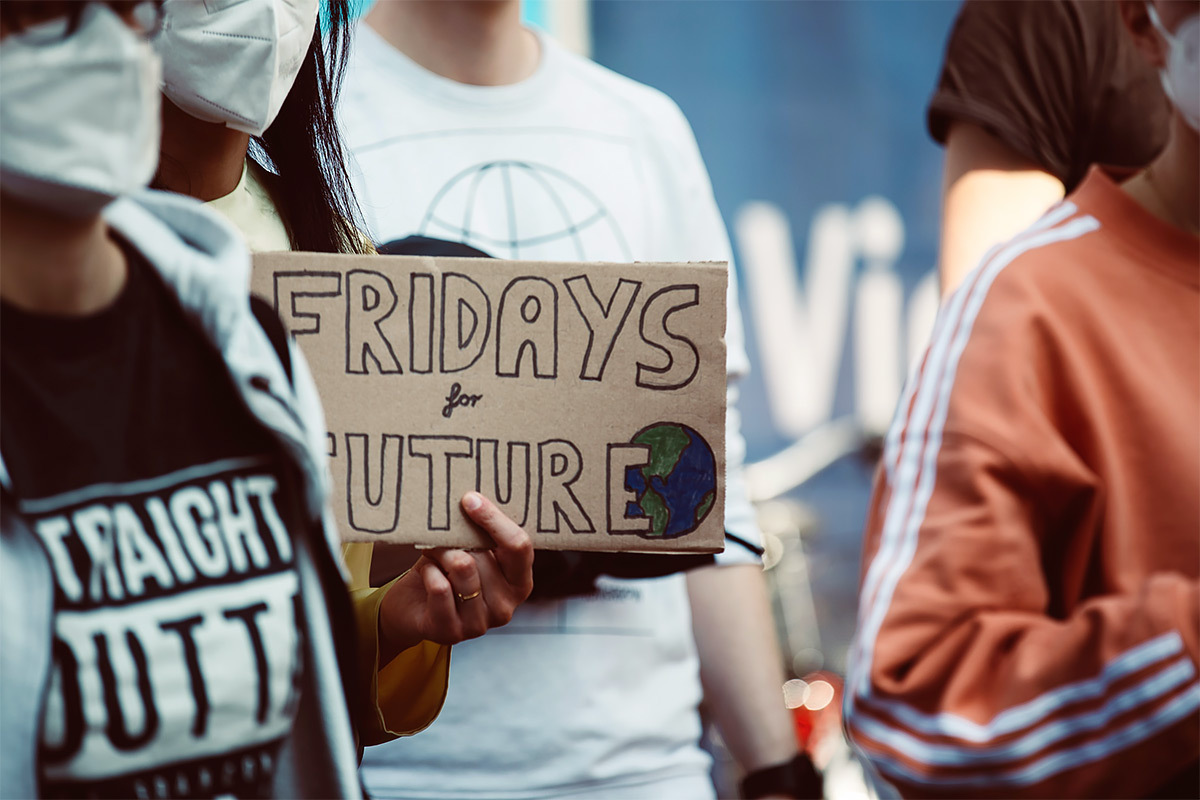 Markus Spiske/Unsplash
Since then, Fridays For Future has grown exponentially. It has spread to every single continent, and more than 14,000,000 young people have been involved in its climate action. Its goal, according to the movement, is to "put moral pressure on policymakers, to make them listen to the scientists, and then to take forceful action to limit global warming."
Now, the movement's website is a pool of resources for young people who want to strike, with information on when events are happening, guides on how to protest, advice on how to communicate while striking, printable resources, and even tutorials on the specific Fridays For Future protest chants. It also uses its social media platform to platform important issues, activists, and organizers from all over the world.
Greta Thunberg climate work
Thunberg herself is also still striking for the climate. At the time of writing, she had just posted about "Climate strike week 224" outside Parliament House in Stockholm, with, of course, the hashtag #FridaysForFuture, alongside #ClimateStrike and #PeopleNotProfit, another widely used protest hashtag.
Protesting is, without a doubt, the biggest part of Thunberg's climate work. But she has also written books, including "The Climate Book," which was released in October 2022. With the help of more than 100 scientists and experts in the climate field, it aims to inspire readers to take more action for the planet.
And as well as writing, protesting, and filing lawsuits, Thunberg is still regularly giving speeches and interviews, where she persistently calls out governmental inaction.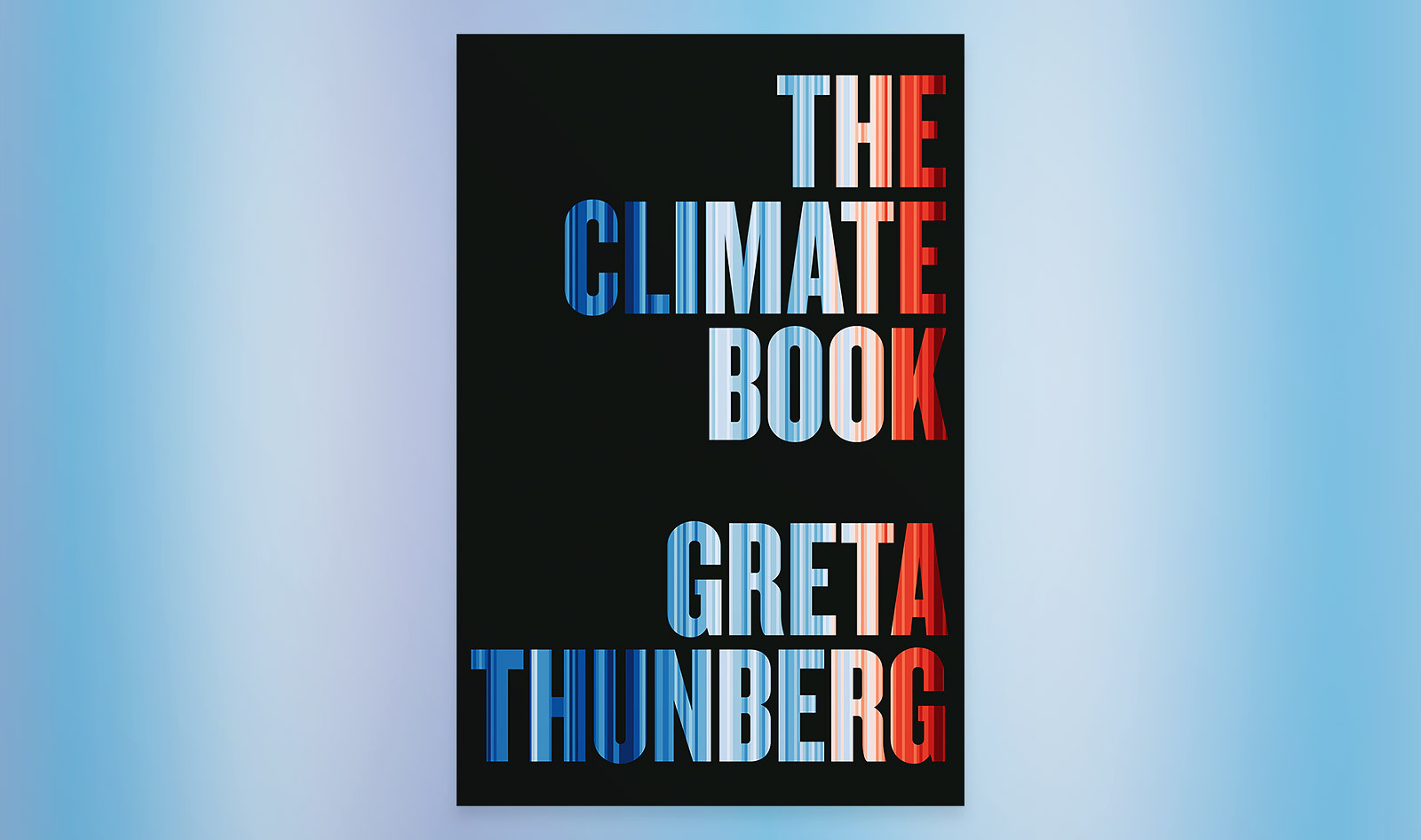 Penguin Random House
Just recently, she appeared at London's Southbank Center Literature Festival to promote her book launch. There, she said to the audience: "The climate crisis is a ticking clock that is rapidly approaching the countdown's end." With reference to young activists, she added: "We are still here, and we are not planning on going anywhere. Young people all over the world are stepping up, showing that our leaders messed with the wrong generation."
It's also important to note that Thunberg is now so famous and respected that the things she doesn't do are also influential. Just recently, she refused to attend COP27, the 2022 United Nations Climate Change Conference, in Egypt after she accused the summit of "greenwashing." After being questioned on her decision, she said: "The COPS are mainly used as an opportunity for leaders and people in power to get attention, using many different kinds of greenwashing."
Why Greta Thunberg is vegan
Thunberg's environmentalism runs through the heart of every decision she makes. In 2019, after she was invited to speak at the UN Climate Action Summit in New York City, she famously sailed across the Atlantic ocean in a yacht, in a bid to avoid any aviation emissions. She also pays close attention to what she eats, which is always vegan food.
Around the world, animal agriculture is destroying the environment. It's a leading driver of deforestation, and emits 14.5 percent of annual greenhouse gas emissions, among other environmental issues. In 2018, the biggest-ever food production analysis, conducted by the University of Oxford, concluded that going vegan is the single-biggest way a person can reduce their impact on the environment.
Because of this, Thunberg has been vegan for many years. But the young environmentalist is also a huge animal lover. Last year, she teamed up with the animal rights organization Mercy For Animals to release a video encouraging more people to take up a plant-based diet. In the clip, she talks about the pandemic risk of factory farming and the environmental impact of the industry, but also, the welfare of animals.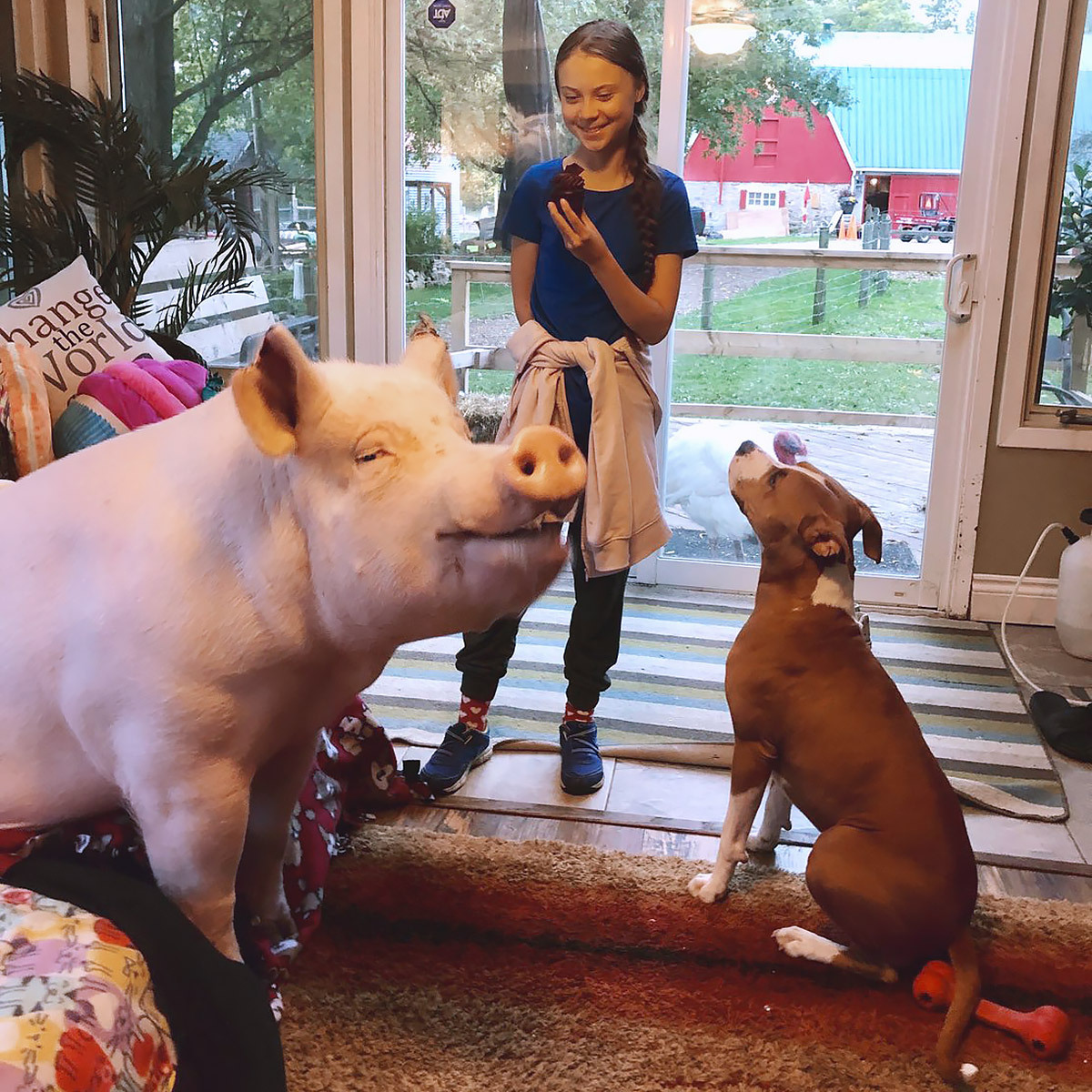 Greta Thunberg
"Every year we kill more than 60 billion animals, excluding fish, whose numbers are so great that we only measure their lives by weight," she says. "What about their thoughts and feelings? Some animals plan for the future and forge friendships that last for decades. They play, they help each other, they show signs of what we call empathy. But 70 percent of the animals we farm live inside factories … their lives are short and terrible."
"It is heartbreaking to know all this," she adds. But it is also our opportunity. We know what we can do. We can change the way we farm. We can change what we eat. We can change how we treat nature."