Want to know where to eat in New York City? Rebecca D. of @veganbodegacat can show you. Her Instagram and TikTok feeds offer hours of glorious, need-this-now scrolling of NYC's best vegan food finds. Whether you're visiting the city or a local looking to branch out, Rebecca has something you're sure to find enticing.
"I always get so honored when people send me pictures eating at places I recommended. I see my role as a facilitator. Let me show you the good spots," Rebecca said.
We sat down with her to learn more about what a day in the life looks like as a content creator, influencer, and entrepreneur.
But first, breakfast
Rebecca's days can look very different depending on what she has on her plate (pun intended). Between visiting restaurants and shooting content, Rebecca also helps run her family's ethical jewelry business in Brooklyn, NY. She calls her time at RIVA NY "factory days." During these days, it's all business. She'll shower, "do what [she] needs to do to look presentable," grab a coffee and a prepped cheesy vegan egg bite (her favorite breakfast as of late), and be at the store by 8am. When she's at RIVA, her day is fairly standard and consists of the usual responsibilities of running a business: fulfilling orders, checking off to-do lists, and attending Zoom meetings.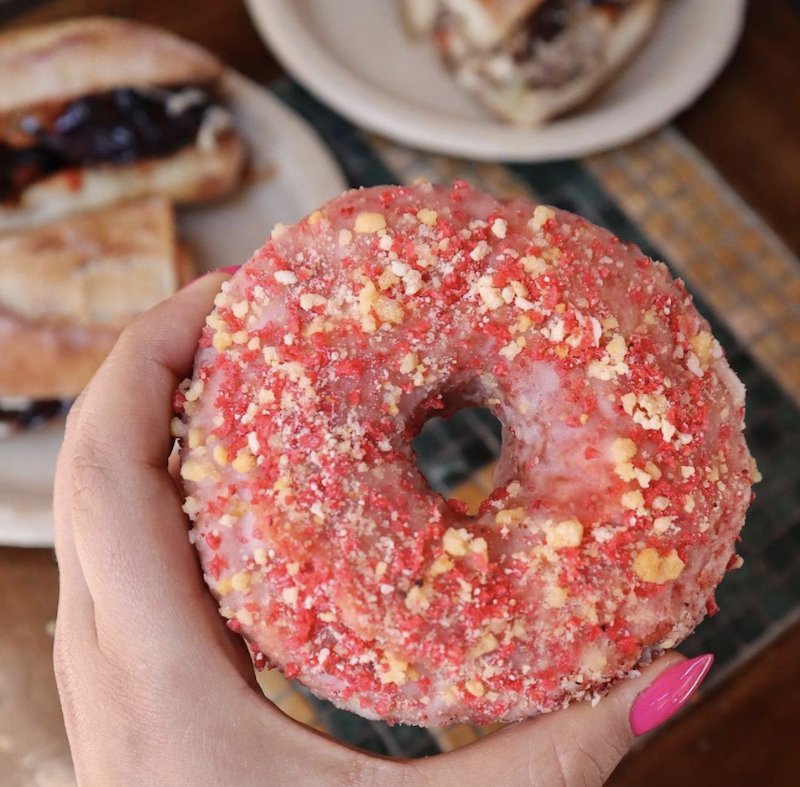 Rebecca D.
On days when she's not at RIVA, Rebecca typically has a restaurant shoot scheduled, but not until noon. Given the extra time, she'll "do [her] hair and make-up nicer than most days" and sit down to a full breakfast.
"Breakfast is very important on shoot days because I don't want to find myself in a position where I'm rushing a shoot just so I can eat the food!" Rebecca joked.
The restaurant shoot typically takes an hour or two of her time, after which she'll finally sit down to enjoy the meal and take leftovers to go. While in the city, she'll run any necessary errands and grab a coffee for the train ride home. She'll continue her work, edit the day's content, and sometimes squeeze in a taste test or two if she can beat the sunset.
Workout wind down
Regardless of a factory day or shoot day, Rebecca is often working on her Vegan Bodega Cat account from 3-7pm. "I'm a bit of a workaholic, and I don't do much more than that," she stated.
To allow herself a much-needed work break, she'll hit the gym around 7:30pm and work out for around 90 minutes. "[Working out] is my one way of taking time away from work. And while 8-10pm seems late to work out, it's how my brain relaxes before bed," Rebecca explained.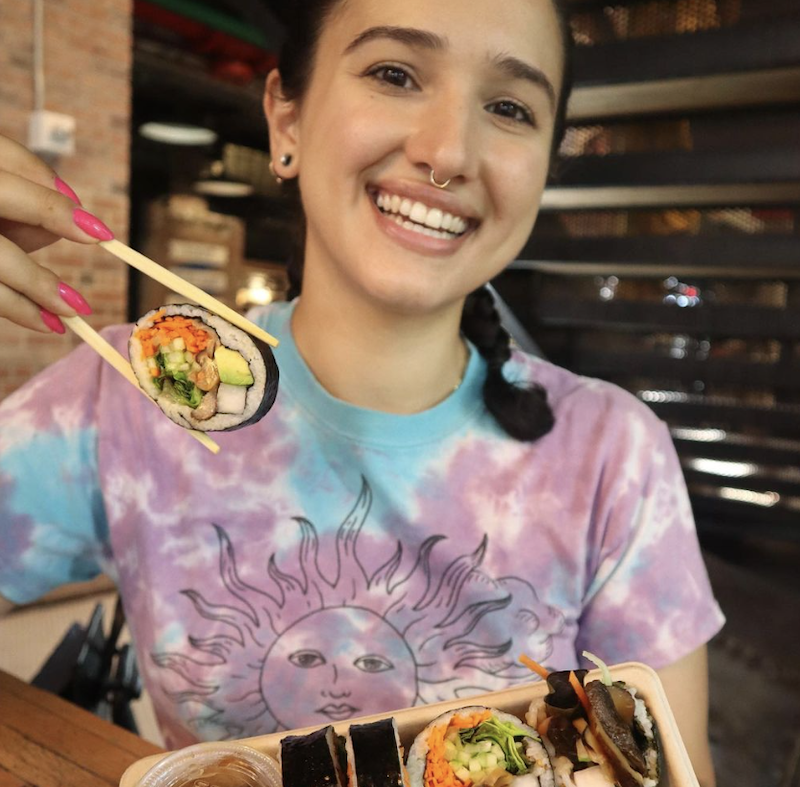 Rebecca D.
Exercise has been a constant in her life; it was also the nexus that led her down the vegan journey.
"Around eight years ago, I was very into the gym and taking a second look at what I was eating day to day. I noticed that I recovered a lot faster and felt a lot better when I wasn't eating meat, so I slowly became a vegetarian. A few months later, I watched a video about the egg and dairy industry that turned me off of consuming those products as well. I remember just kind of realizing that I was vegan one day. It didn't happen on purpose, but I've never gone back," she told us.
Post-gym, it's time to make dinner (or enjoy leftovers from the day's shoot) and call it a night.
Vegan Bodega Cat favorites
What's good in NYC? Rebecca has dined in establishments that range from the iconic Eleven Madison Park to humble slice shops. Recently, she told us she's into Spring Cafe. "They're not fancy but incredibly practical, affordable, and delicious. The lunch special's bento box has a protein, rice, pickled veg, broccoli salad, curried tofu, and soup for like $11. Amazing!" she raved.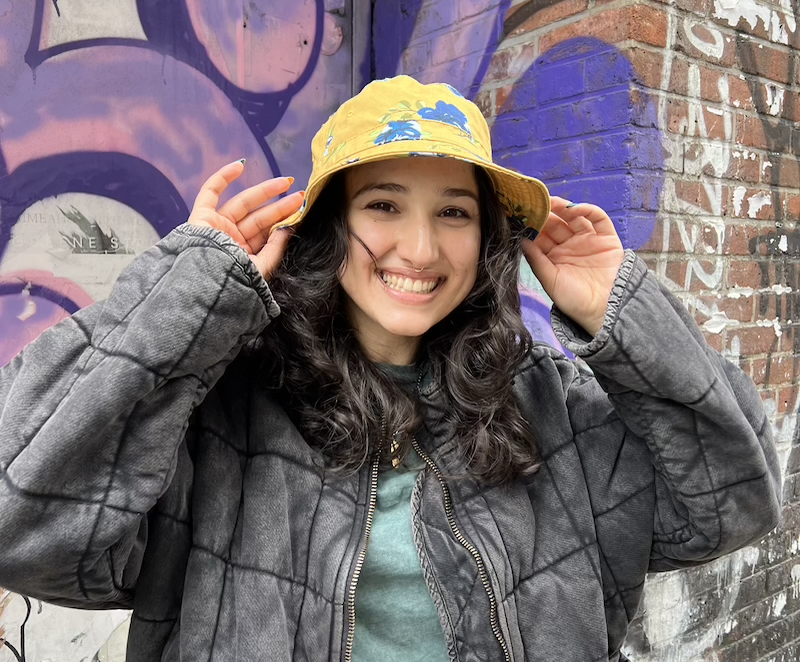 Rebecca D.
At home, Rebecca makes her tofu or chickpea flour-based egg bites on the regular for savory and satisfying breakfasts on her busiest of days. Batch cooking helps her stay on schedule and eat well for all of her meals—give her a dish that's packed with vegetables and protein she can heat up later, and she's happy. Whether that's a tossed together Buddha bowl with tofu or adding vegan protein and extra veggies to Trader Joe's frozen fried rice, convenience and nutrients are key.
For the latest vegan NYC finds, follow Rebecca @veganbodegacat on Instagram or TikTok.
For more vegan interviews, read: