When most of us see calamari on a restaurant menu, it's unlikely we think of the sea creature it was made from. But the clue is actually right there in the name—in Italian, calamari directly translates to squid. In fact, every year, more than 2 million tons of squid and its cephalopod cousin, the cuttlefish, are caught from their ocean habitat, and many of the former will end up as the crispy, fried ring-shaped appetizer popular in the US.
But, luckily, it is possible to enjoy all the flavor and texture of calamari without harming any sea creatures. From mushrooms to hearts of palm, there are many plant-based ingredients that can effectively mimic this highly sought-after seafood dish. Here's everything you need to know about vegan calamari, from the best brands to buy to the best recipes to try from home.
What is calamari?
As mentioned above, calamari is squid. In the Mediterranean, it can be served in a number of different ways, including stuffed, stewed, roasted, and fried. But in the US, it's the latter, known in Italian as calamari fritti, that you'll find all over restaurant menus. These crispy pieces of squid are usually sold in rings, which are sliced from the body of the squid (not the tentacles, that's a common misconception), and then coated in flour and fried or battered.
What is vegan calamari made of?
Just like regular calamari, vegan calamari is usually battered or breaded. But instead of squid, the inside is usually made with ingredients like mushrooms, soy curls, tofu, or hearts of palm. And again, just like the seafood classic, you can enjoy vegan calamari with a squeeze of fresh lemon, a side of vegan garlic aioli, or even just a simple dollop of ketchup.
It's possible to make vegan calamari from home (and you'll find a few recipe ideas further down!), but you can also buy pre-prepared options from the store, too. The vegan calamari market is still in its infancy, but, as the alternative seafood industry grows, it's guaranteed that more variations of this popular appetizer will emerge. But until then, here are some of our favorite brands on the market right now.
Vegan calamari brands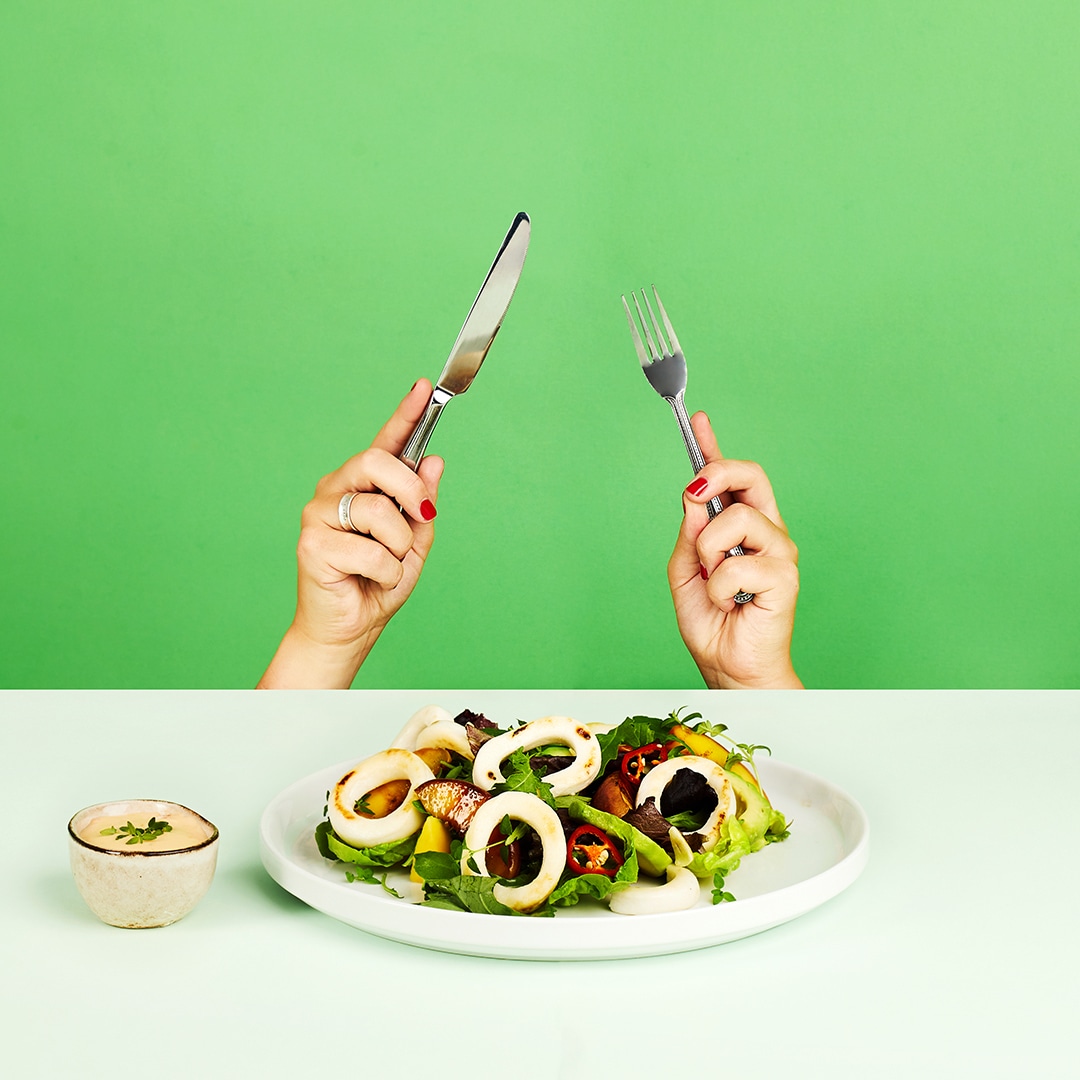 Happiee!
1 Happiee!
Singapore-based Happiee! specializes in sustainable, plant-based seafood products. Right now, it has two vegan squid options: Calamariee, which features a crispy breadcrumb coating and is made with tapioca starch and konjac (a root vegetable native to Asia), and Squidiee Rings. The latter, also made with tapioca and konjac, has a much softer texture and no crispy exterior.
Check it out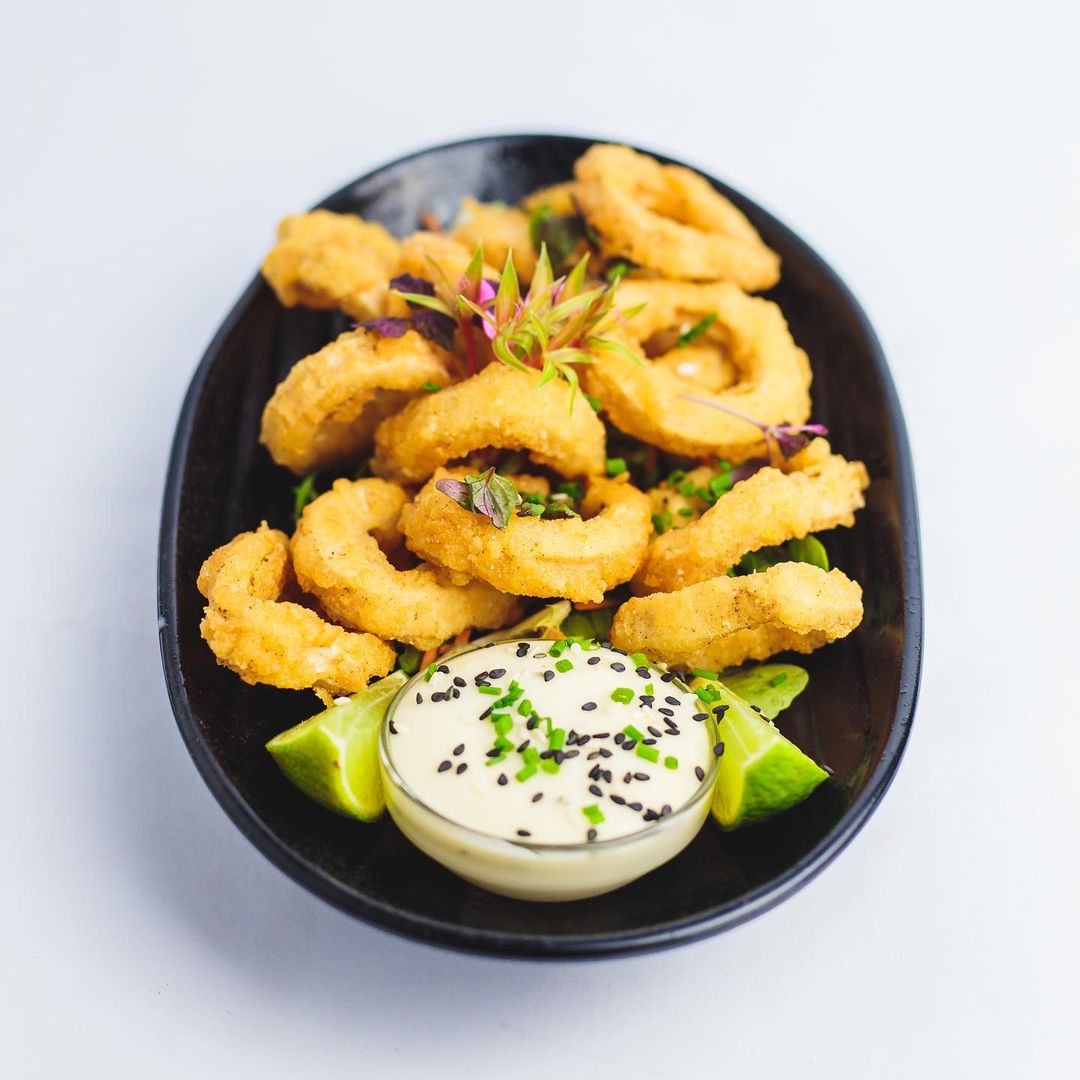 Vegan Zeastar


2 Vegan Zeastar
Vegan Zeastar is on a mission to revolutionize the seafood sector with plant-based ingredients. Most of its products are designed to mimic raw fish (like the No Salmon Sashimi, for example), but it also offers products like the Kalamariz, "a crunchy plant-based [calamari] as firm and chewy as the real thing."
Check it out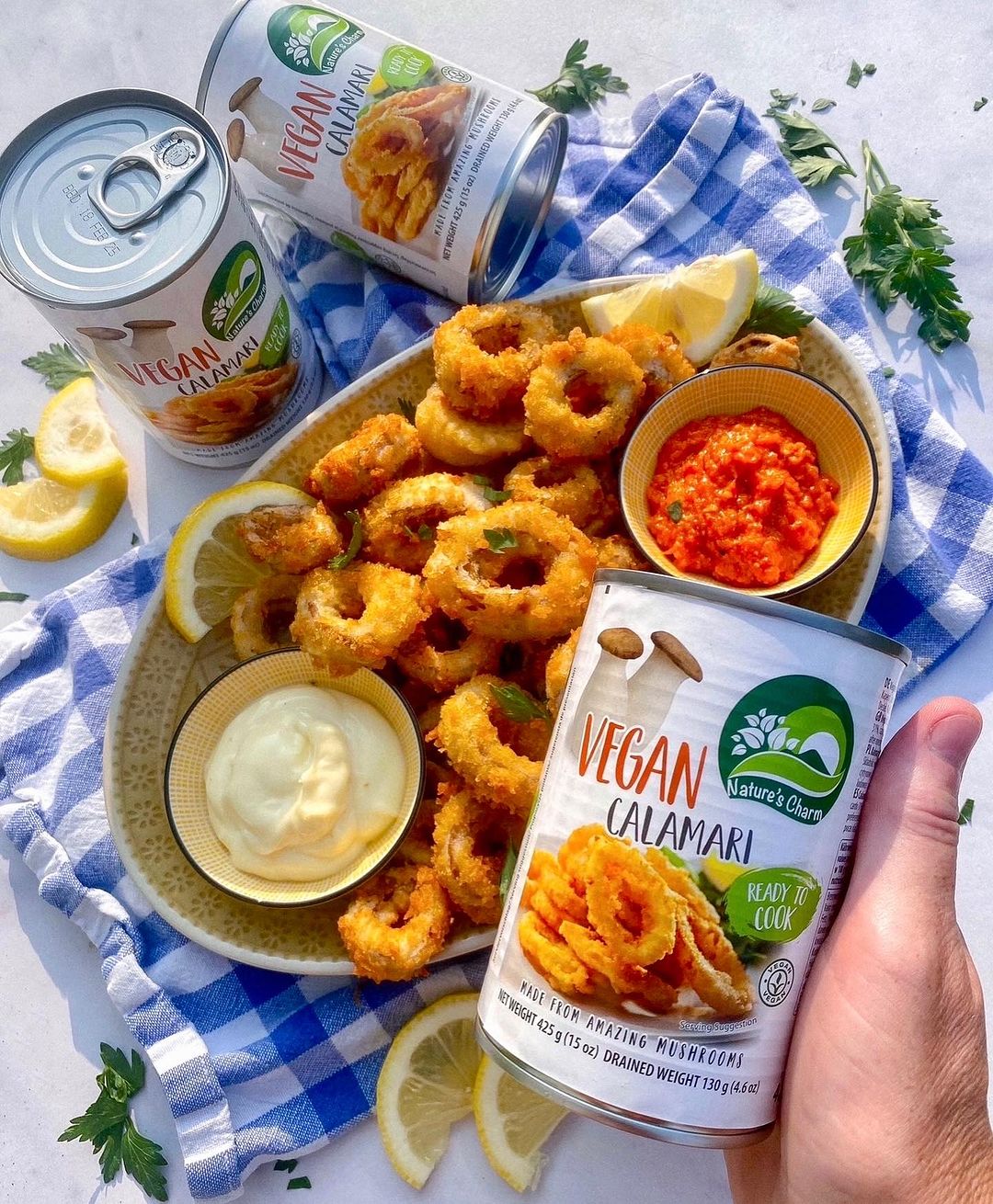 Nature's Charm
3 Nature's Charm
Nature's Charm started out as a coconut milk company, but the Thai company has expanded into many different delicious vegan products, including natural meat substitutes. Its Vegan Calamari is ready for battering, baking, grilling, or steaming, and it is made with a mixture of mushrooms, capers, and seaweed.
Check it out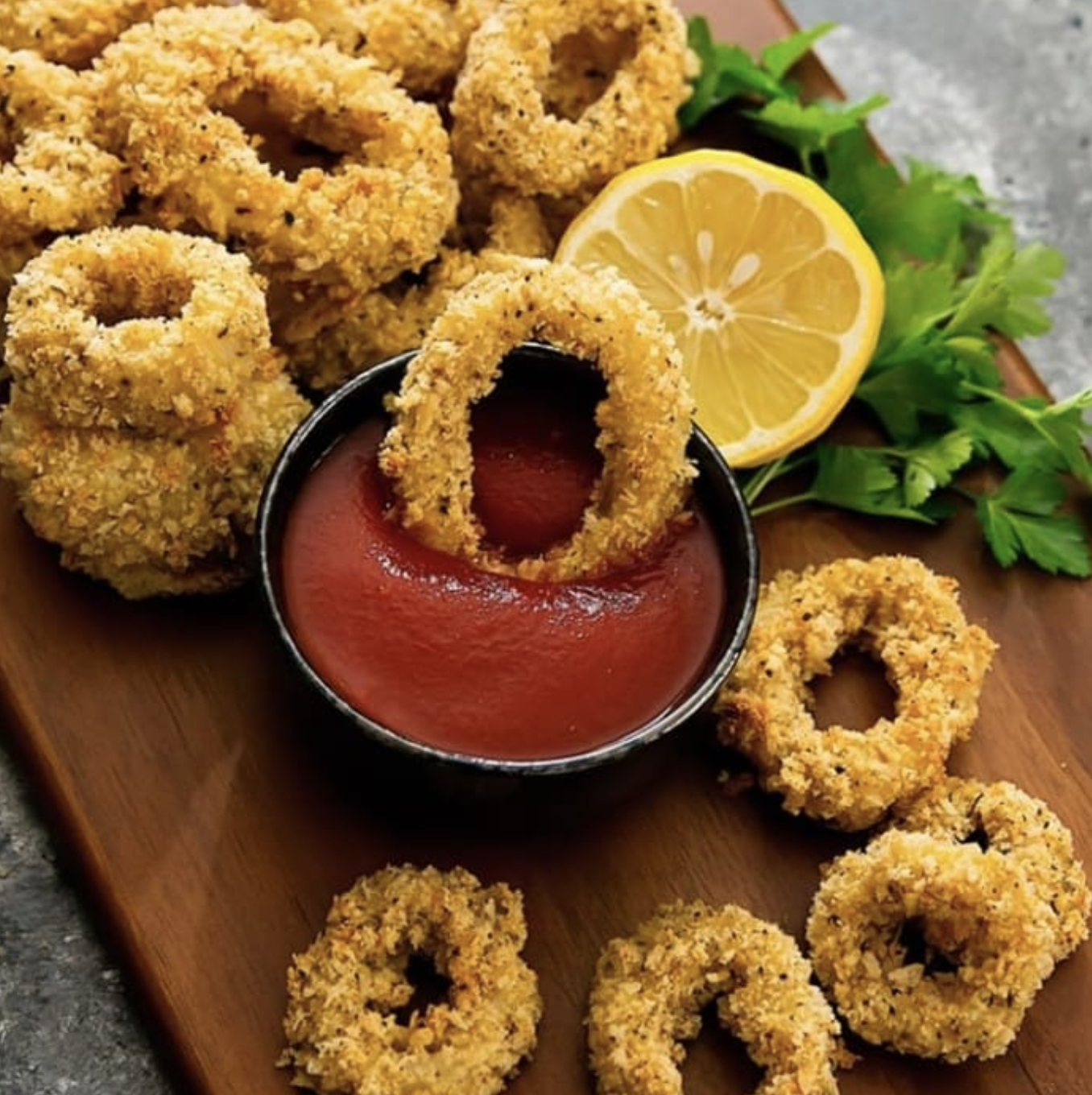 Lily's Vegan Pantry
4 Lily's Vegan Pantry
If you crave it, Lily's Vegan Pantry will likely offer you the vegan version. From teriyaki beef to smoked ham to, you guessed it, calamari, this New York-based vegetarian market has the plant-based answer to pretty much everything. Its Vegan Fried Squid Rings are made with a mixture of soy protein and seaweed.
Get it here
How to make vegan calamari: 5 recipes to try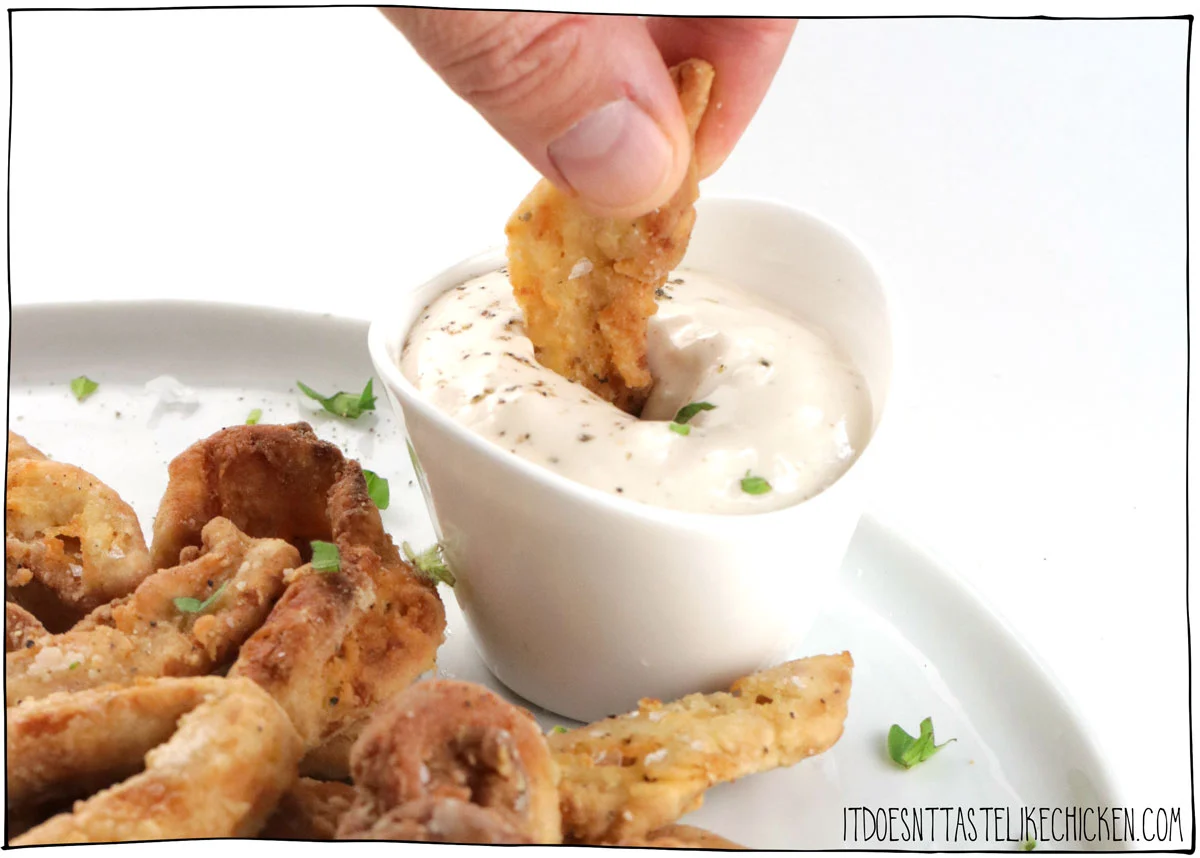 It Doesn't Taste Like Chicken
1 Vegan calamari with soy curls
Made with boiled and dehydrated soybeans, soy curls are one of the most affordable and versatile vegan meat alternatives on the market. In this alternative calamari recipe, they are marinated, covered in flour, and pan-fried, which results in the perfect crispy alternative to squid. Serve hot, garnish with cilantro, and make sure you have plenty of dipping sauce.
Get the recipe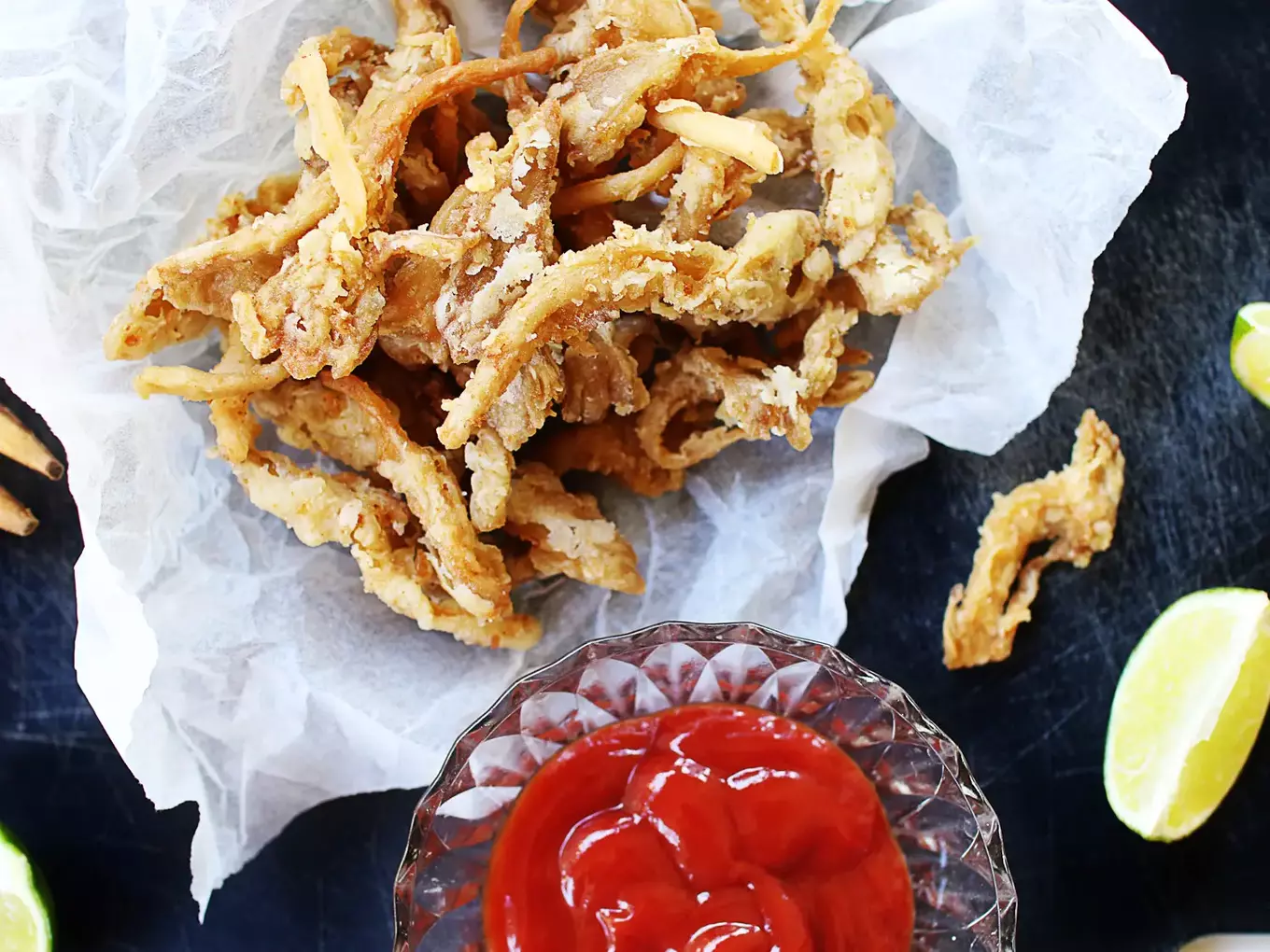 K33 Kitchen
2 Vegan calamari with oyster mushrooms
When it comes to mimicking the taste and texture of seafood, don't sleep on oyster mushrooms. These large, fleshy mushrooms are the perfect swap for squid, as they're deliciously savory, firm, and meaty, with just the right amount of chewiness.
Get the recipe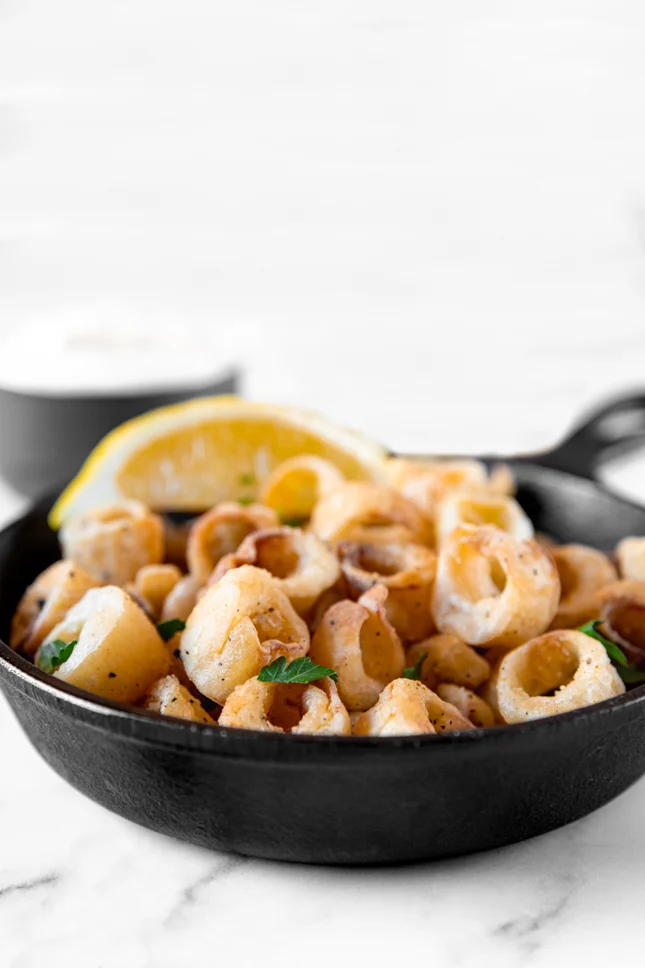 Simple Vegan Blog
3 Vegan calamari with hearts of palm
Another incredibly versatile plant-based ingredient, hearts of palm, which comes from the tender inner core of palm trees, has a mild taste and a firm, flaky texture, making it the perfect vegan squid option. In this recipe, it's combined with ingredients like nori flakes, flour, and garlic powder to create a delicious vegan calamari dish in just 20 minutes.
Get the recipe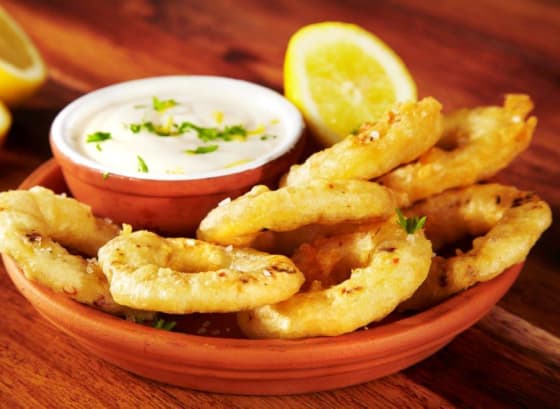 Cauldron Foods
4 Vegan calamari with tofu
Tofu is the OG of vegan meat options, so it's no surprise that it works beautifully in plant-based calamari. In this recipe, it's cut into rings with cookie cutters, before it's battered, fried, and served with creamy vegan garlic aioli.
Get the recipe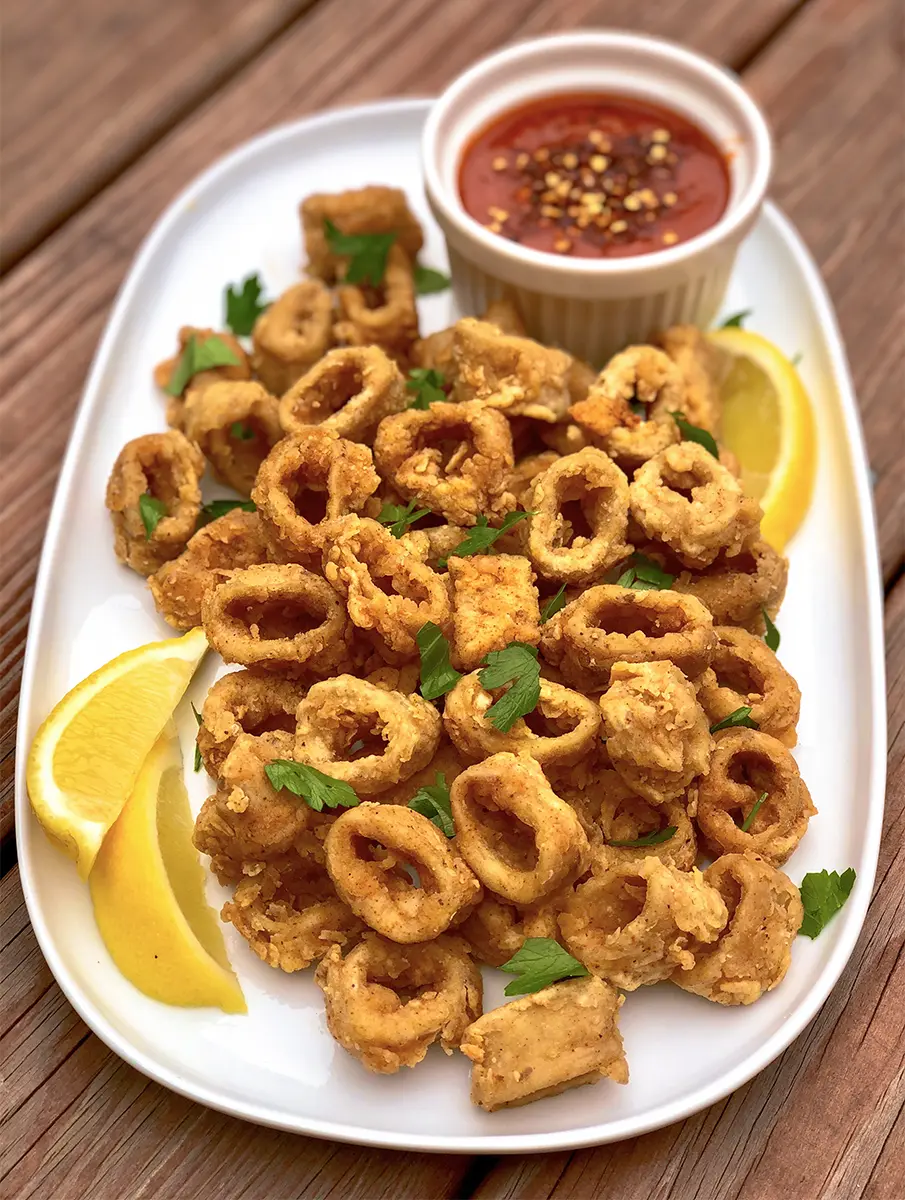 Seitan Society
5 Vegan calamari with seitan
This recipe is a little more fiddly than some of the other options on this list, as it involves wrapping the seitan around food-safe silicone tubing but trust us, the results are worth it. According to the recipe platform Seitan Society, it's "perfectly crispy with just the right amount of chew."
Get the recipe
For more on vegan seafood, read: