Hungry vegans and omnivores alike are flocking to Minneapolis, MN's first fully vegan bar which opened last week. Francis boasts a plant-based menu and craft cocktails developed in partnership with Earl Giles, a distillery also based in Minneapolis.
The bar program, described as "light-hearted" and "playful," pays homage to Francis' location in Northeast Minneapolis. On offer are 11 house cocktails—including the Bitter & Bubbles, the bar's take on a classic Negroni Sbagliato—alongside 13 beers, ciders, spirits, locally brewed Squoze Seltzer, and wine. For those abstaining from alcohol, Francis also offers a variety of non-alcoholic drinks such as alcohol-free beer, Hop Water by Minneapolis-based Fair State Shop, and small batch kombucha by local favorite Northstar Kombucha.
For co-owner Lindsey Johnston, operating the city's first vegan bar feels unreal. "Being the only fully vegan bar in the state feels awesome," Johnston told VegNews.
"A lot of people don't realize that some of the coloring, sweeteners, or fining agents in their alcohol aren't vegan. We have a super fun cocktail program with creative takes on classics—it's thoughtful, but doesn't take itself too seriously."
Open until 10pm Sunday through Thursday and until midnight on Friday and Saturday, Francis hopes to solidify its status as a neighborhood bar where locals looking for drinks and food can gather after work.
Until now, late-night bites and drinks weren't always a viable option for the plant-based crowd in northeastern Minneapolis—a problem Brendan Viele and Garrett Born, Francis' other co-owners, are all too familiar with.
Francis' all-vegan menu
Customers can order a variety of plant-based comfort foods to enjoy alongside their drinks. The food menu features a bevy of vegan burgers made using Impossible Foods patties such as the Baconator (two or more patties layered with cheese, housemade seitan bacon, and the kitchen's signature Francy sauce on a brioche bun); the Francis Burger (a classic burger with lettuce, tomato, onion, pickles, and pub sauce); and the Juicy Lucy (a classic burger featuring a cheese-stuffed patty.)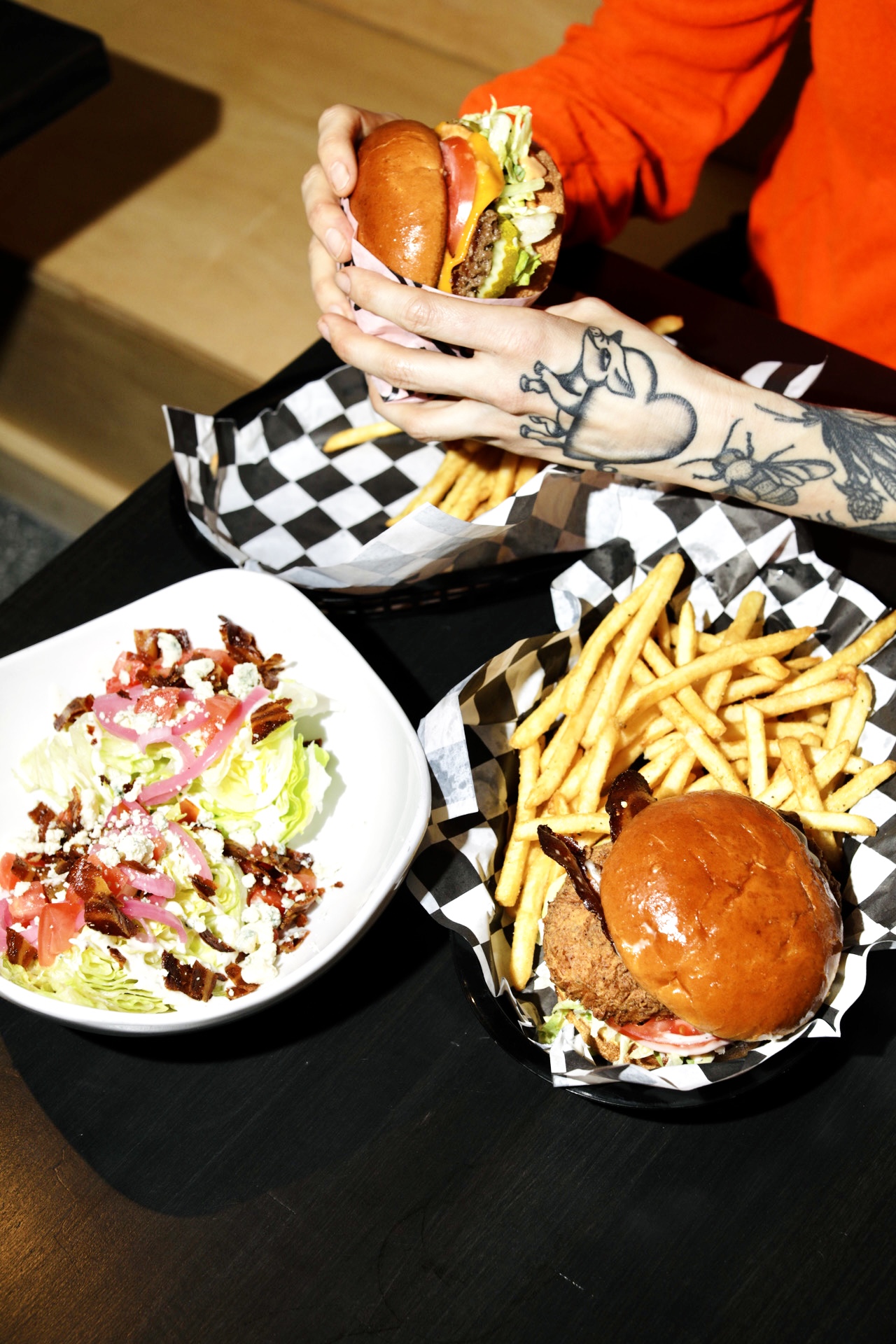 Garrett Born
For those who prefer an old-school veggie burger, the Garlic Girl (made with a black bean patty, cheese, housemade bacon, berbere aioli, lettuce, and pickled onions) offers a sense of nostalgia. Vegan chicken sandwiches and nuggets, loaded french fries, and kids' meals are also up for grabs.
The making of Francis
Although Francis held its grand opening just last week, its roots in Minneapolis trace back to 2021. Early that same year, longtime friends and restaurant industry veterans Viele and Born first began conceptualizing the concept for Francis. The two restaurant industry professionals had done nearly everything in the hospitality industry—except own their own restaurant.
"[Viele and Born] were doing informational interviews with some local vegan business owners and managers," Johnston shares. "I was the general manager at one of the restaurants, and when I decided to leave there, I reached out to them to see if they wanted any help."
Johnston initially came on board as a consultant, but soon after meeting Viele and Born, the trio quickly decided this was a venture they wanted to take on together as partners.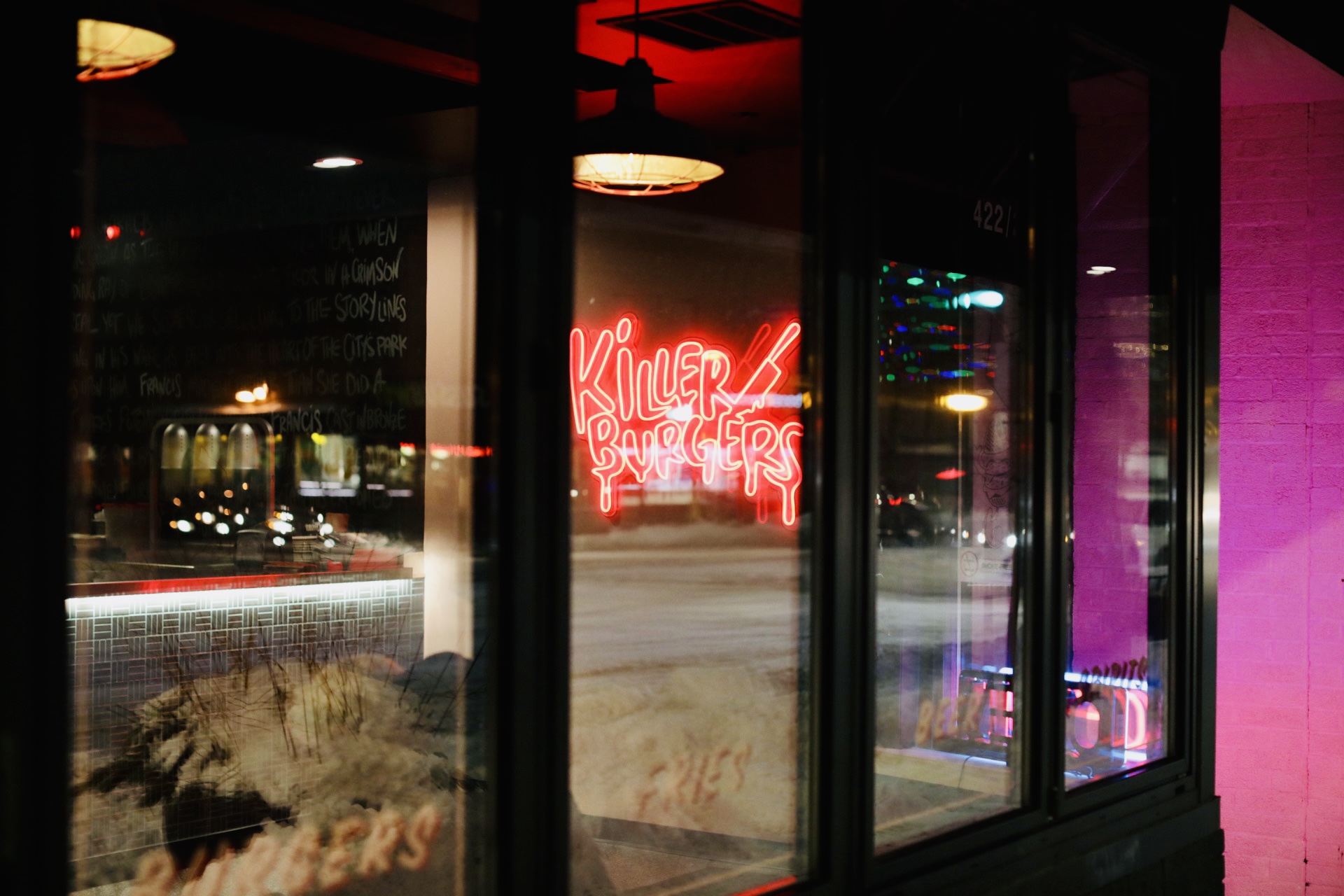 Garrett Born
"Collectively, we have over 50 years of service industry experience," Johnston says. "We have really complementary strengths, and doing something like this with three people makes things more manageable and fun."
Francis first launched as a mobile kitchen, and in September 2021, it took up residency at local brewery Sociable Cider Werks.
Four months later, in January 2022, the trio was approached with a dream opportunity. Local restaurant owners came by the mobile kitchen with a space they believed the Francis co-owners would be interested in. A year later, on opening day, Francis boasted a packed bar and dining room.
"We've seen many familiar faces and a lot of new faces from the neighborhood," Johnston says. "When we were working out of the mobile kitchen at Sociable Cider Werks last year, we were mostly feeding omnivores, and we have been very happy to get a lot of non-vegan/vegetarian customers who have had a really great response to the food. But, obviously we couldn't do it without our loyal veg customers."
But who's Francis?
For Francis' co-owners—two of whom are vegan (Born is a longtime vegetarian)—the best way to expose people to veganism is through food. And while they aim to be seen as a neighborhood restaurant and bar first and vegan establishment second, Francis' dedication to the principles of veganism is evident in its name.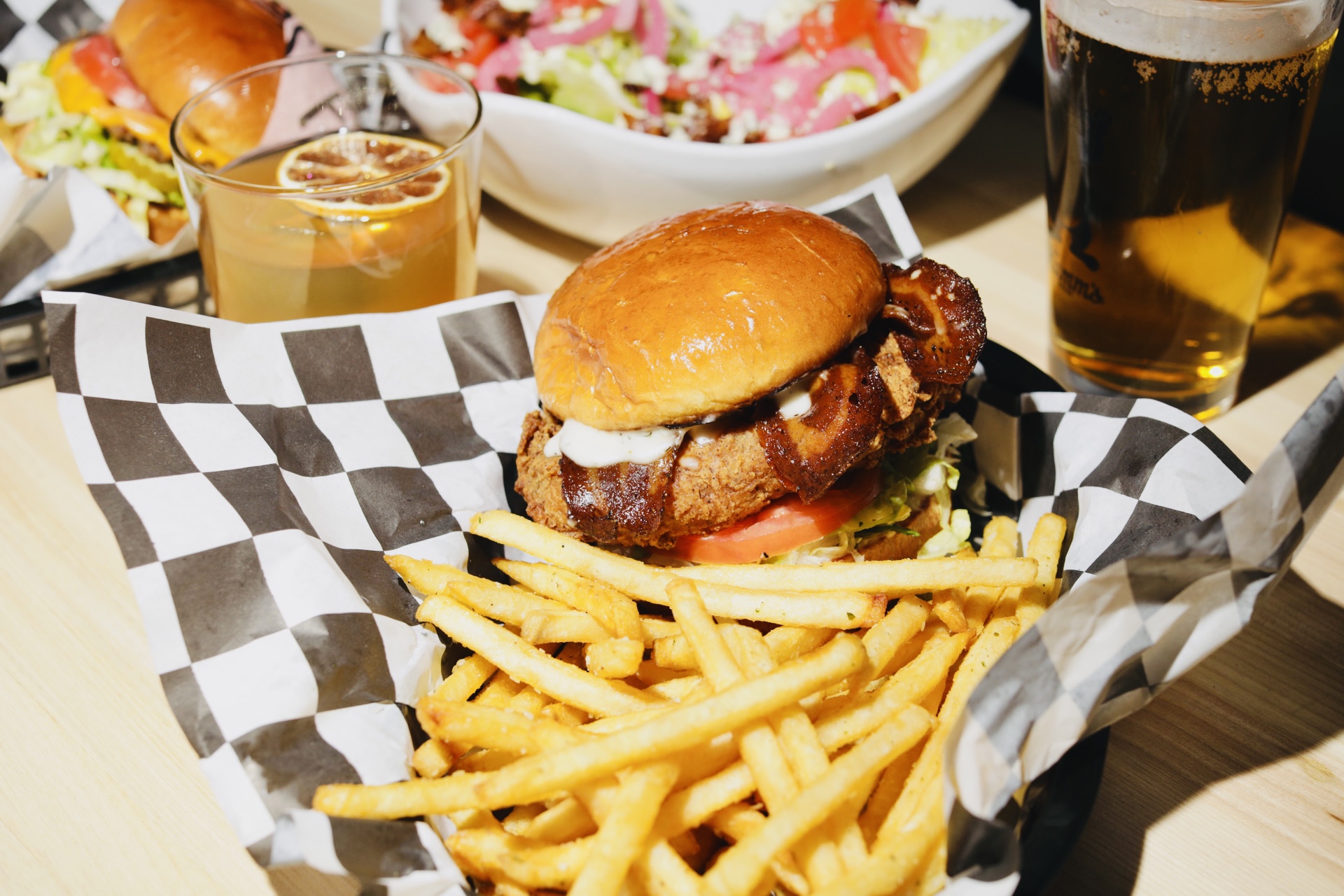 Garrett Born
Francis was named after a pig who, in 1990, escaped from a slaughterhouse in Red Deer, Canada and has since become a local hero. Francis the pig's story was later immortalized via song thanks to Propagandhi, Viele and Born's favorite band. And now, Francis the restaurant and bar continues the legacy.
For the latest vegan news, read: