Americans may love a health trend, but that hasn't stifled their love for these foil-wrapped toaster pastries. Pop-Tart sales have continued to grow steadily since the 1980s, selling over 2 billion Pop-Tarts a year.
Like any child, teen, or adult, we also love a glazed, flaky crust filled with jam. Straight from the foil, toaster, or freezer (try it), a Pop-Tart is good no matter how you eat it. Vegan Pop-Tarts thankfully do exist, but in limited flavors. Outside of the supermarket, we're seeing recipes for plant-based toaster pastries in cookbooks and buying them by the dozen at our favorite vegan bakeries. From Pop-Tarts' inception to recipes you can bake at home, here is everything you need to know about Pop-Tarts and their mouthwatering variations.
What are Pop-Tarts?
What mainstream culture refers to as Pop-Tarts is actually a generalized term for toaster pastries. The popularity of these treats was driven by the brand—like Kleenex is to tissues and Ziplok is to plastic storage bags, Pop-Tarts is what most people call a thin, portable hand pie often with a sugary glaze.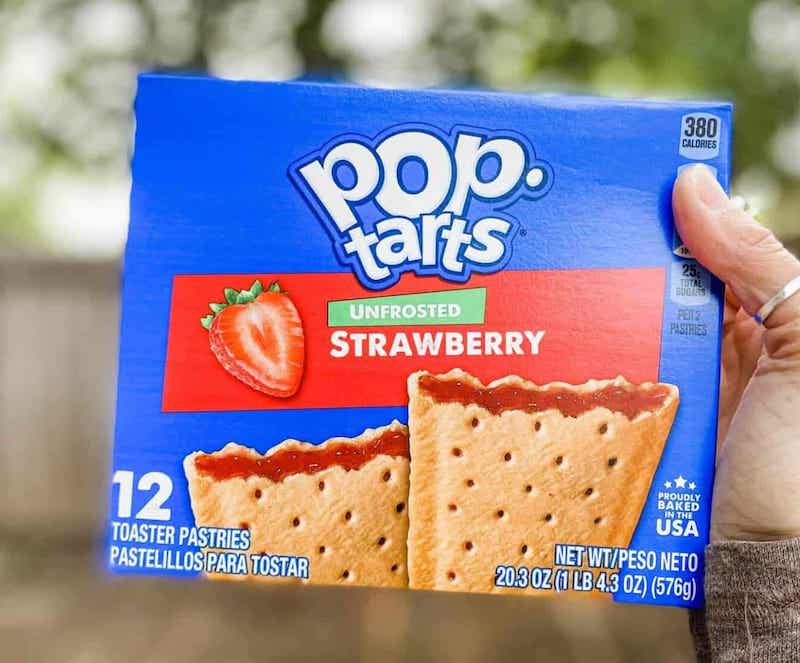 World of Vegan
Pop-Tarts date back to 1964 when Bill Post developed it for Kellogg. The goal was to create a new, shelf-stable, convenient breakfast food that resembled toast and jam. The first advertisements even called out "made with Smucker's pure fruit preserves" to combine a sense of wholesomeness with the convenience craze of the 1960s. The original Pop-Tarts featured a thin, flour-based pastry, filled with fruit preserves, and marked by a long diagonal indent. Advertisements encouraged customers to pop their pastry into a toaster then break in two along the diagonal line.
The original four flavors were unfrosted and filled with Apple Currant Jelly, Strawberry, Blueberry, and Brown Sugar-Cinnamon. Additional frosted flavors debuted in 1967 with Dutch-Apple, Concord Grape, Raspberry, and a glazed Brown Sugar Cinnamon. The icing was introduced as a way to keep the pastries cool to the touch after popping out of the toaster. Today, Kellogg has created more than 30 flavors of Pop-Tarts, though Strawberry and Brown Sugar Cinnamon remain the most popular.
Today, major brands and independent bakeries are whipping up their own version of these retro snacks. Keep reading for our favorite vegan varieties.
Are Pop-Tarts vegan?
The vast majority of name-brand Pop-Tarts are not vegan due to one detail: the icing. There are no eggs or dairy in the pastry or the filling (with some exceptions like the Frosted Chocolate Fudge, Frosted Chocolate Chip, and Frosted Cookies & Creme), but the icing contains gelatin, making most PopTarts unsuitable not only for vegans but vegetarians as well.
The three surviving unfrosted flavors—Blueberry, Brown Sugar Cinnamon, and Strawberry—are animal-free and suitable for vegans.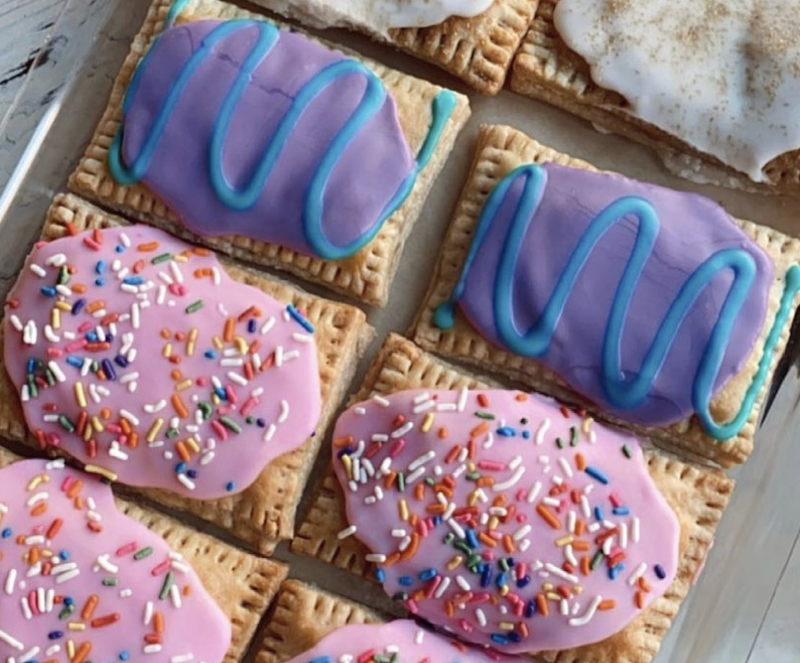 Moon Child Vegan Cakes
In regards to store-bought non-Kellogg's toaster pastries, the pickings are slim. Bobo's unfrosted flavors are plant-based, but Nature's Path—another popular toaster pastry option—puts honey in its unfrosted flavor and dairy in its glazes.
Toaster pastries get political
There are other ways to get your hands on a vegan toaster pastry that don't involve ripping open foil packaging or laboriously making your own. Vegan-friendly bakeries are embracing the nostalgic snack and not only improving upon the quality of ingredients and overall experience but using the icing to take a stand.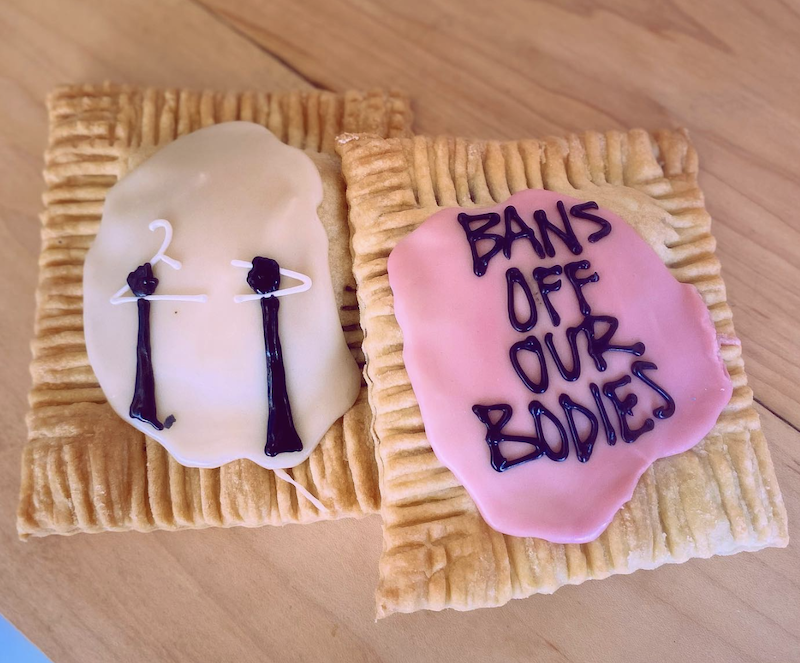 Just What I Kneaded
Justine Hernandez and baker Chloë Kiko Oki Schlanger of Los Angeles' Just What I Kneaded bakery make people look when they have a frosting tip in hand. While many of their treats feature cute Snoopy images and other whimsical decorations, other pastries deliver a message alongside a sweet interior. Immediately following the Supreme Court's decision to overturn Roe v Wade, the duo created a series of pro-choice toaster pastries featuring text such as "Bans Off Our Bodies" and two others with an anatomically correct vagina and a pair of hands breaking a hanger. Schlanger has also created Pop-Tarts art for PRIDE and decriminalizing homelessness.
Moon Child Vegan Cakes in Dallas, TX also uses tender, flaky toaster pastries to send a message. In addition to the staple Pop-Tarts that look exactly like the Frosted Wildberry Pop-Tarts, baker Amaris Riddle regularly whips up Pride pastries. As a cottage business, she's open to customizations, meaning she can write your feelings on a Pop-Tart. From sweet Valentine's sentiments to something more serious, say it with a vegan Pop-Tart.
Vegan Pop-Tart recipes
A Pop-Tart is completely achievable by any moderately confident home baker. Like a pie, the key is getting the crust just right. You want something tender yet sturdy, buttery, and not too sweet. Here are five of our favorite vegan toaster pastry recipes.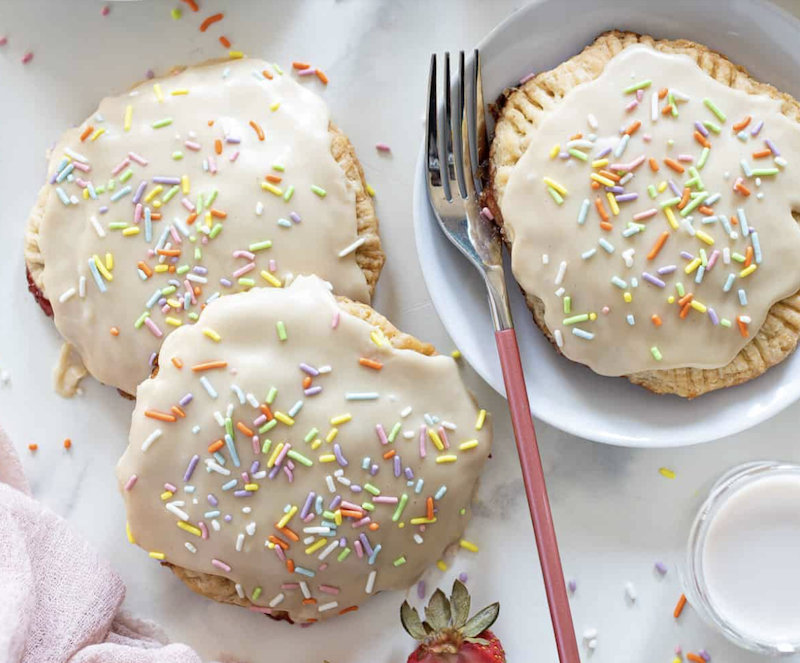 Orchids and Sweet Tea
1 Homemade Vegan Strawberry Pop-Tarts
You won't find any artificial flavors in these classic pastries, but with a thick glaze and plenty of rainbow sprinkles, they're just as fun as the Pop-Tarts you grew up with. The recipe provides options for a store-bought preserve filling and a homemade variety, making this customizable to how much time you have. One note: these won't taste like Kellogg's Frosted Strawberry Pop-Tarts—they'll taste better.
get the recipe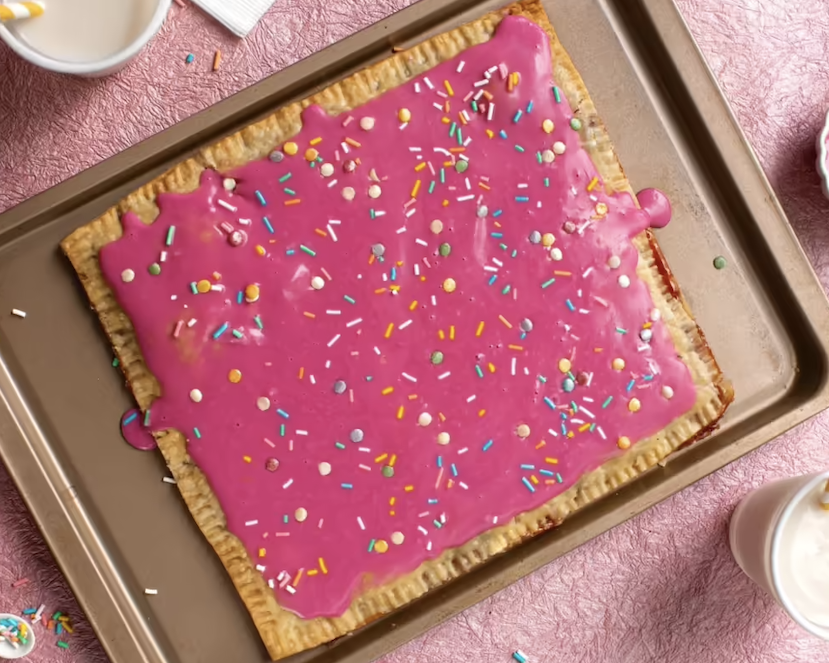 Hannah Kaminsky
2 Supersized Fruity Vegan Pop-Tart
The fun of making toaster pastries at home is you have the power of choice. You can choose the filling, frosting, and toppings; and you can also choose how big to make them. This recipe comes from cookbook author Hannah Kaminsky's latest book, Vegan Cheat Sheet. You only need to make one, because this Pop-Tart is the size of a half-sheet pan.
get the recipe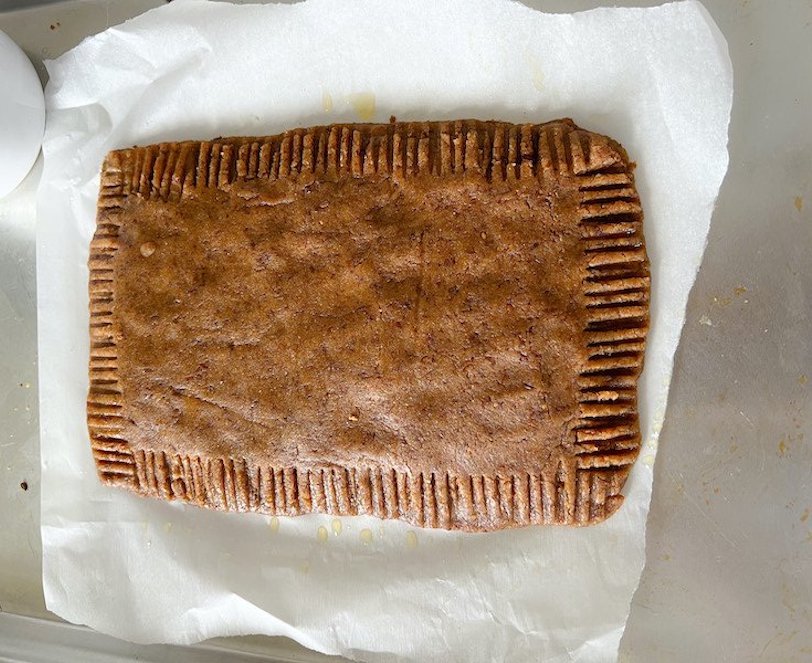 Upbeetandkaleingit
3 Healthier Vegan and GF Cinnamon Sugar Pop-Tart
Pop-Tarts technically are a breakfast food. That being said, a healthier, more whole-food rendition is always appreciated. This mega-sized toaster pastry is made with oat and almond flour, almond butter, and coconut sugar for a naturally sweet start to the morning that actually contains a good amount of nutrients.
get the recipe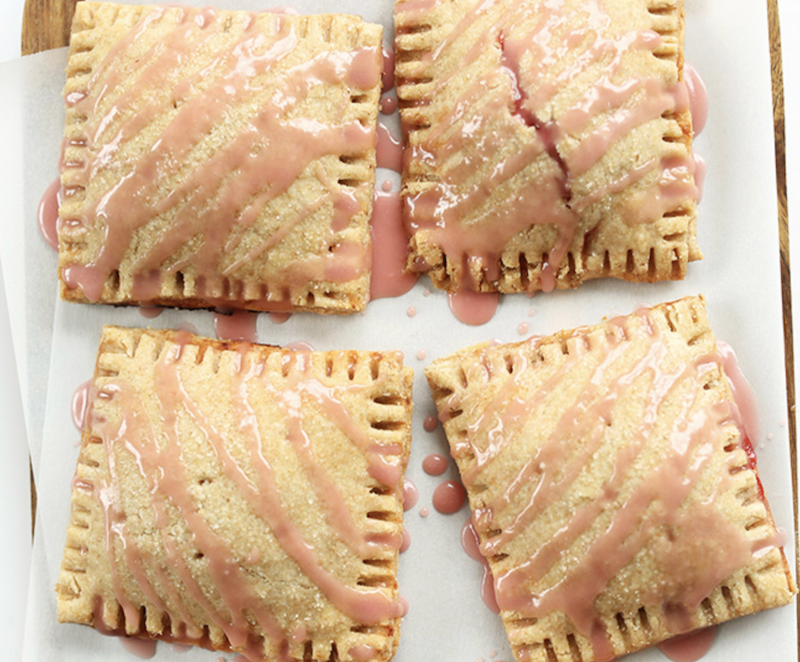 Minimalist Baker
4 Vegan Strawberry Rhubarb Pop-Tarts
When rhubarb is in season, these pastries are on our "must-bake" list. The bitter rhubarb balances out sweet strawberries and provides a bit more texture to the filling. Each melt-in-your-mouth pastry gets a pretty pink drizzle of pomegranate-spiked glaze.
get the recipe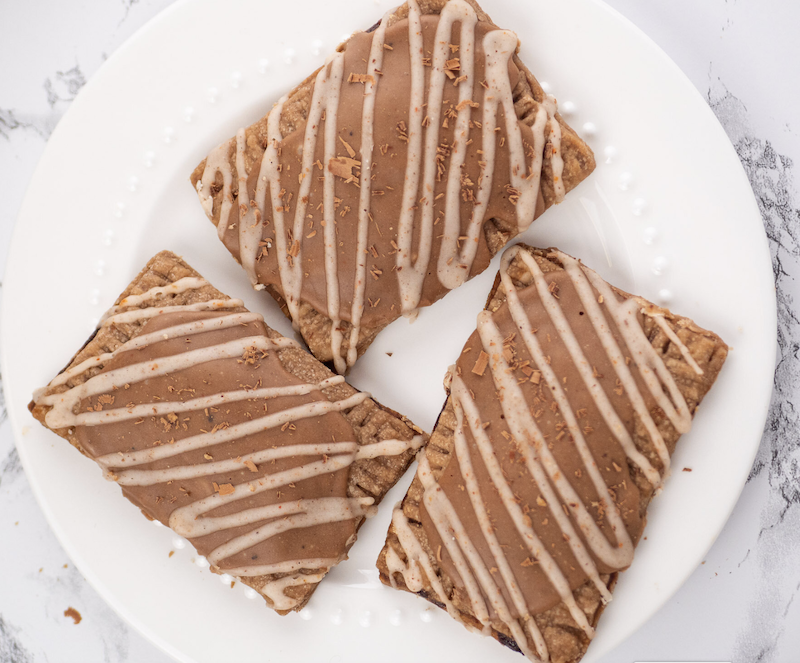 Batter and Cake Crumbs
5 Mexican Hot Chocolate Vegan Pop-Tarts
We take the Chocolate Fudge and Smore's Kellogg's Pop-Tarts and raise them with these delicately spiced Mexican Hot Chocolate toaster pastries. Featuring a chocolatey crust, a spicy fudge filling, rich chocolate frosting, and a spiced chocolate drizzle, these treats are nostalgia elevated to the most delicious degree. We recommend eating as soon as they're cool enough to not burn your fingers. They are hot chocolate, after all.
get the recipe
For more sweet vegan breakfast treats, read: