Are you Team Pancake or Team Waffle? Both of these staple breakfast items have their merits, but there's no denying the textural variety and sweet-meets-savory versatility of a waffle. By its very design, arguably, there's just more going on with waffles than pancakes. Thanks to the crispy square-shaped indentations, waffles are the perfect vessels for maple syrup, and a pat of vegan butter nestles into those squares just so perfectly. And let's not forget the savory side of waffles—there are few food combinations more indulgent and pleasurable than the iconic chicken and waffles.
Let this article be a reason to dust off that waffle maker that has been gathering dust at the back of the cupboard, or if you're gadgetless, try out the store-bought options below. Here are seven vegan waffle recipes and six stellar store-bought options to celebrate Team Waffle. But first, here's why it's important to always double-check the ingredients before you buy, because, unfortunately, waffles are not always vegan.
Why aren't all waffles vegan?
A waffle is a humble food made from a very simple batter. Traditionally, they're made from flour and water or milk, eggs, oil, sugar, baking powder or baking soda, and a pinch of salt. The eggs provide structure and leavening when cooked, and the milk helps to turn a rather dry mixture into a liquid batter that can be easily poured into every nook and cranny of your waffle iron.
But, of course, this classic recipe is off-limits to those who abstain from animal products. However, the same delicious scientific reaction can occur by making the right vegan swaps.
What are vegan waffles made of?
If you want to make vegan waffles, first, swap out the dairy milk with a non-dairy alternative, like oat, soy, or almond. (For more information on the different types of vegan milk out there, you can find our guide to choosing the best vegan milk for you here.) Next up, you'll need to replace the eggs with a vegan egg replacer, like aquafaba. (Again, for more information, you can find our guide to egg replacers here.)
Want proof that waffles can easily be made vegan and taste delicious? Then follow one of these vegan recipes below!
Best vegan waffle recipes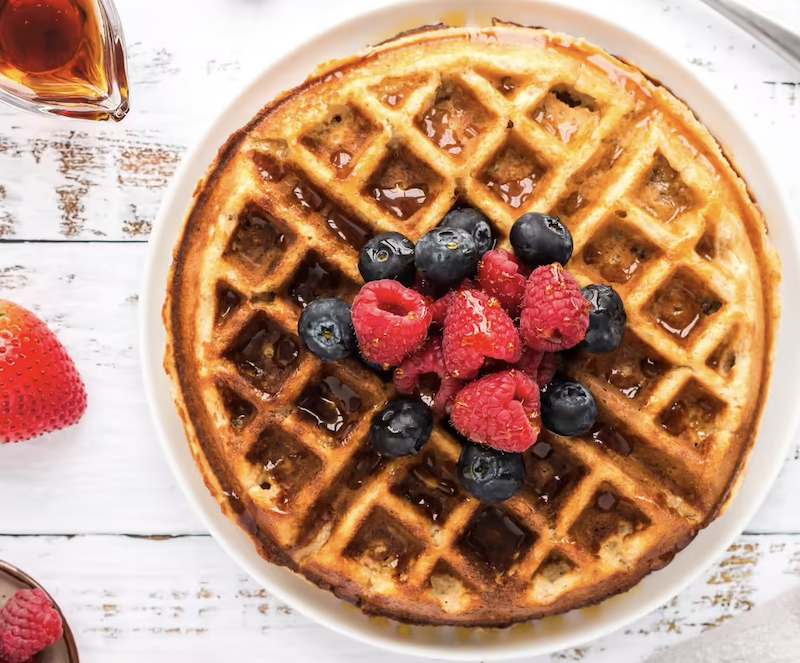 Dreena Burton
1 The Perfect Gluten-Free Vegan Waffles
Gone are the days when gluten-free was synonymous with grainy. These waffles are perfectly fluffy without a touch of grit. Made with dairy-free yogurt, mashed banana, and almond and oat flour, the recipe also happens to be naturally refined sugar-free. Go ahead, stack 'em up high!
Find out more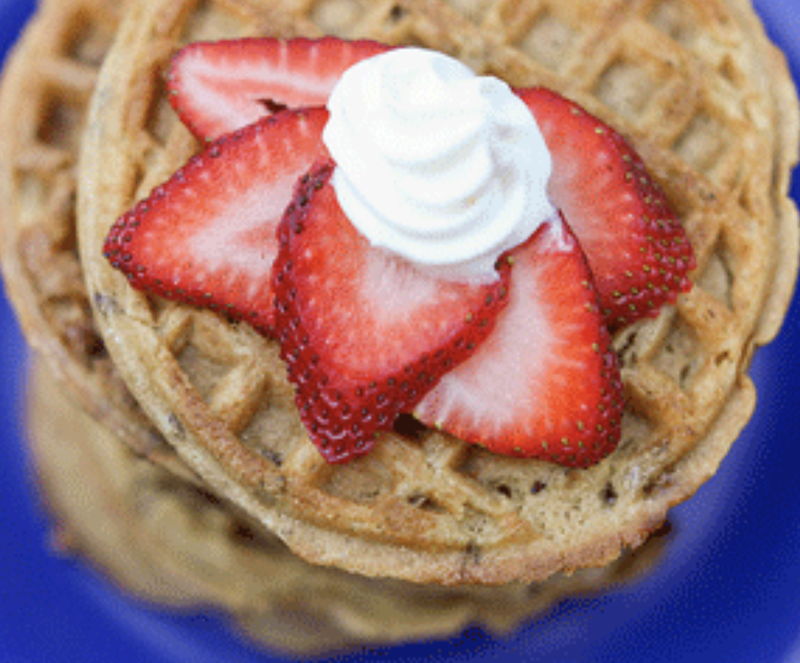 Ayinde Howell
2 Mexican Hot Chocolate Waffles
Typically, we'd never eat a waffle without some type of topping, but these spicy chocolate-enriched waffles are the exception. The secret is swirling homemade Mexican hot chocolate sauce into the batter. Of course, a dollop of vegan whipped cream or an extra drizzle of chocolate sauce doesn't hurt.
Find out more
3 Spiced Belgian Waffles with Blood Orange Sauce
If you own a Belgian-style waffle maker, now is the time to use it. This recipe will work in any kind of waffler, but the deeper the crevices, the more blood orange sauce these waffles can hold! Lightly spiced with cinnamon and nutmeg, this is the recipe to make when you want to impress the brunch crowd.
Find out more
4 Vegan Savory Waffles with Cheddar Fondue
There's more than one way to make a waffle savory. In lieu of adding fried vegan chicken, recipe developer Dustin Harder douses a very lightly sweetened waffle with homemade vegetable ragout and a thick dairy-free cheddar fondue sauce. Brunch, lunch, or dinner—virtually any meal is fair game.
Find out more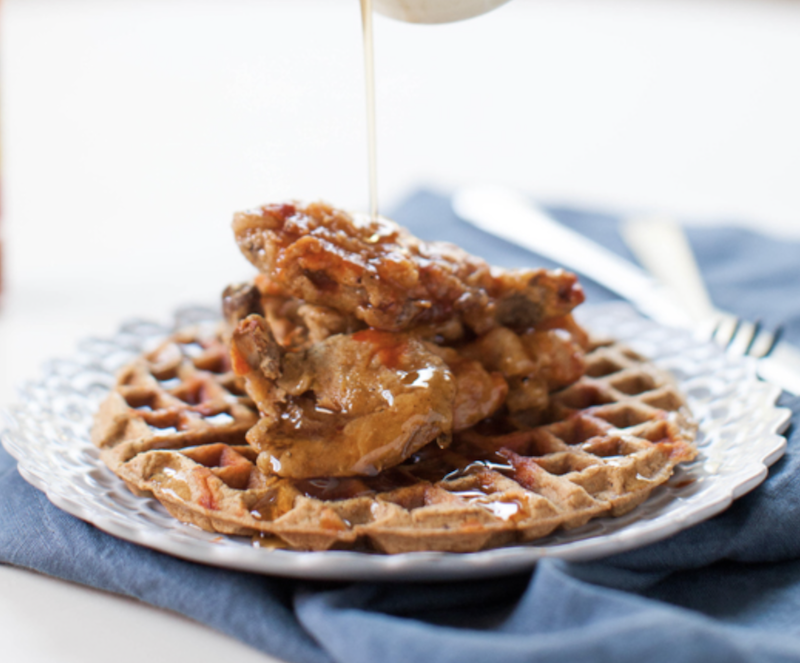 Jenne Claiborne
5 Vegan Chicken and Waffles
Consider this the gourmet path to vegan chicken and waffles. You could purchase a pack of frozen vegan waffles and pair it with your favorite frozen vegan chicken tenders, or you could make your own with Sweet Potato Soul's satisfying recipe. The chicken is crafted with fried, meaty oyster mushrooms and served over the top of a hearty whole wheat thin and crispy waffle. Abide by the author's note and drizzle liberally with maple syrup and a touch of hot sauce.
Find out more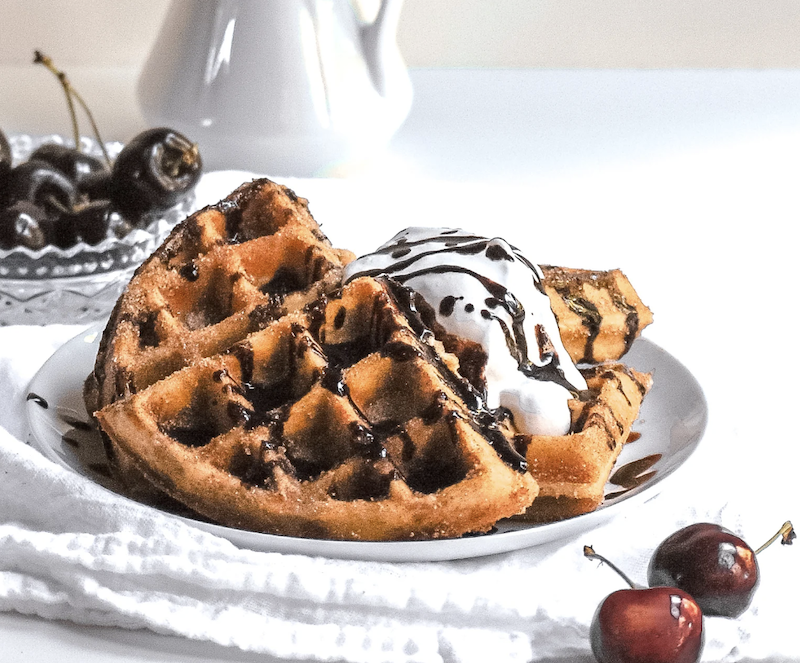 Crumbs & Caramel
6 Vegan Churro Waffles
These cinnamon sugar-coated waffles fall firmly into the "dessert waffle" category. Unlike their inspiration, there is no frying involved in making churro waffles at home. Truly, the leap between a regular waffle and a churro waffle only requires one extra (and relatively speedy) step. While delicious when piping hot and straight from the iron, these waffles reach a new dimension when served with a scoop of vegan ice cream and chocolate sauce.
Find out more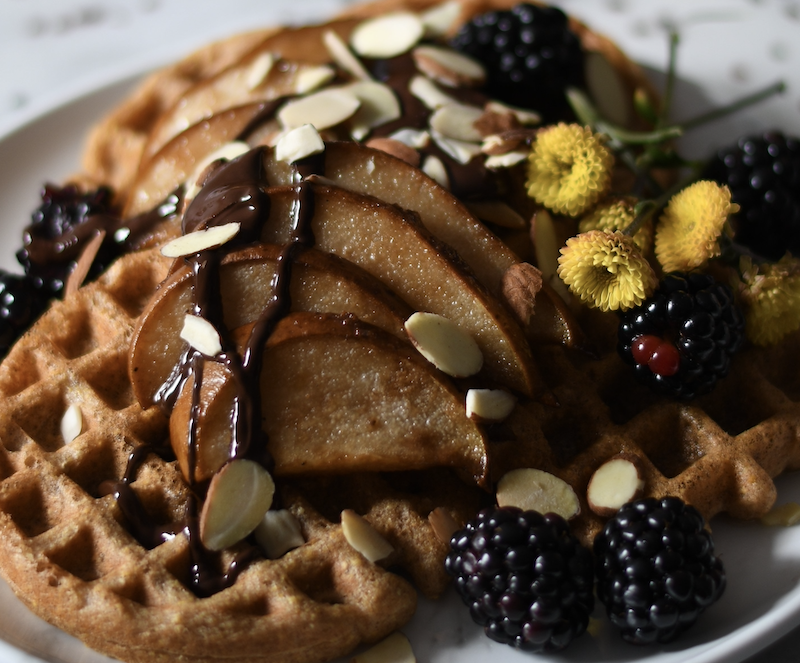 Haile Thomas
7 Roasted Pear and Ginger Waffles
On its own without mix-ins or toppings, waffle flavor is underwhelmingly one-note. Zhuzh up any basic batter by infusing it with fresh ginger and caramel-y notes of coconut sugar. Topped off with sticky-sweet roasted pears and crunchy slivered almonds, and you may never go back to plain waffles again.
Find out more
6 store-bought vegan waffles
One could argue that waffle and pancake mix is a form of store-bought waffles. However, we are thinking about everyone out there who doesn't own a waffle maker. For this reason, we are specifically focusing on frozen, ready-to-eat waffles. For a list of stellar waffle mixes, check out our 15 vegan breakfast staples.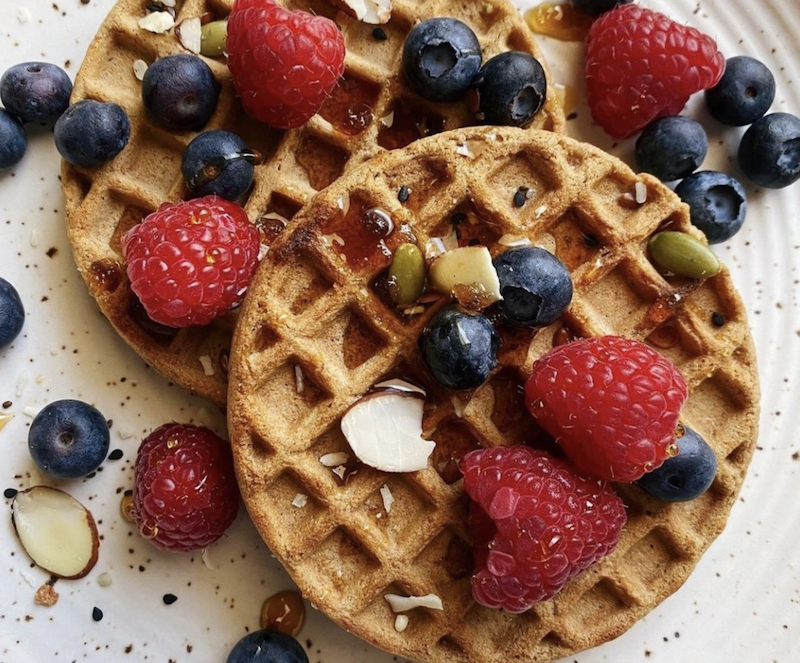 Vans Foods
1 Van's Foods
Introducing the "snacking waffle." Van's line of vegan-friendly frozen waffles err toward the healthier side—many are gluten-free and packed with whole grains, making them the ideal waffle to slather with peanut butter to get through the mid-afternoon slump. Plant-based varieties include Gluten-Free Blueberry, Apple Cinnamon, Original, and Ancient Grains; Protein Original Waffles; and Multigrain Waffles. Thin, round, and crispy, think of Van's waffles as a slightly more wholesome equivalent to the classic Eggo.
Find out more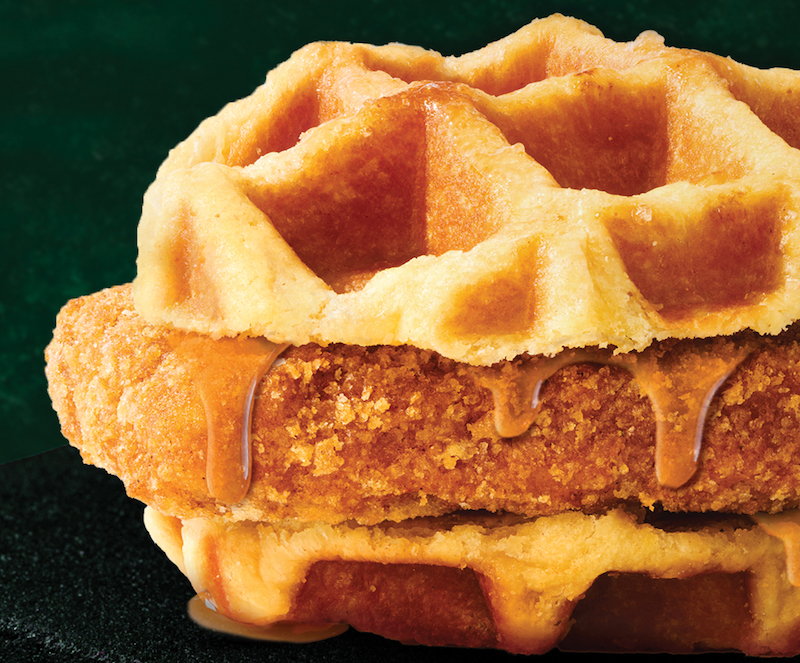 Morningstar
2 Incogmeato's & Eggo's Chick'n & Waffles
Kellogg's beloved Eggo brand has partnered with Morningstar's Incogmeato line to launch frozen vegan Chik'n & Waffles. The box comes complete with two plant-based frozen sandwiches made with a vegan chicken patty and Eggo Liège-Style waffles. No, you can't pop it in the toaster, but the novelty is worth bringing out the air fryer (the recommended heating method).
Find out more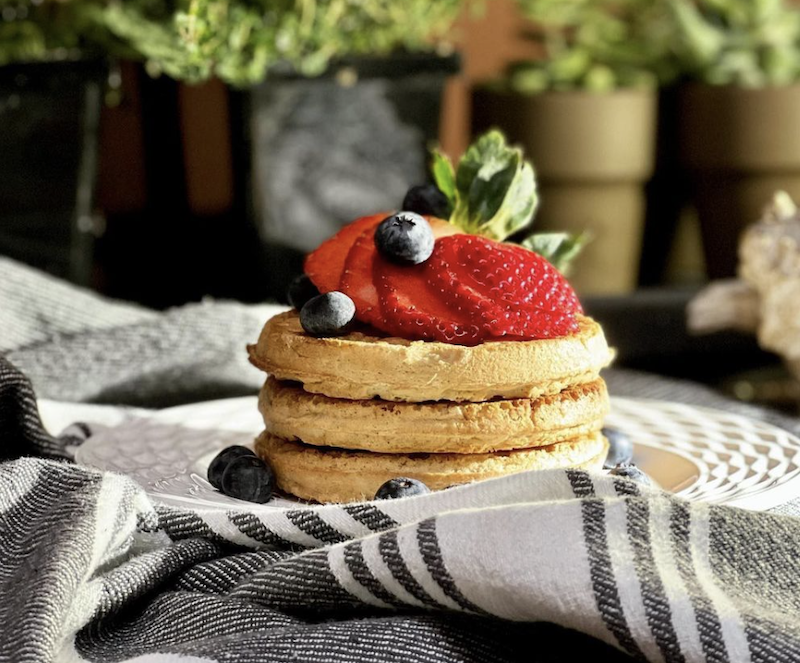 Meals with Marita
3 Nature's Path
From toaster pastries to instant oatmeal to frozen waffles, this vegan-friendly brand has most breakfast basics covered. Whether you're grain-free, gluten-free, or simply a vegan looking for a light and not-too-sweet waffle, Nature's Path provides. The Dark Chocolate Chip, Homestyle, and FlaxPlus varieties have been around for a while, but we're most recently into the new kid line featuring endangered animals. A percentage of sales from the Envirokidz line goes toward protecting endangered species like polar bears and penguins. Kids and adults alike will be smitten with the beet-dyed Polar Berry Blueberry and cinnamon-spiked Penguin Party waffles.
Find out more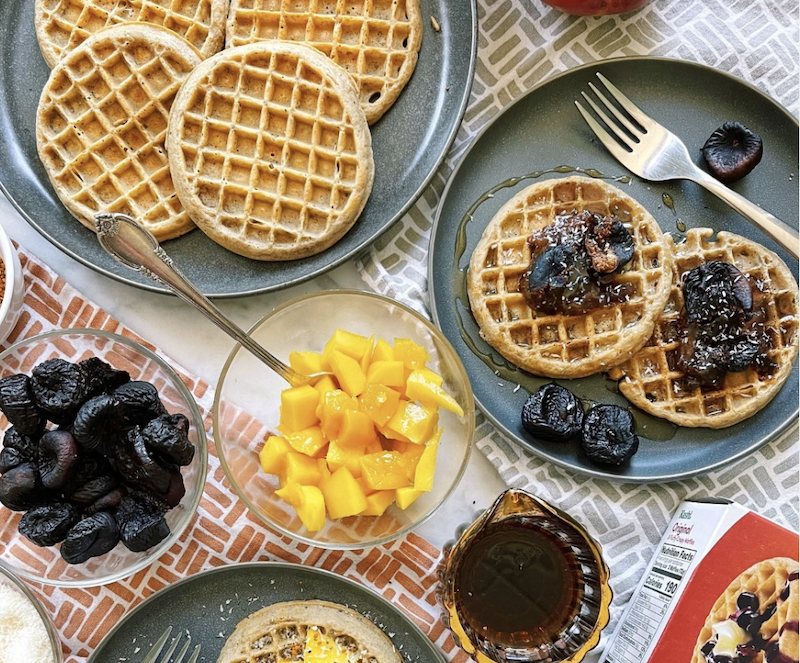 Kashi
4 Kashi
The makers of your mom's favorite cereal didn't stop with diet-friendly flakes and clusters—Kashi produces an extensive line of frozen waffles, the majority of which are vegan. The Protein Waffles contain egg and dairy, but the original line and gluten-free range are completely animal-free. Choose from Blueberry, 7-Grain, Gluten-Free Cinnamon, and Gluten-Free Original. These round waffles are a bit thicker than your typical Eggo, making them satisfyingly fluffy on the inside. Let the maple syrup flow freely.
Find out more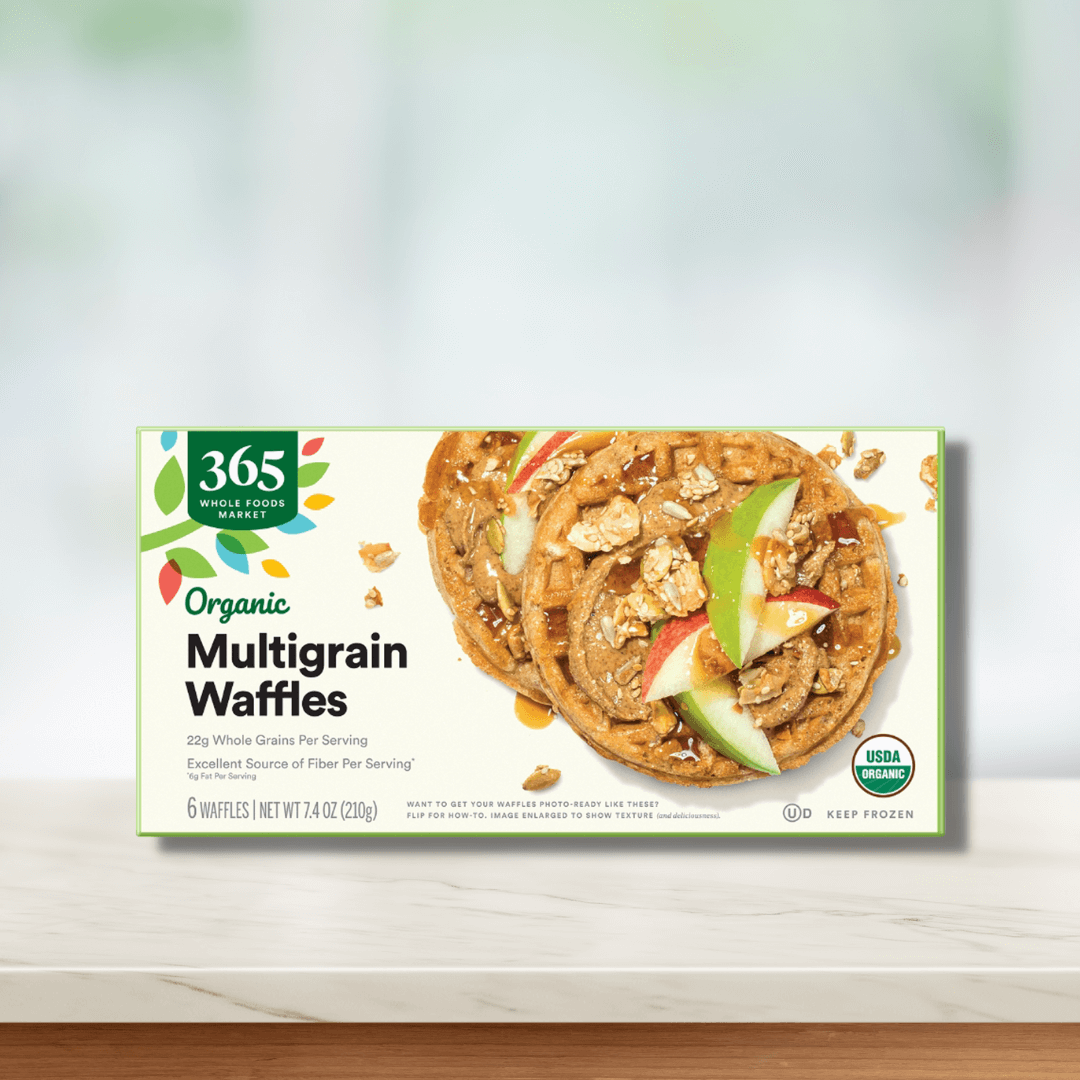 Whole Foods
5 Whole Foods 365
Leave it to Whole Foods to carry a vegan version of everything. The grocer's 365 range offers vegan homestyle waffles in both regular and miniature sizes. The Blueberry, Multigrain, and Mini Blueberry are also plant-based. Stock up and treat yourself to a thick and fluffy waffle whenever the craving calls on a random Wednesday morning. Pro tip: the mini waffles are excellent for creating crowd-pleasing breakfast boards.
Find out more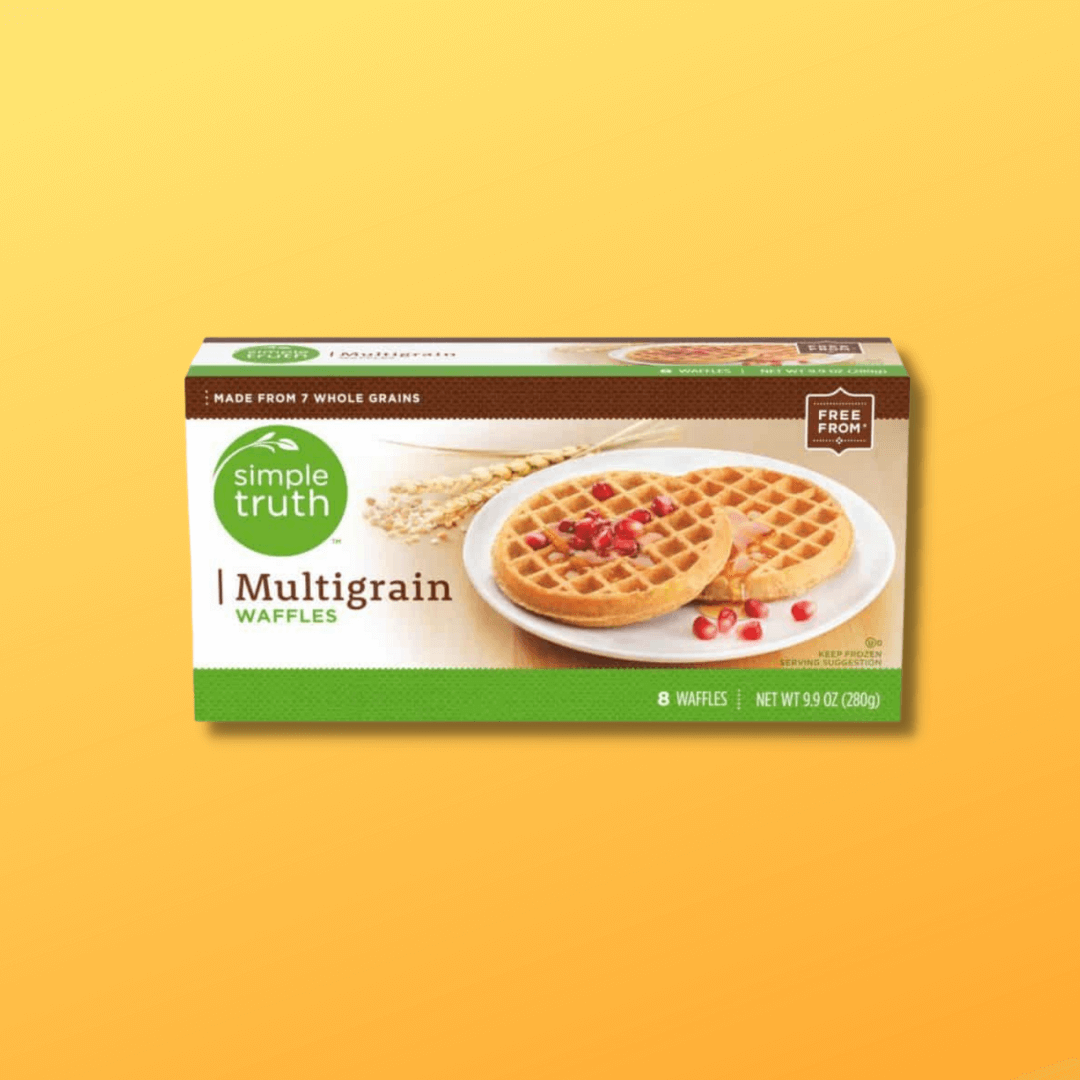 Simple Truth
6 Simple Truth
Kroger's better-for-you Simple Truth line is reliably vegan-friendly, proving that quality plant-based options have hit the mainstream conventional market. Look for the Organic Blueberry Waffles and Gluten-Free Homestyle Waffles during your next shopping trip to Ralphs. Use these as a vessel for your favorite waffle toppings from fresh fruit to nut butter to powdered sugar (or try all three at once).
Find out more
For more vegan breakfast ideas, read: