When the heavy rains subside and snow melts away, flowers bloom to signal the arrival of spring. Whether you opt for fresh bouquets from the farmers' market or decide to transform your backyard into a blooming oasis, flowers have the power to brighten up even the most mundane of days. So why not spruce up your pantry with florals, too? VegNews editors searched far and wide for the best flower-infused products, and these are 10 of our favorites.

1 Spicy Cacao Sex Tonic by Rasa
This isn't your grandmother's hot chocolate. When a sultry Spotify playlist and the promise of oil massages aren't enough to get the fun going, tap into the power of Rasa's sex tonic. These sensual sips combine cacao with rose petals to nourish the heart while ginger, cayenne, and stress-reducing adaptogens increase blood flow and make it easy to leave your worries at the bedroom door. Sip up, the fun starts now.
Get it here

2 Lavender Cashew Cheese by Vtopian
Wellness gurus have long touted the healing properties of lavender oil—from easing anxiety to fighting insomnia. But if aromatherapy isn't for you, look no further than this umami-rich lavender-infused cheese. Dotted with pink peppercorns, this Oregon-made cashew wedge melds chickpea miso, Himalayan pink salt, nutritional yeast, and a sprinkle of dried lavender buds for a mild, floral cheese you'll keep coming back to.
Get it here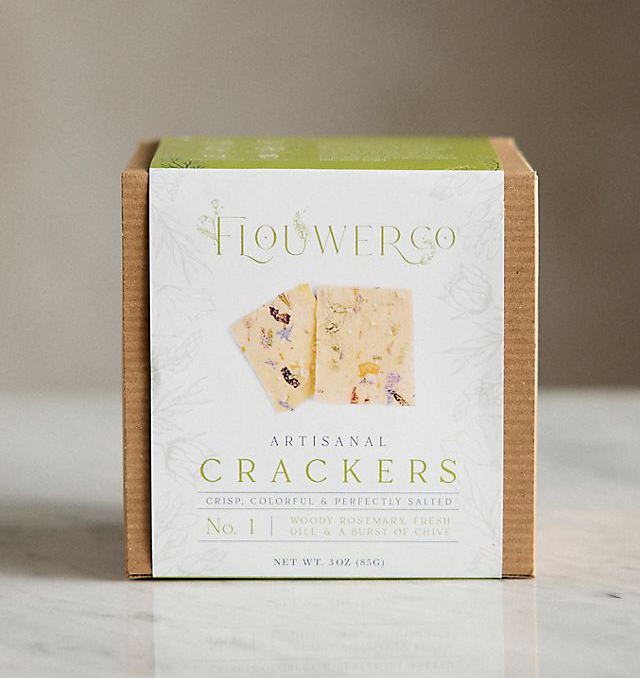 3 Edible Flower Crackers by Flouwer Co.
If there's one adage we live by, it's that you eat with your eyes first. And with these artisanal, small-batch crackers, your senses are sure to be well-fed. Organic dill, woodsy rosemary, aromatic chives, and a sprinkle of sea salt make these crisps studded with golden marigolds, mauve chive blossoms, and blue cornflowers the star of any vegan charcuterie board.
Get it here


4 Blooming Lollipops by Amborella Organics
Why give bae a boring bouquet of roses when you can gift them blooming lollies? These Instagram-ready candies marry fruity flavors with soft and supple flower petals—choose between Peach & Marigold, Green Apple & Chamomile, and Blood Orange & Elder Flower—for a sweet delicacy that's almost too pretty to eat. Once you've polished off this elegant treat, plant the biodegradable stick studded with seeds, and watch it bloom.
Get it here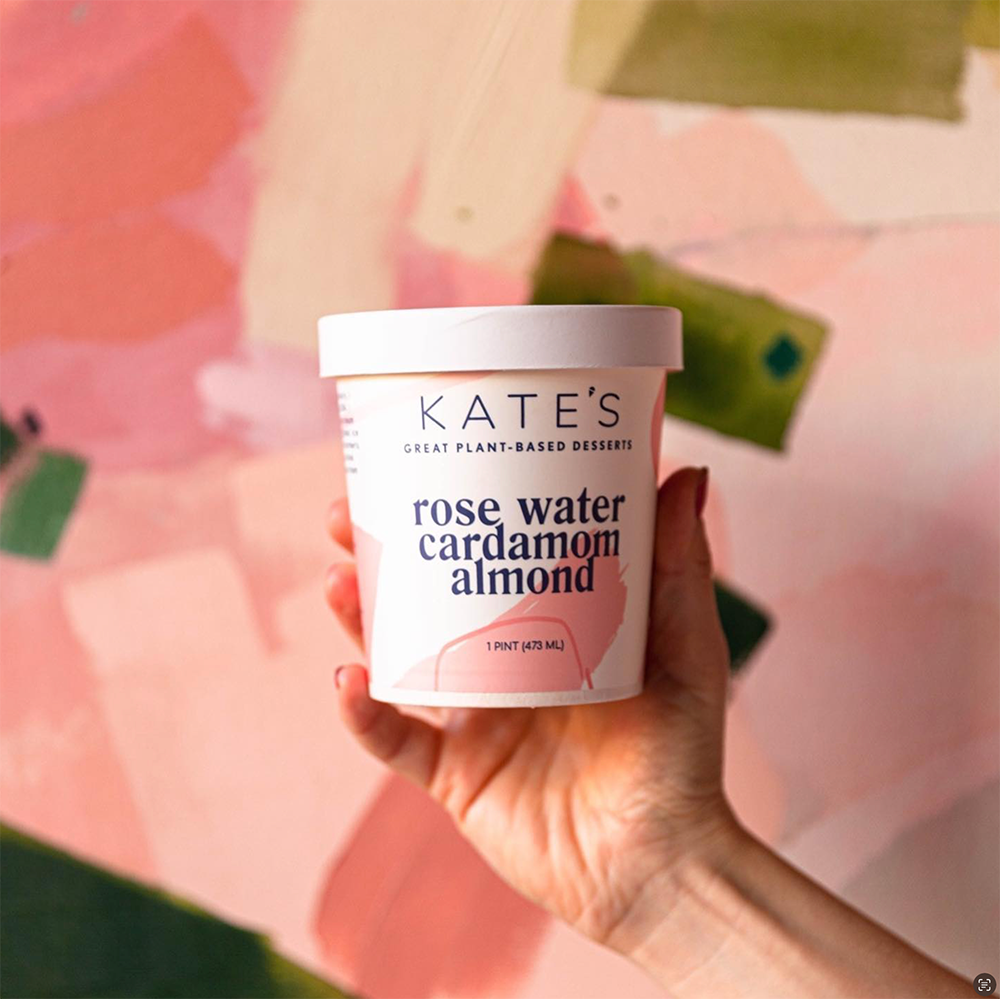 5 Rose Water Ice Cream by Kate's Ice Cream
What do you get when you combine refreshing rose water, creamy coconut, and extra virgin olive oil? Luscious pints of vegan ice cream! In Portland, OR, Kate's Ice Cream scoop shop combines crunchy almonds, a dash of cardamom for a faint pine flavor with luscious coconut milk ice cream for complex, delicately floral vegan pints you'll want to scoop onto waffle cones and brownie sundaes.
Get it here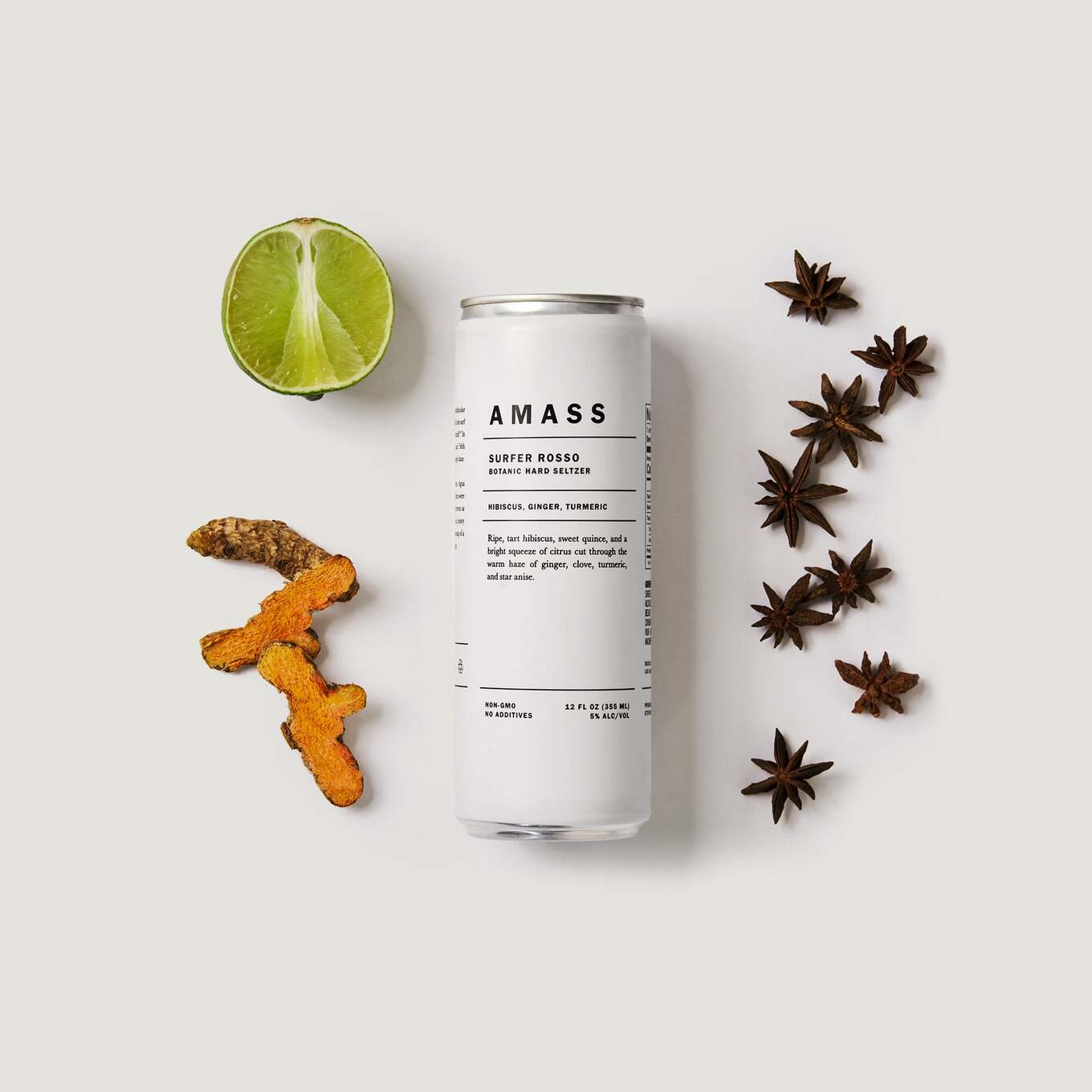 6 Hibiscus Ginger Turmeric Hard Seltzer by AMASS
Happy hour just got a major upgrade. Surfer Rosso, an adults-only seltzer made by master Los Angeles-based distillers at AMASS, expertly blends hibiscus, lemon, lime, and warming spices (think turmeric, ginger, clover, and star anise) for a fizzy libation for even the most sophisticated, cosmopolitan palates. Pungent, fruity, and spicy, this trifecta of flavors made us fall in love at first sip.
Get it here

7 Mango Orange Blossom Yogurt by Culina
It's the quintessential advice we've all heard: rise with the sun, and take a moment to smell the roses … or in this case, taste the orange blossoms. Thick and tangy, this coconut-based yogurt is slow-fermented before being infused with the delicate citrus notes of orange blossom, perfectly underscoring extra-sweet mango for spoonfuls guaranteed to get your morning started off right.
Get it here

8 Goji Hibiscus Rose Chocolate by Vesta
It's official: chocolate is our new favorite skincare. Dubbed the "Vegan Beauty Bar," this elegant, pink-hued chocolate bar doesn't just boast a silky and luxurious taste. It's sprinkled with rose petals, hibiscus flower, and goji berries—three antioxidant powerhouses believed to improve skin texture and protect skin cells from damage. Time to upgrade your skincare routine? We think so!
Get it here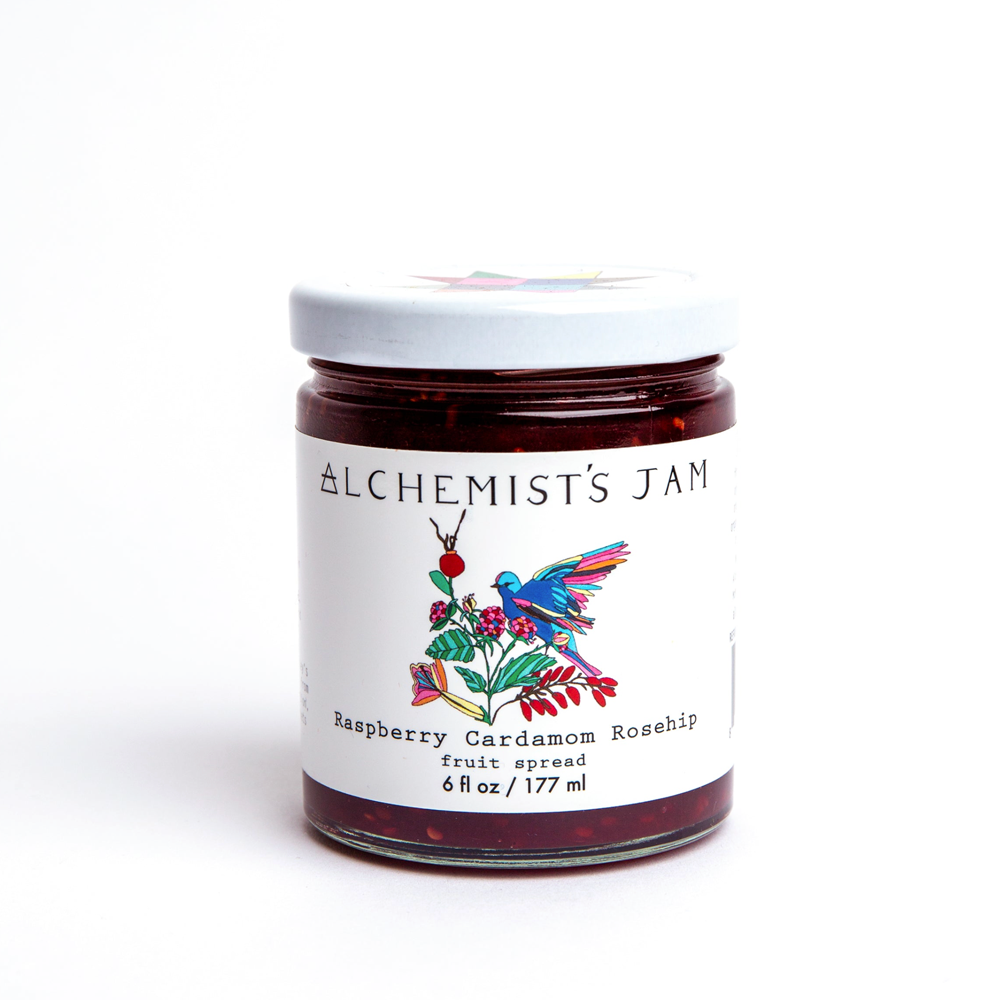 9 Raspberry Cardamom Rosehip Jam by Alchemist's Jam
Smucker's, your days are numbered. Boutique jam makers at Alchemist's Jam harness the ancient magic of alchemy to combine tart raspberries, slightly sweet rosehips, and fruity cardamom, transforming them into a thick, luscious spread. Enjoy on buttery biscuits, toast, or pair with your favorite funky cheese. You'll thank us later.
Get it here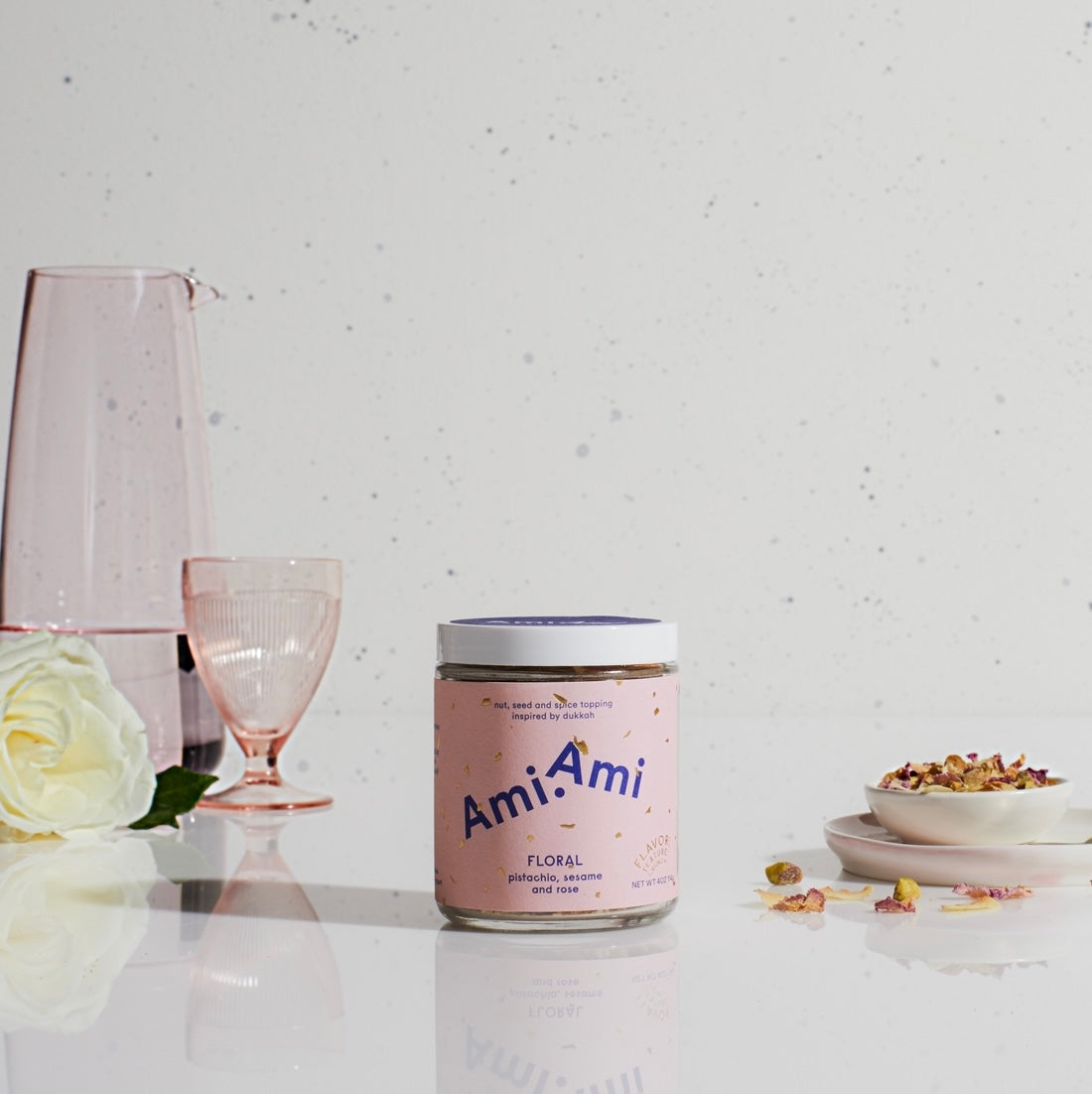 10 Pistachio, Sesame, and Rose Dukkah by Ami Ami
With roots in ancient Egypt, dukkah—a traditional mixture of seeds, nuts, and spices—has long been our go-to accompaniment for dipping crusty bread in olive oil. And now, this modern take adds sweet, floral, and earthy notes thanks to rose, pistachio, and coconut. Sprinkle atop ice cream, yogurt, and your favorite baked treats for an added pop of flavor and bite of texture even the pharaohs would approve of.
Get it here
For more vegan floral bliss, check out:
Here at VegNews, we live and breathe the vegan lifestyle, and only recommend products we feel make our lives amazing. Occasionally, articles may include shopping links where we might earn a small commission. In no way does this effect the editorial integrity of VegNews.