Today, the plant-based market is growing rapidly, with vegan nuggets, sausages, burgers, chicken pieces, and more lining supermarket shelves all over the world. But the art of making plant-based ingredients taste like meat isn't new. In China, people have been eating mock meat for centuries. In fact, Buddhist chefs were likely the first to start making meat alternatives, which they made out of "yuba," also known as tofu skin or beancurd sheet.
According to the Soy Info Center, these vegetarian Buddhist chefs likely made mock meats by bundling minced pieces of tofu skin together and then wrapping that bundle in a larger piece of tofu skin, before steaming. The resulting taste and texture was similar to animal meat. But tofu skin, which is incredibly versatile and a good source of protein, isn't an ingredient of the past. It is still enjoyed today, primarily in China, Hong Kong, Japan, and Southeast Asia. Here's everything you need to know about tofu skin, from its nutritional value to how to cook with it.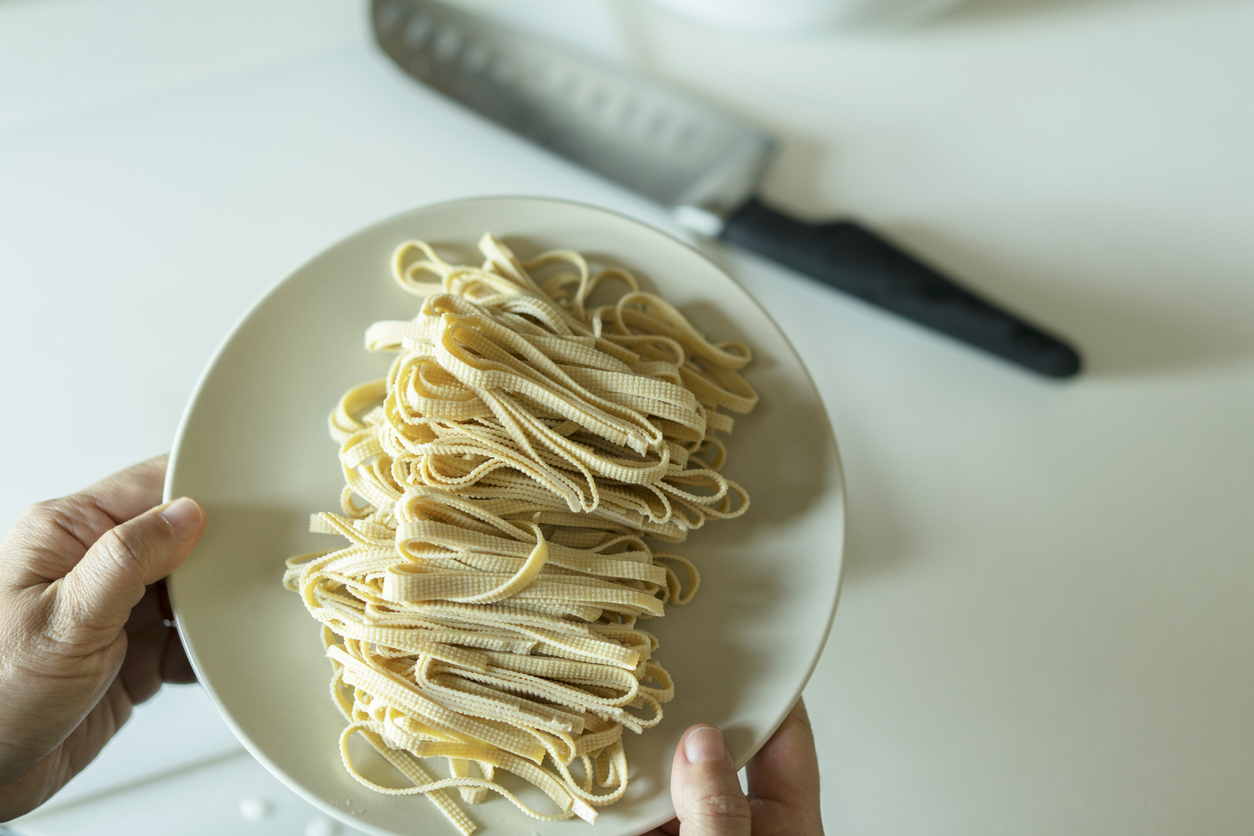 Getty Images
What is tofu skin?
Despite what the name implies, tofu skin isn't actually the skin from a block of tofu. But that said, it is a byproduct of tofu-making. Tofu is made from soymilk, which, when boiled, produces a film on the surface. This film is removed, dried, and sold as tofu skin. It has many different names across different cultures, but in Japan and China, it is often labeled as "yuba." This essentially means "hot water" (yu) and "flat thing" (ba).
Tofu skin nutrition
Because tofu skin is made with soymilk, which is made with soybeans, it is a good source of protein, packing in around 50 grams of protein per 100 grams. Tofu skin is also a source of B vitamins, like vitamin B6 and folate, as well as magnesium and fiber. Plus, it's low in fat and sodium, too.
How to use tofu skin
Like tofu, tofu skin is known for its ability to soak up flavors, which makes it an incredibly versatile ingredient to cook with. It's usually sold in sheets (which could also be labeled as bean curd sheets) or sticks and can be used in a variety of different ways. For example, it can add some crispy texture to a salad, be used to wrap dim sum, or be chopped into strips to form a noodle substitute. It's also still sometimes used to make plant-based meat and can form the basis of mock duck or goose, which is often served in Chinese restaurants as an alternative to the real thing.
Tofu skin recipes
If you're feeling inspired, it's time to head out and buy some tofu skin and get crafting in the kitchen. The ingredient is available to buy in some mainstream supermarkets, but you can also buy it online, from retailers like Amazon, as well as your local Asian grocery store. It will likely be sold either dried, fresh, or frozen and which type you need depends on the kind of recipe you're following.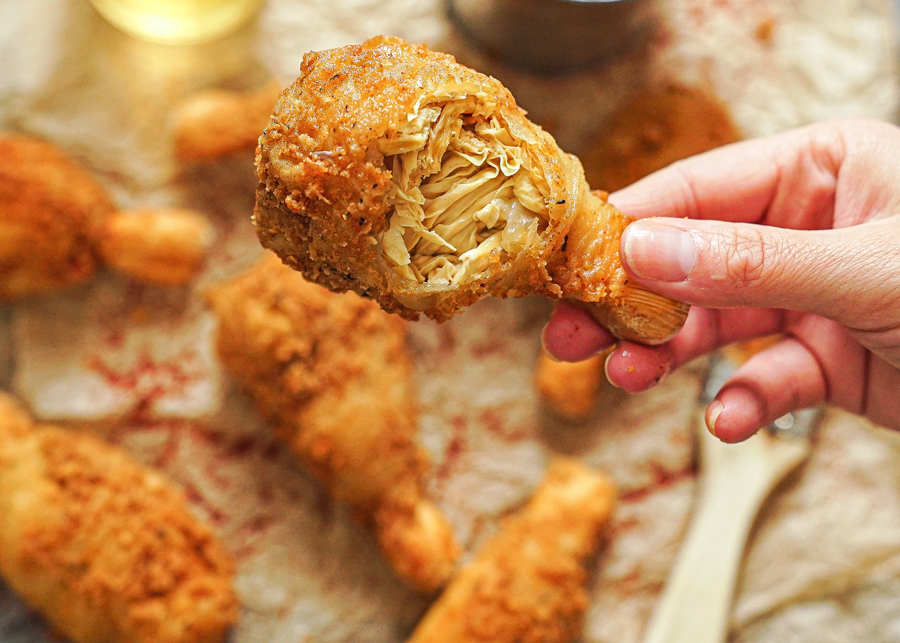 The Edgy Veg
1 Vegan Fried Chicken
If you're craving crispy fried chicken, you can get a similar experience from using tofu skin. This recipe calls for dried beancurd sticks and vegan poultry seasoning (to get that authentic chicken-like flavor). There are a few fiddly steps to this recipe (which requires the use of a deep fryer but an air fryer also works), but when you're finished, you won't believe the result: crispy, tasty, KFC-esque fried chicken. Only without the actual chicken part.
Get the recipe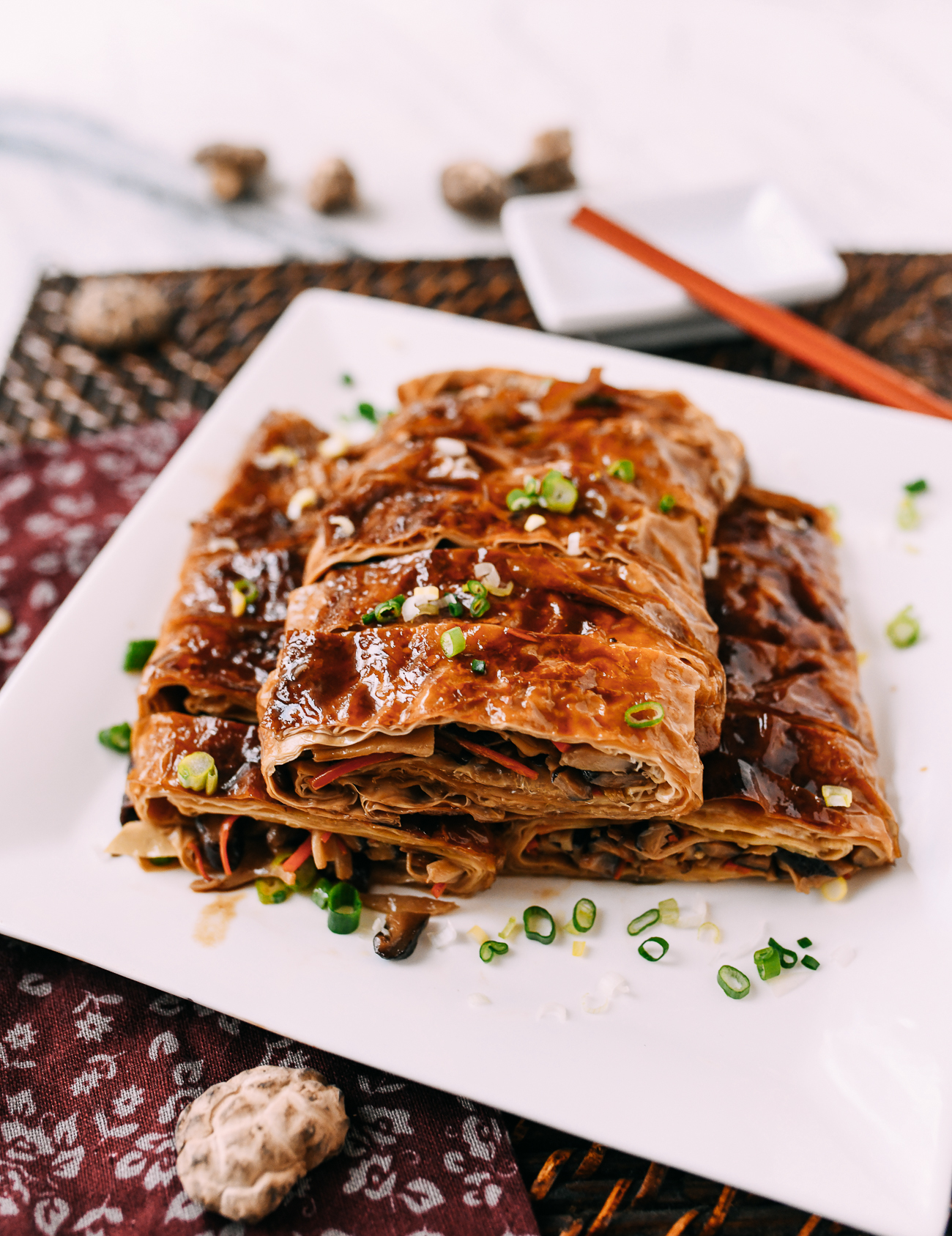 The Woks of Life
2 Chinese Vegetarian Duck
If you want to keep things traditional, use layers of fresh tofu skin to make a delicious, mock duck, which is often served to celebrate Chinese New Year in vegetarian and meat-eating households alike. This recipe also calls for mushrooms, bamboo shoots, and carrots, which are layered between the sheets of tofu skin, and help to keep everything moist while also adding a burst of flavor.
Get the recipe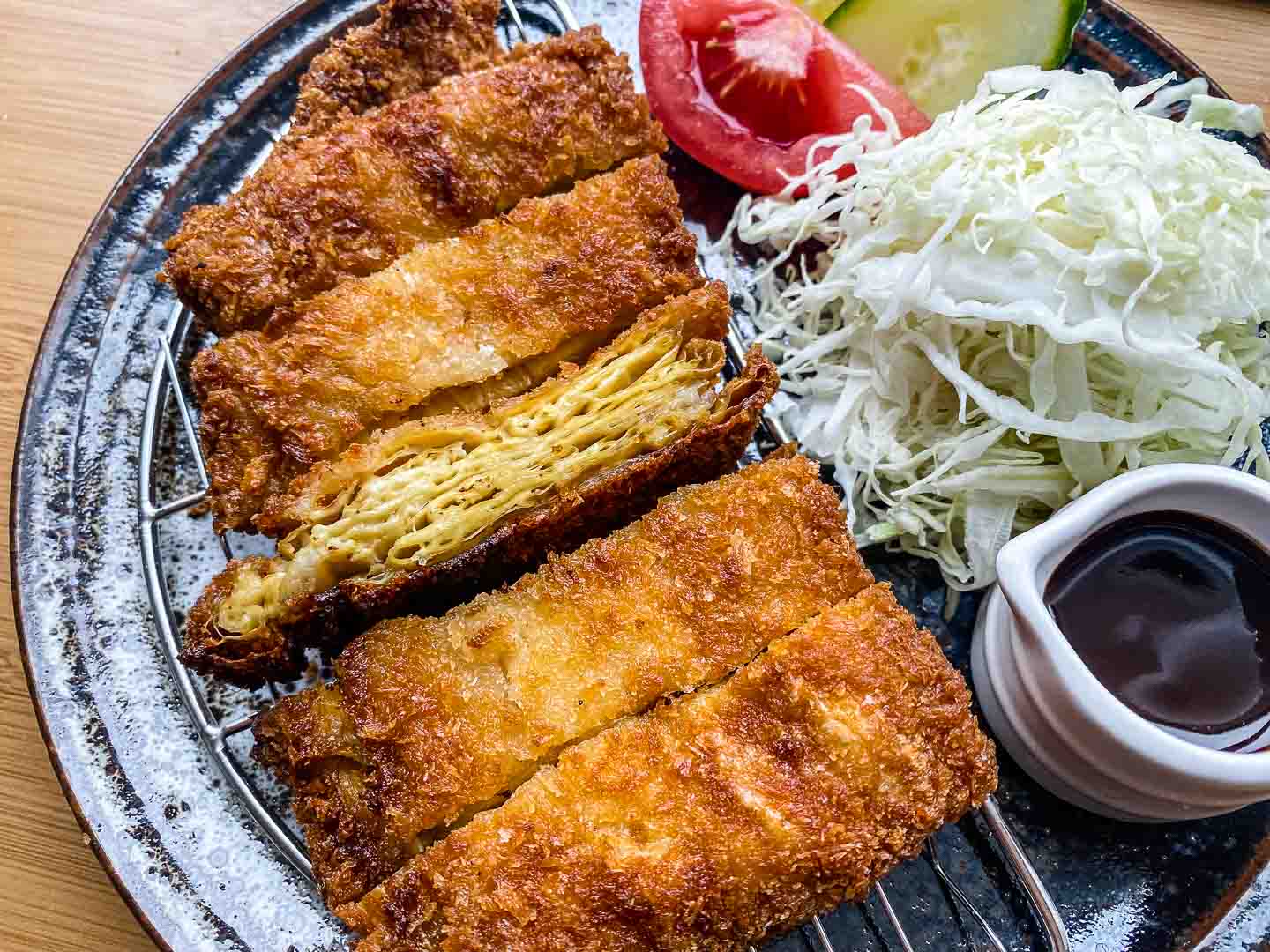 Okonomi Kitchen
3 Katsu
Craving a katsu curry? Put down the takeaway menu, because, actually, it's quite simple to make it from home. For this vegan katsu recipe, you'll need frozen tofu skin, which is marinated in soy sauce, garlic, and vegan bouillon powder, before it is covered in panko breadcrumbs and layered up to create a chicken-like texture. If you don't have a deep fryer, you can also shallow fry it to get that crispy, golden brown look and texture.
Get the recipe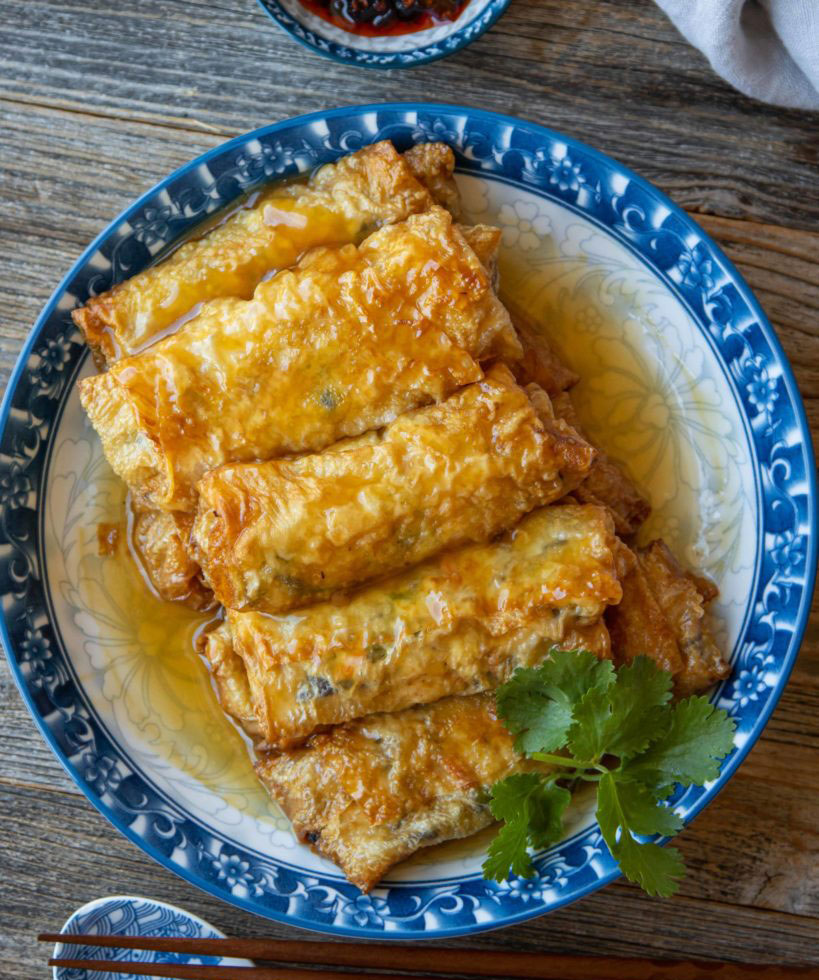 WoonHeng
4 Dim Sum Rolls
Deliciously crunchy and crispy, frozen tofu skin (which will have to be rehydrated before you get started) provides the perfect casing for these Cantonese dim sum rolls. You can choose whatever filling you desire, but this recipe calls for shredded carrot, bamboo shoots, and dried shiitake mushrooms, which are all bound together with the help of tofu.
Get the recipe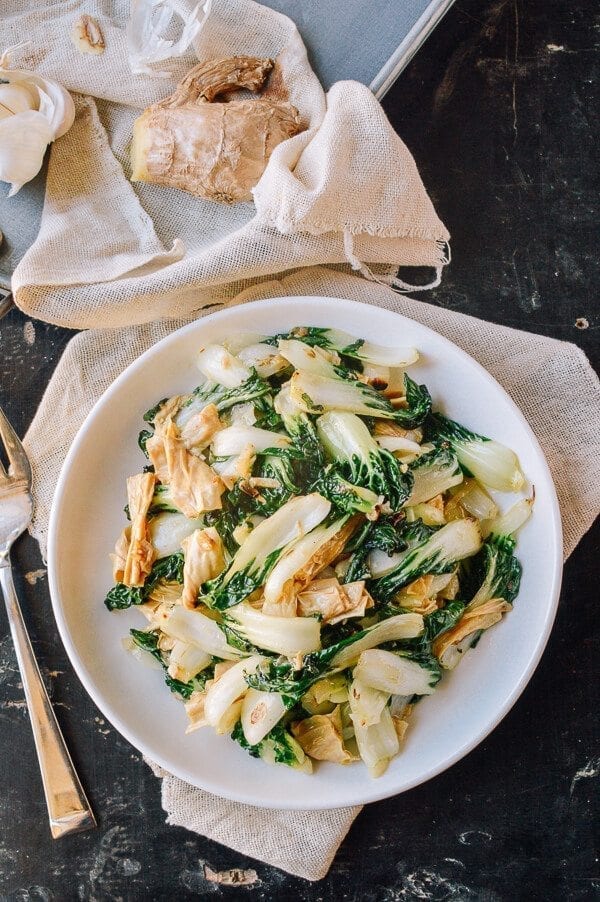 The Woks of Life
5 Stir Fried Bok Choy
This simple stir fry doesn't skip out on the flavor. All you need is a touch of ginger, garlic, some bok choy (a type of Chinese cabbage), and sesame oil, as well as salt, sugar, white pepper, and cornstarch. Essentially, it's a handful of ingredients fried together to create a quick, tasty, nutritious meal, perfect for those busy weekday nights.
Get the recipe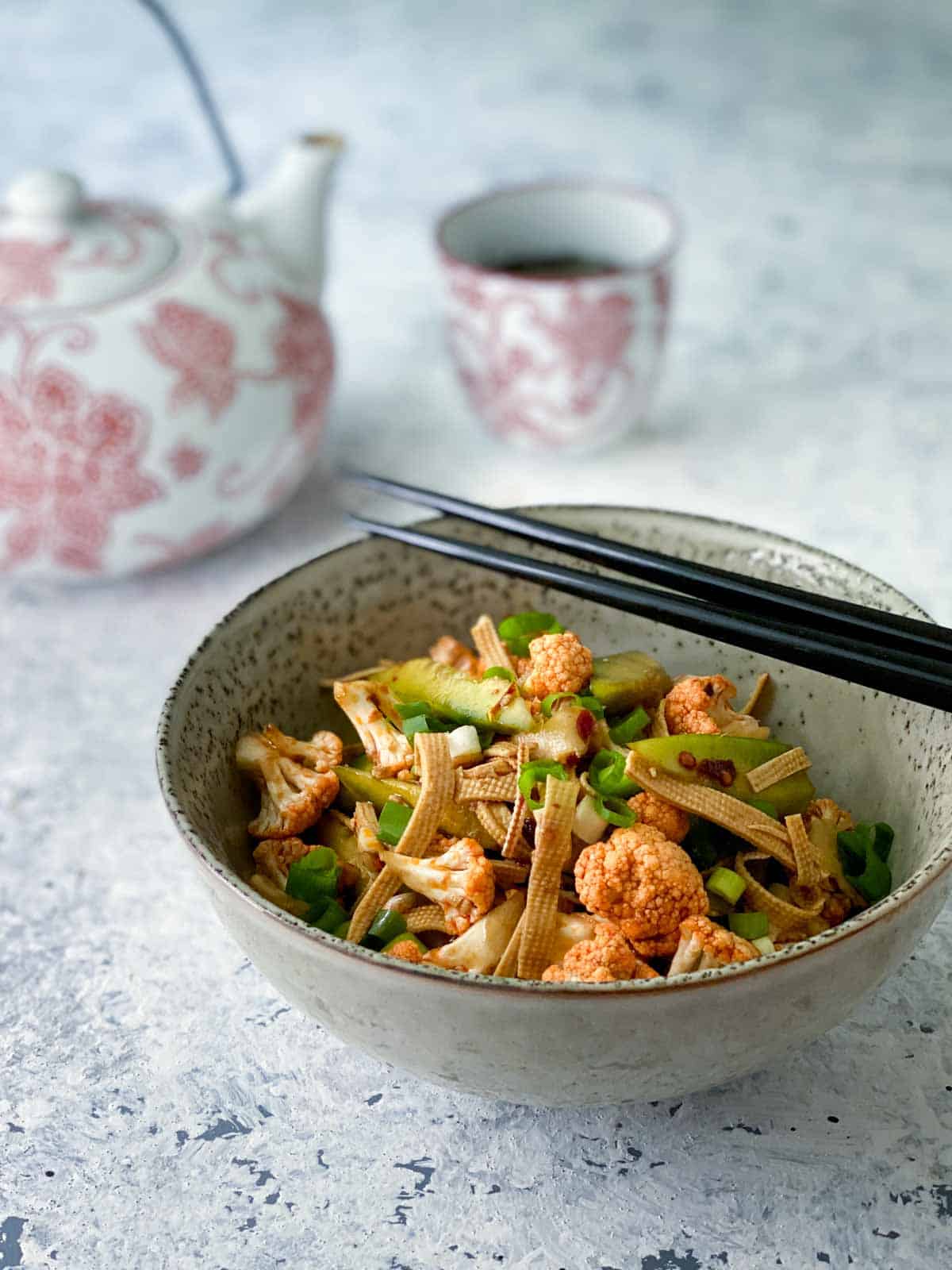 The Devil Wears Salad
6 Spicy Chinese Salad
One of the most underrated meal options, salads are versatile, nutritious, and often pretty simple to throw together too. But if you're stuck in a salad rut, and you're bored of your go-to ingredients, this recipe provides a good kick of spice thanks to the black vinegar chili dressing, which is all soaked up by the shredded tofu skin.
Get the recipe
The Foodie Takes Flight
7 Hainanese 'Chicken' Rice
Hainanese chicken rice hails from the province of Hainan, in Southern China, but today, it's enjoyed by people all over the country, as well as those in Singapore and Southeast Asia. Usually, it includes poached chicken which is served with rice (cooked in ginger, onions, and garlic), cucumber, and chili sauce. But instead of chicken, this variation relies on tofu (or you can use vegan meat). This is then wrapped in dried tofu skin, which helps to provide a similar look and texture to real chicken skin.
Get the recipe
For more vegan food content, read: