There is no season for ice cream—for those who truly love it, ice cream is a year-round treat. However, there's no arguing that ice cream consumption increases during the summer—doubles, dare we say?—and thanks to the boom in plant-based options, there's always a vegan option around the corner.
We're celebrating the vegan options sprouting up in both plant-based and vegan-friendly sweet shops across the country. Here is where to get vegan ice cream this summer, no matter where you are.
What is vegan ice cream?
Most ice cream is made with cow's milk, but when it comes to making a delicious, indulgent frozen treat, animal products aren't essential. Now more than ever, brands, ice cream shops, and restaurants are choosing to make ice cream with vegan milk options instead. Cashew, coconut, and oat are all delicious and popular bases for vegan ice cream flavors. If you want to have a go at making your own vegan ice cream, we have plenty of recipes to try (like this one for chocolate peanut butter swirl banana ice cream, for example, or this one for four-ingredient vanilla).
But let's be honest, whipping up your own ice cream requires time and energy, and sometimes, it's easier to grab it on the go. So with that in mind, here are some of the best places to get your scoop of vegan ice cream this summer.
Where to get vegan ice cream this summer
Vegan ice cream shops
Head to these vegan ice cream shops the next time your sweet tooth comes calling.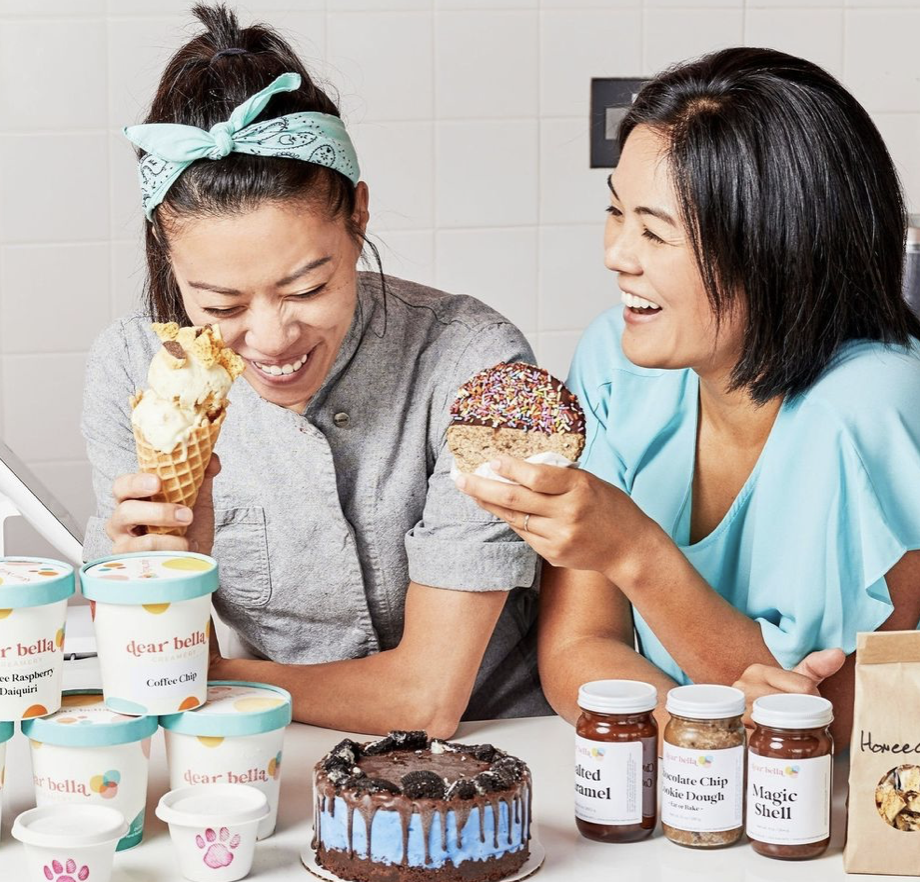 Dear Bella Creamery
1 Dear Bella Creamery
Originally coined Cocobella's, Hollywood's first all-vegan ice cream shop generates an instant sense of whimsy even before the first lick. The selection ranges from nostalgia-inducing classics such as Rocky Road to intriguing tastes like Lychee Raspberry Daiquiri. You can get your scoops loaded onto vegan cookies or nestled into golden waffle cones.
FIND OUT MORE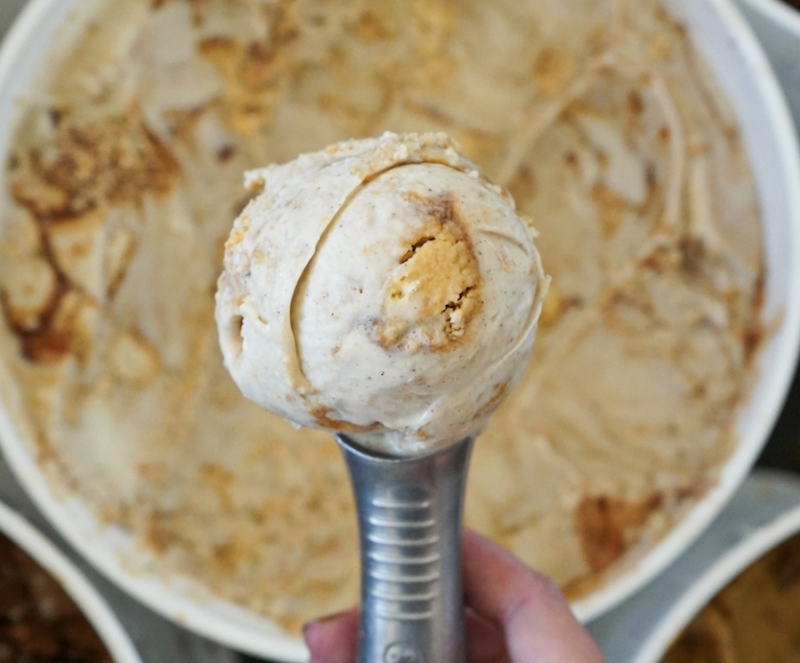 Frankie & Jo's
2 Frankie & Jo's
With a commitment to sustainability and flavor innovation, this Seattle-based shop crafts heavenly scoops that redefine the boundaries of vegan frozen treats. From their Salty Caramel Ash to their Gingered Golden Milk, every lick is a delightful journey through imaginative flavors, all made with the finest organic ingredients. There are three brick and mortar locations throughout the city to get your ice cream fix.
FIND OUT MORE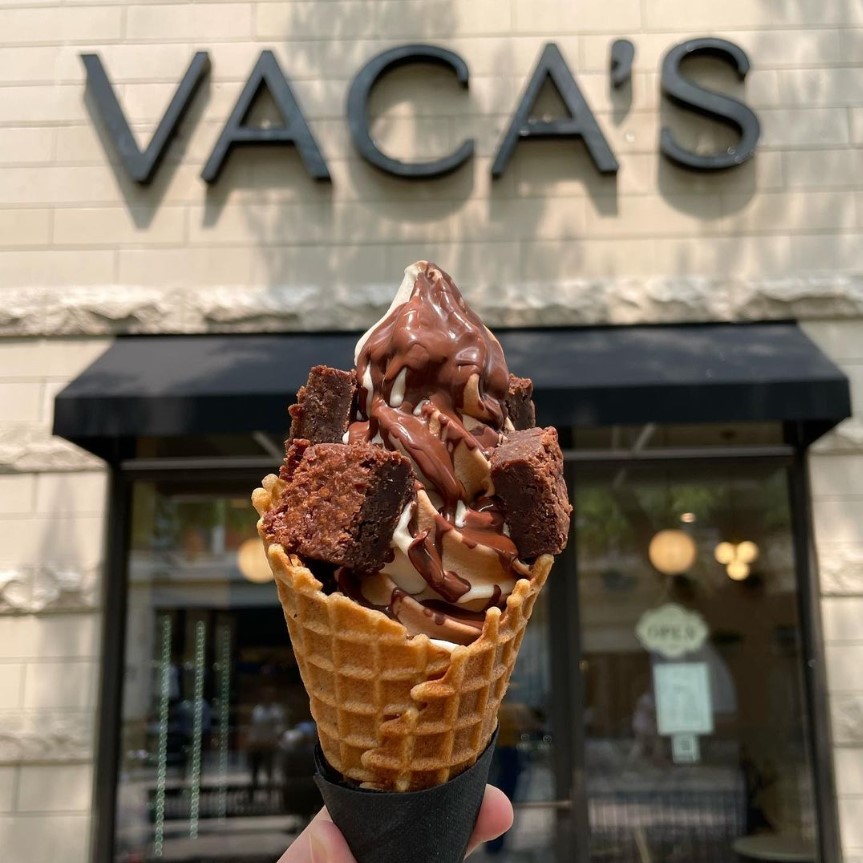 Vaca's Creamery
3 Vaca's Creamery
This charming ice cream parlor in Chicago, IL is a haven for ice cream enthusiasts and flavor adventurers alike. Vaca's Creamery takes pride in using locally sourced ingredients to create their handcrafted, small-batch ice creams, ensuring each scoop is a true taste of Chicago. From classic favorites like Strawberry Olive Oil to innovative creations like Tahini, their menu offers a delightful array of flavors that capture the essence of the city's culinary spirit.
FIND OUT MORE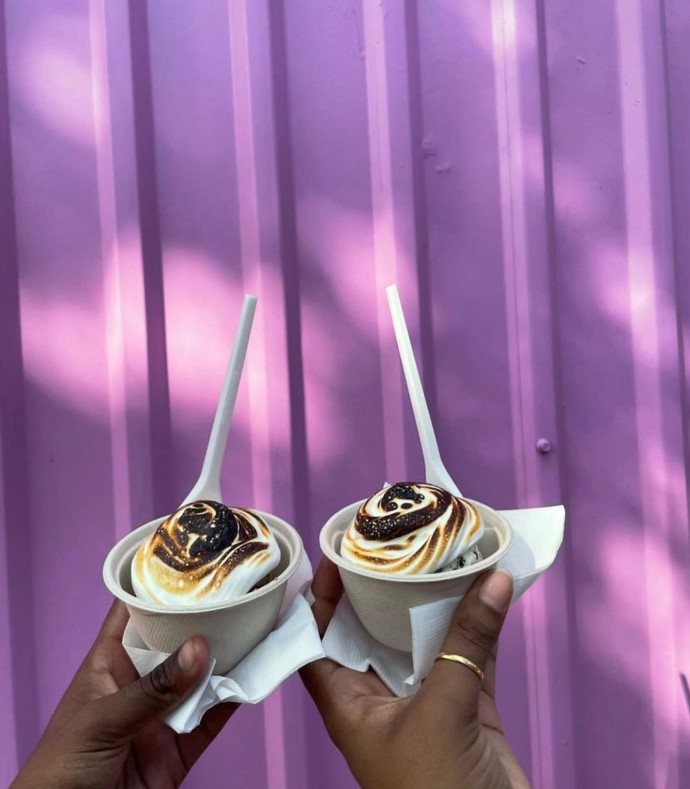 @thehungryjellybean/Instagram
4 Luv Fats
At Luv Fats, they specialize in crafting dairy-free ice cream made from wholesome and nourishing fats, bringing a new level of creaminess and flavor to the vegan ice cream scene. From their decadent Sourdough Toast & Peach Jam to their irresistible Kenyan Chai, each scoop is an indulgent delight that will leave you craving more. Located in the vibrant city of Austin, Luv Fats is a must-visit destination for ice cream lovers seeking a plant-based twist on traditional favorites.
FIND OUT MORE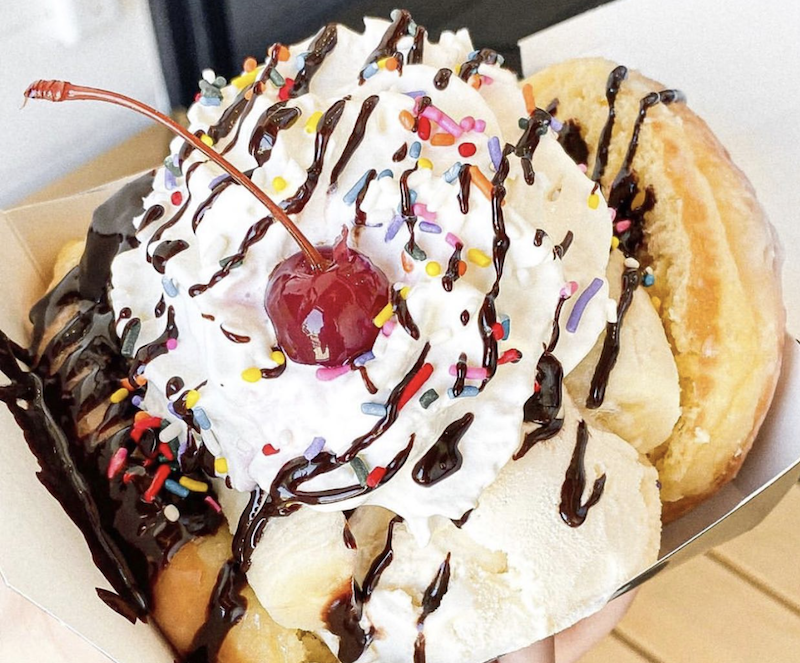 Creamo
5 Creamo
With a dedication to pushing the boundaries of flavor, this Los Angeles scoop shop features a mesmerizing array of unique and decadent creations. From their heavenly X-Ray Speculoos with swirls of cookie butter to the pop punk-named Paramoreo, each scoop is a blissful explosion of taste and texture that will leave you craving more.
FIND OUT MORE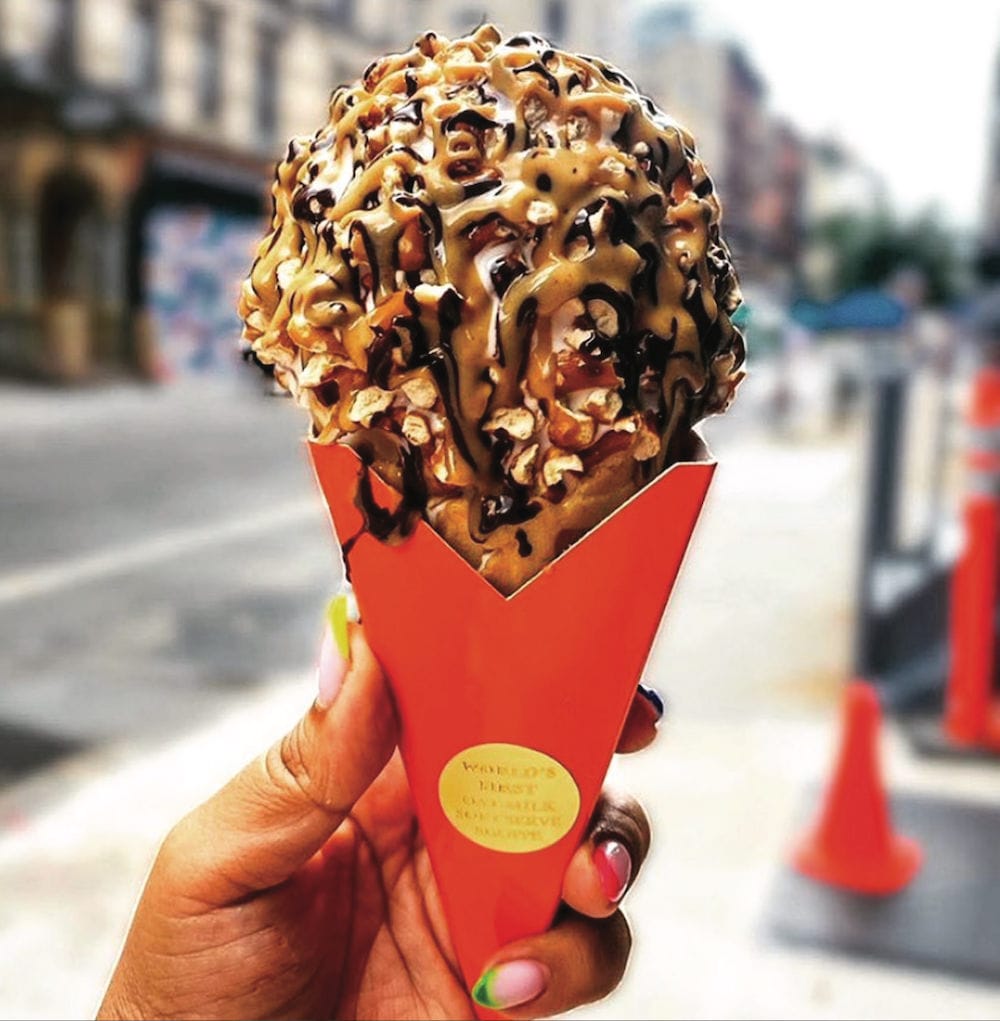 Whipped Urban Dessert Lab
6 Whipped Urban Dessert Lab
Experience dessert innovation like never before at Whipped Urban Dessert Lab, a culinary playground nestled in the heart of New York City. This cutting-edge dessert destination is redefining the boundaries of sweet indulgence with their imaginative creations and avant-garde flavors. Choose between a a trio of signature ice cream flavors, a selection of mouthwatering dessert sauces, and crumb coatings like chocolate cookies or salted pecans.
FIND OUT MORE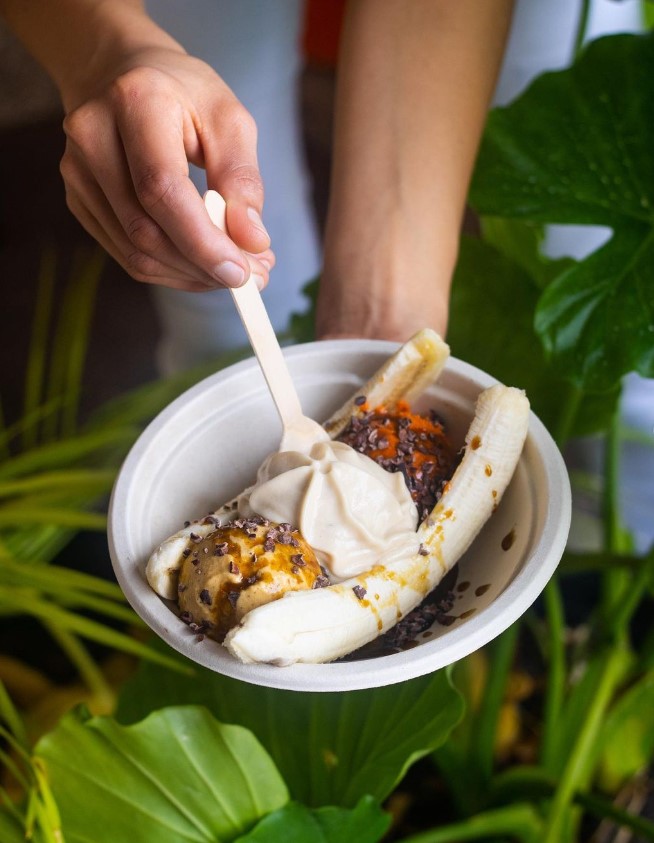 Nabati
7 Nabati Ice Cream
Escape to a tropical paradise at Nabati Ice Cream in Miami, FL. Nestled in this vibrant coastal city, Nabati offers a delightful oasis for ice cream enthusiasts seeking plant-based treats. Indulge in their creamy Rose Goji Pistachio or dive into the refreshing tang of their Golden Scoop ice cream. Each scoop is a refreshing burst of natural flavors that transports you to the sun-kissed shores of Miami.
FIND OUT MORE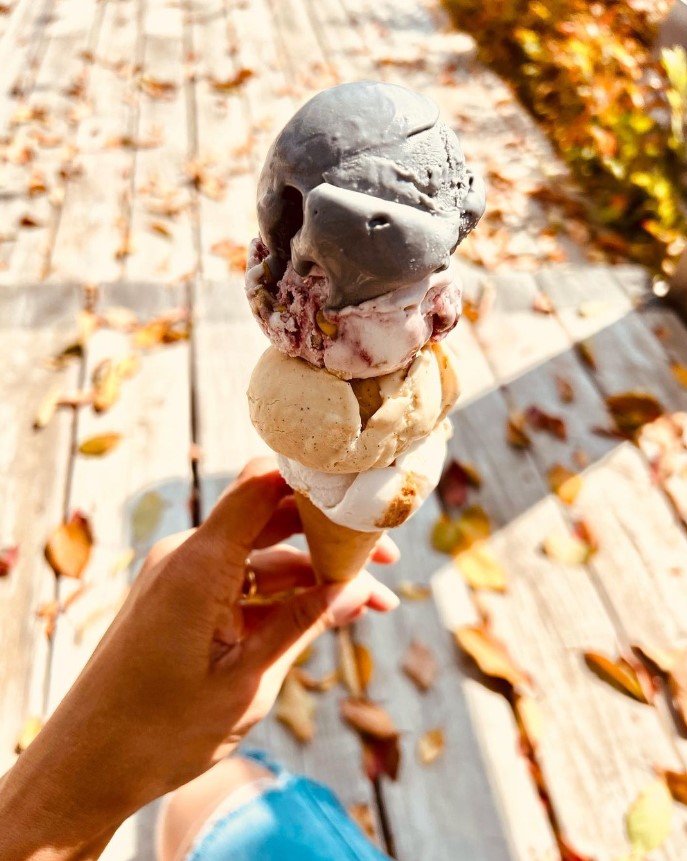 Koko's Ice Cream
8 Koko's Ice Cream
Step inside this Tennessee vegan haven and immerse yourself in a world of delectable treats that will ignite your taste buds. From creamy classics like Key Lime Pie to their unique creations like Lavender Dream, Koko's Ice Cream offers a diverse menu that caters to every palate. Locally sourced ingredients and careful craftsmanship ensure that each scoop is a true delight.
FIND OUT MORE
Yoga-Urt
9 Yoga-Urt
Founded by Melissa Schulman in 2015, Yoga-urt offers a variety of organic, nut-based soft-serve made fresh daily from the shop's own housemade almond milk. Free of gluten and soy, rotating flavors include Vanilla Harmony, Lavender Blossom, Salted Caramel Zen, Coffee Karma, and Maple Banana Pancake. Now with two locations, the business has also recently begun offering franchise opportunities to continue expanding its vegan frozen yogurt empire.
FIND OUT MORE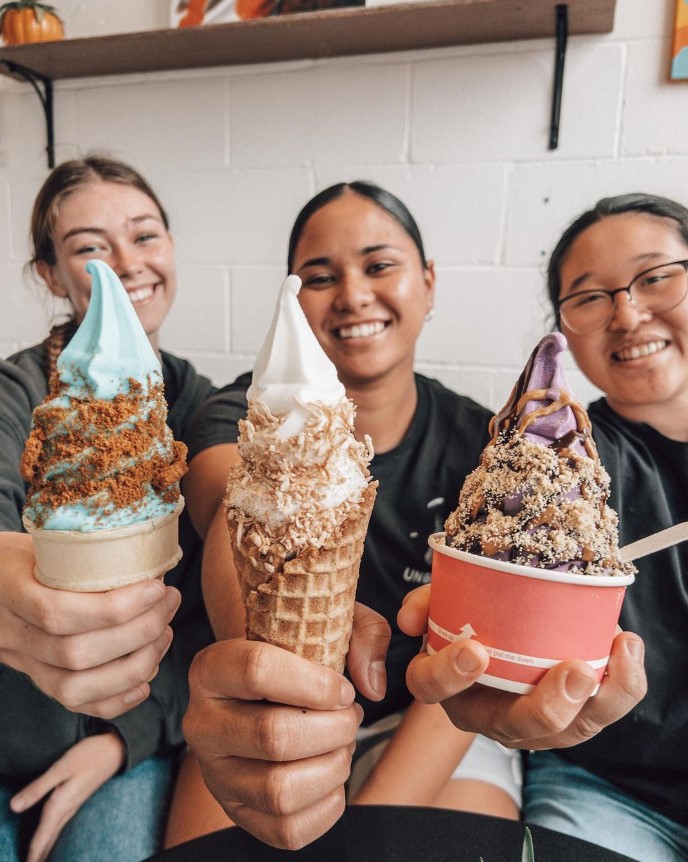 Niu Soft Serve
10 Niu Soft Serve
With the warm ocean breeze and breathtaking scenery as your backdrop, Hawaii-based Niu Soft Serve invites you to indulge in a frozen delight like no other. Their signature soft serve creations, made from locally sourced coconuts, offer a taste of pure Hawaiian bliss. From the creamy Roasted Pineapple to the delightful Ube, each spoonful is a tropical escape for your taste buds.
FIND OUT MORE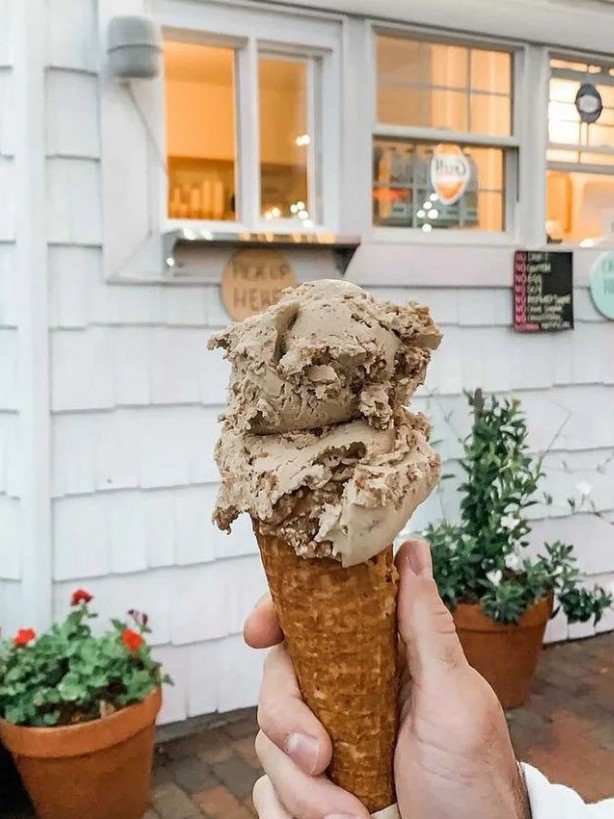 Sticky Sweet Maine
11 Sticky Sweet
Founded by two sisters, this Portland, ME-based dairy-free scoop shop is serving up sweetness in the form of cookies and creme, cool mint, coffee chunk, and lemon cheesecake scoops. Each flavor is lovingly made from scratch with bases of cashews and coconut at this seaside destination.
FIND OUT MORE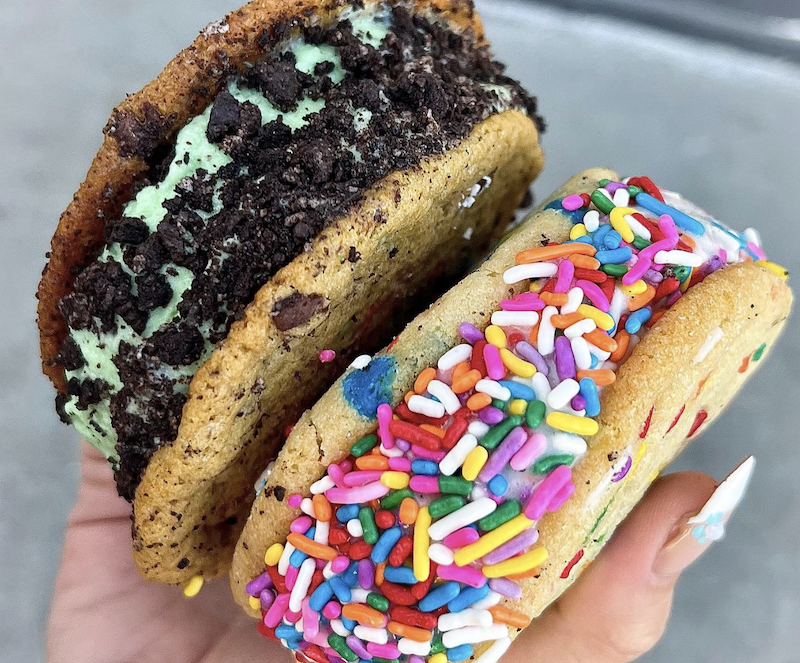 Hug Life
12 Hug Life Ice Cream
Southern California-based Hug Life's plant-based, vegan ice cream delights are made with wholesome ingredients and packed with flavor. From their creamy Vietnamese Coffee to their refreshing Matcha Monsta, each scoop is a taste sensation that will leave you wanting more. Step into this vibrant oasis and discover a world of extraordinary flavors that will make you fall in love with ice cream all over again.
FIND OUT MORE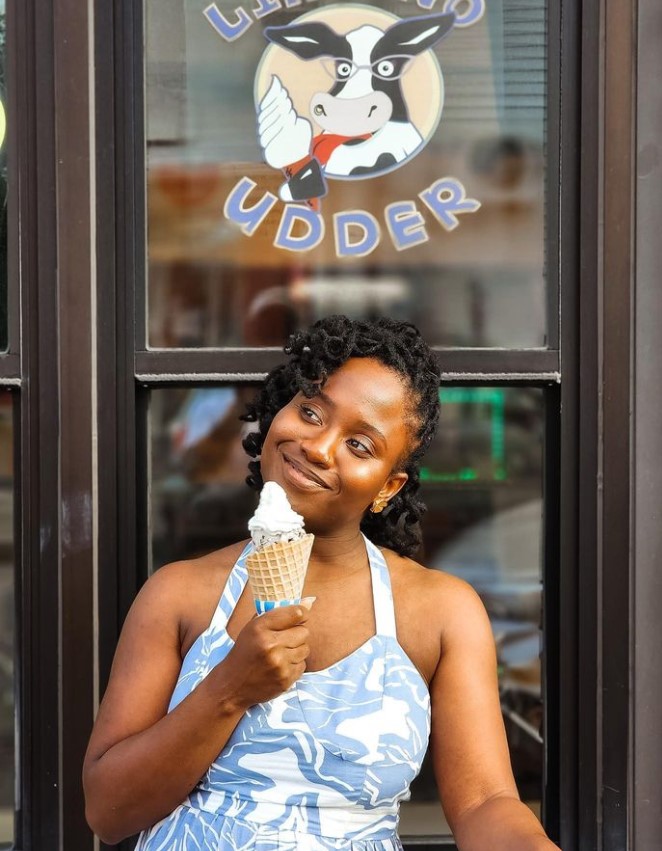 @its.jasminrose/Instagram
13 Like No Udder
Providence, RI-based Like No Udder's creative and delicious offerings range from classic flavors like Cookies 'n Cream and Rum Raisin to unique delights like Maple Walnut and Thai Tea, ensuring there's something for everyone to enjoy. Visit this beloved Providence gem and discover the joy of dairy-free indulgence that will leave you saying, "Who needs udders when you have this?"
FIND OUT MORE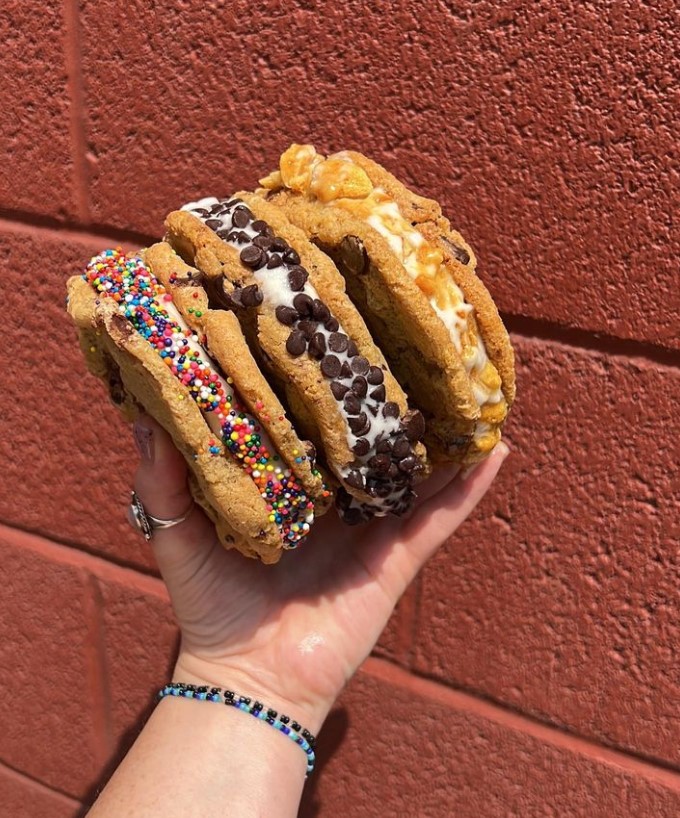 @budsslc/Instagram
14 Monkeywrench
Based out of Salt Lake City, UT, this all-vegan dessert destination is a funky and vibrant delightful haven for those seeking unique and adventurous flavors. Monkeywrench prides itself on pushing the boundaries of taste, offering an ever-changing menu that showcases their creativity and passion. From their zesty Blueberry Cobbler to their indulgent Banana Brownie, each scoop is a delightful surprise that will tantalize your taste buds.
FIND OUT MORE
Ice cream shops with vegan options
These national chains offer dairy-free options suitable for vegans.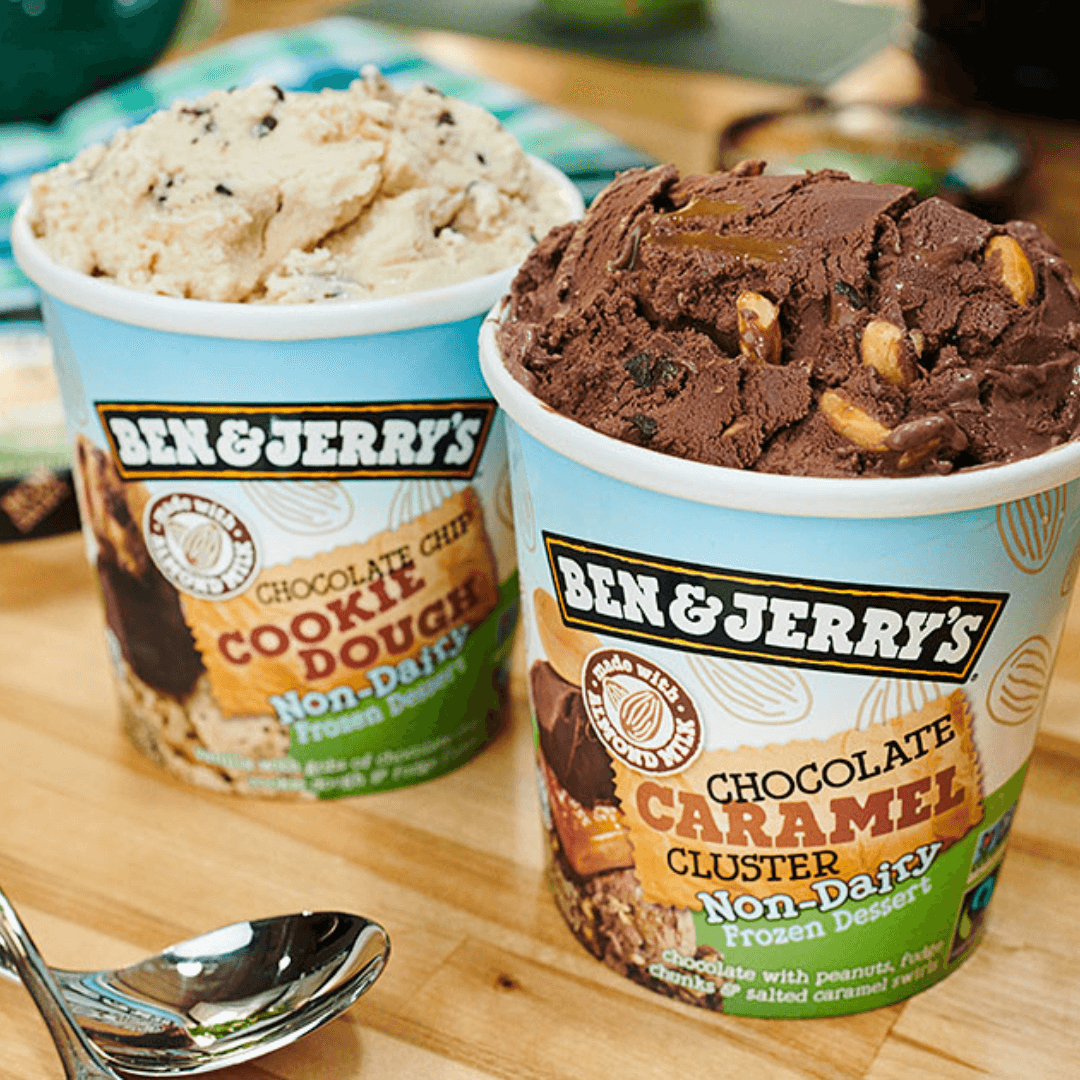 Ben & Jerry's
15
Ben & Jerry's
Due to limited space, you won't find the 19 non-dairy Ben & Jerry's flavors at the scoop shop, but you can rely on at least two. Typically, the shops are stocked with best-sellers, so you know you'll get something good. Note: always ask for the ingredient list if one of the sorbets catches your eye—many contain honey or other animal ingredients.
FIND OUT MORE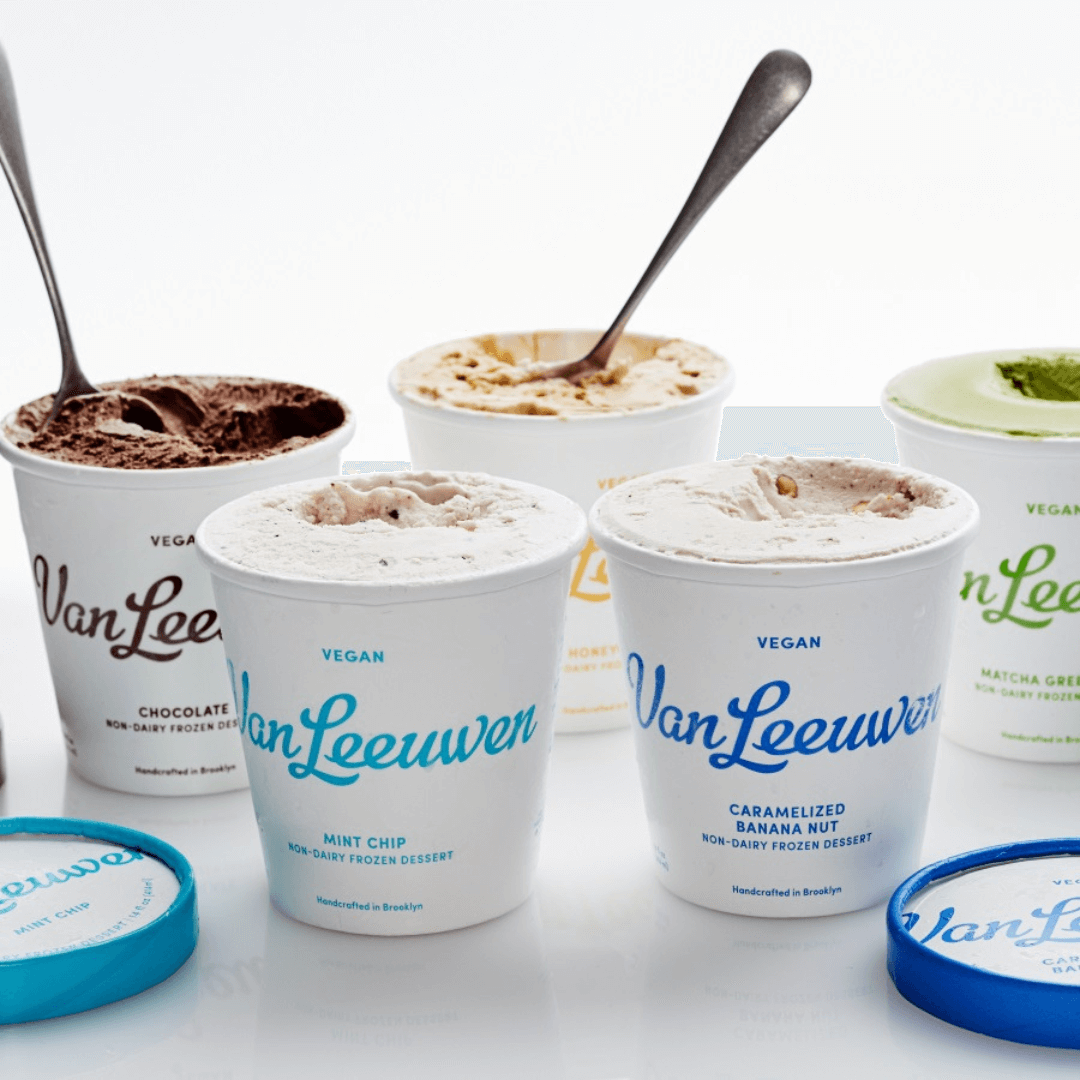 Van Leeuwen
16Van Leeuwen
Both an ice cream shop and pint manufacturer, Van Leeuwen has multiple locations in New York, New Jersey, California, Texas, and Pennsylvania. The vegan options vary by season and location, but you can always find over-the-top plant-based flavors in rotation.
FIND OUT MORE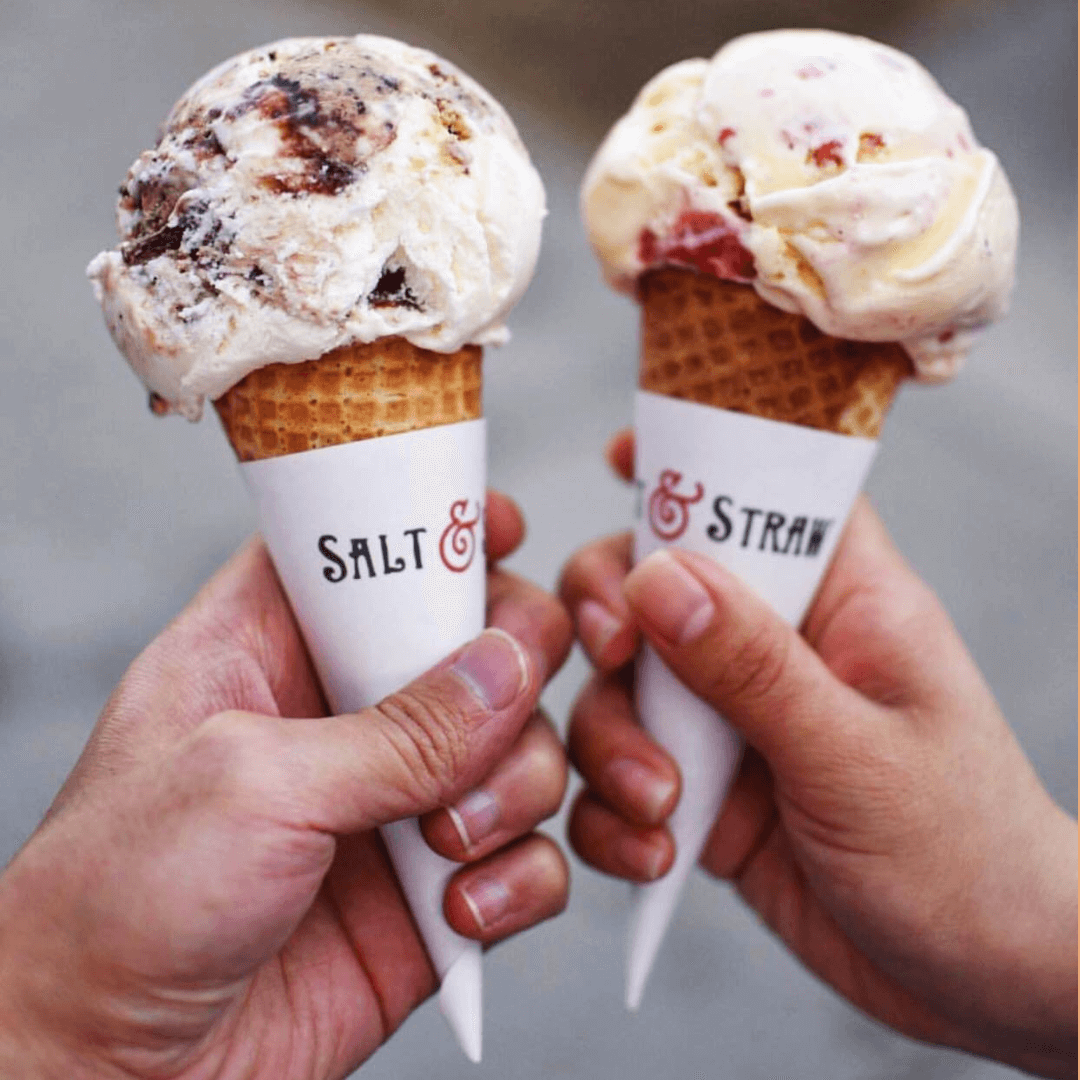 Salt & Straw
17
Salt & Straw
Long lines amplify the pleasure of the experience, and that is certainly the case for Salt & Straw. The innovative ice creamery always has a queue wrapped around the block. The chain typically carries at least two vegan flavors that vary depending on location—the company makes an effort to incorporate local food purveyors into their recipes wherever they set up shop. You can find Salt & Straws in a number of locations, including California, Washington, Oregon, and Florida.
FIND OUT MORE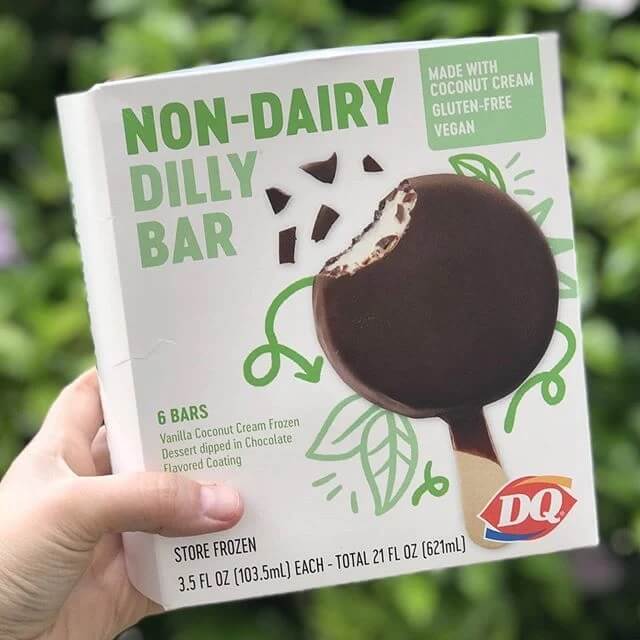 Dairy Queen
18
Dairy Queen
We're still waiting on a vegan cookie dough Blizzard, but vegans can satisfy their sweet tooth with the Non-Dairy Dilly Bar. The nostalgic treat is made with coconut-based vanilla ice cream and a dairy-free chocolate coating. We appreciate the effort, but we still want that Blizzard.
FIND OUT MORE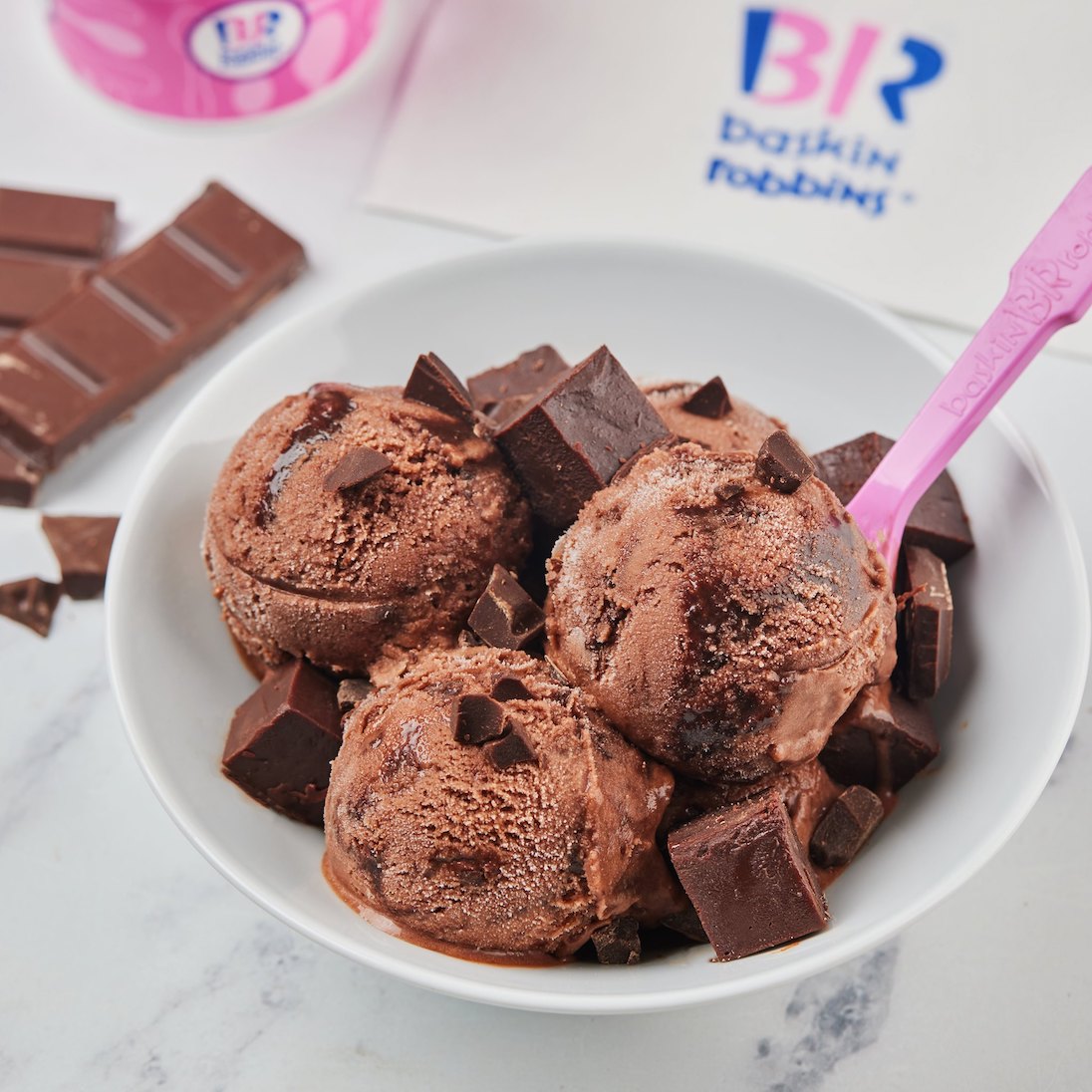 Baskin-Robbins
19 Baskin-Robbins
Vegans rushed to their nearest Baskin Robbins when the company released its first vegan flavor in 2019. The 2,500-plus location chain has several non-dairy options, including sorbet, Mint Chocochunk ice cream, and Mangonadas, too.
FIND OUT MORE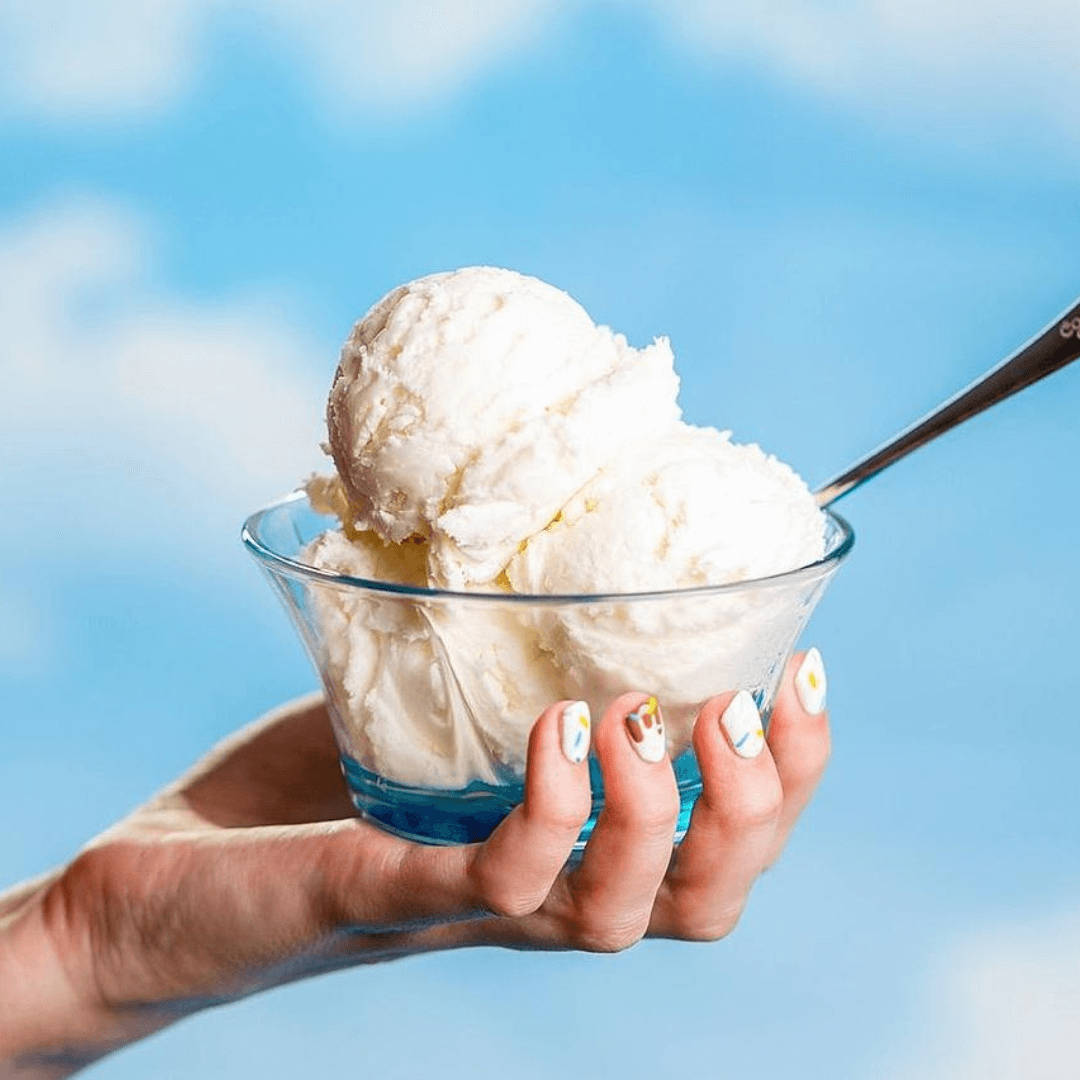 Ghirardelli
20
Ghirardelli
Not just a chocolate shop, Ghirardelli offers an old-timey parlor experience with classic scoops and sundaes. Create your own shake or sundae with the raspberry sorbet or non-dairy Coconut Bliss vanilla. Vegan-friendly topping options include strawberry sauce, pineapple sauce, diced almonds, sea salt, and sprinkles. Note: a cup is the vessel of choice here—the waffle cones contain dairy.
FIND OUT MORE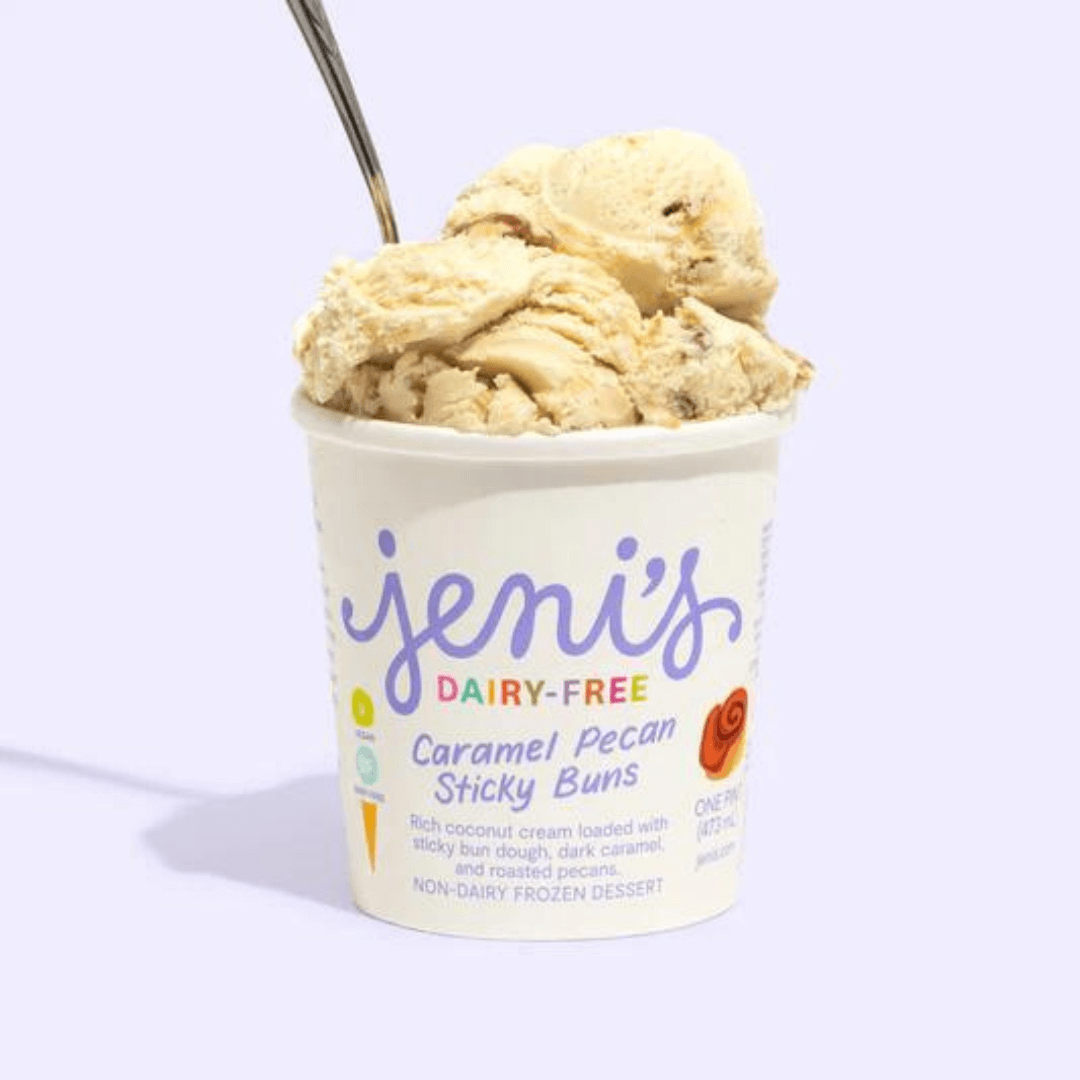 Jeni's Splendid Ice Creams
21Jeni's Splendid Ice Creams
The once buzzed-about Everything Bagel flavor isn't vegan, but Jeni's offers several that are. Options range depending on location, but just a few include Dark Chocolate TruffleTexas Sheet Cake and Cold Brew with Coconut Cream. Find Jeni's in 12 states plus Washington, DC.
FIND OUT MORE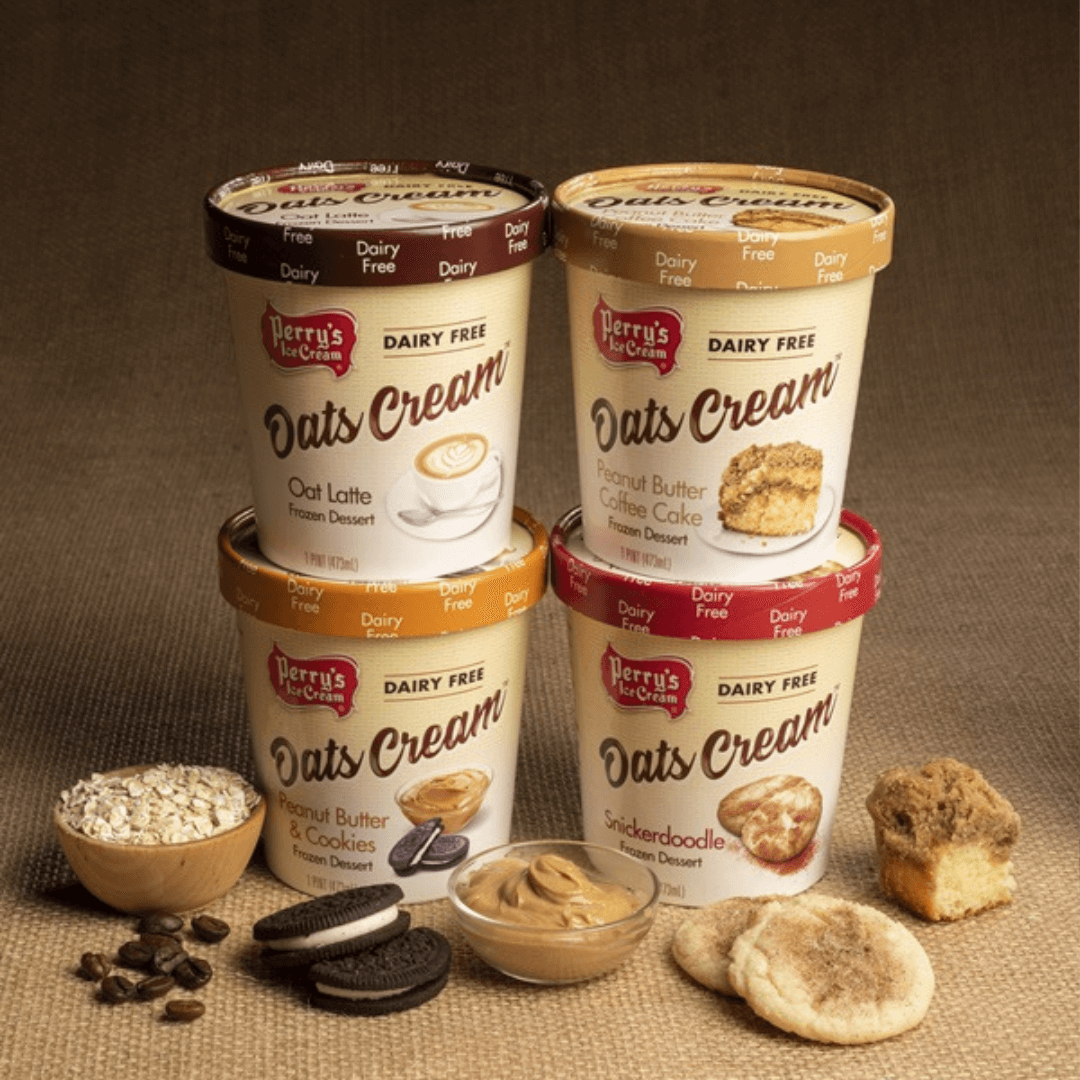 Perry's Ice Cream
22Perry's Ice Cream
This East Coast scoop shop and distributor has a few vegan options depending on the location. With approximately 1,000 franchise stores, you're bound to find one near you if you live in New York, Pennsylvania, or Ohio. The chain partnered with vegan milk brand Elmhurst 1925 to develop a line of oat-based flavors under the name Perry's Oats. Flavors rotate and more non-dairy options are available in pints, but currently Apple Strudel Oats Cream, Blueberry Pancake Oats Cream, and Non-Dairy Vanilla (almond-based) are available in scoop shops.
FIND OUT MORE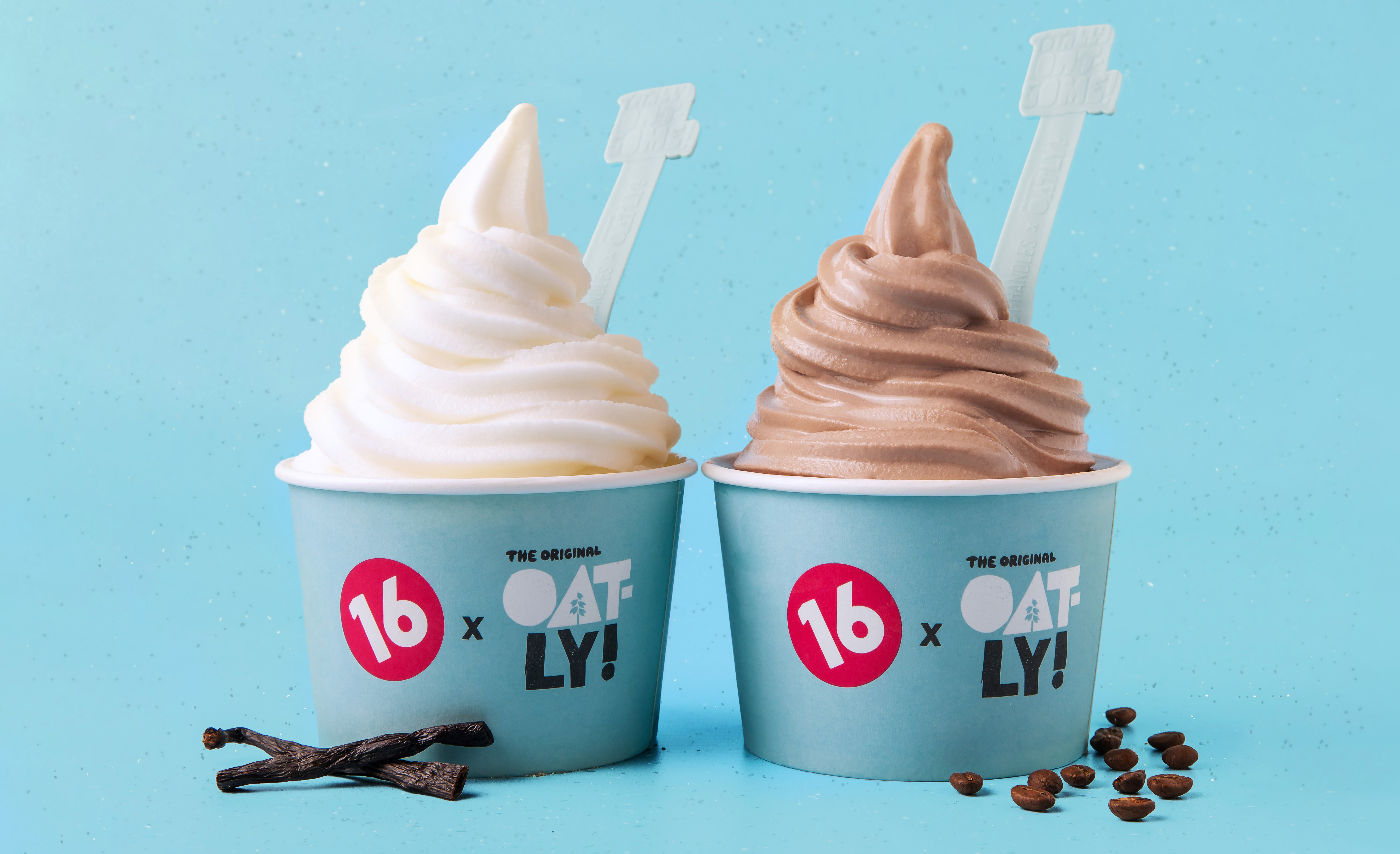 16 Handles
2316 Handles
This top-your-own soft-serve shop has steadily offered an increasing variety of vegan ice cream flavors through a partnership with Oatly. From indulgent options such as Oatly Chocolate Cake and Oatly Cinnamon Bun to lighter, fruity flavors like Green Apple Sorbet and Coco Loco, there is plenty to choose from. Enjoy as-is or top with dairy-free chocolate chips, fruit, or crushed Oreos.
FIND OUT MORE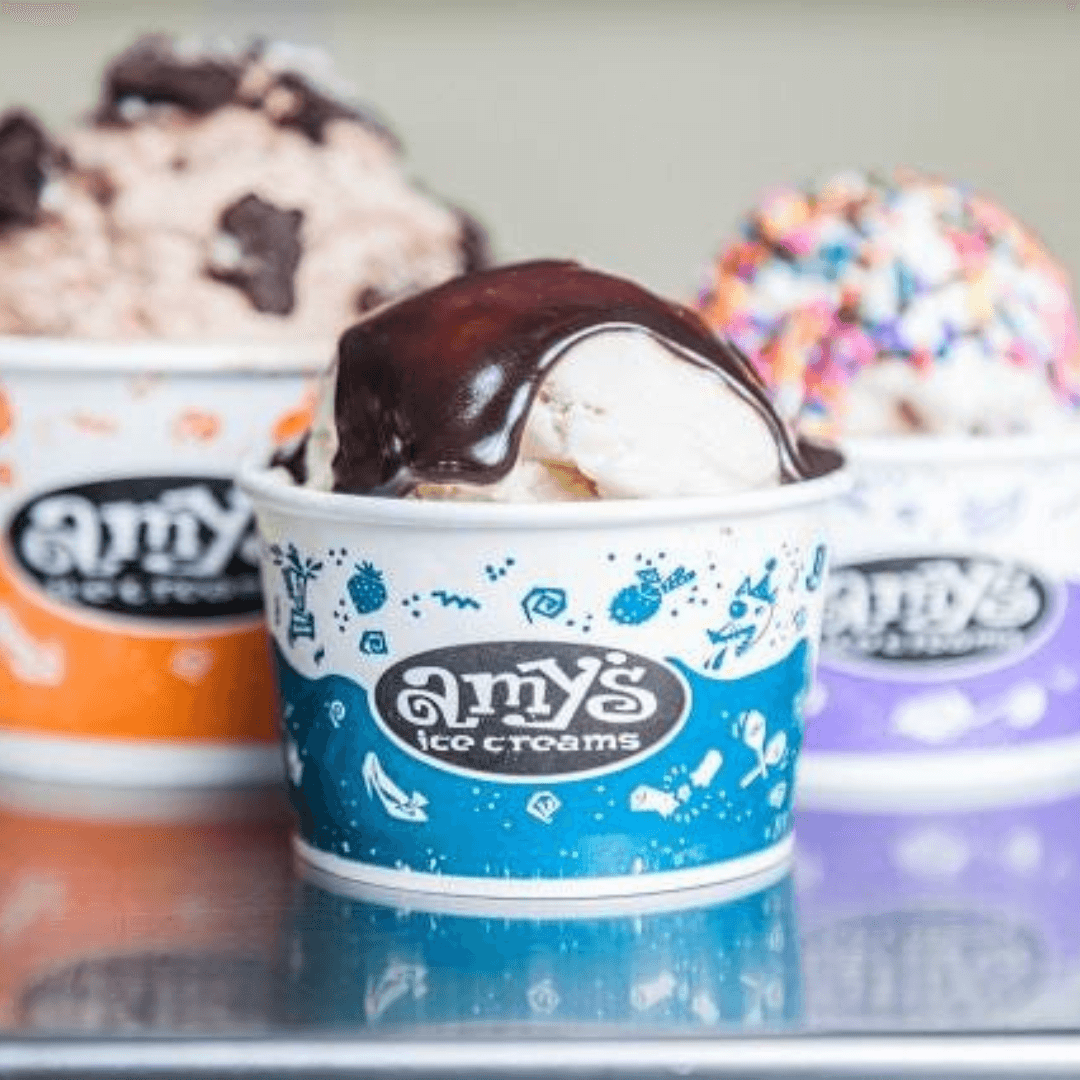 Amy's Ice Creams
24Amy's Ice Creams
Texans beat the heat with this multi-city ice cream shop. The chain carries a multitude of clearly-marked vegan flavors with oat and coconut bases. Dive into a scoop of smooth Oatly GoNana, spicy Mexican Vanilla, or decadent Oat Milk Chocolate.
FIND OUT MORE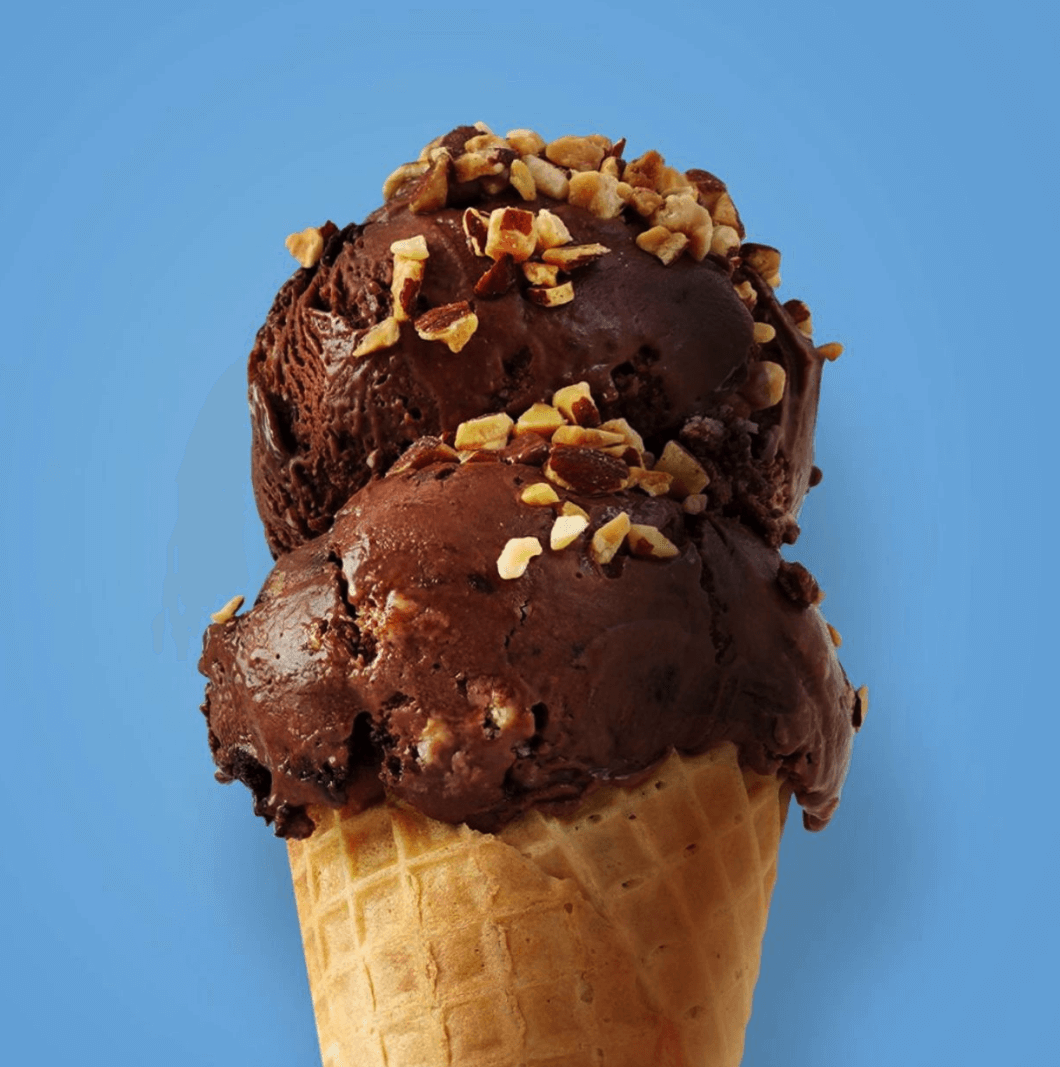 Cream
25Cream
Don't bother with a cup at this chain—this place specializes in ice cream cookie sandwiches. Choose from soy-based mint chip or strawberry to sandwich between two gigantic, warm vegan cookies. Pro tip: most people pick just one cookie flavor, but you can actually get one cookie flavor for the top and another for the bottom. Vegan cookie options include Chocolate Banana Bliss, Fudging Awesome, and Maple Oatmeal Spice. Napkins are a must.
FIND OUT MORE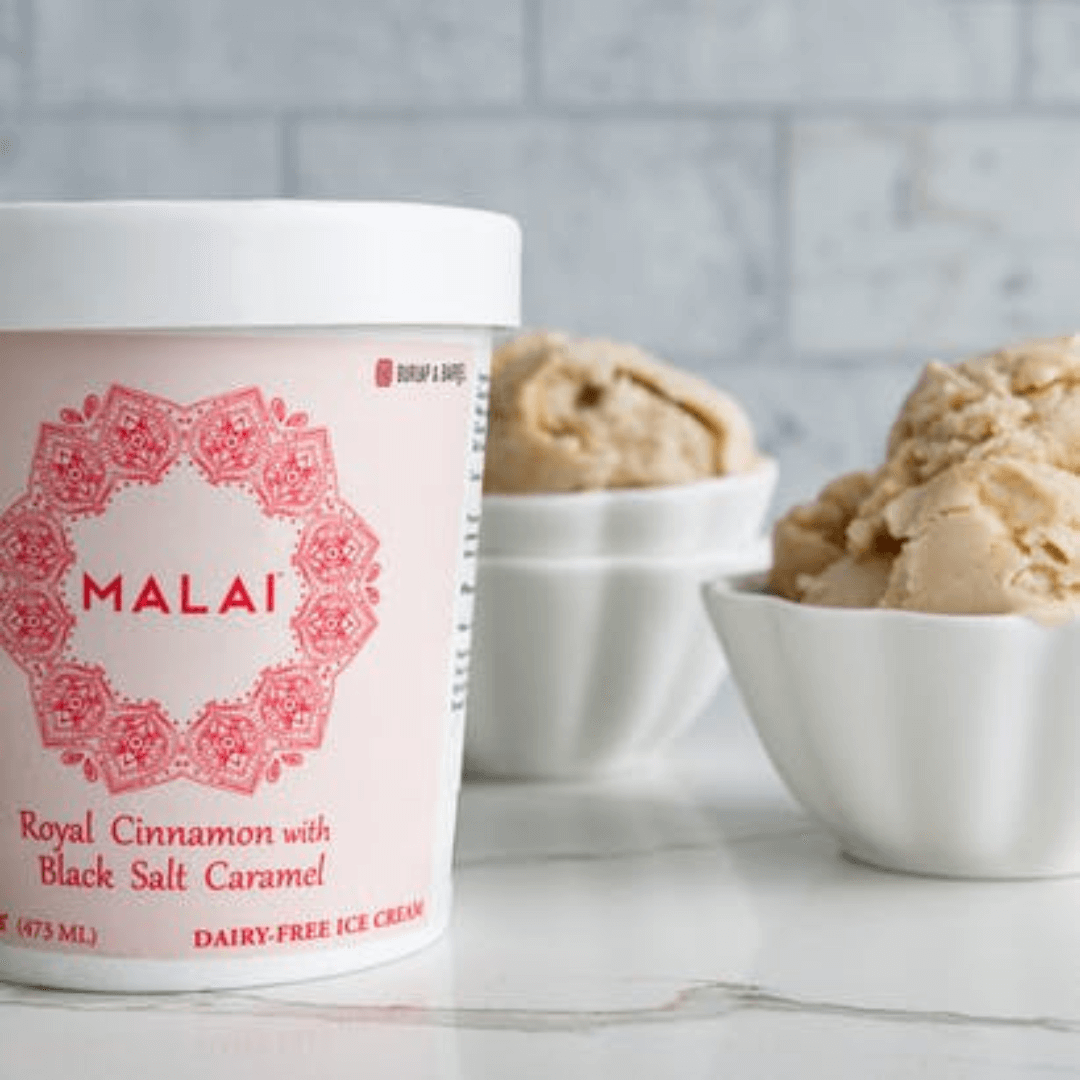 Malai
26Malai
Those residing or visiting the greater New York City area must take a trip to Brooklyn for this minority and woman-owned ice cream company. While a majority of flavors contain dairy, the dairy-free flavors reflect as much intention and creativity as the dairy-based options. Choose from pints with names like Royal Cinnamon with Black Salt Caramel, Spiced Peanut Crunch, and Pineapple Pink Peppercorn. And great news—these flavors ship nationwide.
FIND OUT MORE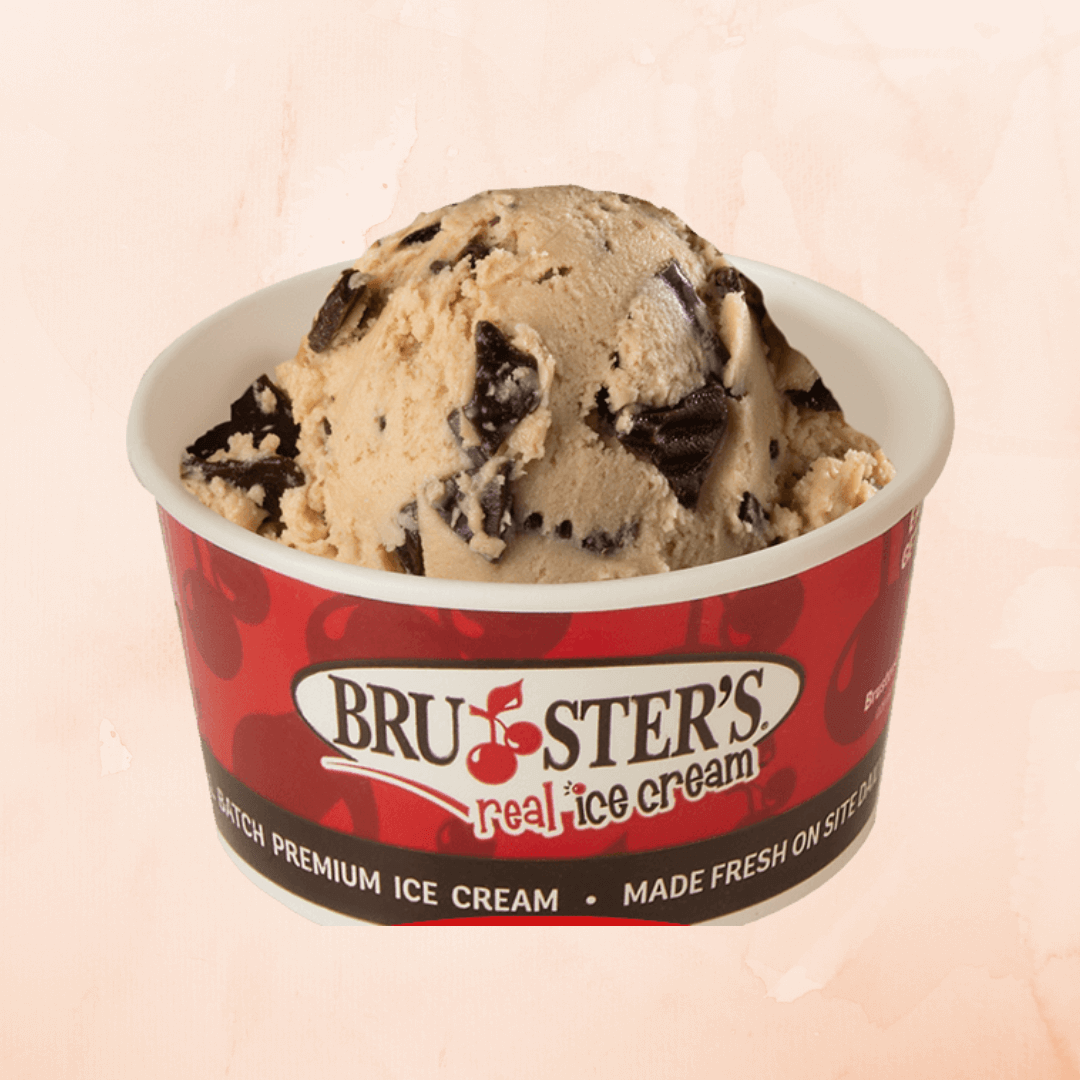 Bruster's
27Bruster's
This by-coastal creamery boasts multiple oat milk-based vegan flavors. It's hard to choose between options like Triple Chocolate With Oreo, Banana Peanut Butter Ripple, and Peach Melba. We suggest you order multiple scoops. Note: flavors vary depending on location.
FIND OUT MORE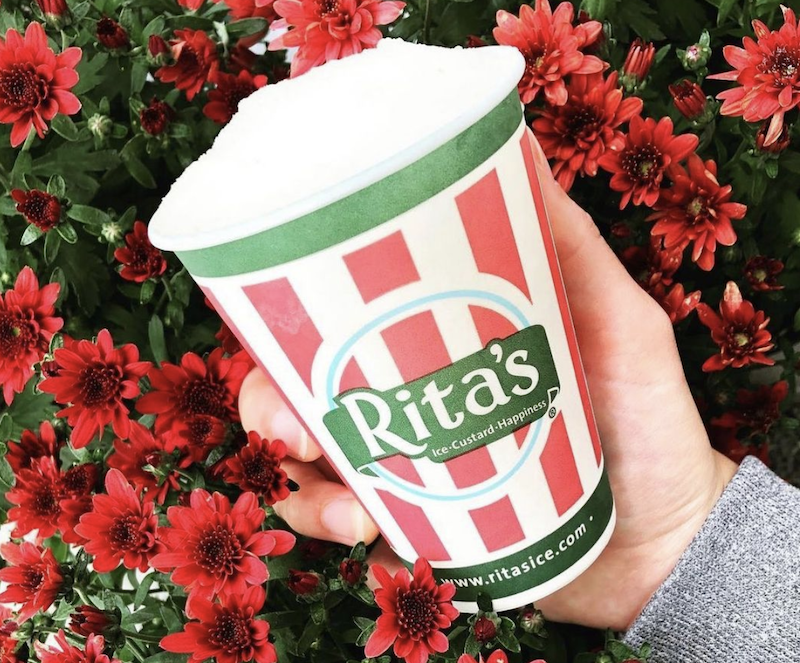 Rita's
28Rita's
Not ice cream and not shaved ice, Italian ice is something you have to experience to understand. All the Natural Ice flavors are vegan as well as the standard Italian Ice options (with the exception of the Chocolate Chocolate Chip). Avoid the custards and Cream Ice options. Depending on the store's specific menu, you can go fruity with flavors like Mango Peach and Mojito or opt for a bit of decadence with Chocolate Peanut Butter and Peanut Butter & Jelly.
FIND OUT MORE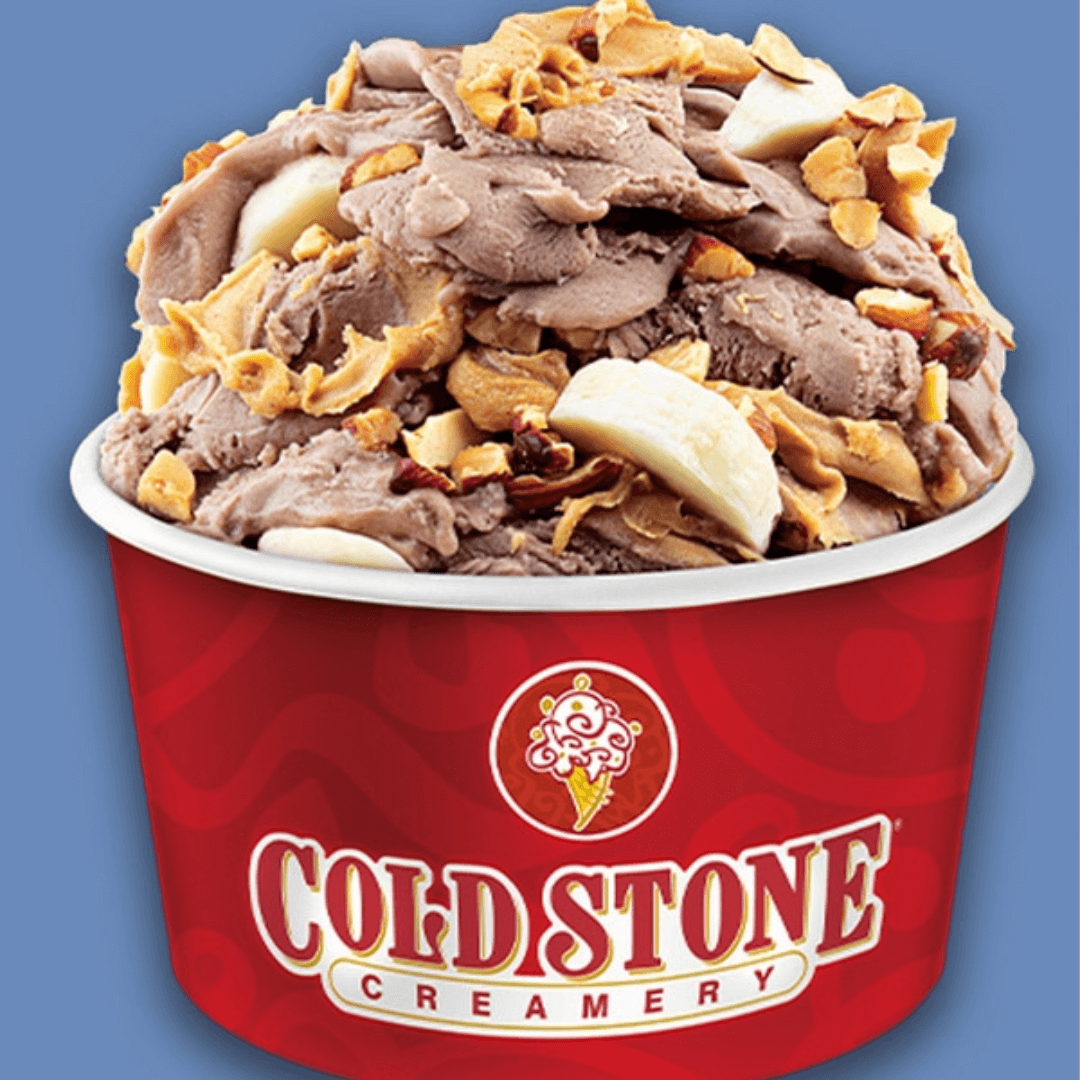 Cold Stone
29Cold Stone
Cold Stone's vegan flavor was a long time coming, but it finally landed in stores earlier this year. The Silk Chocolate Almondmilk Frozen Dessert came by way of a collaboration with Silk—the behemoth of all things non-dairy. Anyone familiar with this chain knows that the ice cream is only half of the appeal—what makes Cold Stone unique and crave-able is the medley of mix-ins … and the fact that the employees may break into song if you tip them. Vegan mix-in options include apple pie filling, coconut flakes, Oreos (both traditional and Golden varieties), peanut butter, nuts, rainbow sprinkles, and a handful of fresh fruit options. Here's our go-to: Silk Chocolate Almondmilk Frozen Dessert mixed with Oreos, peanut butter, and bananas. It's the ultimate chocolate-peanut-butter-banana indulgence.
FIND OUT MORE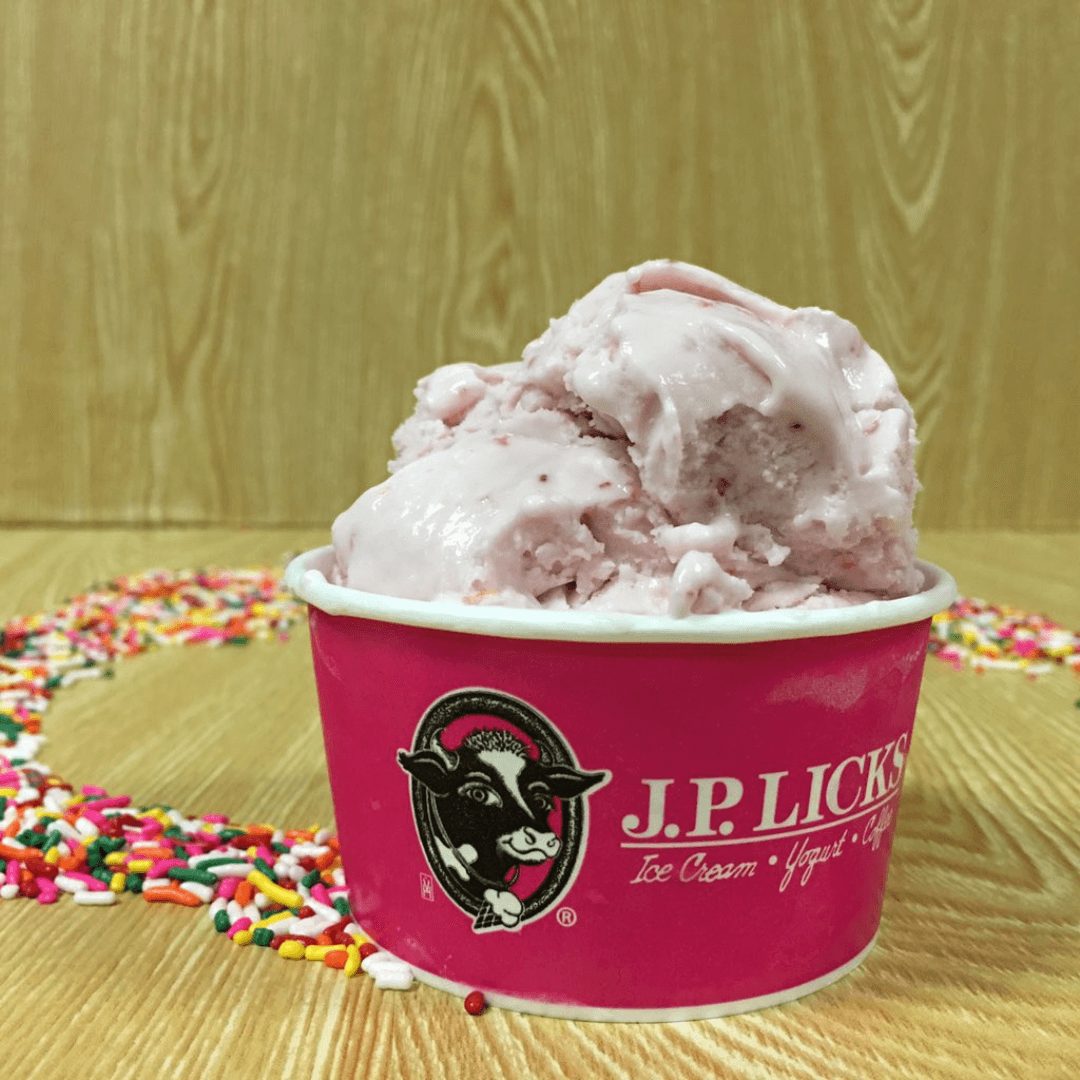 JP Licks
30JP Licks
Bostonians flock to this local favorite even in the midst of below-freezing temperatures. The upside: your double scoop lasts a lot longer in that kind of weather. Two dairy-free flavors are on offer at all locations: Peanut Butter Chip and Mango Sorbet. Enjoy in a cup, as an afagoto, or a frappe.
FIND OUT MORE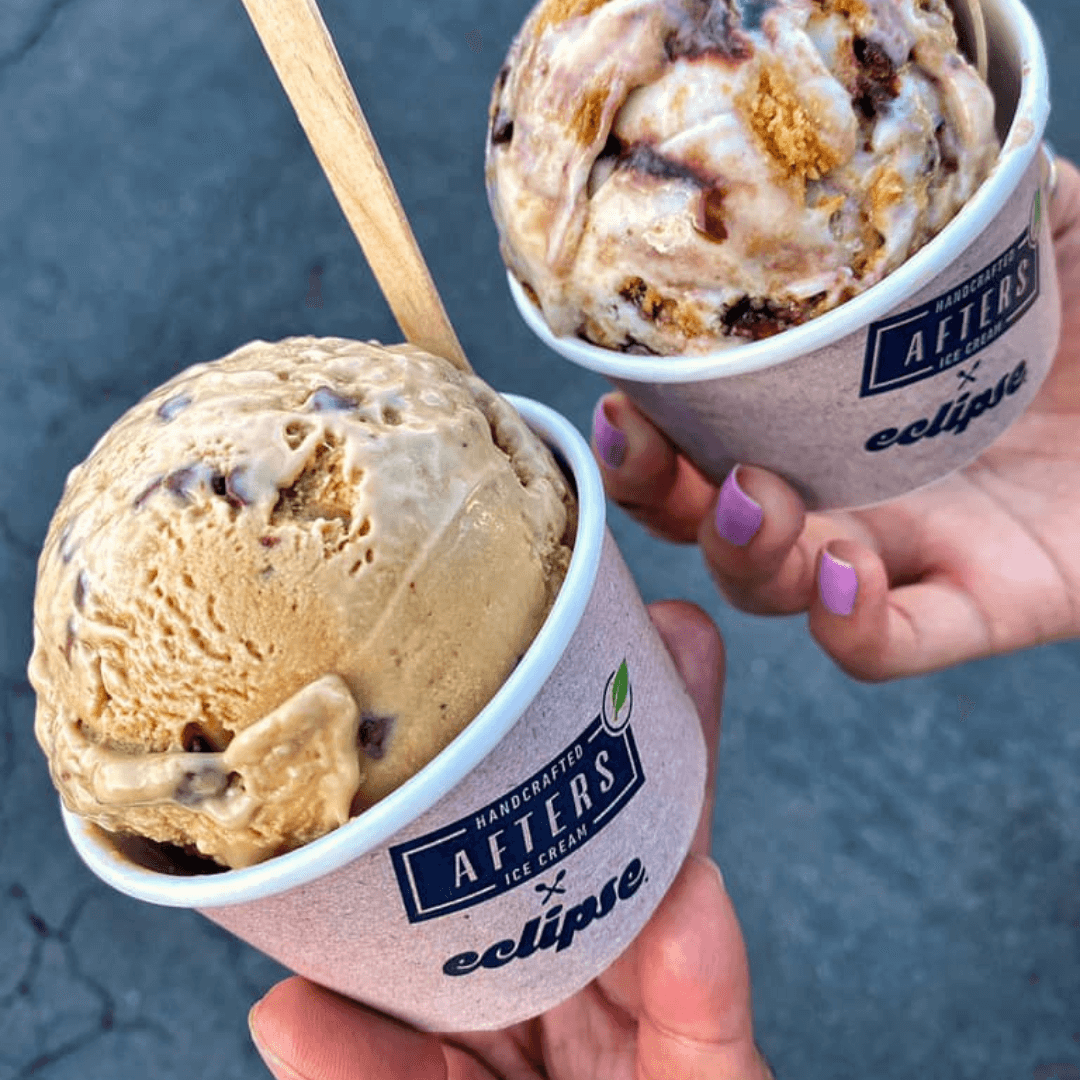 Afters
31Afters Ice Cream
Ice cream is always cool, but Afters is on the next level. The chic chain gained a loyal following, yes, through its flavors, but also for its apparel. Anti-diet club T-shirts proved one was "in the know," part of an unofficial After's club. In 2018 the brand launched its signature vegan milky bun at Coachella and was later incorporated into scoop shops. For those unfamiliar, Afters milky buns are a cross between a glazed doughnut and a bao bun. Plant-based customers can treat themselves to a non-dairy Chocolate Chip Cookie.
FIND OUT MORE
For more vegan ice cream, read: