Today, we celebrate the infinitely delicious ways ingredients can come together between two slices of bread. The great big world of vegan sandwiches is vast and complex, but for the sake of simplicity, we're narrowing down the definition of "sandwich" to exclude hot dogs and burgers. In no particular order, we've created a bucket list of epic handholds both to buy and to try at home. From savory-sweet Monte Cristos to elevated BLTs, here are the 36 best vegan sandwiches to unhinge your jaw for.
What makes a good vegan sandwich?
Those new to the vegan lifestyle may pause or raise an eyebrow at the notion of a vegan sandwich. For many, a sandwich is synonymous with meat, cheese, and bread. There are plenty of plant-based sandwiches that also fit this bill—they're simply made with vegan meat, non-dairy cheese, and really exceptional bread. From Tofurky and Unreal deli slices to Violife's grillable dairy-free halloumi, there are a number of vegan products to be mixed and matched with your favorite vegan condiments to craft an epic handhold worthy of any omnivore palate.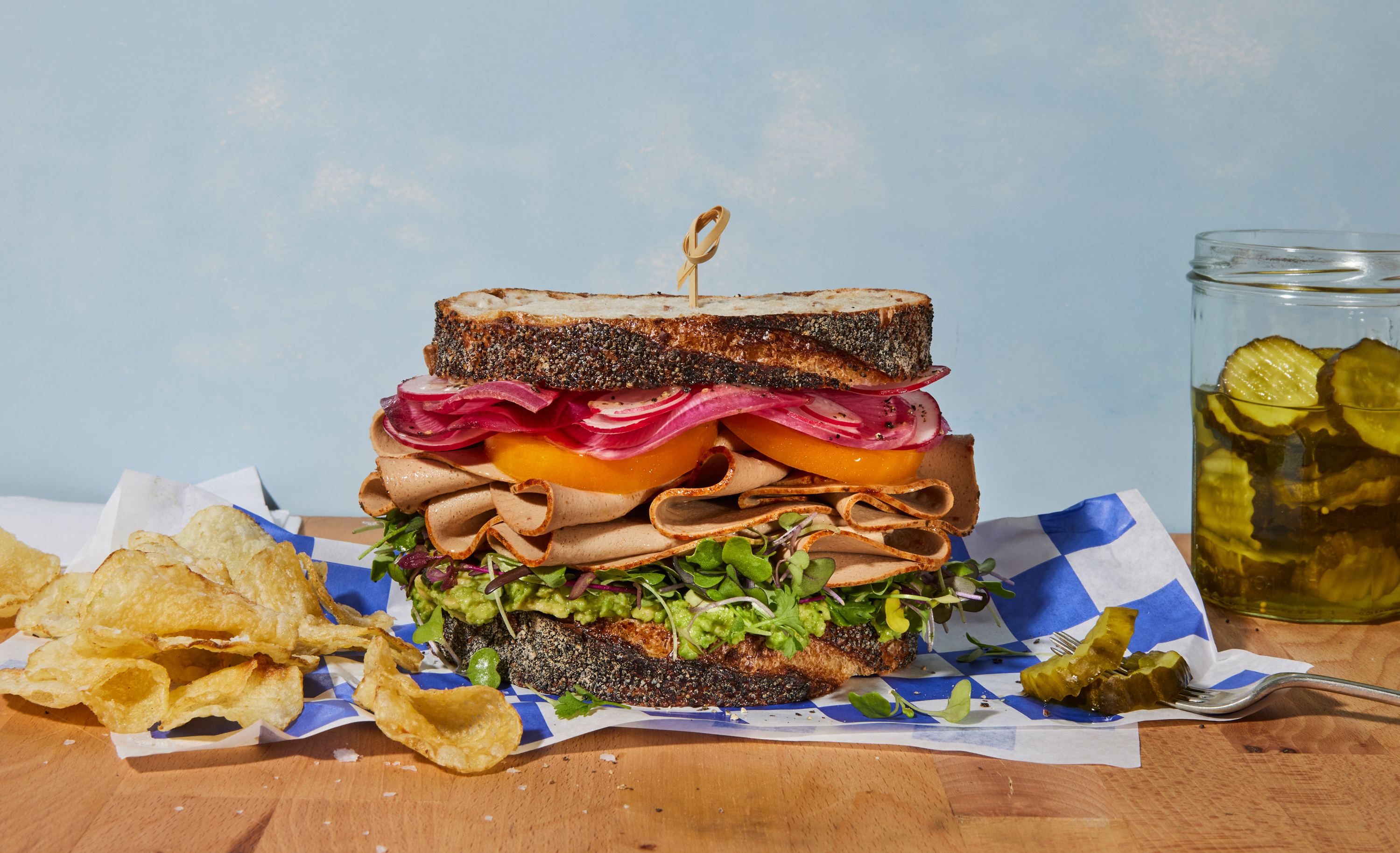 Prime Roots
However, a sandwich can be more than the average turkey-on-rye or BLT. Sometimes, a veggie-packed sammie can be just as alluring. The key lies in the balance of flavors, textures, and ingredient ratios. Case in point: the Modern Hippie Veggie sandwich at Chef Tanya's Kitchen, number 12 on our list below.
Every sandwich needs a sauce spread "crust to crust," as Food Network star Jeff Mauro would put it. This can be a garlicky vegan aioli, a peppery romesco, or a simple eggless mayo. Next, some crunch is needed. This texture can be achieved in the toastiness of the bread, the crispness of romaine, and/or the addition of chips. Another sandwich essential is the heft—what gives this sandwich substance? Is it thick slabs of sliced and smoked tofu, paper-thin carpaccio slices, creamy avocado, or layers of gooey, melty vegan cheddar?
When it comes to vegan sandwiches, the possibilities are only limited by your imagination (or what's in your fridge). Get inspired by the chef-crafted creations below, then open your notes app and type up your grocery list to make any one of these tempting sandwich recipes.
Vegan sandwiches to buy
The next time hunger strikes, opt for one of these next-level vegan sandwiches.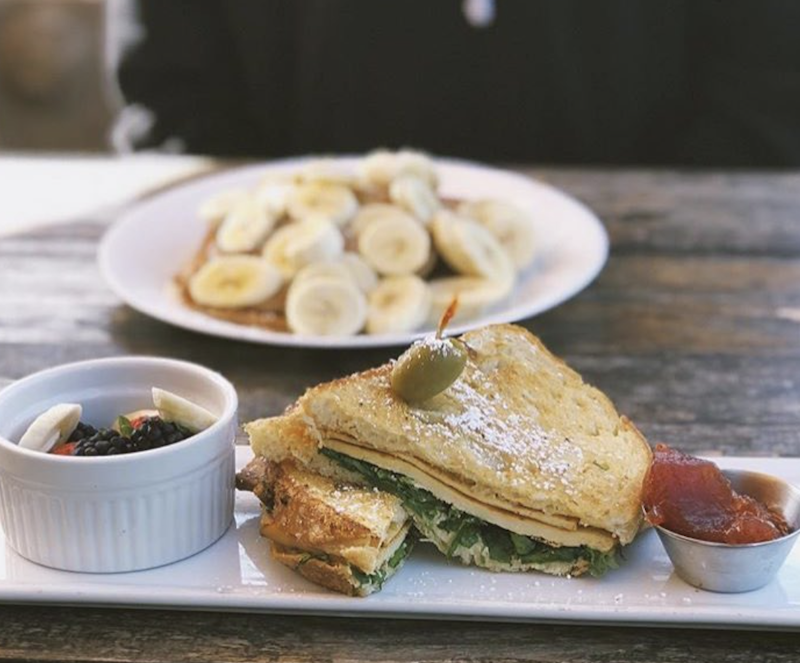 Seabirds Kitchen
1 Seabirds Kitchen's Porque Maria, Costa Mesa, CA
Customers have been begging chef Stephanie Morgan to add this sandwich to the lunch and dinner menu for years. Luckily, this vegan rendition of a Monte Cristo is now a permanent item on Seabirds' rotating brunch menu. Thin slices of hot, home-smoked tofu are slathered with cashew gruyere cheese. The heat from the tofu gently wilts the peppery arugula as these ingredients are pressed between two toasted slices of sourdough bread, dusted with powdered sugar, and served with homemade strawberry jam. Note: while Seabirds has locations in Los Feliz and Long Beach, this particular item is only available at its flagship Costa Mesa brick-and-mortar.
find out more
2 Snackrilege's The Mayhem, Portland, OR and retail locations nationwide
The Mayhem makes the list for its accessibility. One wouldn't think sandwiches travel well, but this vegan food cart devised a way to send its sandwiches to the people. This scorching hot handheld is filled with plant-based ham and bacon, Follow Your Heart American cheese, garlic, onions, jalapeños, mushrooms, blue cheese, and chipotle sauce. Pro tip: it's best served warm, so pop it in a panini press once you get it home.
find out more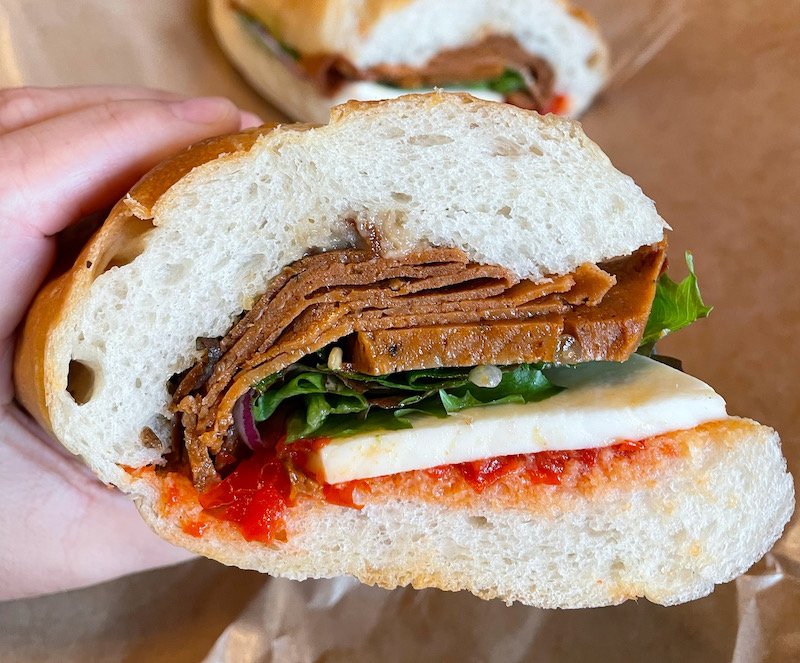 Herbivorous Butcher
3 The Herbivorous Butcher's Italian Cold Cut Sandwich, Minneapolis, MN
When a vegan restaurant is featured on the Food Network's Diners, Drive-Ins, and Dives, you know it's got to be good. The Minneapolis-based vegan butcher made two sandwiches for celebrity chef Guy Fieri, but he absolutely raved about the Italian sub. The meaty sandwich is stacked with vegan capicola, pepperoni, pastrami, mozzarella, pickled cherry peppers, red onion, and mayo, all between a soft hoagie roll. Not in the Minneapolis area? The owners gifted their recipe to the people, so you can replicate it in your home kitchen.
Learn more here
4 Cornbread Cafe's Eugenewich, Eugene, OR
Yet another vegan eatery graced by Guy Fieri, the Cornbread Cafe showed off its indulgent peanut butter pie for Diners, Drive-Ins, and Dives. Before you get to dessert, you have to try this namesake sandwich. Stuffed with Southern-fried tofu, vegan cheese, grilled onions, lettuce, tomato, and smokey sauce, this slightly spicy sandwich will warm you up on the rainiest of Eugene days.
find out more
5 Freesoul Caffe's Panini Portobello, Tustin, CA
Freesoul flies under the vegan radar, but those who know are loyal fans. It's not quite fair to select just one sandwich from this Old Town Tustin restaurant—they're all fantastic—but the Panini Portobello takes something relatively simple and does it right. The humble, pressed sandwich is made with tender roasted portabello mushrooms, peppers, artichokes, mixed greens, and savory pesto spread. It's okay to lick your fingers afterward.
find out more


6 Whole Foods Market's TTLA, nationwide
Thank you, Tabitha Brown, for your efforts. Thanks to the social media star, the irresistible TTLA is a permanent fixture on the Whole Foods sandwich bar menu. The now iconic sandwich is made with a pile of smokey tempeh bacon, generous slices of avocado, juicy tomato, lettuce, and vegan garlic aioli. If you're looking to bring someone to the vegan lifestyle, start here.
find out more
7 The Plot's Hot Chicken Sando, Oceanside, CA
This garden-to-table Oceanside, CA restaurant knows its way around tofu. One bite of this crispy-on-the-outside, tender-on-the-inside vegan fried chicken will forever change your idea of what tofu can be. The succulent chicken is glossed with habanero-shallot sauce and spicy pickles, accompanied by fresh herbs and a crusty boule. Visit for brunch or lunch to get a bite of this handhold. find out more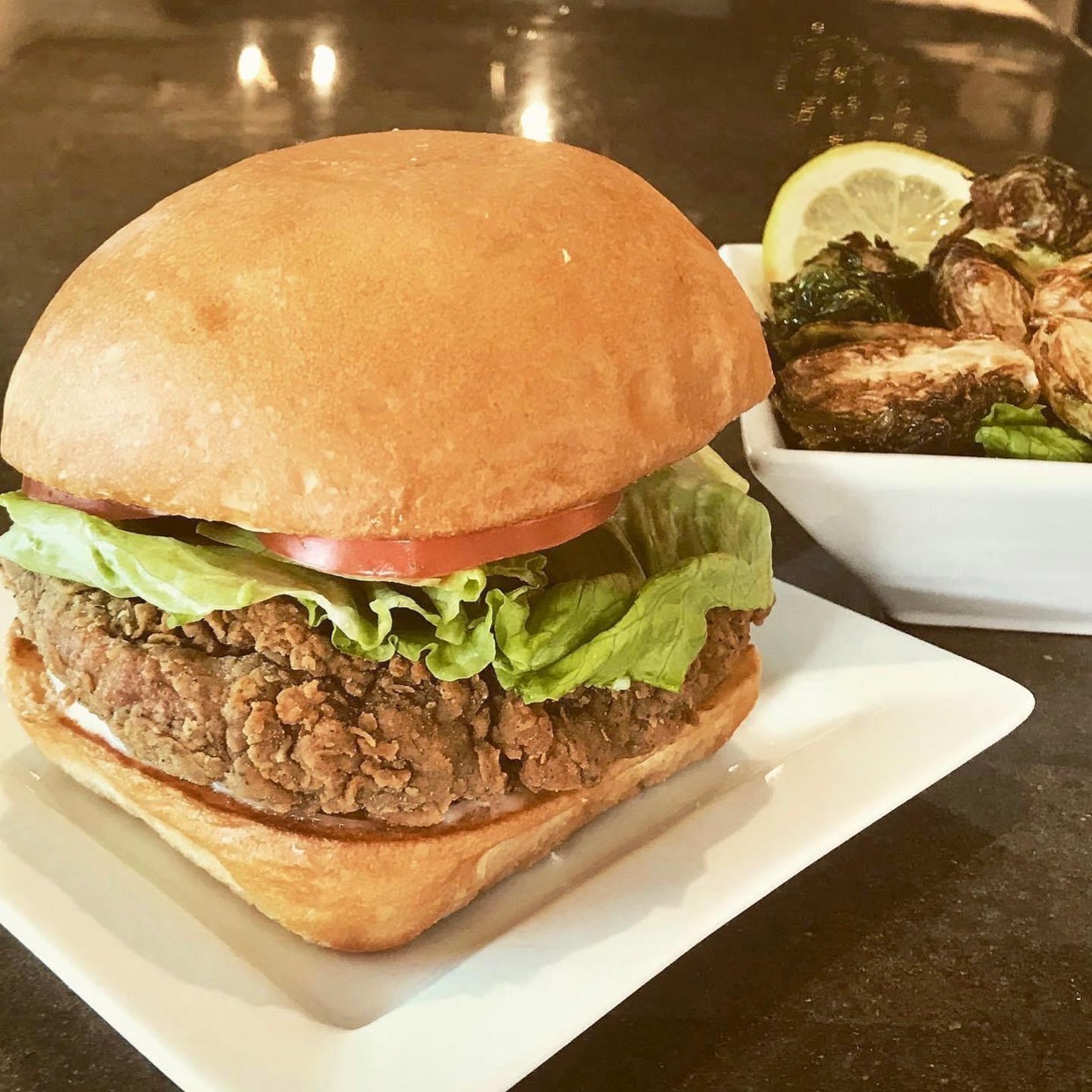 Kindred
8 Kindred's Fried Chicken Sandwich, New Orleans, LA
The national fried chicken sandwich craze has a vegan parallel, and Kindred is giving Popeye's some major competition. The simple yet perfect sandwich is made with just the essentials—seitan-based crispy chicken, lettuce, tomato, and mayo, sandwiched between a sweet sourdough bun. It's no-frills, just a solid, finger-licking good sandwich.
find out more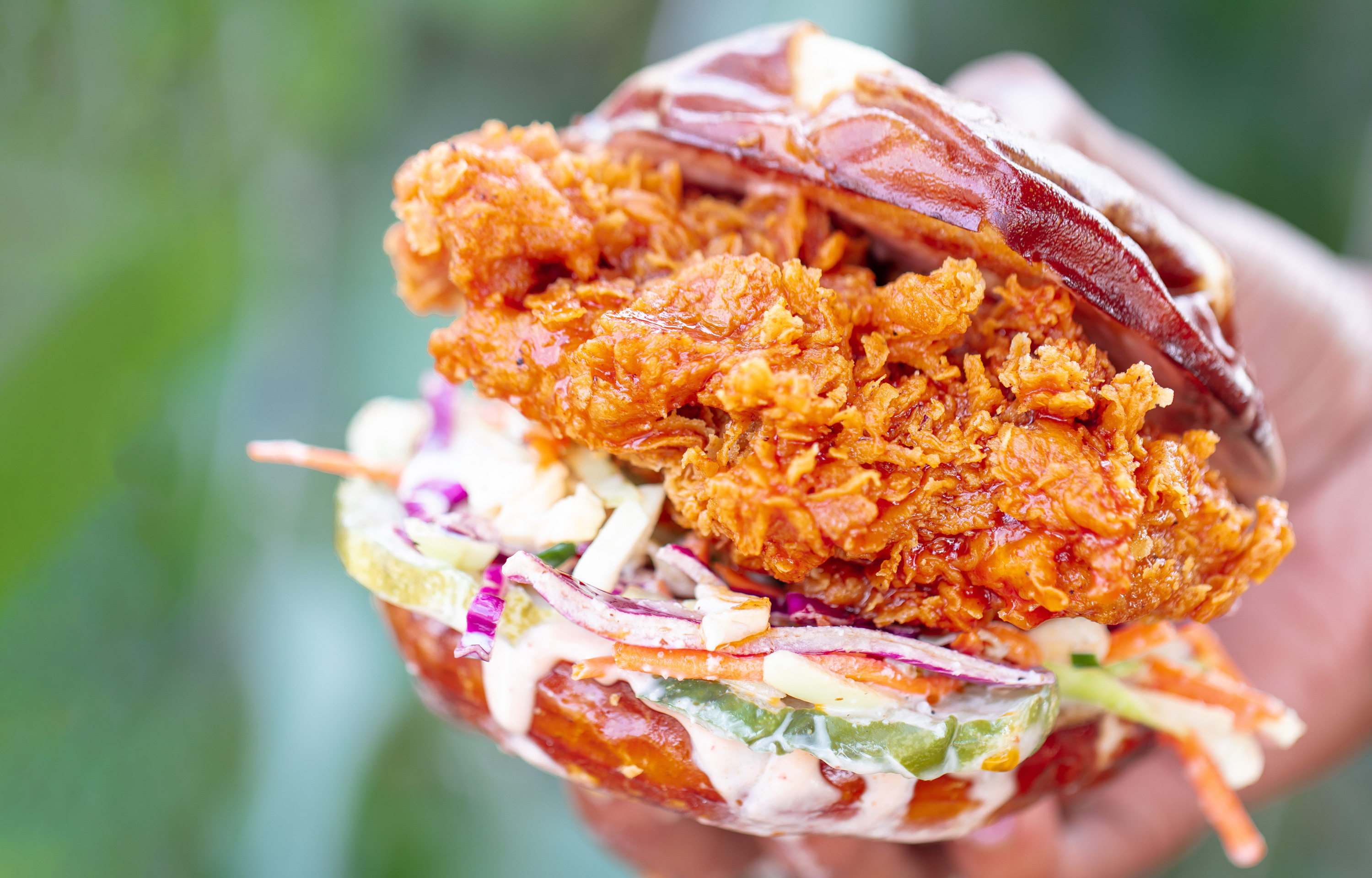 Atlas Monroe
9 Atlas Monroe's Extra Crispy Chick'n Sandwich, multiple locations
Instead of setting up multiple locations, this vegan company provides its signature meats and recipes to vegan-friendly spots across the country. Customers can find its succulent, super crispy fried chick'n at select restaurants nationwide.
find out more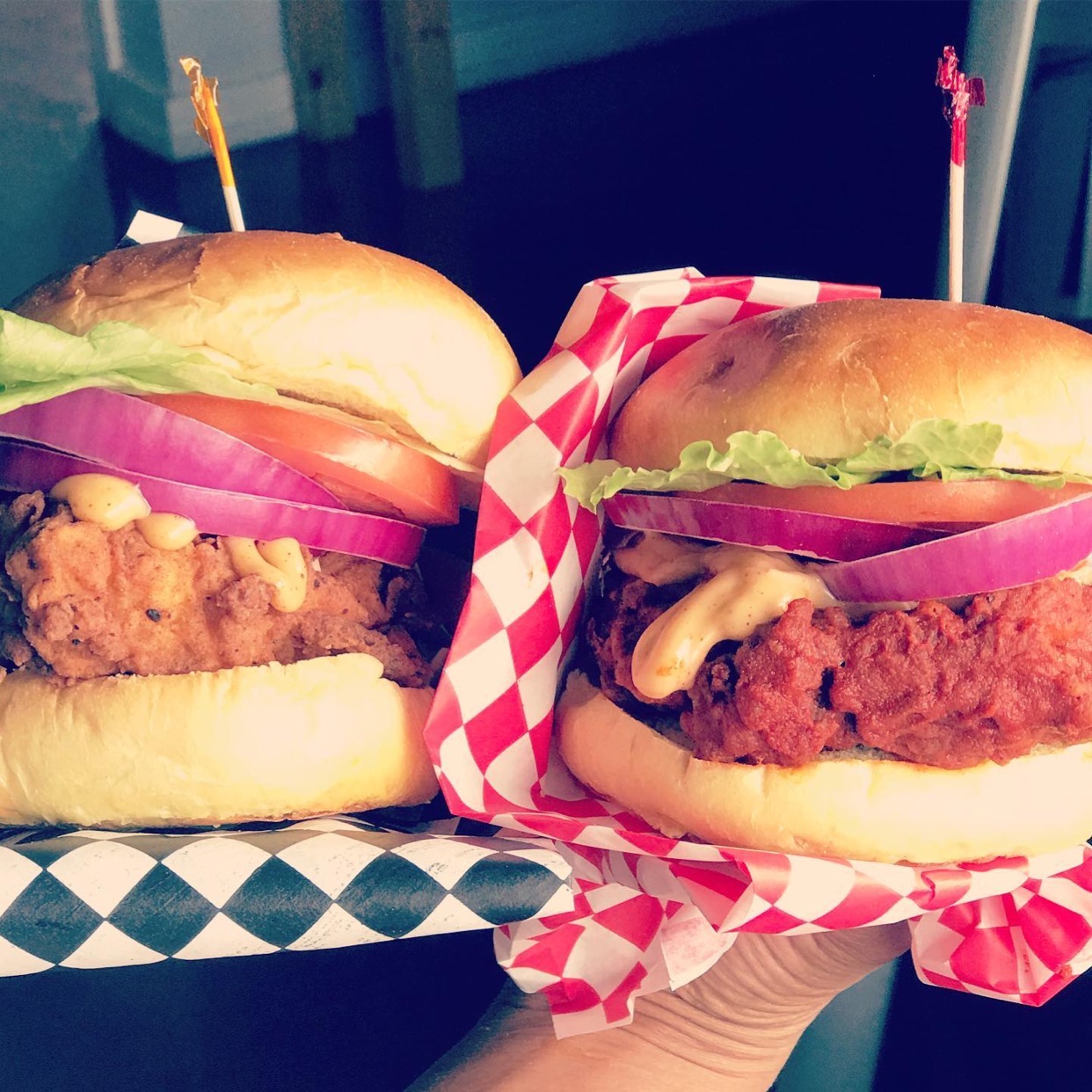 The Southern V
10 The Southern V's Hot Chick'n Sandwich, Nashville, TN
There's a spicy equivalent to the fried chicken sandwich craving, and that's the hot chicken sandwich. This Southern spot does it right with fiery Nashville Hot fried chick'n, spicy-cool chipotle mayo, red onion, lettuce, and tomato on a soft bun. Though, beware: do not touch your face while eating this sandwich—spicy sauce near your eyes is not cool.
find out more
11 Sprout Vegan Cafe's Veggie Sandwich, Kihei, HI
Local tip: add the house made smoked carrot lox to take this humble vegetable sandwich to the next level. The addition pairs beautifully with the black pepper-sprinkled sprouts, crunchy lettuce and cucumbers, ripe tomato, bright balsamic reduction, and smooth cream cheese slathered between two slices of whole grain bread.
find out more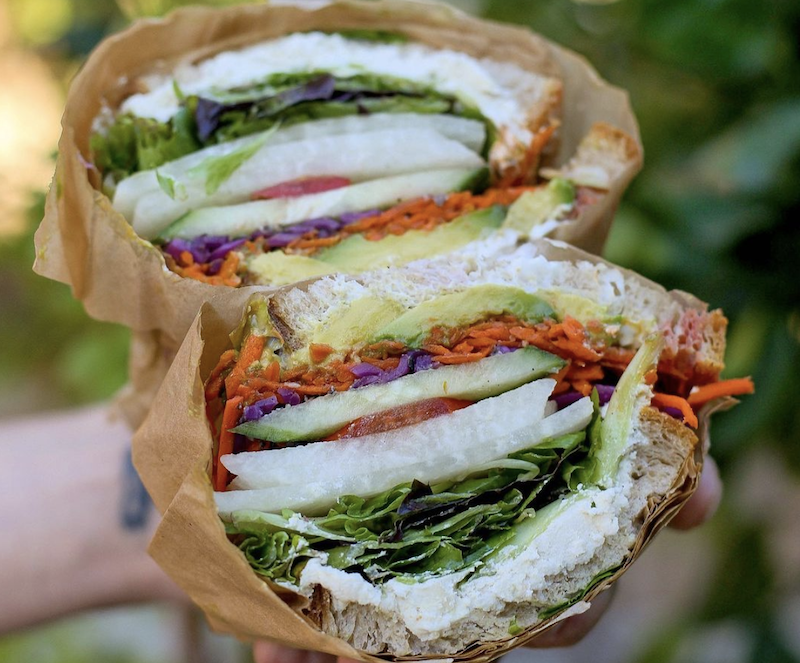 Chef Tanya's Kitchen
12 Chef Tanya's Kitchen's Modern Hippie Veggie, Palm Springs, CA
Despite its rather remote location in the scorching hot desert of Southern California, this casual eatery was named as the top-rated vegan restaurant in California by Yelp. While its vegan meat game is strong, we can't help but gravitate to this veggie-forward sandwich. When something is made with "Crack Cheese," you don't ask questions, you just order it.
find out more
13 Native Foods Buffalo Chicken Run Ranch, multiple locations
This vegan fast-casual chain has gone through many a menu revision, but this crispy chicken sandwich has never been stricken from the offerings. This classic consists of a crispy seitan-based chicken patty, cool ranch dressing, crisp lettuce, sharp red onions, and a slice of juicy tomato all served between a soft-yet-toasty hamburger bun. Insider tip: order this on the pretzel bun.
find out more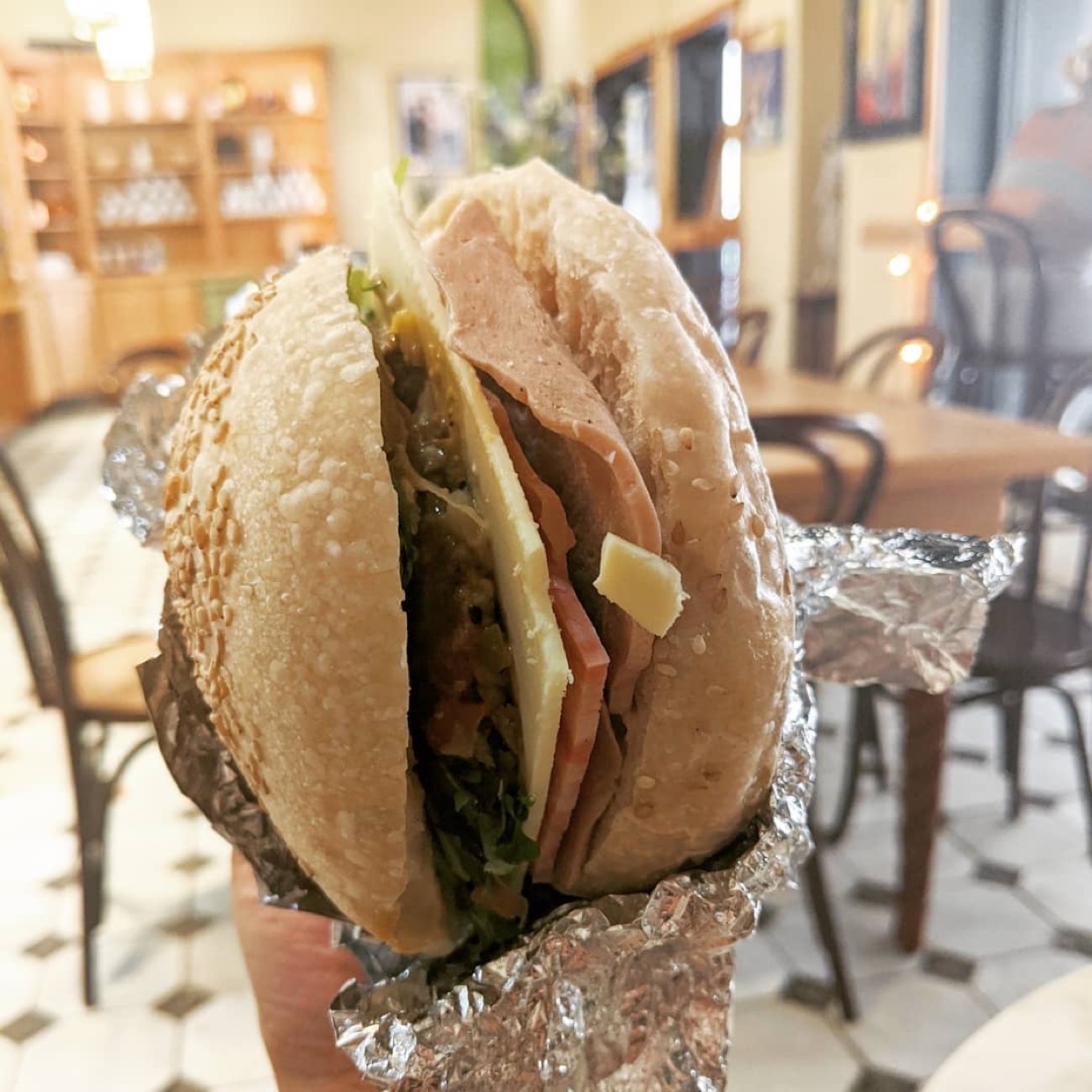 @yovegangirls/Instagram
14 Breads on Oak's Muffanada, New Orleans, LA
When a restaurant makes its own bread, you have to order a sandwich, and when visiting New Orleans, you must try a muffuletta. Breads on Oak tweaked the name a bit in alignment with its vegan spin, but the end result is the same: pure joy. This handhold is hefty—it's made with vegan Italian ham, bacon, provolone, olive salad, roasted tomatoes, and greens barely contained by two domed slices of a thick sesame levain roll. Ask for a steak knife with your order, because you will need to cut this in half.
find out More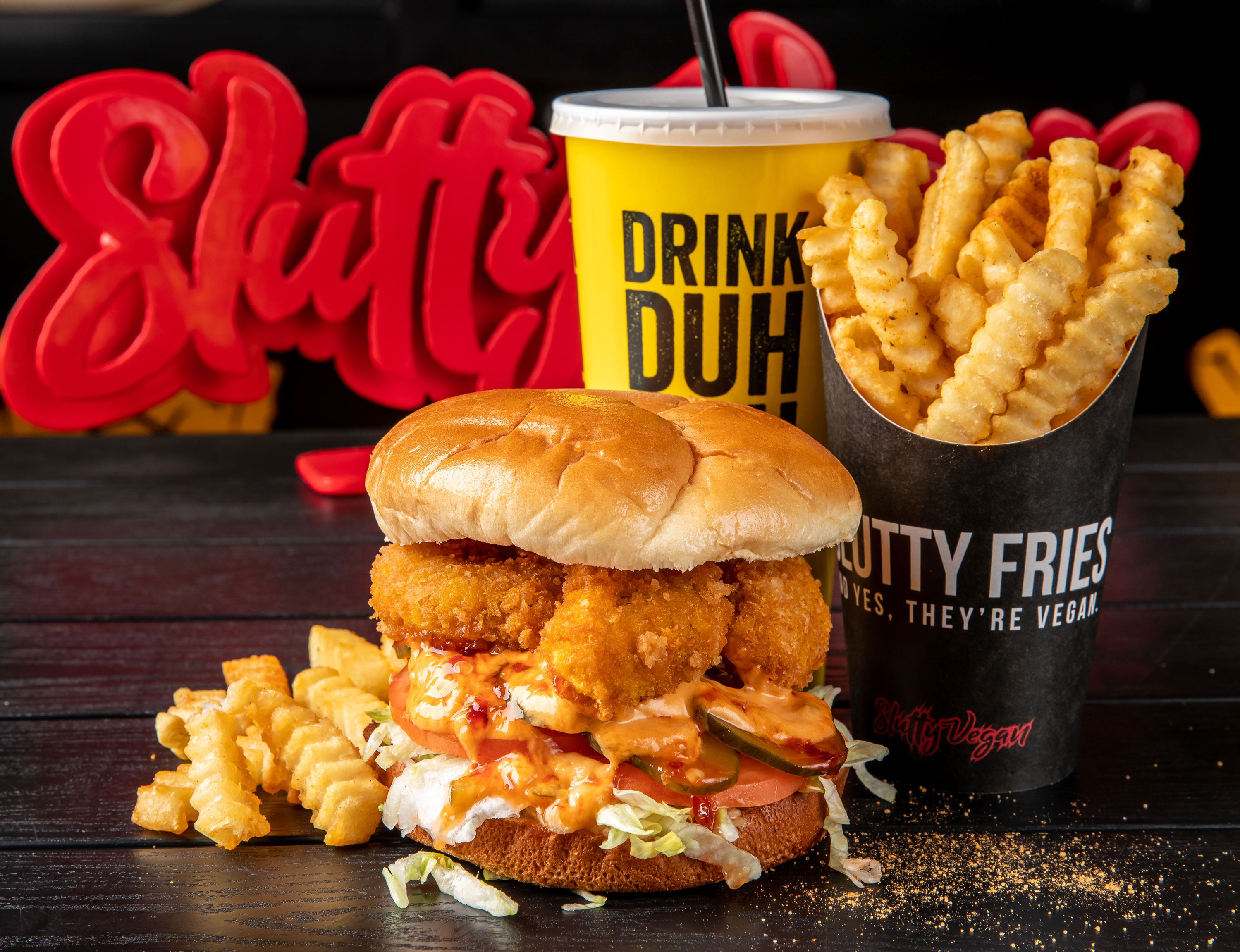 Slutty Vegan
15 Slutty Vegan's PLT, multiple locations
Yes, this vegan micro-chain is known for its over-the-top and scandalously named burgers, and because of that, this unique handhold gets overlooked. In lieu of a beefy patty, this vegan Hawaiian bun is stacked with sweet jerk plantains, lettuce, tomato, and the chain's signature Slut Sauce (more commonly known as Thousand Island-based secret sauce). Sometimes, less is more.
find out more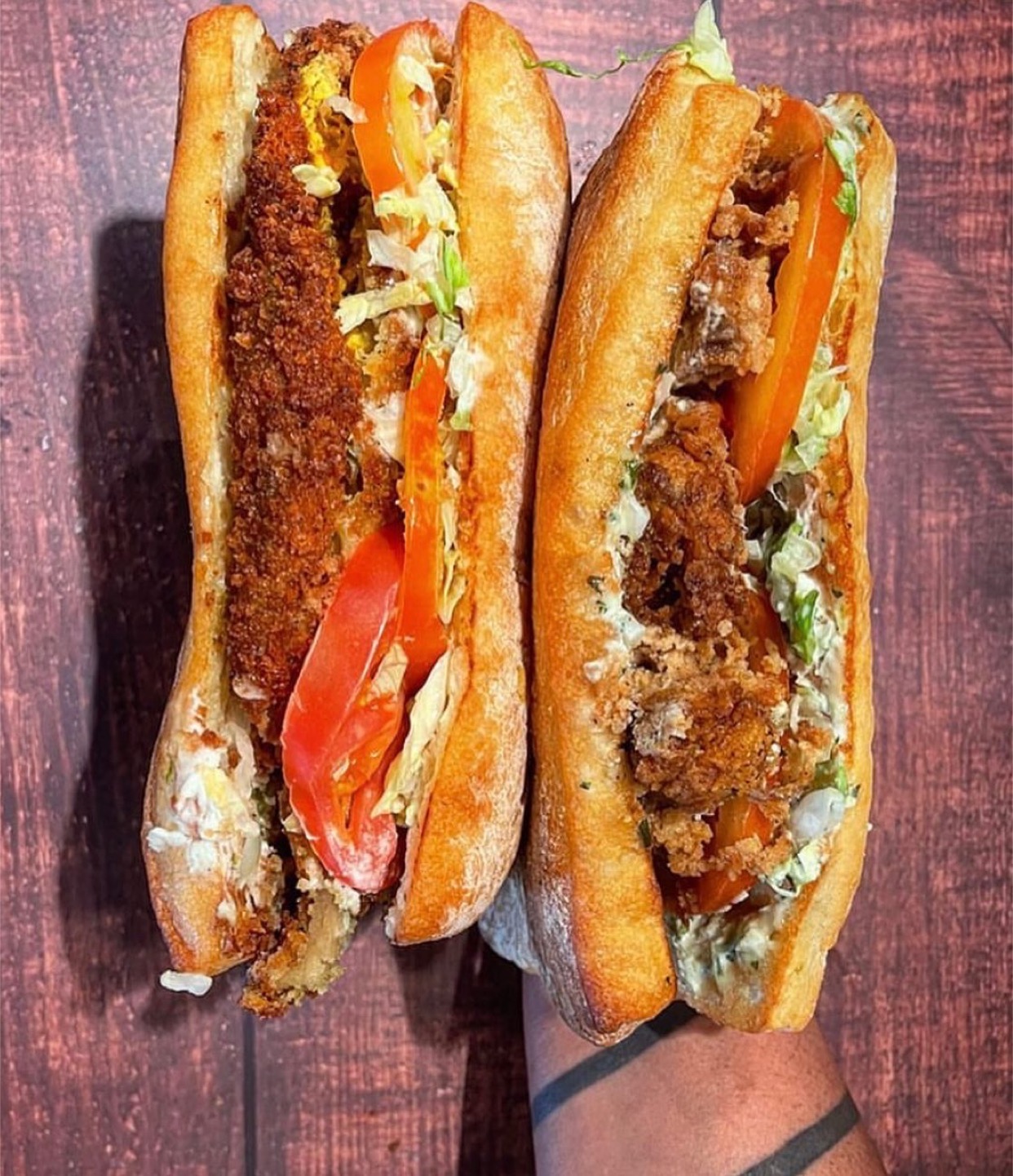 Souley Vegan
16 Souley Vegan's Ain't Gator Po'Boy, Oakland
Residents of Oakland can all get a taste of Creole-based cuisine at this vegan eatery. This unique po'boy is bursting with Creole spiced-and-fried Louisiana Hot Links, onions, lettuce, and tomatoes, all drizzled with mustard and po'boy sauce and barely contained by an oblong potato roll.
find out more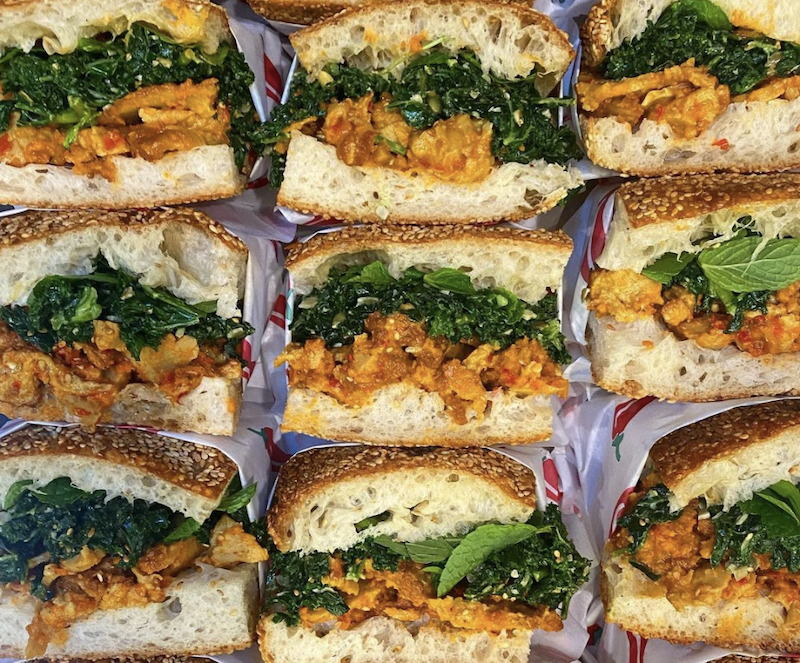 Lion Dance Cafe
17Lion Dance Cafe's Shaobing Sandwich, Oakland, CA
The SF Chronicle's food critic named this the best sandwich in San Francisco. Enough said. The alluring Singaporean-inspired sandwich changes seasonally and has seen more than 70 iterations, each one dripping in flavor.
find out more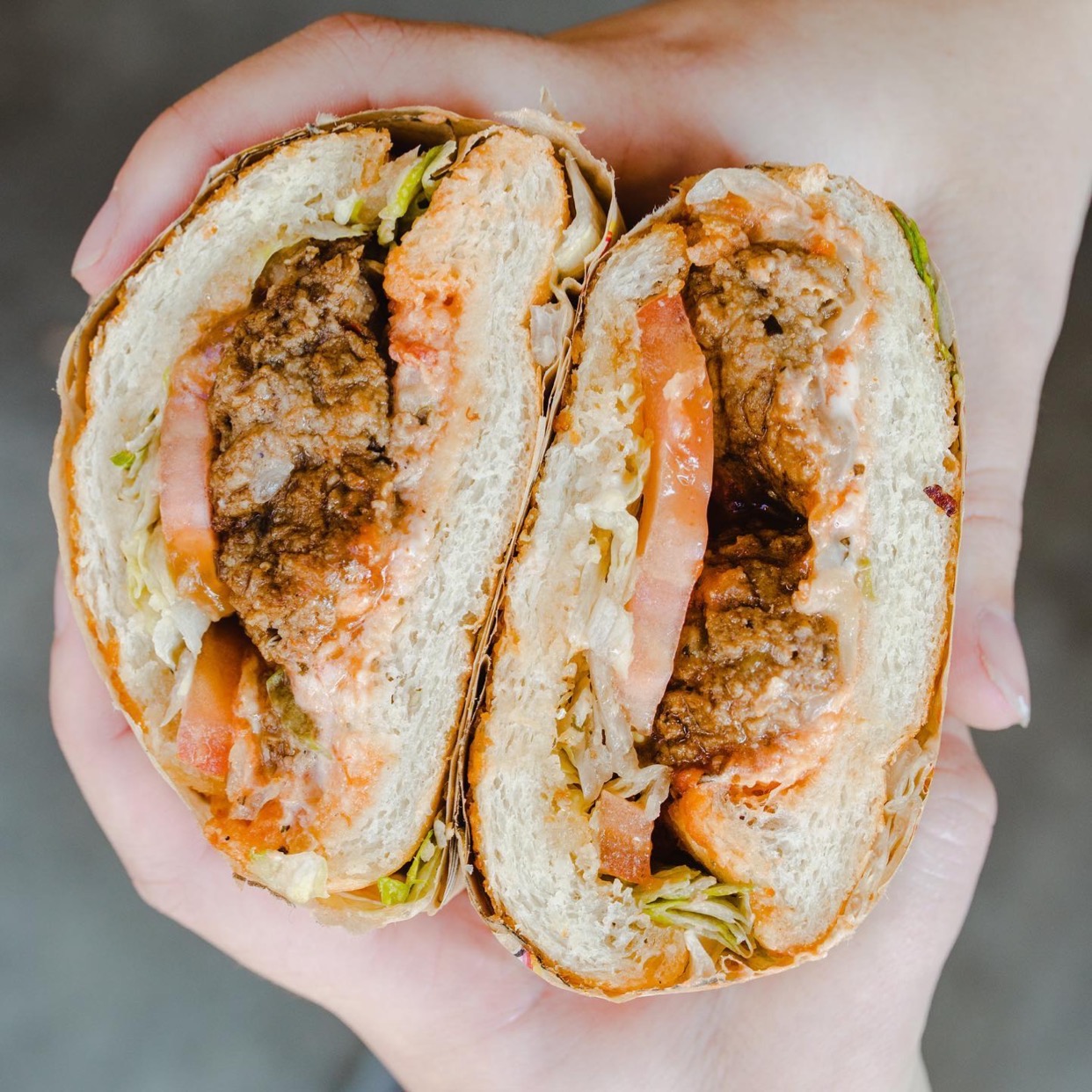 Ike's
18 Ike's Love & Sandwiches' Meatless Mike, multiple locations
Unlike many sandwich chains, Ike's makes an effort to provide more than just veggies for its vegan fans. This particularly meaty handhold of housemade vegan meatballs, marinara, and plant-based pepper jack cheese has even omnivores asking for the veggie menu.
find out more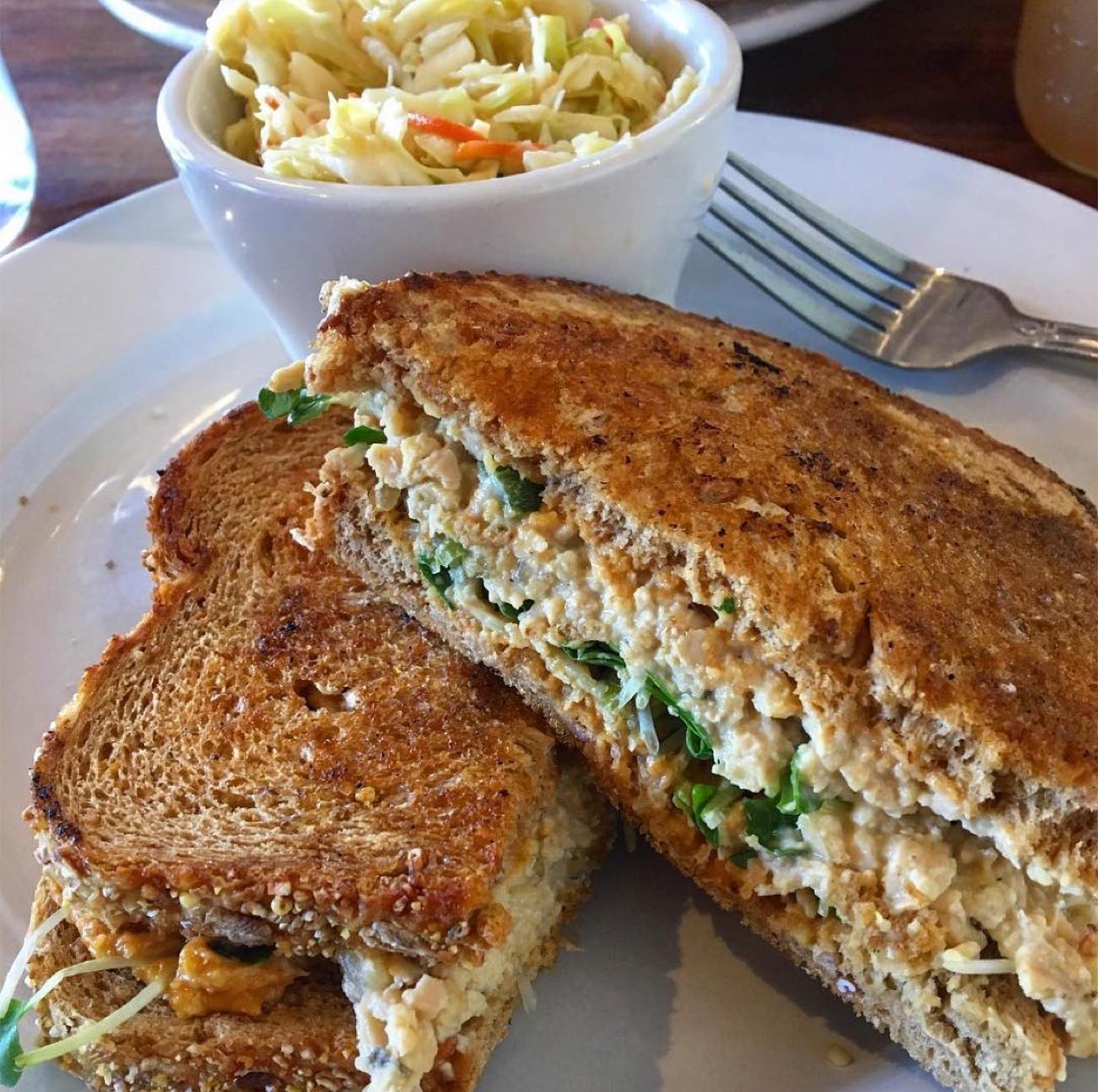 Flore
19 Flore Vegan's Tofu 'Egg' Salad, Los Angeles, CA
It's simple, but there are moments when a standout egg salad sandwich can make your lunch hour. This rendition nails the perfect ratio of mayo to tofu to spices—it's not runny, it's not dry, and it's not overly pungent with one herb or another. This is one of those dishes that you might have hated as an omnivore, but love as a vegan.
find out more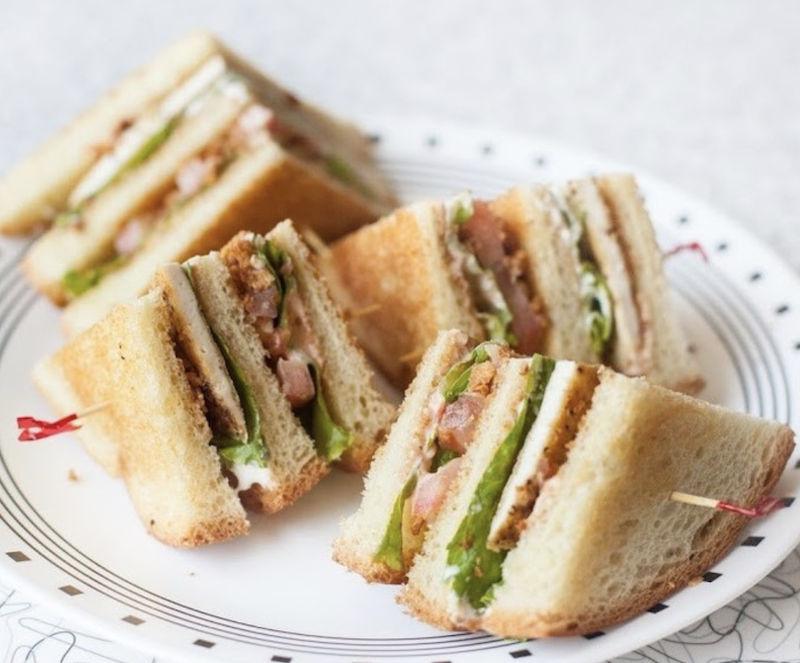 Spiral Diner
20 Spiral Diner's The Mitch Tofu Club, multiple locations, TX
A diner is really the only appropriate place to order this triple-stacked sandwich. Spiral does it justice by spearing together grilled tofu, lettuce, bacon bits, tomato, toasty bread, and chipotle mayo with an iconic frilly toothpick.
find out more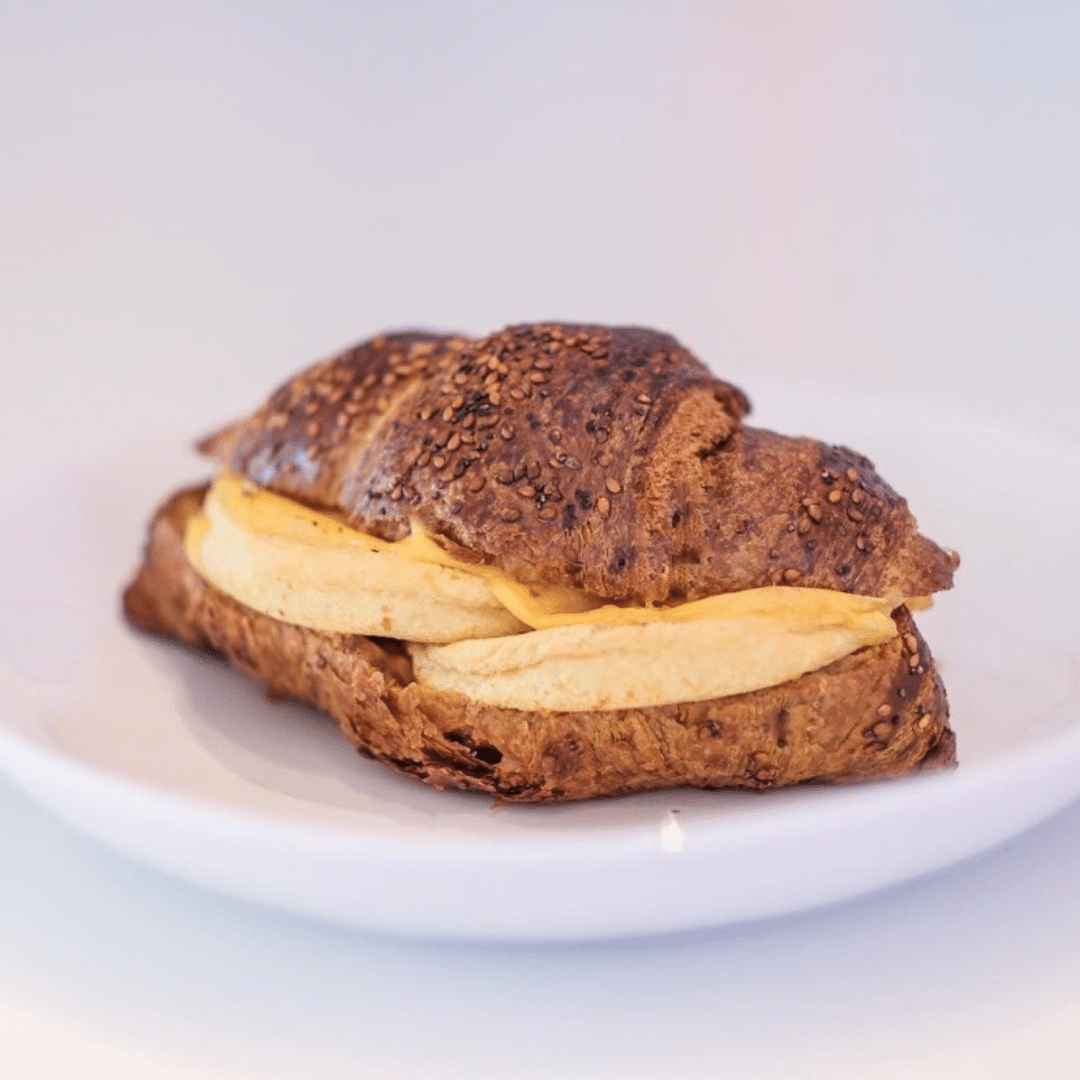 Love Life Cafe
21 Love Life Cafe's Egg & Cheese Croissandwich, Miami, FL
Pillowy soft and flaky, this sandwich wins in the texture department. The comforting flavors of melty vegan cheddar oozing over a JUST Egg patty will make you want to inhale this breakfast sandwich as soon as it hits your table.
find out more
22 Veggie Galaxy's Rachel, Cambridge, MA
For every Reuben, there is a Rachel. This similar diner-style sandwich is made vegan with grilled, thinly shaved, seitan-based corned beef, tangy green cabbage slaw, Swiss cheese (ask for the vegan version), and housemade Thousand Island dressing. Sorry, Reuben, but this time, we prefer Rachel.
find out more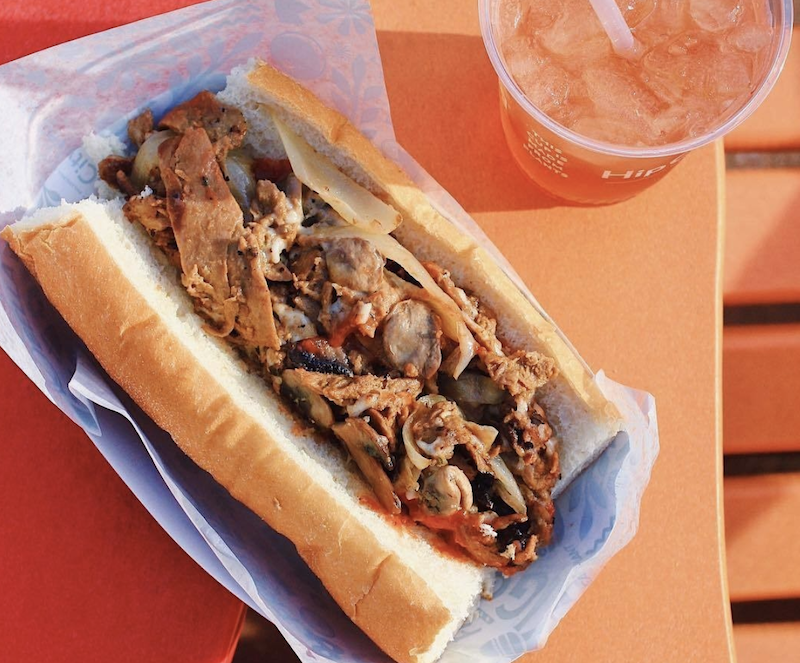 HipCityVeg
23 HipCityVeg's Philly Steak, Philadelphia, PA
This restaurant is beloved for a number of its savory menu items, but when in the City of Brotherly Love, a cheesesteak is calling your name. This vegan version is adorned with shaved vegan steak, grilled onions, mushrooms, ketchup, and housemade mozza cheese. Once you've wolfed it down, you can check that food item off your bucket list.
find out more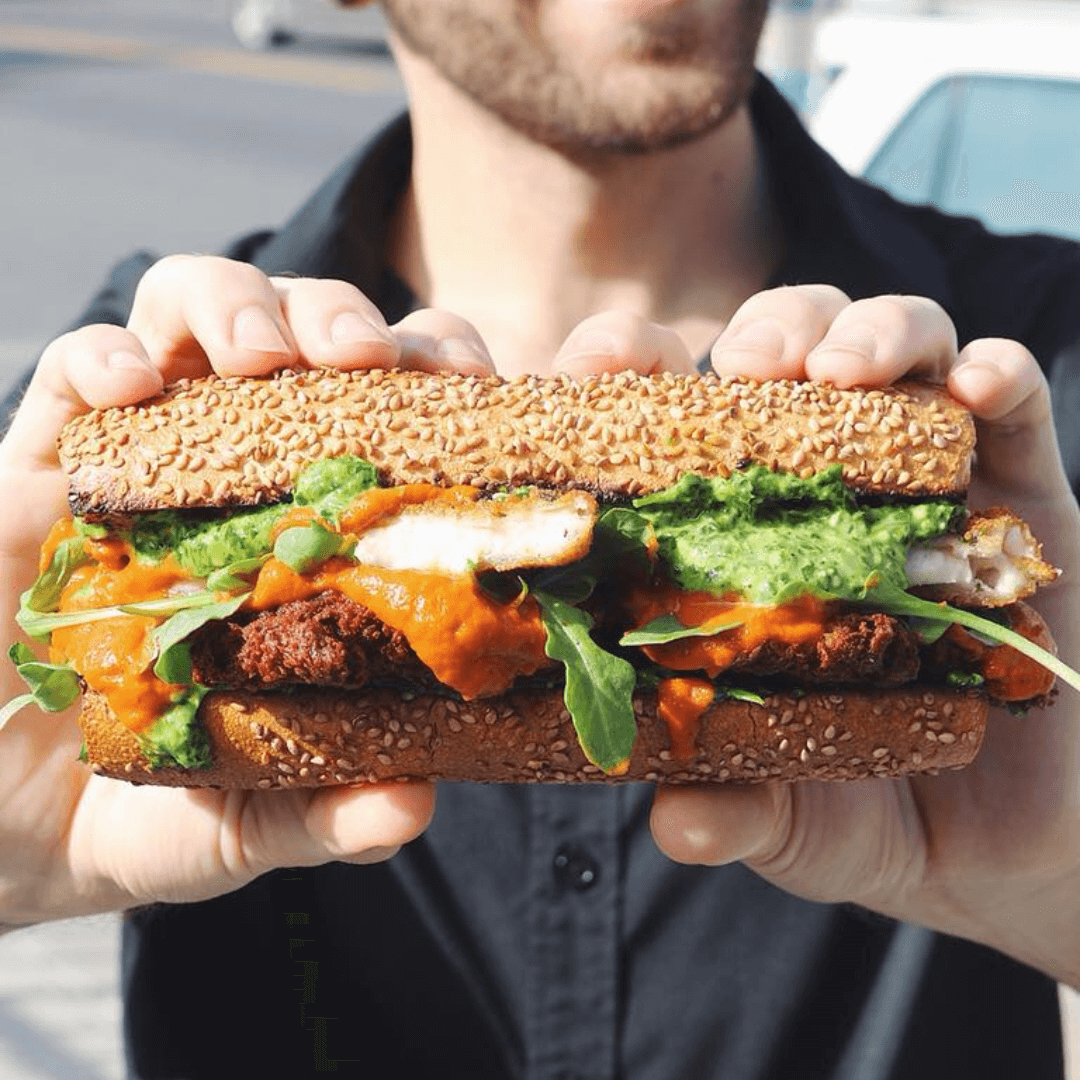 Modern Love
24 Modern Love's Chickpea Parmesan Hero, Brooklyn, NY
If chicken parmesan was a sandwich, this would be it (minus the actual chicken, of course). A super crispy chickpea cutlet takes center stage on a grilled garlic ciabatta roll, layered with marinara, pesto, arugula, cashew mozzarella, basil, and pepita parmesan. While this kind of dish can cost up to $20-plus when plated, this fantastic sandwich will only set you back $9.50.
find out more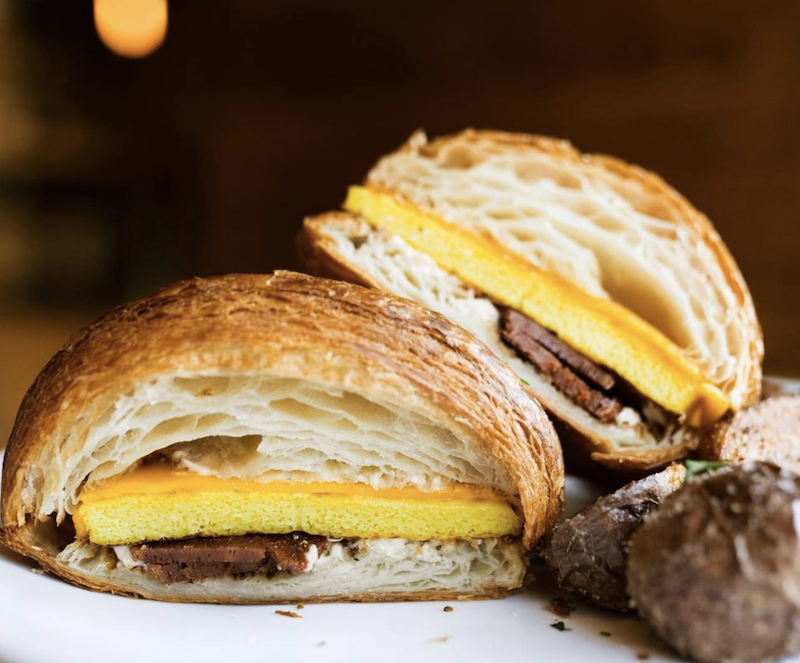 City O' City
25 City, O' City's Sausage, Egg and Cheese, Denver, CO
There's more than just standout vegan chicken and waffles at this Mile High City mainstay. The classic breakfast sandwich is not to be missed. Made with fluffy vegan eggs, housemade sausage, and Follow Your Heart cheese, this English muffin sammie is breakfast at its finest.
find out more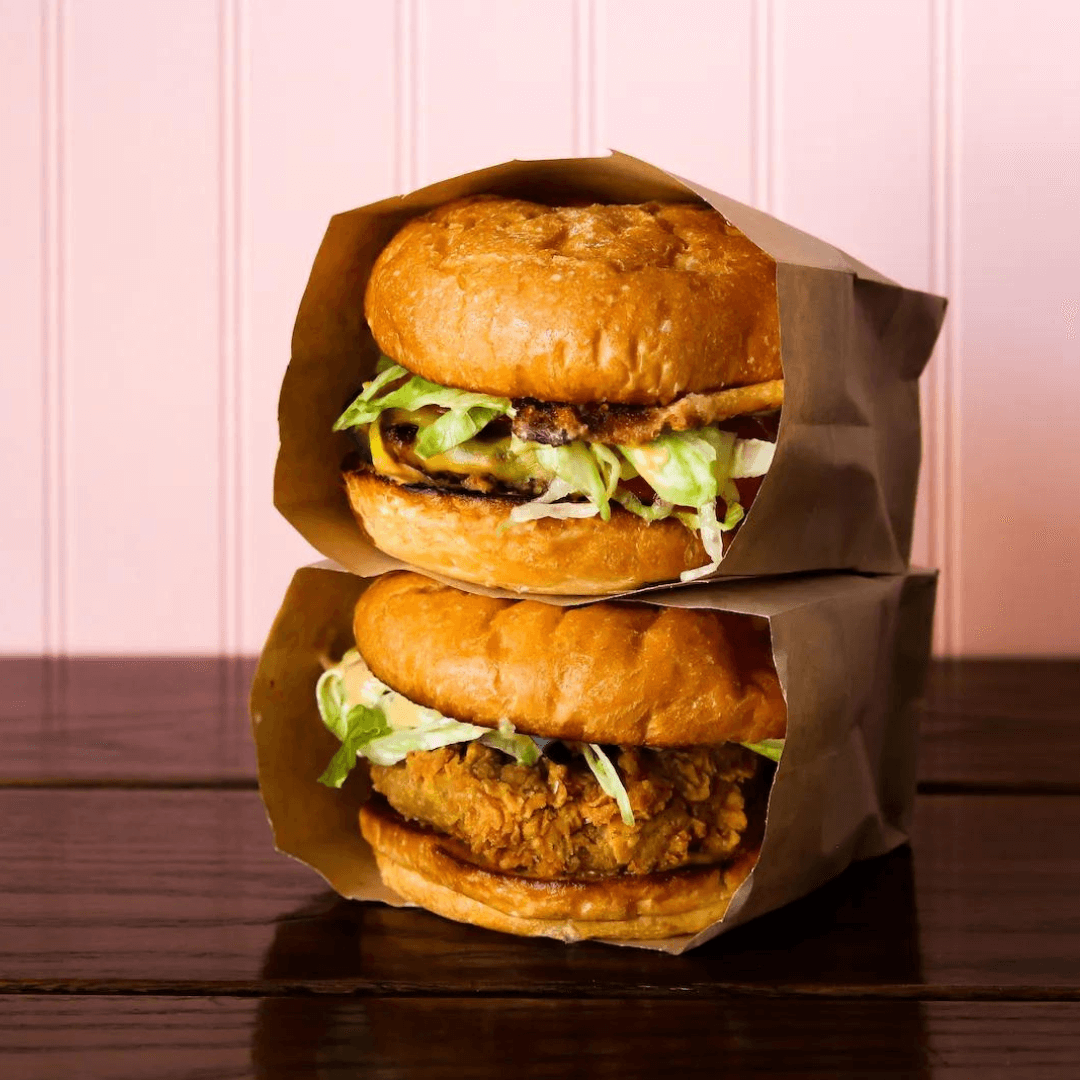 The Beetbox
26 The Beetbox Chickless Sandwich, Warr Acres, OK
Customize your handhold at this outstanding vegan eatery. Each Chickenless Sandwich is made with the brand's proprietary chickenless patty, lettuce, tomato, pickles, and onions, but customers get to choose the sauce (otherwise known as the flavor bomb). First-timer? Go with the vegan Bacon Ranch—it goes exceptionally well with the Garlic & Herb Fries.
find out more
27 Seasoned Vegan's Po'Boy Sandwich, Harlem, NY
Can't make it to the South? Order delivery from Seasoned Vegan. This plant-based rendition of the New Orleans classic is made with your choice of fried shrimp or catfish, greens, tomatoes, and creamy remoulade sauce. This vegan Harlem institution has been serving up this classic since 2014.
find out more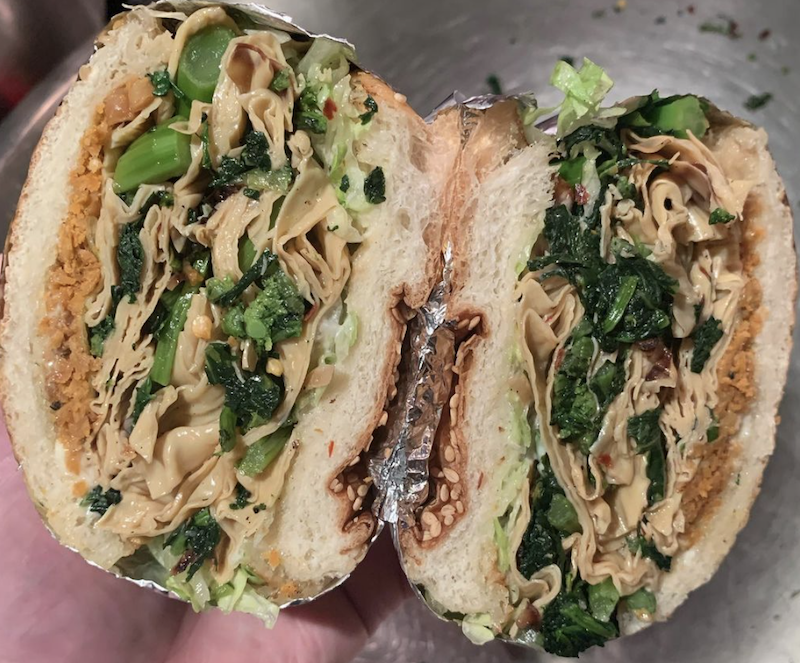 Superiority Burger
28 Superiority Burger's Vegan Specials, New York, NY
As implied, vegans can find a great burger here, but we're interested in the ever-rotating sandwich specials. Not all are vegan, but many are or can be easily modified. We can't wait to eat our way through these plant-based handhelds when Superiority Burger reopens. Check out their Instagram for the latest updates.
find out more
29Bang Up to the Elephant's Bake & Chana, Denver, CO
The bread makes this sandwich. In lieu of the expected baguette, ciabatta, bun, or roll, this sammie is held together with fry bread. The filling is bursting with curried chickpeas, tomatoes, papaya slaw, and the kitchen's signature Trini hot sauce. In one word, it's bangin'.
find out more
Vegan Sandwiches To Make
30 Vegan Tofu & Pineapple Sandwich
Taken (with permission) out of the pages of vegan foodie Dustin Harder's Epic Vegan cookbook, this handhold is bright, tangy, smokey, and sweet. It may not be traditional, but you'll soon crave this earthy spiced tofu-and-tropical-slaw combination.
Get the recipe
31 Vegan Croque Madame
Just as the Reuben has a Rachel, the Croque Monsieur has a Croque Madame. This Frenchified grilled cheese gets a brunch twist by sandwiching eggy tofu, vegan deli slices, and gooey cheese with two thick slices of savory French toast.
Get the recipe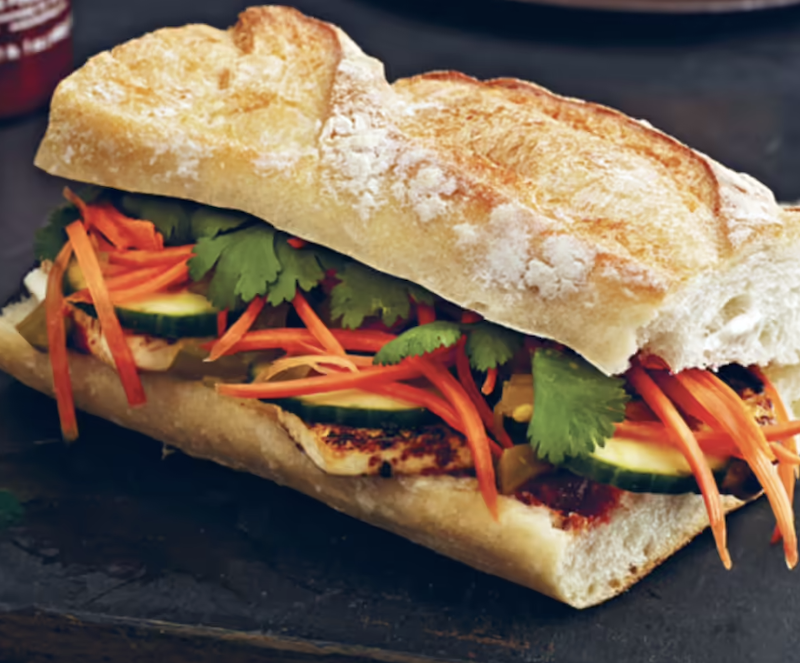 William and Susan Brinson
32 Vegan Tofu Bánh Mì
You really have to try a bánh mì to experience its excellence. It's fusion food at its finest, and the combination of glazed tofu, crunchy cool pickled veggies, and a crackly baguette complement each other extremely well. One bite, and you'll get it.
Get the recipe
33 Pumpkin, Pear, and Candied Pecan Grilled Cheese
The flavor combinations that work with grilled cheese are infinite, but we're particularly fond of this autumnal creation. You could wait until PSL season or find a can of pumpkin in the middle of May and treat yourself!
Get the recipe
34Easy Vegan Lobster Rolls with Hearts of Palm
You don't see vegan lobster rolls too often (if at all, in many parts of the country), so you might as well learn to make your own. The ingredient list and preparation is simple. With a can of hearts of palm, Old Bay seasoning, and some vegan mayo, you can have a seaside treat ready in a few minutes.
Get the recipe here
35 Tempeh Sandwiches
These sturdy sandwiches are a plant-based rendition of the classic Italian American sausage-and-pepper hoagie. Marinated tempeh stands in for the meaty element, and the peppers offer texture and a bit of a kick. This handhold only gets better as it sits, so pack it for a picnic and enjoy the outdoors.
Get the recipe here
36 Tuna-Less Sandwiches
Every vegan needs this basic recipe in their arsenal. Even if you weren't a fan of fish-based tuna back in the pre-vegan days, this chickpea-and-nori-based recipe is universally loved. Our tip to you: make a large batch at the beginning of the week then use it to stuff your sandwiches, salads, and wraps all week long.
Get the recipe here
For more vegan sandwiches, read: