Snacks infused with cheesy goodness are a guaranteed way to get us elbow-deep into the bottom of the bag while we lounge on our couch, watching plant-based cooking videos on YouTube. One chip, puff, or cracker is never enough to satisfy. To all who love crispy, crunchy, and salty noshes, this is for you. Here are 29 vegan cheesy snacks to satisfy your cravings.
Crackers
Cheez-Its are one of the iconic snack foods. Thankfully, there are a few picks for vegan versions of those irresistible crackers.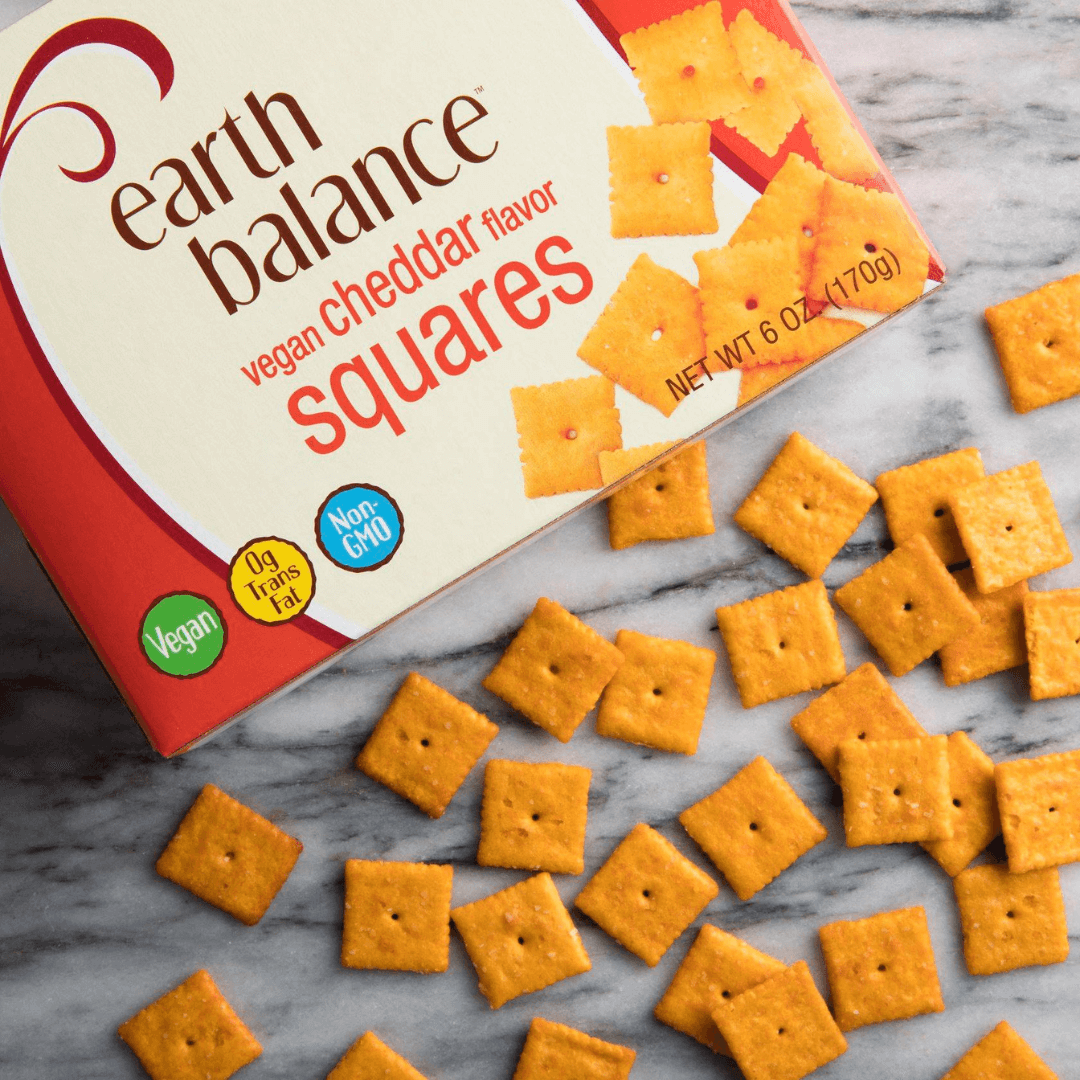 Earth Balance
1 Earth Balance Cheddar Squares
Earth Balance makes more than butter, and these vegan Cheez-It-inspired snacks prove it. They taste just like the dairy-based crackers you grew up with—minus the trans fat.
Learn more here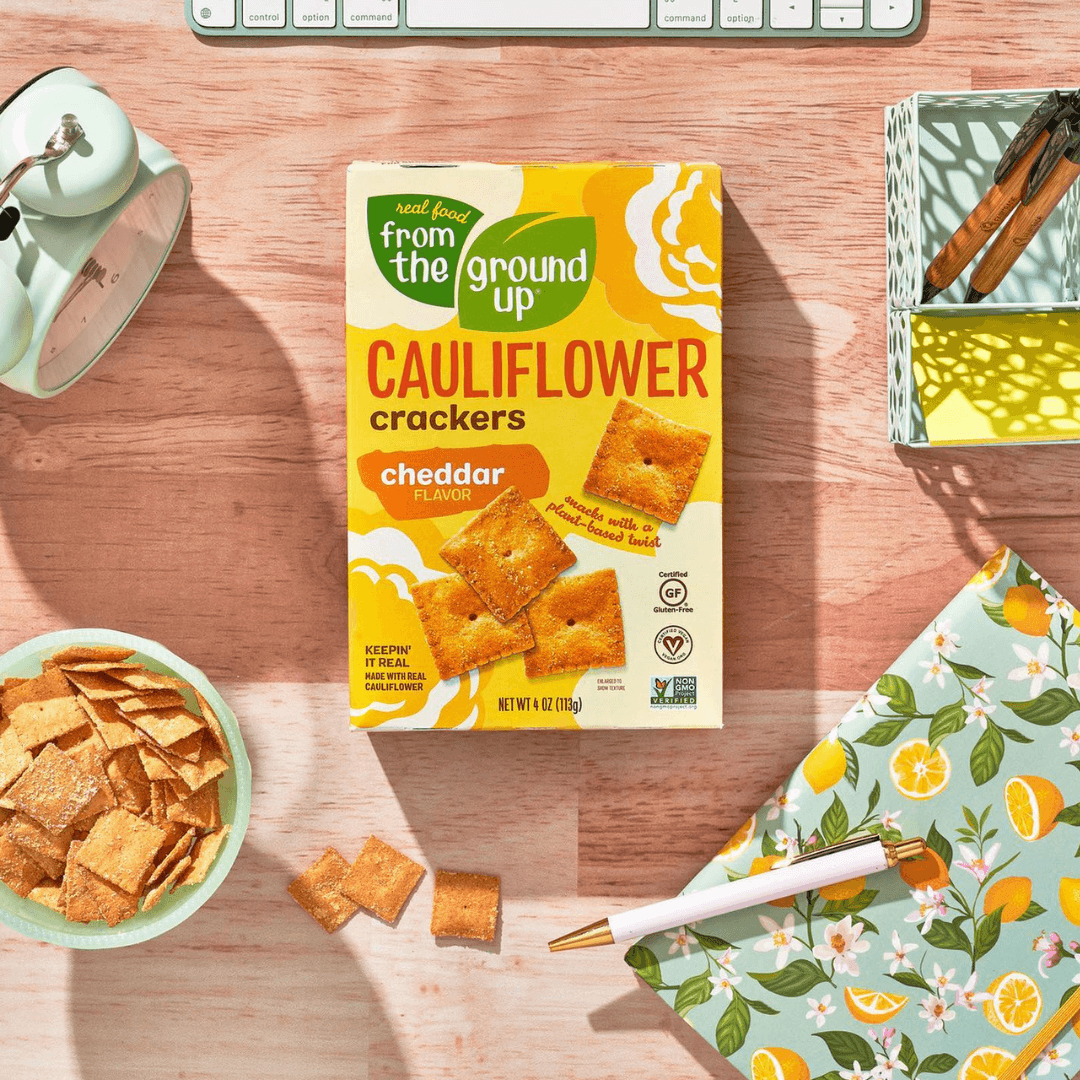 From the Ground Up
2 From the Ground Up Crackers
These may look and taste like your basic vegan cheese square cracker, but they're unique in that they contain vegetables! The cauliflower-based crackers come in Cheddar and Nacho cheese flavor, and the butternut squash-based crackers are infused with vegan parmesan. We promise—all you'll taste is cheesy goodness.
Learn more here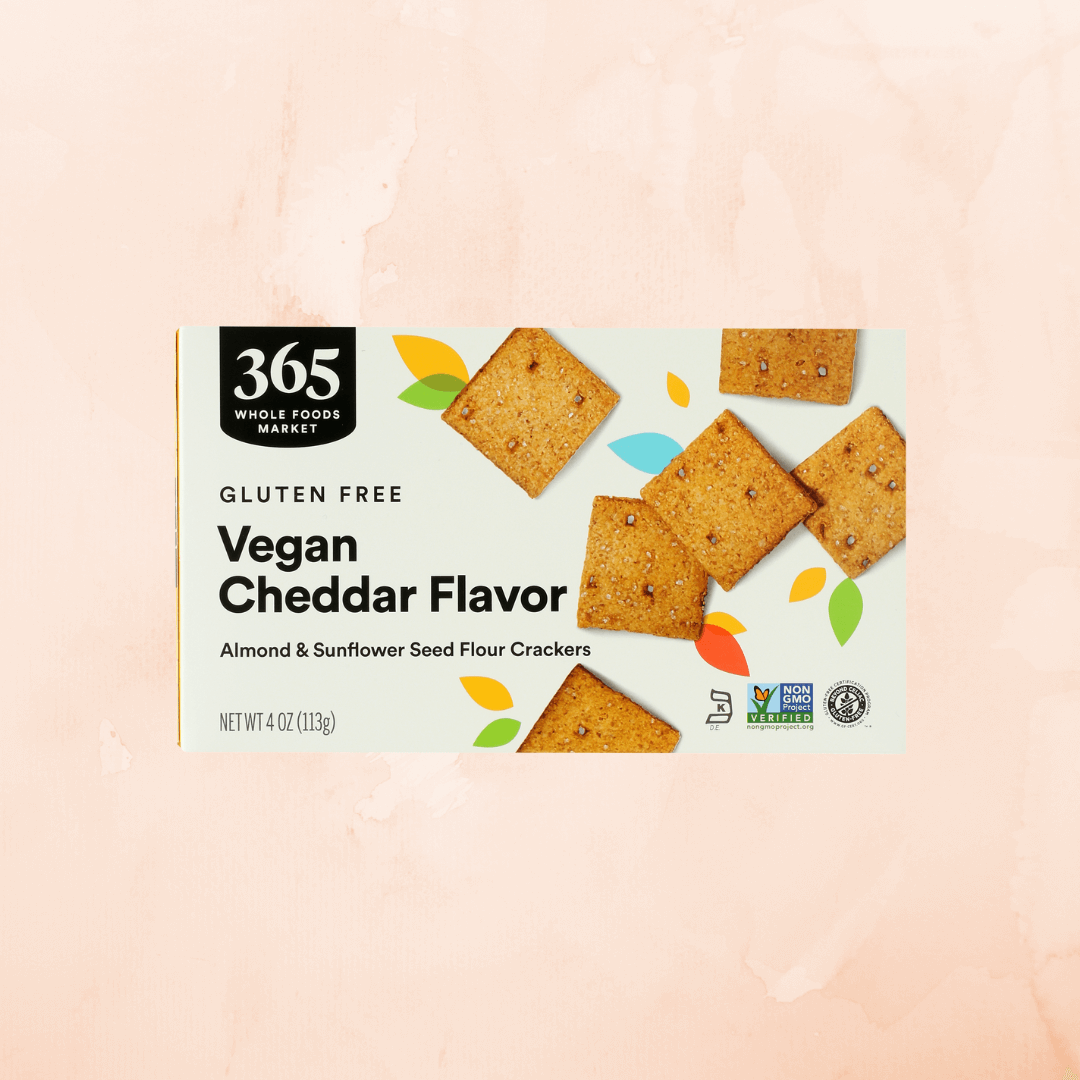 365 by Whole Foods
3 365 by Whole Foods Market Gluten Free Vegan Cheddar Flavor Almond & Sunflower Seed Flour Crackers
A cross between a Cheez-It and a Wheat Thin, these large, crunchy vegan snacks are what those with gluten sensitivities crave. Gluten-free or not, there's always a box of these crackers in our Instacart.
Learn more here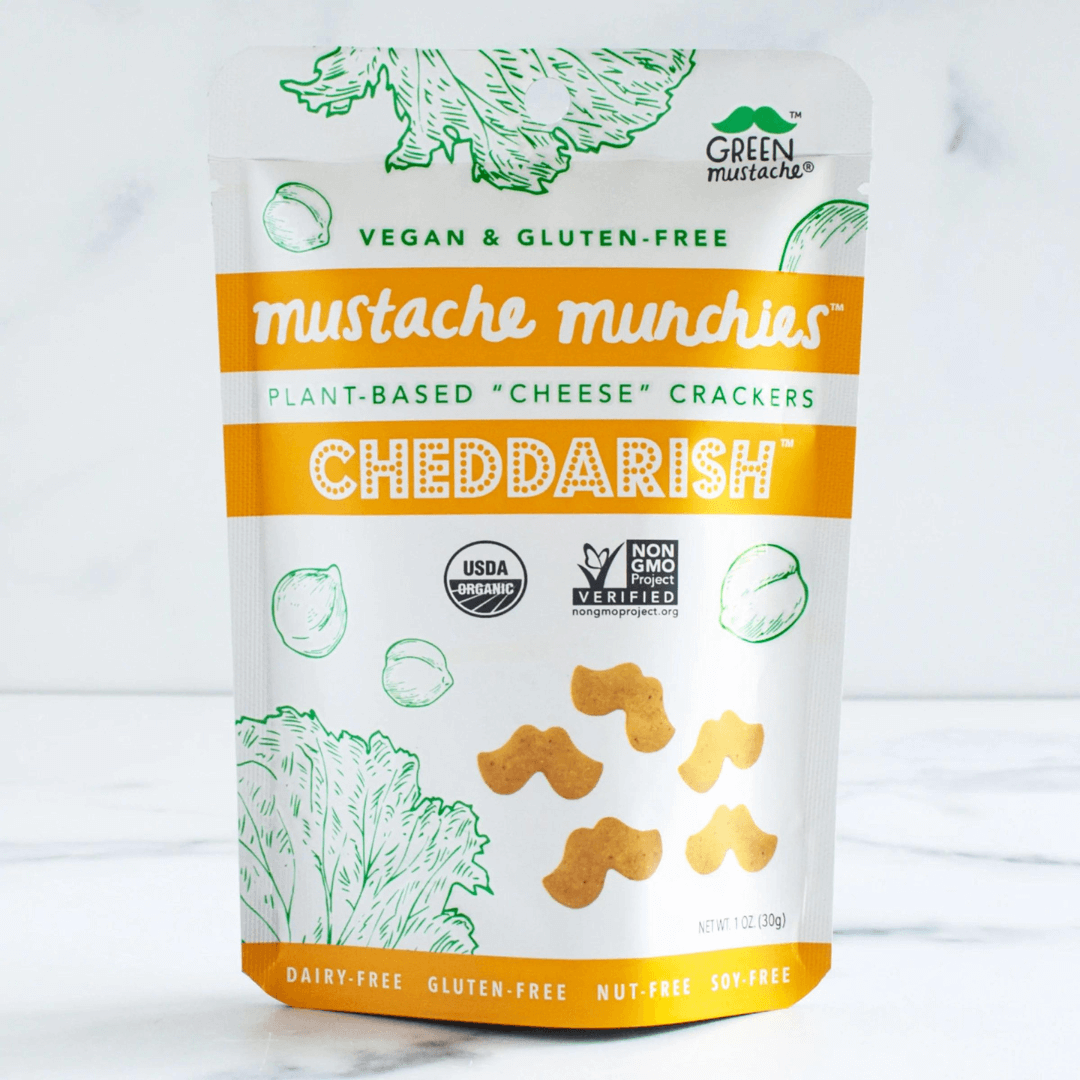 Green Mustache Munchies
4 Green Mustache Munchies Crackers
There are so many reasons we love these gluten-free and organic crackers—starting with the fact that they are shaped like mustaches. Other reasons include the company's commitment to sustainability. Green Mustache upcycles unsellable crackers into farm animal feed so nothing goes to waste. The Cheddarish, Spicyish, and Parmesan Rosemary flavors are all vegan.
Learn more here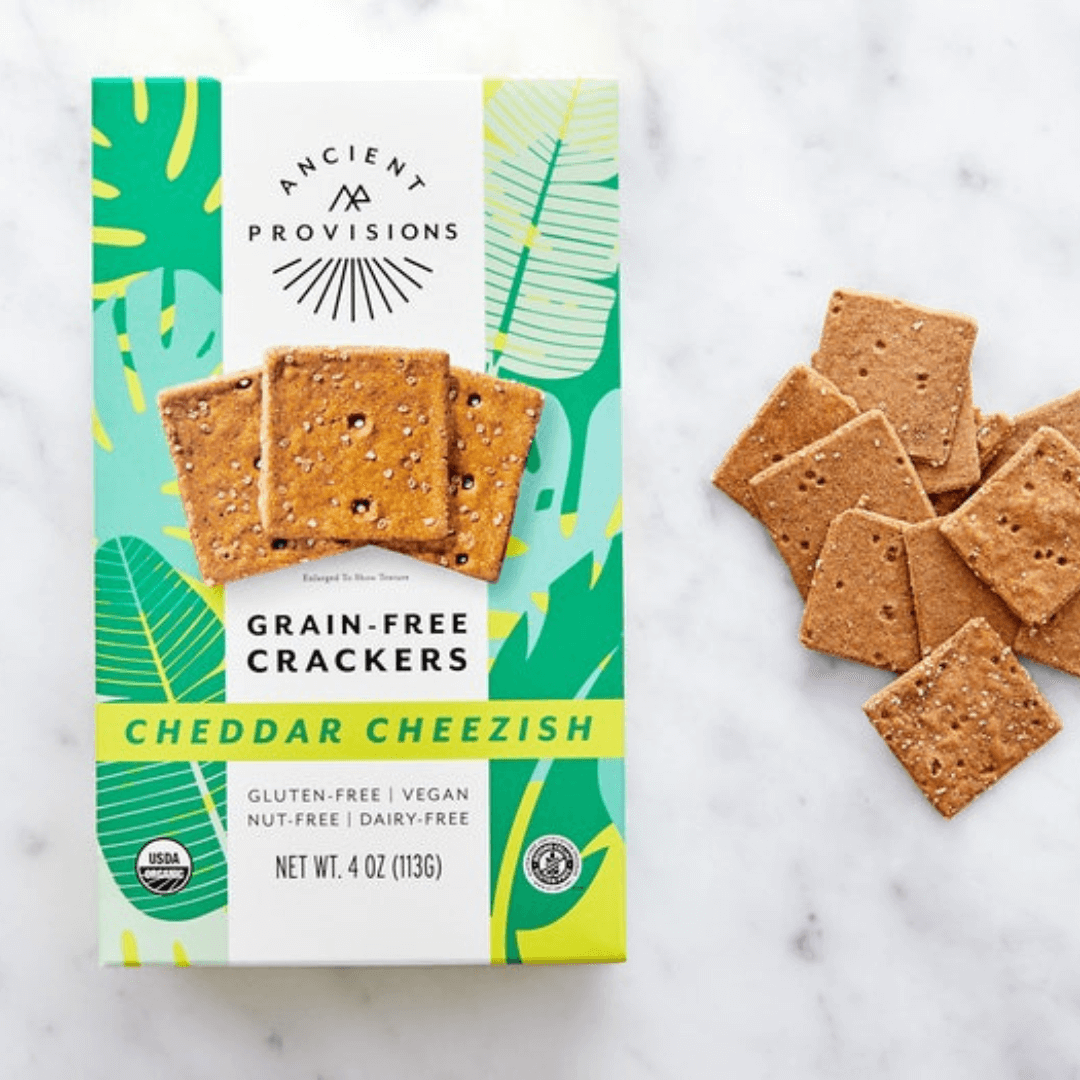 Ancient Provisions
5 Ancient Provisions Organic Cheddar Cheezish Crackers
Take a bite. What do you taste? Cheddar flavor, yes. A hint of sea salt? You bet. What you won't taste is green banana flour, but that's the first ingredient. Mind blown.
Learn more here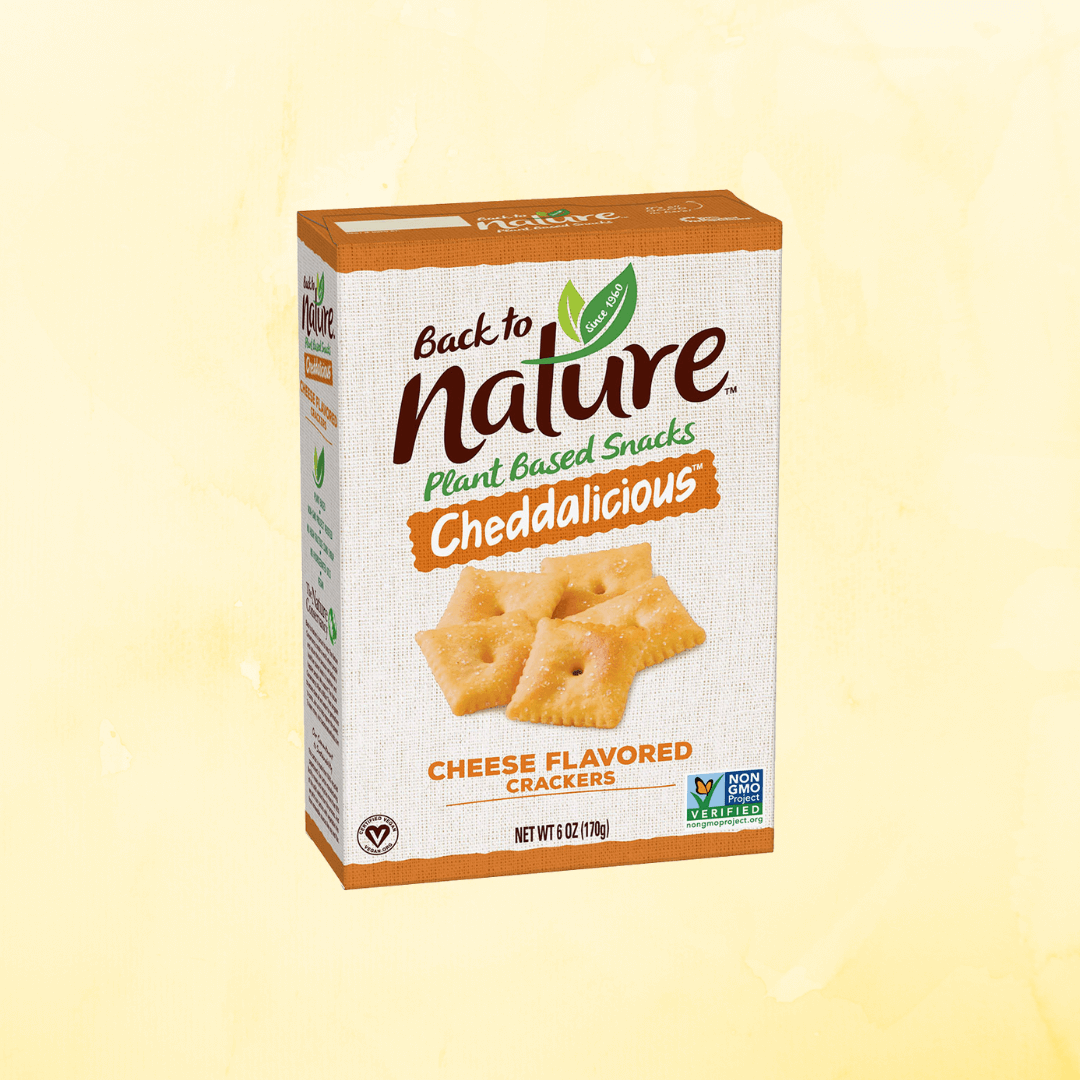 Back to Nature
6 Back to Nature Plant Based Snacks
A lot of vegan cheddar flavor is packed into these gluten-free square crackers. With a name like Cheddalicious, we'd expect nothing less.
Learn more here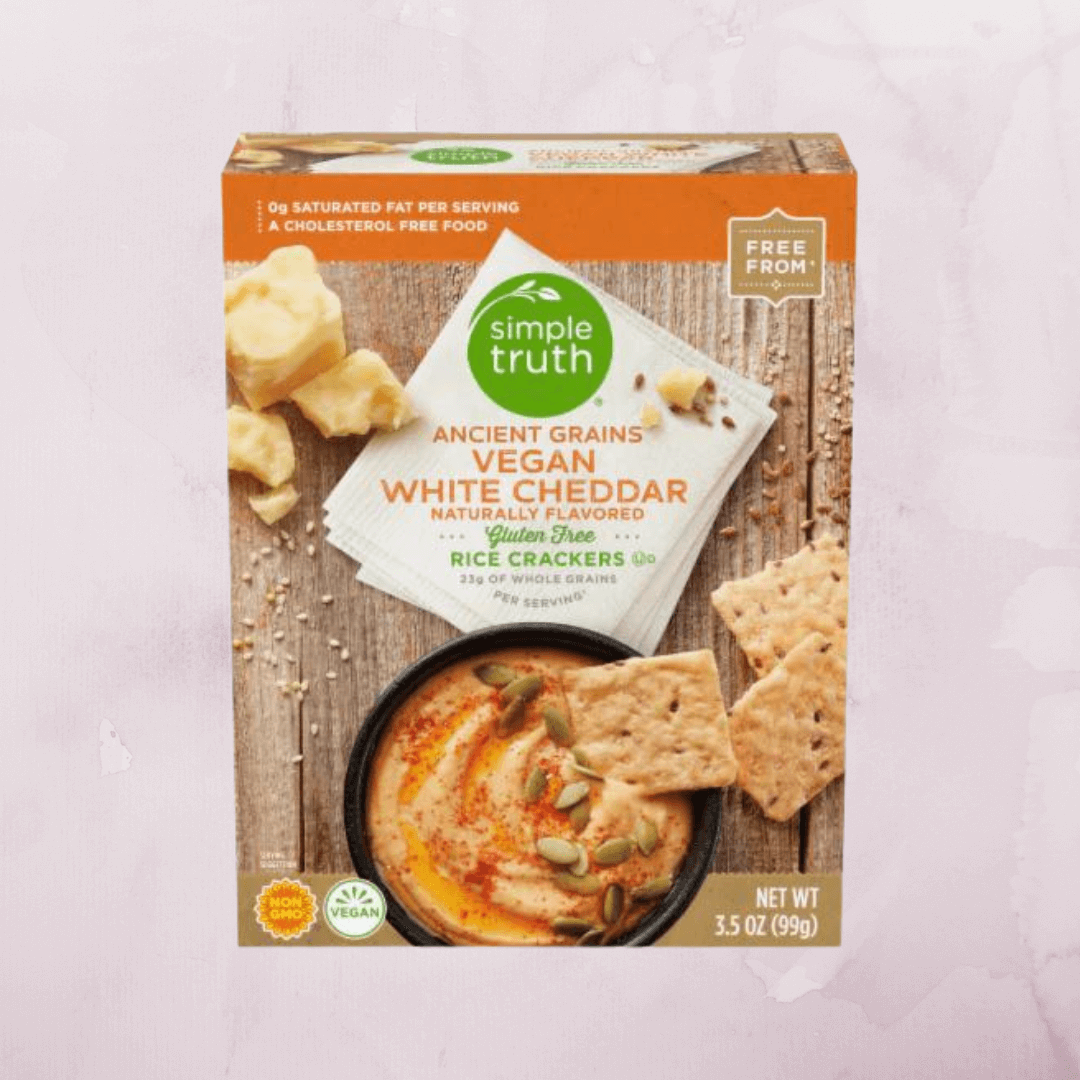 Kroger
7 Simple Truth Ancient Grains Vegan White Cheddar Rice Crackers
In 2020, Kroger's Simple Truth better-for-you range launched 50 new plant-based foods. These vegan white cheddar rice crackers were just one of those accessible and delicious new launches. Good to know that wherever there's a Kroger store, cheesy vegan snacks are nearby.
Learn more here
Chips
Nothing says "Welcome to my abode, friend" quite like a bowl of chips. From nacho cheese-flavored Doritos analogs to puffed chips, here are 10 kinds of cheesy vegan chips you can find in stores: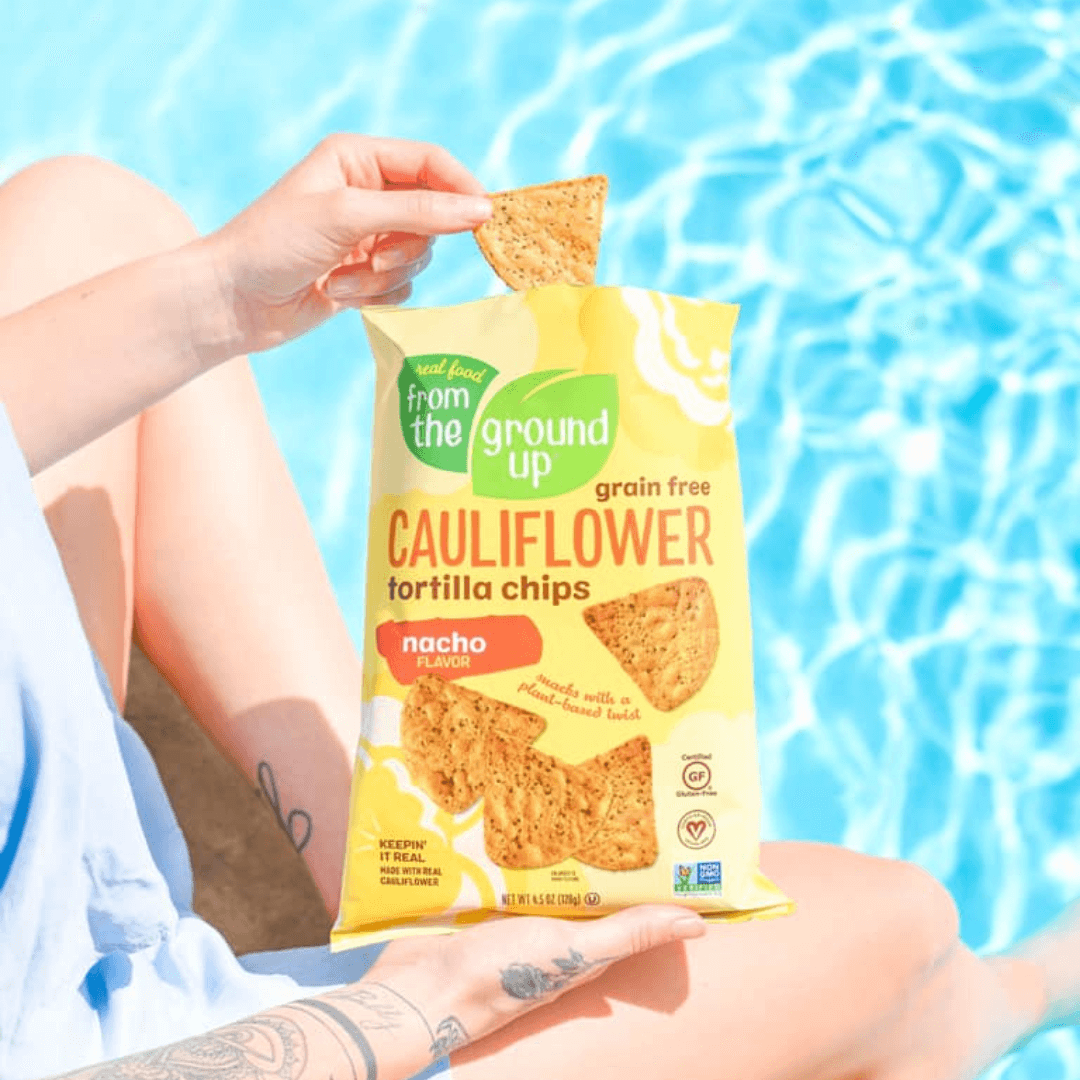 From the Ground Up
8 From the Ground Up Cauliflower Nacho Tortilla Chips
What's better than dipping a tortilla chip into a vat of vegan queso? Dipping a nacho-flavored tortilla chip into a vat of vegan queso. Win the party by bringing a few bags of these cheesy vegan chips.
Learn More here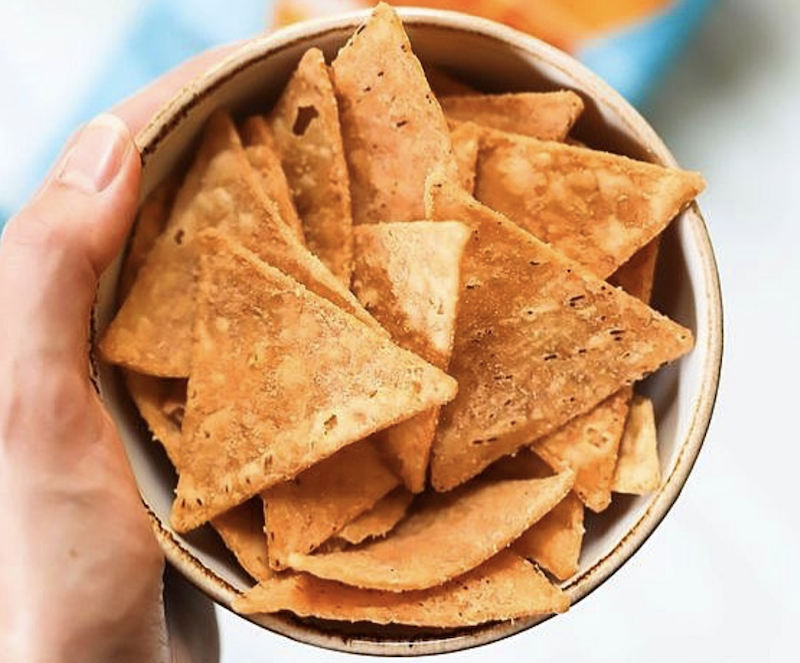 Beanfields
9 Beanfields Chips
Made with a blend of black and navy beans, these cheesy vegan chips pack in four grams of plant-based protein per serving. Not bad for an indulgent-tasting snack! Flavors include nacho, spicy queso, cheddar, and cheddar and sour cream.
Learn More here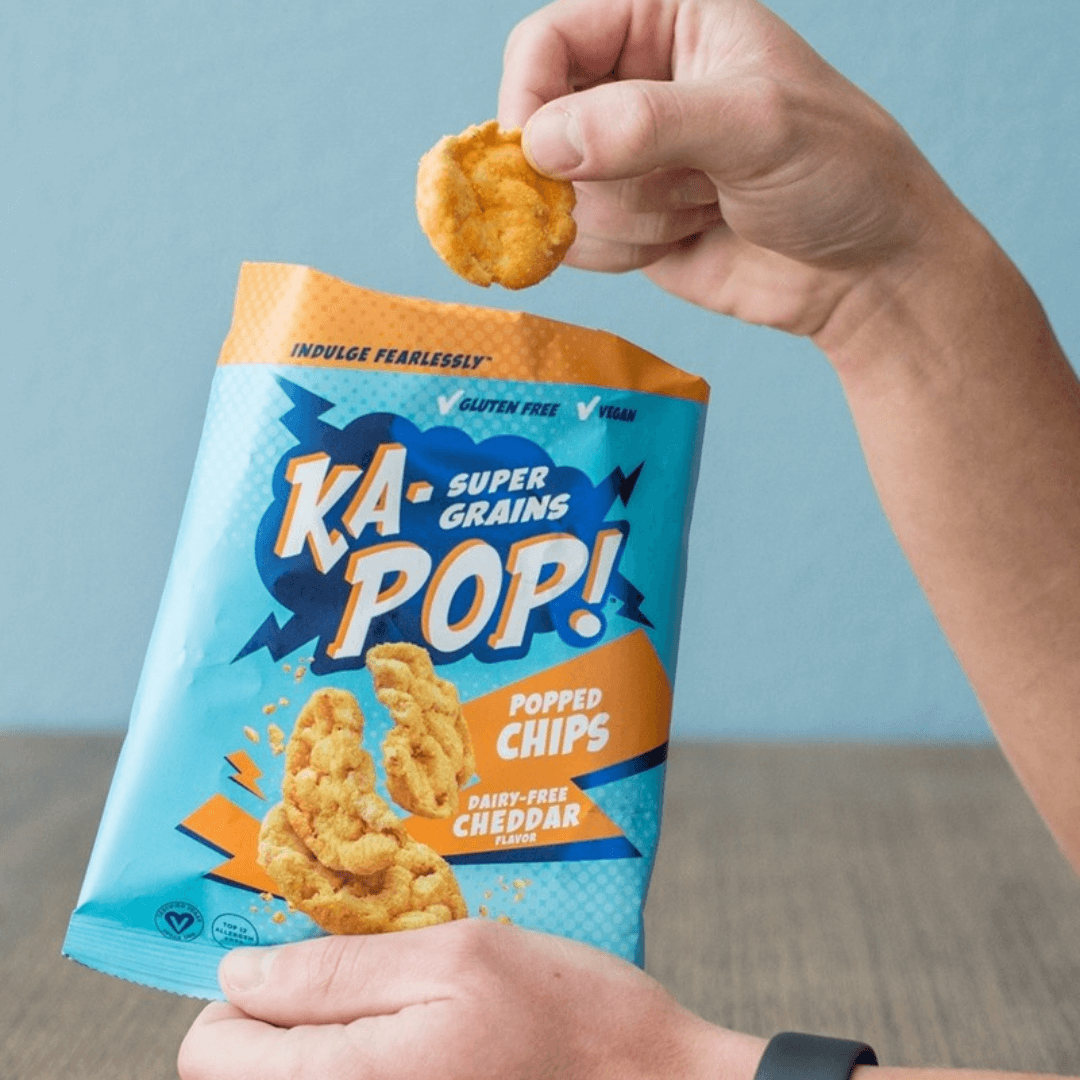 Ka-Pop
10 Ka-Pop Dairy-Free Popped Chips
Remember rice cakes? These crunchy, gluten-free snacks have a similar texture, but the similarities stop there. Ka-Pop's popped chips are made with sorghum flour and are so much more palatable than the humble rice cake. Cheesy options include cheddar and sour cream and onion.
Learn more here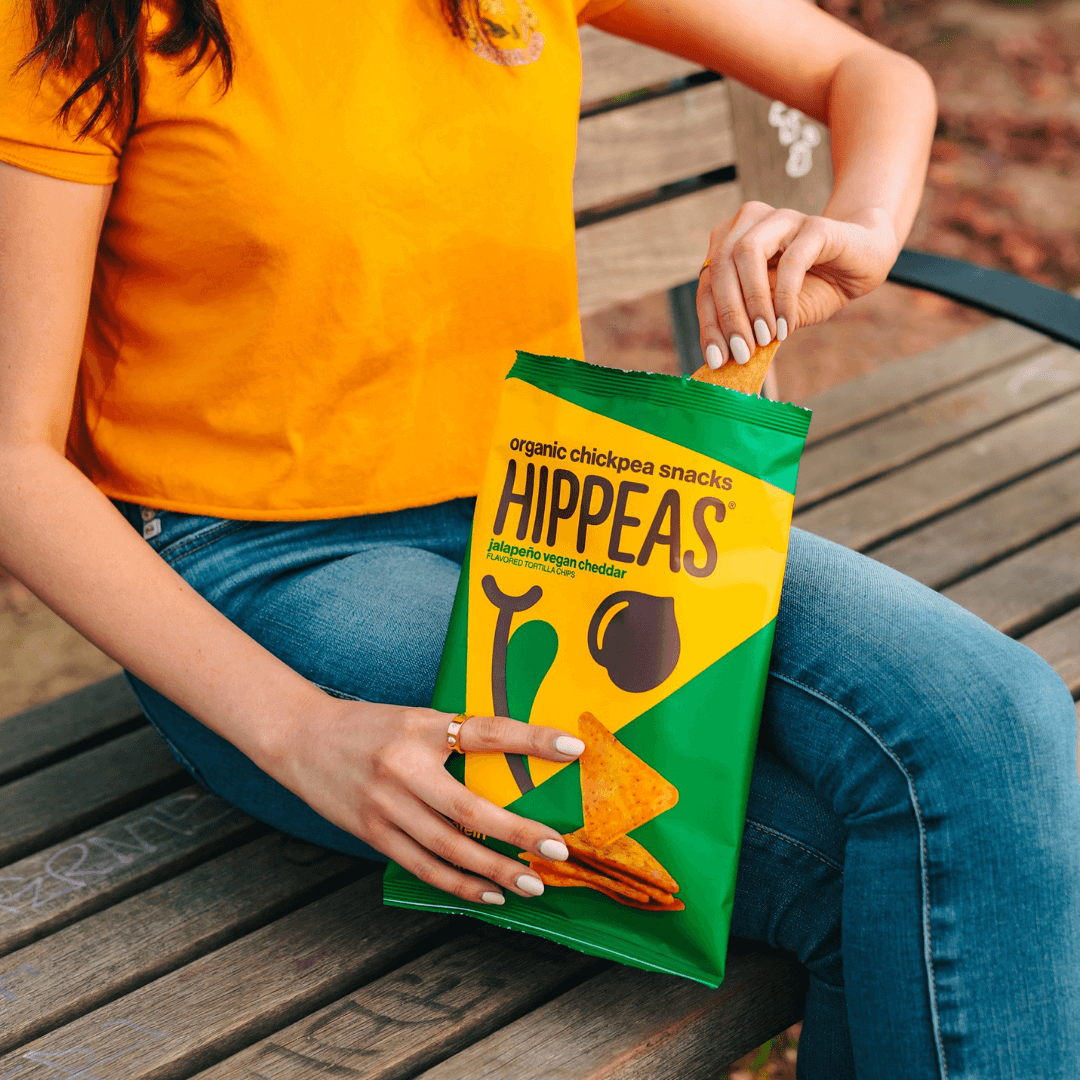 Hippeas
11 Hippeas Organic Chickpea Snacks
Never will we ever use regular tortilla chips for homemade nachos again. These chickpea flour-based Jalapeno Vegan Cheddar Tortilla Chips are the only acceptable option when Game Day (aka nacho season) arrives.
Learn more here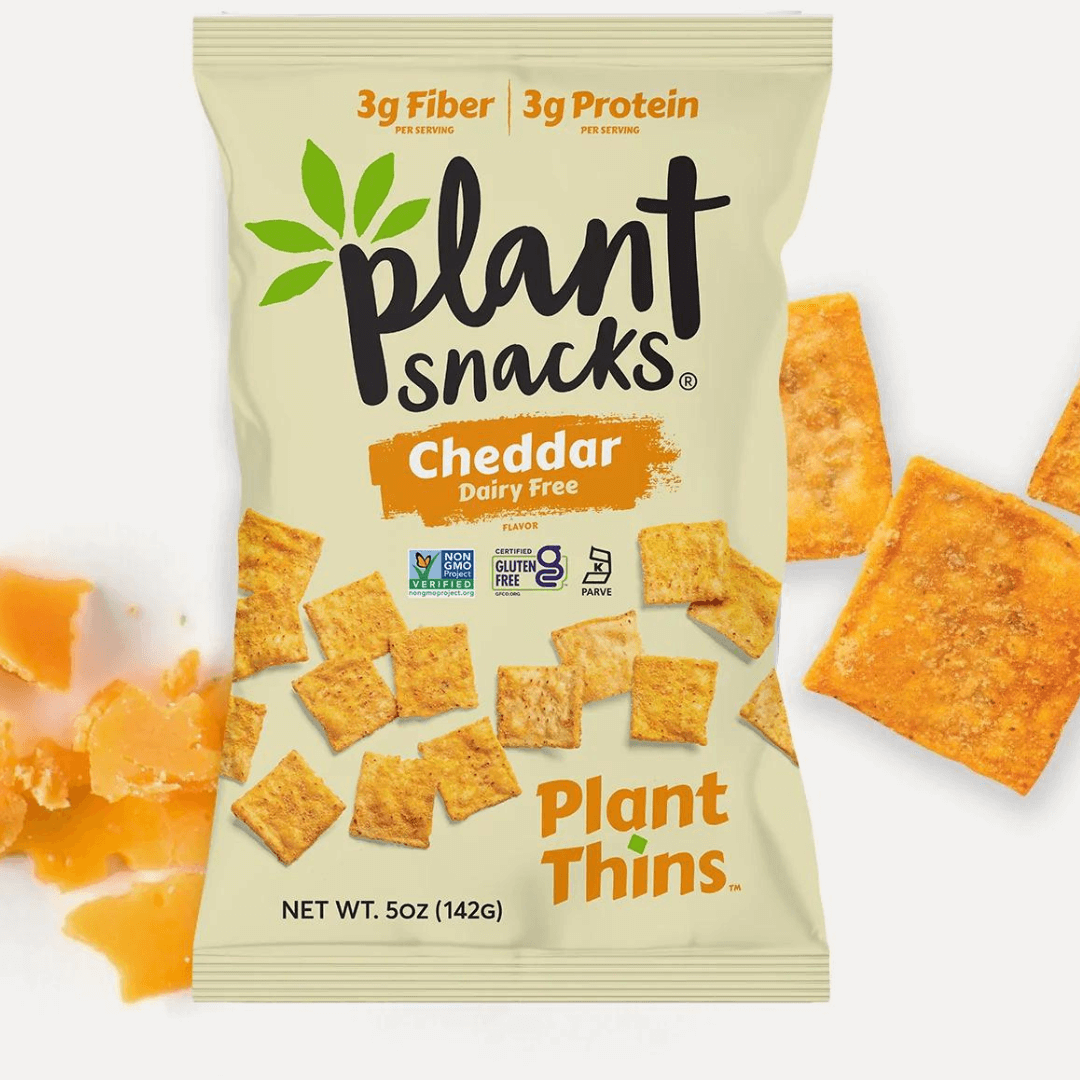 Plant Snacks
12 Plant Snacks Cassava Chips
Sure, the standard cheddar flavor of these vegan snacks is great, but Plant Snacks is the only vegan chip we've seen with a Beet and Vegan Goat Cheese flavor. These are what vegan cheese board dreams are made of.
Learn more here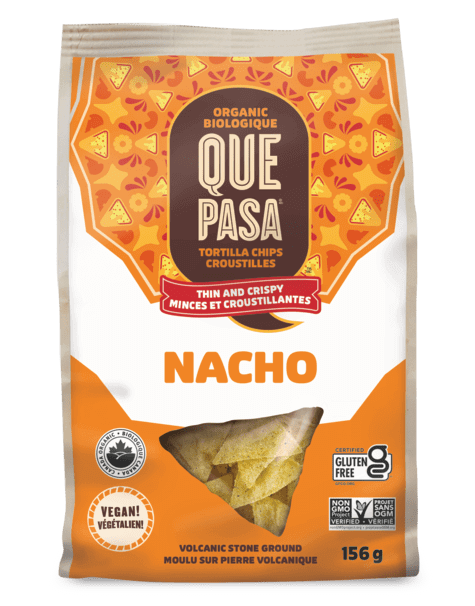 Que Pasa Foods
13 Que Pasa Foods Nacho Tortilla Chips
Falling under the Nature's Path corporation, these vegan nacho-infused tortilla chips are perfectly spicy, cheesy, and ultimately addictive. Bring on the chunky salsa and guac.
Learn more here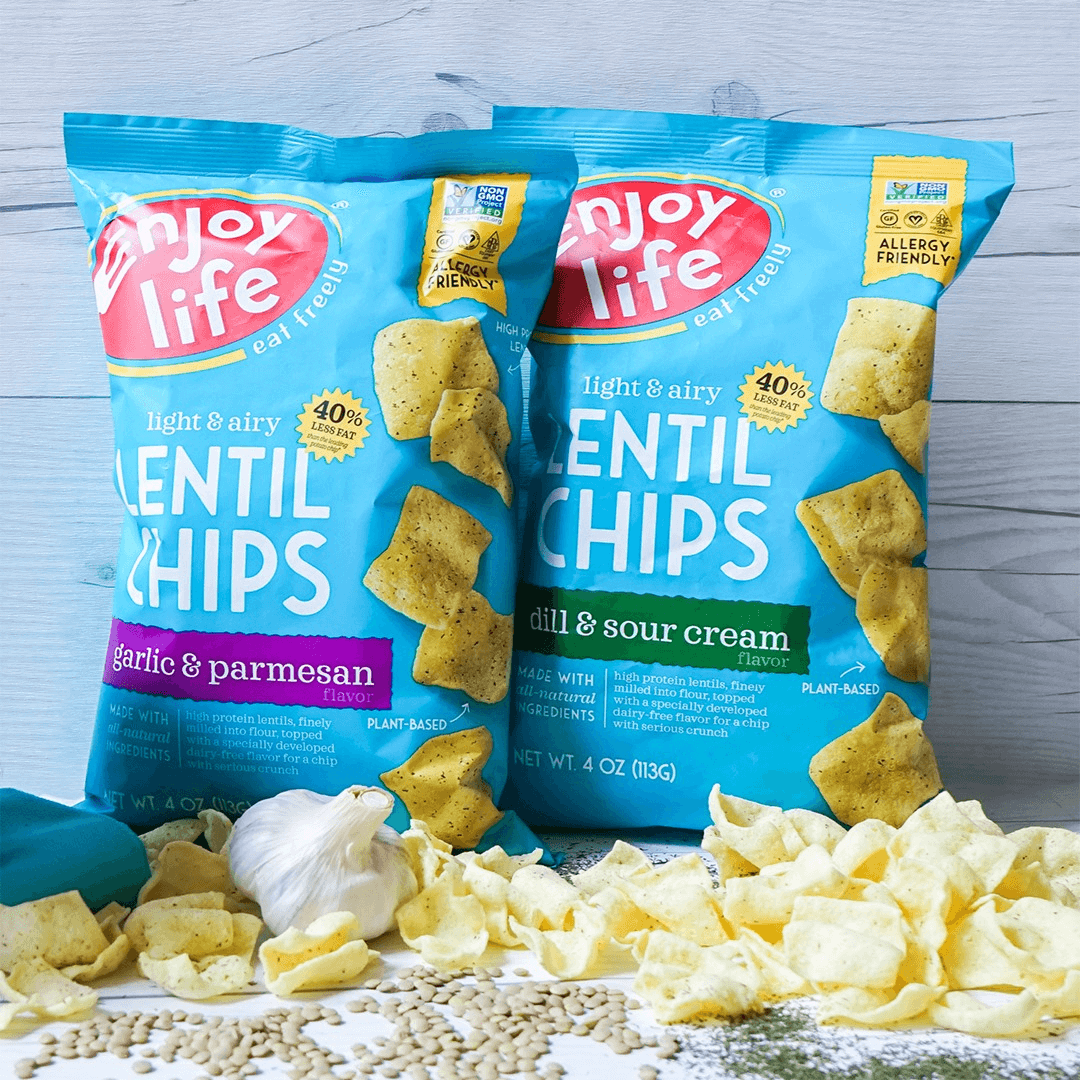 Enjoy Life
14 Enjoy Life Lentil Chips
Enjoy Life first entered our radar with its vegan mini chocolate morsels and chocolate baking chunks, but in the years since, we have fully embraced the savory side of this allergen-friendly vegan company. We're in love with every flavor of these cheesy vegan snacks—from the Garlic & Parmesan to the Margherita Pizza.
Learn more here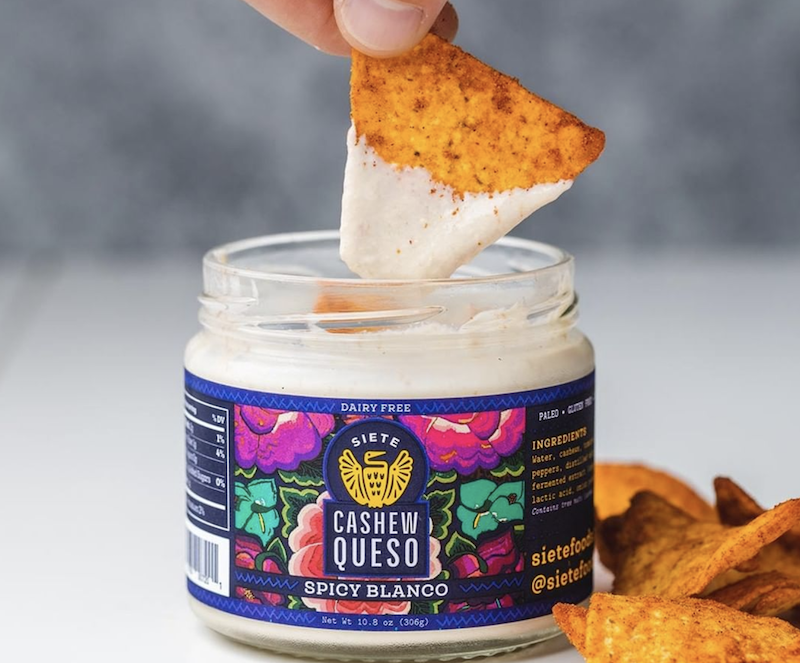 Siete
15Siete Grain Free Tortilla Chips
Not only does this allergen-friendly company make excellent vegan queso, but it also produces cheesy vegan chips for dipping. Try the nacho, ranch, or fuego if you dare!
Learn more here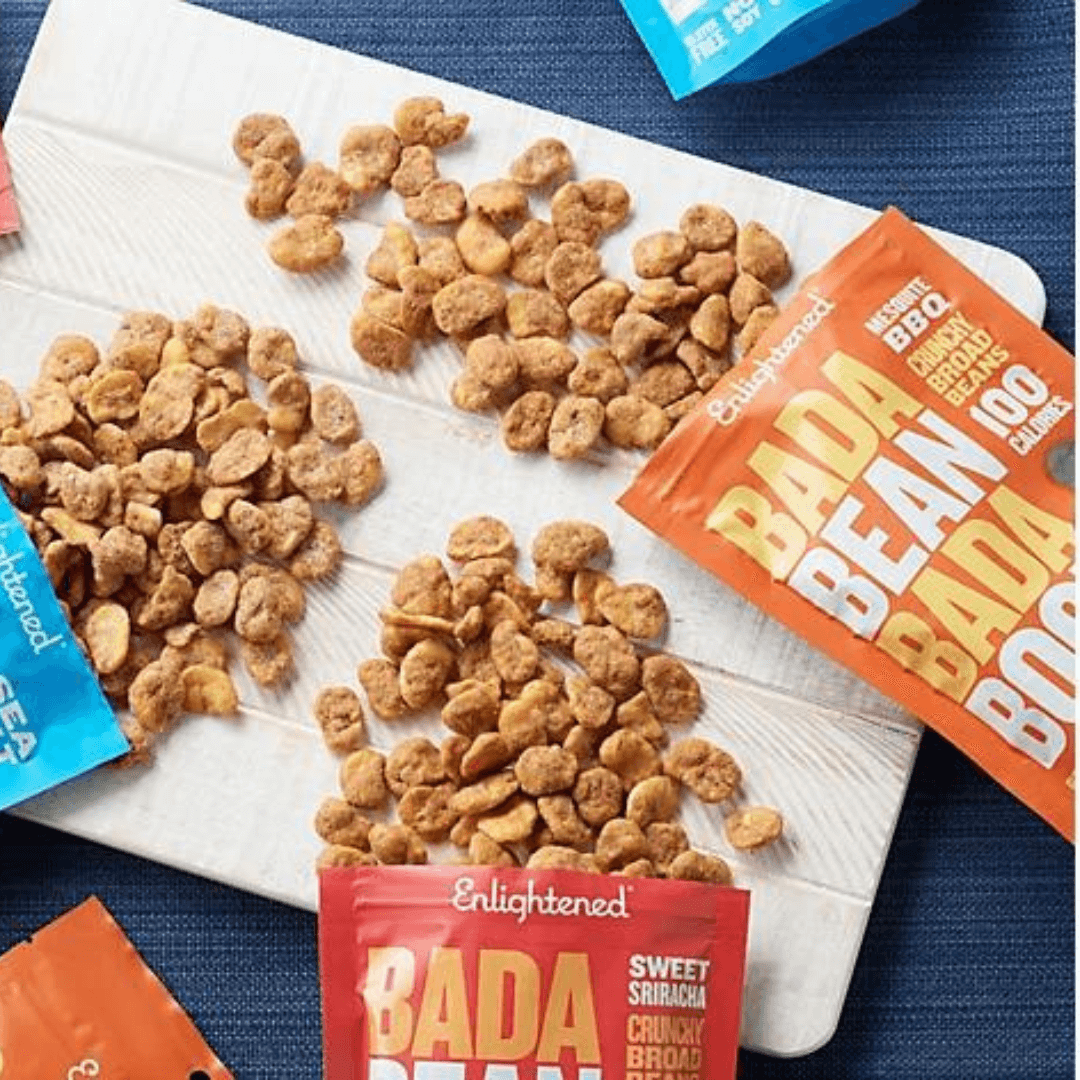 Enlightened
16 Enlightened Bada Bean Bada Boom Chips
When it comes to these vegan Nacho Cheeze snacks, we want our beans to be crunchy. Who knew seasoned and baked fava beans could be so incredibly snackable?
Learn more here
Puffs
Reminiscent of Cheetos puffs or Cheez Doodles, these crunchy little snacks are perfect for lunch boxes.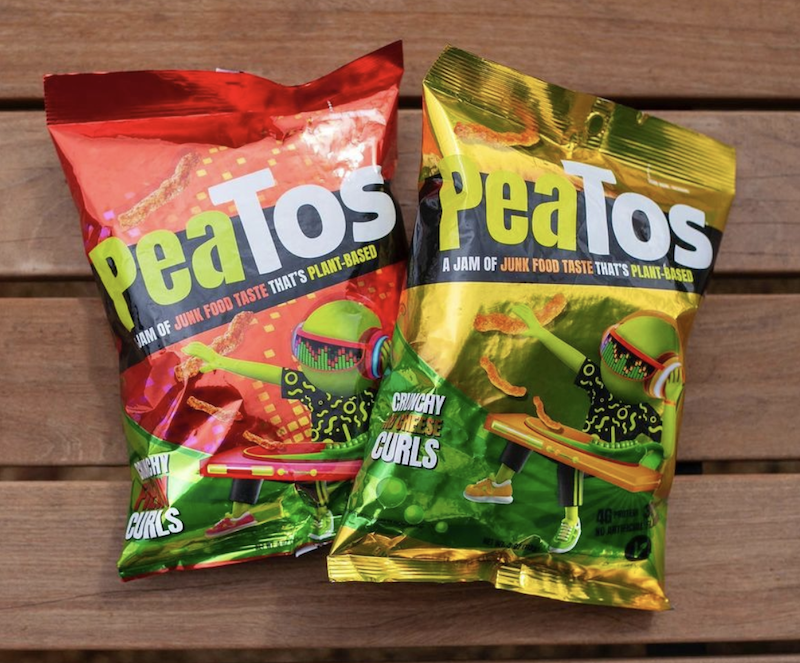 Peatos
17Peatos
We don't have to tell you what iconic snack food Peatos seeks to replicate. These cheesy vegan puffs come in Fiery Hot and somewhat misleading No Cheese. The latter is indeed cheesy—they're just made without dairy. These crispy cheese curls won Best New Product in 2022. We're definitely addicted.
Learn more here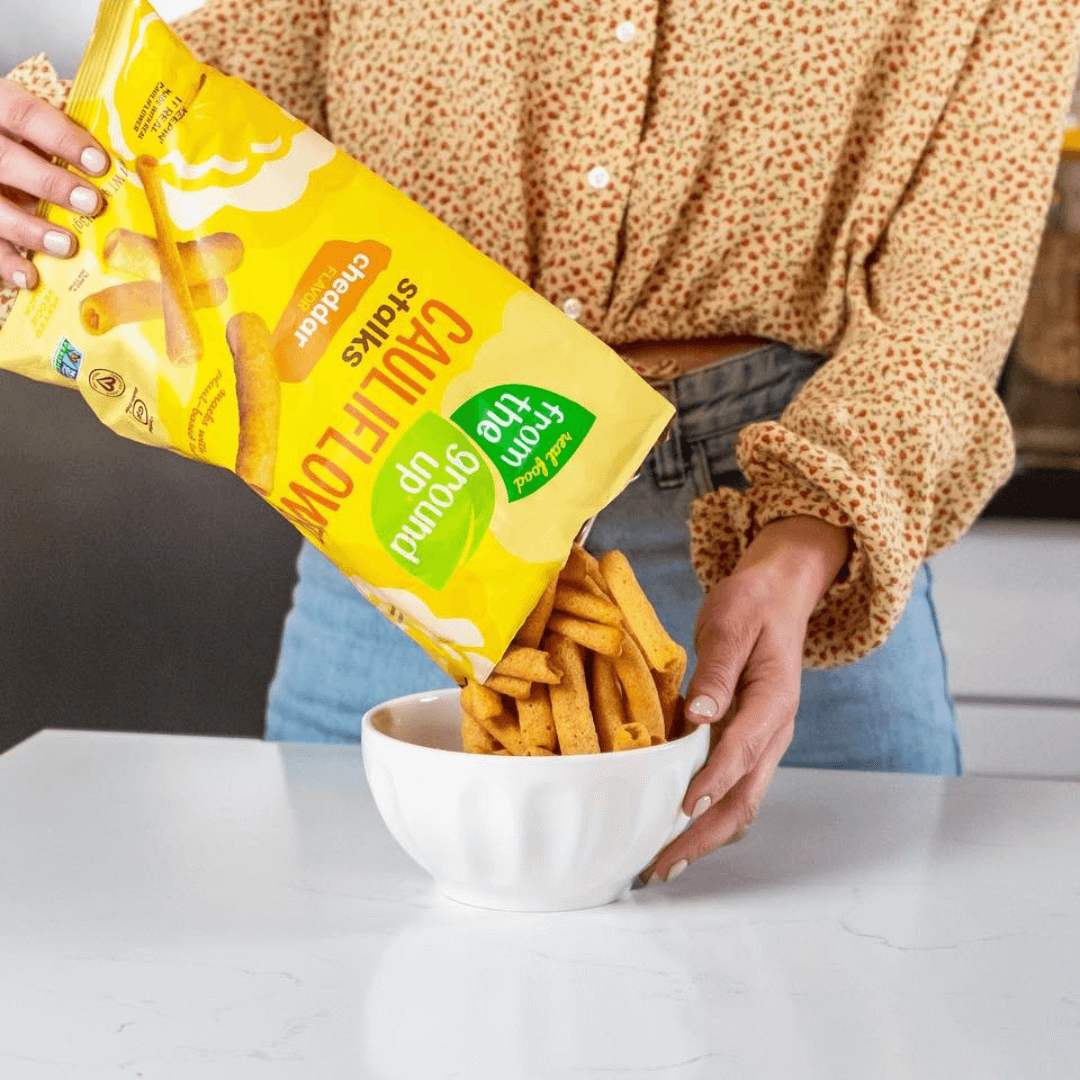 From the Ground Up
18 From the Ground Up Cheddar Cauliflower Stalks
Just like the crackers from this vegan snacking company, these cheesy puffs contain cauliflower. Unlike your average puff, these "stalks" have a hole right down the center for an extra light and airy bite.
learn more here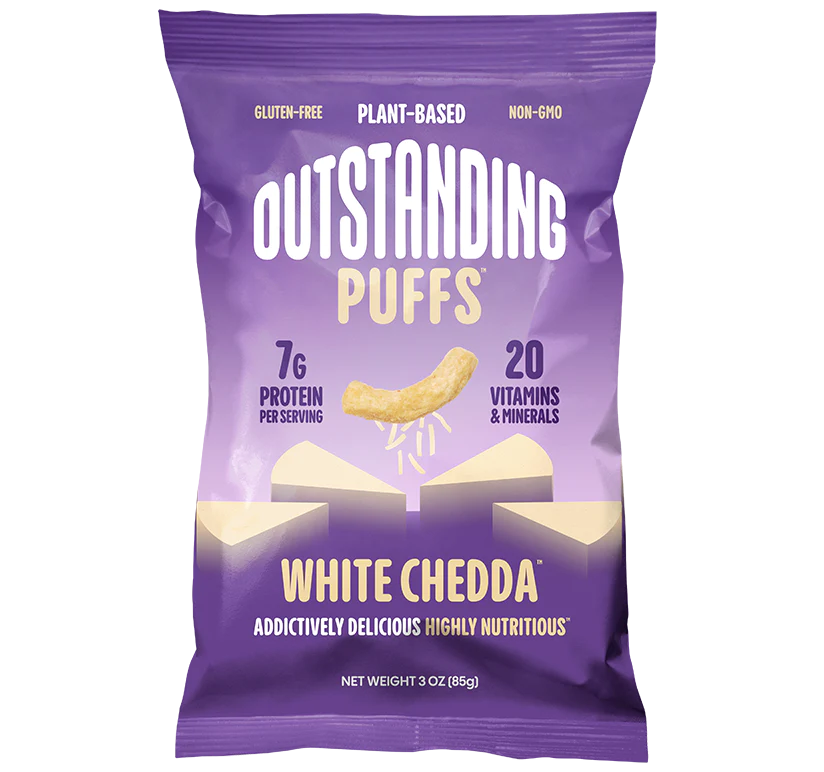 Outstanding Foods
19 Outstanding Foods Puffs
We have no idea how something so light and crispy can carry such a bold flavor. It's easy to get to the bottom of the bag with these white cheddar-spiked vegan puffs.
learn more here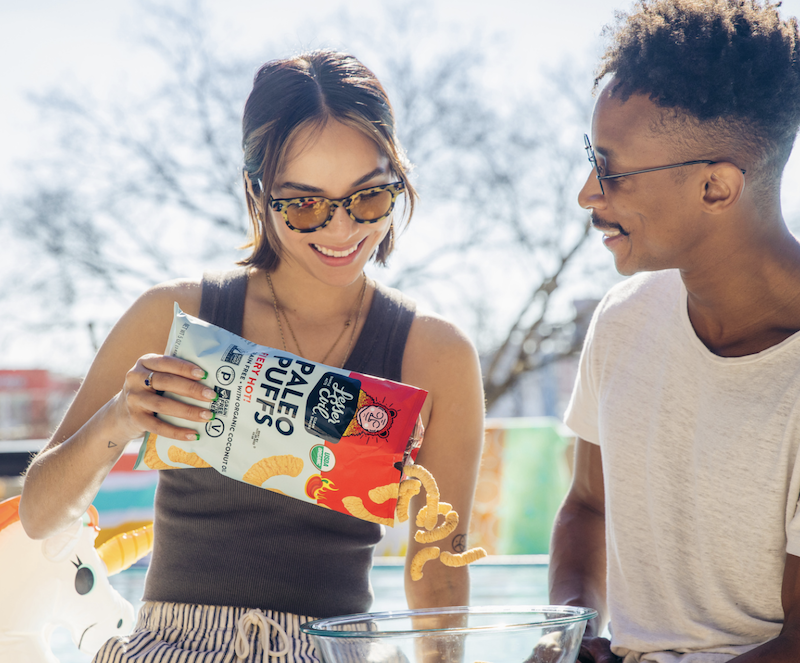 LesserEvil
20LesserEvil Paleo Puffs
You don't run into paleo and vegan too often, but LesserEvil has combined the best of both food philosophies to create a deliciously cheesy vegan snack. The "No Cheese" Cheesiness Paleo Puffs are USDA certified organic, kosher, vegan, and paleo-approved. Note: avoid the very similar-looking No Cheese Power Curls. While they're dairy-free, they contain egg whites.
learn more here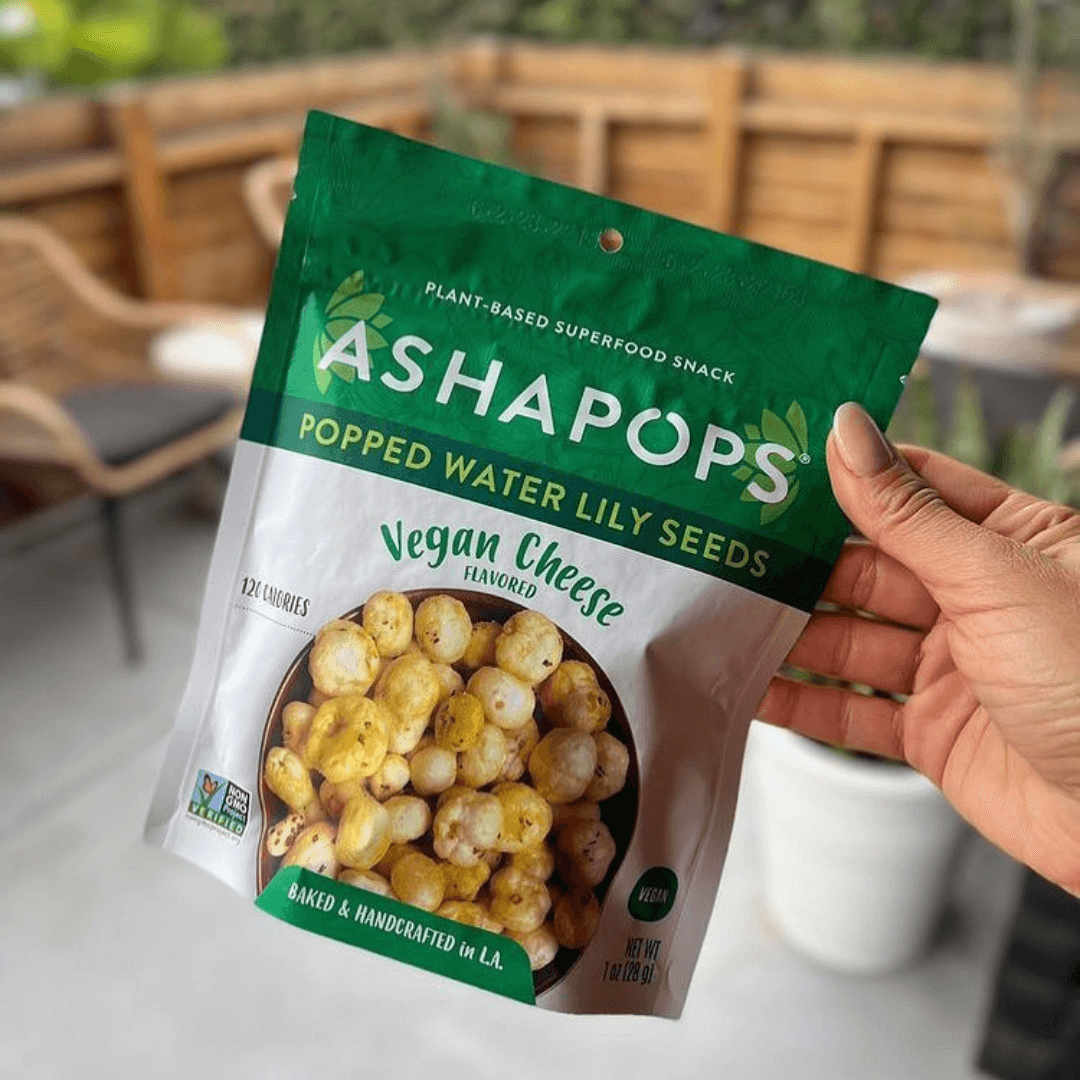 Asha Pops
21 Asha Pops Lily Seed Puffs
Puffed water lily seeds don't sound all too craveable at first, but a handful of the Vegan Cheese flavored puffs will abruptly change your perspective of what is delicious. Bonus: each 100-calorie serving contains five grams of protein. Not bad for a tiny seed.
learn more here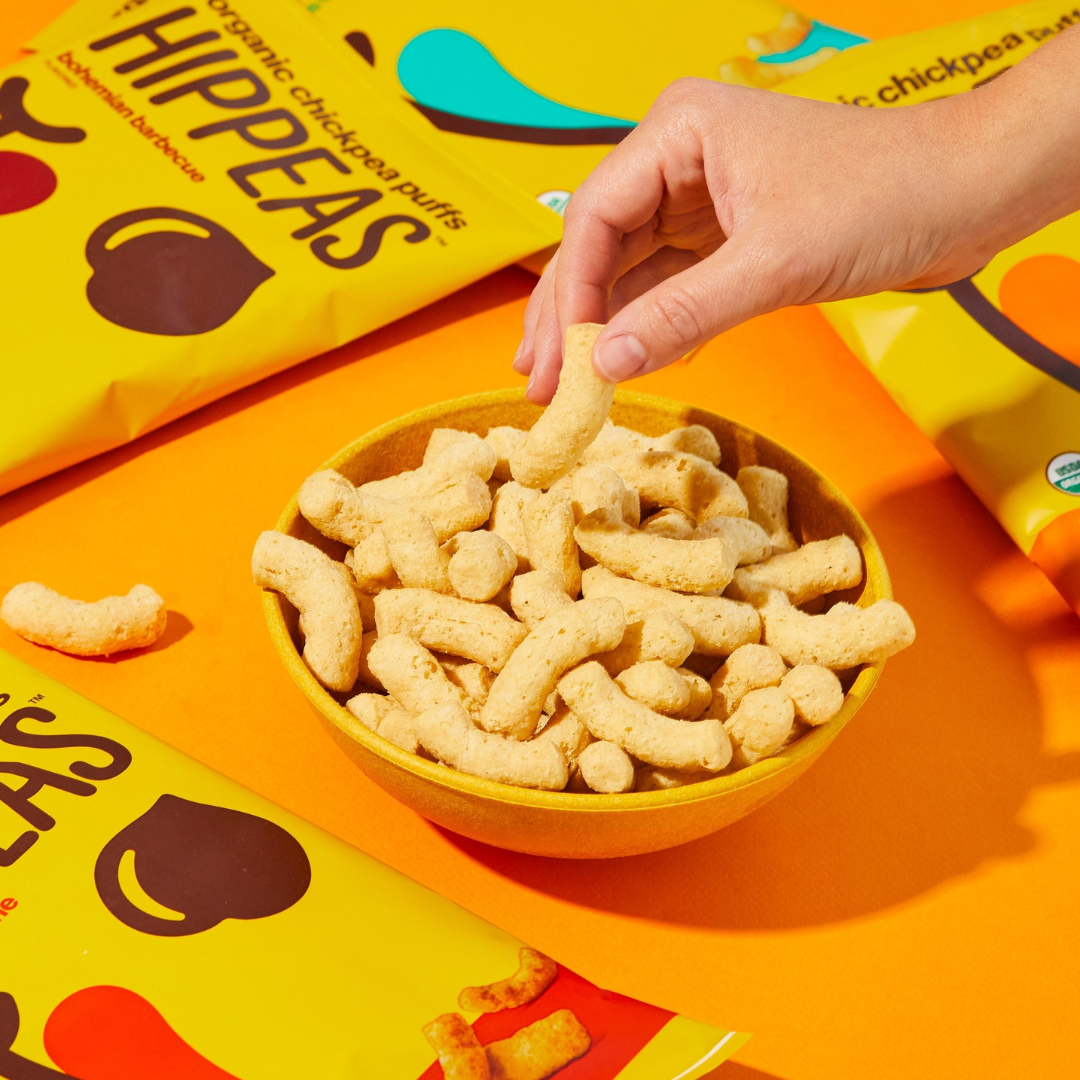 Hippeas
22 Hippeas Puffs
Chickpeas seem to do it all—from aquafaba to these tasty puffs, their versatility extends galaxies beyond hummus and falafel. These light and crispy snacks come in slightly spicy Nacho Vibes and umami Vegan White Cheddar packs.
learn more here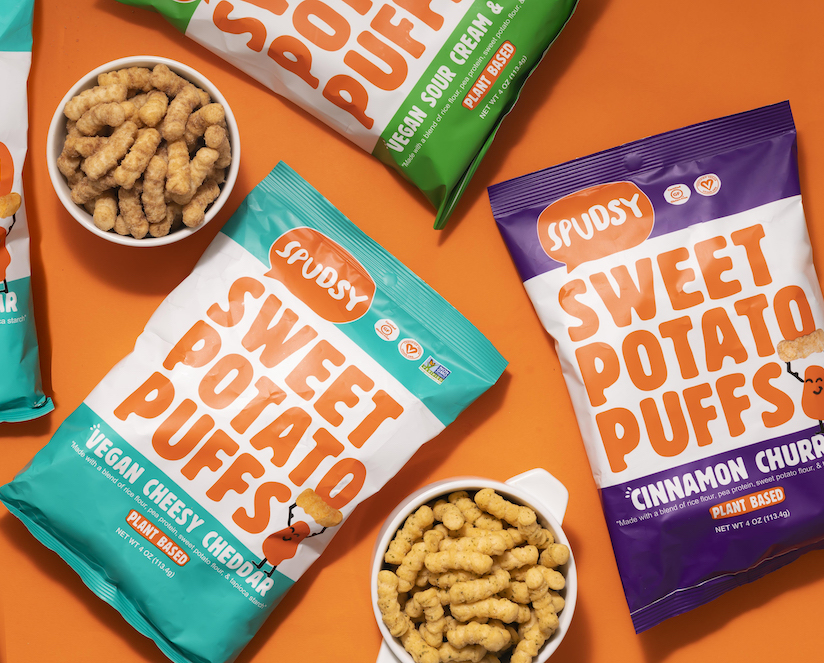 Spudsy
23 Spudsy Sweet Potato Puffs
The adorable sweet potato mascot enticed us to give these vegan snacks a try, but the taste and texture made us buy more. Since discovering this brand, we've tried all three cheesy puff varieties including vegan cheddar and vegan sour cream and onion.
learn more here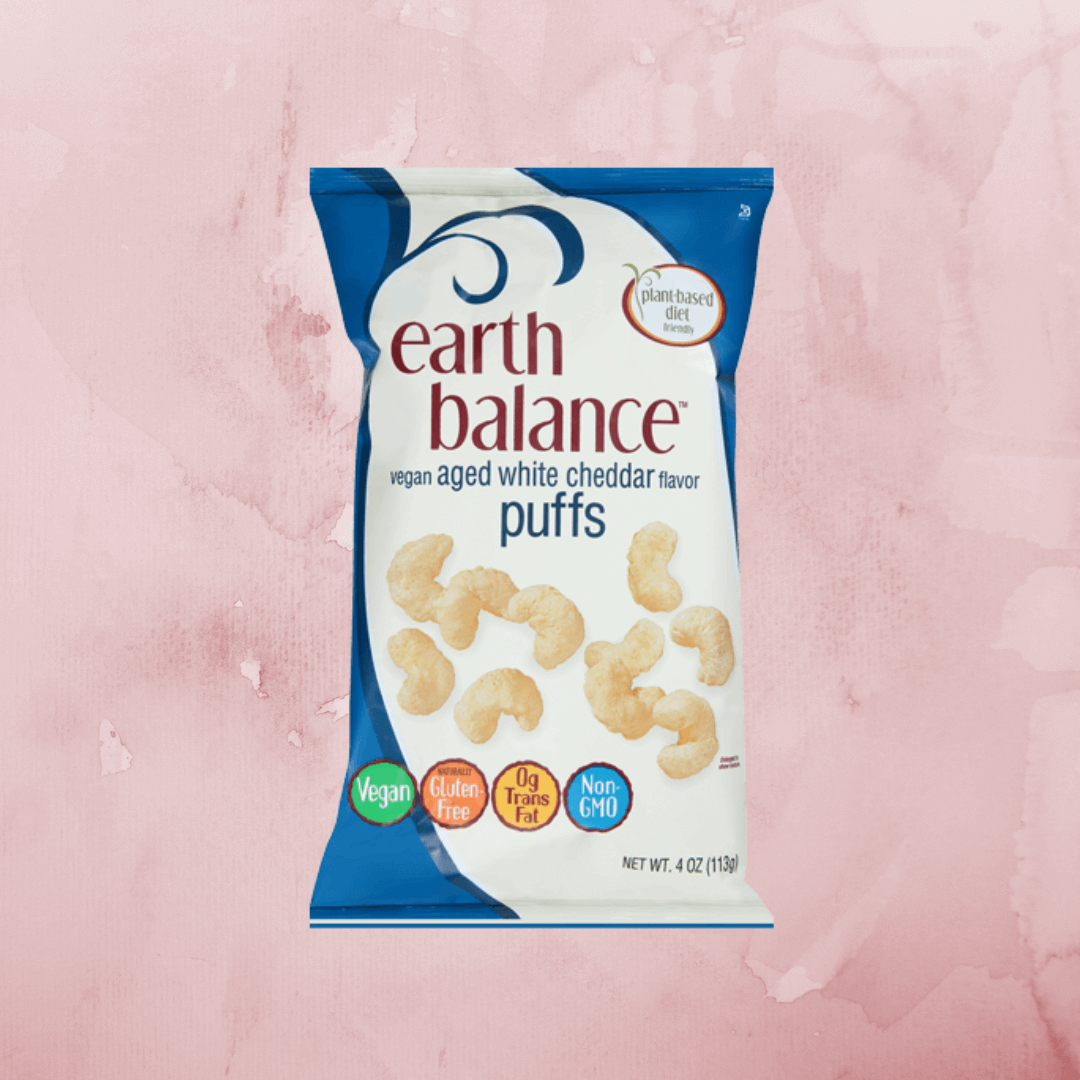 Earth Balance
24 Earth Balance Puffs
Earth Balance has nailed vegan dairy. From its buttery sticks to these Vegan Aged White Cheddar Puffs, we wonder what dairy-based food it will tackle next.
learn more here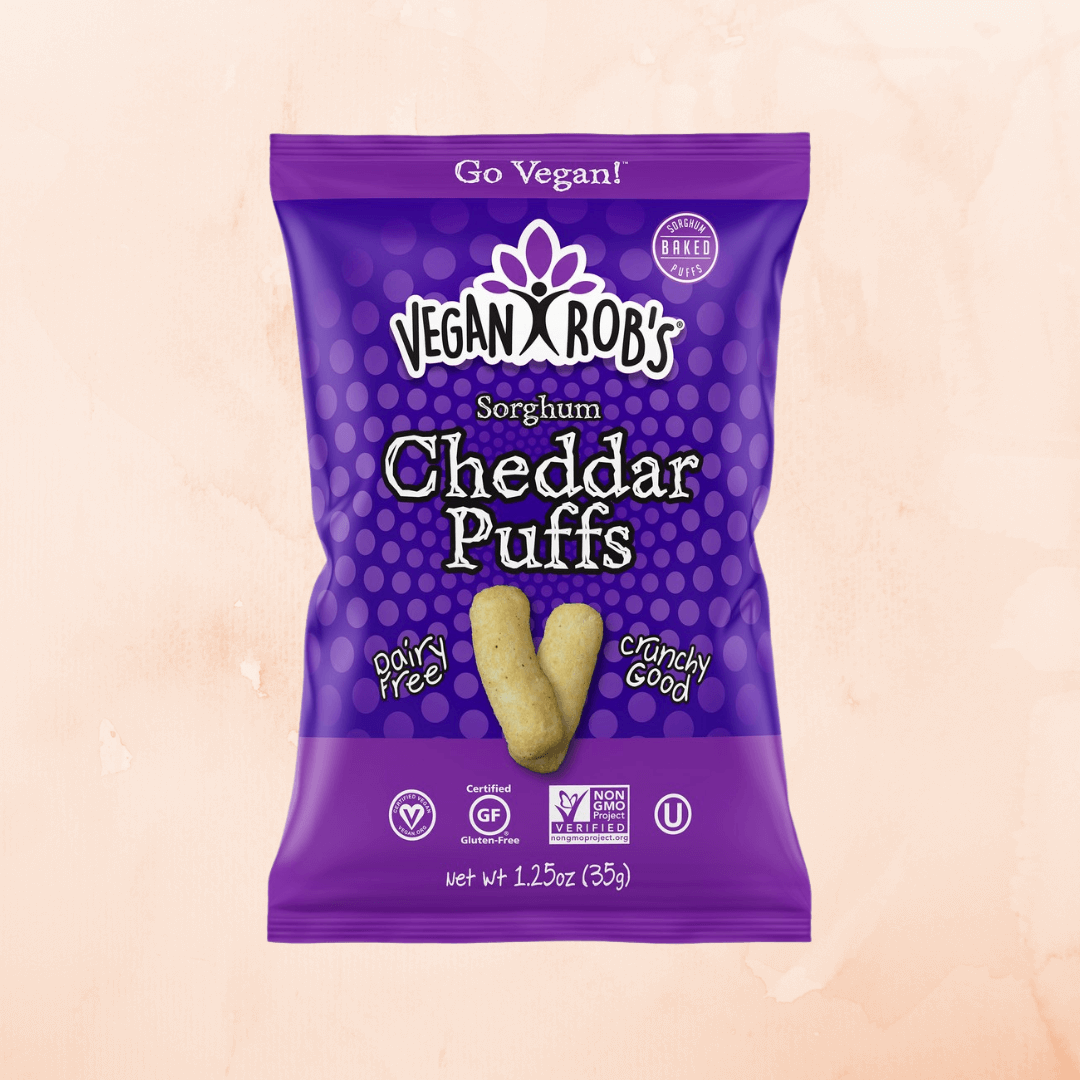 Vegan Rob's
25 Vegan Rob's Puffs
Vegan Rob's produces a medley of tantalizingly good vegan chips, crisps, and puffs. We are smitten with the cheddar puffs and fiery Dragon puffs which remind us of a certain snack often touted by a walking talking cheetah with sunglasses.
learn more here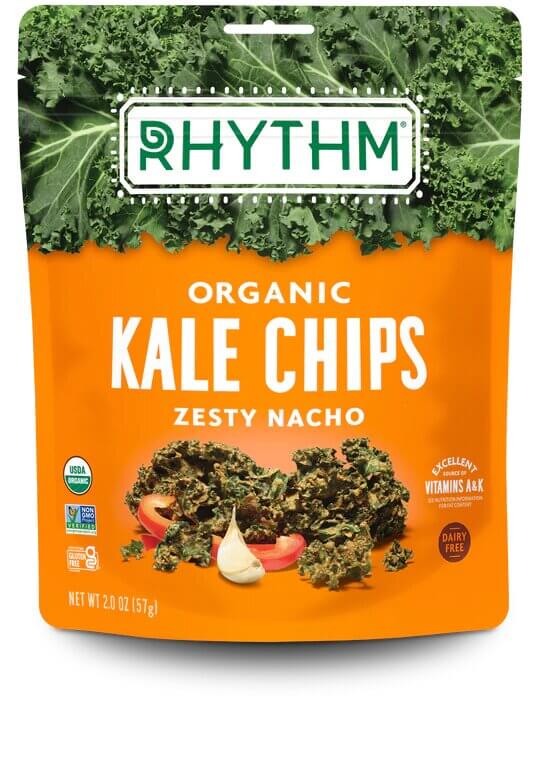 Rhythm Superfoods
26 Rhythm Superfoods Chips
Kale never tasted so good. Rhythm Superfoods has turned this leafy green into crunchy, cheesy kale chips in the flavors Zesty Nacho and Kool Ranch.
Learn more here
Popcorn
Popcorn—the everyman's snack. Just like one of the options in those tins filled with three different popcorn flavors, these are alluringly cheesy.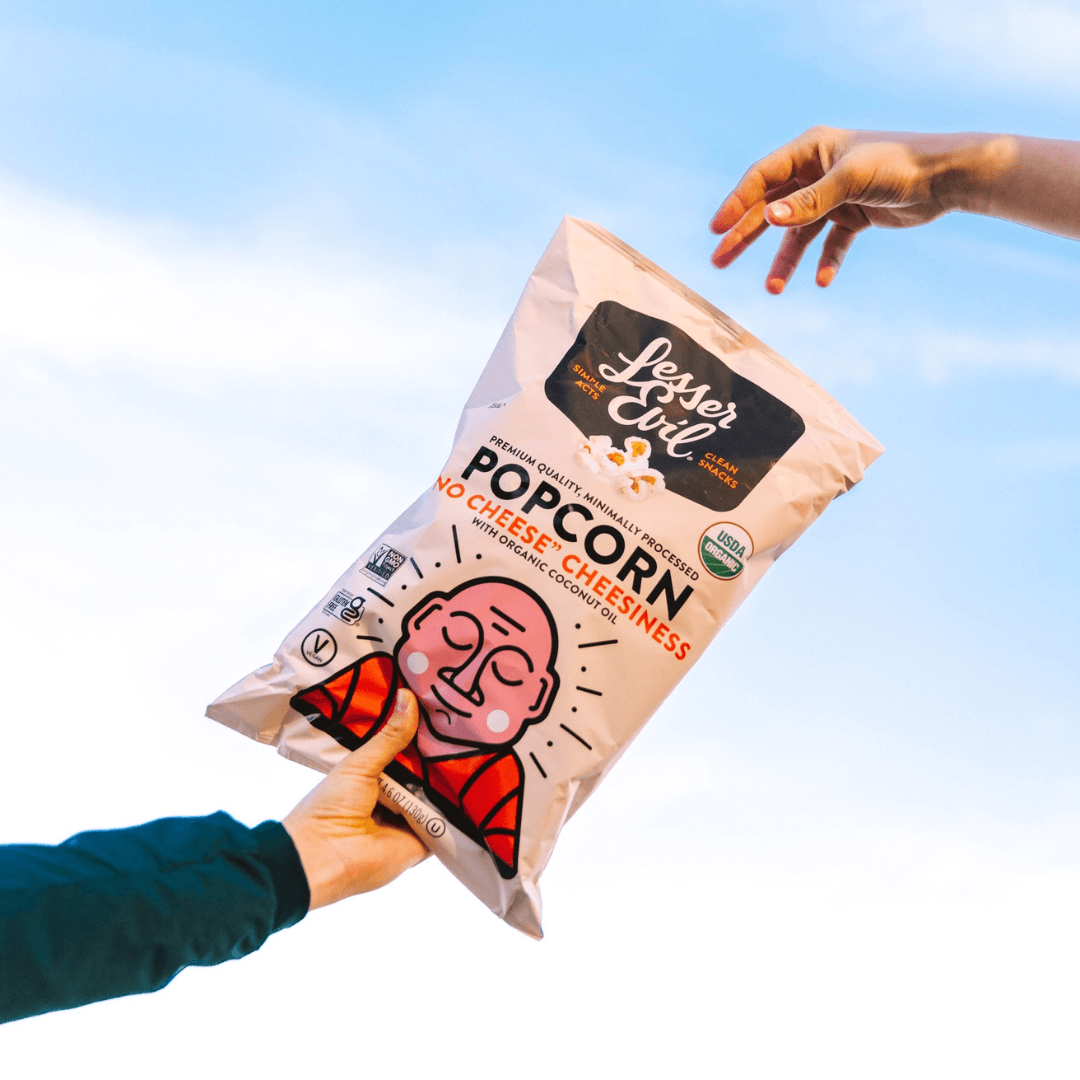 Lesser Evil
27 LesserEvil Popcorn
You could sprinkle nutritional yeast on your popcorn, or you can let LesserEvil do the work. The "No Cheese" Cheesiness Organic Popcorn is perfect straight from the bag.
Learn more HERE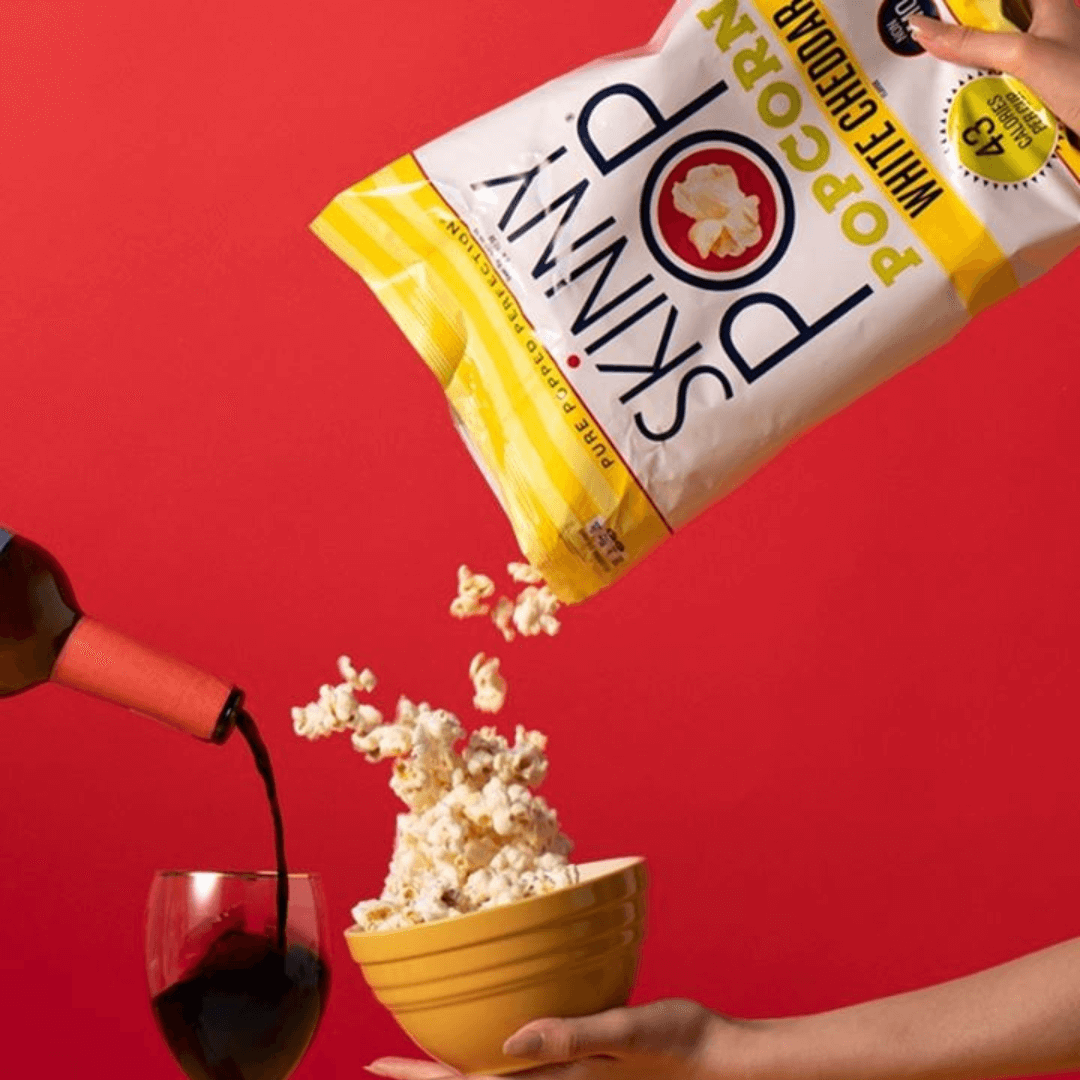 Skinny Pop
28 Skinny Pop Popcorn
There are very few foods you can eat three-and-a-half cups worth that only equate to 150 calories. This snack may be extremely low in calories, but it's high in vegan cheesy flavor. Opt for the white cheddar variety in the yellow bag, as the brand also makes a dairy-based age white cheddar flavor as well.
Learn more here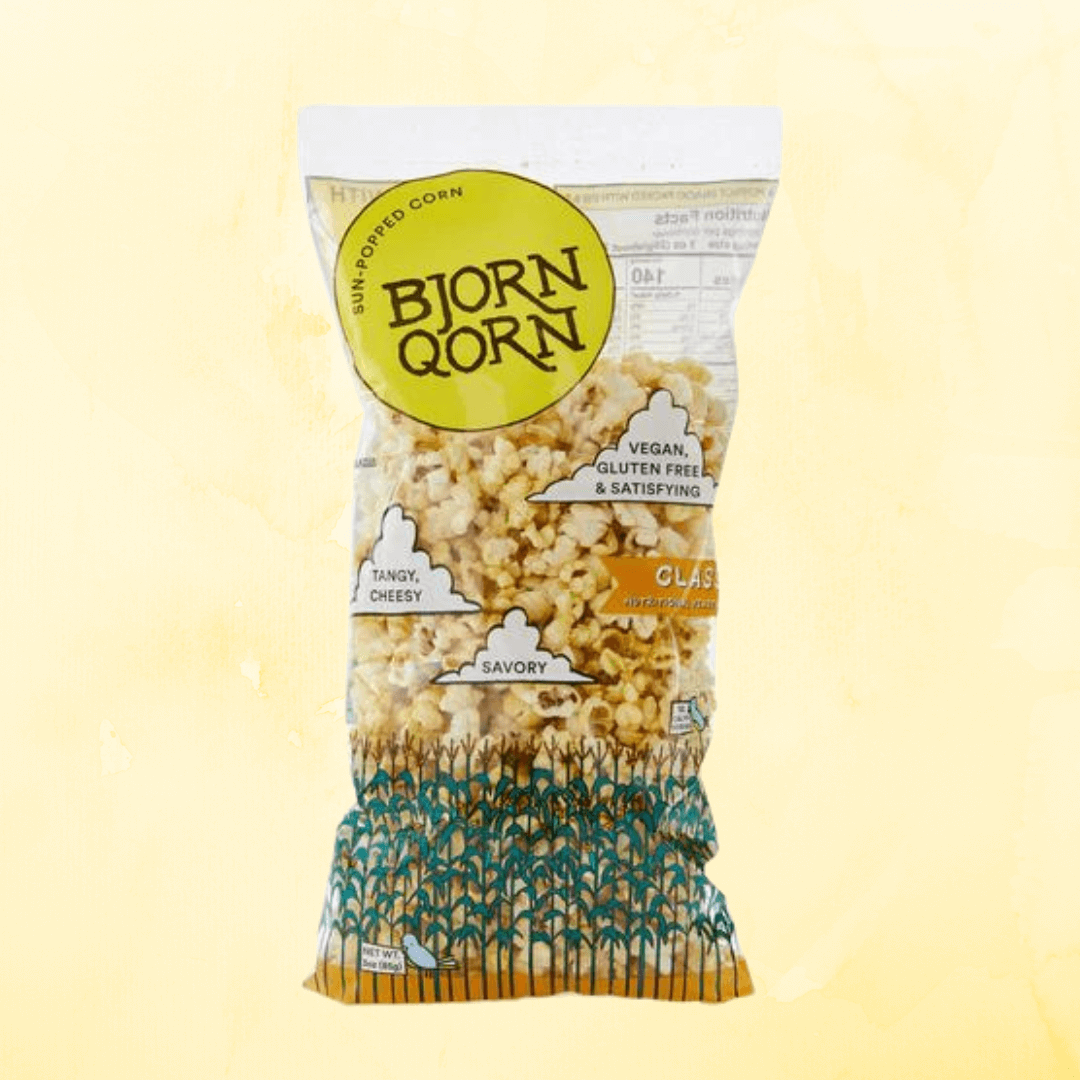 Bjorn Qorn
29 Bjorn Qorn
This vegan popcorn is as fun to eat as it is to say. Simply seasoned with sea salt and nutritional yeast, it achieves a cheesy taste without additives, colors, or ingredients we can't pronounce.
learn more here

For more about vegan snacks, read:
25 Accidentally Vegan Snacks You Can Find At Any Convenience Store
The Best Snacks at Trader Joe's
11 Sustainable Plant-Based Snacks