With more than 3,500 locations across 46 states, there's a decent chance that you'll see a Sonic Drive-In at some point in your life. The fast-food joint hearkens back to the drive-thru era of cheap, but convenient and filling burgers, hot dogs, and fries. Sonic has all of those—but unfortunately, none of them are vegan. However, if you need a meat-free meal and Sonic is your only option, it does come through with some okay options. Here's how to eat vegan at Sonic.
Does Sonic Drive-In have vegan options?
As stated above, unfortunately, you can't have a vegan version of that burgers-and-fries experience at Sonic. And, unlike some other major fast-food chains, it hasn't even trialed vegan meat options. But, you're not 100-percent without options, either.
As for cross-contamination, it's possible that some of the vegan options below were actually cooked in the same deep-fryer as meat options.
But, unless allergens are involved, a lot of vegans don't sweat the finer details like that. This is because the option itself isn't deliberately made with animal-based ingredients. It's generally accepted that you might encounter cross-contamination at restaurants designed to serve the most people in the shortest amount of time.
10 vegan options at Sonic Drive-In
While Sonic's vegan menu is lacking, at least there are carb-loaded options on the menu. Here's what's vegan at Sonic: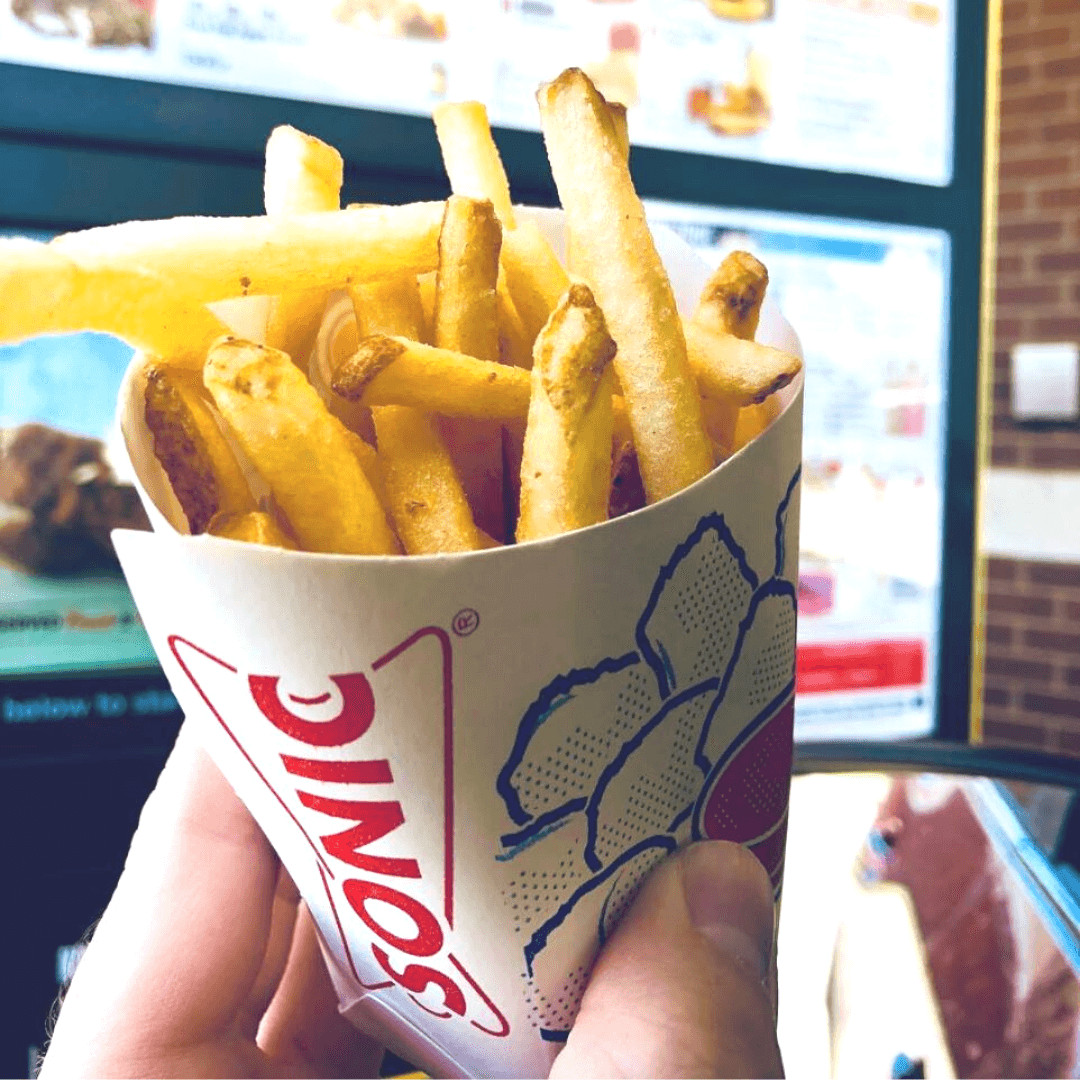 @dallaspartyof2/Instagram
1 French fries
Vegans would be hungrier people without potatoes. Thankfully, Sonic's fries are free from all animal derivatives from dairy to beef seasoning. We're looking at you, McDonald's. Pair your fries with the next item on the menu, plus ketchup, mustard, or one of the other vegan sauces.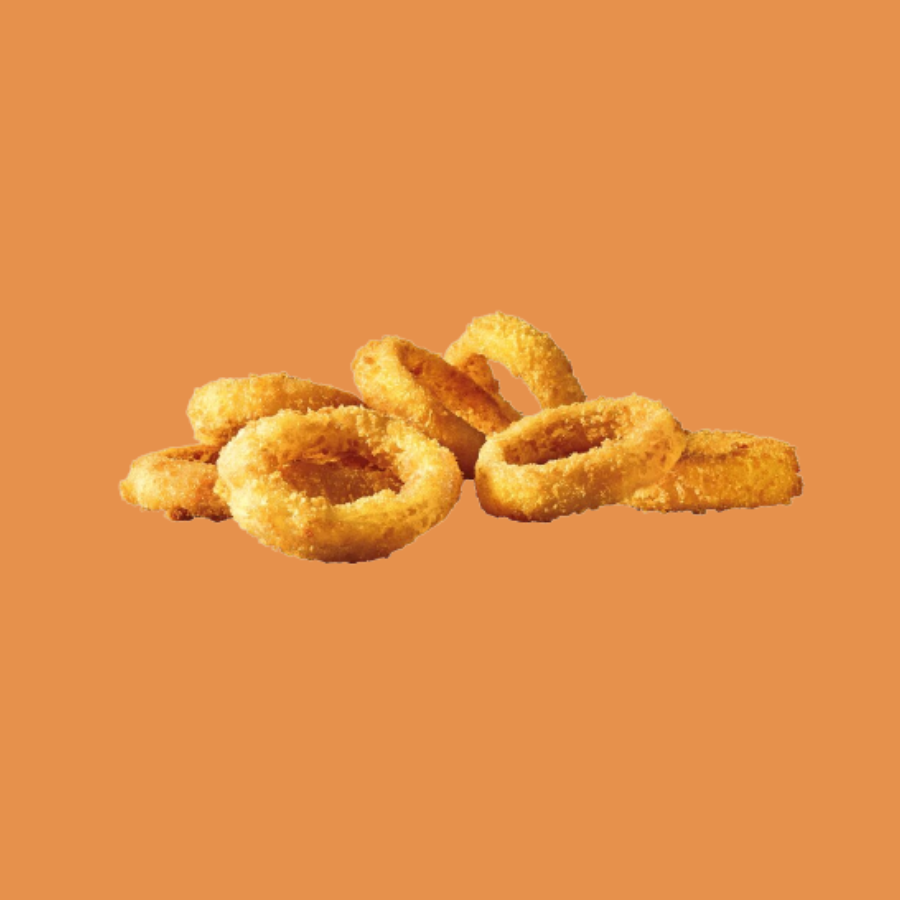 Sonic Drive-In
2 Onion rings
Unless you're bothered by potential cross-contamination (which would rule out practically everything else on this list), then the onion rings can be considered vegan! Onion rings usually contain eggs, so this is a rarity as far as vegan fast-food options go.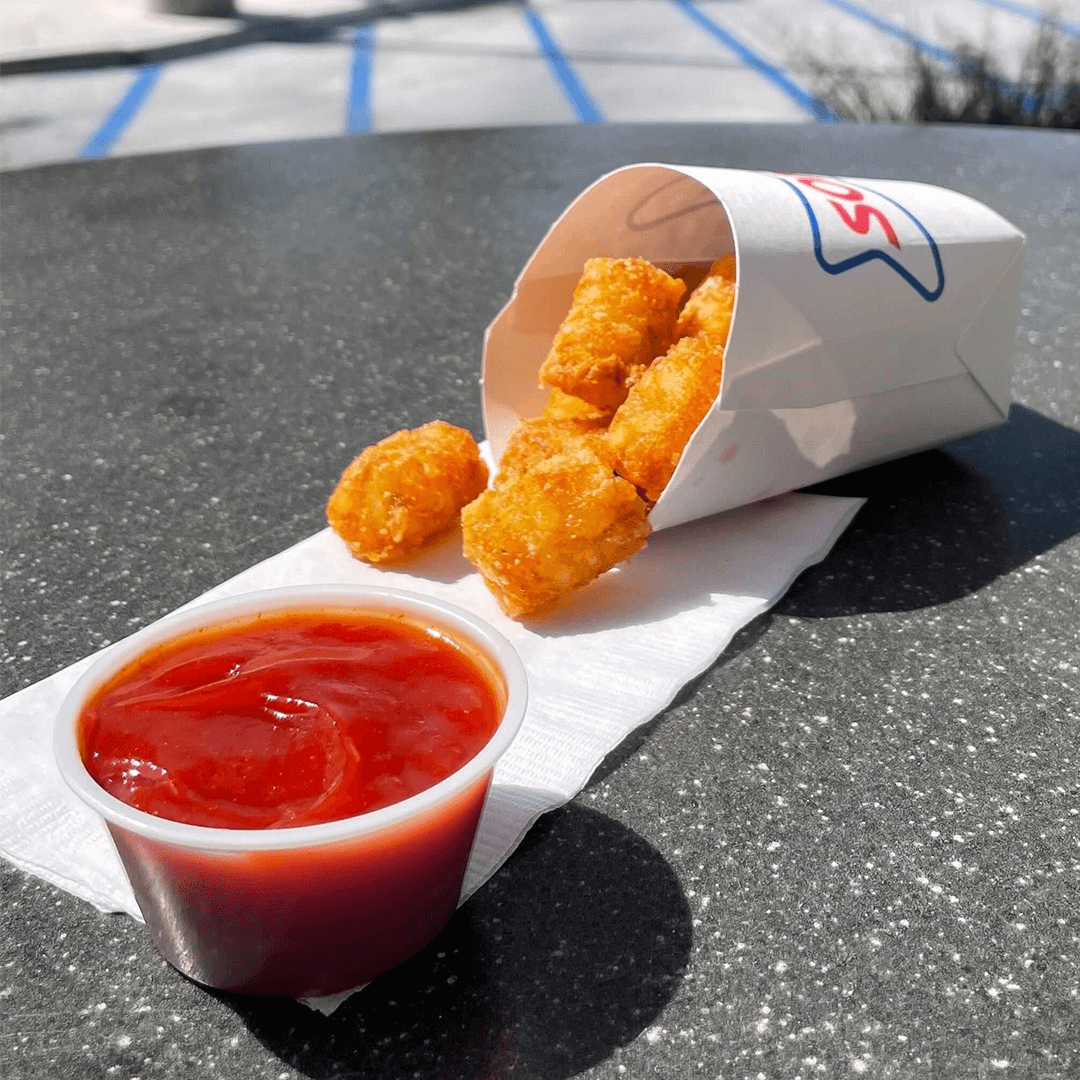 Sonic Drive-In
3 Tater tots
The majority of tater tots are vegan, and we're grateful that Sonic's are. These deep-fried potatoes are soft and pillowy. It goes great with any sauce, but we love it best with tangy ketchup. Or, sprinkle them with a packet of salsa and something sweet to drink, like a Cherry Slush.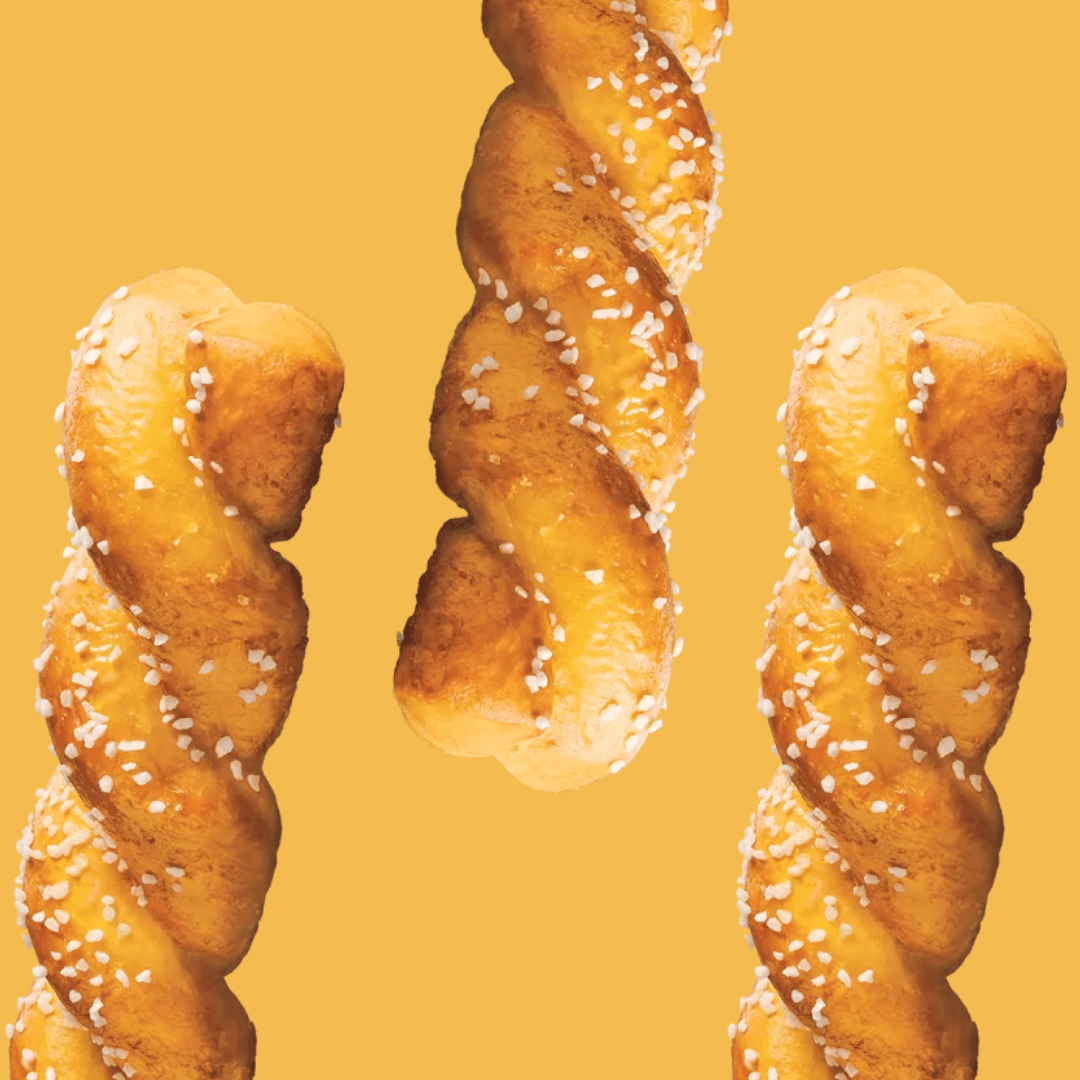 Sonic Drive-In
4 Pretzel Twist without butter
Next on Sonic's vegan menu is: more carbs! The pretzel twist usually contains butter, but you can order it without. It also comes with cheese dipping sauce by default, so replace it with marinara, mustard, or another vegan sauce—more on those below.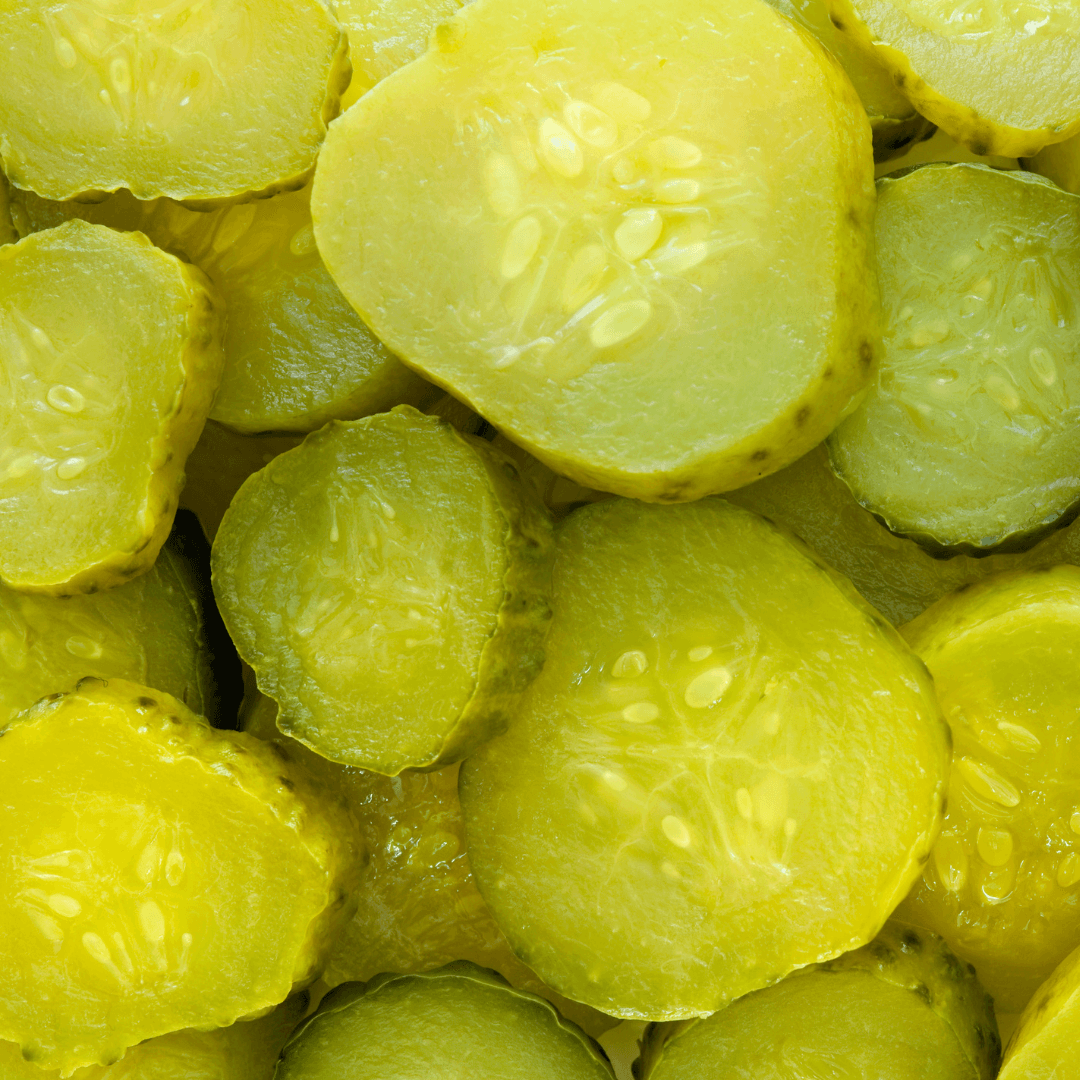 Canva
5 Create your own sandwich
There are no vegan sandwiches on the menu, but you can order a custom one. But, there's just one problem: every Sonic location gets its bread from local distributors. So, a hamburger bun that's vegan at one location may contain dairy at another one. Sonic generally carries the following types of bread:
Bagels (select locations)
Hamburger buns (may contain eggs or dairy)
Hot dog buns (may contain eggs or dairy)
Hoagie buns
Soft Pretzel Twists
Texas Toast (may contain eggs or dairy)
Tortillas (may contain eggs or dairy)
You don't have to eat just bread—you can fill that bread (or tortilla) with vegetables and top it with a sauce, like mustard or hickory BBQ. We love the variety of fresh and pickled vegetables that the menu has to offer. Fill your vegan Sonic sandwich with any of these:
Avocado (select locations)
Diced onions
Dill pickle chips
Dill pickle spears (select locations)
Grilled onions
Hatch green chiles (select locations)
Jalapeños
Lettuce
Sauerkraut (select locations)
Sport peppers (select locations)
Sweet pickle relish
Tomato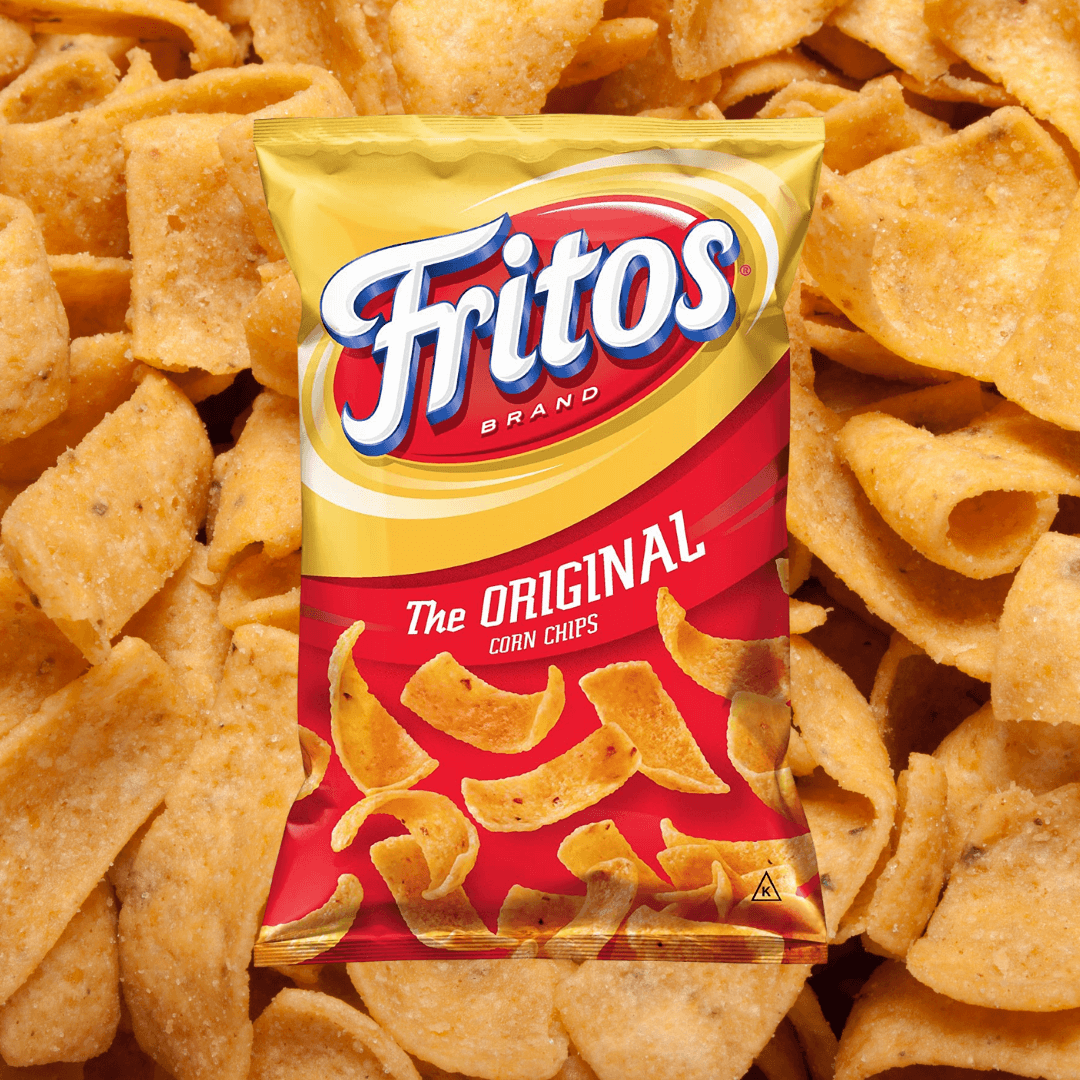 Frito-Lay
6 Frito's corn chips
Frito's happens to be one of the many accidentally vegan snacks that you can find just about anywhere. We like pairing them with salsa, but you could just as easily crumble them and use them to top your sandwich.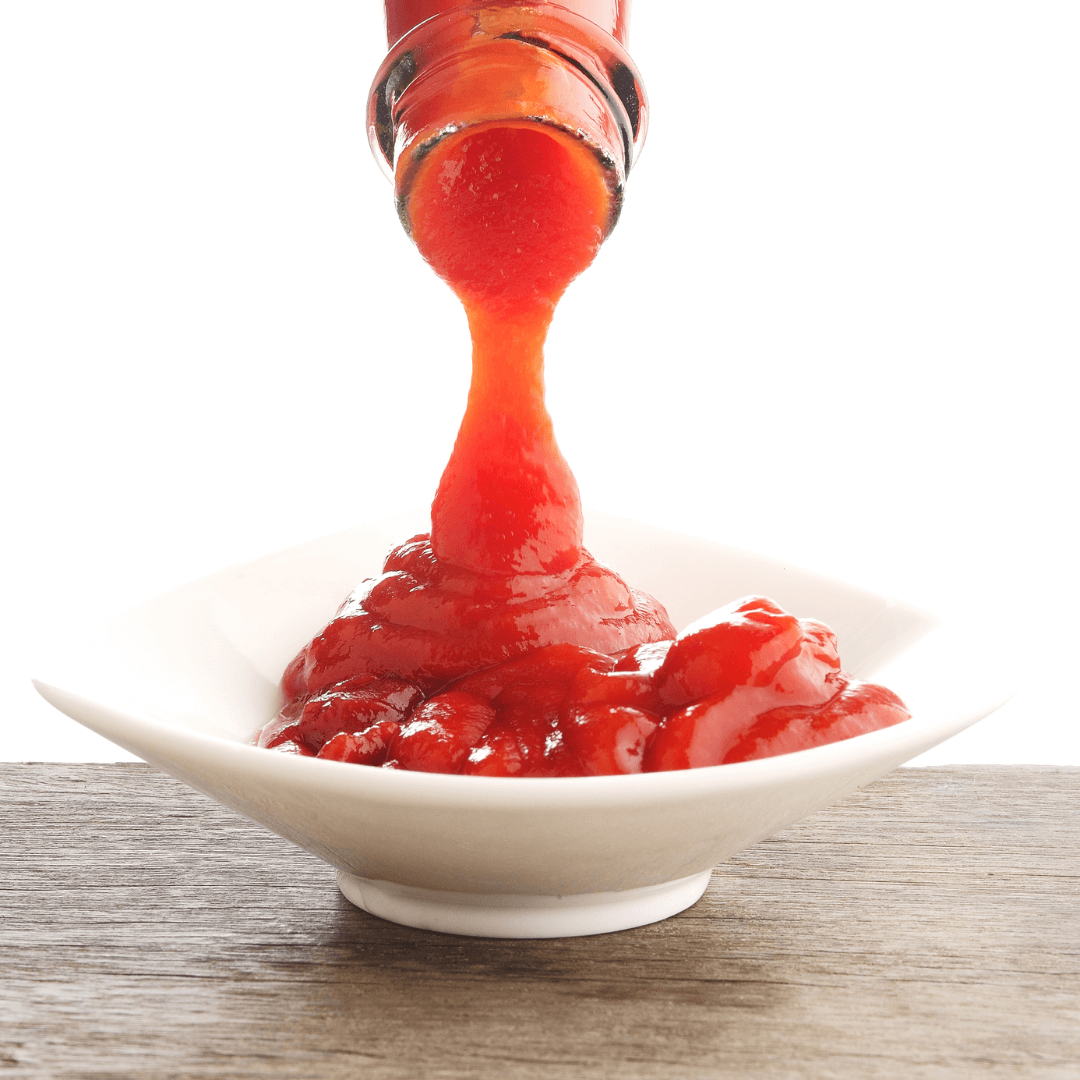 Canva
7 Vegan sauces and condiments
Most of Sonic's sauces are vegan, so you don't have to worry about eating your french fries or tater tots unaccompanied—thank goodness. Sonic keeps it classic with the following sauces:
Hickory BBQ
Ketchup
Mustard
In addition to sauces, Sonic has several other ways to add a touch more flavor to your fries, tots, pretzel, or sandwich. If your Sonic has a vegan bagel, it would be a great companion to grape or strawberry jelly for breakfast on the road. Opt for the following sauces to keep your order entirely vegan:
BBQ sauce
Grape jelly
Ketchup
Lemon juice
Marinara
Mustard
Pepper
Salsa de Sonic
Salt
Strawberry jam
Sweet and sour sauce
Sweet relish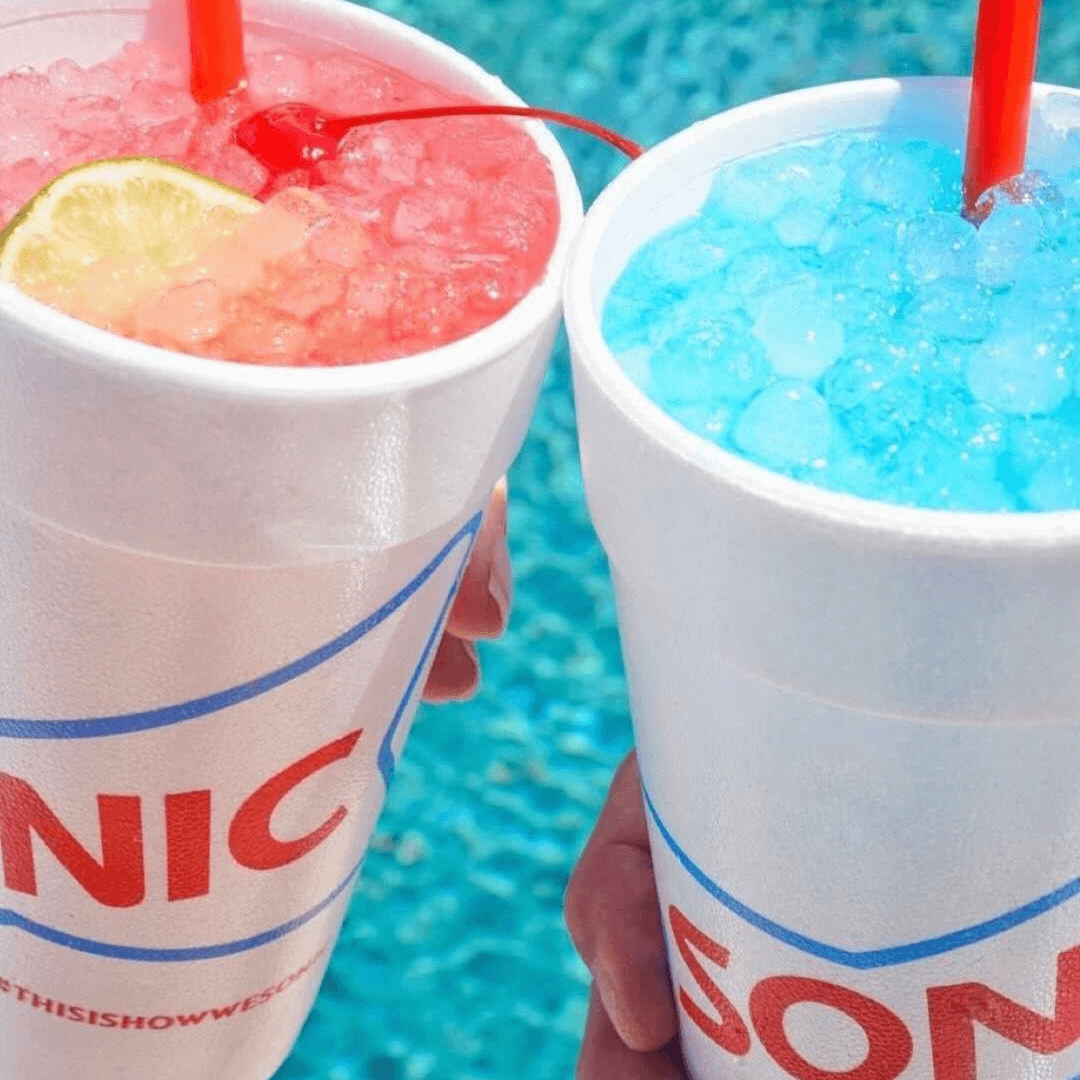 Sonic Drive-In
8 Slushes and drinks
If you want a frozen drink with your meal, or if you just want a sweet treat, get a Slush. The Lemonade and Limeade Slushes are completely vegan. Or, you could order a plain slush base and choose from Sonic's flavored syrup options. All of them are vegan, except for the cheesecake syrup, which contains milk. The flavored syrup options are:
Blackberry Sugar-Free
Blue Coconut
Blue Raspberry
Cherry
Diet Cherry Sugar-Free
Grape
Mango Sugar-Free
Peach Sugar-Free
Raspberry Sugar-Free
How could we expect to eat a meal without a drink? Luckily, Sonic has far more vegan drink options than food options. If you don't want soda or juice, water is also an option. As for the vegan drink options at Sonic, they are:
Barq's Root Beer
Canada Dry Ginger Ale
Coca-Cola
Coca-Cola Zero Sugar
Diet Coke
Diet Dr. Pepper
Dr. Pepper
Fanta Orange
Fresh Brewed Sweet Tea
Fresh Brewed Unsweet Tea
Green Mountain Coffee Roasters' Hot Coffee
Hi-C Fruit Punch
Lemonade
Mello Yello
Minute Maid Apple Juice Box
Minute Maid Orange Juice
Powerade
Sonic Wave Bottled Water
Sprite
Sprite Zero
Sun Drop
Sonic's vegan options are limited, yes, but at least the fast-food chain makes up for it in options that won't leave you feeling hungry. But, since the likes of meat and cheese-heavy restaurants like Cracker Barrel and Arby's have added plant-based meat to the menu, we expect that Sonic might follow in their footsteps in the very near future.
For more vegan fast-food guides, read: