Today, Cracker Barrel Old Country Store announced a major update to its all-day breakfast menu, which includes the addition of plant-based sausage made by Impossible Foods. Now, at its more than 600 locations nationwide, guests can opt for Impossible's plant-based sausage as part of Cracker Barrel's new Build Your Own Homestyle Breakfast format (starting at $8.99, varies by location). This format consists of (non-vegan) eggs cooked any way, biscuits n' gravy (also not vegan), and a choice of meat (where Impossible sausage is an option next to animal-derived sausage, bacon, and ham). Guests also get a choice of sides that include hashbrown casserole, fried apples, coarse-ground grits, and tomato slices.
"At Cracker Barrel, our all-day, homestyle breakfast menu is a staple that draws enthusiasm from guests of all ages, so we are always exploring opportunities to improve how our guests experience breakfast," Sarah Breymaier, director of Menu Strategy at Cracker Barrel, said in a statement. "Our new breakfast menu innovations provide a personalized experience with delicious breakfast choices to satisfy every taste bud—whether guests are nostalgic for homestyle food, hungry for a nutritious plant-based option or have a craving for a sweet treat. At morning, noon or night, we want guests to enjoy craveable breakfast favorites at a compelling value."
With mainstay menu options such as "Grandma's Sampler" and "Old Timer's Breakfast," Cracker Barrel is known best for its meat-and-dairy-heavy Southern-style food. The addition of Impossible's sausage marks the first time that Cracker Barrel has offered a plant-based meat option.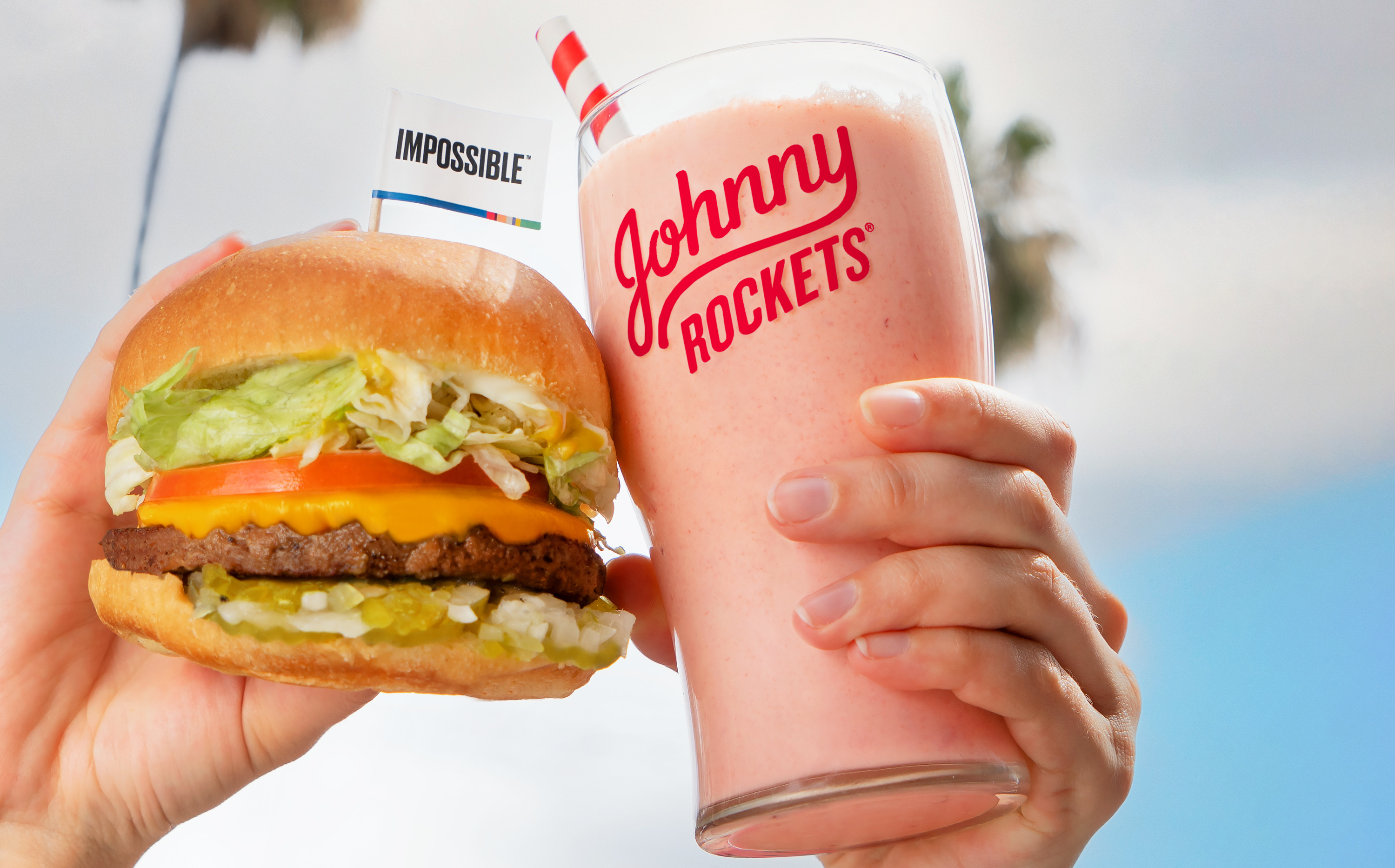 Johnny Rockets
Americana goes plant-based
Impossible Foods' partnership with Cracker Barrel is the latest development in the penetration of plant-based meat in the American fast-food sector—which, for Impossible Foods' part, began with its flagship product, the Impossible Burger.
While the origins of the first hamburger are hotly debated, the handheld sandwich is undoubtedly a major part of American culture that proliferated alongside industrialization when new roads and modes of transport offered Americans more access to areas outside where they lived. And the rise in popularity of hamburgers goes hand-in-hand with the growth of industrial animal agriculture, which pumped out meat cheaper and faster to capitalize on demand. However, this portion of Americana is undergoing a massive transformation for the better.
Roadside favorite White Castle was among the first wave of fast-food chains to add a plant-based burger to the menu when it launched the Impossible Slider nationwide in 2018. Others soon followed, including Burger King which launched the Impossible Whopper at its more than 7,200 locations nationwide in 2019. With iconic chains such as Johnny Rockets, Red Robin, TGI's Fridays, Hard Rock Café, and more adding plant-based patties made by either Impossible or Beyond Meat to their menus, it is safe to say that America's longstanding roadside burger culture is changing for the better.
Cracker Barrel shares a family-oriented, breakfast-centric nook of American roadside food culture with competitors such as Denny's, which has had a plant-based Beyond Burger on its menus since 2020. With its launch of Impossible Sausage, Cracker Barrel is putting its mark on a new era of American culture, where family breakfast can be enjoyed by all.
"Cracker Barrel's breakfast has put them on the map as an American favorite and classic road trip stop. It's exciting to see their homestyle menu expand with delicious plant-based options like Impossible Sausage," Dan Greene, Senior Vice President of Sales at Impossible Foods, told VegNews. "We're happy to be along for the ride."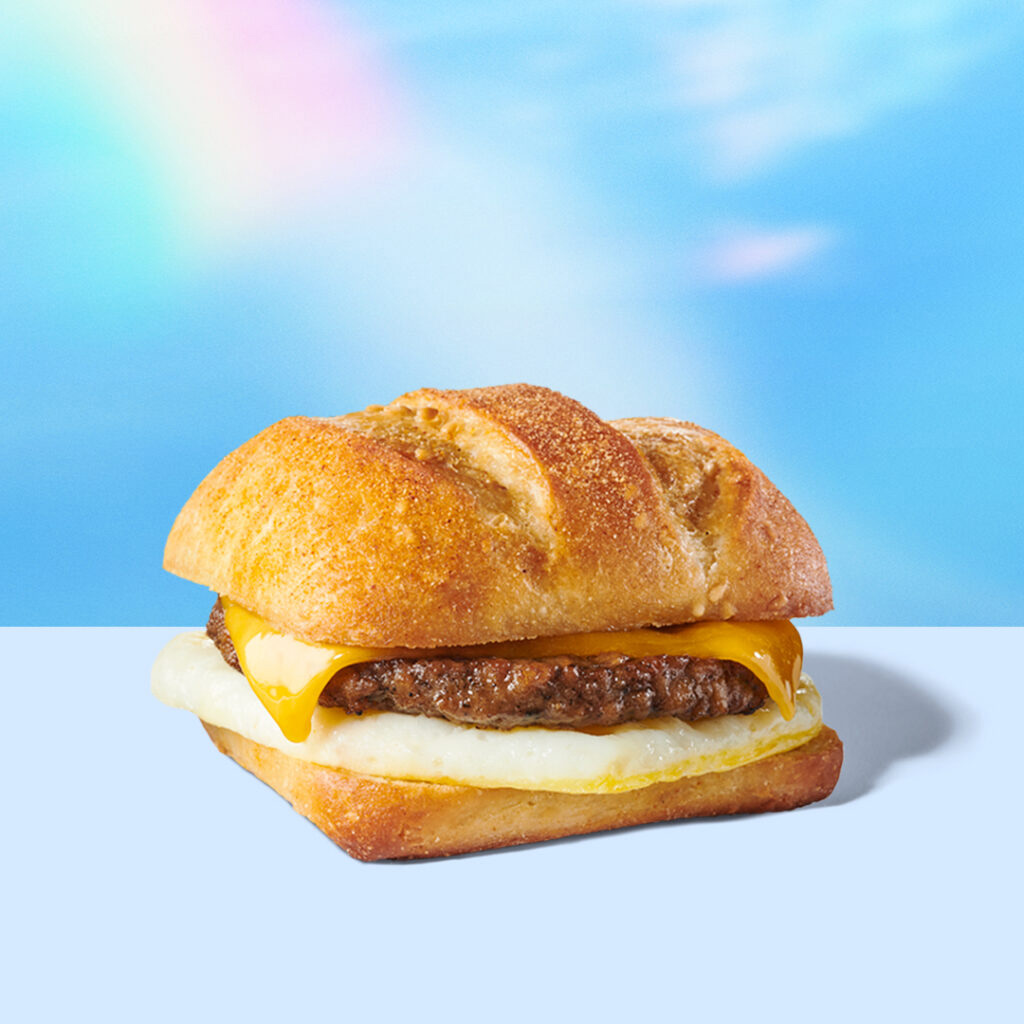 Starbucks
Impossible Sausage comes for breakfast
The company got into plant-based pork in 2020 as its second meat alternative after spending years developing its plant-based beef. In addition to Cracker Barrel, Impossible's plant-based sausage is available at many foodservice chains, including Starbucks (as part of a vegetarian Impossible Breakfast Sandwich); Jamba (which launched the vegetarian Impossible Handwich as its first plant-based meat option in 2021); and Tim Horton's (which added Impossible Sausage as part of a breakfast sandwich and wrap earlier this year).
Impossible's plant-based sausage is available in ground format in both Spicy and Savory flavors at approximately 13,000 retailers nationwide. Earlier this year, the company—which also offers plant-based chicken products—further expanded its pork alternatives to include Impossible Sausage Links made from Plants. Made with a snappy "skin" like their animal-derived counterparts, the pork-free links began hitting grocery stores in Bratwurst, Italian, and Spicy flavors in March and are expected to reach nationwide availability in time for grilling season this summer.
For the latest in vegan news, read:
Potatoes Can Be as Good as Animal Milk for Building Muscle, Study Finds
How This Woman-Owned Bar Is Making Sports and Food More Inclusive
Veganz Opens Vegan Salmon Factory as Alt Seafood Demand Rises