Impossible Foods is revolutionizing the plant-based pork category once again with the launch of its newest product: Impossible Sausage Links made from Plants. The new pork-free links are rolling out to grocery stores in Bratwurst, Italian, and Spicy and are made in a similar way to their animal-derived counterparts. The new Impossible Sausage Links are hitting stores this month and are expected to reach nationwide availability in time for grilling season this summer.
Impossible Foods developed a technology to stuff plant-based casings with its ground and seasoned pork-free meat that then gets twisted off, a process that gives the plant-based sausage the same signature snap of traditional pork sausage links.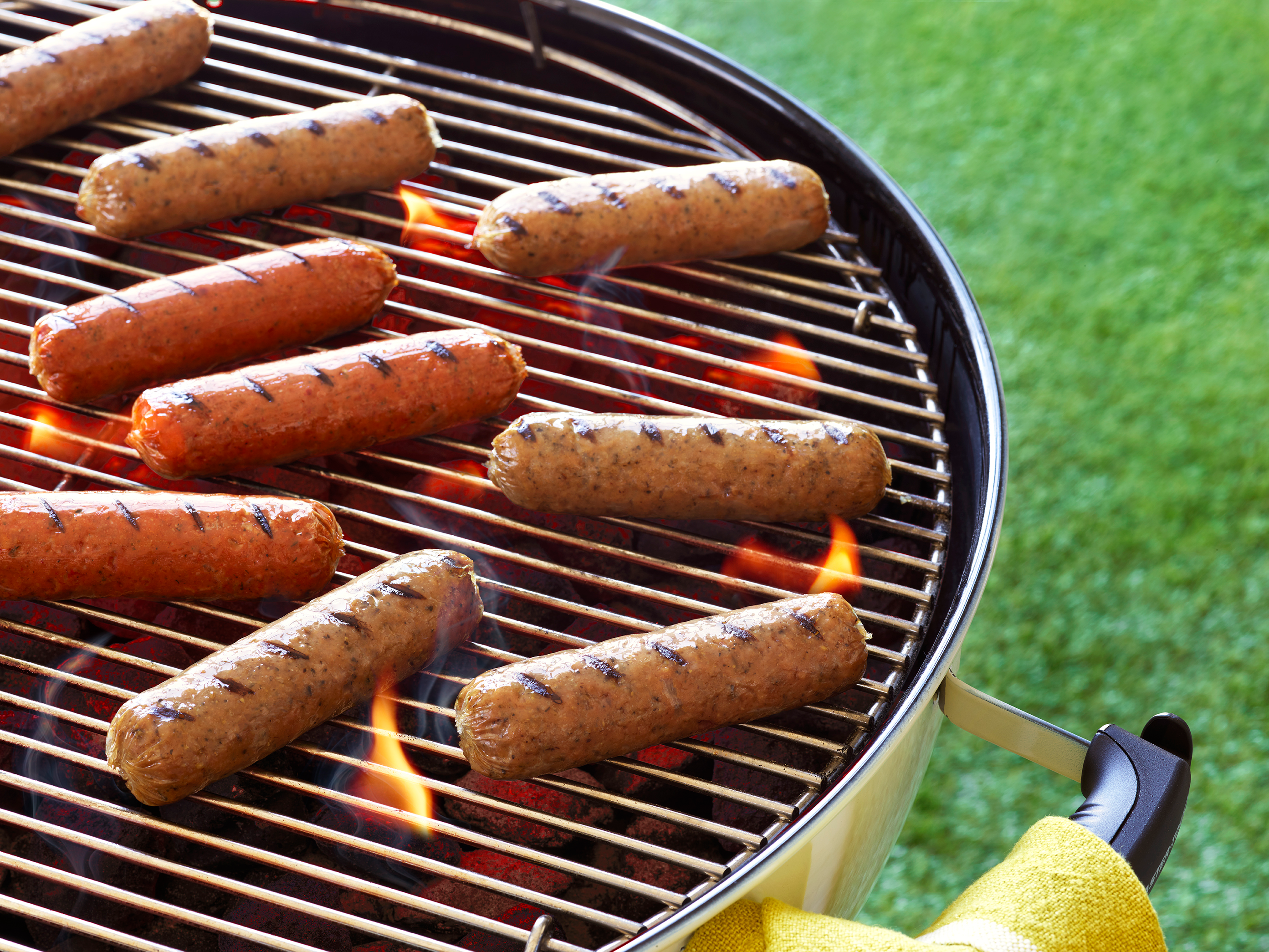 Impossible Foods
The new Impossible sausages can be grilled on an open flame or in a pan and can be eaten whole or used in pastas, sandwiches, and other dishes that call for pork sausage links. Unlike pork sausage, however, Impossible's version does not contain added nitrates, nitrites, or cholesterol, and is much more environmentally friendly. To that end, its plant-based sausage uses 79-percent less water, 71-percent less greenhouse gas emissions, and 41-percent less land than animal pork sausage, based on a Life Cycle Assessment.
"We didn't compromise when it came to making sure Impossible Sausage Links deliver all the satisfying snap and sizzle that consumers love about pork sausage," Laura Kliman, Director of New Product Development at Impossible Foods, said in a statement. "Our innovative technology platform and consumer-focused design approach allowed us to finesse everything from the spice mix to the casing and stuffing process, and we really perfected it to give consumers the opportunity to enjoy what they love most about pork sausage from pigs without sacrificing on taste, versatility, or environmental impact."
Impossible Foods perfects plant-based meat
Visionary Patrick O. Brown founded Impossible Foods in 2011 with the goal of replacing all animal foods with viable plant-based alternatives by 2035. Progress on that goal was initially slow as Impossible Foods spent years developing a plant-based replica of ground beef with its Impossible Burger. However, the company—now armed with nearly $2 billion in investment funding—has picked up the pace in a big way in recent months.
Impossible Foods
Impossible's new sausage links are the company's sixth product launch in the last eight months. In the pork category, the company launched its Impossible Sausage through foodservice partners such as Jamba, Starbucks, and Burger King before bringing it to stores last year. The company also offers meatballs which it makes by blending its Impossible Burger beef. Impossible Meatballs initially launched at 3,000 Walmart stores in November where they were sold alongside other Impossible products in a dedicated case.
Last summer, Impossible also cracked the chicken category with the launch of Impossible Nuggets made from Plants. The vegan chicken nuggets hit both stores and restaurants and landed on the concession menu at AMC Theaters in 37 states at the beginning of the year. To further innovate the chicken category, Impossible just launched Wild Nuggies, new shapes of its plant-based chicken nuggets that educates consumers about endangered species.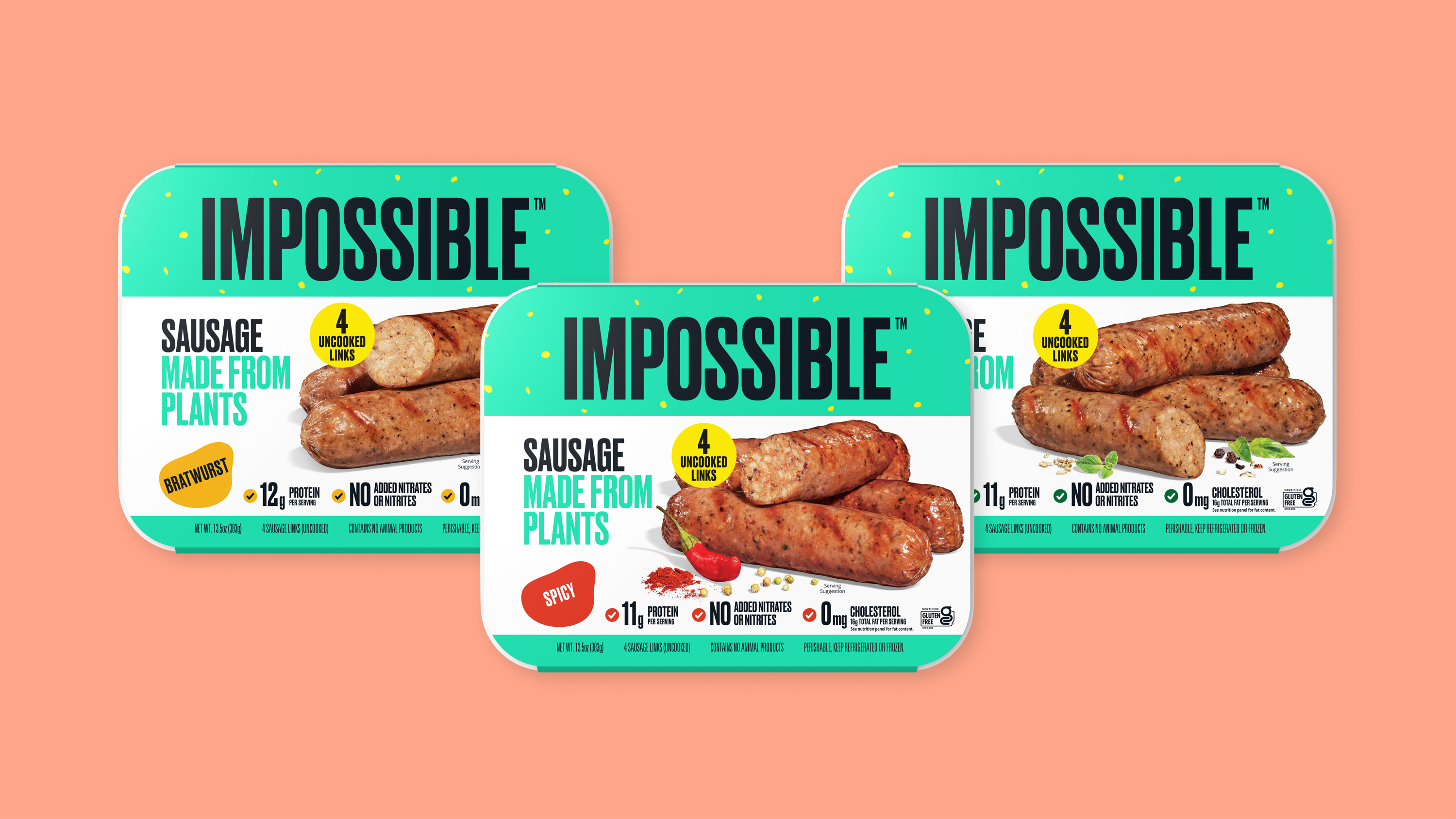 Impossible Foods
With its new sausage links, Impossible is joining a growing number of companies worldwide that have created a plant-based replacement for the world's second most-consumed meat, including fellow California-based brand Beyond Meat, Hong Kong's OmniPork, and meat giant Hormel—which launched plant-based pepperoni at hundreds of pizzerias last year.
For more about Impossible Foods, read:
The Impossible Foods Guide: From Burgers to NuggetsWhy the Largest Grocery Chain in the US Is Partnering With Impossible FoodsHere Are All the Restaurants Serving Impossible Foods' Vegan Nuggets