In the California city of Garden Grove, boba tea is everywhere. According to one estimate, it's even more popular than the nation's favorite caffeine stop, Starbucks, with four times as many boba shops per resident as stores from the coffee giant.
But while boba seems to be particularly loved in this small city, the appetite for the drink, which is also known as bubble tea, is by no means exclusive to one place in the US. Since it was introduced by immigrants from Taiwan in the 1990s, boba has soared in popularity with many Americans. But what is it, exactly? And is it vegan? Let's investigate.
What is boba?
In the last few years, boba tea has risen in popularity around the world. Unsurprisingly, the Asia-Pacific region, where it was invented, is the global leader of the market (which is estimated to hit a worth of more than $3.3 billion by 2027). Essentially, the drink consists of a base beverage (usually milk tea), which has tapioca pearls added. These pearls, which are boiled in large vats of caramelized syrup before they are served, are the "boba" part of the drink.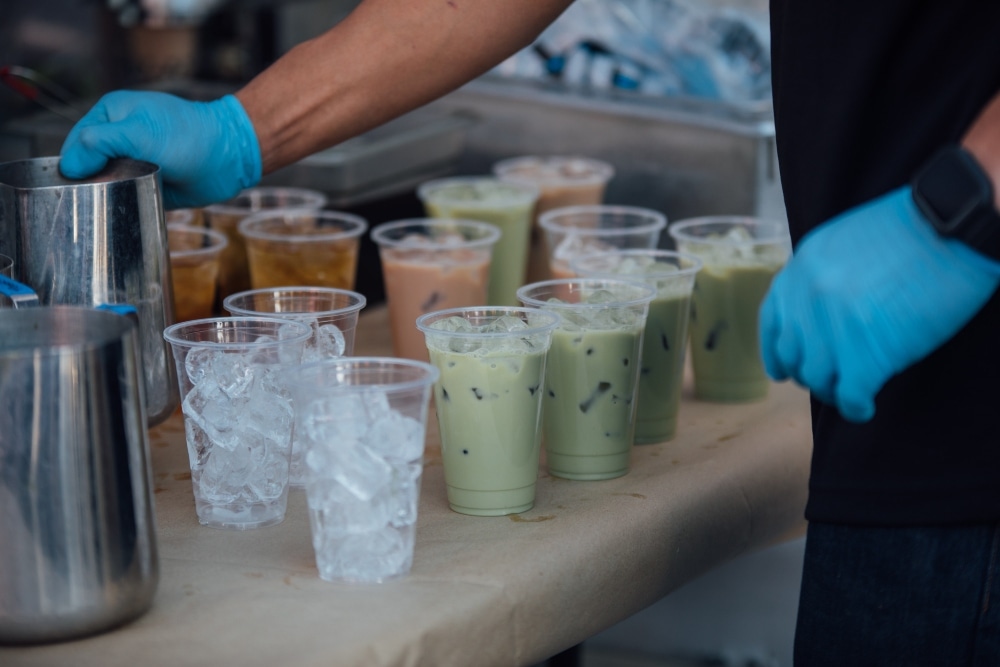 Unsplash
Floating boba pearls look like big bubbles, which is why the drink is also often referred to as "bubble tea." They have a chewy, springy texture, and are often slurped up through a big straw with the rest of the drink. Tapioca pearls have been eaten in Taiwan for decades, but it wasn't until the 1980s when a product manager of a tea shop decided to drop some in her iced tea, that boba, as we know it now, was invented. That's one of the speculated origin stories, at least.
But however boba came about, one thing is for sure: it's now a key part of the food and drinks landscape for many places, particularly California. And for many young Asian Americans living in the state, boba has become a key part of their culture. "Boba culture is even stronger in Los Angeles than Taiwan," journalist Clarissa Wei wrote for LA Weekly in 2017.
"In Taiwan, while boba shops are still a mainstay, there are few sit-down places dedicated to the drink. In terms of spots catering to the younger generation, Taipei boasts more coffee joints than tea. This is not true of the San Gabriel Valley," she added. "Boba shops are more alive than ever there."
Is boba vegan?
Because it's often served with milk tea, boba isn't always vegan. But that said, cow's milk isn't mandatory to make the popular drink. A range of beverages can be used to make boba, including black tea, fruit tea, green tea, or milk tea made with a non-dairy alternative, like oat or soy. When it comes to boba, the sky is the limit, and shops are always experimenting with different types of beverages to add tapioca pearls to. But to get you started on what to order, here are a just few of the different types on offer.
Types of boba
1 Classic
At many boba shops, you can order just a classic boba tea, only instead of cow's milk, ask for a non-dairy alternative. This recipe usually involves black tea, milk, sugar, and of course, the all-important tapioca pearls.
2 Fruit
If you prefer your drinks with a little bit of zest or tang, you can also order boba with fruit. Some of the most popular options are peach, mango, and strawberry, and this recipe usually consists of fruit syrup, green tea, milk (ask for a vegan version), and tapioca pearls.
Many fruit boba options contain "popping boba." These are similar to the usual tapioca pearls in shape, only they're made with juice with a jelly-like skin instead (the latter is often made with seaweed-based agar agar.) They're called "popping" boba because, quite simply, they burst when squeezed.
3 Coffee
For those who prefer coffee to tea, coffee boba is also an option. It's very similar to the classic recipe, only instead of black tea, cold-brewed iced coffee is usually used.
4 With extras
As well as traditional tapioca pearls or popping pearls, you can also order your boba with extra toppings. The options range from shop to shop, but some of the most common vegan additions include lychee, grass jelly, aloe vera, and chia seeds.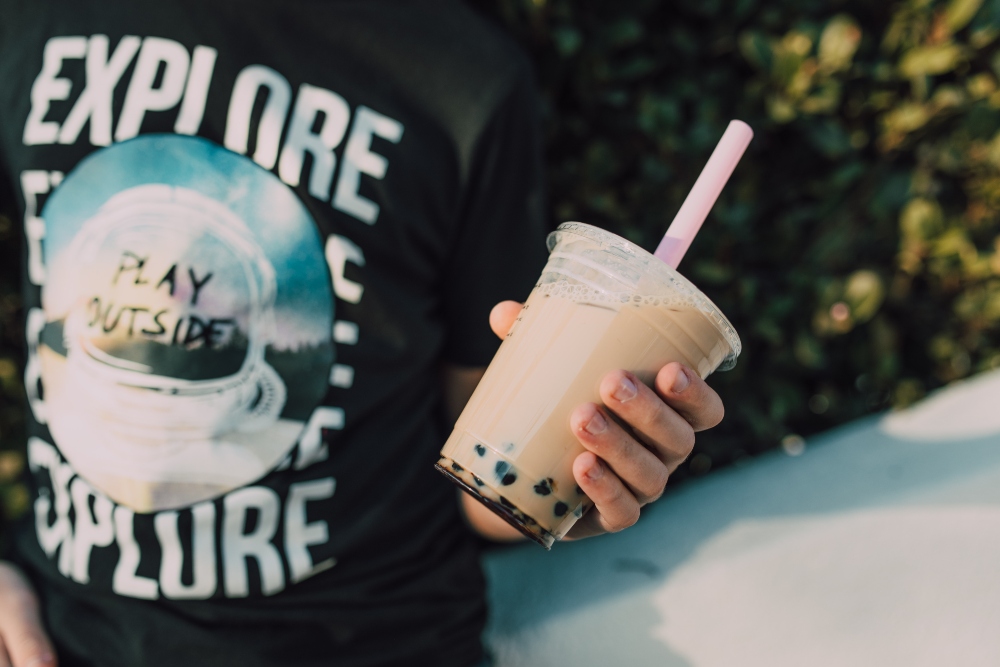 Pexels
Boba nutrition
Because the ingredients can vary widely, the nutritional value of boba also differs from drink to drink. In general, though, boba is often very sugary (don't forget that the tapioca pearls are boiled in caramelized sugar), so it's not often thought of as a health drink. That said, the tea itself can be good for you, especially if you choose an option known for its health benefits. Green tea, for example, is a source of antioxidants.
How to make boba at home
If you're now craving boba (we're right there with you), you don't even have to leave the house to enjoy it, because you can make it from home. To help you out, here, we've gathered a few recipe ideas to try.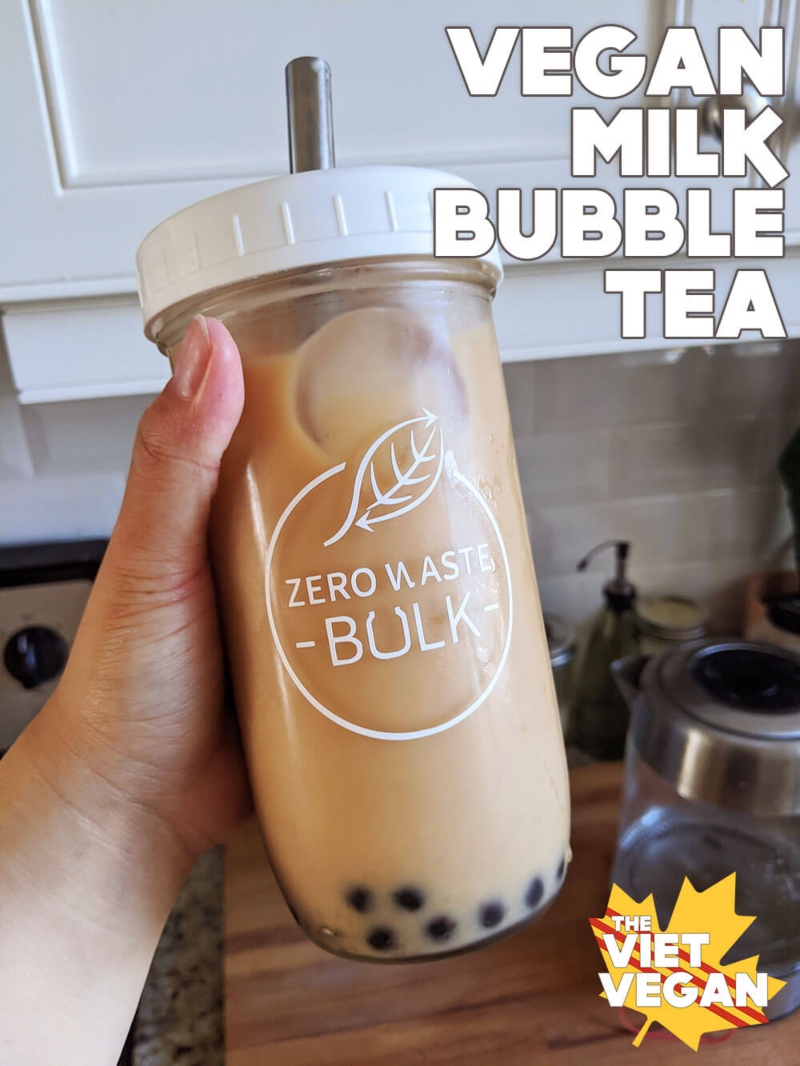 The Viet Vegan
1 Vegan Boba Milk Tea
Recipe blogger The Viet Vegan lived in Vietnam for several months, where boba is incredibly popular (it's the third largest market for the beverage in Southeast Asia). Based on that experience, she created her own vegan version of the drink. It's a simple, classic recipe that involves black tea, tapioca pearls, sugar, and vegan creamer.
Get the recipe
2 Watermelon Slush Boba
If you're a fan of fruity, slushy-style drinks, this is the boba recipe for you. In fact, it doesn't involve any tea at all. Instead, it calls for fresh watermelon and ice, which are blended and then poured atop tapioca pearls.
Get the recipe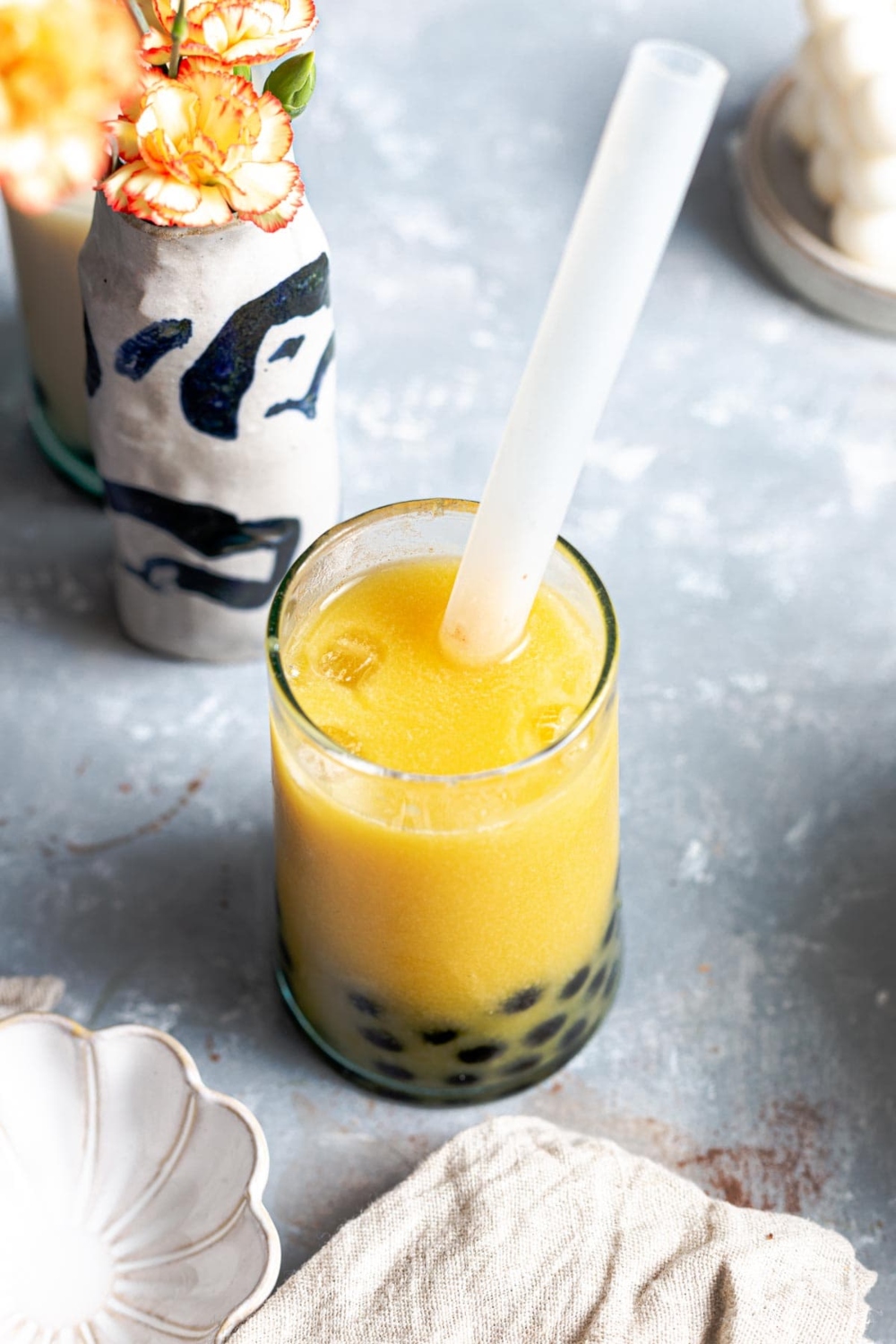 My Vegan Minimalist
3 Mango Bubble Milk Tea
Satisfy your boba cravings with this tasty mango-flavored boba tea, which is not only delicious but better for you than the store-bought versions (as it contains less sugar). Just mix together mango juice, jasmine green tea, tapioca pearls, and the non-dairy milk of your choice. Don't forget the big straw to slurp it all up at the end!
Get the recipe
For more on vegan drinks, read: