Non-dairy milks are standard across American coffee chains and independent cafés these days. True, the shop may not carry the specific brand you love (Pacific Soy Barista makes the best microfoam, hands down), but vegans can stroll into virtually any given café and confidently assume they won't have to order their coffee black. However, there's always that tiny voice reminding you of human error. What if the barista accidentally picks up the two-percent milk, or the cashier thought you said whole milk instead of oat milk ? (It's happened to us before.) The chances are slim, but there is still an inherent risk when you order at a non-vegan coffee shop.
Fortunately, vegan café culture is on the rise. At dedicated plant-based coffee shops, you don't have to watch the barista like a hawk, and the plant-based pastries are plentiful. We've rounded up our favorite vegan coffee shops in the US so you can get your caffeine and pastry fix without a drop of dairy.
Vegan options in non-vegan coffee shops
Vegan coffee shops are sprouting up everywhere—even in the middle of the country like Omaha, NE—but it will still be a while until they penetrate every corner and major metropolitan area of the US. Until then, it's helpful to know what your options are in chains that serve dairy milk in addition to plant-based alternatives.
Almond and oat milk tend to dominate dairy-free milk options, closely followed by soy milk. We've also seen coconut, macadamia, and a super creamy new-comer—pistachio milk—in some chains and independents.
As far as snacks, sweets, and light meals go, the humble bagel is a reliable option. From Starbucks to Dunkin' to your local café, a plain bagel is inherently vegan and universally carried amongst coffee purveyors. Instant oatmeal is another common option along with fresh fruit and granola bars.
At Starbucks specifically, the Chickpea Bites & Avocado Protein Box is a solid, satiating item for those looking to pair lunch with their latte. The chain also carries Justin's Dark Chocolate Nut Butter Cups, That's It fruit bars, Peter Rabbit fruit purees, and of course, a selection of bagels.
Peet's, a smaller yet significant chain 300-plus stores strong, carries even more vegan options. The dark roast specialty shop partnered with JUST and Beyond Meat in 2022 to create the Everything Plant-Based Sandwich—a hearty handhold featuring Beyond Breakfast Sausage, Just Egg, and vegan cheddar sandwiched between an everything bagel thin. Peet's also offers a tasty array of vegan baked goods from blueberry-studded oat bran muffins to glazed lemon poppy scones.
If you're in a pastry mood, seek out an independent shop. Cottage bakers will often partner with their local shop to sell their vegan goods. We've been pleasantly surprised to find vegan cupcakes at a cafe in the mountain town of Big Bear, CA and delectable plant-based brownies across independent roasters in Asbury, NJ.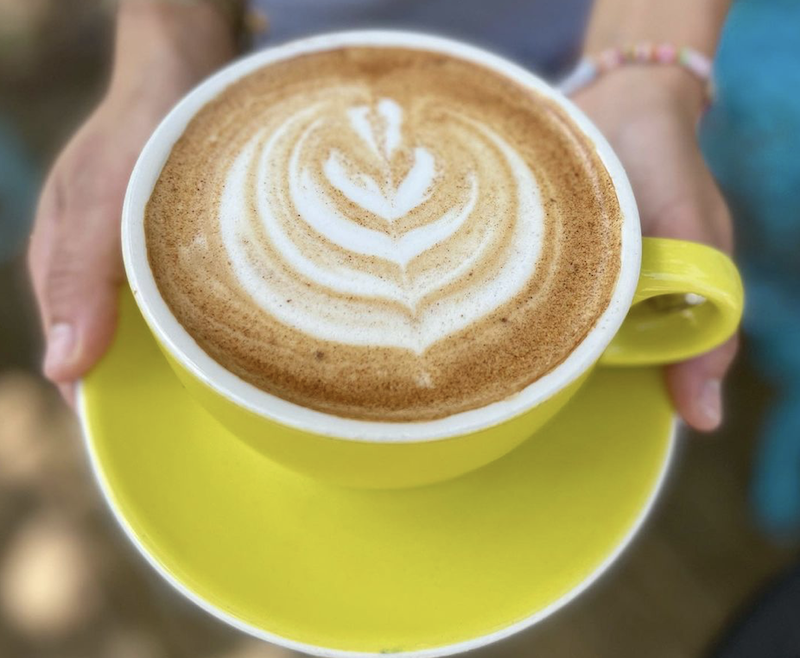 Bunkhouse Coffee Bar
1 Bunkhouse Coffee Bar
Whether you prefer almond, coconut, soy, rice, oat, or hemp milk in your coffee, you'll find it all in this breezy Florida-based coffee shop in Jensen Beach. Bunkhouse committed to going vegan in 2019 and has since expanded its line of non-dairy options as well as its sweet and savory selection. Pair your latte with a plant-based bagel breakfast sandwich or fuel up for the day with an energizing acai bowl or smoothie. Those who like it sweet shouldn't sleep on the baked goods. The selection rotates but you can always rely on a gluten-free and vegan cake doughnut or carrot cupcake.
Find out more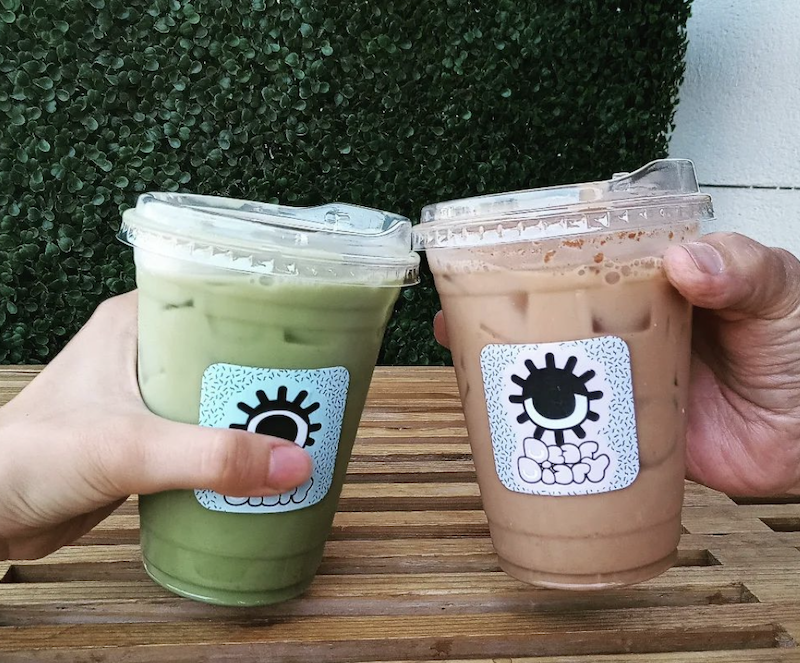 Dear Diary Coffeehouse
2 Dear Diary Coffeehouse
Austin vegans, cyclists, zine enthusiasts, and creatives flock to this local watering hole. The community café offers a comprehensive menu of dairy-free espresso drinks along with phenomenal baked goods and other edible and non-edible products made locally. In the morning, get yourself a soy latte and Lemon Cream Filled Muffin and settle in to work. At night, the shop hosts themed nights—like Musical Theater Open Mic—and serves hearty options like tacos, burritos, and Polish kolaches. Dear Diary truly embodies work, eat, and play.
Find out more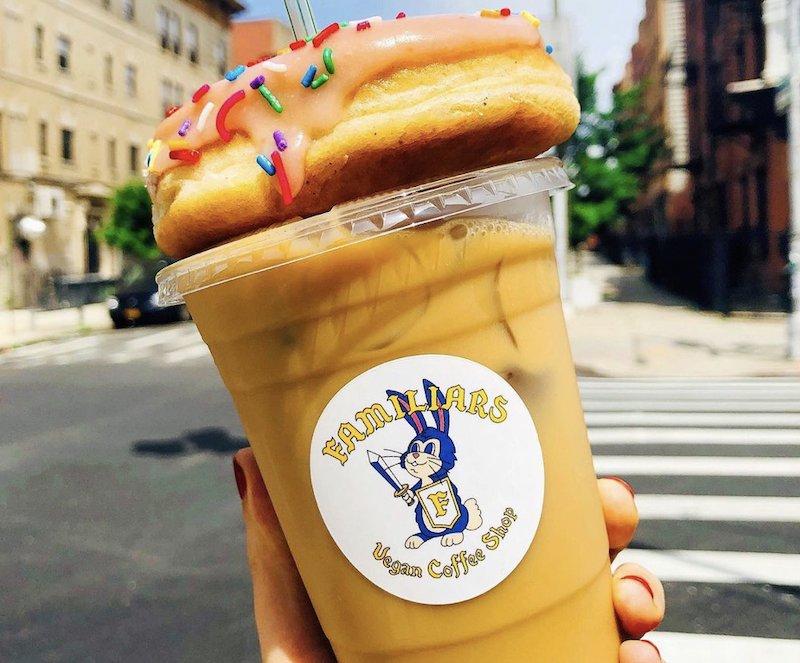 Familiars Vegan Coffee Shop
3 Familiars Vegan Coffee Shop
Sister shop to the popular Toad Style in Brooklyn, NY, this neighborhood vegan café specializes in reliable espresso beverages, a small selection of inventive bagel sandwiches, and Dun-Well Doughnuts. We recommend pairing a classic drink with a doughnut or opting out of the coffee for a spicy Kimchi Bagel (coffee and kimchi don't mix). True to its name, Familiars is a local hidden gem and certainly a place one aspires to become a regular at.
Find out more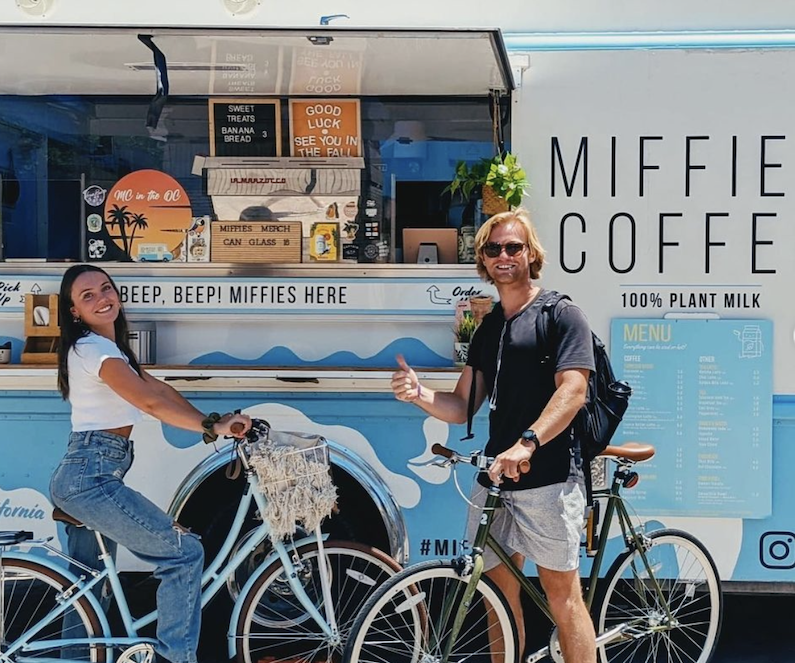 Miffie's
4 Miffie's
You'll have to check Instagram to track down this mobile vegan coffee truck, but once you do, you're in for a treat. The roaming coffee shop serves Orange County, CA with a tight menu of espresso beverages and a few seasonal specials. This winter, get a sip of the Biscoff-sweetened Cookie Butter Latte and Paddington Latte (orange marmalade syrup, oat milk, espresso). They're only here for the season.
Find out more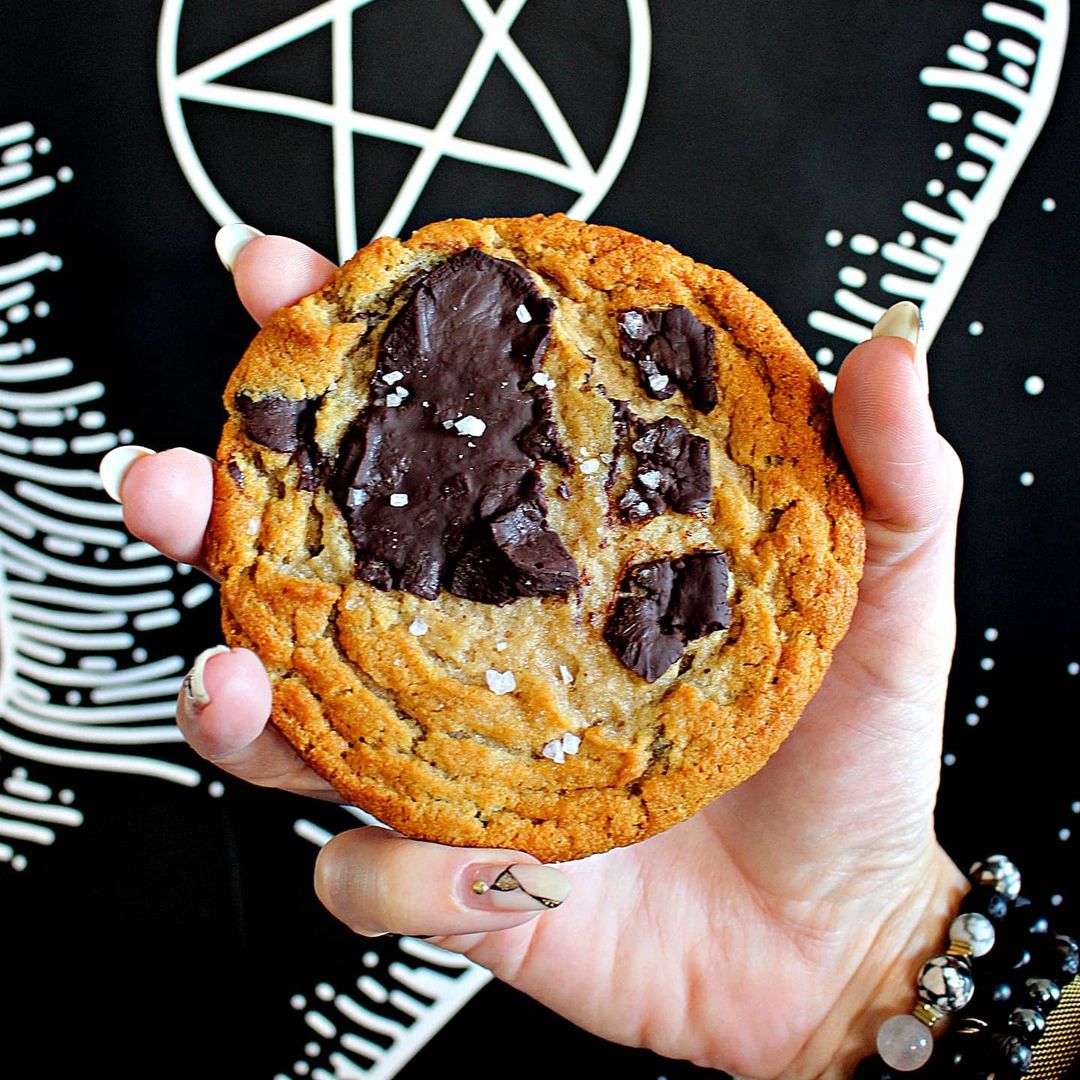 Dark Hall Coffee
5 Dark Hall Coffee
This Phoenix, AZ coffee and pastry shop may be small, but its big attitude compensates for it. Dark Hall isn't the place to meet up with friends and stay awhile or hunker down and work. However, the dark floral wallpaper and gothic art provide this tiny café with pizazz. Plus, there's coffee and pastries, though the baked goods sell out fast. Arrive early (the shop closes at 2pm daily) and order a black iced coffee and a slice of cake. The combo is a little sweet, a little bitter—just the Dark Hall vibe.
Find out more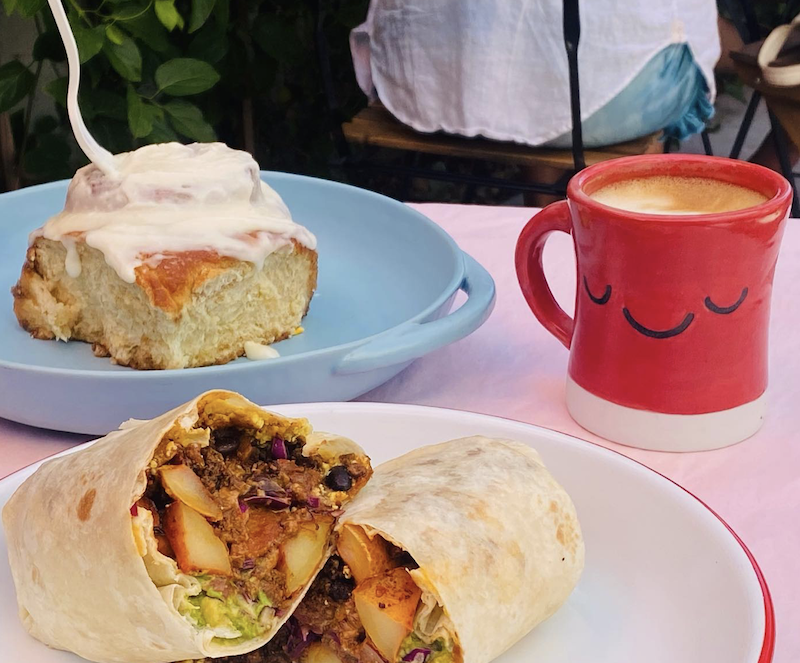 Just What I Kneaded
6 Just What I Kneaded
While slated as a bakery, this gutsy little Los Angeles brand has a solid espresso and coffee game. The baristas are working with professional-grade machinery to churn out oat milk cappuccinos with silky microfoam alongside the frosted Pop-Tarts, giant cookies, and gooey cinnamon rolls they make every day. The outdoor patio is perfect for working (thank you, WiFi) or catching up with friends over a bear-decorated latte.
Find out more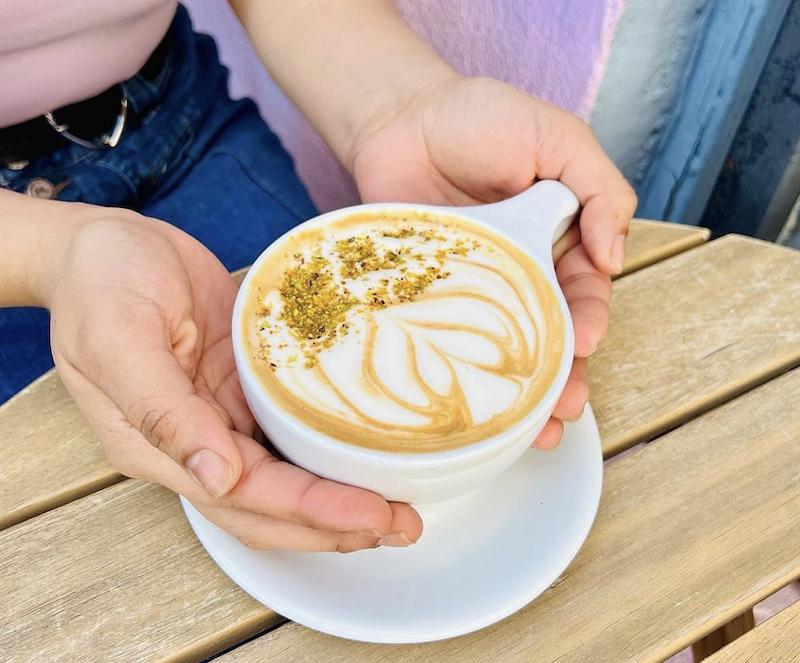 Amateur Coffee
7 Amateur Coffee
Despite the name, the baristas at Amateur Coffee know what they're doing. The company roasts its beans on-site for customers to enjoy to-go or purchase by the bag for at-home brews. Whether you order your oat or almond beverage for here or to go, don't expect a paper cup. All drinks are served in reusable jars. The Omaha, NE café runs an innovative jar program to reduce single-use product waste. Return the jar, and you'll receive $1 off your next drink order. The café also serves vegan quiche cups, sweet and savory waffles, and pastries from local vegan bakeries.
Find out more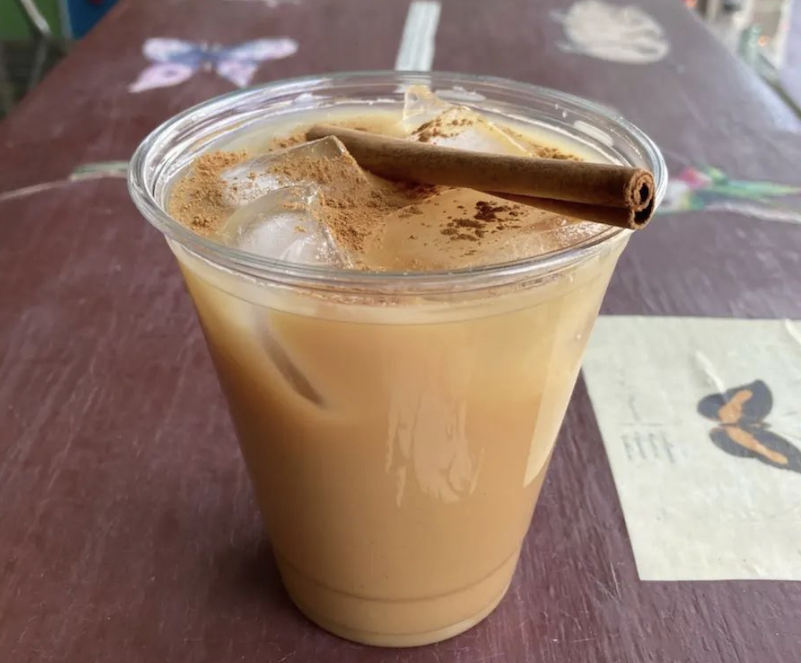 The Conscious Cafe
8 The Conscious Café
This shop does way more than coffee. Yes, it serves a standard café menu with oat, almond, and coconut milk options, but customers can also find phenomenal baked goods, vegan lip balm, sustainably made soap, and more. Located in Shelby Charter Township, MI, it's a hidden gem all Detroit residents should know about.
Find out more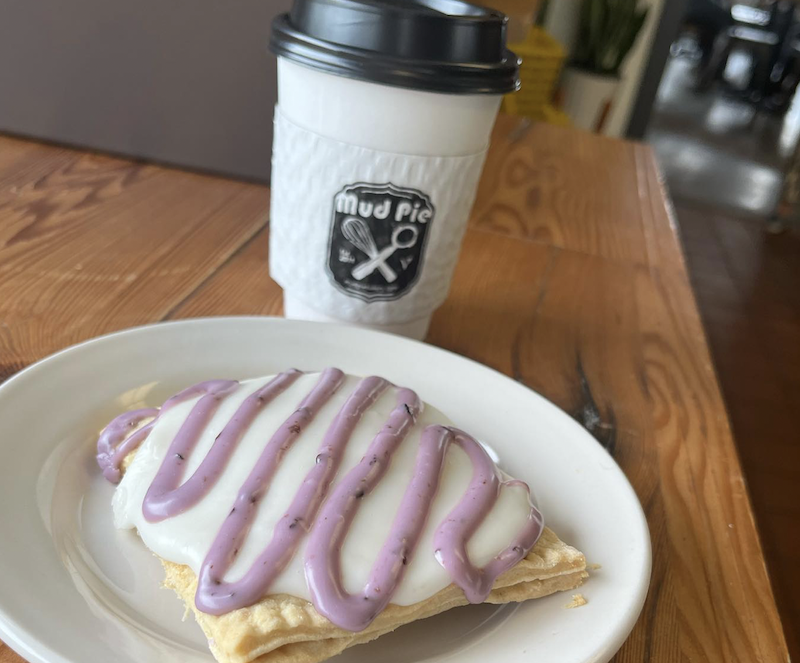 Mud Pie Vegan Bakery & Coffee
9 Mud Pie Vegan Bakery & Coffee
This plant-based shop is all charm. Based in a cozy house in Kansas City, KS, the café offers a mouthwatering array of sweet and savory treats along with a long list of espresso and tea options. Arrive before 10 AM to take advantage of its daily morning special featuring a 12-ounce latte (or chai) and a house muffin for just $5.50. Outside of this incredible deal, the prices are still fair and the goods are worth every penny. This is the kind of café you want to become a regular at.
Find out more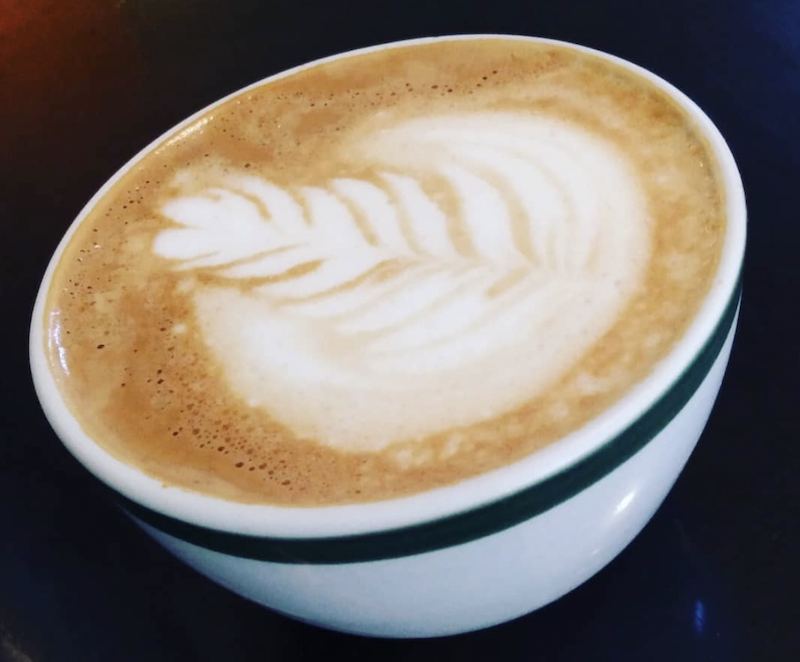 Mother Fool's Coffeehouse
10 Mother Fool's Coffeehouse
Mother Fool's has a lot going on. It's part café take-away, part art gallery, and part odds-and-ends grocery store. A bit confusing, sure, but we are confident that anything we purchase from this Madison, WI shop will be vegan. For the espresso beverage, choose from oat or classic soy milk. Don't sleep on the 64-ounce cold brew concentrate—it's always nice to have backup coffee in case you can't get out to your favorite shop.
Find out more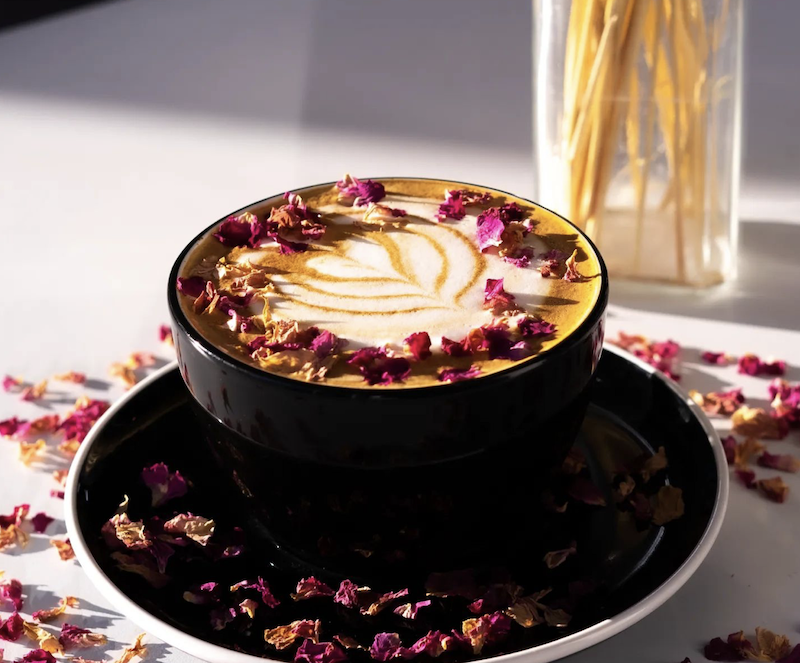 Dagger Mountain Coffee
11 Dagger Mountain Coffee
Come for the oat milk cortado but leave with a bag of freshly roasted beans. The all-vegan Indiana coffee roaster and café prides itself on thoughtful sourcing and epitomizes everything we love about coffee culture—a homey, welcoming space, house-roasted beans, and baristas who are serious about the craft of a good pour-over. However, it's not pretentious in any way. Dagger Mountain Coffee likes to play, which is evident in some of its unique beverages. If you're not a coffee purist, try the Orange Creme Latte—made with espresso, orange agave, and oat milk—or the Sass Latte—a rootbeer/latte hybrid of espresso, vanilla agave, root beer flavor, and oat milk.
Find out more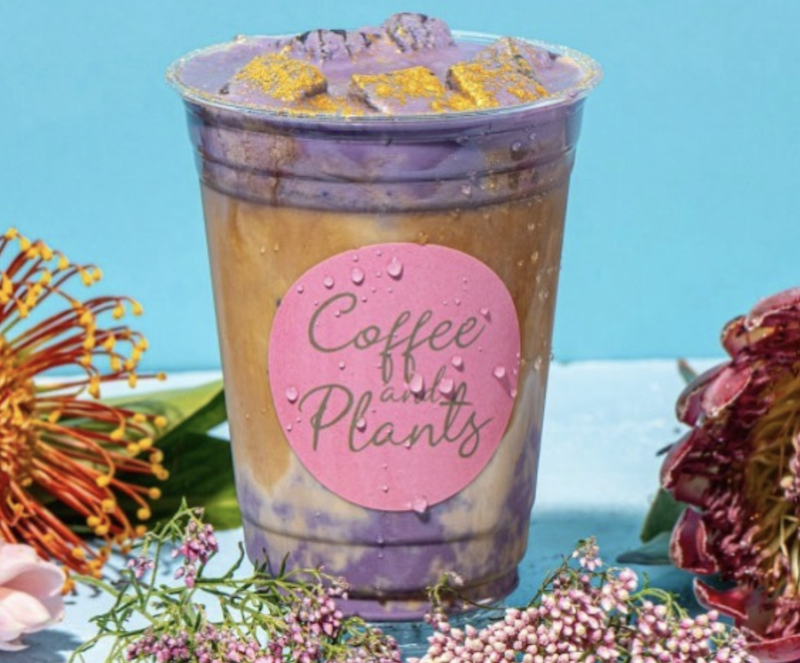 Coffee and Plants
12 Coffee and Plants
Located in Pasadena, CA, Coffee and Plants is the first and only Los Angeles area coffee shop. The minimal seating in this pink, floral-forward shop is always taken, but on any sunny SoCal day, there's always room to linger on the shared brick patio. In true LA fashion, the café offers standard espresso drinks along with superfood lattes, vegan baked goods, and Puppuccinos (vegan whip that's safe for dogs, complete with a bone-shaped dog treat).
Find out more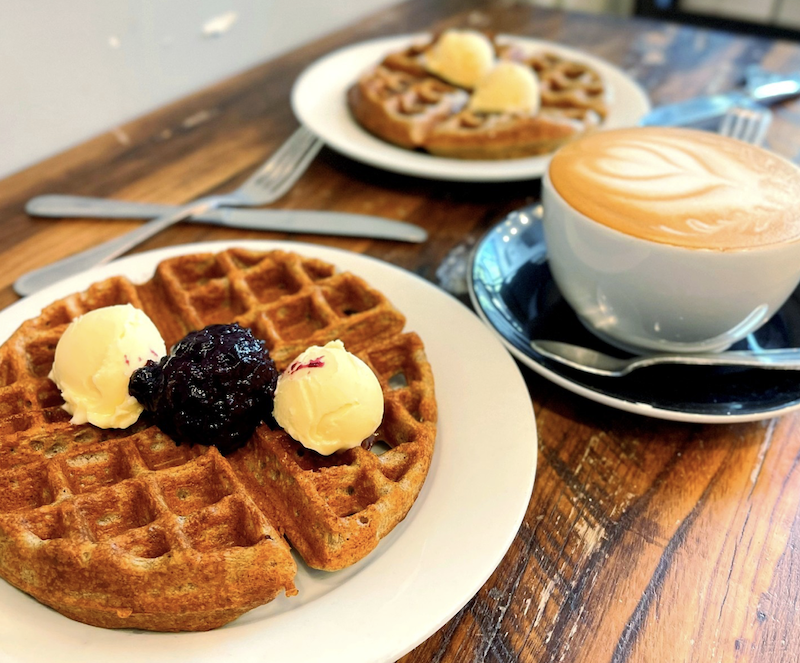 Timeless Coffee
13 Timeless Coffee
Spread across the Oakland and Berkeley, CA area, this micro-chain offers a caffeine kick as well as a sugar high. The cafés house full-scale bakeries complete with customizable celebration cakes as well as the typical tea cakes, scones, and danishes for those on the go. Dairy-free options for coffee drinks include oat, soy, and almond.
Find out more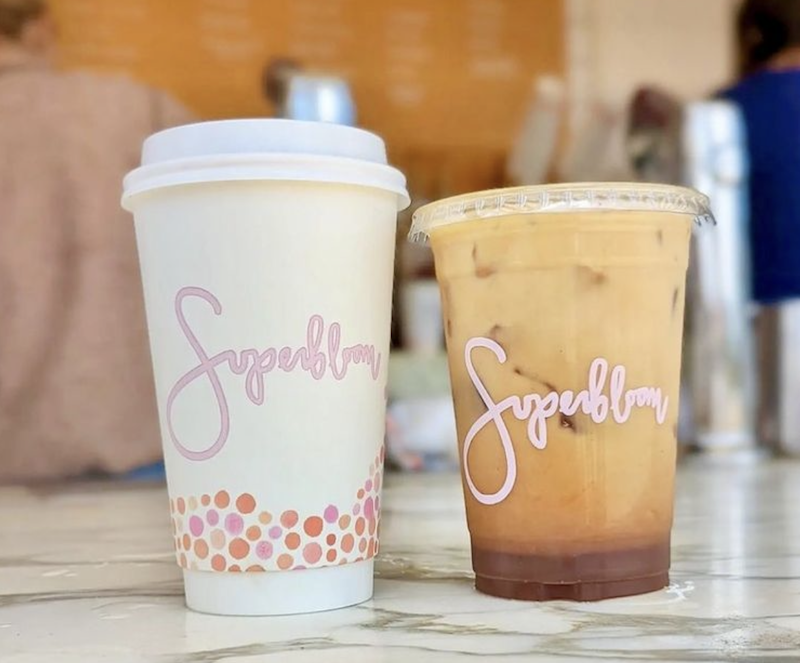 Superbloom
14 Superbloom
This coastal San Diego shop's signature lattes have locals and out-of-towners flocking to its doors. The inventive menu includes a s'mores-inspired smoked mocha topped with a roasted marshmallow and cacao nibs, a Fluffer Nutter latte, and a brown sugar shaken espresso drink. On the less-sweet side, the Boosted Lattes contain functional ingredients designed to help your body operate at its highest level. Of course, those who just want an oat milk cappuccino can order that, too.
Find out more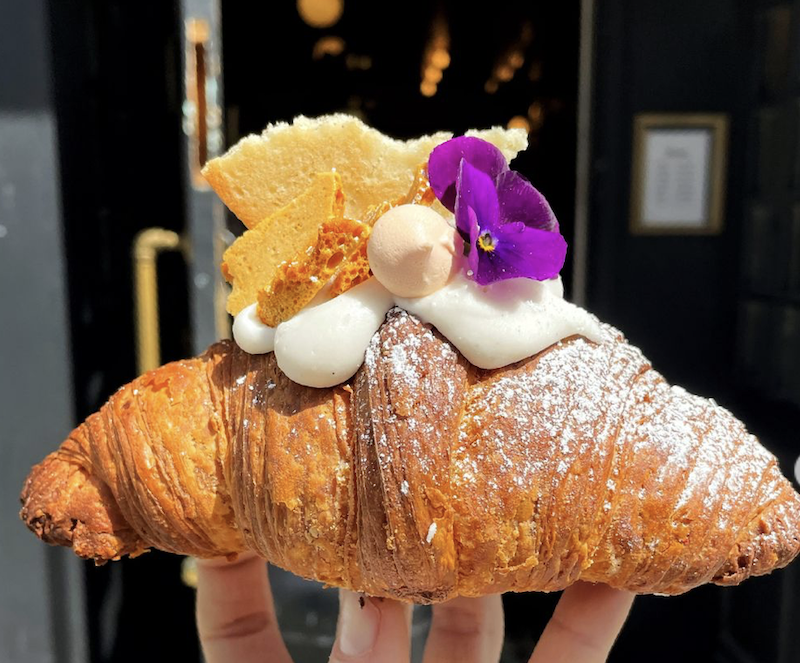 Terms of Endearment
15 Terms of Endearment
Coffee and sweets are definitely a term of endearment. The shop focuses on food, but the beverage menu is solid and each drink is crafted by seasoned baristas. Pair your oat or almond latte with a vegan fig-and-prosciutto croissant sandwich, a veggie JUST Egg omelet, or simple crispy smashed potatoes. Finish off the meal with a towering slice of crepe cake or an eye-catching swiss roll.
Find out more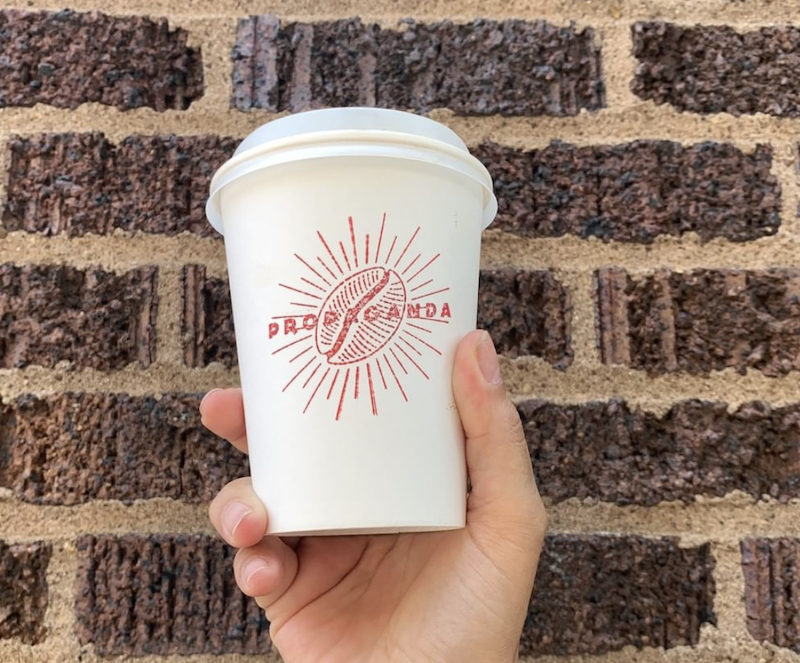 Propaganda Coffee
16 Propaganda Coffee
This Lakewood, OH café provides an extensive sweet and savory menu, but let's start with the coffee. The drink menu offers a bit of everything—from tried-and-true espresso drinks to an intriguing beetroot latte. On the food side, the kitchen carries Buddha bowls and breakfast sandwiches along with potato latke waffles and ramen. Don't leave without a bakery box full of desserts. From the thick lemon lavender scones to towering oatmeal cream pies, you'll have to visit multiple times to try all of Propaganda's delightful treats.
Find out more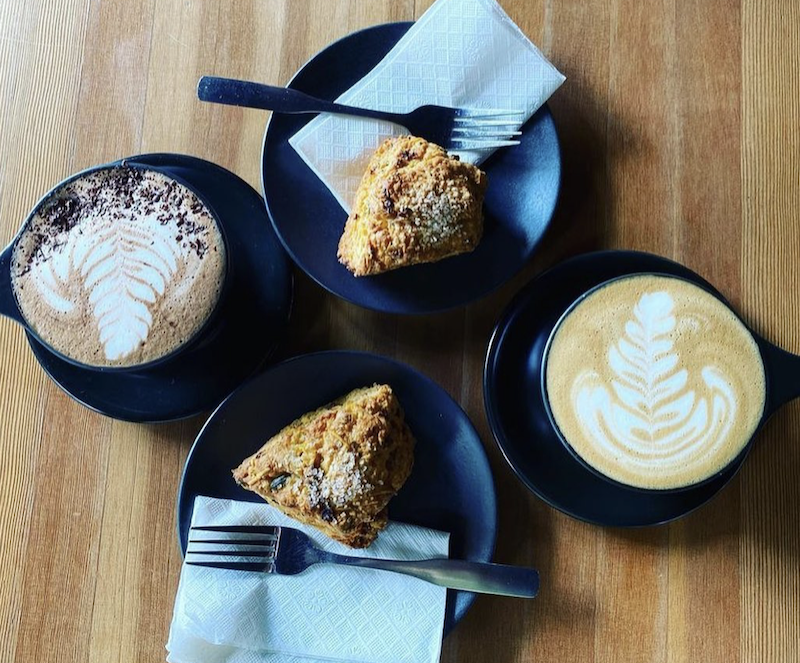 @veganonthegogirl/Instagram
17 Oracle Coffee
While some celebrities branch out into wine, Fall Out Boy drummer Andy Hurley decided coffee was more of his beat. The musician opened this vegan Portland multi-roaster in 2017 and the shop has been going strong ever since. Patrons rely on this spot for its excellent brews, impressive latte art, and locally sourced vegan pastries. If you're there often enough, you may just run into Hurley himself.
Find out more
For more on vegan coffee culture, read: