Vegan options at many fast-food chains are commonplace today, but as little as five years ago, this wasn't the case. While smaller chains such as Bareburger had already adopted the Beyond Burger, Carl's Jr. was the first major US chain to catapult the vegan patty into the mainstream drive-thru market. Plant-based patrons do need to keep in mind a few modifications to completely veganize this Beyond Burger offering, so keep this guide handy the next time you pull up to a Carl's Jr. drive-thru window.
Build your own burger
Looking past the Beyond Famous Star option, the rest of the burger menu includes variations on the number of patties stacked between two buns and slight differences in toppings. Here's how to hack it: build your own burger.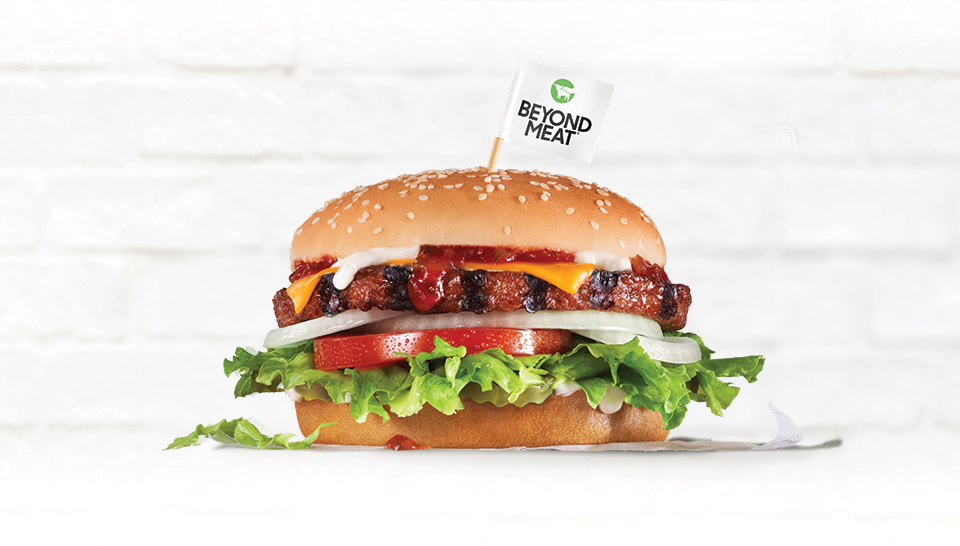 Carl's Jr.
The key to this is knowing your vegan parameters. Start with the patty count—Carl's Jr. offers single, double, and triple-decker options, so decide just how hungry you are. Next up, toppings and sauces. The lettuce, tomato, sliced onions, jalapeños, pickles, ketchup, mustard, barbecue sauce, Special Sauce, hot sauce, Chili Pequin Sauce, and guacamole are all vegan. Mix and match those, and you've got a substantial handhold. The sesame seed bun—and the Jr. bun—are also vegan-approved, but avoid all other buns as they contain animal-derived ingredients. Essentially, if it's topped with sesame seeds, you're in the clear.
How to order vegan at Carl's Jr.
Outside of building your own burger, Carl's Jr. offers a few menu items guaranteed to satisfy your hunger with just a few modifications.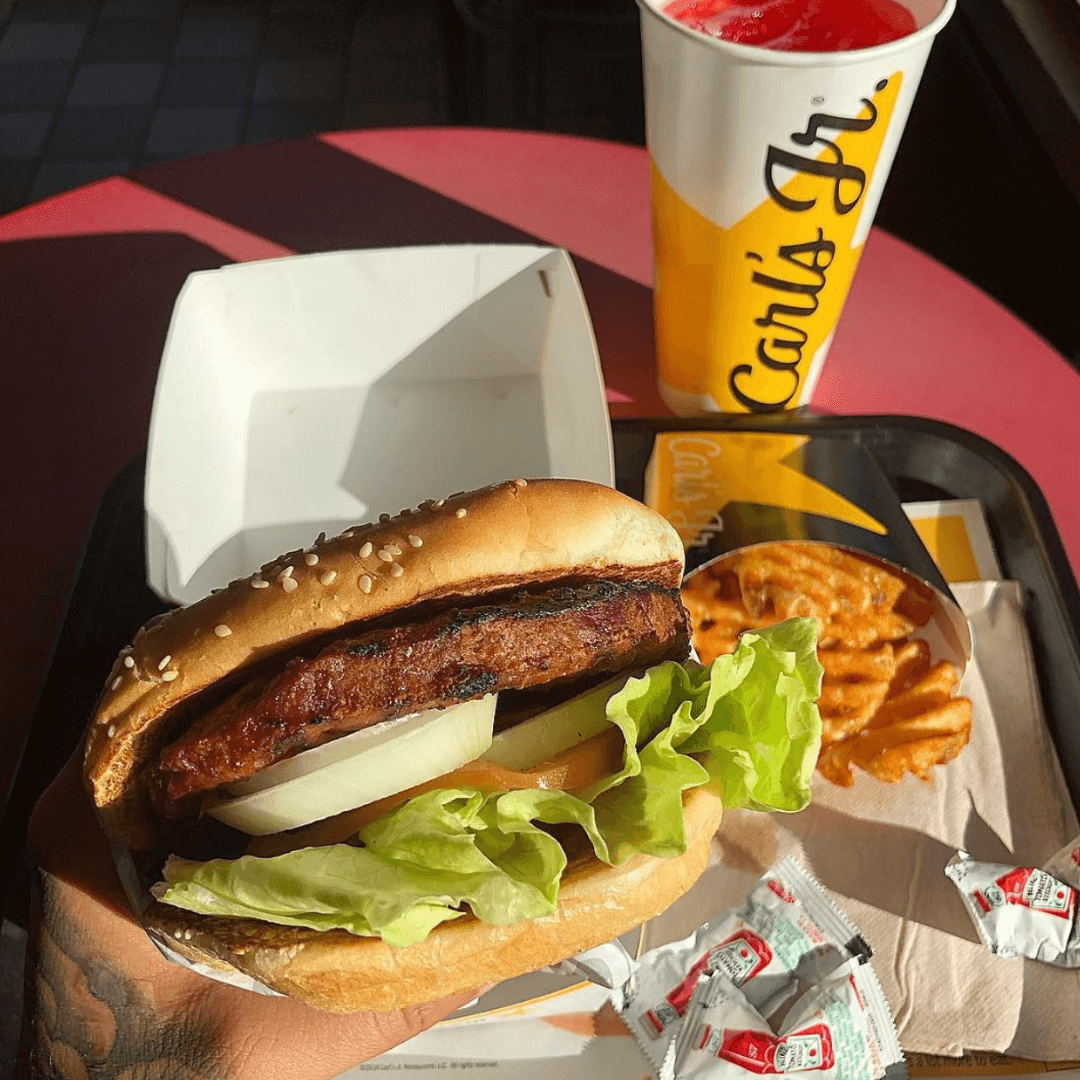 @kloverdatvegan/Instagram
1 Beyond Famous Star burger
The original Beyond Meat offering—the Beyond Famous Star with Cheese—includes a charred Beyond Burger patty, melted American cheese, lettuce, onions, pickles, mayonnaise, tomato, and Special Sauce on a sesame seed bun. Ask for no cheese or mayo to veganize this classic (yes, the Special Sauce is vegan).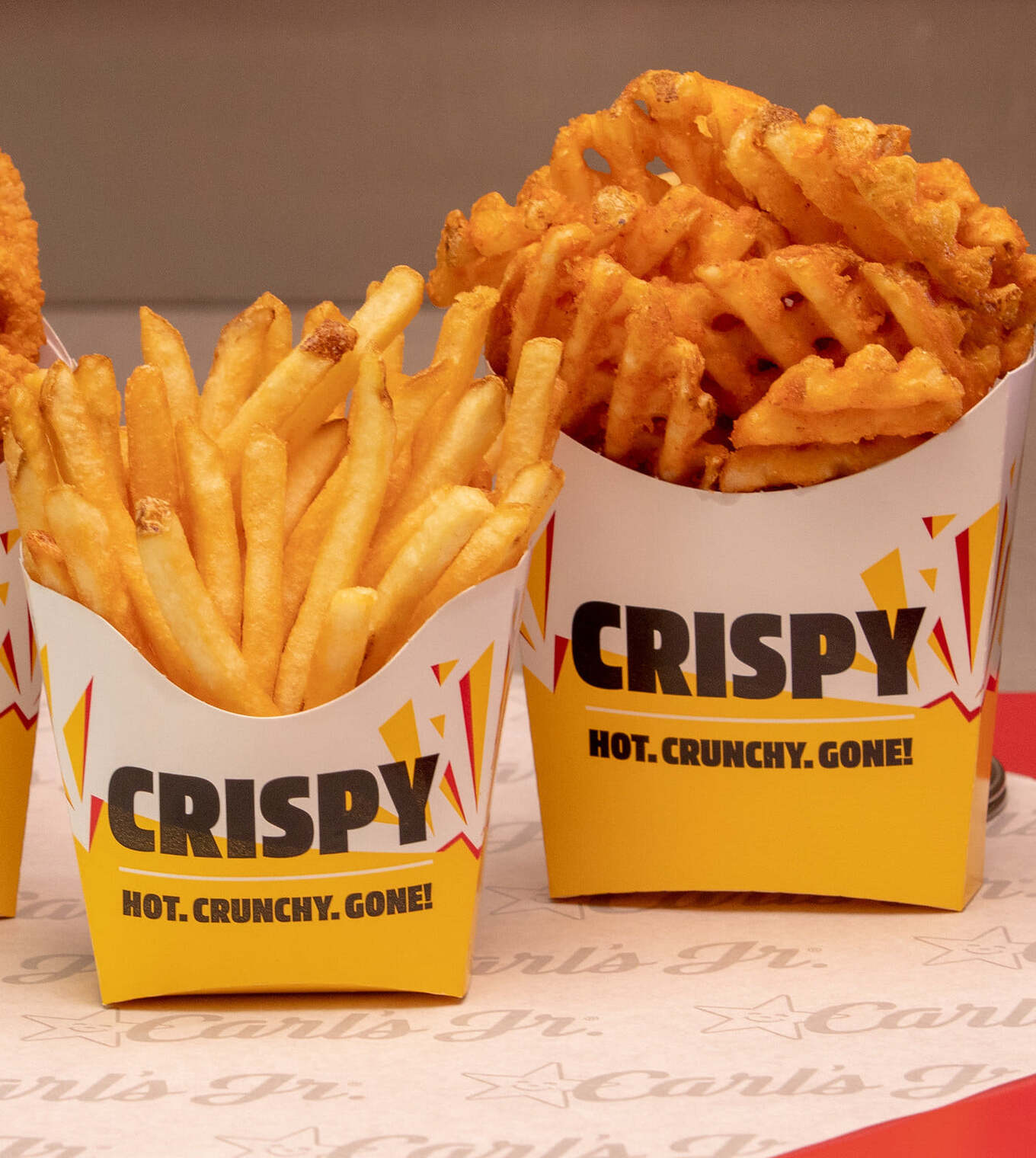 Carl's Jr.
2 Sides
Get excited—the Crisscut fries are vegan! These golden waffle fries are excellent when dipped in ketchup, mustard, barbecue sauce, or the Spicy Buffalo Dipping Sauce. For the waffle fry-averse, the Natural-Cut French Fries are plant-based, too. If you're looking for greens, the side salad can be vegan when ordered with the Balsamic Vinaigrette and no cheese. Avoid the onion rings and fried zucchini, as both contain egg in the batter.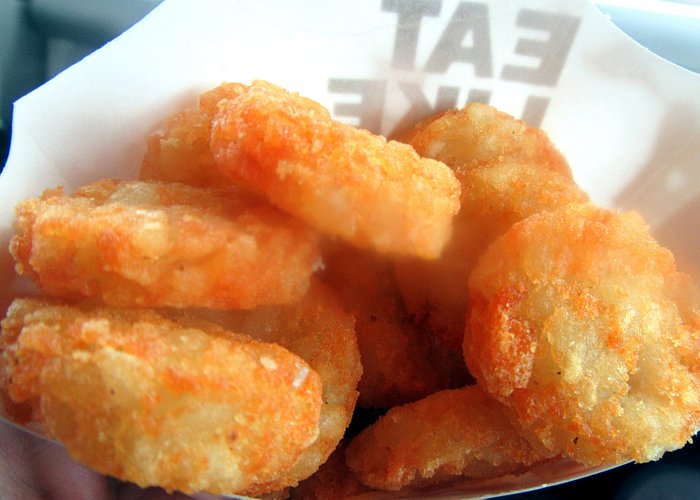 Mini/Trip Advisor
3 Breakfast
Carl's Jr. offers a fast-food hash brown that's vegan. These spuds are nugget-shaped and technically called Hash Rounds. For a time, the chain carried a Beyond Breakfast Sausage, but that option has been discontinued. If you're hungry for more than just hash browns, stick to lunch and dinner if you can swing it.
For the latest vegan news, read: