How many vegan meal delivery kits can you list off the top of your head? When we embarked on this project, we assumed there were maybe half a dozen. After doing our research, we were shocked to find that you need more than two hands to count them all. Given the limited fridge space, we narrowed it down to 13, divided up the "work," and began sampling. Some blew us away, others were about as expected, and all delivered on the promise of plant-based convenience.
Why try a plant-based meal kit
Vegan meal kits are a solution for a host of modern inconveniences and dietary challenges. For those already vegan, they provide a solution to the indecisive, time-stripped, and less-than-confident home cooks. Kits that require a bit of hands-on time are terrific for those who enjoy cooking but have trouble deciding on what to prepare day after day. Other meals that come fully prepared bank a good amount of time for those constantly wishing for more hours in the day. Plant-based meal kits can also help omnivorous eaters gradually transition to a more plant-based diet. They offer a "start here" frame of reference along with the aforementioned convenience. Many can be ordered a la carte, allowing people to have a go-to meal for Meatless Mondays without dedicating any additional brainpower. Adding more produce to your diet and reducing your animal product consumption—even on a meal-by-meal basis—can benefit your health and make you feel better daily.
Vegan meal kits: tried and tested
Whether you're looking for a quick frozen option or a freshly prepared, locally sourced meal, there is a vegan meal delivery kit for you. We tried them all, and here are our thoughts (in no particular order).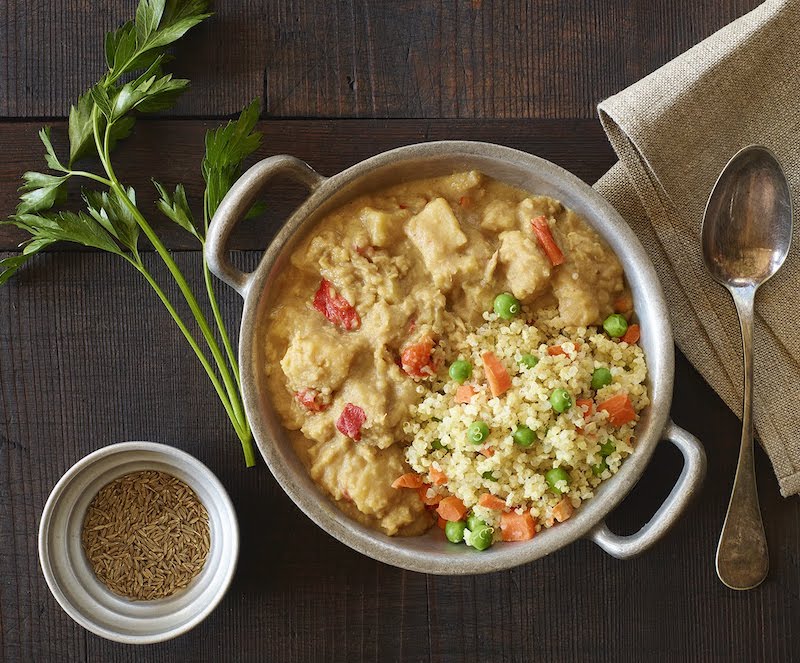 Veestro
1 Veestro
Veestro gets five stars for accessibility and ease. The meals are solid, take less than two minutes to heat up, and there's plenty of variety. We paired each meal with a big salad or steamed greens to amp up the veggies.
Service: Compact packages remind us of frozen TV dinners, but they store nicely in the fridge and keep forever. The à la carte feature is also a major plus.
Price: As low as $9.35 per meal
Variety: Mostly comfort food veganized and somewhat healthified. We want dessert!
Meals: Our editorial staff adored the Chilaquiles (it's more like a Mexican lasagna), Lentil and Spinach Tagine, Beluga Lentil Braise, and the Chick'n Nuggets. Watch out, NUGGS, Veestro is coming for you!
Insider tip: Keep greens on hand to add a bit more veg to your meal.
Overall: For a vegan meal you can heat up in minutes, Veestro excels. And the vast majority of meals are incredibly delicious!
Order here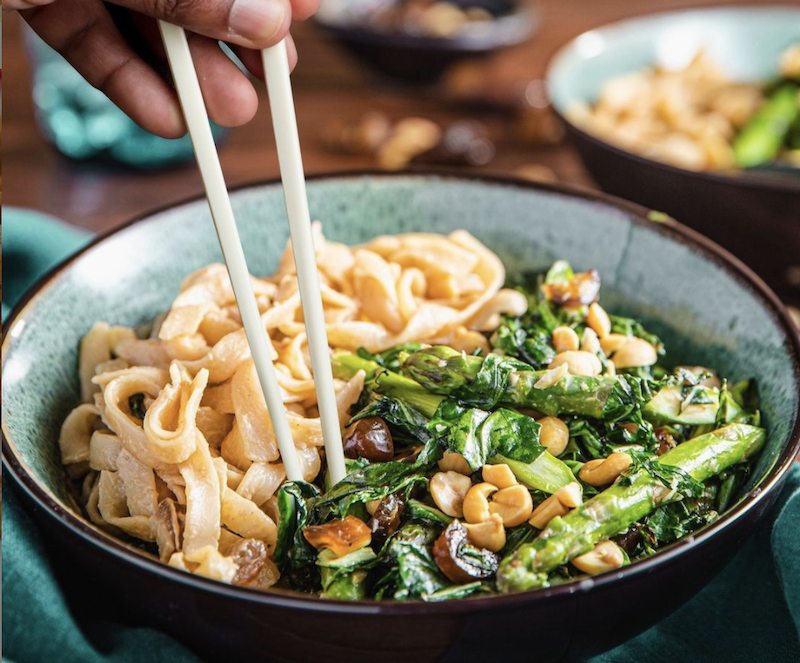 2 Purple Carrot
Purple Carrot makes home cooking simpler by eliminating the "what's for dinner?" question and sending you the pre-measured ingredients you need to put together a wholesome meal. The portions are sometimes a bit off, but altogether you can rely on a home-cooked meal that's likely better than what you could make on your own.
Service: We loved that the directions were easy to follow and included photos. It's not great, however, if you're a picky eater—as there's no à la carte option. You get whatever that week's menu has planned.
Price: $11.99 per meal (serves 2)
Variety: Incredible. We tried foods and flavors we never thought of putting together before. Meals are globally inspired and often pleasantly spicy.
Meals: VegNews Associate Editor Jocelyn Martinez said the Kimchi Quesadilla made her want to keep kimchi on hand at all times.
Insider tip: You get to keep the recipes! Also, allow a good 30–45 minutes to prepare, particularly if you're a novice in the kitchen.
Overall: Purple Carrot is an excellent option for those looking to master a handful of delicious, nutrient-dense, vegan meals.
Order here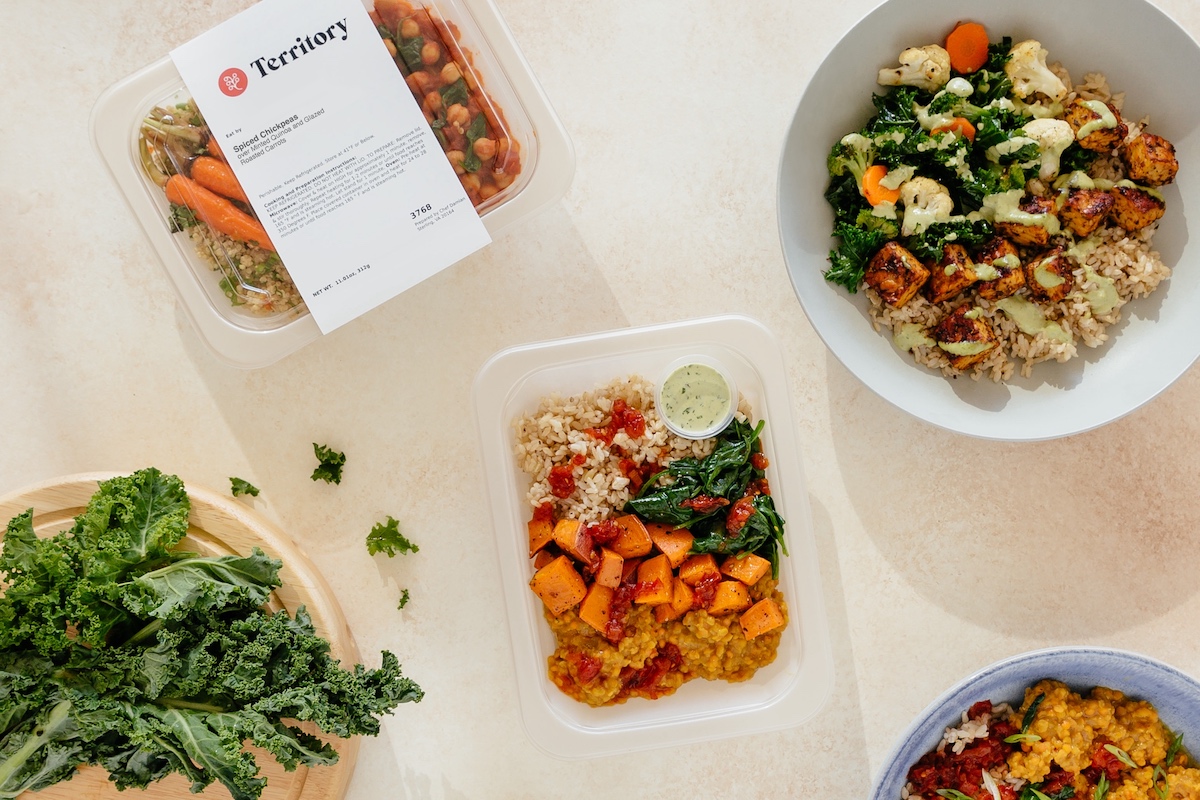 Territory Foods
3Territory Foods
Trying to eat closer to home? Territory Foods sources its vegan-friendly meals from restaurants and private chefs around you. Meals come fresh and labeled with the restaurant or chef they came from—it's a great way to learn more about independent plant-based businesses. However, this service is higher in the price range compared to others.
Service: Order these when you know you'll be home to eat them—they'll only stay fresh in the fridge for about a week.
Price: As low as $13.95 per meal
Variety: Perhaps the most varied, the options encapsulate every meal from breakfast to dessert. Thanks to the inventiveness of local chefs, you won't get bored.
Meals: We adored the Chai-Spiced Breakfast Quinoa with blueberry jam and almond butter—Flink actually ate it for dessert. The Cafe Gratitude Boundless (pasta puttanesca) was exceptional, as well as the enchiladas with pleasantly surprising smoky pinto beans.
Insider tip: Like Thistle, not all meals are vegan, but you can specify.
Overall: To discover new vegan options in your local area, Territory Foods is great if you have the funds.
Order here
Plantable
4 Plantable
This plant-based company is committed to you, and it expects equal commitment from you. Plantable is all about lifestyle change and forming healthy eating habits. Meals come frozen and are nutrient-dense, refined sugar-free, and low in salt. It's not cheap, but you're essentially getting a virtual nutrition coach along with premade meals.
Service: We loved the à la carte option and various plans (we tried the Reboot). Plantable is goal-oriented and it shows—from the daily emails right down to the complimentary breakfast and salad recipe booklet that comes with each order.
Price: As low as $129 for a three-day cleanse
Variety: Exceptional. All meals are healthy, but they lean into comfort foods as well as the standard soup and grain/veggie/protein bowl.
Meals: With the exception of the Hippie Brunch Burrito, VegNews Digital Editor Tanya Flink loved everything she tried. The Spanakopita with Chickpea Toast Triangles; Tomato, Eggplant, and Lentil Stew; and the Pizza Pocket were outstanding.
Insider tip: Don't put any casserole-style dishes in the oven. They're great, but they fall apart when heated. Plop them into a bowl and microwave.
Overall: If you're thinking about any kind of cleanse or reboot—whether that's a juice cleanse or an elimination diet—we'd suggest trying Plantable. It's real food, it's satiating, and it's scientifically proven to actually work.
Order here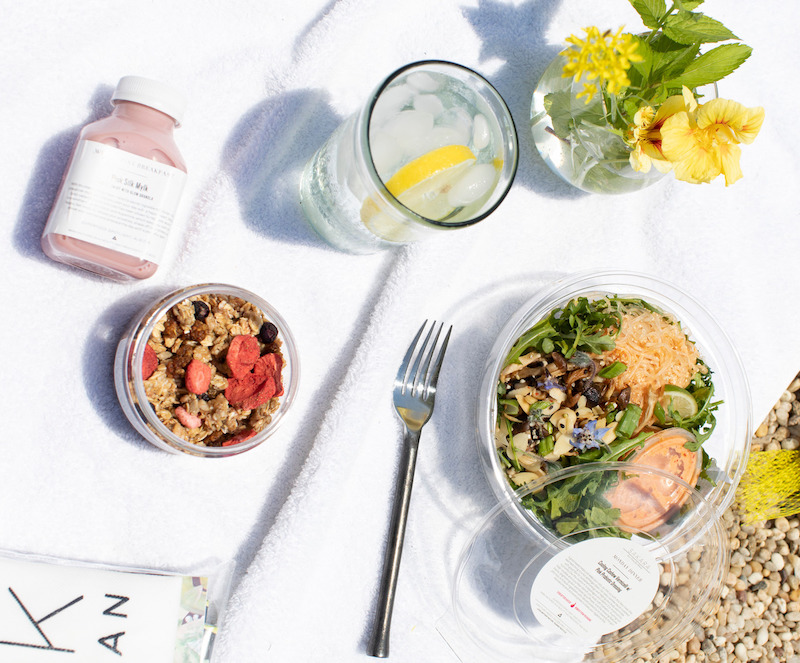 Sakara
5Sakara
There's no other way to describe Sakara other than the Ritz Carlton of meal services. It comes with a hefty price tag, but you know the company will bend over backward to make sure you're taken care of. The freshly prepared, veggie-heavy meals aren't something to rely on long-term, but if you're looking for a pre-wedding shape-up or are in the mood to treat yourself, go ahead and splurge a little.
Service: Expect to be treated well. All food is plant-based, organic, and reminiscent of a $20 salad or grain bowl you might find at a wellness retreat.
Price: As low as $177 for two days of full meals
Variety: Each week's menu is set, so choice is limited, but the selection goes way beyond the typical overnight oats and wellness smoothies. You'll be excited each time you open your Sakara package.
Meals: VegNews Publisher Colleen Holland tried three days of meals and loved it all. Her favorites include the Cacao Chip + Almond Waffles, Sakara Burrito Bowl with Turmeric Corn Salsa, and the Roasted Peach Chana Masala. All packages also come with Detox Tea and Beauty Chocolate (yes, you eat it).
Insider tip: If the price seems intimidating, pick up the Sakara cookbook, Eat Clean, Play Dirty, to try the recipes yourself.
Overall: Holland advised, "Sakara is perfect to have delivered to the office once a week for healthy meals at work or a great way to jumpstart new habits. It's not cheap, but it's very high-quality food."
Order here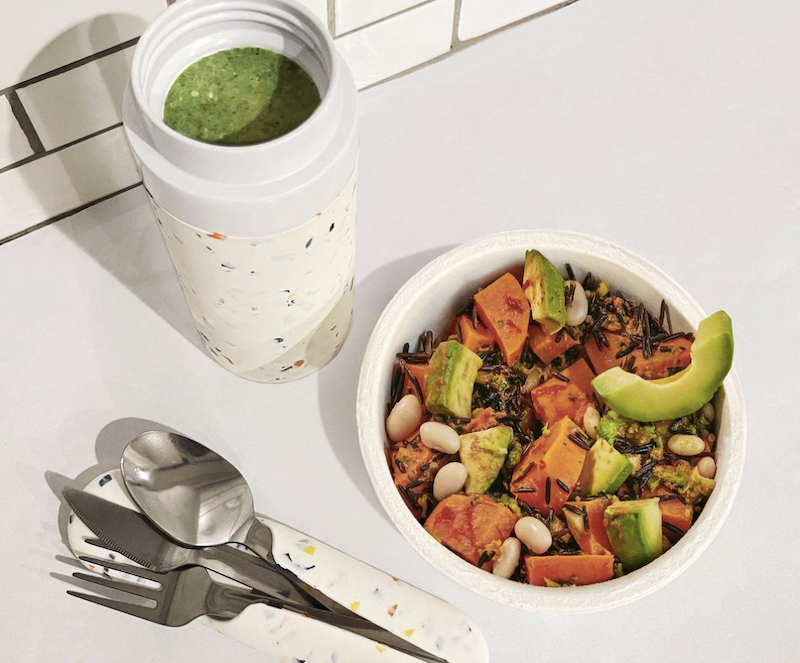 Daily Harvest
6 Daily Harvest
Daily Harvest doesn't just make smoothies anymore—it's moved on to something more. In addition to the frozen dump-and-blend smoothie cups that popularized this plant-based delivery service, Daily Harvest now ships everything from morning oats to dinner-sized bowls. Unlike many meal kit companies, it also offers desserts in the form of Scoops (ice cream) and Bites (naturally sweetened superfood balls). All items come frozen.
Service: Holland keeps coming back to this company for the variety of foods as well as for easy ordering. She gets deliveries once a week with a fresh batch of smoothies, Harvest Bowls, and even flatbreads.
Price: $5.99–$8.99 per item
Variety: Pretty solid if you're in the mood for healthy food. From smoothies to soups and flatbreads to ice cream, you won't get bored. We're big fans of the Almond Mylk wedges, too!
Meals: Holland's favorites include the Tart Cherry + Raspberry Smoothie, the Chocolate + Blueberry Smoothie, the Carrot + Cinnamon Smoothie, and the Almond Mylk wedges.
Insider tip: If you like your smoothies on the sweet side, add a date or two when you blend them up.
Overall: Because all these meals are frozen, Daily Harvest is ideal for those looking for a nourishing go-to meal at home or the office.
Order here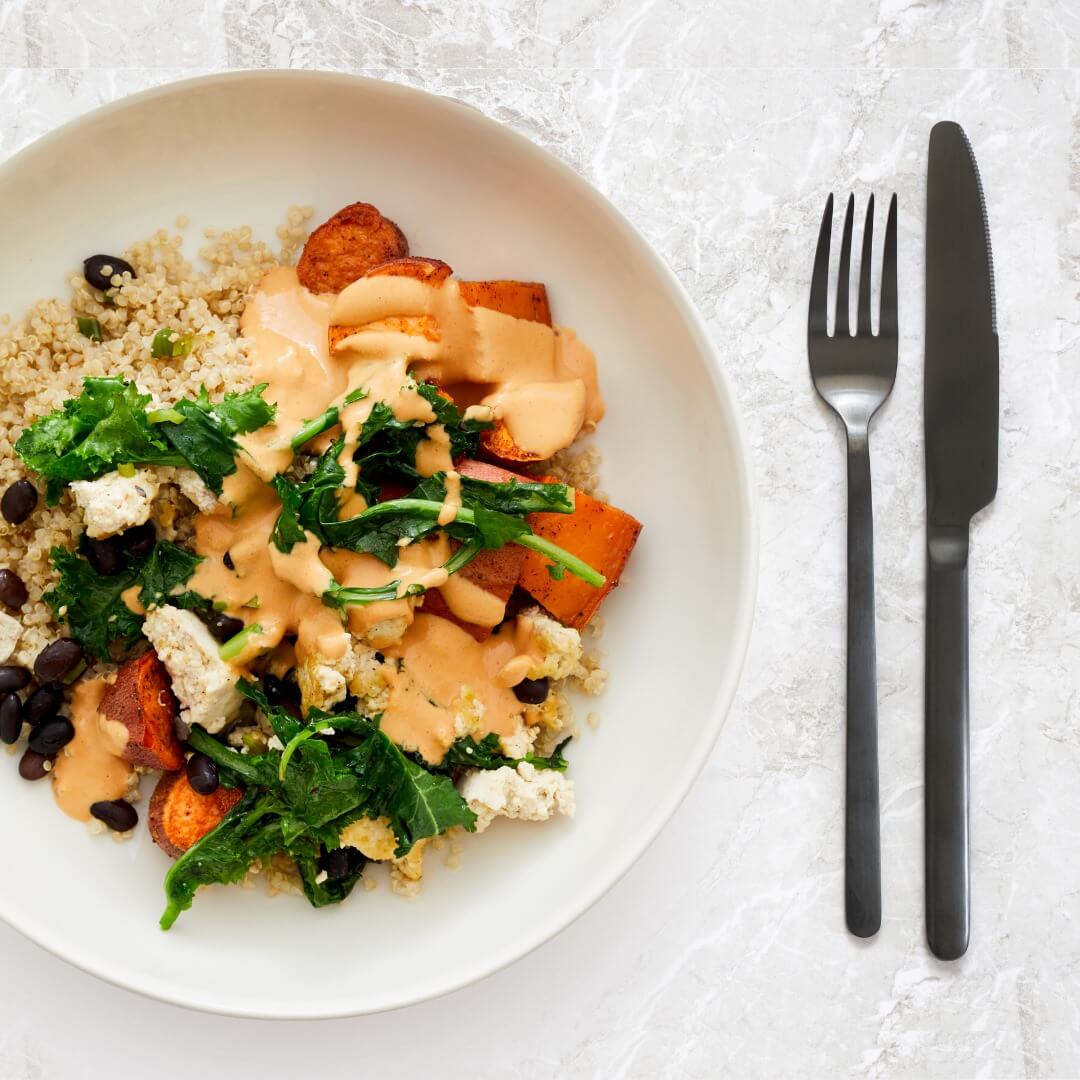 FireRoad Foods
7FireRoad Foods
FireRoad was built for athletes by athletes. It's just one of the many ventures of Brendan Brazier—former professional Ironman and vegan sports nutrition pioneer. All meals come frozen and are relatively affordable, particularly in comparison to other companies. Many meals also feature Beyond Meat, so if you're into that, this company might be right for you.
Service: Love the compact containers and freezability. We also appreciate the fact that you can see the individual components that comprise each dish.
Price: As low as $8.55 per meal
Variety: No complaints here. You'll find mostly oats, pasta, grain bowls, and smoothies.
Meals: Of the meals we received, we enjoyed the bowls the best. The Sweet Potato Mac n Cheese was something Flink would definitely order again—the chickpea pasta was perfectly al dente, the cheese sauce was velvety, and there was a generous amount of broccoli that retained its textural integrity even after microwaving.
Insider tip: These meals pack a ton of protein (33 grams in the Hearty Ragu)! They're great for those looking to incorporate more plant-based protein into your diet without eating a ton of beans or alternative meat.
Overall: Busy athletes or even active parents could certainly benefit from keeping a few FireRoad bowls in the freezer.
Order here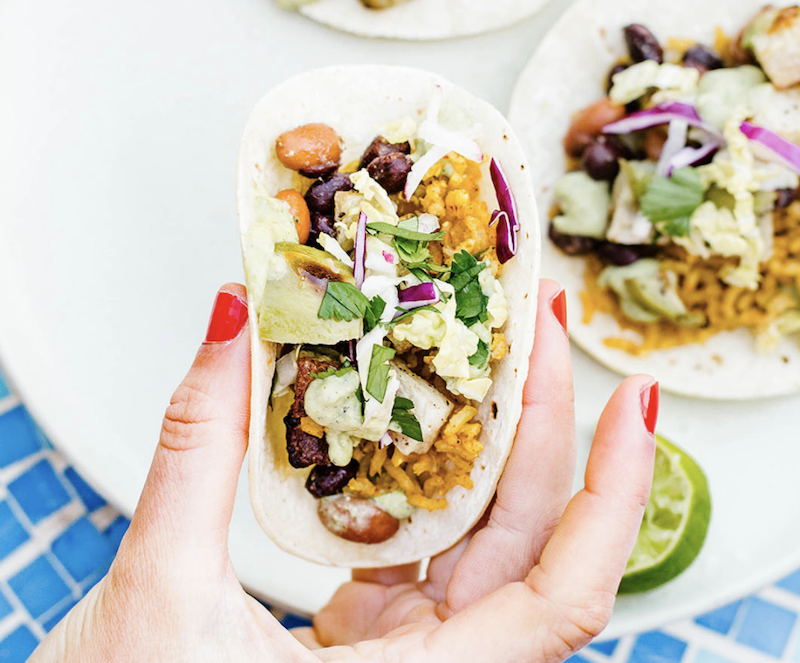 Thistle
8Thistle
If you're a juice regular (or would like to become one), Thistle is your best bet. It's not a juice cleanse, but the refrigerated, pre-packed lunch and dinners come with a wide array of green, citrus, and fruit cold-pressed juices as well as gut-boosting immunity shots (the kind you drink, for clarification). The meals themselves came fresh and require no prep beyond a zap in the microwave.
Service: Excellent, though we were surprised by how much juice came in our boxes. It was a lot to get through in a few days when they were at their peak.
Price: As low as $43.50 for a 3-meal package
Variety: All meals centered around balanced macronutrients and minimally processed foods—most are bowl-style (grain, veg, protein, sauce).
Meals: Martinez gushed over the juices and shots. She loved the Carnitas Bowl with Chipotle Jackfruit. The jackfruit was flavorful and tender and the portion was generous!
Insider tip: Thistle is not all vegan, so be sure to choose the plant-based protein option.
Overall: Thistle is a stellar choice if you're looking to incorporate more whole foods into your diet but don't want to sacrifice flavor. However, be prepared to chug those juices within a few days' time.
Order here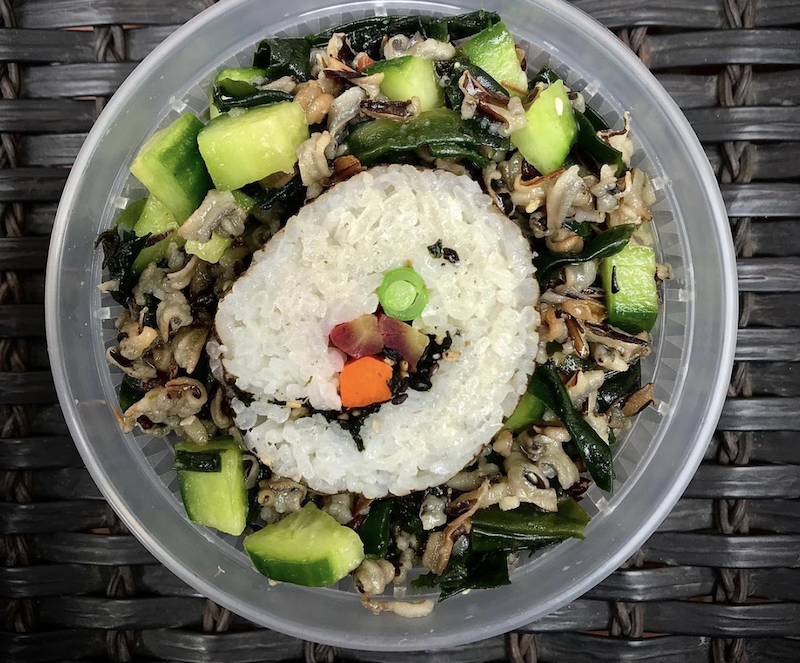 Food Flo
9Food Flo
Food Flo is a decent option if you're looking to keep a few healthy and exciting options on hand. There's tons of variety, unique dishes, and fun add-ons such as juices and desserts. The prepared meals come fresh but not well-labeled. Not every dish is a stunner, but some may surprise you.
Service: We had a bit of a labeling issue with this company, although Senior Editor Richard Bowie was delighted that all of the meals came fresh in a reusable tote bag. It was slightly difficult to decipher what was what, as there were no accompanying instructions and half the labels were missing ingredient lists.
Price: As low as $113 for 6+ meals when ordered weekly
Variety: Tons of variety here. All of the dishes were inventive and layered with complementary flavors and textures.
Meals: Bowie was a fan of the Falafel Cake with Beet Tahini, Couscous, and Vegetable Ratatouille. He also loved the Sushi Salad which came with a "very cute" vegan sushi roll on top. Juices and desserts are also on offer.
Insider tip: Get the Rose Potion #1. Bowie raved, "I could drink this all day!"
Overall: A bit of a hit or miss, but the portions were sizable, the price fair, and the hits were fantastic.
Order here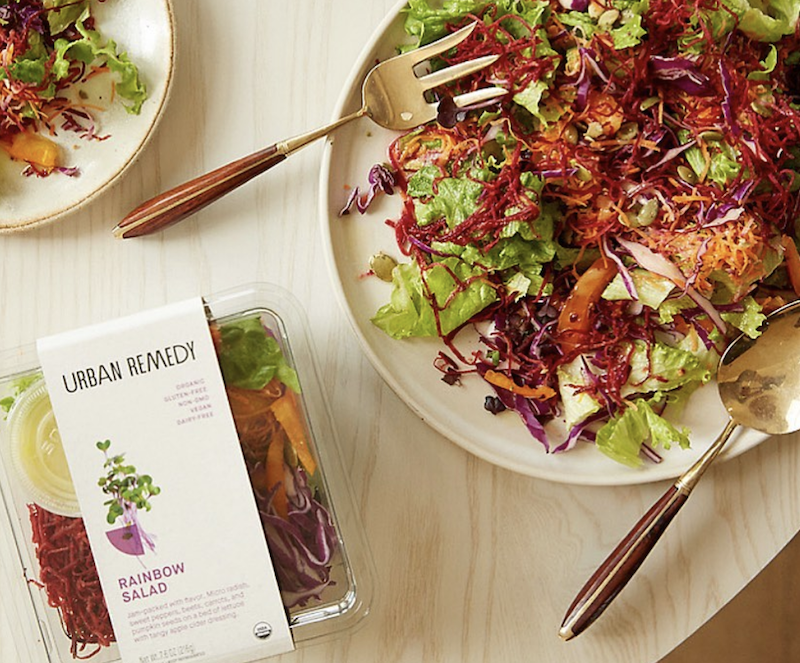 Urban Remedy
10 Urban Remedy
Urban Remedy is focused on fresh, nutrient-dense meals that don't compromise on the meal experience. It's not all vegan, but it does offer a medley of plant-based options from breakfast to dessert. Holland received her fair share of vegan items and declared it a "total home run." Here's what you need to know.
Service: Holland reported her experience was a "perfect execution" of meal delivery in terms of variety, food quality, and taste.
Price: As low as $6.99 per item or $19.99 for a 2-pack meal kit
Variety: From juices to full meals and even dessert, we were pleased with the range of options. You can just do a juice cleanse, order dinner to have on hand, or simply stock up on snacks and wellness shots.
Meals: Holland raved about every item she received, but her favorites included the Upbeet Vegan Cheeseburger Wrap, The Vegan Caesar (which "made her a believer"), Matcha Energy Bar, Booster Shot, and the Raw Cacao Mousse which was "one of the most heavenly chocolate experiences of her life."
Insider tip: Keep a few of the wellness shots on hand to snip any oncoming colds in the bud.
Overall: We'll let Holland take this one. She remarked, "This is my dream delivery service."
Order here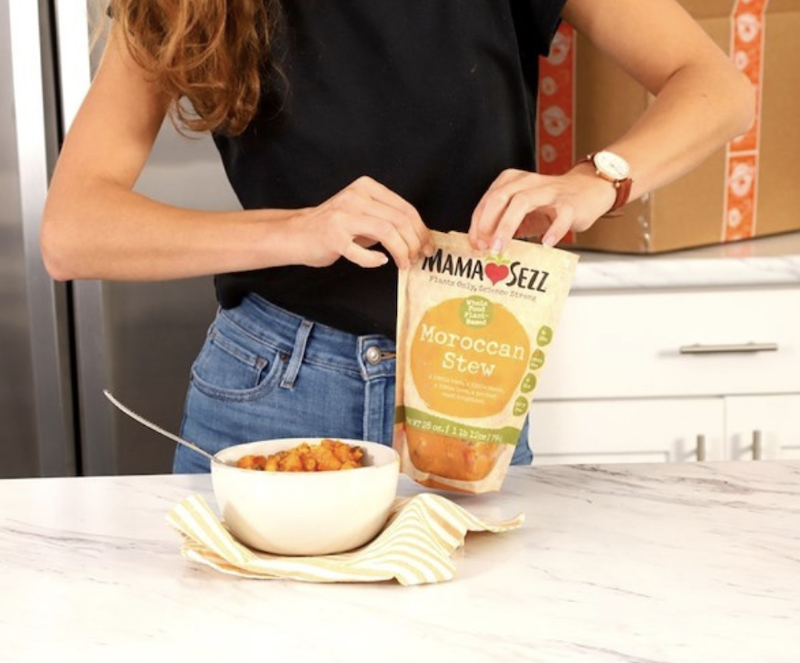 MamaSezz
11MamaSezz
This plant-based company is a triumph of what allergen-friendly eating can be. Each meal is vegan as well as oil-, gluten-, refined sugar-, preservative-, and peanut-free. The meals are refrigerated and serve two to three per pouch. They're great to have on hand when you want to boost up the produce or farmers' market bread you have on hand.
Service: In regards to packaging, the pouch thing kind of threw us off. It's weird plopping out tuna salad from a Ziplock black bag. However, once we took a bite, we entirely forgot about it.
Price: As low as $169 for 24 servings
Variety: For an ingredient list that restricts so many items, MamaSezz does not want for variety. Choose from soups, deli salads, plant-based proteins, and the Not-a-Cookie.
Meals: Flink ate the Chickpea Tuna Salad straight from the fridge! The Moroccan Stew and toothsome Ginger Garlic Protein Strips were also a hit. And the Not-a-Cookie was surprisingly excellent.
Insider tip: Keep the deli salads and protein options on hand to give substance to leafy greens and homemade stir-frys.
Overall: If you're looking to keep some affordable and healthy vegan staples on hand, MamaSezz is an excellent option. We wish some items came frozen, though, for preservability's sake.
Order here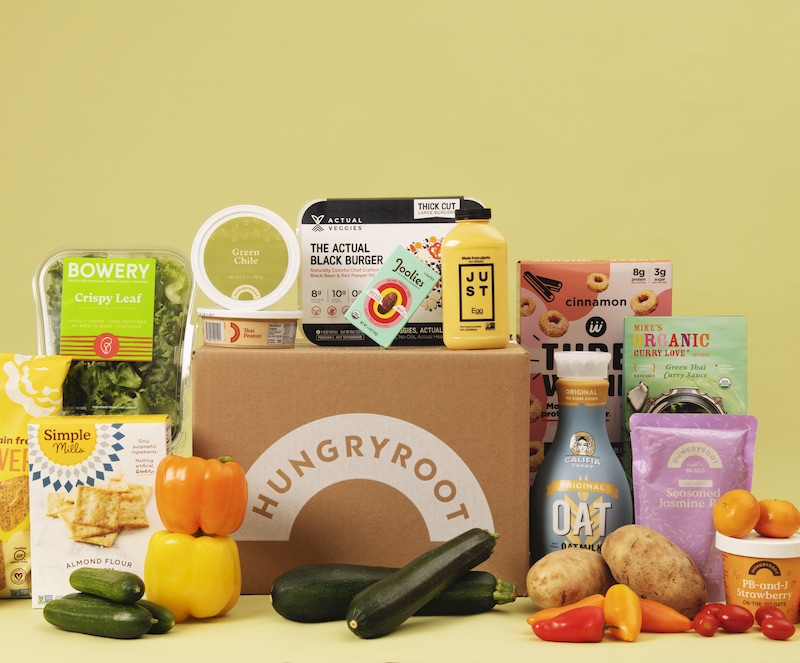 Hungryroot
12Hungryroot
Here's the situation: you're at the grocery store, and you're completely overwhelmed. You're also famished to the point where indecisiveness is at a high and you have no idea what to make for dinner. This situation could have been avoided if you had a Hungryroot package waiting at your door. The vegan-friendly, personalized grocery service offers hand-picked staples and fun new products that help you narrow down the options of what's for dinner. You still have to do the work, but at least you have everything you need on hand.
Service: It's customizable with just the right amount of randomness. Pick what you want, set your preferences, and look forward to discovering new products the company throws in your package based on your profile.
Price: Starting at $59 per plan
Variety: Excellent. Think of it as a virtual grocer. You've got produce, generic Hungryroot brand staples, and popular brands like Abbot's Butcher, A Dozen Cousins, and Beyond Meat.
Meals: It's up to you! Each package will come with suggested recipes, but most customers just use the groceries as needed. Flink was a bit overwhelmed at the amount of fresh food (no food shall go to waste!) but absolutely loved the chickpea-based Peanut Butter Cup Cookie Dough and the flavorful sauces that came in her box.
Insider tip: Time your delivery for when you know you'll be cooking at home for a few nights.
Overall: If you enjoy cooking and find comfort in keeping your fridge and cabinets stocked, Hungryroot is a terrific option that won't disappoint. It's also a solid option for multi-person households.
Order here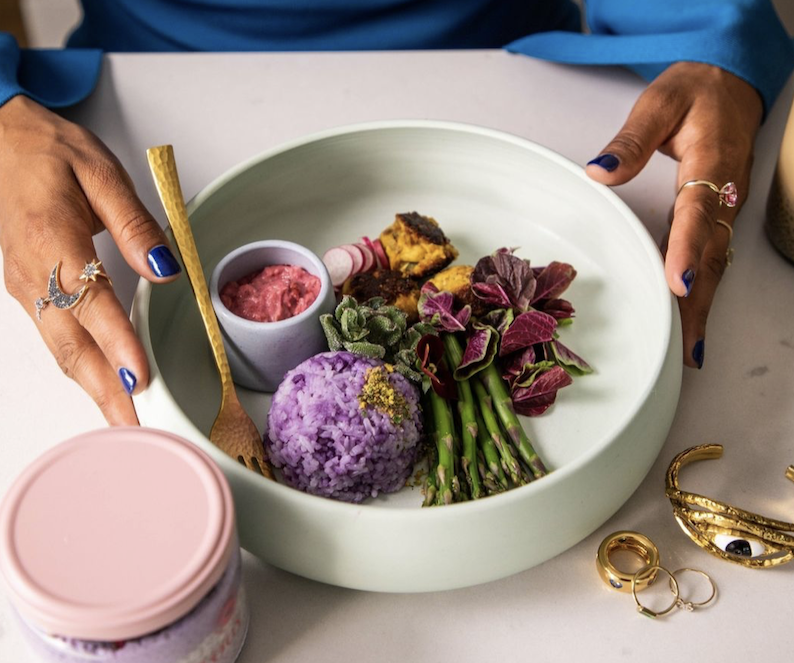 Methodology
13 Methodology
This new meal delivery service is on par with having a private chef ship fresh, wholesome, and nourishing meals to you. Each item comes in a reusable, sleek glass jar to fulfill the brand's commitment to sustainable solutions as well as to show off the appetizing and perfectly layered contents. Designed for busy, working professionals, the meals are made to satiate appetites with minimal prep (IE heat and eat). If you're looking for a convenient lunch that you can show off on social media, Methodology is it.
Service: The brand offers vegan menus in addition to a Mix & Match service, making it ideal for both those plagued by decision fatigue as well as the super picky shoppers who need a level of control.
Price: $205 for a five-day reset, or around $20 per a la carte entree.
Variety: Superb. Dishes draw from global cuisines ranging from a Parisian breakfast to Za'atar Spiced Chickpeas with Turmeric Tahini Harvest Bowl. Customers can also purchase side dishes from roasted vegetables to vegan seeded loaves of bread.
Meals: The Standard meal is on the smaller side—great for a lunch portion. The brand also offers large portions which may be more suitable for dinner. Regardless, they're all flavor-forward and craveable.
Insider tip: Stick to the main meals, as the vegetable options are somewhat lacking (they were a bit too oily for Flink). If you're looking at the sweet options, know that they are very subtly sweet.
Overall: This service isn't cheap, but if you're financially comfortable and extremely short on time, Methodology is an excellent solution to your breakfast or lunch woes.
Order here
For more tasty vegan eats that deliver, read:
Here at VegNews, we live and breathe the vegan lifestyle, and only recommend products we feel make our lives amazing. Occasionally, articles may include shopping links where we might earn a small commission. In no way does this effect the editorial integrity of VegNews.