For most of us, spending every day in the kitchen whipping up nutritious, delicious recipes just isn't possible. After all, there is that little thing called life that just gets in the way. But there are ways you can balance healthy eating habits with responsibilities, commitments, and, let's be honest, just low-motivational days, and one of them is to choose a meal delivery service that suits you.
There are many vegan meal delivery options out there (such as Sakara Life, which you can find more information on here), but today, we're focusing on Daily Harvest. Here we've compiled some of our top choices to try from the plant-based, sustainability-focused brand. But first, why choose Daily Harvest? And how does it work, exactly?
Why choose Daily Harvest for meal delivery?
First up, one of the best parts about Daily Harvest is that it is totally animal-free. All of its delicious food options, from smoothies to bowls to soups to snacks, are made with 100 percent plant-based ingredients. This is already one big tick for sustainability, but Daily Harvest also takes things a few steps further when it comes to respecting the planet.
For example, most of its ingredients are sourced from farms that use regenerative methods. You can find out more about regenerative agriculture here, but essentially, it means that crops are grown in a way that doesn't deplete the soil. As Daily Harvest says, regenerative farming "works with nature, not against it."
The brand also aims to reduce food waste by shipping its meals frozen. Not only does this mean your food won't go off while it's languishing in the fridge waiting for you to eat it, but it also means that no harmful preservatives are needed, notes the brand. And to ensure everything arrives to you in the best state possible, it also ships its deliveries in dry ice (using recycled shipping materials!).
But of course, Daily Harvest wouldn't be worth trying if it wasn't delicious, and fortunately, it ticks this box, too. Its recipes are unique, flavorful, easy-to-prepare (for the smoothies, you just need a blender—we recommend a Vitamix!), and will leave you wanting more each time.
To order, all you need to do is select a plan (small, medium, or large), each of which gives you a different number of items to choose from. After that, select the foods you want to include in your order and schedule your delivery time. The boxes arrive weekly, but you can amend and adapt at anytime (just pay attention to your emails so you can edit or skip a delivery).
Our top 10 choices from Daily Harvest
Ready to give Daily Harvest a whirl? There are many, many delicious options to choose from, but if you're struggling to narrow it down, here are 10 of our favorites.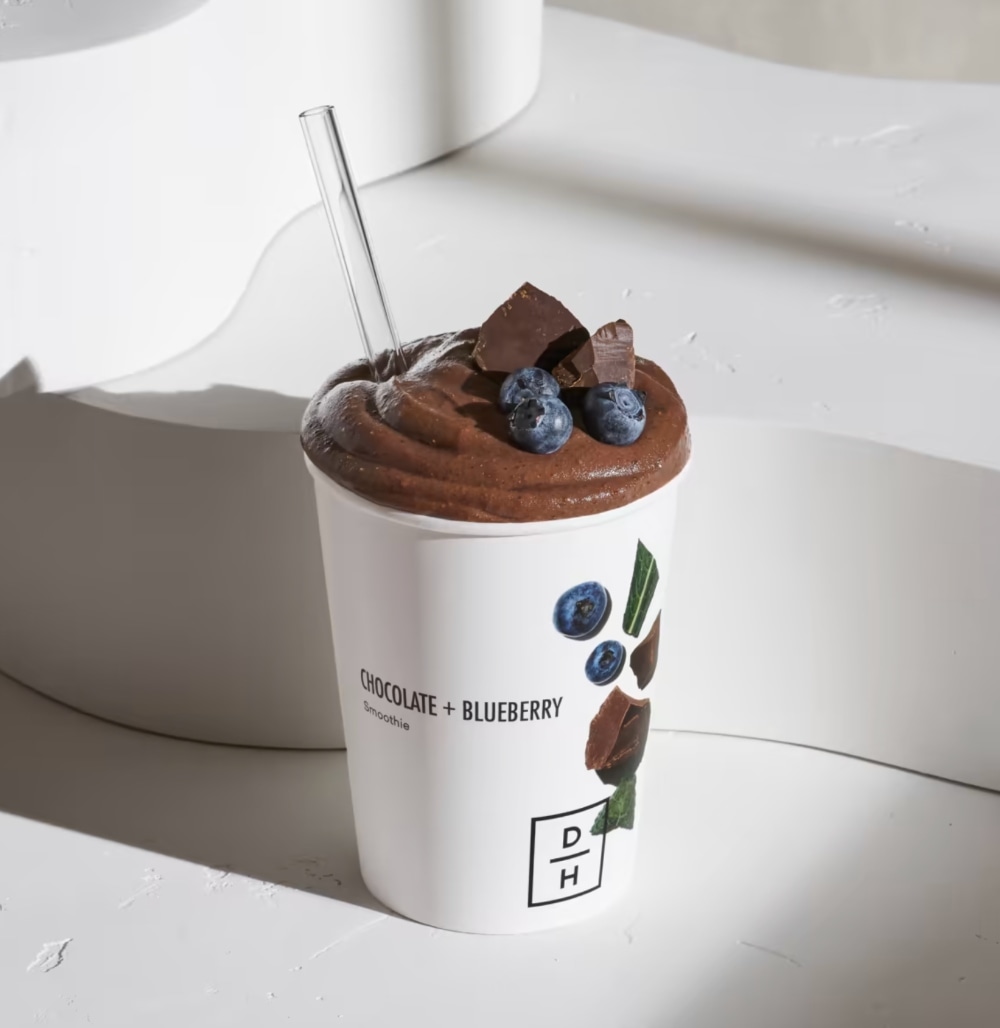 Daily Harvest
1 Chocolate + Blueberry Smoothie
For mornings when you need a kickstart of energy, this chocolate and blueberry smoothie (which tastes just like a chocolate shake) is a great choice. It's loaded with nutrient-packed ingredients, like blueberries, bananas, cacao, and maca, and can be blended with coconut water or oat milk (depending on how creamy you like your smoothies to be).
Try it here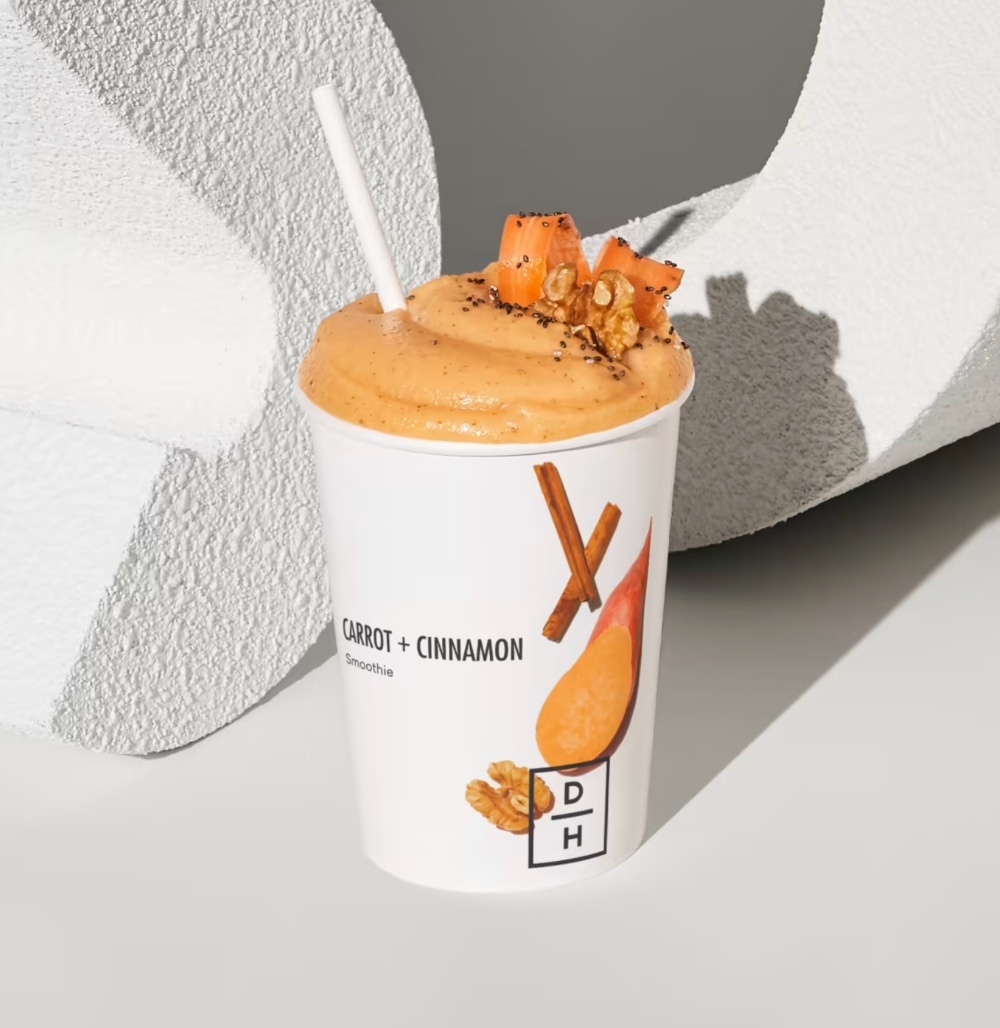 Daily Harvest
2 Carrot + Cinnamon Smoothie
If you're a big fan of carrot cake, this perfectly spiced, sweet, nutty smoothie—which features bananas, carrots (of course), walnuts, cinnamon, nutmeg, and even sweet potato—is about to become your new favorite way to start the day. It's just like the addictive dessert in liquid form. Seriously.
try it here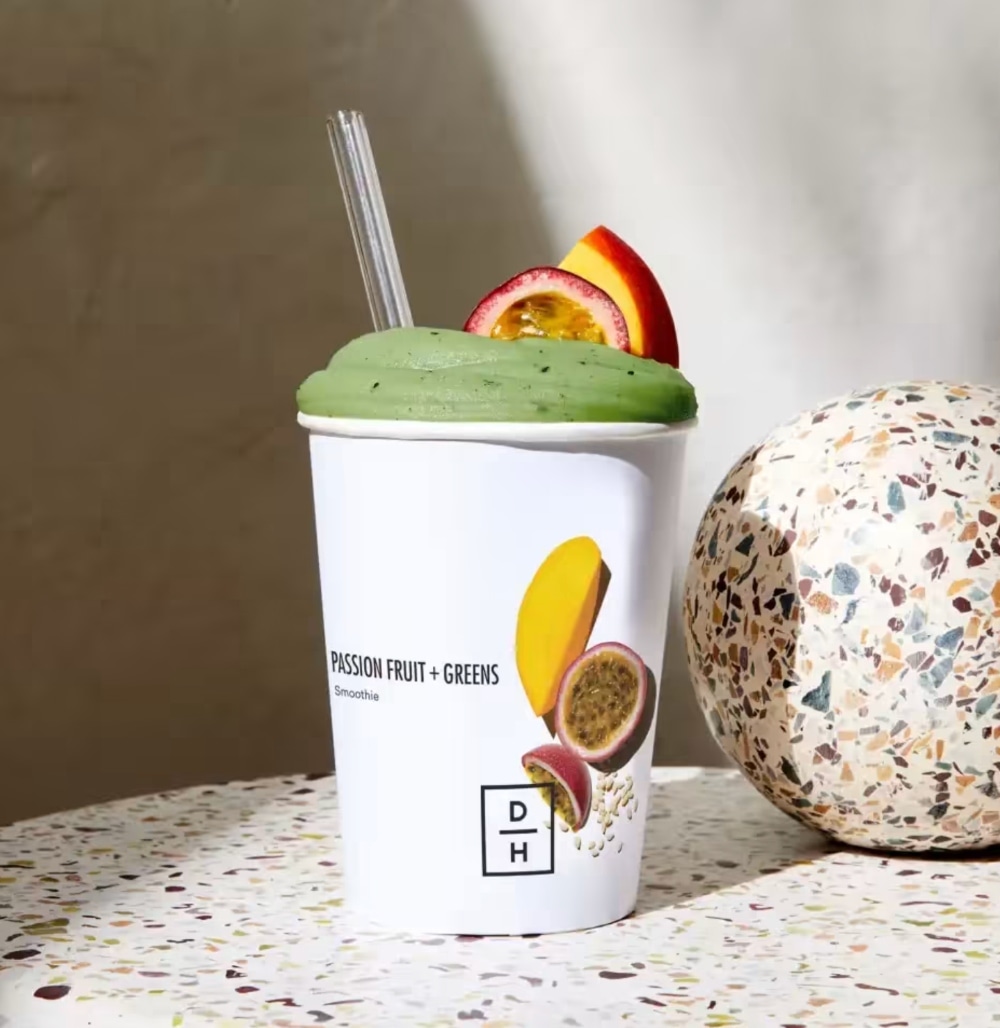 Daily Harvest
3 Passion Fruit + Greens Smoothie
A lassi is a smoothie-like Indian yogurt-based beverage. But while it is undeniably delicious, it's usually made with dairy. However, good news: you can get a very similar taste and experience with this Passion Fruit + Greens Smoothie, which features creamy, nutty tahini, mango, passion fruit, hemp seeds, spinach, and moringa.
try it here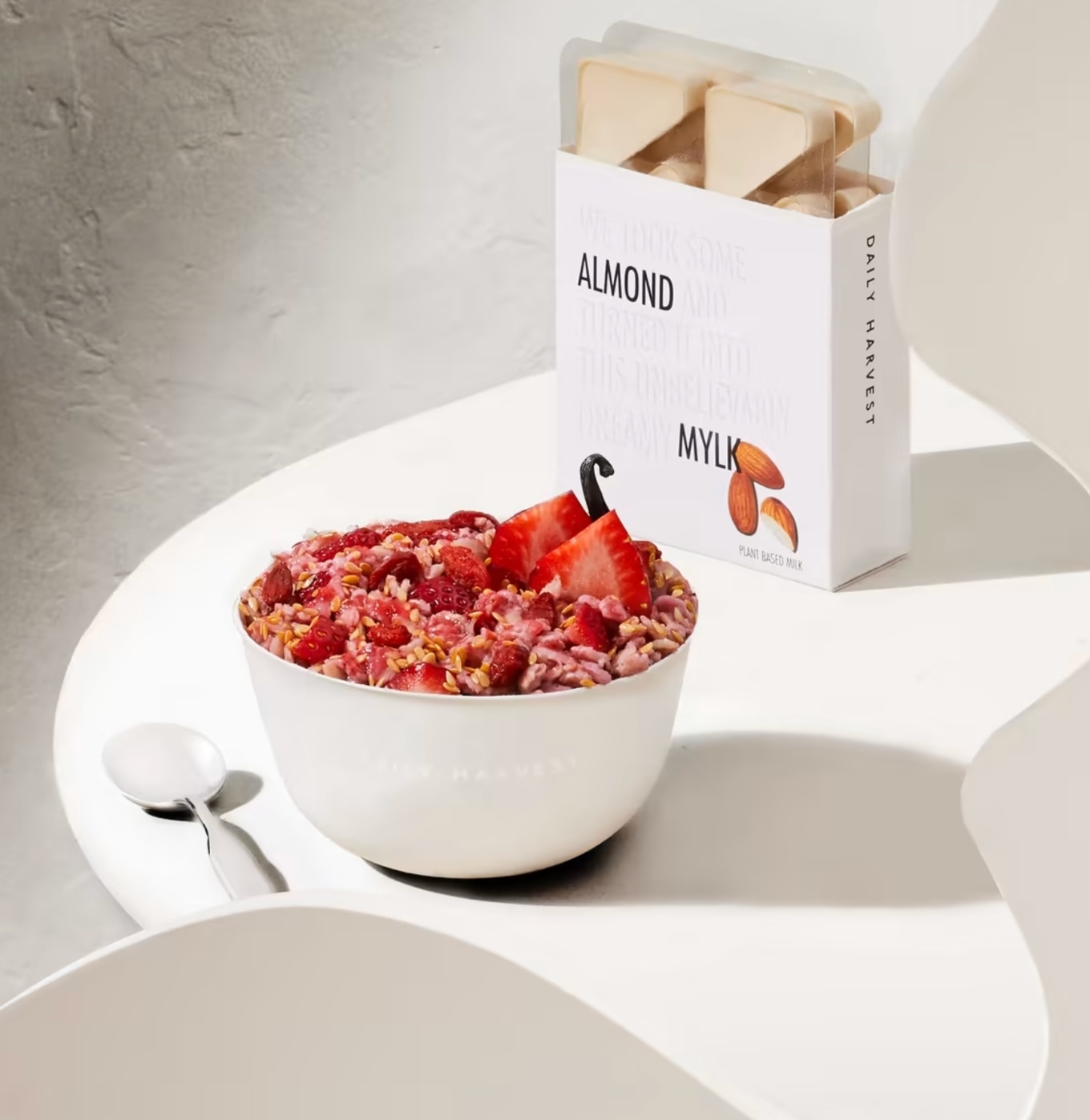 Daily Harvest
4 Strawberry + Goji Berry Oat Bowl
Those with a sweet tooth will love this simple, tasty oat bowl, which is loaded with nutritious strawberries, goji berries, haskap berries, and vanilla beans. It's a great choice for dessert, but you can also enjoy it first thing in the morning (or any time of day, really—there are no rules!).
try it here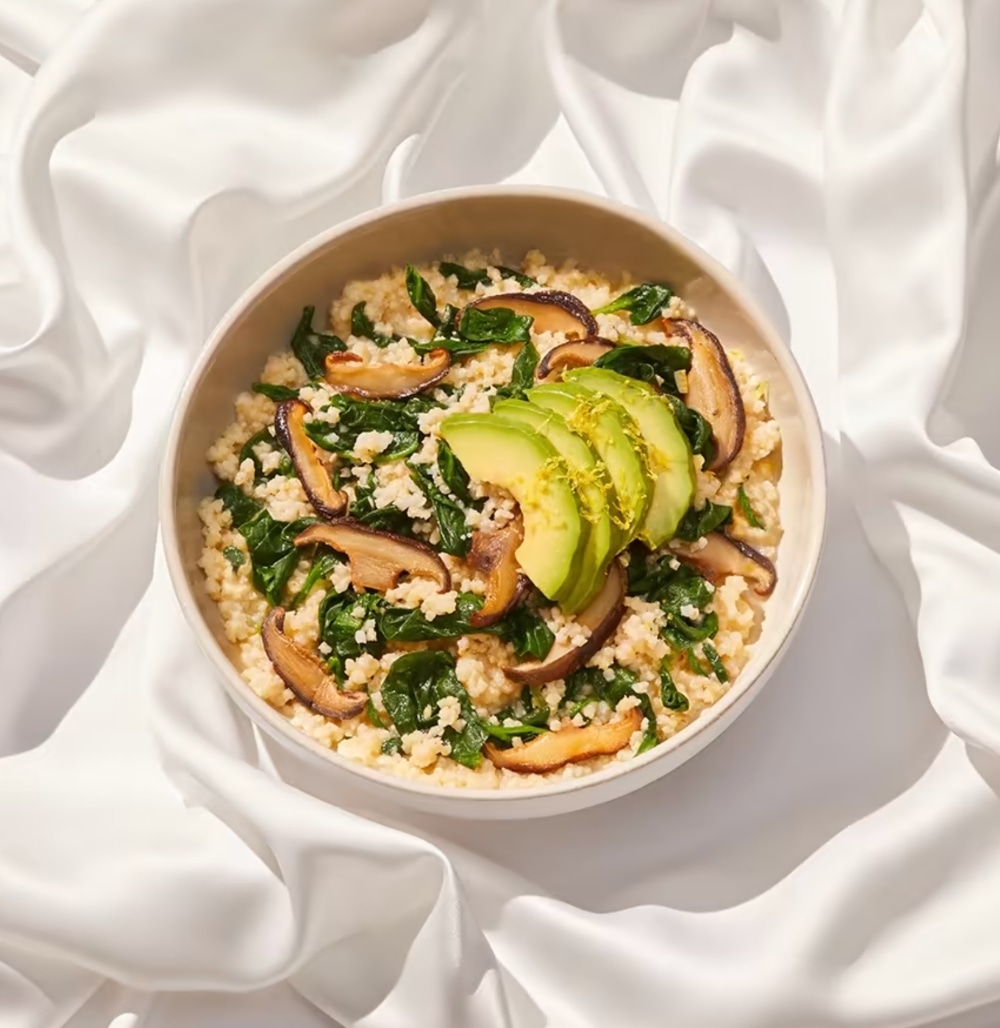 Daily Harvest
5 Spinach + Shiitake Grits Harvest Bowl
Grits (a type of porridge made with boiled cornmeal) are usually combined with dairy butter or milk, but not in this case. Instead, these grits are made with millet and combined with spinach, basil, nutritional yeast, and cashew butter to make a delicious, nutritious, filling breakfast or brunch.
try it here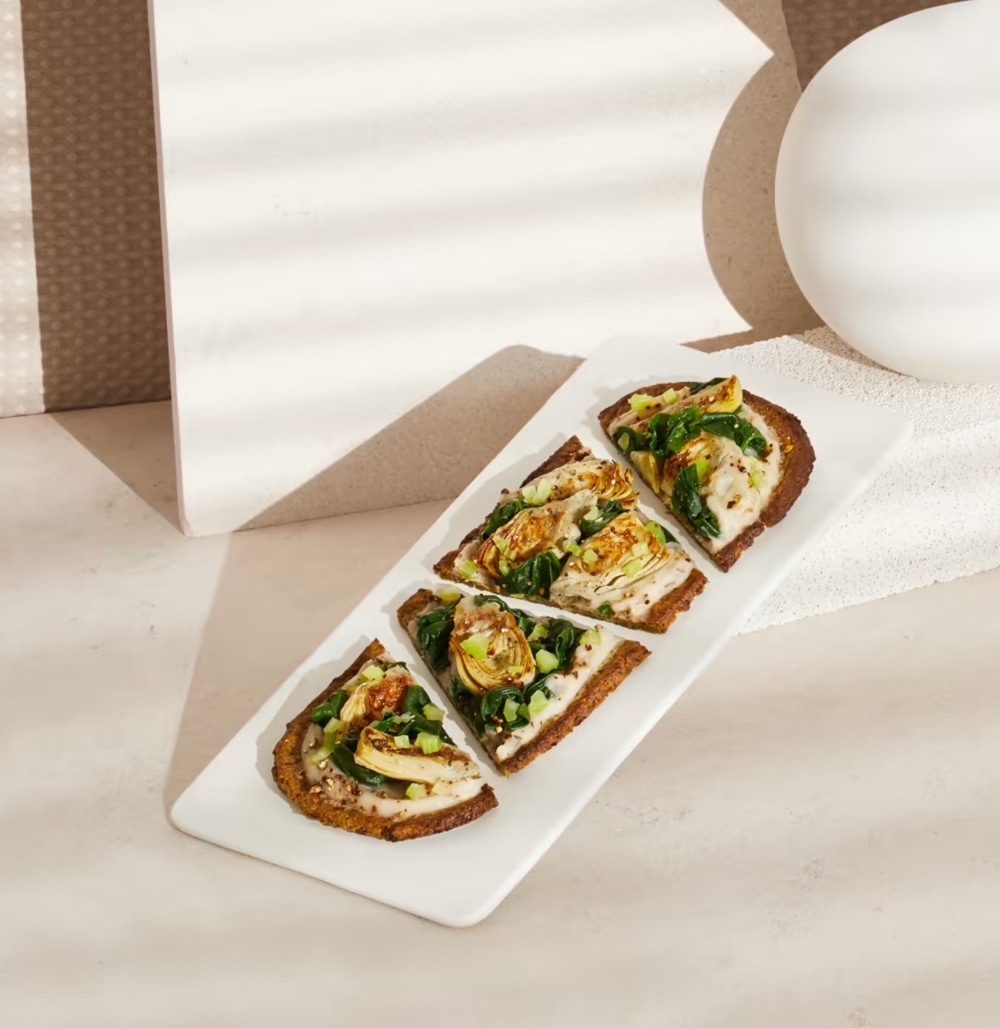 Daily Harvest
6 Artichoke + Spinach Flatbread
If you're stuck in a lunchtime rut, this flatbread is about to come and shake things up. Not only is it loaded with vitamins (thanks to broccoli, artichoke, spinach, and cauliflower) but it's also ultra-tasty, too. Plus, it's easy to prepare—all you need to do is bake for around 20 minutes and you're good to go!
try it here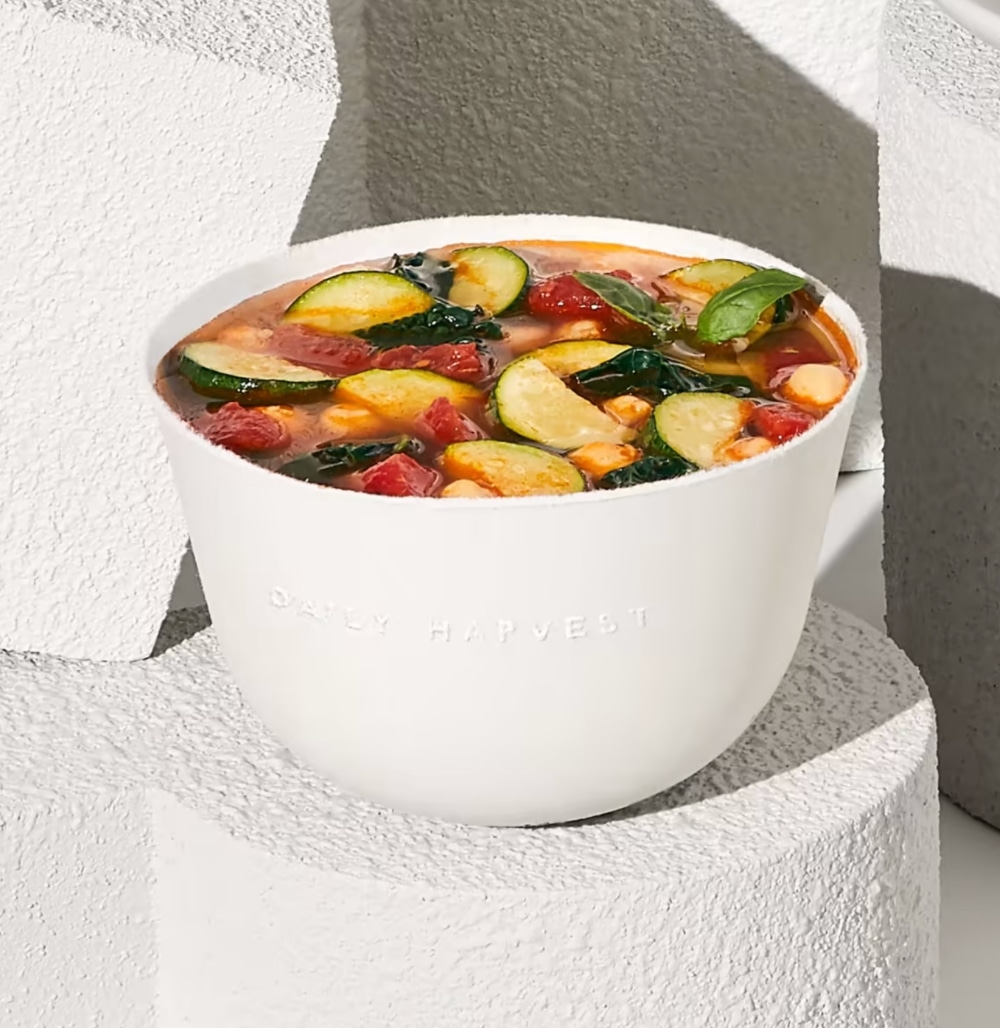 Daily Harvest
7 Tomato + Zucchini Minestrone Soup
For days when you need something hearty, warming, and nutritious to give you a pick-me-up, soup exists. Inspired by the flavors of Italy, this tasty option (which can be heated on the hob or in the microwave) is loaded with zucchini, tomatoes, chickpeas, kale, black garlic, and basil.
try it here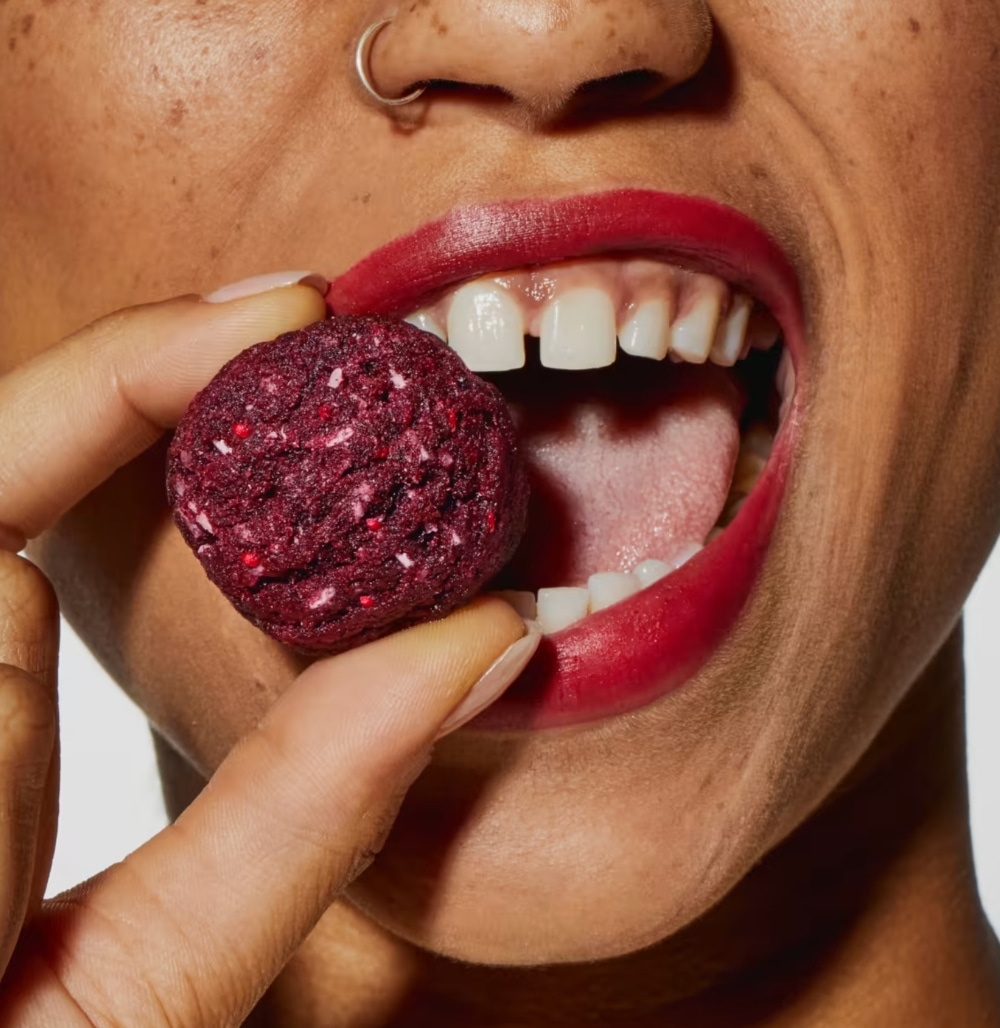 Daily Harvest
8 Raspberry + Fig Bites
When you're craving a little treat with your morning (or afternoon) coffee, reach for these nutrition-packed bites. The unique flavor is kind of like a truffle and a cookie mixed together, so expect them to become a mainstay on your weekly order.
try it here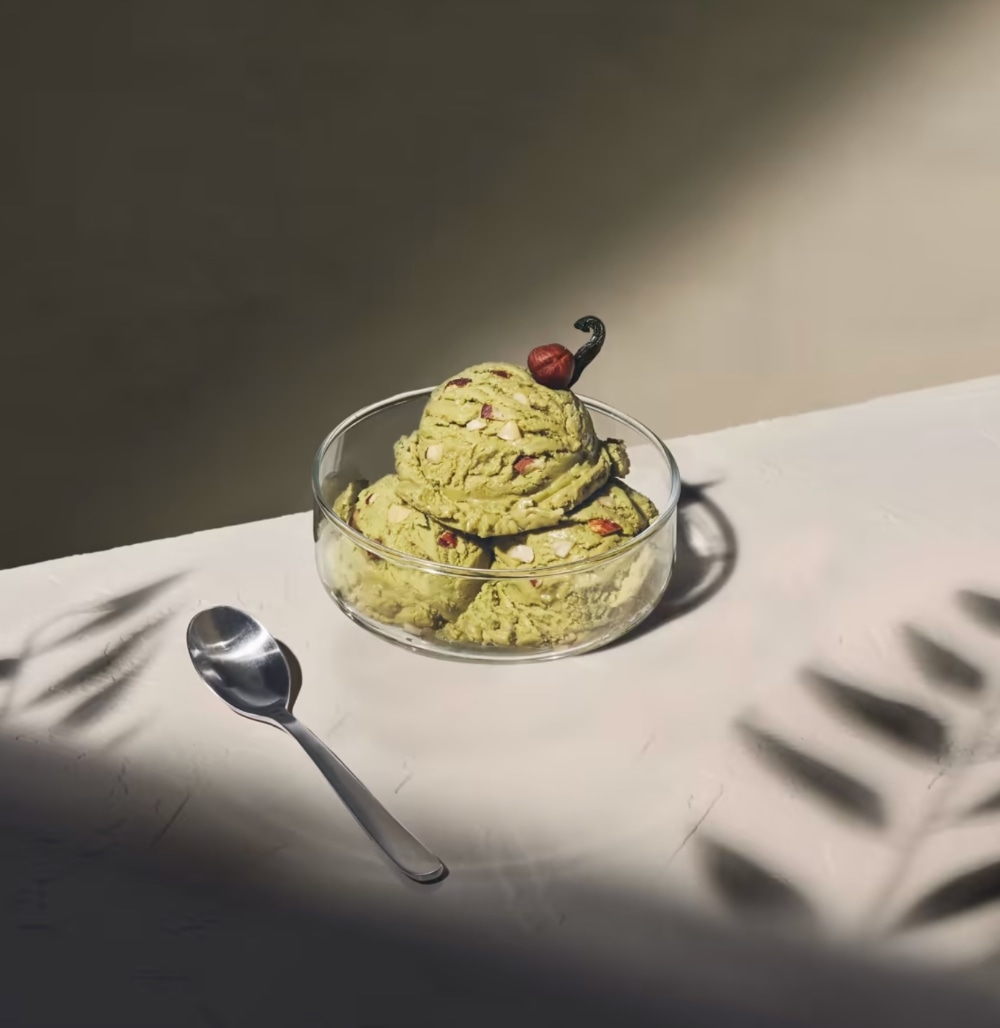 Daily Harvest
9 Pistachio + Toasty, Buttery Hazelnut Crunch
Picture the scene: it's a balmy summer's day, and you're craving something sweet, creamy, and cold to get you through the afternoon. Enter: Daily Harvest's Pistachio + Toasty, Buttery Hazelnut Crunch! And it's not just delicious, it's also protein-packed. It's a total win-win.
try it here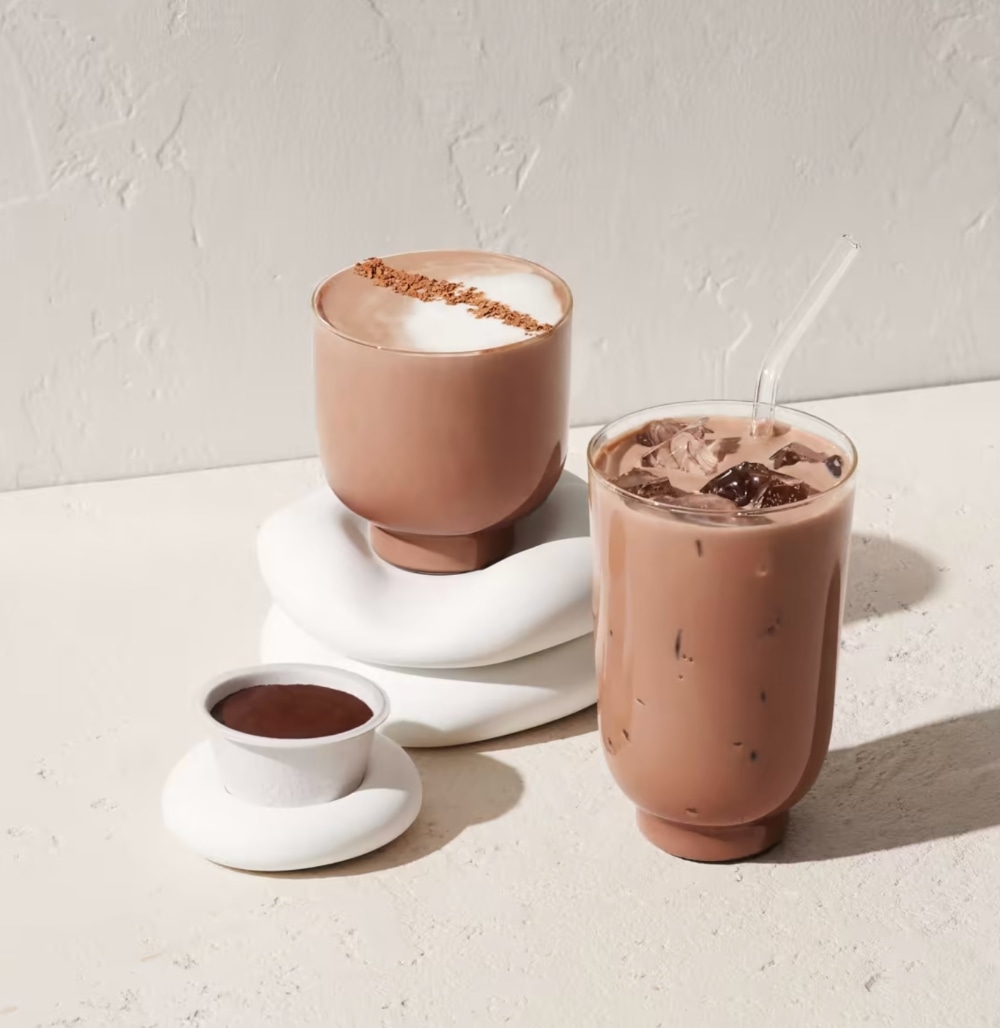 Daily Harvest
10 Chaga + Chocolate Latte
We're not exaggerating when we say this easy-to-prepare latte is a little taste of heaven. It's creamy like cocoa, but it's made with all superfood ingredients, including cacao, reishi mushrooms, chaga mushrooms, and coconuts. As the brand says, "Your childhood hot chocolate just got a major glow-up."
try it here
For more on vegan meal delivery, read:
Here at VegNews, we live and breathe the vegan lifestyle, and only recommend products we feel make our lives amazing. Occasionally, articles may include shopping links where we might earn a small commission. In no way does this effect the editorial integrity of VegNews.