When you think of an heirloom, you likely think of items like jewelry, furniture, or art—something precious that has been passed down from generation to generation. It's unlikely that you think of food, unless it's an old recipe, perhaps. So what, then, are heirloom tomatoes? Who wants an old, moldy fruit? Well, good news: the "heirloom" part doesn't refer to the actual tomato, but rather the seeds.
If you see an heirloom tomato at the farmers' market, this means that the variety—loved for its specific taste and texture—has been passed down through generations. But what else is so special about heirloom tomatoes? Are they worth the extra spend? And how do you cook with them, anyway? You've come to the right place. Let's dive in.
What is so special about heirloom tomatoes?
Heirloom tomatoes (which are also called heritage tomatoes) have become pretty popular in recent years and for good reason. Unlike the usual types you'll find in the grocery store (cherry, beefsteak, and so on), heirloom tomatoes tend to vary in size, taste, and color, offering more variety to the plate. In fact, they can be everything from standard red to yellow, green, and purple.
Another reason these tomatoes are different is that they've often been open-pollinated, which, basically, refers to the natural pollination process. This means a bird, a bee, or another insect has come along and pollinated the plant, instead of an artificial method, which requires human intervention.
Heirloom tomatoes—which are often harvested late in the summer, after July—are also often considered to have a superior flavor profile, but each variety is unique. Purple Cherokee heirloom tomatoes, for example, tend to be sweet and a little acidic, while the yellow pear heirloom tomato is mild, with a little tang.
Because heirloom tomatoes tend to be higher quality, in terms of taste and growing methods, they are usually a little more expensive than standard options. But if you're cooking something special, they're worth the investment. Just one tip: eat them quickly! They will spoil much quicker than standard grocery store tomatoes.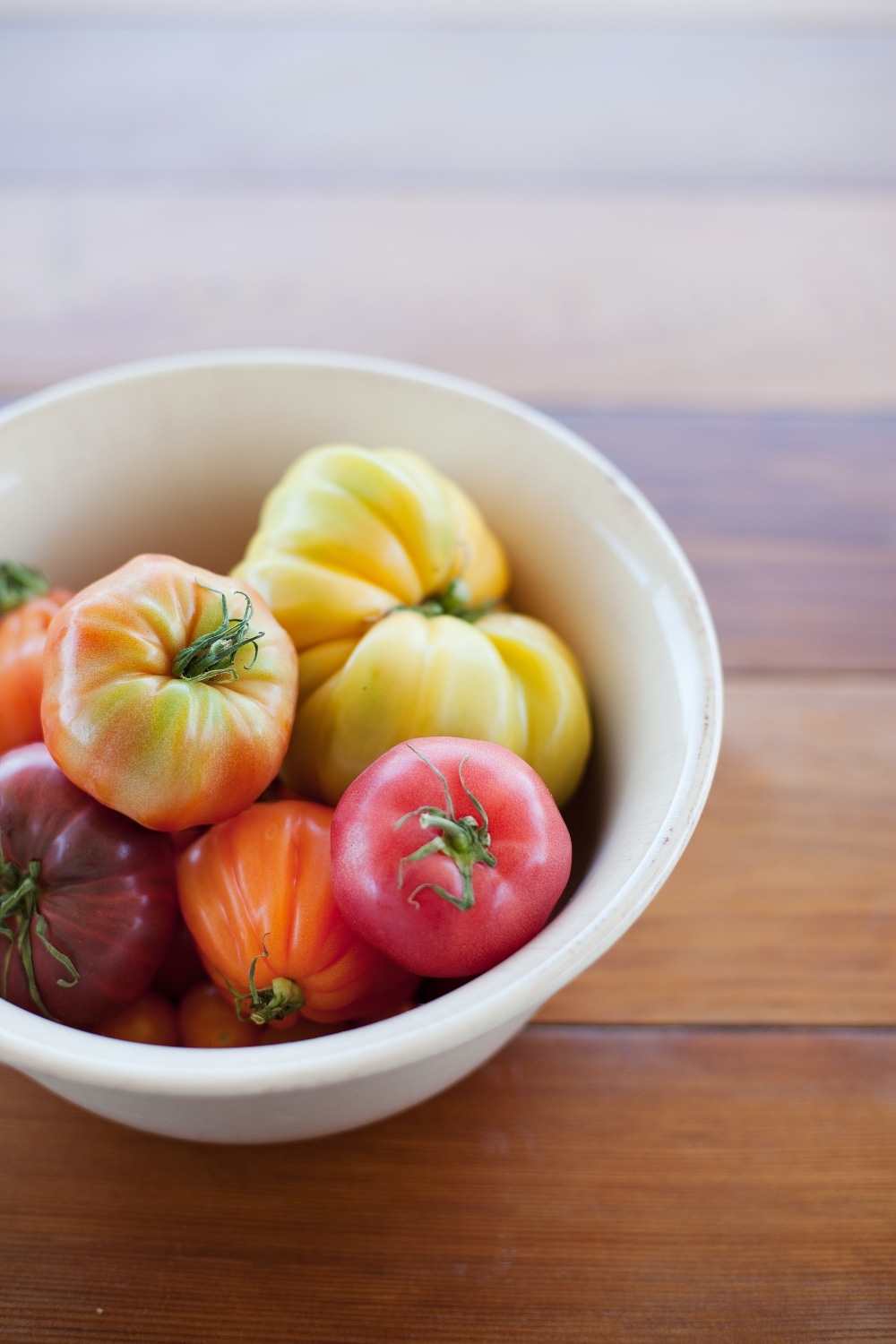 Unsplash
Heirloom tomato nutrition
Firstly, all tomatoes are good for you. It doesn't matter if you get the cheapest variety from the grocery store or the best organic heirloom options from the farmer's market. But that said, research does suggest that the latter is a little more nutritious. This may be because they're usually fresher, which means the nutrient content hasn't depleted over time. But also because they often contain higher amounts of lycopene, which is a carotenoid associated with oral, bone, and blood pressure health. Like most tomatoes, heirloom varieties are also a good source of vitamin C and potassium.
How do you use heirloom tomatoes?
You can use heirloom tomatoes in pretty much any recipe that calls for standard tomato varieties. For example, you can enjoy them in noodles, pasta, and rice dishes, as well as on pizzas, flatbreads, and toast. You can also process them into sauces, dips, smoothies, and juices, or simply toss them into a salad with tonnes of other fresh vegetables. There's no wrong way to prepare heirloom tomatoes, but if you're looking for some tasty recipe inspiration, we've compiled some of our favorite tomato-based vegan dish ideas below.

Vegan recipes with heirloom tomatoes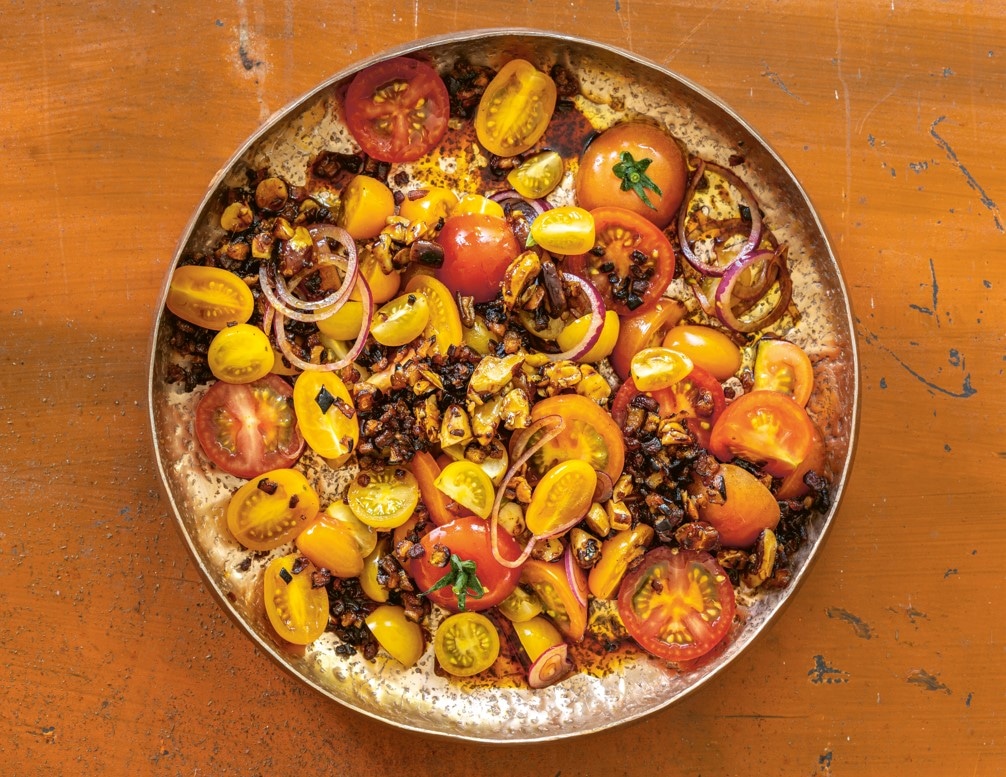 Estella Schweizer
1 Heirloom Tomato Salad With Smoky Eggplant Bacon
Fresh, mini heirloom tomatoes pair beautifully with smoky eggplant and crunchy Brazil nuts in this ultra-flavorful salad recipe, ideal for enjoying al fresco during those warm, sunny, summer afternoons.
Get the recipe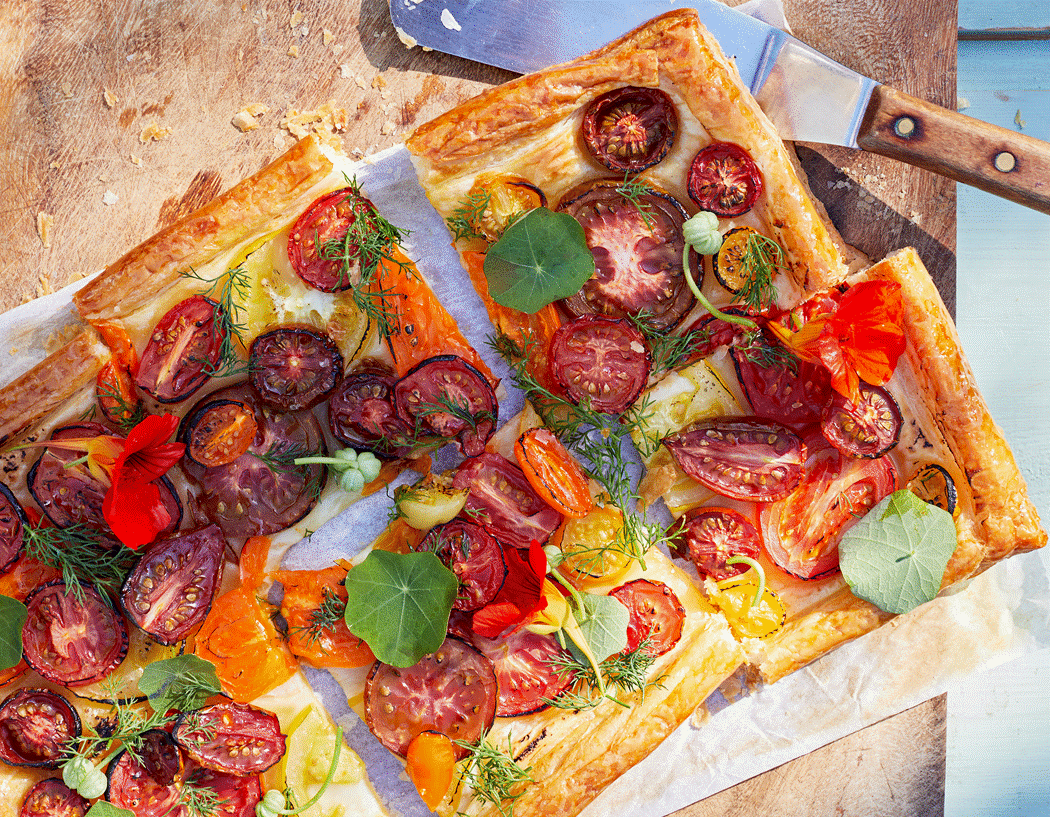 Luke Albert
2 Tomato Garlic Garden Tart
This garden tart recipe is about to become your go-to lunch when you're craving something simple, fresh, and full of flavor. All you need is a sheet of puff pastry, some garlic, your favorite heirlooms, and olive oil.
Get the recipe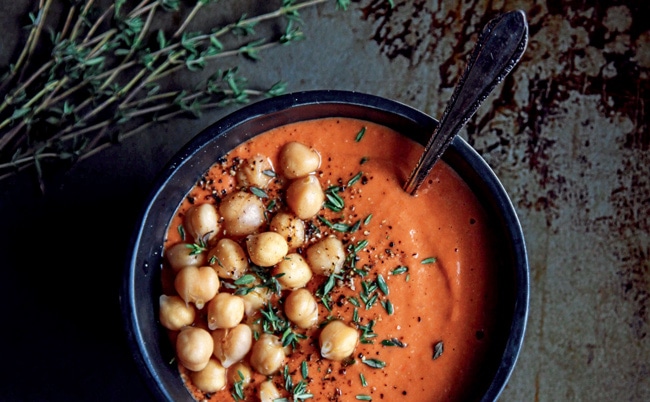 Emily Von Euw
3 Easy Tomato Soup
Tomato soup is a classic, quick lunchtime treat, but, if you're looking for a variation on the original recipe, adding in some heirloom tomatoes will take the flavor and aroma to the next level.
Get the recipe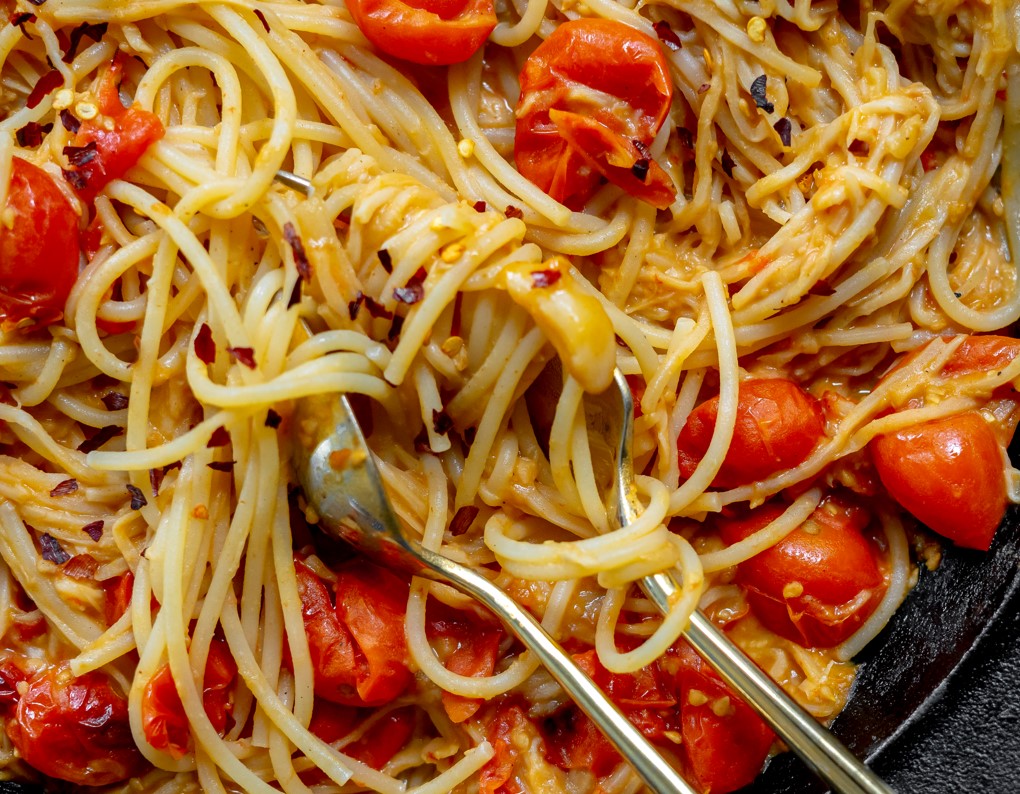 Micah Siva
4 Simple, Creamy Tomato Hummus Pasta
Swap the cherry tomatoes for heirlooms in this super easy, super creamy tomato pasta recipe. You might think hummus is just for dipping, but this dish is definitely going to change your mind.
Get the recipe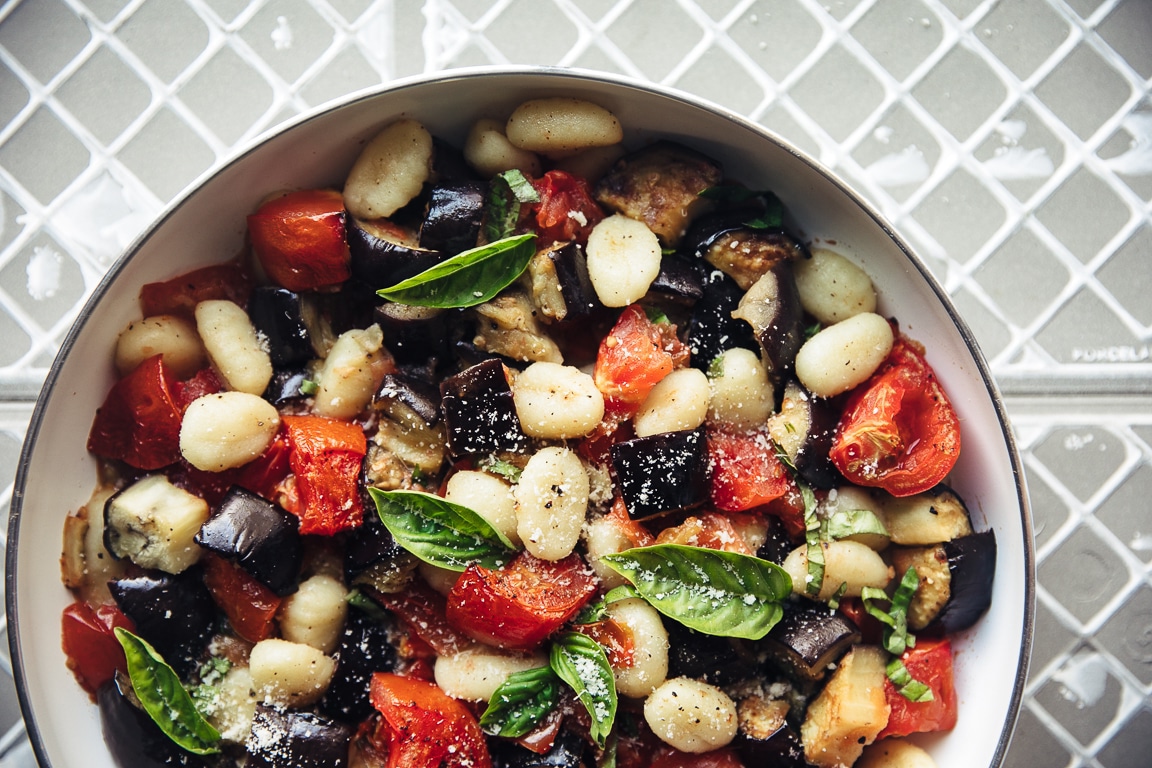 Jessica Randhawa
5 Gnocchi With Roasted Eggplant and Tomato
Eggplant and tomato are a dreamy Mediterranean flavor combination. Add in some pillowy gnocchi, fresh basil, and a generous helping of vegan parmesan cheese, and you've got yourself the perfect comfort dish.
Get the recipe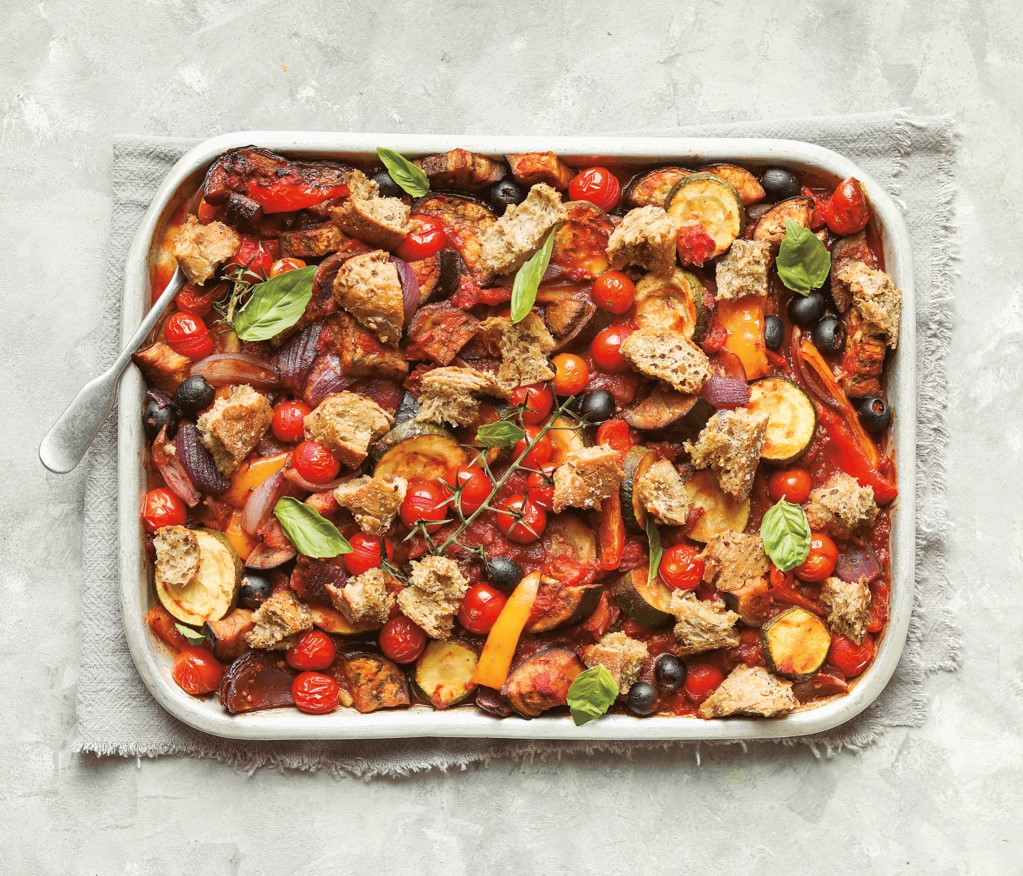 Luce Hosier
6 Italian Vegetable Sheet Pan Bake
Think of your favorite Italian-style vegetables. Okay, got them? Now head to the farmer's market or the store, pick up some heirlooms, peppers, zucchini, and any other vegetables you desire, and enjoy them all in this delicious sheet pan bake. It's full of flavor, easy to make, and a guaranteed crowd-pleaser.
Get the recipe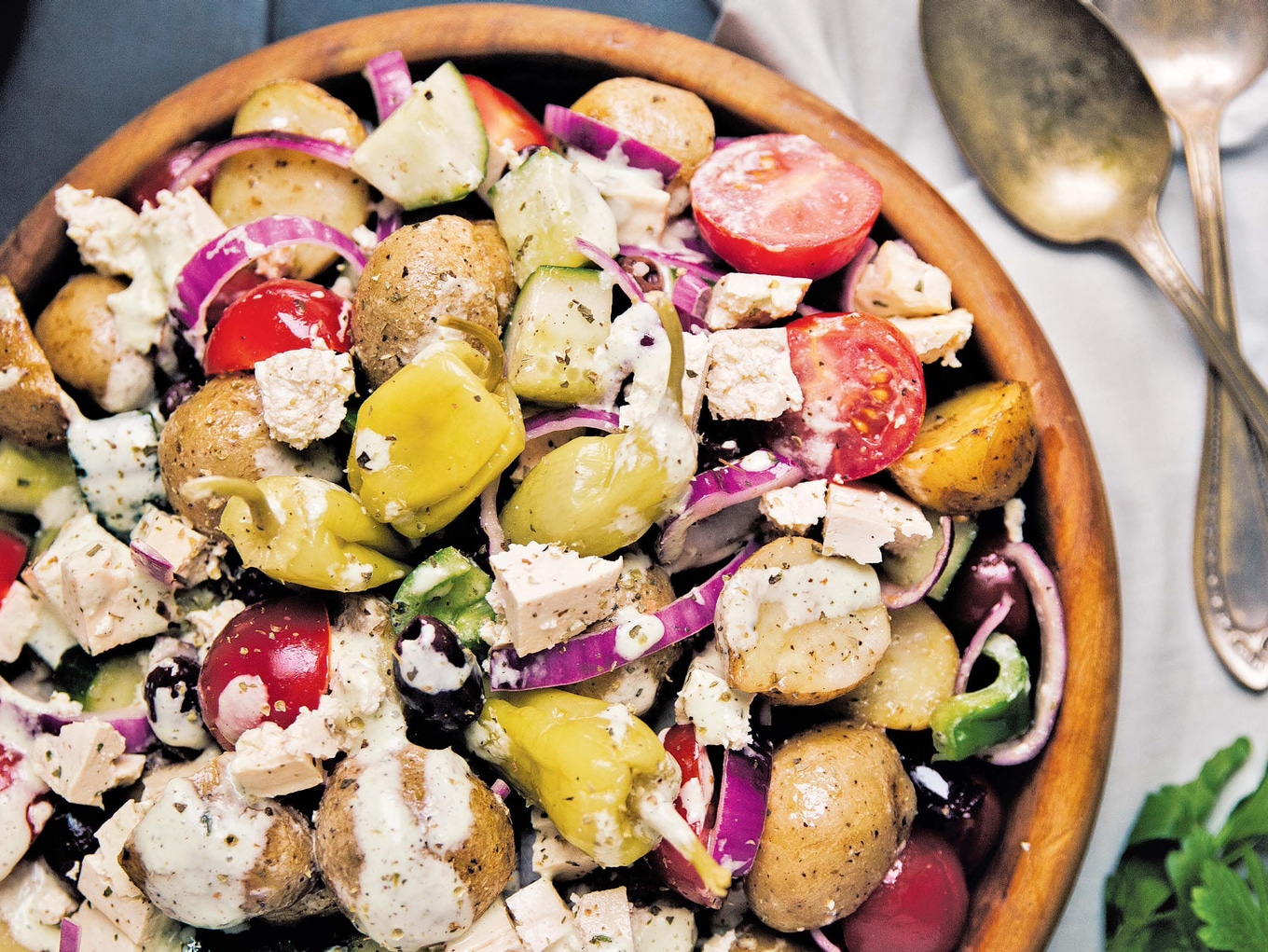 Lauren Toyota
7 Greek Potato Feta Salad
Again, this recipe calls for cherry tomatoes, but it will work just as well with heirlooms. It's a great picnic dish, packed with creamy vegan feta and red potatoes. Just make sure you prepare enough to share!
Get the recipe
For more on vegan ingredients, read: